In my previous article I told you how I was busy the entire month signing contracts and transferring my big money making website to its new owner and today it's time to talk more about it.
What makes it so interesting is the fact that we are talking about a blog that became an authority in less than 1 year, got a peak of 2 Million visits per month (with 1.1 Million uniques and almost 5 million page views) and was built solely by me.
Which translates to "anybody can do it" because: I am not a native English speaker (and the blog was in English) and my coding and SEO experience are close to zero. Plus, I really am an average person and I don't have the brain of Sheldon Cooper – if you can use a fictional character as an example for smarts. But we digress…
(UPDATE NOTE:) I initially wrote this article back in 2013, soon after making the sale. I have edited it now, in 2018, with additional details that I couldn't share back then.
A short story of this giant blog
Last year at the end of July, I thought I came up with a great idea for a website. It was in a heavily populated niche, with huge established websites competing against me, and exactly this reason made me know that I will succeed: if the big guys are in that niche, it means that it gives them nice profits and it's totally worth it, right?
I wanted my piece of the pie too despite advice from others who told me that such a competitive niche is impossible to rank in!
So without performing ANY SEO, just one month later, my website was bringing in around 100,000 people monthly and generating close to about $450 per month!
As you can see, it was not a niche that paid an awful lot for advertising, but I was happy (since it was about as much as the medium wage in Romania). And it continued to grow on its own until March this year, when the peak was reached: over 1 Million unique visitors, over 2 million visits and close to 5 million page views:
That was the first month in my life when I actually felt rich and earned an amount of money that I only dreamed I'll ever see in my bank accounts!
So how did my website get so big so fast?
Part of it was pure luck, of course. But part of it was me being smart. Despite finding myself in an insanely competitive niche, I went for the long tail keywords.
Why focus on a single keyword, when there are million of other things waiting to be written about? If we look at the incoming searches from that hot month, we can see that I had no less than 200,000 searches that brought me traffic: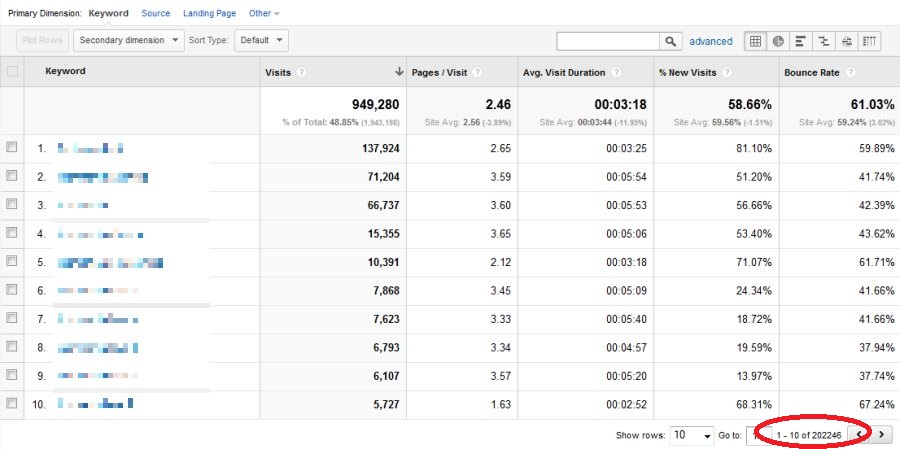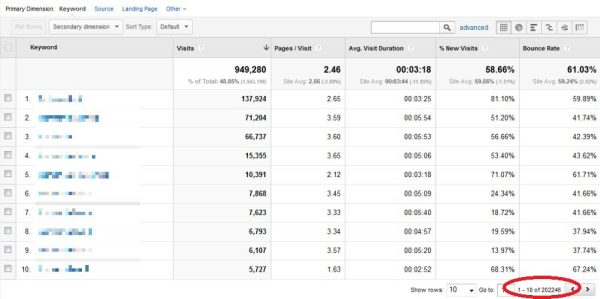 If I would've focused on a single keyword optimization, I would've been still sitting in my chair, working my butt off for nothing (which is what I am doing since selling the website, hah). But instead I was smart, I was a bit lucky and it paid off!
It's not something that you can always do, but that's the beauty of it: there are so many options out there that you can simply try something else if it fails. Sure, it's frustrating to fail, but every failure is a lesson learned, taking you one step closer to success.
This massive blog was definitely not my first, and it came after a solid row of unsuccessful ones. I just never stopped and kept trying. You only fail when you stop trying!
Why sell such a huge website?
In March, that site made me a small fortune, close to 5 figures. Why on earth would I want to sell it (for just 5 figures???). Well, here is why:
1. My first child was about to be born.
Back then, my wife and I were living with my mother and grandmother in a three bedroom house. Things are pretty crowded and we wanted needed a place of our own to call home. The money we got from the sale of the website give us a huge advantage in becoming house owners.
In the end, we actually bought an apartment with that money and we're still living in it. How cool is that – to have a blog pay for your house?
2. I decided that all things considered, I was unable to grow the blog even more.
It was already starting to become a huge time eater (and funnily enough, not the actual writing that I had to do, but answering the ton of e-mails and comments) and too much to handle for a single person. I loved and still love that site and considered that it was best for it to be given a real chance to glow even more.
3. In the online word, anything can happen.
I was pretty confident that the site would continue to generate a very nice sum each month (and could even grow under the right management), but I was pressed by time and uncertainties: even though both me and my wife agreed that we can wait 1 more year before getting our house, I wanted to have a solid sum to start with.
And de-stress a little bit, without worrying that all my hard work will go down to zero one day because I am alone in this and have no clue how to handle it.
4. It was insanely stressful.
There were people copying my content, there were tons of messages to answer to, there were a ton of technical things to fix or consider (and I am not a technical person), a lot of time was required to produce the content for the blog and I was always tired and grumpy. It was simply too much for me to handle!
5. I had this gut feeling that the blog itself had reached its peak.
Later on, I was proven to be correct and I actually sold it at the best possible moment. Timing is usually everything.
How to honestly valuate such a site?
And the emphasis here is on "honestly".
With selling this site, I wanted to be 100% transparent. I did no lie about anything, I did not omit any detail, I was like an open book, ready to answer any question potential buyers had. And I decided to price it like this:
I estimated how much I thought it would bring me in the upcoming 10 months if things stayed the same and decided to use that as the selling price.
It's worth noting that I was honest here and I didn't calculate based on the income of the previous months (when we had that peak of 2 million visitors and therefore was bigger than the average) simply because I wanted to give a fair chance to the new owners: to start making profits after 10 months is a good business for everybody!
Actually, I am confident that the blog will actually start to bring in profits in about 7 months with the right content added.
Normally, websites are sold for at least 12 months of monthly averages, but they go up to 24+ months when we're talking about a high quality site like mine was. I would go as far as saying that the industry standard nowadays for good sites is 30 months of revenue.
So did I sell my site too cheap? Some (including my wife) say that I did. But I don't really think so, and I believe that the 5 figure sum that I received for that blog is the real valuation of it. And I am extremely happy that I was able to build such an impressive website that attracted the interest of a pretty big company.
So what about now? I am waiting to actually get the money (it takes 45 days here in Romania to cash a check, so I don't have the money in the bank account just yet) and I am working hard to make sure that until then I can still generate a revenue to live from (as that website represented about 90% of my total income) and don't start eating from the sale money.
I now have more time to spend with my newborn – he is 4 weeks old now and actually today is the day when the C-section was scheduled, but he decided to come a little sooner. I wrote about pregnancy and birth costs in Romania in an article if you want to check it out.
Plus, I am happy to work on some of my older projects that were ignored, including Romania Experience.
What about you? How close are you to hitting that 5 figure mark in revenue from your online business?