If you're planning to visit Romania, you're probably wondering how much should you budget for your Romanian vacation. I will try to help you with the answer to the problem and discuss all the variables that need to be taken into consideration.
A daily budget of 30 Euros per person would be enough for most travelers to Romania (excluding plane ticket prices and accommodation). Depending on what you plan to visit and whether you want to eat more at fancy restaurants, you could budget anything between €20 to €45 per day.
Even with a budget of €20 per day, you can still expect to be able to eat at cheaper restaurants and enjoy some local attractions but I would consider this a shoestring budget. While on the other extreme sky's the limit, a €45 budget would allow you to eat all meals in good restaurants and have some extra money for various attraction fees and whatnot.
As always when it comes to money-related topics, the question in the title – how much money to budget for a trip to Romania – won't ever have a clear answer because different people have different expectations and spending habits.
Plus, there are many other things involved here: what part of Romania will you visit? Will it be a large city like Bucharest or Timisoara, a smaller one like Drobeta Turnu Severin, or maybe you'll visit the expensive seaside resorts in Mamaia or the traditional villages in Transilvania?
Prices are obviously higher in the more touristy places and the larger cities, while the places that are outside of the beaten path are cheaper.
With all these in mind, we're going to try and go a bit more in depth if the paragraph in the intro wasn't enough for you. I actually recommend reading through the entire article, as it will help you paint a better picture of the whole situation and prices in Romania.
Plane ticket & accommodation expenses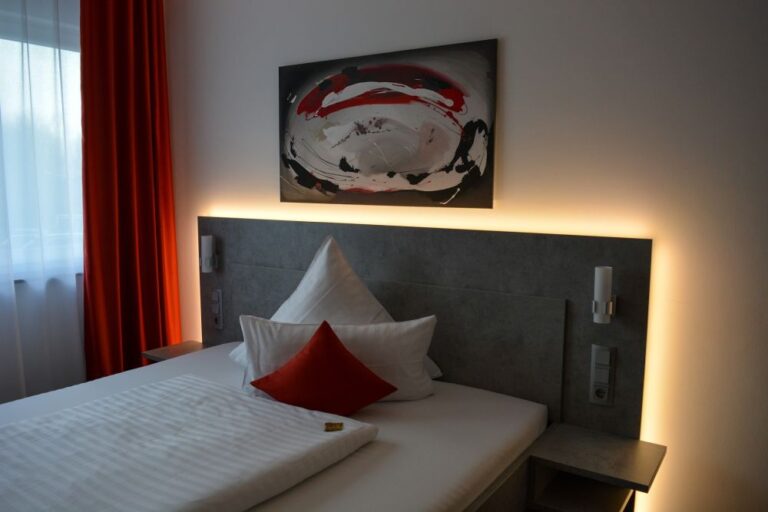 These are the most difficult ones to estimate, especially when it comes to the costs of air travel: it could be as low as 15 Euros if you're flying low cost from Europe or up to a couple thousand if you come from much farther away. It's up for you to find the best deal here.
But as a trick, remember that there are more International Airports in Romania that Bucharest. Some could offer very cheap connections and could be even closer to your final destination.
When it comes to accommodation, it also depends on your personal preference: from cheap hotels in the city center, to AirBnb rentals and luxury options, you have tons of rooms and places to choose from.
When it comes to accommodation, prices could go as low as 10 Euros per night at a hostel or a local pension to over 100 per night if you want a lot of luxury. Based on my own experience, I would say that around €40 per night will offer you a good quality double room at very good hotels throughout the country (3-4 star hotels, depending on the season).
Budget for food
Once you get to Romania, one of the biggest expenses will most likely be on food. And since you're here for a vacation, you will most likely to try out some delicious traditional Romanian food at local restaurants.
Romania doesn't really have an eating out culture and unfortunately the charming, small family restaurants that are present in so many countries over the world do not exist in most Romanian cities. But you can still find good options basically anywhere in the country.
Prices vary greatly, with a lot of budget options available, as well as more extravagant prices.
For example, a cheap restaurant in a smaller city where locals eat can cost as low as €5 for an two course meal if you get the daily menu (soup and main course, sometimes dessert included too). These vary in quality, but usually you will be at least satisfied with your purhcase.
Normally, a decent meal at a decent restaurant would cost about €10 per person, going way higher for more pretentious places. This would include a main course, 1-2 drinks (beer and coffee or juice and coffee, for example) and a good tip.
If you love pastries, fast food or easier "grab and go" options, Romania has a ton of delicious options here. A large pretzel costs as low as 25 cents, you can grab a croissant and coffee in most places for around €2 or more and a large shawarma can be bought for around 3 Euros.
So, when budgeting your food, I would recommend setting aside a minimum of €17 per day, per person. This would allow you to experience food from restaurants, but also includes more fast-food or supermarket food. (I am also considering daily snacks and water here).
If you want to eat only at great restaurants, then some €30 per day should be set aside for food. For this money, you will be able to enjoy the best food in the country and surely add a bunch of extra pounds of pure Romanian fat. No problem, that's what you do during vacations!
Of course, these are options for those with a somewhat limited budget. There are luxury places where a 3-course meal can cost €100 or more, but we're not talking about those. Most likely, the people who afford eating at such places won't read articles about budgeting for their upcoming trips…
Budget for attractions & sightseeing
Throughout the country, prices are usually about the same when it comes to sightseeing and public transportation. Have in mind though that the smaller cities don't offer many options when it comes to public transportation and you will most likely have to walk or take a taxi (which is also cheap).
When it comes to visiting museums or other attractions, prices range from as low as €1 to around €7, with discounts offered to children or the elderly (but double check as this is not a rule). The more important attractions are usually more expensive: for example, or ticket to Peles was about €7.5, while the visit to the Palace of Parliament costed around €9.
In the end, it all depends on what you plan to see depending on where you go. The daily budget for attractions and sightseeing should be between EUR 0 to 10 per day per person.
If you need to travel to nearby places to visit the said attractions, you will usually have the options to take a train or a bus. Since you won't go from Bucharest to Timisoara or other insane distances, you should expect paying about €15 for a one way ticket.
The Romanian Beach Budget
We've already talked about the best time of the year to visit Romania, so if you choose the high season and a popular destination (like going to the beach in mid-July), expect prices of everything – from accommodation to food – to be much higher.
The seaside if a beast of its own and since you will probably not go there during the winter months, I think it's safest to budget more than you would for a regular trip to the country. By the beach, everything is more expensive.
Therefore, for visiting any beaches in Romania during the high season, I think a budget of at least 40 Euros per day, per person is a good starting point unless you have some or all the meals covered by your hotel.
Some places are more expensive (like Mamaia) while others are cheaper. But they are all way more expensive than your regular Romanian city, that's a fact.
Conclusion
In the end, you should remember that most of the places in Romania are priced for Romanian tourists and since income in this country is still pretty low, so are the prices. You can check out my article about the cost of living in Romania to see even more price estimations if my recommendations are still not enough for you to make a decision.
The good thing is that Romania is much cheaper that most other European destinations – even during the high season. This means that even the more luxuriant trips will end up costing a lot less than they would in other places.
Even more, if you have a very tight budget, there are few places where your dollars or euros would be extremely valuable – and Romania is one of them!