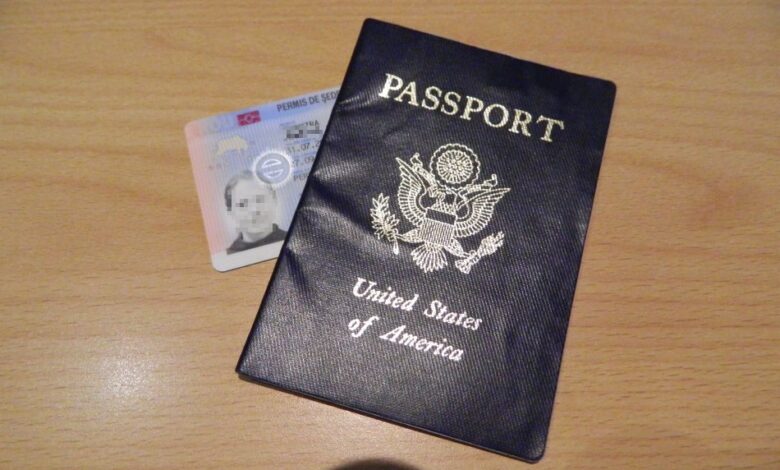 If you are visiting Romania and you are an EU citizen or an US citizen, you are allowed to stay in Romania without a visa for a total period of 90 days. This doesn't go for EU and US citizens only, as many nationalities are allowed to stay without the need of a residence permit or a visa for up to 3 months, no questions asked.
However, if you are planning to stay more than 90 days in the country, you need a residence permit aka a registration certificate which allows you to stay up to one year in the country. In the Romanian language, this residence permit is called "permis de sedere" and can be obtained on a yearly basis, the procedure being pretty much straightforward.
The only problem is that you'll have to deal a bit with the Romanian bureaucracy to get your residence permit – something that is not extremely enjoyable, but fortunately you don't have to go through this often!
In today's article, we are going to talk about how to get a residence permit in Romania if you are an EU citizen and if you are not an EU citizen. The procedures vary slightly, with the latter being a bit more complicated. If you're not an EU citizen, simply scroll down until you get to the non-EU permits.
NOTE: This article was originally written back in 2014, but things have changed a lot since, so I am updating it today with 2019 data.
How to get your residence permit if you are an EU citizen
If you're looking to get a registration certificate in Romania (this is actually the official name, as the "residence permit" is actually given to family members – but we won't focus too much on terminology right now), things are really simple for EU and EEA citizens.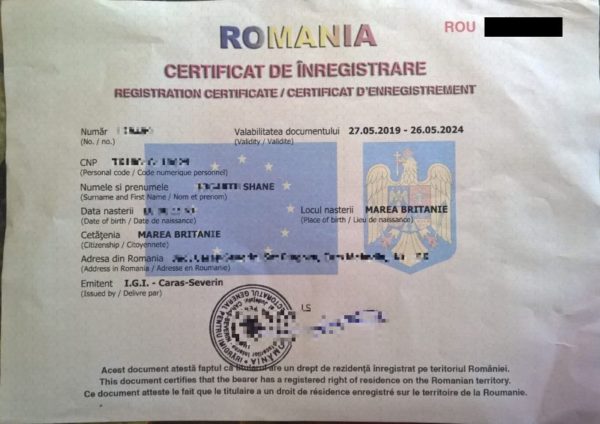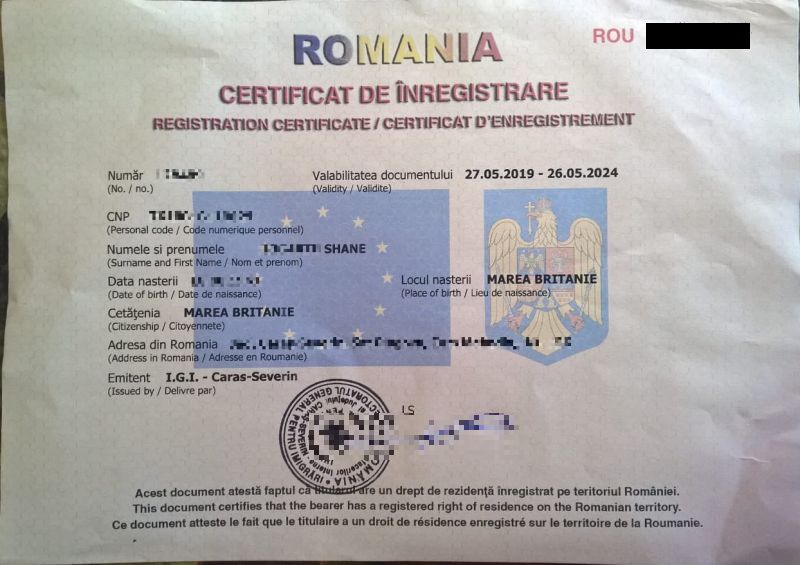 The registration process is simple and straightforward:
1. First, you will need to fill up a form requesting your permit, and you can get yours from the territorial units of the General Inspectorate for Immigration (each larger city will have one). You will get a different form based on your situation: you can register as an employee, volunteer, commercial activities, study, self sufficient person or family member.
2. You need your ID card or Passport (both copy and original)
3. Proof of funds (pension slip, bank account etc) or work contract / study contract (depending on the case)
Note: As you will see below, unless you move here with work, the self-sufficient route is the easiest as the requirements are very low. Scroll down to see what "self sufficient" means.
What does "sufficient funds" or "self sufficient" mean?
The amount is very low, but there's a bit of confusion in the data I have. Probably the papers on the official government's website have not been updated, but the law states clearly that the amount considered in Romania is the minimum guaranteed revenue in Romania. I am listing the real values below (although the government lists lower amounts). It's a small difference anyway and you will probably find the amounts laughable:
– 141,5 RON per month for 1 person (around 30 Euros)
– 255 RON per month for a 2 person family
– 357 RON per month for a 3 person family
– 442 RON per month for a 4 person family
– 527 RON per month for a 5 person family
– extra 36.5 RON per month for each additional family member over 5
How to prove that you have sufficient funds:
– Pension coupon that you have received at most 3 months before coming to Romania
– a tax statement from the previous year proving that you meet the minimum required income listed above
– bank account proving that you have the money or basically any document that proves that you have sufficient funds
– for students, writing a declaration that you have sufficient funds is acceptable.
4. Proof of existing health insurance (European health card is accepted and valid, but you can also opt for private insurance companies or pay for the state-owned health insurance)
Note: In order to complete the registration forms, you will need a local address in Romania. This means that you should have secured a rental contract or bought a house/apartment prior to applying. Although this doesn't usually happen, they might ask for the rental contract to confirm your address, so have that on you just in case.
Once you have all the papers, you will need to pay some local tax fees. I couldn't find updated information about these fees online, but they were of a totoal of around 20 lei (5 Euros) and probably they didn't increase too much in the mean time.
For EU an EEA citizens, the residence permit is offered in the same day, usually immediately after dropping in the papers. The permit is valid for at least one year, but on specific circumstances it can go to up to 5 years. It can be renewed yearly following the same simple procedures.
All in all, if you're an EU citizen and you want to get a "Permis de sedere" aka registration certificate in Romania for stays longer than 3 months, it's extremely easy to do so.
How to get your residence permit if you are a non-EU citizen
Things are a bit more complicated if you are a non-EU citizen who wants to stay in Romania for more than 90 days. The main thing that makes getting a residency permit more difficult for an US, Canadian or any other non-EU citizen is the fact that self-sufficiency is not acceptable.
Also, Romania does not offer a retirement plan or something to make it easier for retirees to move to Romania, if they are from outside the EU. So, even if you are a self sufficient person or a retiree, you will have to meet one of the requirements below in order to get your residence permit in Romania:
– being employed in Romania
– joining family (family reunification)
– studying
– scientific research or religious activities
– volunteering
– long-term medical treatment (you would actually need a letter from the institution treating you to confirm it)
– Unremunerated training (in this case, you must submit proof of sufficient funds, amounting to at least the monthly gross average salary in the country)
– manager of a company
This last method used to be the easiest way for self-sufficient people who are non-EU citizens to get their residence permit in Romania. It was cheap and relatively easy to achieve, and it still is for most people who don't meet any of the other requirements.
However, in order to get the registration certificate as the manager of a company, you now need to meet this requirement as well: the company realized a contribution of capital or a technology transfer of at least 50,000 EUR (Update: according to one of our readers who discussed this in detail with the authorities, for US citizens, the 50,000 Euros crieteria DOES NOT apply, meaning that  the entire process should be a lot easier).
As I know that we have many US-based readers (and many from other non EU countries as well) who want to retire to Romania, these new changes make things a bit more complicated. Until now, it was easy to open that company since costs were low… but now that you need at least 50,000 Euros for it, things are a bit more difficult. For retirees, there is still the volunteering option and maybe the long-term medical treatment one, but unfortunately the country doesn't make it easy for retirees to move here…
The taxes you have to pay also vary depending on the type of application, but usually you should expect to have to pay at least the following:
120 Euros consular tax
260 RON for the residency permit (permis de sedere) itself
Please have in mind that these taxes might change, use them more as a guideline and double check with the embassy for actual costs!
For non-EU citizens, the police record is also required, proof that you have health insurance, proof that you have where to live and, based on your personal situation, more documents might be required.
Have in mind that you must apply for a residence permit in the country (or an extension of it) 30 days before the expiration of your current status (that's either after 60 days in the country or 30 days before your current permit expires).
Where to submit your application?
You have to visit the Immigration office in your current city. If you are in a small city or village, there might not be a local Immigration office there, but one that serves the entire county in a nearby, larger city. Just Google "birou emigrari" and the name of your city to find out where you can find the closest one!
What happens if you don't get a residence permit
If you stay longer than 90 days in Romania, as an US citizen or other non-EU individual, without getting the residence permit, you will incur a fine of up to $600 and you could also be banned from returning to Romania for a period of time that depends on the length of the overstay (but usually not longer than 1 year).
If you have valid grounds for not getting the permit, like medical emergencies or school/employer failing to give you the required documents, you can request a waiver of the ban at the Immigration Office – this has to be done before leaving the country.
For EU citizens, you could incur a fine (apparently of around 50 lei, which is something like 12 Euros) and you won't be banned from returning to the country, nor deported.
If you want to find out even more, you can check out this article which fully details how an US family moved to Romania and what they had to do to make their stay legal and permanent. Have in mind that they made the move back in 2015 and things changed a bit since then.
Also, make sure to read the comments below. There are some nice experiences shared by people who went through this and were kind enough to detail the process once more.