If you've been reading some of my previous articles here on Romania Experience, then you probably know that I really hope that some day I will manage to become a digital nomad: travel to different cities and countries, live there for a few months, work from there and keep on doing this.
Last year, we were really close to giving it a try by going to Malta, but eventually decided that we can't – and we bought an apartment here in Romania instead. This year, I was 100% sure that we're going to go to Malaga (it seems that I'm stalking KemKem from Next Bite of Life) – but knowing what happened last year, I said no word about it.
And it was a wise choice because we decided against it – and instead we scheduled a real adventure: a budget trip around Europe. By train.
Well, not really around Europe, but we'll be visiting 6 countries and 9 cities, all in about 30 days. How crazy is that?
It all started with an online friend my wife has in Australia who told us that she's visiting Europe. We initially decided to meet in Munich, but then I changed my mind.
Not completely, as I usually do: I said "why take an expensive plane to Germany (I am also terrified by planes, by the way) and not take the train all the way there? And since we're doing it, why not stop for a few days in Budapest, then a few days in Vienna?"
It sounded nice and we started booking apartments. I wrote in a previous article about short let deals in Bucharest and we've used my recommendations there: AirBnb. In other words, we have booked our entire stay through their service and we have already interacted with a bunch of amazing people. Hopefully all will go well and we'll have reasons to recommend AirBnb in the future too!
Now, back to our trip around Europe by train: once we got to Munich, we had no idea what to do next in terms of planning. Should we take a plane to Malaga? Should we turn back using the same route?
Well, between A and B, we've decided to pick C: take the train to Italy. So we'll spend a few more days in Verona where I want to taste Italian pizza and spaghetti more than I want to see Romeo and Juliet's house, then we'll go to Trieste for a few more days and eventually we'll arrive in Croatia.
There, we'll visit their city Pula (a word which in Romania means penis – but the bad way of saying it) for a laugh and some "I Love Pula" t-shirts for our friends, and then we'll head over to Rijeka. From there, we'll go to Zagreb and spend a few days exploring the city, then move to Serbia in Belgrade before arriving home.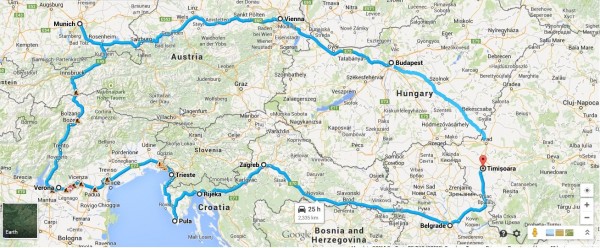 This whole adventure is spread out over almost 30 days and I still can't believe that we're doing it. We've booked all the rooms and we're working on getting as many tickets as possible, so there's no turning back.
We scheduled everything so that we will never travel more than 6 hours by train and overall, I am looking forward to this adventure. It will finally show me if I am really made for the nomadic life: traveling, working, enjoying new places and cultures, and doing it all together with my wife and almost 2 years-old son.
We'll start at the beginning of May – not the best time of the year, in my opinion, but that's when my wife's friend was visiting – and it surely is our greatest adventure so far. And we're insanely excited about this!