If you're wondering what to do in Brasov when you next visit the city, I've got you covered! Today, I am here to share the absolute best things to do in Brasov and I am sure you will love them all!
Whether it's the middle of the summer or the season of skiing, Brasov is always amongst the top preferences of both locals and foreigners when it comes visiting Romania or moving here.
You might have heard of Brasov linked to Bran Castle, or to the story of Dracula from Transylvania, but there is so much more to do and enjoy here.
With these in mind, let's check out the 15 best things to do in Brasov, Romania, in no particular order.
1. See the city from the Brasov Sign on Tampa Hill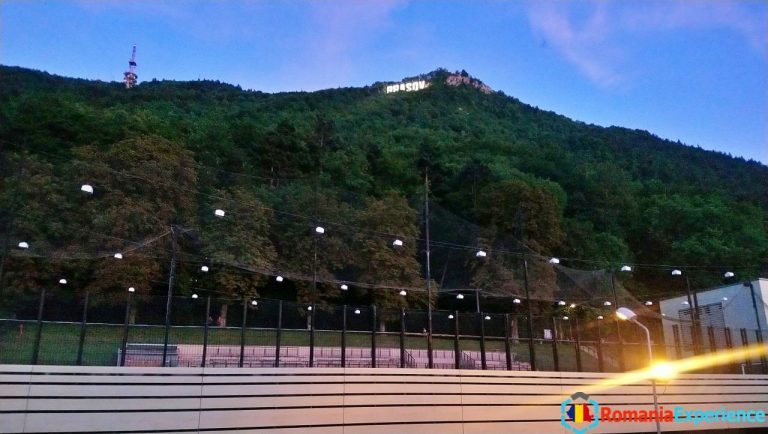 This is the first thing you will see while getting closer to Brasov, whether you get there by car, bus or train: its own big "Hollywood" sign, letting you know you're in Brasov.
This is located on the Tampa hill, and is one of the two such signs in Transylvania – the other one is at Rasnov, another small town next to Brasov, within the same County.
You can either take the cable car, or enjoy a short hike up the Tampa Hill in order to get to the belvedere point, where you can take pictures behind the sign and enjoy a breathtaking panoramic view of the entire town of Brasov.
It is a romantic, refreshing and inspiring view that you can simply not miss if you're in town. As you can imagine, this is one of the most Instagram-able parts of Brasov.
2. Visit the Black Church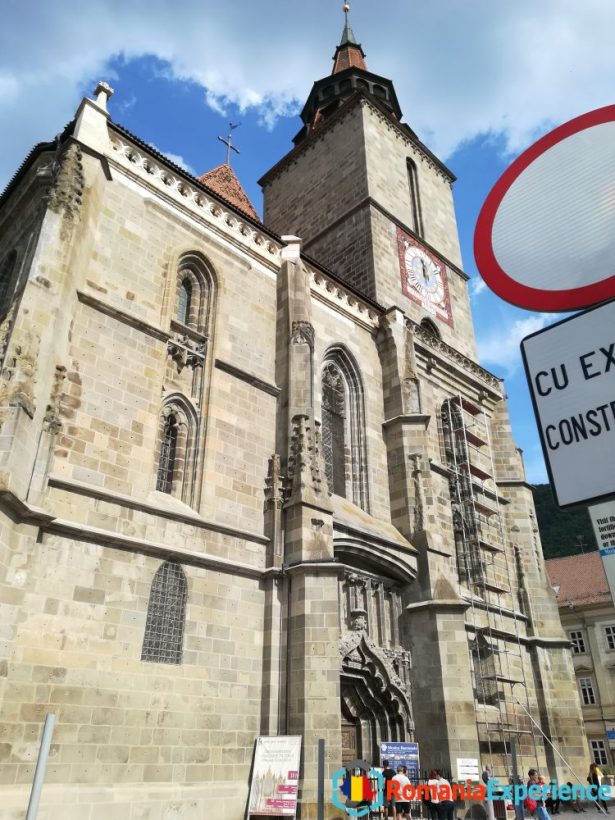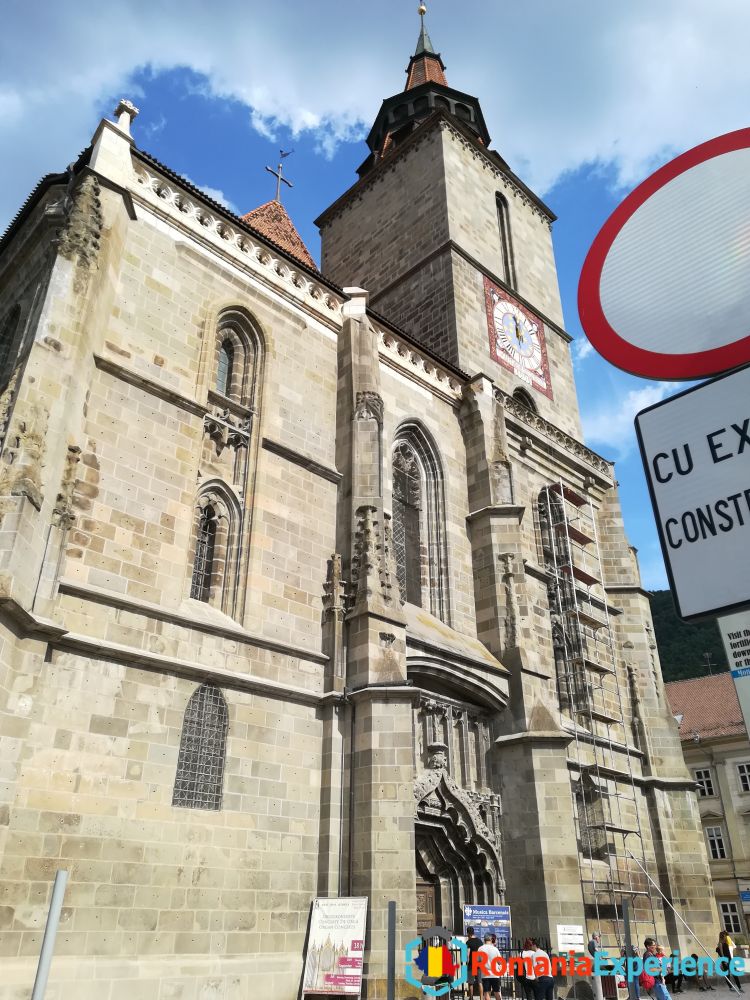 Probably the most iconic symbol of Brasov, the Black Church is a Gothic cathedral almost devoured by fire during the 14th century. Fortunately, it is still standing – and it's as imposing as beautiful as ever.
Situated in the Old Town, this medieval church is a magnificent building with huge cultural, architectural and historical value for Romania.
Today, The Black Church is open for visitors and concerts or religion services are often organized inside, which have an extremely interesting and reverberating acoustic.
A 4.000 pipe organ is accompanied by a six-ton bell – the largest in Romania – making the dark-looking building a much more welcoming and memorable touristic attraction.
3. Explore "Piata Sfatului" aka the Council Square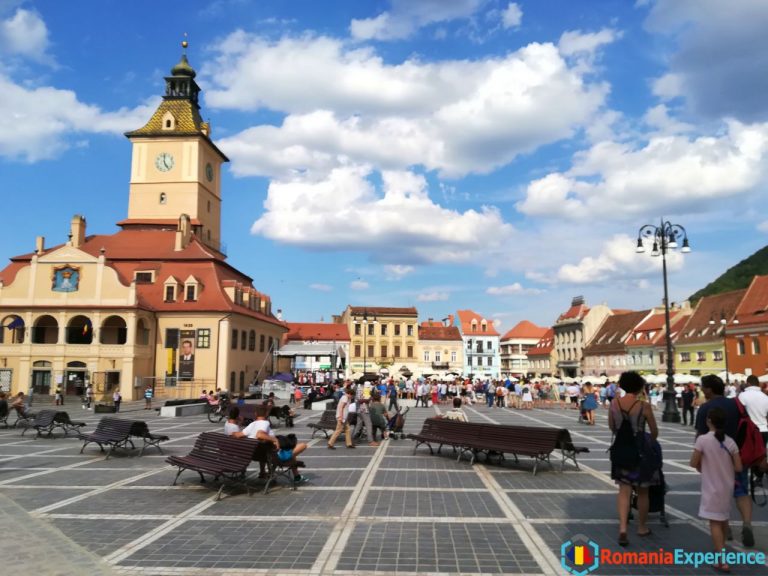 This is basically the "Old Town" area where the Black Church is also located, but it's also an area that has to be explored by foot.
Known as "Piata Sfatului" or the Council Square, this is a small area where old, beautiful buildings are to be found, as well as plenty of restaurants, pubs – as well as potential events since this is where many of those happening in Brasov will take place.
We've been here during the winter holidays and we enjoyed a nice, free concert, the arrival of Santa Claus and plenty of delicious mulled wine and traditional sweets, like Kurtoskalacs.
If you're visiting in the morning, getting coffee is a great option; but if you're here later, it's also a great opportunity to taste some traditional dishes.
Transylvania is popular as one of the areas with the best traditional food in Romania, and Brasov makes no exception.
Restaurants have a wide variety of meal options and you'll definitely find something for yourself. You can get ready in advance by checking out my article sharing the best pubs in Brasov.
Plus, the Council Square and the entire Old Town is a good place to find the best souvenirs.
Recommendation: You can book this Brasov Candlelight tour for an amazing guided tour of the area, showing you the most important attractions in the city (and a few ghost / vampire stories for good measure!) Great experience!
4. Enjoy a Day Tour (or More!)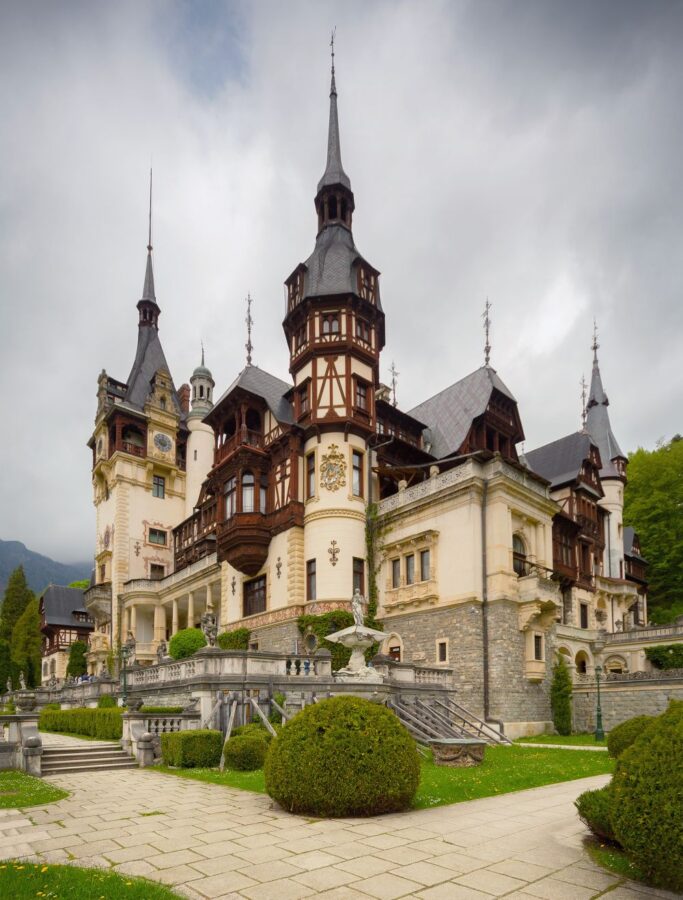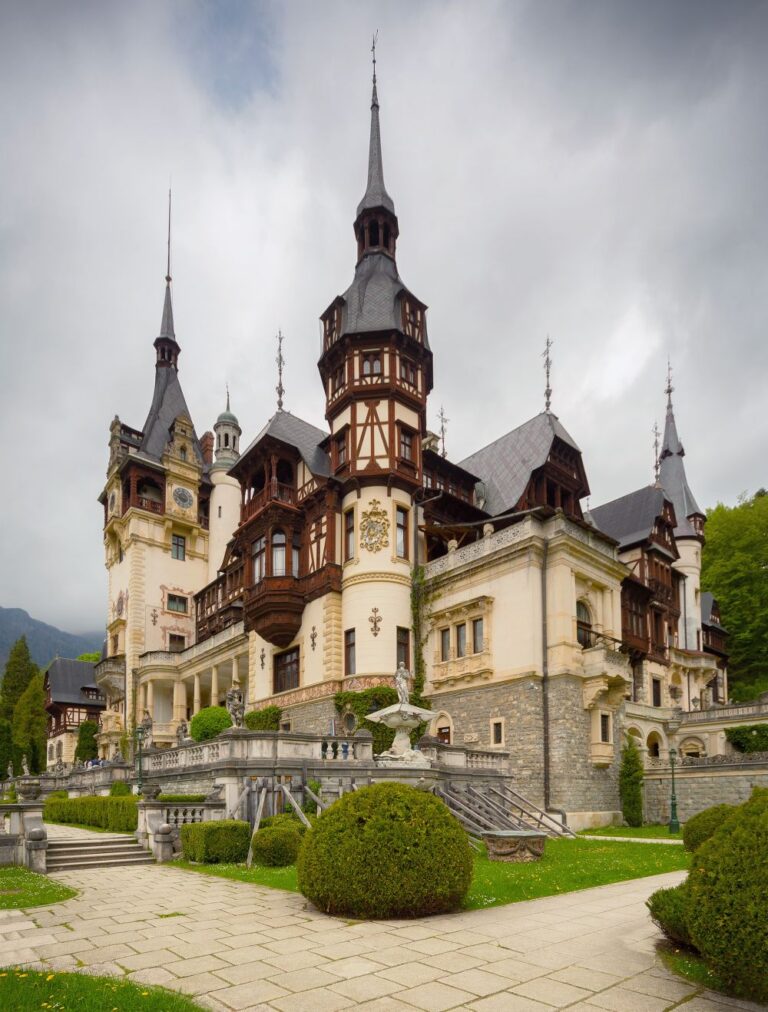 If you're spending more than a day in Brasov, you have to take advantage of the various day tours available.
I will list them below just in case you're in a hurry, but we'll get a bit more in depth with the most important ones below.
But I consider these two a must if you spend a few days in the city. They are refreshing and tick off your list some of the most important things to do in Romania as a whole:
Peles Castle, Bran Castle & Rasnov Fortress Day Tour: An amazing day tour that takes you to the most important castles in the area – Peles Castle, Bran Castle aka's Dracula's Castle and the nearby Rasnov Fortress. If you can only take one tour, this should be it! Click here to check it out.
Day trip to Sighisoara and Viscri: Sighisoara is the only medieval town that's still inhabited in Southeastern Europe and a real joy to visit. Viscri is a nearby village with a fortified church that goes well with the medieval theme. Perfect mix for an unforgettable day tour from Brasov. Click here to check it out.
5. Take some photos on the Medieval Walls of Brasov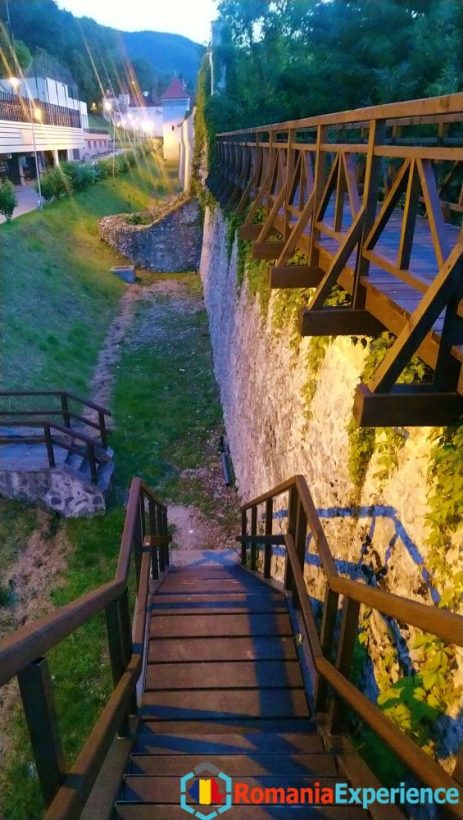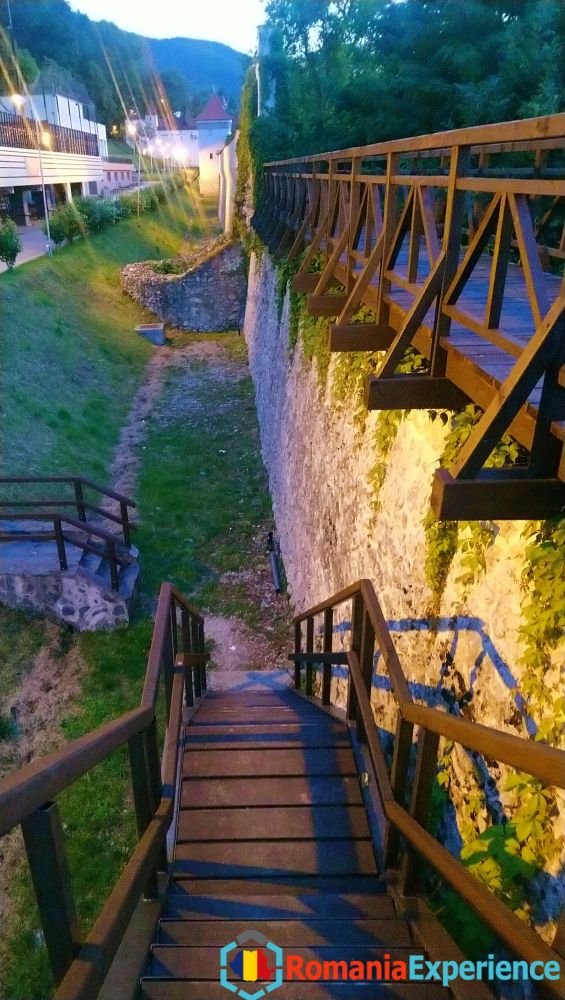 More exactly, the Southern Walls of the City. Or, at least, this is where you can take the best pictures at sunset, catching a glimpse of medieval stories and legends on the walls below Tampa Hill.
They once measured 2m thick and 12m high, but now they are restored so you can climb them and take breathtaking panoramic pictures of the entire town – truly Instagramable location for sure!
You will find these walls right at the base of Tampa Hill, so it might be a good idea to walk around right after visiting the sign I mentioned above.
The street along which you will see these walls is called "Aleea Tiberiu Brediceanu", so note it down if you want to type it in Google Maps – or just click this link.
6. Schei Gate, White Tower & Black Tower
You can later continue your medieval tour of Brasov if you're passionate about history or legendary vibes, as there are lots of other bastions, walls and towers to see around the city.
Of them all, I suggest you also head to the Northern Walls and pass under the Graft Bastion, Schei Gate, the White Tower, the Black Tower or Catherine's Gate.
All of them are amazing attractions for history, architecture or fairytale lovers, as well as important for the city's history.
7. Get a glimpse of the wild life with a visit at the Zoo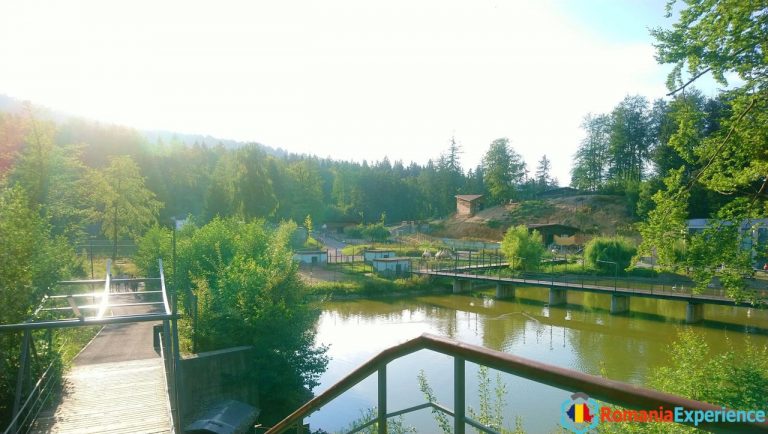 This one you don't want to miss, trust me! Not even if you aren't that fond of animals or zoos in general.
If you ask me, Brasov's Zoo is the most beautiful in the entire country. While it's not comparable to Europe's largest and most impressive Zoos, it is really beautiful.
So, I was saying that you will love this place even if you don't love animals so much, and that's because the 10ha (25 acres) area is also a wonderful promenade zone, with long alleys, lots of green spaces and nature, a playground, lakes, bridges with stunning views upon the lion's cages and a green plant-decorated reptile's house.
And, if you do like animals, that's even better, because they have a huge range of species of mammals, birds and reptiles available to see.
You can see different species of lions, tigers, monkeys, snakes, birds, and even camels, llamas, red pandas or polar owls, all in huge perimeters, naturally and beautifully designed as close to natural habitats as possible so the animals are not stressed.
8. Rent a hydro bike and explore the Lake Noua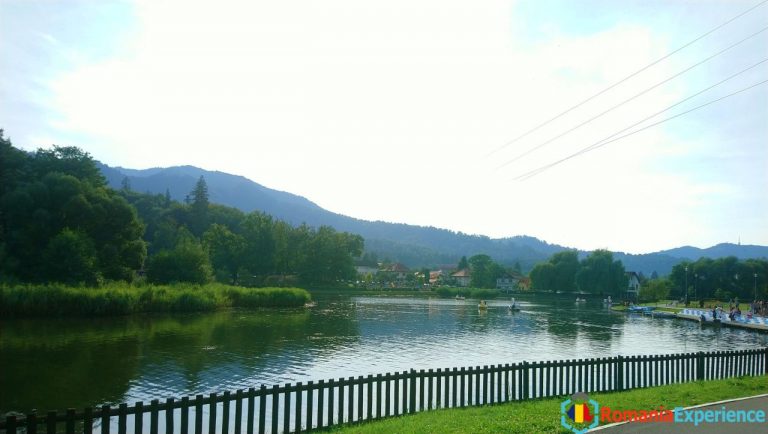 If you visited the Zoo, the Park Noua is your next destination, because it's situated close to the zoological garden and is another amazing destination in Brasov.
You will find a lot of green space here, pavilions, a mini-island with a bridge hidden between reeds in the middle of the lake and a zip-line just above the Lake Noua.
This one is a good choice in the morning or in the evening, when it's not that crowded and you can get a relaxing experience along with some fresh air and inspiring view.
You can also rent a hydro-bike and explore the Lake Noua, accompanied by ducks, turtles, fish and other birds passing by.
9. Envision a legendary story at Straja Hill Fortress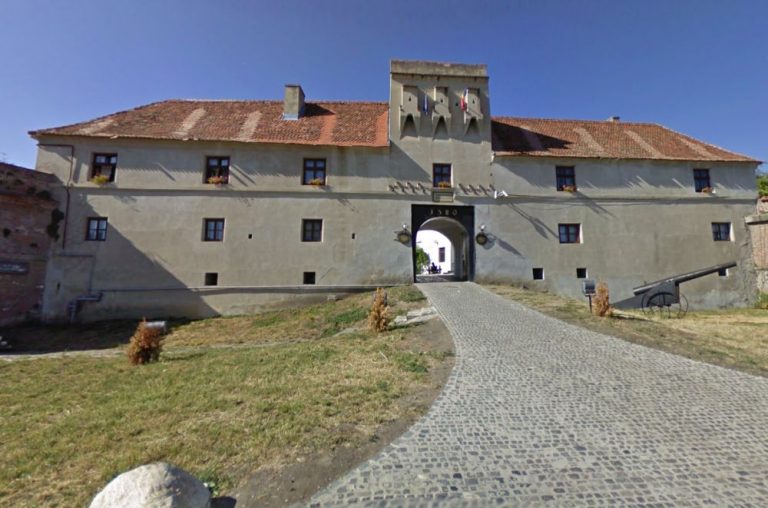 Initially built only as a watch tower, it has become a real medieval fortress after a wooden bastion with four more towers was attached to it, creating what today is called Straja Hill Fortress – or Cetățuia de pe Strajă.
It was destroyed and damaged several times in the past, and later completely restored, with the stone walls and interior well, into the fortress that we see today.
Looking more like a castle than a fortress, the building is today classified as a historical monument, and it is surrounded by a veil of legendary vibration and fairytale-like energy, which I am certain you will sense and enjoy if you're attracted to this kind of tourism.
10. Get a dose of adrenaline and entertainment from Poiana Brasov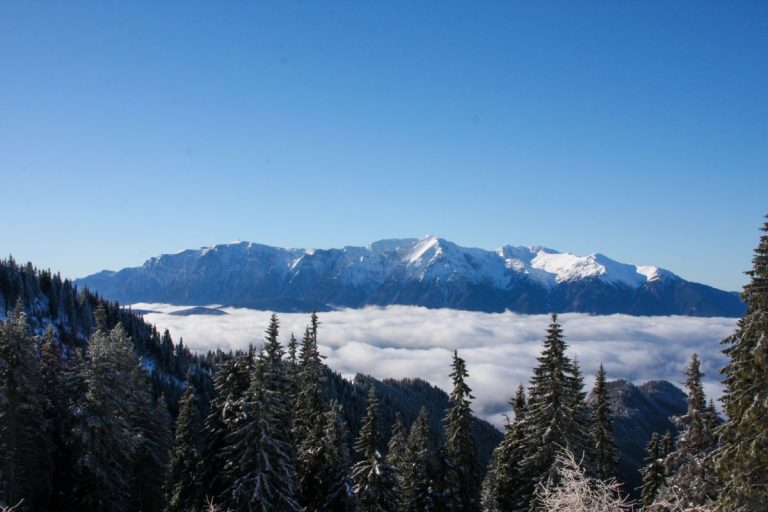 This one is the main attraction in the area during winter, because it is one of the most popular ski resorts in the country; but this doesn't make it any less attractive during summer either, because there are plenty of trails and routes to discover.
Lots of natural sights and fun make Poiana Brasov an amazing destination to re-connect with nature.
Additionally, you can also find a horse-riding center here, where children and adults can ride horses and ponies.
After participating in riding courses, you can either ride or walk around, by foot or using the sleigh, cart or carriage.
11. Sneak through the Rope Street, one of the narrowest streets in Europe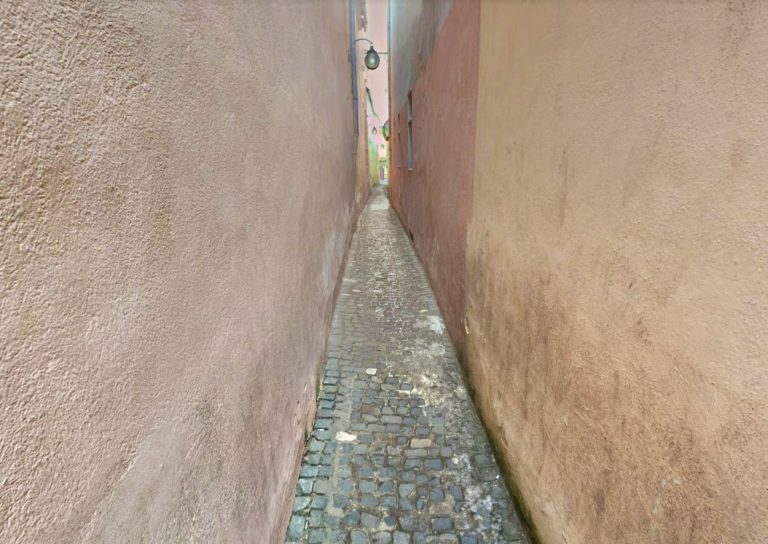 Initially built as a passage, the Rope Street (or Strada Sforii in Romanian) is today one of the narrowest streets in Europe and worldwide. It measures 80 meters in length, whereas the width varies from 111cm to 135cm.
Holding the record of Europe's third narrowest street, Strada Sforii is one of the most popular touristic attractions in Brasov and an iconic landmark; and it is even more accessible to all tourists, given its proximity to the Black Church and Council Square.
The most frequent photos that are taken here feature people touching both walls of the street with their hands widely stretched. It just has to be done so make sure you don't miss out on this opportunity!
12. Walk in the Nicolae Titulescu Park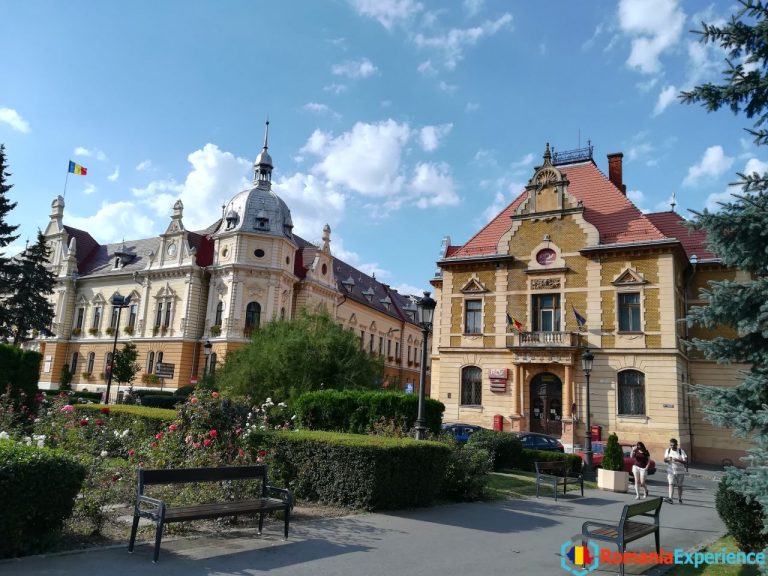 Parks are always go-to touristic attractions in most of the cities that we visit, because they are inviting to socialization, offering a good opportunity to learn more about the local culture and people this way.
All these while getting some fresh air or resting on a bench, under the cool shadow of the tall trees.
Nicolae Titulescu Park is a great choice during your vacation, for two main reasons: firstly, it is very accessible because it is close to the Council Square and Old Town, which makes it easy to find; and secondly, because it is extremely beautiful and cared for, especially during summer, when it is filled with blossomed flowers and unique perfumes.
13. Visit the Bear Sanctuary (and hike a bit)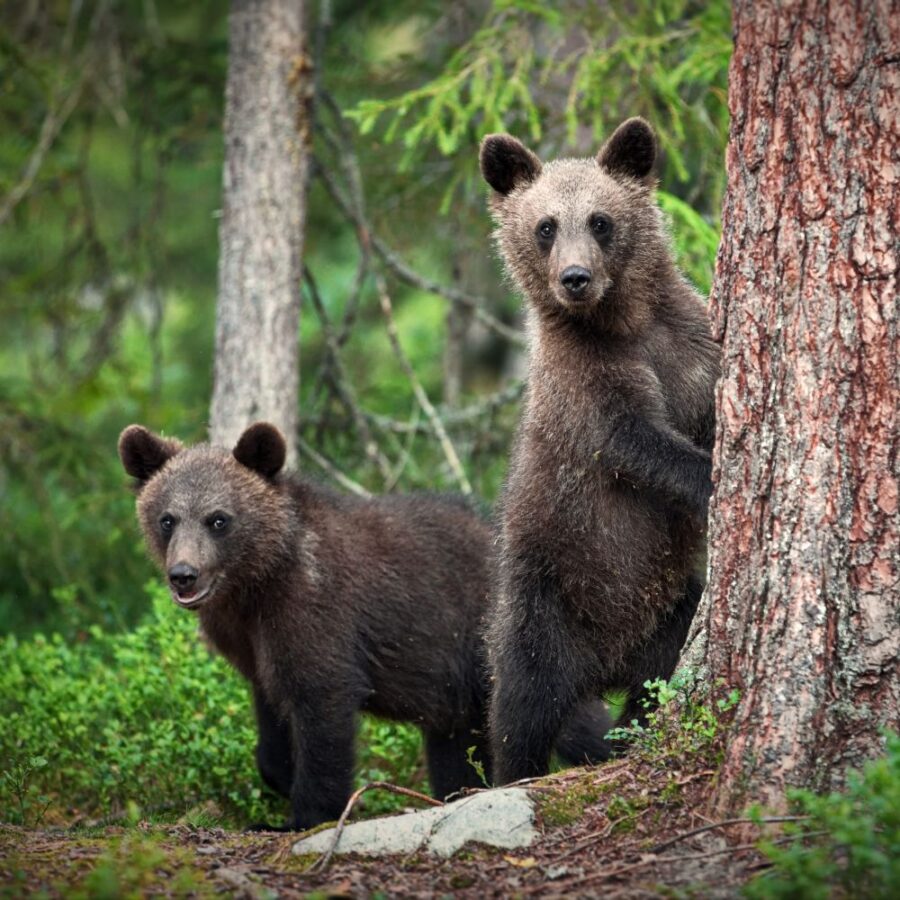 Romania has been, lately, in the news in regards to bear attacks and I wrote more in depth about bears in Romania here. But the Bear Sanctuary in Brasov is safe and you will only see these impressive creatures from a distance.
By visiting the Bear Sanctuary Liberty (this is its name), you are also supporting an important cause here in Romania.
There are over 100 bears in the sanctuary, all of them brought from illegal animal parks or old zoos that couldn't handle them anymore. They've been given a new life here, which is pretty amazing.
I recommend this tour for the occasion – you will have to go outside of Brasov a bit, and you'll end it with a nice hike in the Piatra Craiului Mountains. (So make sure to bring comfortable shoes!)
14. Day trip to Rasnov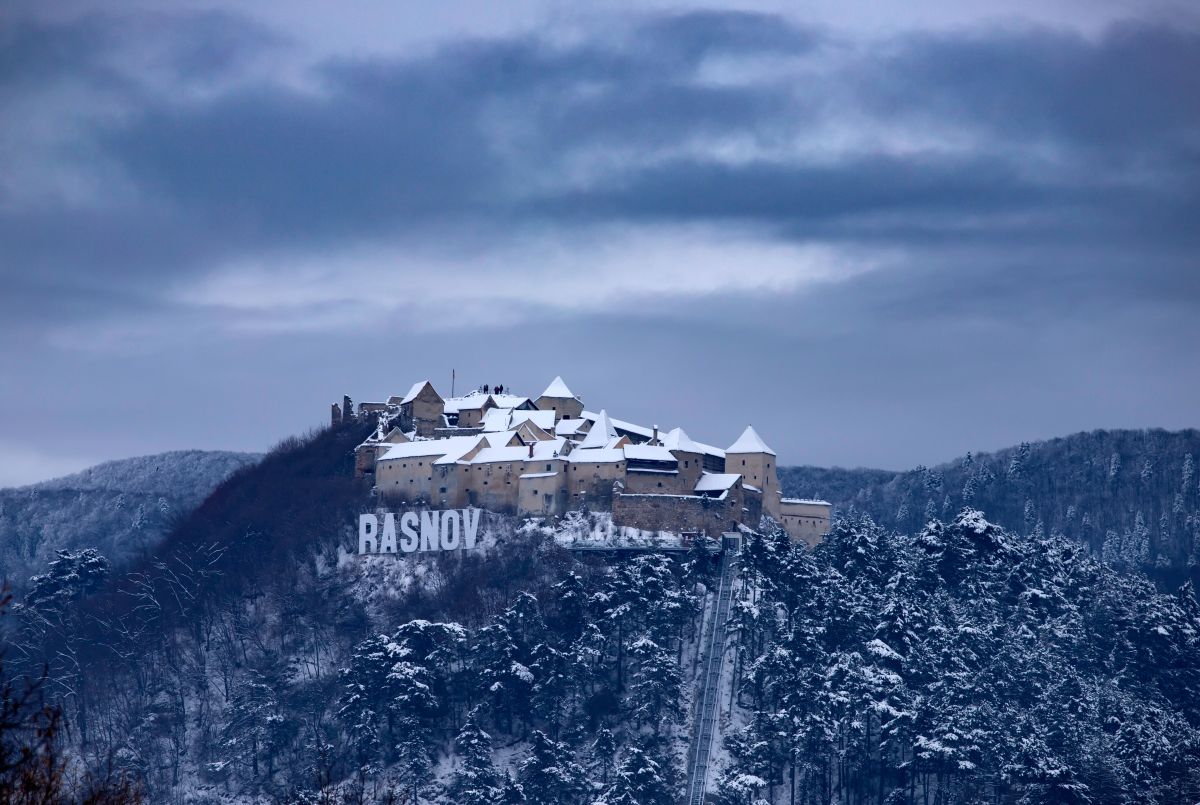 Nearby Rasnov can be reached by bus or train in about 30 minutes from Brasov. It's also part of various day tours – like this one, which I've already recommended above.
You should visit Rasnov because there are two main attractions in the area:
First of all, we have the Rasnov Fortress, which dates back from the medieval times and is really impressive to see.
At the moment of writing this article, the Fortress is being rebuilt, but you can still visit the yard free of charge and check out the amazing ruins and views from the area.
Second reason for visiting Rasnov – especially if you're traveling with children – is the nearby Dino Park. There are plenty of huge dinosaur statues spread over the forest, with a 9d theater, a playground and various other activities available there.
Our son absolutely loved this place – so make sure to visit it after visiting the Fortress, which smaller kids might not appreciate just as much.
15. Visit Dracula's Castle!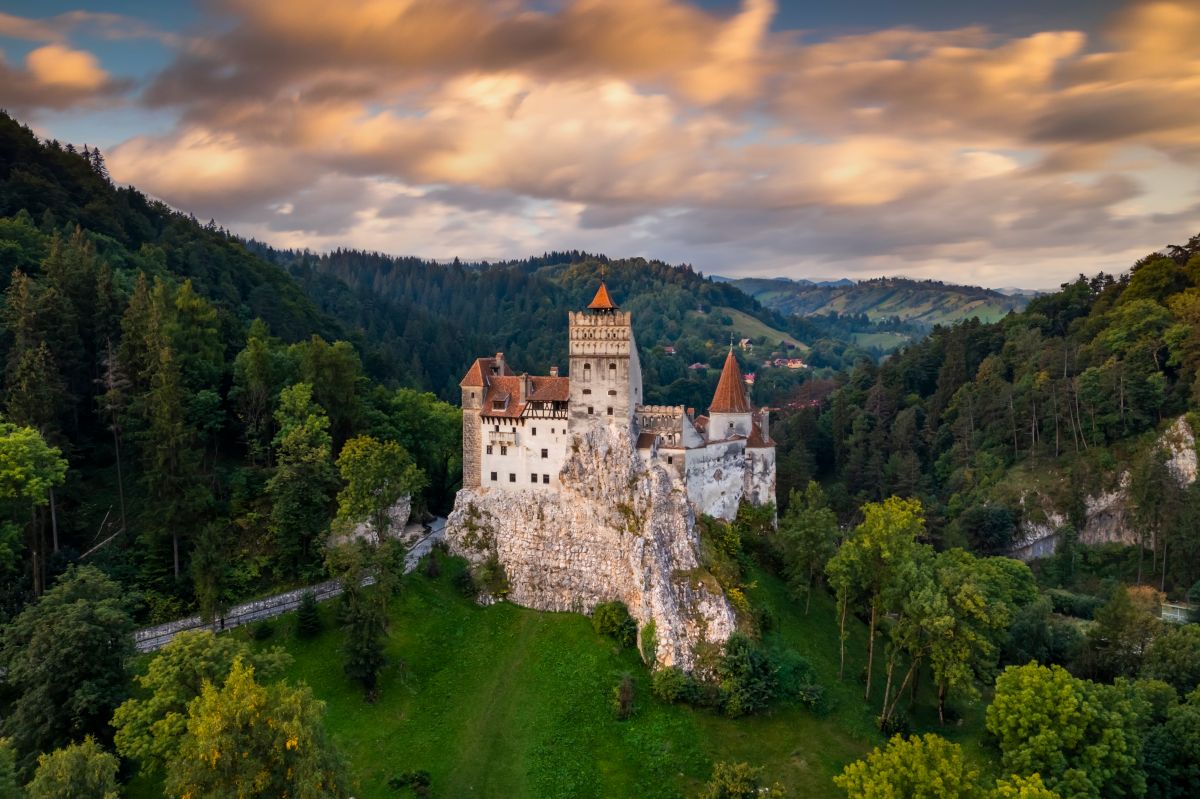 Last, but not least, we have Dracula's Castle aka Bran Castle. While I am listing this as one of the top things to do in Brasov, it's actually not located in the city, but a short ride away.
There is no direct train from Brasov to Bran, but you can find buses leaving from the main Bus Station in Brasov every 30 minutes, so you can easily hop in and get there some 45 minutes later.
Or you can just get a longer day tour that covers the most important sights in the area. I recommend the tour below, which takes you to Dracula's Castle, but also has a stop at Rasnov Fortress and two two fortified Saxon churches, Prejmer and Harman:
If you decide to get to Dracula's castle via bus (or other means, without an organized tour) I highly recommend getting a skip the line guided tour. Especially if you travel during the weekends or the peak season, there will be huge waiting lines there.
Back to Dracula's castle, it's worth visiting as it dates back to the 14th century and is filled with a rich and tumultuous history.
While it's commonly associated with the fictional Count Dracula from Bram Stoker's novel, it was actually used by Queen Marie of Romania in the 20th century – and Bram Stoker's apparent inspiration for the famous vampire, Vlad Tepes never set foot here.
Conclusion
These would be the top 15 main things to do in Brasov, Romania. Sure, there are plenty of other activities and places you can go; but, in my opinion, these are the most iconic, beautiful and memorable ones.
That being said, I hope that my short guide helped you find your visiting path in Brasov a lot easier and that you will enjoy your trip to this beautiful city to the maximum!
And if you happen to stumble upon an amazing thing to do in or around the city – one that I haven't mentioned already – don't hesitate to share it with the world by commenting below.