You probably remember about our last year's vacation at Hotel Fortuna in Eforie Nord. It was a pleasant stay and, even though there was nothing spectacular about it, we were still extremely pleased and we've decided to do it again this year.
And since the hotel provided us with a good experience and it was close to restaurants & supermarkets, while still decently close to the beach, we had no hesitation to book our stay there once more. Plus, in the mean time, the hotel also got a reward from a highly valued Trip Advisor-like website in Romania. All was good!
Well, this year… all was not good, actually. We were simply unlucky to get one of what was probably the worst rooms (actually, an apartment) in Hotel Fortuna. They were completely packed and had absolutely no other rooms available, they were handing them in to tourists as the previous tourists were leaving and after the fastest possible cleaning was done.
The hotel's reception area was filled with angry tourists demanding their rooms and it wasn't very pleasant to look at. However, this was not necessarily the hotel's fault: it was about 12 PM when they were fighting and the hotel had a huge sign saying that the check in starts at 6 PM (yes – SIX!). It's actually understandable that they do need time to clean up the rooms and since the hotel was fully booked, they really had little to do but to listen to the unhappy tourists who, also understandably, wanted their rooms.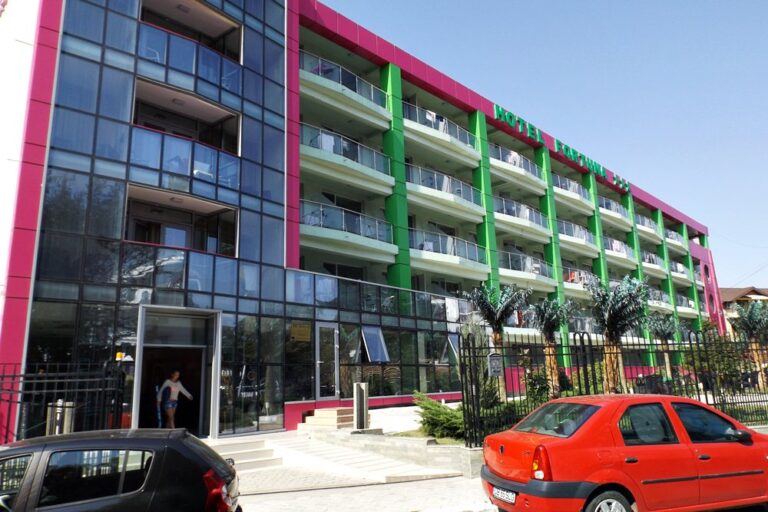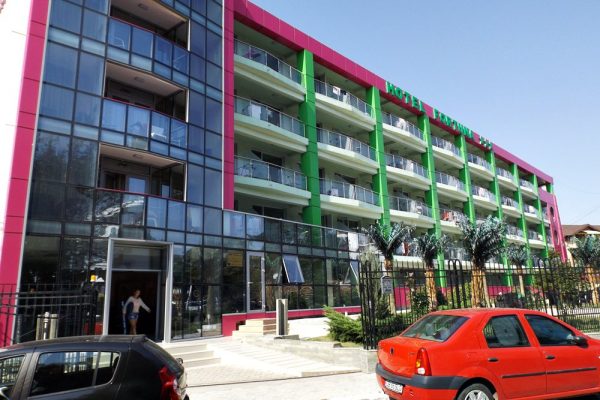 Our apartment was among the first to be ready, to the disappointment of other tourists who arrived before us, but we still had to wait the extra 30 minutes in the lobby simply because the guy at the reception desk forgot to tell us it's ready. He did apologize, that's true, but it was still highly unprofessional.
However, that was not the bad thing: the apartment itself was! Although nice and clean, with a small but cozy living room and a huge bedroom, it all went crashing when I found out that there was no air conditioning in the bedroom itself – just the central air conditioning system in the living room.
Actually, there was an air conditioning unit in the bedroom, but no remote control. So I had to make a trip to the reception and ask for the remote control. They guy told me that I don't need one because there's central air conditioning in the bedroom as well.
I went up to check again – I indeed could've missed it in the first place as I was tired. It turns out that I wasn't that tired though and indeed there was no central air conditioning, just the unit itself, without a remote control.
After another visit to the reception, they still didn't believe me. They sent the cleaning lady with me to show me how to use the centralized air conditioning system. She was shocked to find out that there wasn't one in the bedroom, as I kept saying.
At that moment, I was shocked too that two people working at that hotel had no idea how the rooms looked and were like – especially the cleaning lady who should've at least cleaned the apartment before our arrival.
We went down to the reception again, for the third time, with confirmation from the cleaning lady, and this time the guy at the reception called a manager to discuss things further.
Her claim was that the air conditioning unit in the room was part of the "old hotel" and they no longer had the remote controls for them. They were unusable, although the unit was obviously working, plugged in (not by us, it was like that when we arrived there) and the led light was green, showing that everything was OK.
We demanded another apartment, but they were fully booked. And, to make things even worse, there were no apologies on their side. Nobody said they were sorry for this, nobody tried to make us feel better or give us another option. They just informed us about the facts and as soon as the manager finished explaining me about the "old hotel's" air conditioning unit, she turned around and started doing something else without even caring to see if I had anything to say.
Normally, I should've left the hotel to find another place to stay at. But the hotel itself was fully booked until the 4th of September as I later heard at the reception. All other hotels were probably in a similar position. And at least we had been here before and knew that at least the rooms were clean, things were working as they should've (except for the air conditioning, apparently) and without prior research, you can really have an even worse experience at a hotel.
It was, mostly, stay there or go home. And when you've just arrived with a three-year-old who kept telling you for the past two weeks "I can't wait to get to the beach!" you decide to stay there and do it like Romanians do: find a way to make the s**t work.
It was a bad experience and I am sure that most of the people staying at Hotel Fortuna in Eforie Nord will have a pleasant stay, just like we had last year. But we were unlucky to get one of their (probably) worst available apartments and we were treated with a complete lack of respect by the manager. The reception desk guy was polite but had no way to help us and it was clear that the people working there didn't really know their hotel.
As a result, even though the regular rooms were perfect for us last time we visited, it's this final experience that matters the most and we will most definitely not return to stay at the hotel.
Lessons learned here? Customer service in Romania is still lacking greatly. One of the things that Hotel Fortuna is praised for is how friendly and professional the staff is. That's something that we have appreciated last year too, but this year they were clueless and even though they stayed polite (which you still won't get in many hotels in Romania), they were unprofessional and not even once said sorry for the entire mess.
Also, I've also learned that even the most praised hotels have their weak spots and in our case we ended up in one. But fortunately, this wasn't a holiday breaker and we had a great time at the beach, in the end and our kid never felt any of these problems – and this is all that matters.
So although the air conditioning didn't work as expected (the centralized one in the living room simply wasn't able to cool down the bedroom even though we kept the door open) we made it work. There will always be bad experiences, they are part of life, no matter how much you research something or how well prepared you think you are.
However, I personally left with a sour taste in my mouth… but with a nice tan too. It was our last ever visit to Hotel Fortuna, but fortunately Romania has so many other options (with more and more really impressive hotels being built every year) that we won't have problems finding even better ones.