Romania is the land of amazing castles dating from medieval times (but also some surprisingly beautiful newer ones) and I am sure you will love visiting them all.
Today, I am sharing with you the full list of the best castles in Romania. These must-visit attractions range from the well known Bran Castle (aka Dracula's castle), to a modern, clay-made Fairy Tale Castle and much more.
Prepare to be amazed! And let's jump straight into my list of the best Romanian castles to visit. Make sure to pair them up with the best monasteries in Romania for a perfect itinerary in Romania.
1. Bran Castle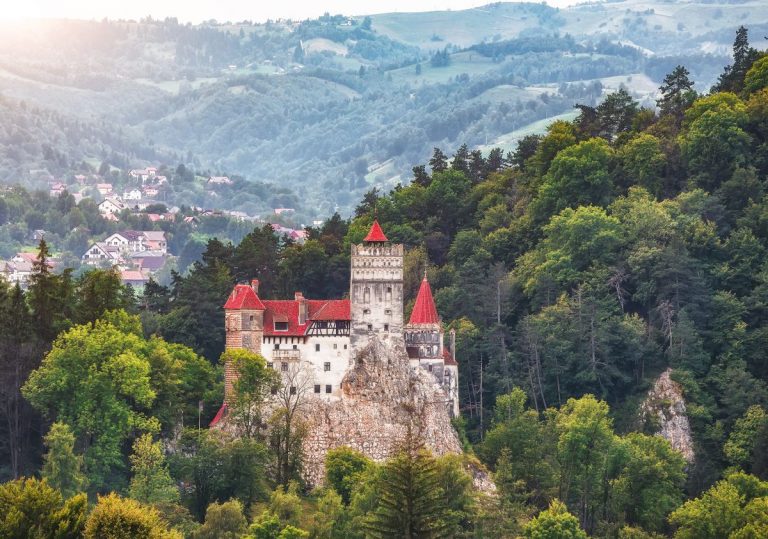 This is most likely the most famous castle in Romania. In fact, Bran Castle is so famous that it's become a symbol of Romania and one of the iconic touristic attractions in Transylvania.
Sure, Bram Stoker's Dracula novel brought a major contribution to this phenomenon, because Bran Castle best matches the description of Dracula's Castle. And authorities were happy to embrace this.
Even though the "real" Dracula, Vlad Tepes aka Vlad the Impaler never set a foot in Bran Castle (as we discussed in the article about vampires and Romania), Bran is still known today as Dracula's Castle. And therefore, an extremely popular tourist attraction.
And, truth be told, it's a really nice castle overall!
No matter if you discover Bran Castle from the stories of Count Dracula or from an international top of beautiful European castles (or this article!), visiting Bran is a must when you're in Romania.
If you want to fully experience the beauty of this castle and learn about its history, I recommend booking this skip the line tour of Bran Castle.
With gothic architecture, surrounded by mountains and nature, the medieval construction is placed in Rucăr-Bran Pass, only 30km away from Brașov.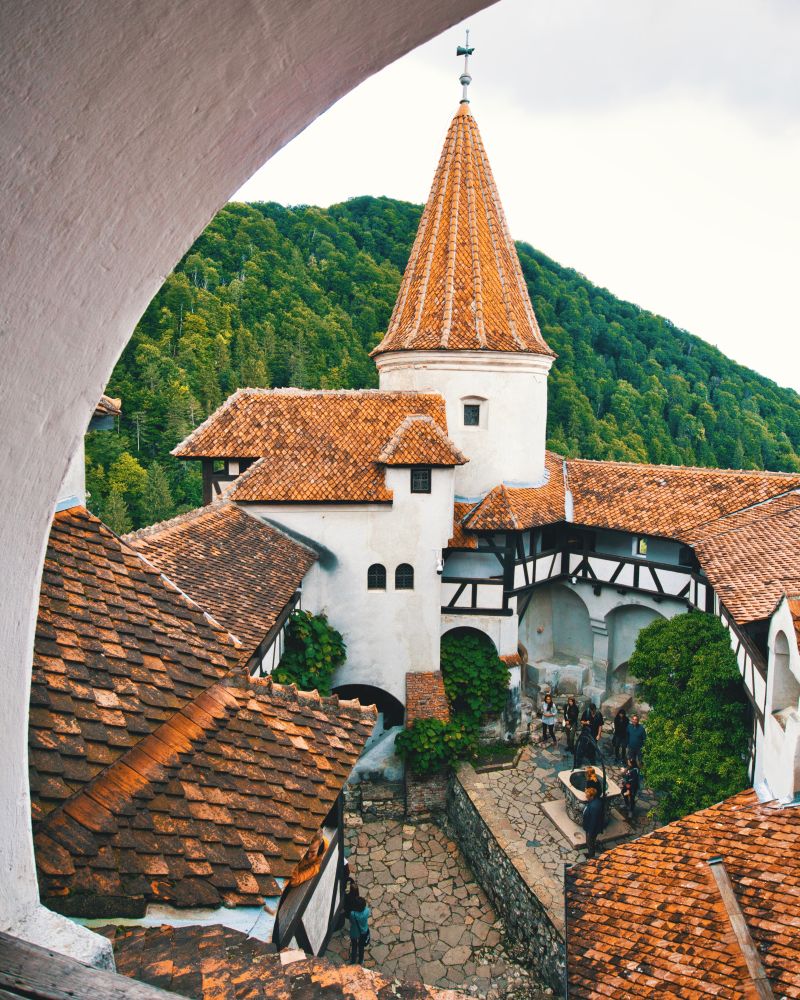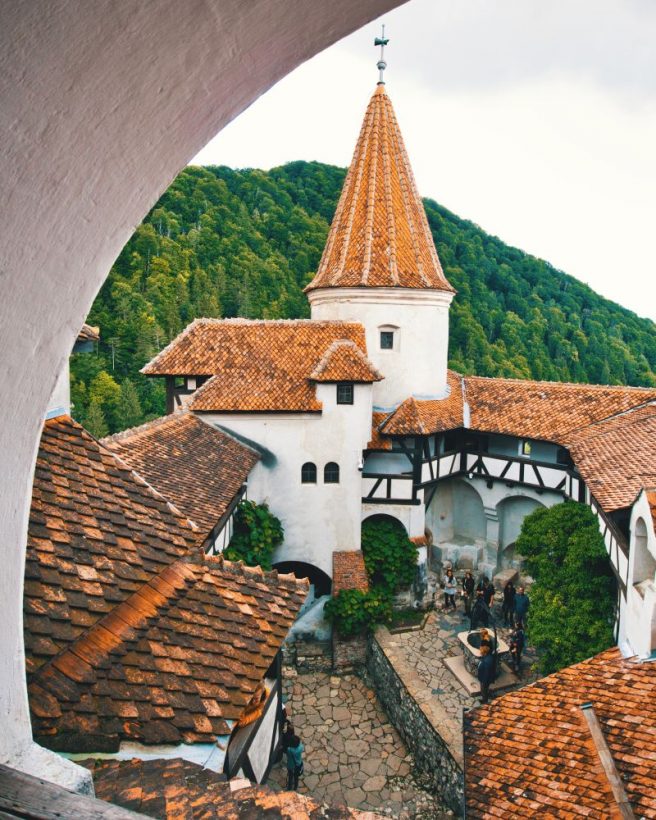 Amongst the unique elements you can discover when visiting this castle, you have a secret passage, the Queen's room with the library and piano and a beautiful yard with a well.
Don't forget about the tradition of throwing a coin into the well so that you return at least once more in a lifetime to this beautiful place! And make sure to read more about Romanian superstitions here.
2. Corvin Castle
Another monument with gothic architectural style, Corvin Castle is one of the largest castles in Europe, one of the most beautiful castles in the world and one of the "7 Wonders of Romania".
Scenes from cinematic productions such as the horror film "The Nun" or Bollywood movie "Singh is Bling" were shot here.
If you ask me, both Bran and Corvin Castle are equally amazing, spectacular and important for the Romanian culture.
Each of these castles is impressive due to its unique architectural elements, historical value and legends surrounding them. And yet none is the most beautiful in the country in my opinion – the one below is.
Back to Corvin Castle, also called Hunedoara Castle or Hunyadi Castle, it is situated in Hunedoara and it is one of the most sumptuous castles you'll ever visit.
Even from a generous distance, you will be able to see the tall towers, roofs, balconies and walls of the fortification.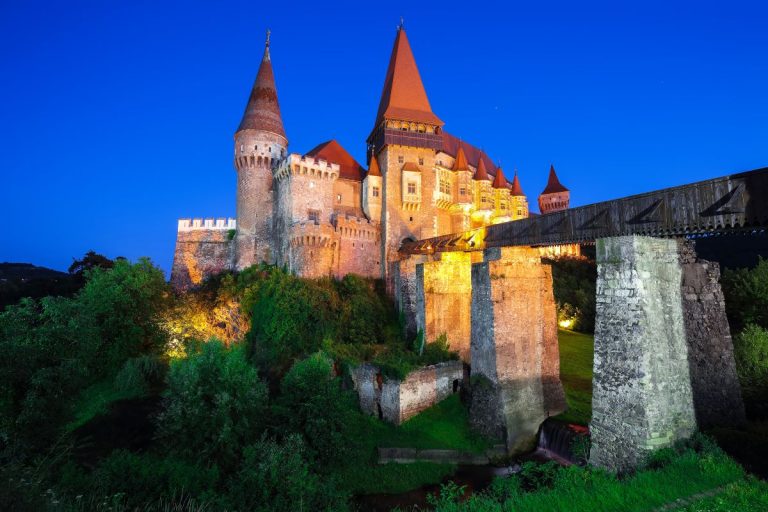 Surrounded by a river, built on a rock, decorated with geometrical motifs, it offers an amazing sight from the exterior and the interior as well.
Outside the castle, there is a bridge that you'll need to cross before getting through the gates. From here, you can get the panoramic of the entire castle plus the surrounding green area (river, trees, nature).
Inside the castle, there are huge halls, chambers and rooms, an inner courtyard and a torture chamber right at the entrance.
Most of which are whispering a legend or a story awaiting to be listened to by the tourists. Such as the legend of the railing or the story of Count Dracula being imprisoned here.
The legend of the raven lays in a vague painting from one wing of the castle, whereas another wing buries the legend of the inscription on the 30-meters well and the three Turkish prisoners.
If you're up for a visit filled with bone-chilling legends and dark stories from the past, Corvin Castle is the most beautiful incursion in time and history you can make in Romania.
3. Peles Castle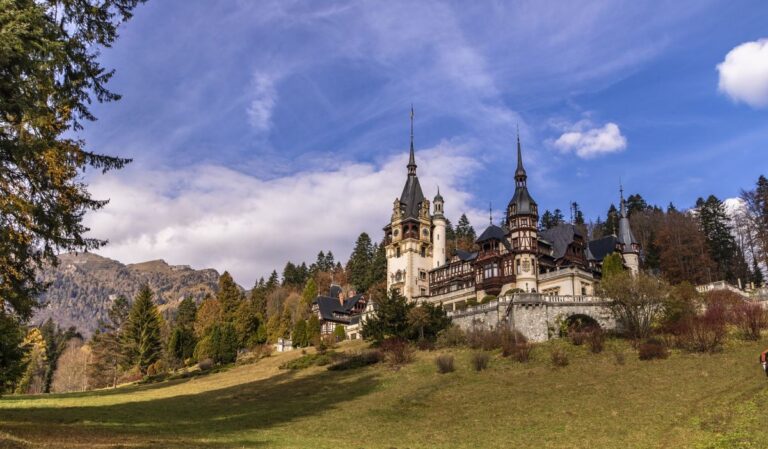 When it comes to sheer beauty, this is the winner in my books and I consider it the best castle in Romania.
It's actually a palace and not castle and it does look like it just came out of a fairy tale. Probably this is why the movie "A Christmas Prince" was shot here, for the sensational fairytale-like views and frames from both the interior and the exterior of the building.
Completely distinct from the first two castles, Peles has that beauty, that elegance and finesse that you would expect from a fabulous fairy-tale.
A story with kings and queens, with princesses and princes. A tale of luxuriant materials and decorations, of exquisite architecture and design.
Today a museum, Peles Castle can be visited in Sinaia, in Prahova Valley, surrounded by the amazing landscape of Bucegi Mountains. Besides historical, architectural and cultural value for Romania, Peles also has an artistic touch.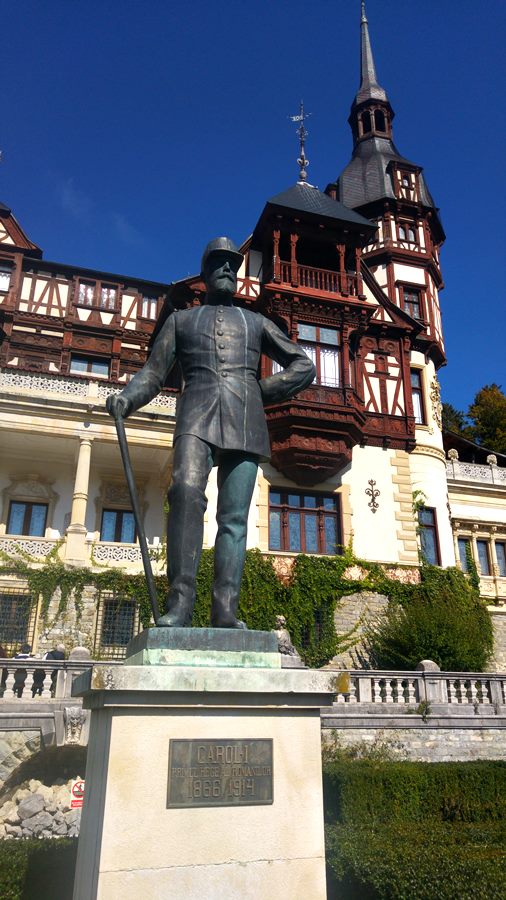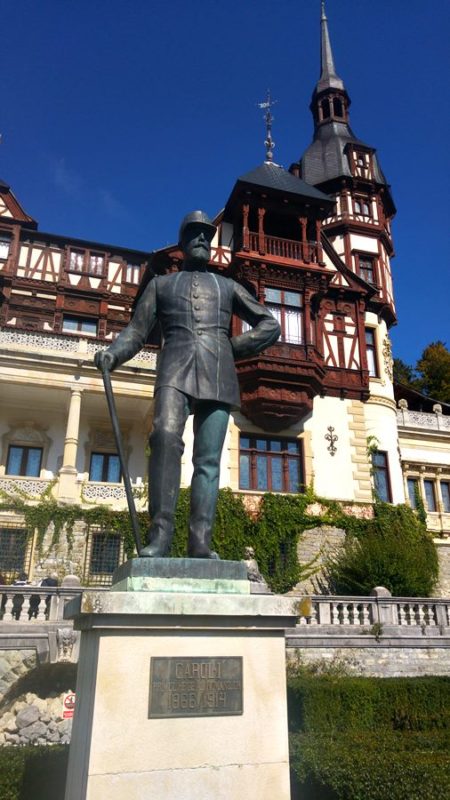 If castles are usually old, cold and mostly inhospitable, Peles is modern and hospitable both on the inside and on the outside. I wrote an in-depth article about it, so make sure to read everything about Peles castle here.
It looks quite rustic from the exterior, but the interior is probably the most modern in Romania, when it comes to castles.
With a central heating system and a mobile glass ceiling, Peles has over 160 rooms, chambers and halls, plenty of entries and inner staircases, plus a theatre hall with a small scene, a royal lodge and 60 more seats.
If you love those movie scenes with secret tunnels, then you'll also love the library of Peles Castle.
The royal library has rare books with leather covers engraved with golden letters, plus a shelf behind which there's a secret door.
The door opens the pathway to a passage from where the king could get to several rooms of the Castle.
Rooms that you'll discover with fascination while listening to the stories and information of the guide – because yes, every tour is guided by professionals in Peles Castle!
And, after your tour is ready, I promise you'll love wandering through the courtyard of the Castle, seeing the fountain and statues, and walking on the alleys surrounding it, in the middle of a natural setting filled with fresh air and mountain landscapes. At least, I did!
Certainly, an enjoyable visit and one of the most beautiful castles in Romania. I recommend getting a guided tour with an expert as when we visited, there were no guides available for tourists.
4. Pelisor Castle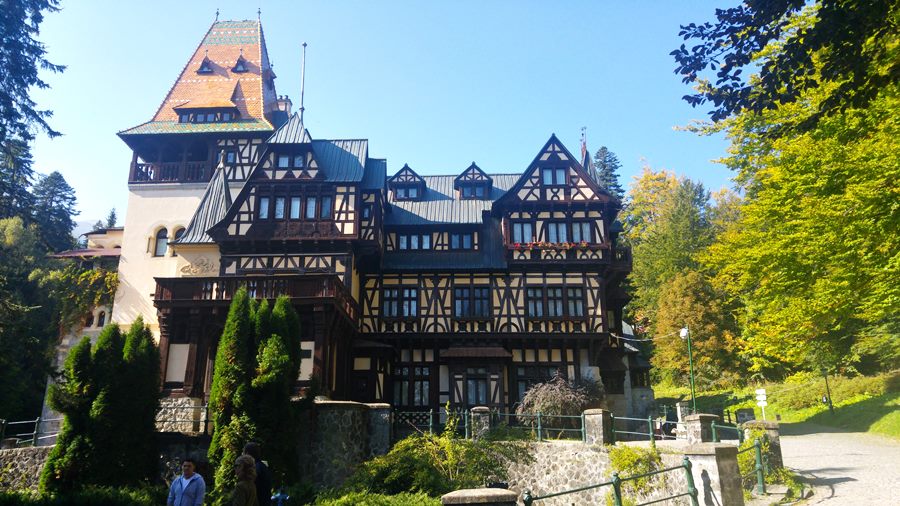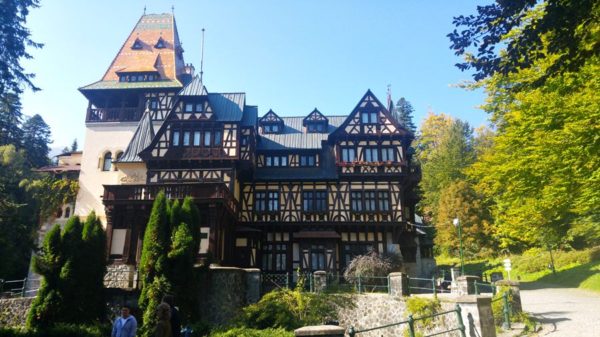 Also placed on the domain of Peles Castle, you'll find an even more modern version of the latter: Pelisor Castle. (You could translate its name as "the small Peles").
It is indeed smaller than Peles, but of equal beauty and value for Romania. Pelisor deserves its own place in this top of best castles in Romania.
This one has "only" 99 rooms, halls and cabinets, including a "golden chamber".
In fact, Pelisor is a tribute to the artistic movements and innovations of the first decades of the XXth century, as the main attraction in Pelisor is the interior design and decorations.
Oak, walnut and linden wood furniture, stained glass and golden thistle leaves decorations bring solid contribution to the refinement, sophistication, beauty and finesse of Pelisor Castle.
Impressive through the same luxuriant, yet simple style as Peles, Pelisor is a piece of Byzantine and Celtic art that you will love visiting. A perfect place to inspire you with romantic fairytales from the times of kings and queens.
And you should definitely visit it if you do get to Peles, since it's just a few minutes of walking away from it.
5. Banffy Castle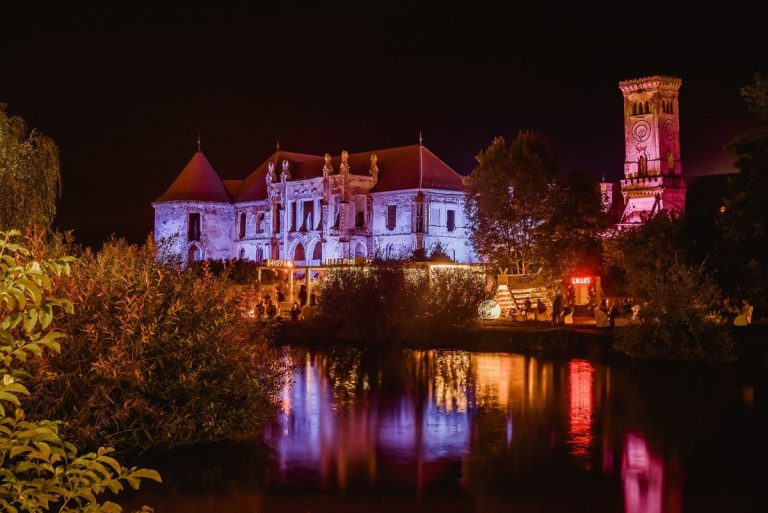 There's a good reason why they say that Transylvania is the most beautiful destination in Romania, no matter if you choose raw nature, living in a Transylvanian village or one of the main cities in the region.
We need to go back to this area for the next castle that you will love visiting. This time, to the north-western part and so-called "heart of Transylvania": Cluj is where you can find Banffy Castle.
In Bonțida, a village less than 30km away from Cluj-Napoca, you will find the monument also known as "the Versailles of Transylvania".
Banffy is a castle designed in the Renaissance style, with subsequent modifications that came up with baroque, neoclassic and romantic, neo-gothic touches.
The entire domain of the castle is spectacular, with stables and servant dwellings, but the real thrill is the inside, where secret passages were discovered and where tons of legends fill the rooms.
Some say that this is the most haunted fortification from Romania and that a team of professionals came to detect ghosts in the scary halls of the castle. They couldn't find any, but that's another story…
Other legends tell the story of a young girl who seduced and killed the stableman who saw her sneaking out of the castle to secretly meet her lover.
Electric Castle, one of the main music festivals in Romania, is organized every year for four days and nights on the domain of Banffy Castle.
6. Cantacuzino Castle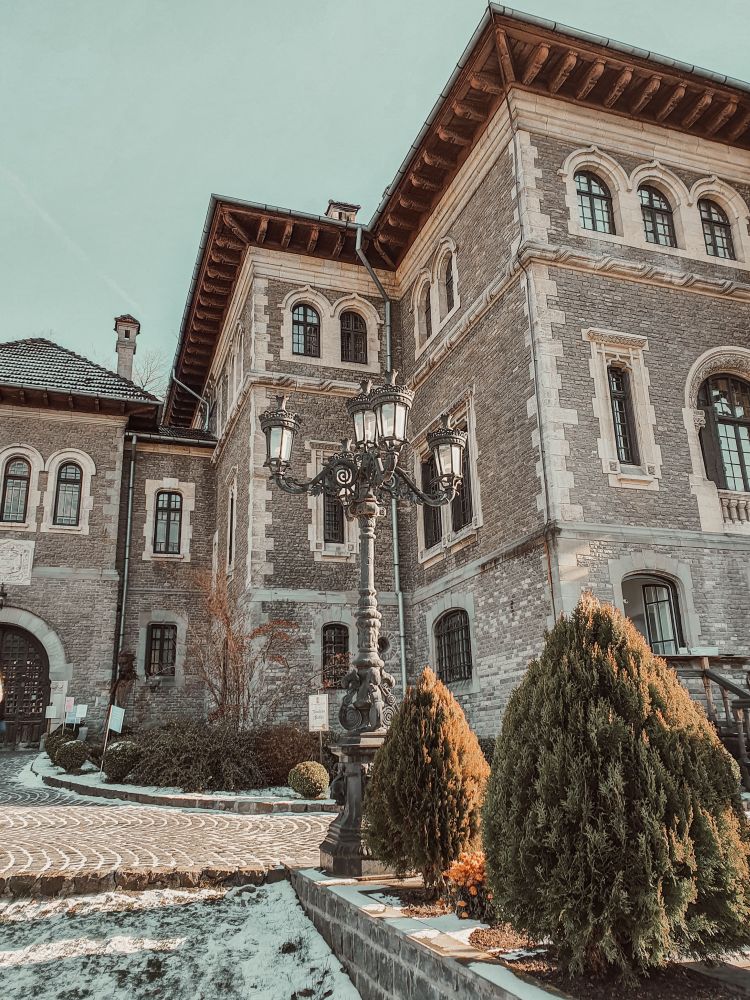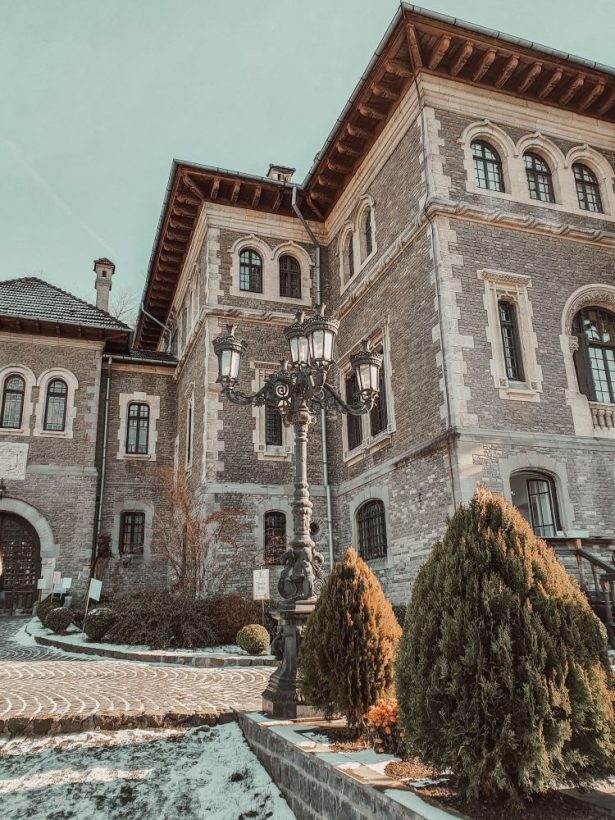 Another one of the most impressive castles in Romania, Cantacuzino brings even more unique elements in addition to all the wonderful particularities of the other castles that we already talked about.
For example, it includes a restaurant and a terrace where you can enjoy a royal meal or some luxuriant drinks after your visit, while you admire the breath-taking view of the mountains.
Situated on Zamora Street in Busteni, a small town hidden in the Bucegi Mountains, the Cantacuzino Castle has a total surface that exceeds 3.000 square meters.
Artisanal fountains, beautiful alleys, an outdoor wooden swing, a central pavilion and a waterfall grotto are only few of the amazing elements you can find in the park surrounding the Cantacuzino Castle built in Neo-Romanian style.
Furthermore, visiting the interior of the castle will take you through a guided tour through the historical data regarding the castle, unveiling a hall filled with portraits of important personalities in the past of the fortification and a terrace with an amazing view upon the mountains and Cantacuzino domain.
7. Fairy Tale Castle in Porumbacu de Sus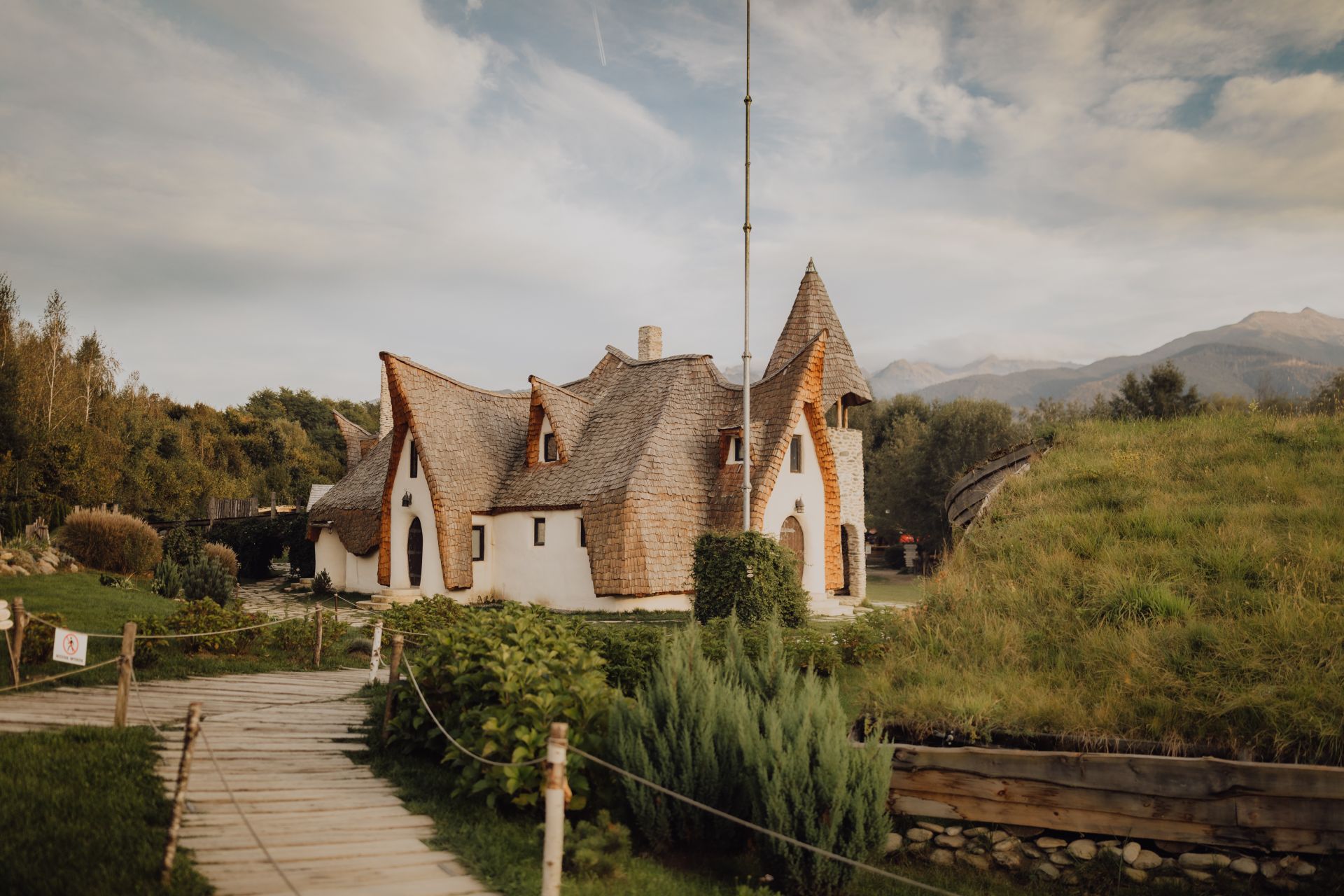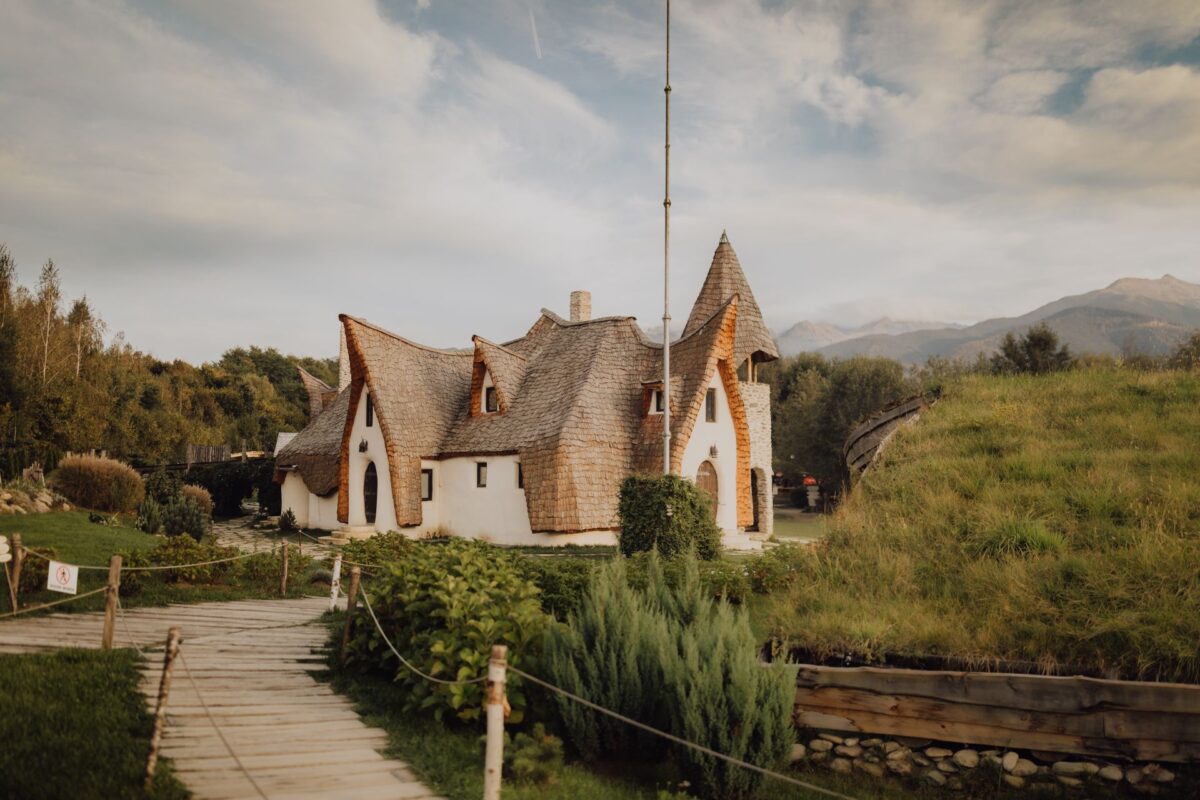 Now, let's move over to a more modern castle – and something really unique, although it was never a "real" castle – as in royalty never lived there.
Fully named the Clay Castle of the Valley of Fairies in Porumbacu de Sus, it was built entirely from clay by a family who simply wanted to create something spectacular. And that they definitely did!
One of the many amazing things about this castle (which can be visited all year long) is that every item is hand crafted – usually from clay.
8. Rasnov Citadel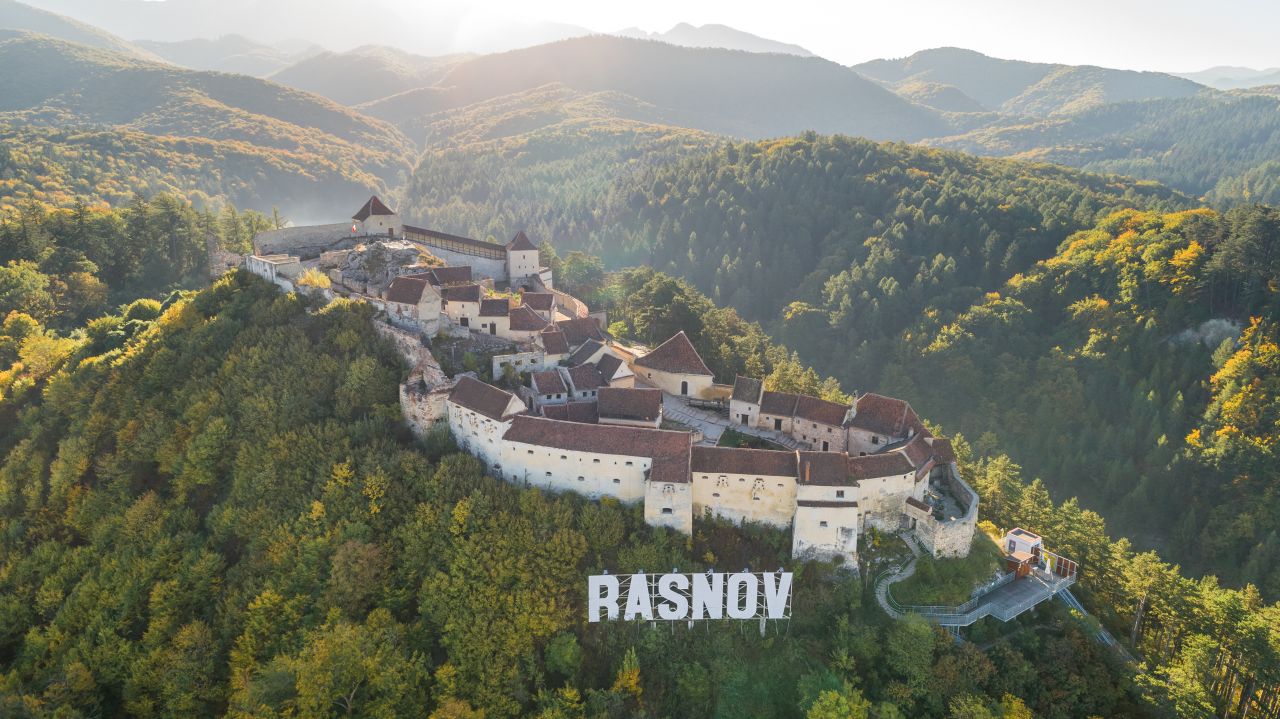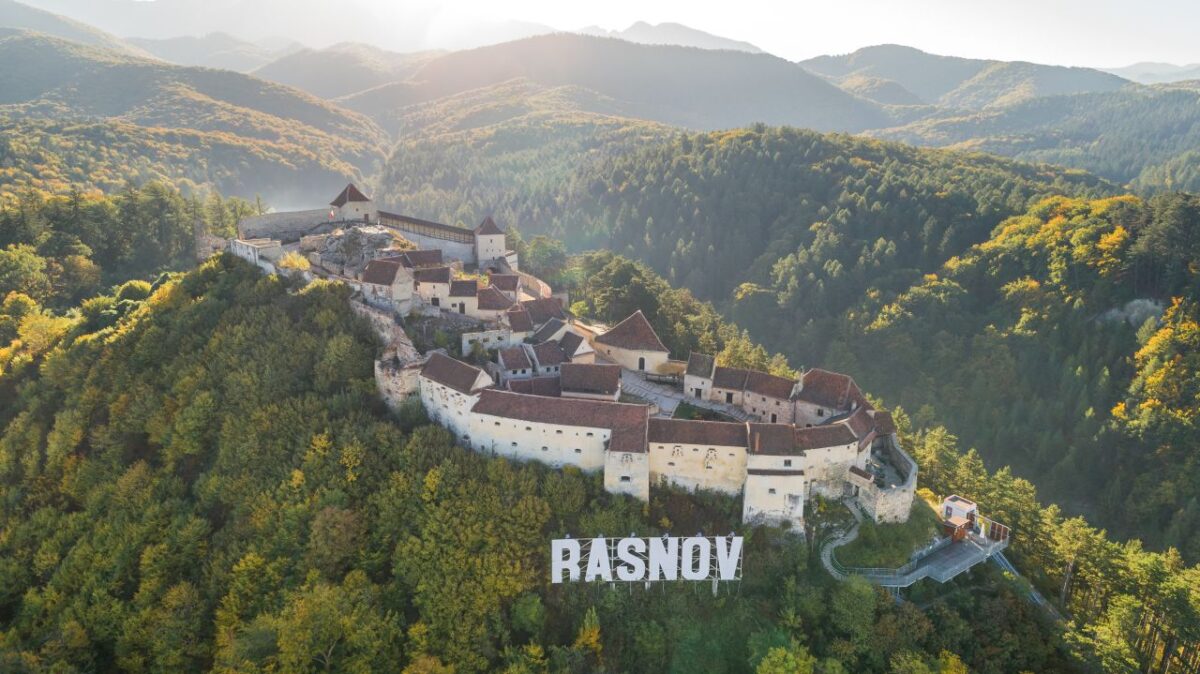 Situated atop a rocky hill in the Carpathian Mountains, this citadel is as beautiful as they get. And it also has a rich history, dating back to the 13th century, when it was built as a strategic stronghold in the area.
The Rasnov Citadel (also called the Rasnov Fortress) was built by the Teutonic Knights, and as we can see today, it was built to last. It features sturdy walls that stretch over 1,500 feet and rise up to 65 feet in height.
Back in the days, due to its location and architecture, it was an impossible nut to crack, providing solid shelter to the people in the area.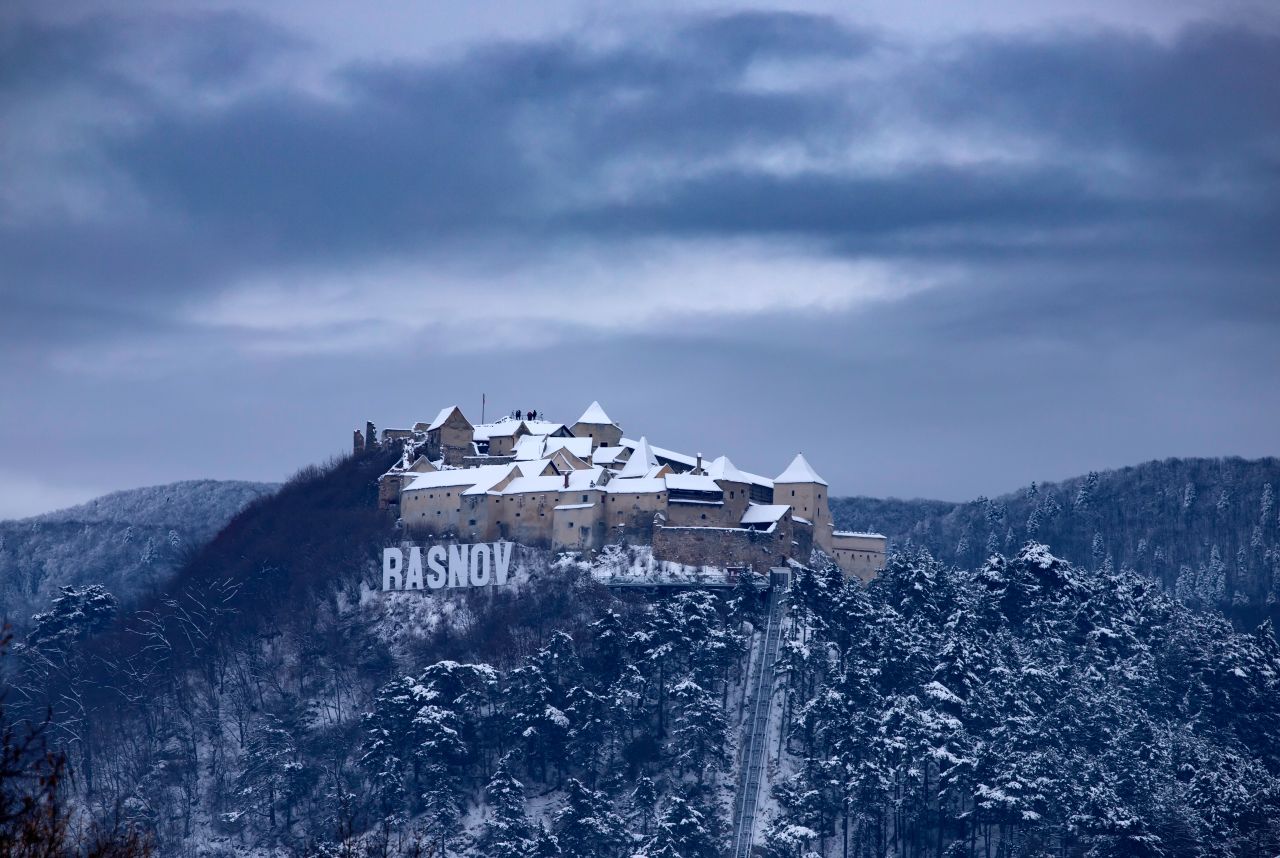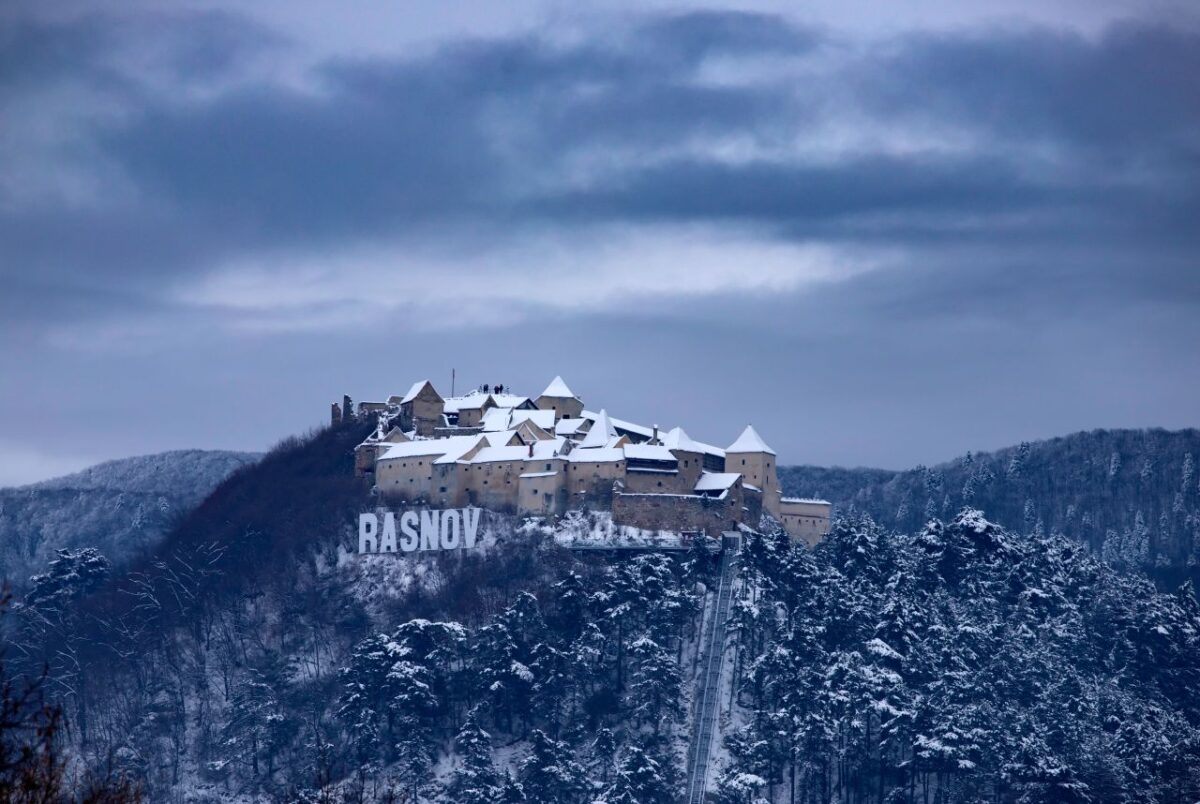 Today, the fortress offers panoramic views of the surrounding landscapes and allows visitors to take a trip back in time, as it's really well preserved, as you can see in the accompanying photos.
9. Biertan Fortified Church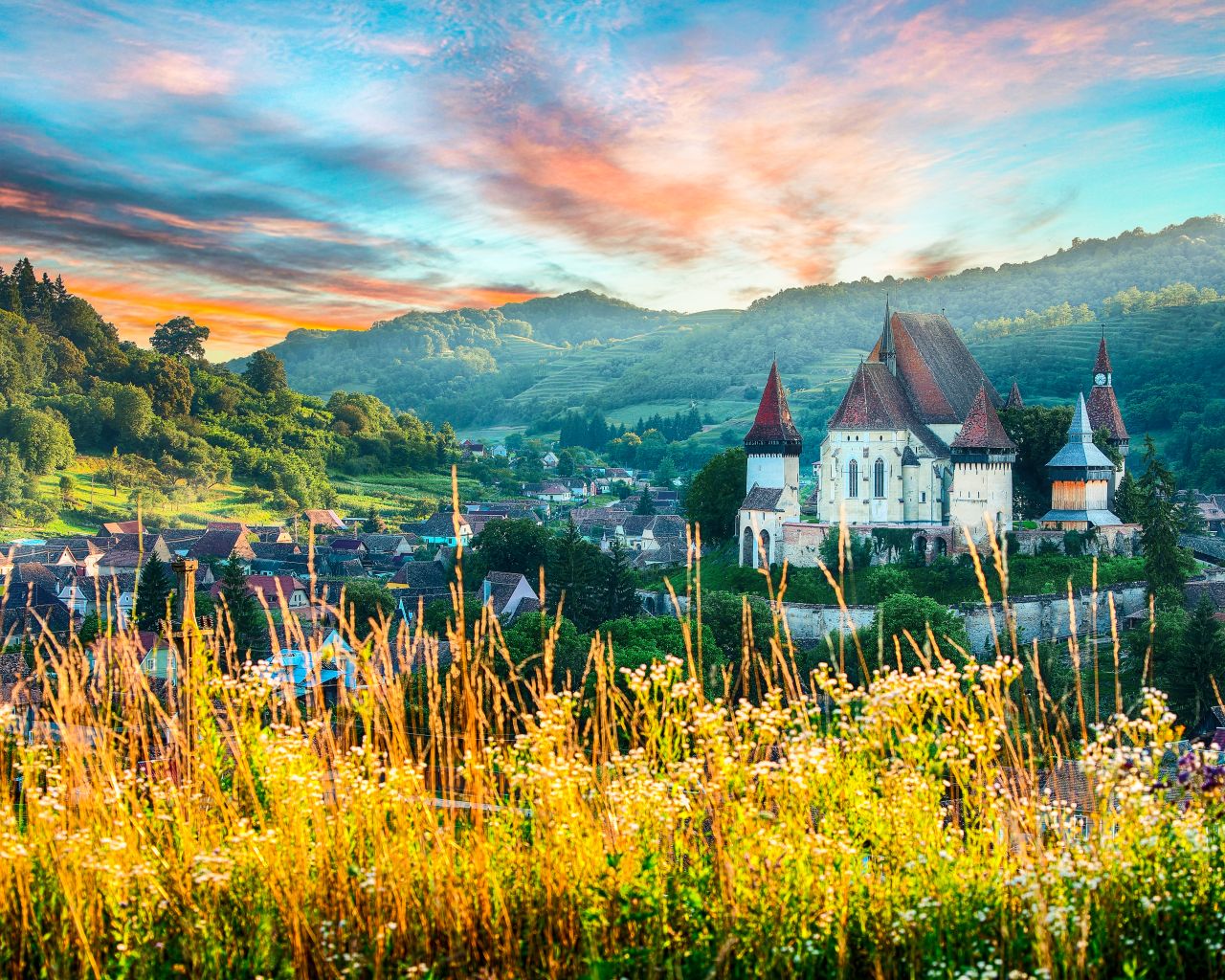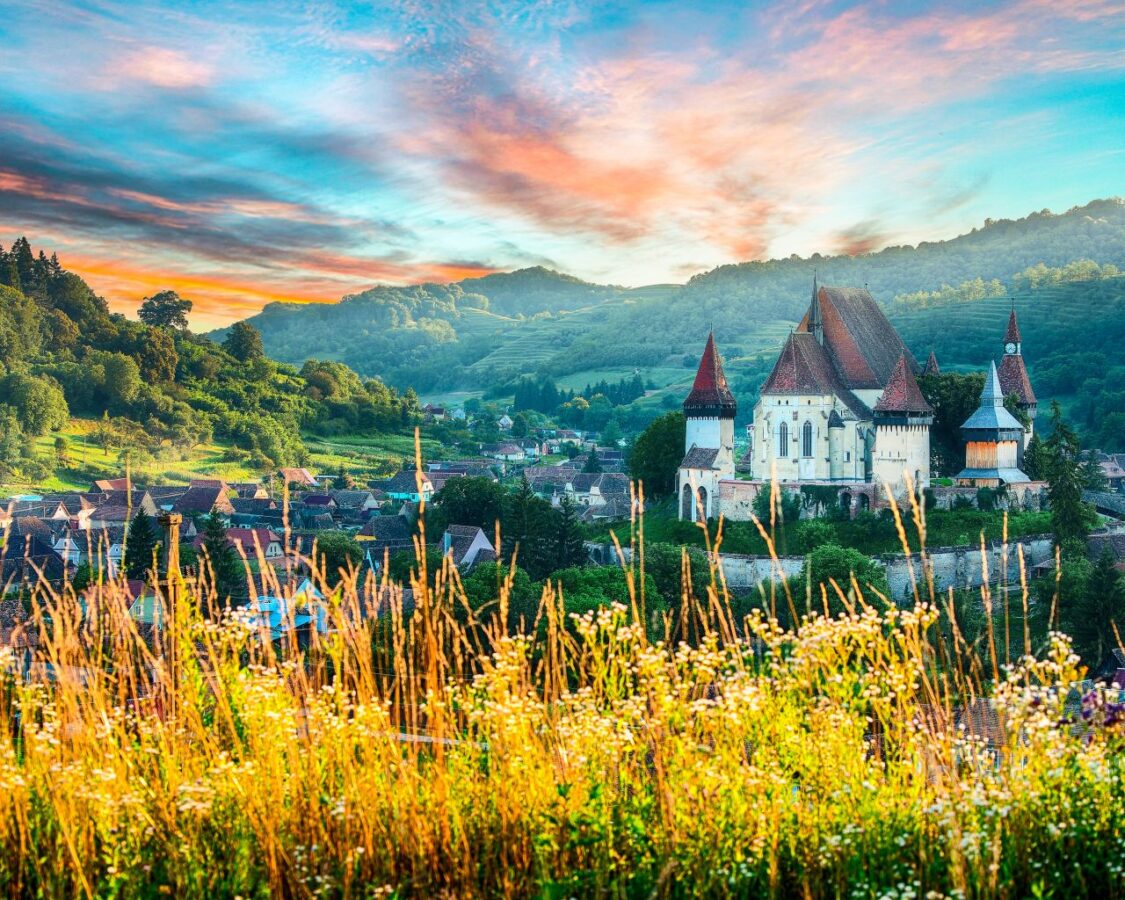 You might be asking – what is a church doing on the list of the best castles in Romania. If you look at the photos, you will know. It does look like a castle or a fortress, right?
Well, this Transylvanian attraction is an architectural marvel and a UNESCO World Heritage site, dating back to the 15th century.
While it was indeed a church (and still is one!) it also has defensive walls, watchtowers, and bastions, which all served as a solid refuge during tough times in the past.
Because back then, many leaders took refuge in churches, and this one has extra protection in place, just in case.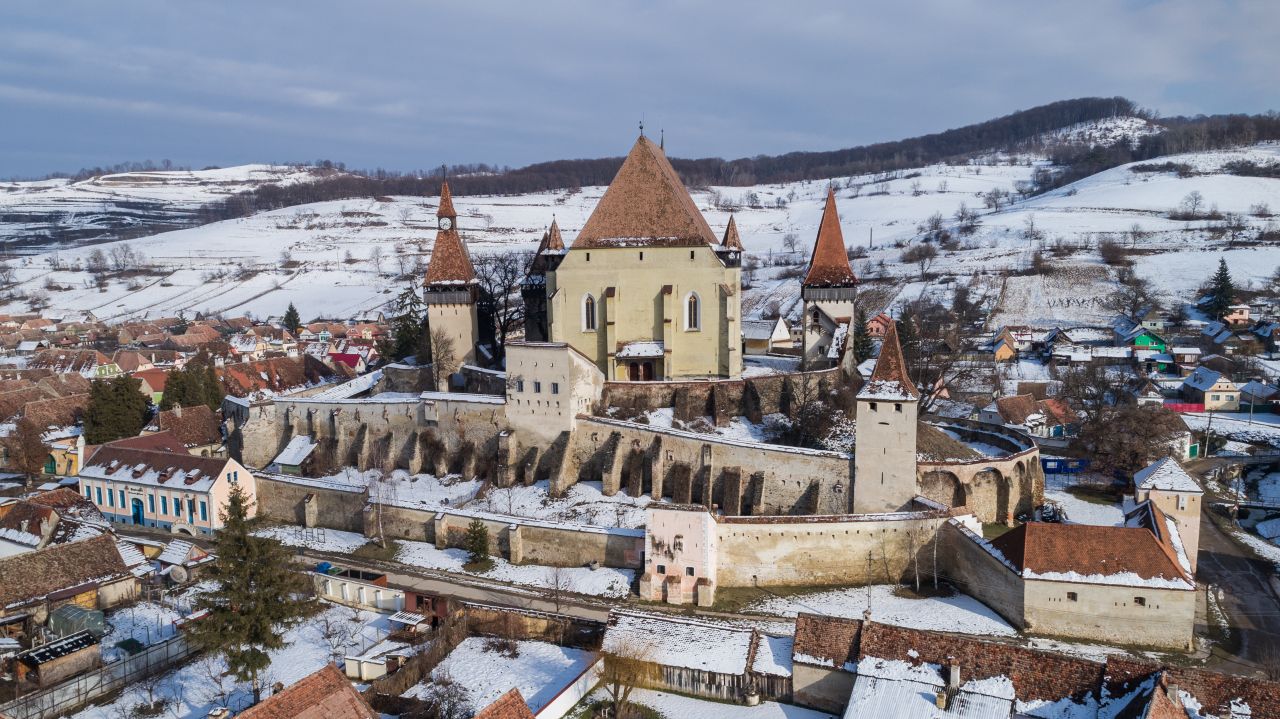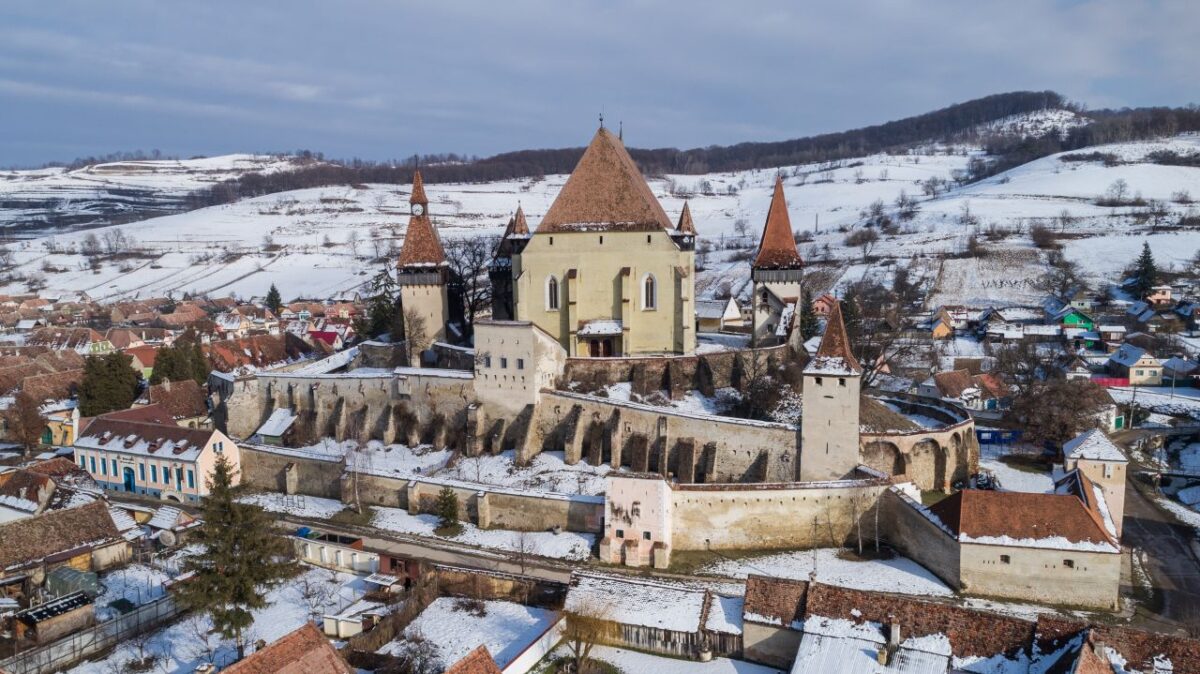 And it's all about "difficult to entry" here. The church houses an awe-inspiring medieval locking system for its sacristy door, an engineering feat that required a team of fifteen craftsmen to assemble.
Another fun fact about this place is that it featured a "marriage prison" in the past. Couples that were no longer getting along were sentenced to spend six weeks locked in the same chamber within the church.
This practice lasted for 300 years and it seems it worked pretty well, as there was just a divorce during this entire period. At the same time, murder rates increased three fold. (I just made this final part up – it's just a joke!)
10. Miclauseni Castle (aka Sturdza Palace)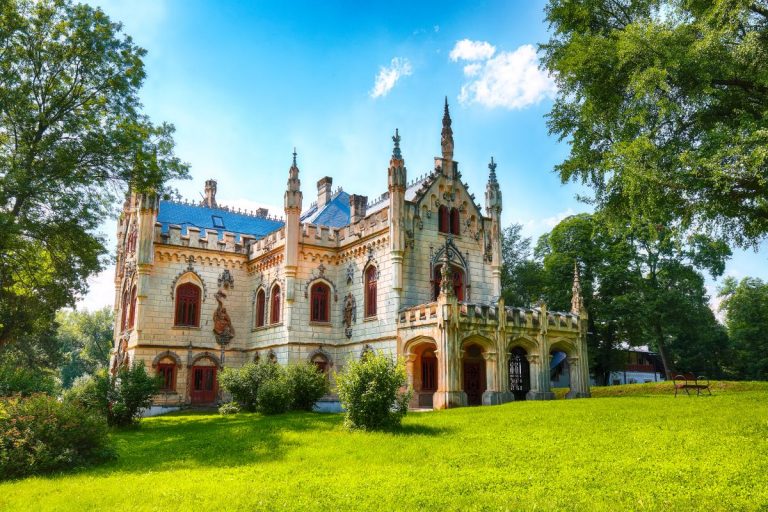 Last but not least, I recommend you visit Sturdza Castle – or Sturdza Palace – in Miclăușeni, a village situated 65km away from Iași.
This is not as popular as the others on the list, not even amongst Romanians, but it is a very beautiful and complex historic monument worth visiting.
With a neo-gothic architecture and style, the castle is surrounded by a huge garden with ornamental trees, flowers and alleys.
The impressive elements, anyway, the ones that distinguish it in a unique manner, are the decorations, heraldry and ornamental coats of arms that adorn the façade of the castle.
Also called an architectural gem of Romania, Sturdza Castle has rooms and chambers restored and prepared to accommodate tourists for a more authentic experience and incursion in the stories and legends of the palace.
So, if you want to live like princes and princesses, I'm sure you'll love visiting the castle not only as a passer-by, but as a guest for one or few nights.
Wrapping up
There are plenty of beautiful castles you can visit in Romania, and the list that I have shared above certainly proves that and gives you at least several items to put on your "to see" list when you arrive in the country.
With a rich history and amazing architecture, each of these castles has a story to tell – and hundreds of beautiful photos for you to take.
Gothic, Neo-Gothic and Baroque are the predominant styles of architecture that you'll find in the top castles shared above. But they may also have some Romanian, rustic or Celtic influences, according to the historical and cultural particularities and values of each.
All in all, each castle is unique and has its own beauty and vibration. Each of them is besieged by legendary stories and auras that will create unforgettable experiences during your visit.
If you want to extend your medieval experience, then I strongly recommend that you also visit the Alba-Iulia Fortress (Alba Carolina Citadel), Fagaraș Fortress or Sighișoara Citadel, all of which are filled with other legendary stories and medieval vibes.
If you have additional questions – or maybe a castle that you feel should've been recommended and hasn't, don't hesitate to leave a comment below.