If you've ever wondered what it's like to live in a Transylvanian village in Romania, I have some great news for you – an amazing and in depth guide follows! You will find everything you need to know about village living in Romania, from how to actually find a home there, to how transportation works in these hard to get places, the cost of living and much, much more.
The whole article below comes from our dear reader, Angela from the UK, who spent 3 months in a Romanian village during the summer of 2019. She really enjoyed her stay there (proving that I might be wrong when saying that living in a Romanian village might not be for you) and decided to help those who are considering a move with all the info they need.
The truth is that there is indeed very little information about living in village in Transylvania – and even less when it comes to first hand experiences, so Angela's guide to living in a Romanian village is probably the best one you can find online (all the photos are hers as well!)
So let's check her article below – I'll only be back with a few extra words at the end.
Living in a Transylvanian village
We're an older husband and wife couple living in Britain where we both work as academics. In the summer of 2019, we went to Romania and lived in a house in a small village in Transylvania for three months. We fell in love with the countryside of Transylvania: the rolling hills, the forests, the pristine nature, the views, the small villages, the kind neighbours, and the quiet, rural life.
There's not a lot of information on the internet in English about what it's like to find a house and live in a Transylvanian village. So we wrote up some information for others who might be interested in a similar experience.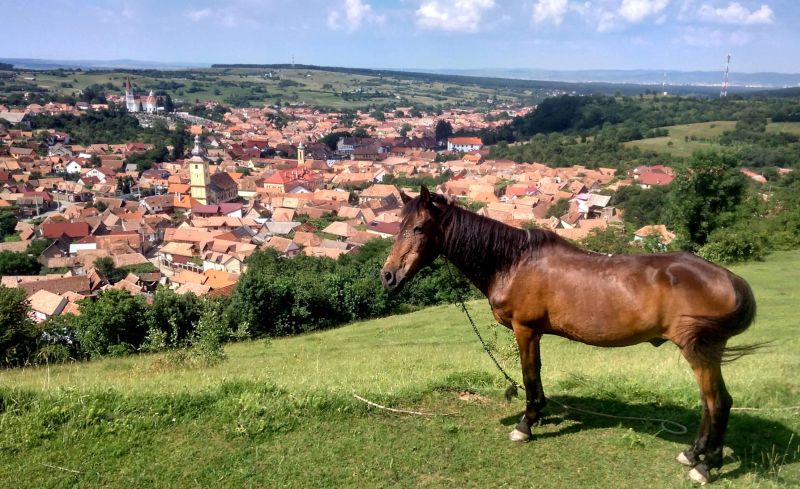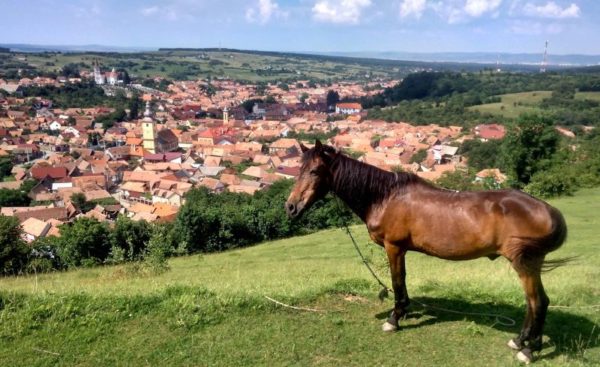 Information on small towns in Romania is limited
Romania has always fascinated us, so we decided we wanted to spend a long summer break of several months exploring the country's nature and culture. We didn't want to travel around at a frenetic pace, staying in guesthouses or hotels night after night. We also aren't interested in organised tours.
Instead, we wanted to find a home where we could live comfortably, get to know the neighbours, and independently explore the area at our leisure. We each have academic projects we're working on, so we also wanted a reasonable internet connection and a quiet, peaceful place where we could focus on our work.
We weren't sure where we wanted to stay. We wanted to live in a small town or village surrounded by wonderful nature, but there are thousands of potential places in Romania, so it was hard to know where to start. We decided to narrow our focus to the Transylvania region because of the beauty of the nature, the traditional architecture, and the rural village life, but that still left hundreds of options.
We researched a lot before leaving to Romania. There are many great resources: travel guides, blog posts, reddit/r/romania, Google Maps street views, and the wonderful website Romania Experience. But even with all that, we found that it was still hard to get good information about the villages.
When we arrived, we learned what the problem is. Information on the internet is very useful and accurate about the main cities in Transylvania: Sibiu, Brașov, and Cluj are very well covered. Even for the small- to mid-sized cities like Târgu Mureș, Mediaș, and Sighișoara, there's good information available online.
But it turns out that for the small towns and the countless little villages, there's very little information on the internet and the scant information which does exist is often not correct. Many places have no maps, no recent pictures, no demographic information. We found several cases where maps exist but are wrong and pictures are mislabeled or attributed to wrong areas.
Most importantly, we found that each village has very unique characteristics which are vital to know, but which you can't learn on the internet: the condition of the houses, the availability of water, the state of the roads, the level of inhabitedness vs. abandonment, the ratio of cars vs. horse-and-wagons, the level of dire poverty, etc.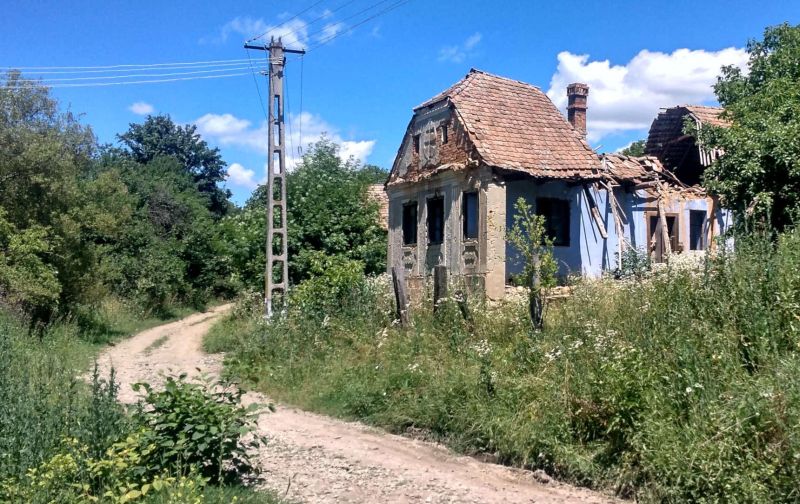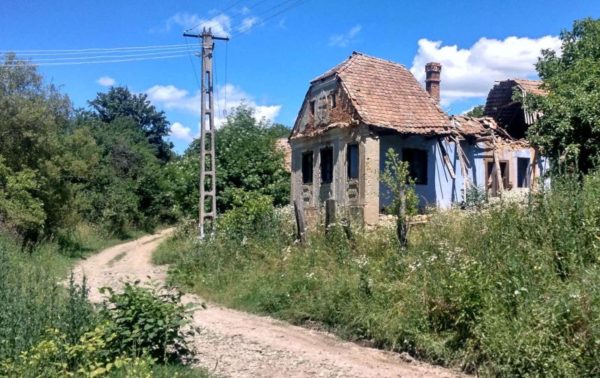 The villages vary massively from each other in these characteristics. Many of the villages turned out to be very different in reality – sometimes better, sometimes worse – from what we had anticipated based on internet research.
I imagine that some day in the future, you'll be able to research online about these villages. But we learned that at least for now, the only way to get real information is to go there and investigate yourself.
Transportation
In most cases, you'll need a car.
Transylvania is a big region, there are a lot of villages, and public transportation is limited, so getting around can be an issue. The main cities are well connected, and from those cities there are nice roads to most of the mid-size towns.
But the smallest villages are a different story. Reaching them can be slow because many of them have no real roads; instead, you go along poor access roads, dirt paths, unpaved lanes, and lots of mud and mini ponds. Heavy rain in particular can make transportation to these remote villages difficult.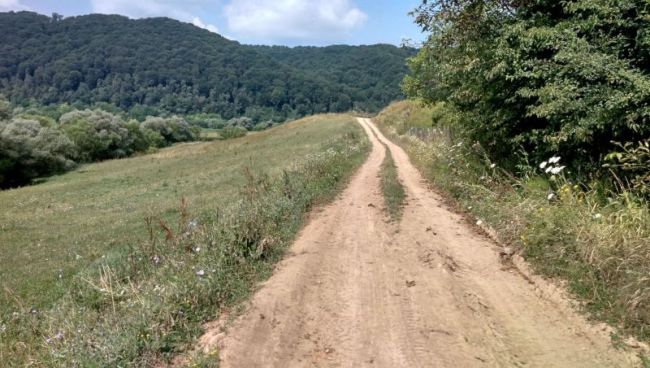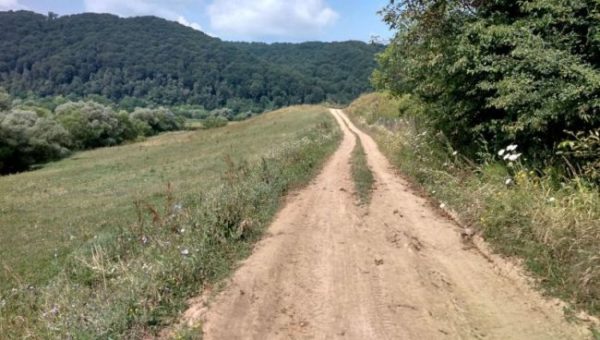 Walking around in Transylvania
Walking isn't realistic for most purposes. Transylvania is too big and spread out to explore by foot. Hiking the trails and forests is fun, but there's no way to cover the whole area on foot. Even within villages, walking can be tough: some villages are tiny in population but are so spread out, crisscrossed by farmland, that it's quite a journey to walk from one end to the other.
Biking in Transylvania
We initially hoped to only use bicycles for getting around. The paved roads between the major cities and mid-sized towns are easy for bicycles. The dirt roads between the smaller villages can be rough in cars, but they're great fun with bicycles.
And with bicycles, you can go where cars can't: through the forests and over the hills. There are very well-marked bike paths you can use to cut directly from one village to another without needing to pass back and forth through the bigger towns in the region (more on that in the section Biking and hiking).
A nice plus is that most of the area is flat with only small rolling hills. So you could certainly explore all of Transylvania on bicycle, and we met a few hardy foreigners who do just that.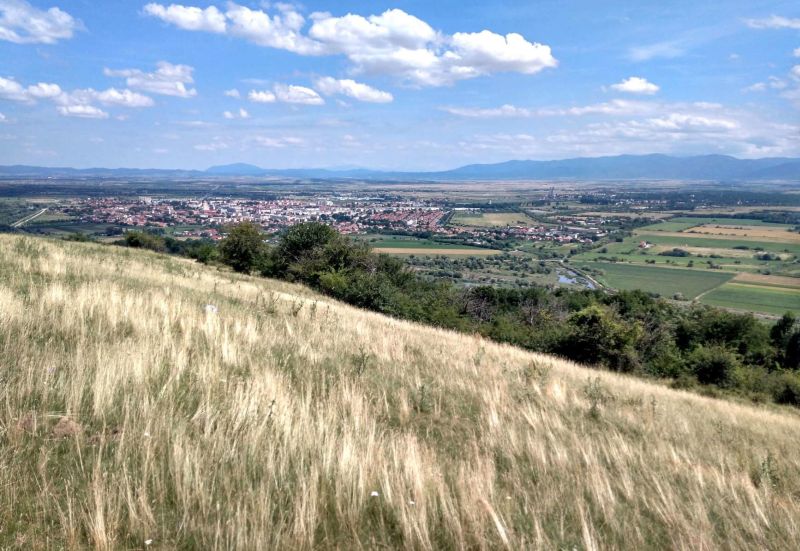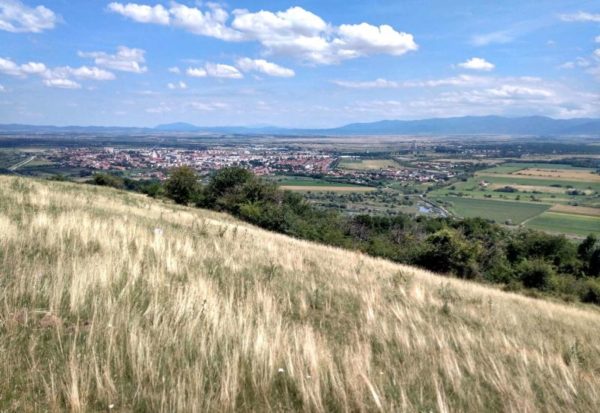 But we realized that for us, bicycles are good for day-trips to explore the forests and backtrails, but not realistic for daily life and definitely not for exploring the whole region. The area is too big: 30km rides one after another are too much for us, especially as we learned that the terrain is much steeper than we expected (it's mostly flat overall, but the roads go up and down the rolling hills quite a bit, and if you come close to the looming mountains, it's a big climb).
Plus, some of the roads are too narrow and have too much traffic to be comfortable for cycling. Thanks to very poor urban planning, these small village paths were designated as the country's national roads in the area, but weren't widened to handle the heavy traffic. These roads are horrible for bike riders because they're small, busy, and have no room for a proper bike lane.
We found it very unpleasant and rather dangerous to ride a bike on these narrow highway streets while cars constantly speed past just a meter to our side. Unfortunately, on many routes there's no way to avoid these roads.
Public transportation in Transylvania
Public transportation is very limited outside the main cities. There are bus routes and private minivans between the major towns, but they run infrequently. Also, the routes only stop in the bigger towns on the main roads, so you'll be walking a lot from the bus stops to reach the many tiny villages which are at the end of small dirt lanes.
Hitchhiking in Transylvania
Hitchhiking is a fun possibility. Romania is great for hitchhiking. It's very much part of the culture. We hitched a few times and loved it. On the main streets between principal towns, we never had to wait more than a few minutes for a ride.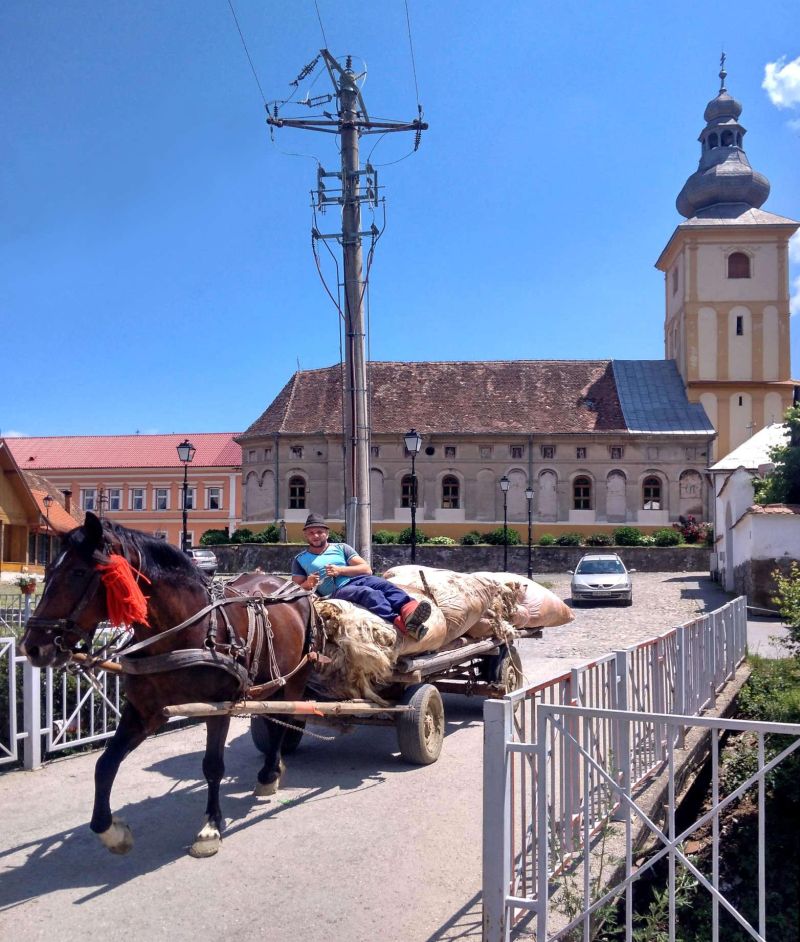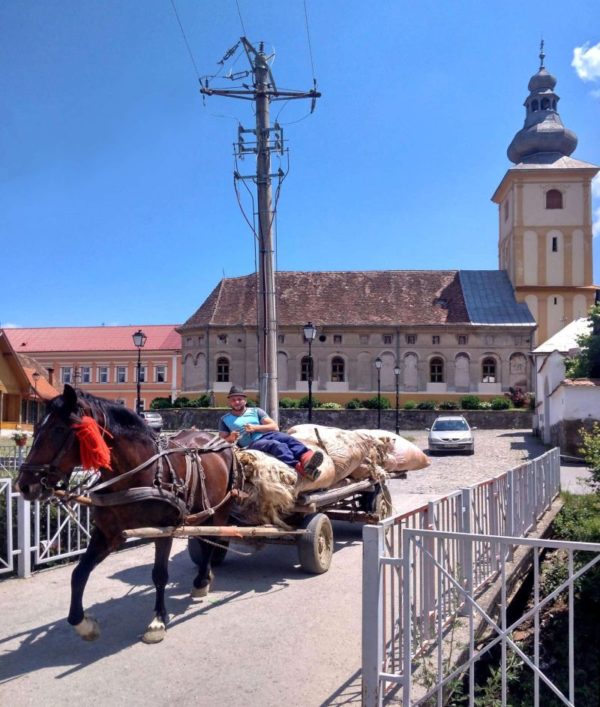 Although the wait on smaller village roads was longer because there's little traffic in the remote regions, the drivers in those areas were even more helpful than on the main roads: the first car we saw when hitchhiking in a remote area almost always stopped to pick us up.
The people we met while hitchhiking were so kind. They were from all walks of life, and we learned so much from all of them. We even got invitations for meals at the homes of several people who gave us rides. As for money, we tried to pay the driver every time, and every time the driver refused.
But we found that although occasional hitchhiking is fun, you can't count on it as a long-term, reliable transportation option if you're living in the region. Many of the village roads are empty for hours at a time, so even though people are very helpful, there just isn't enough traffic for you to rely on (in quite a few of these areas, you see many times more horses and wagons than cars!).
We also found that a lot of the cars which stopped are often already packed full and don't have enough space for a couple – the drivers tried to squeeze us between and on top of children, bags, and animals, but despite their kind intentions, we often couldn't fit and had to decline the ride.
And sadly, hitchhiking culture changed while we were there: during the summer of 2019, several cases of violent crime against hitchhikers in Romania occurred which dominated the national media, and we noticed that this definitely affected people's attitudes towards hitchhiking.
So for us, having our own car was the only realistic option.
Villages in Transylvania
There are a handful of villages in Transylvania which have become well-known for tourists in the last decade, for example Biertan, Saschiz, Viscri, Copșa Mare, towns near Brașov such as Poiana Brașov, Bușteni and Prejmer, towns near Sibiu such as Rășinari, Cisnădie / Cisnădioara, and Gura Râului, plus a few others. But there are a few hundred other villages scattered about in Transylvania which have no tourist infrastructure, yet are often quite lovely for the nature, the quiet, rural life, and the Saxon/Székely architecture.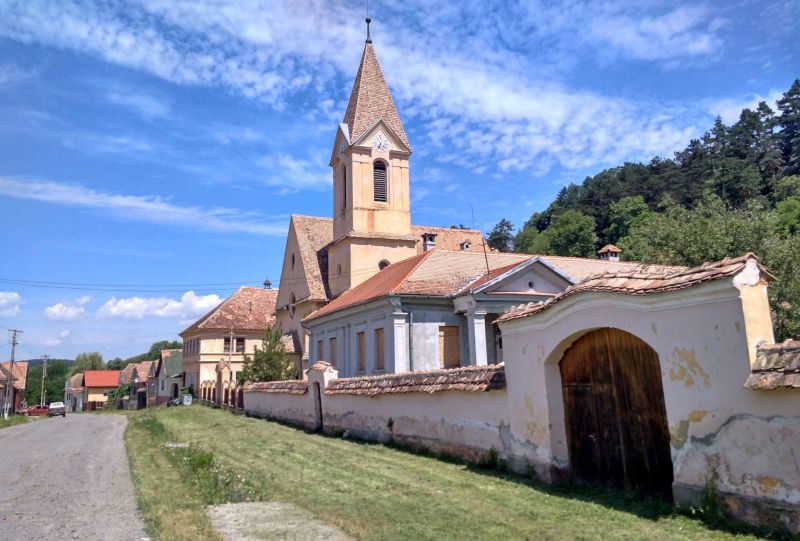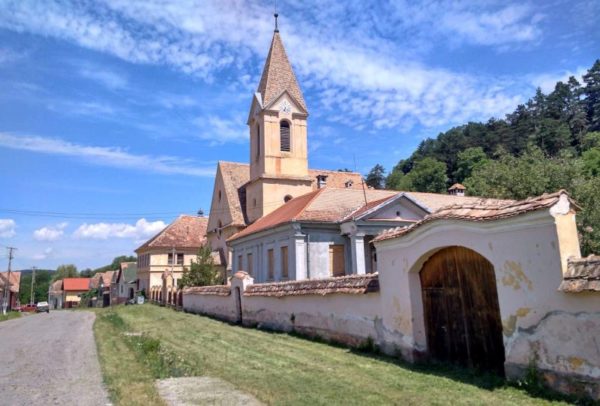 First, about the tourist towns. The touristic villages have seen a boom in accommodation options in the last few years, and the growth is accelerating. There are now boutique hotels, rustic manors restored with "authentic" architecture and settings, and many standard guesthouses. You can rent castles, schools, religious buildings, and royal palaces.
Some of the areas, particularly the towns closest to Brașov and Sibiu, offer outdoor experiences for both local and foreign tourists: skiing near Brașov, hiking near Sibiu. But in the other touristic villages of Transylvania, we found that accommodation is geared towards foreigners looking to try a taste of unspoiled European village life but while living with modern amenities.
Typical foreigners seem to be Germans (drawn by the Saxon heritage and architecture, as well as quite a few who have family roots in the area) and British (they like the horse riding, the literary romanticism of the quaint village scenery, plus the Transylvanian connection to Prince Charles), but there are visitors from many other countries as well.
Prices in accommodation focused on foreigners are 60-90 eur per night for a room, with a surprising number costing 150-200 eur. Meals are typically offered at 20-40 eur per person.
Some of the low- and mid-tier tourist offerings such as pensions are owned by locals, but at least from what we saw, most of the higher-end places are foreign-owned (German, Hungarian, Italian). Several places are owned by formerly-royal families whose properties were taken during communism and then restored in the 1990s and 2000s.
We realized quickly that these towns aren't for us. Don't get me wrong: despite the tourist development, the towns are not spoiled. The villages are real – even extremely well-known tourist villages such as Biertan and Saschiz have long-standing, close-knit local communities – and they're still very far from becoming a tourist trap along the lines of, say, Mostar or, heaven forbid, Dubrovnik.
The vast majority of tourists in these Transylvanian villages are day-trippers who stay in the bigger cities, so there aren't enough overnight visitors yet to destroy the character. But the negative effects of modern tourism are slowly creeping in and increasingly visible, prices have risen, and locals have become a bit mercenary. So all in all, we preferred to stay away from these places.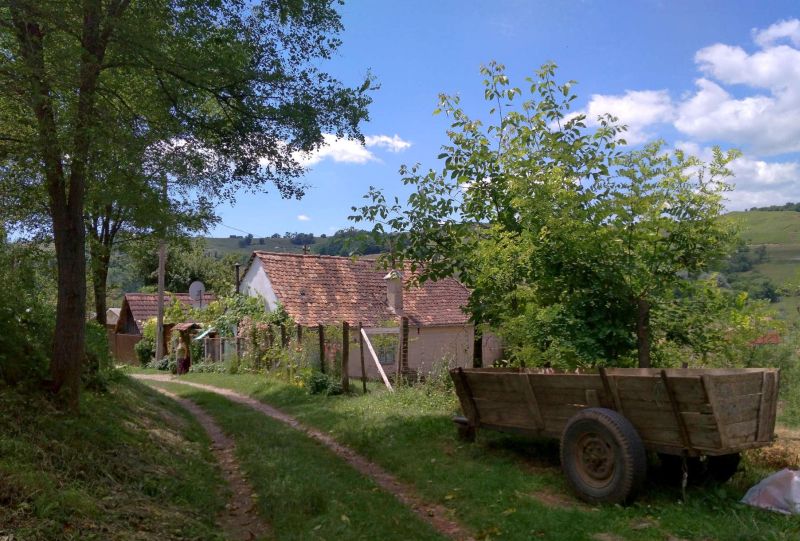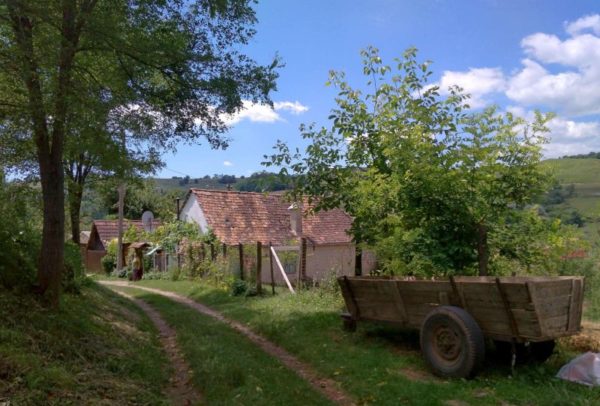 But outside the centres of the handful of these well-known touristic villages, Transylvania truly is a different and wonderful world: quiet, rural, slow-paced, and under-developed. Although the tourist towns get the attention, the architecture in many of the other villages is often just as beautiful with the same style Saxon homes and fortified churches (in fact, while the more famous tourist towns see thousands of visitors, dozens of remote villages have churches which are quite incredible but which are visited by almost no tourists).
There's not a lot of short-term accommodation in the non-touristic Transylvanian villages. A few villages have a tiny pension/guesthouse, often just a room or two in someone's home, and in two villages we saw, the local priest offers a room for rent in his home. Places like these are usually not listed online, so if you're determined to base yourself short-term in a village, just go and start asking around to find one.
Otherwise, we'd say that your best option when starting out is to use short-term accommodation in a city as your base while you search in the villages for a house for longer- term. The main cities in Transylvania are quite spread out from each other, with the villages mostly located inside the perimeter formed by the roads between the cities. So it's probably best to pick as your base whichever city is closest to the area you're interested in.
The amount of accommodation available varies widely between the cities. As the main cities and tourist centres, Sibiu and Brașov have many accommodation options spanning a wide range of budgets. Cluj has a bit fewer but still enough to find something to fit most budgets. Because of its tourist appeal, Sighișoara has an enormous number of pensions relative to its fairly small population and can be a good base.
Târgu Mureș and Alba Iulia are tougher to find accommodation, but still possible. Mediaș has surprisingly few options for its size. Făgăraș has few hotels, but does offer several small pensions, as well as quite a few rooms rented out in people's homes.
As a rough guide to prices, in the summer of 2019 we found that a room in someone's house in a city costs 15-25 eur per night, pensions in the cities cost around 20-35 eur for a room, mid-range hotels 30-60 eur, and fancier places 60-125 eur.
Most places in the cities are listed online on booking.com, Airbnb, and other sites, although we found that we could get better prices by just showing up and paying the owner directly in cash.
Finding a home to rent in a Transylvanian village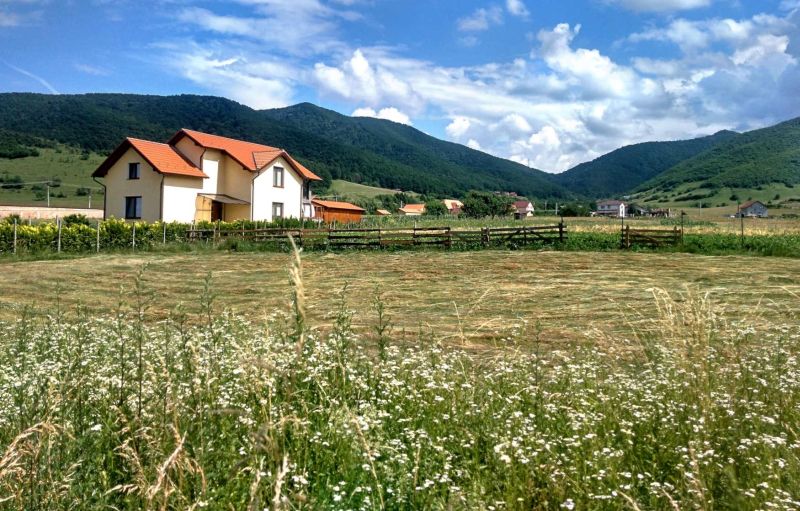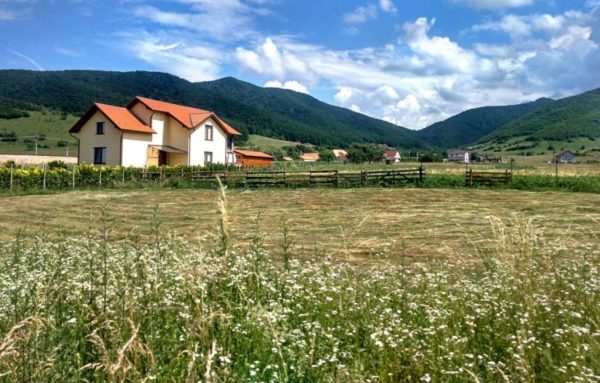 This is quite an adventure. The lack of development and infrastructure in the less well-known villages makes the experience both wonderful and difficult at the same time.
We explored Transylvania for two weeks before settling. We wanted to really know several villages well enough to understand the area in order to make a good decision about where we wanted to live for three months.
We found many architecturally glorious houses for rent, many Saxon (German) homes and a handful of Székely (Hungarian) as well. But they often had no running water, no electricity, and/or no indoor bathroom.
In some cases, the homes were owned by Germans who left in 1989 or the early 1990s; the homes were then given/sold to local residents (often Romani), but haven't been maintained in the years since and are in bad conditions.
In other cases, two or three houses had been combined to form one large home, but then the owner ran out of money and the interior was left in neglect as a half-completed construction site.
We also saw beautiful family farmhouses which had been abandoned and are now used for sheep or cows. In addition to the traditional homes, many villages have several newly-constructed houses; there's controversy about the aesthetics of these new homes and the cheap materials they use, since it's a jarring contrast to the traditional architecture.
But aesthetics aside, many of the new homes are only half-finished because of lack of money, the owner's need to work abroad, and/or tax issues (the owner can avoid taxes by leaving the home not fully constructed). We also visited quite a few "modern palaces," flashy homes built with attention-grabbing mirrored turrets and towers, a style in the villages favoured by certain Romani who can afford to show off.
Road access is a big issue to consider. Although almost every village has some form of road access, many are difficult to reach. The only access roads might be gravel paths, dirt trails, or tire-worn grooves through fields, and rain or snow can make it particularly hard to pass. On the other hand, we were surprised to find that road access which is very direct can also have negative effects.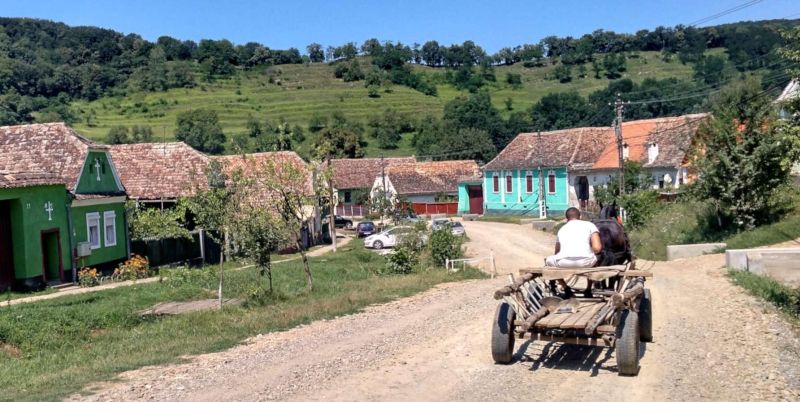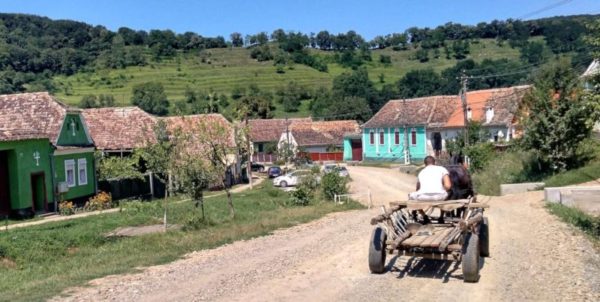 The main streets of several Transylvanian villages were turned into Romania's national roads, so now intense traffic runs directly through the centre of these villages. Unfortunately, the traffic completely changes the character of these villages, making it dangerous to cross the street, rattling the houses, spreading dirt constantly, and destroying the peace and tranquility.
Homes in these villages which were built long before the national roads were created now face directly onto heavy traffic. Even though the village itself might be tiny, it's actually difficult simply to enter and leave these homes because of the non-stop traffic hurtling past directly in front of the houses.
We found the villages which are directly crossed by national roads DN1, DN13, DN14, and DN15 are all horribly impacted.
There are many problems related to land titles and ownership in Transylvania. We were surprised at how often the ownership of properties was in dispute. Each village has its own unique set of issues, but the most common causes we found included redistribution snafus during communism, corruption after communism, inaccurate land surveys, missing property deeds, thievery by local politicians, and intra-family feuds between relatives.
All this made us cautious, but since we only wanted to rent for a few months, it wasn't such a worry for us. But there are a lot of foreigners combing the area looking for real-estate deals, and a lot of locals have responded by trying to swindle them using dodgy documents and fraud. So for anyone thinking about buying property in Transylvania, we'd suggest to be very careful and very thorough about all paperwork and legal issues.
In our case, looking to rent a furnished home in a village for a few months, the most realistic situations we found were houses where the owner was working abroad but planned on returning to Romania. These were usually fully-functioning homes with electricity and running water. Many of them had large gardens, fruit trees, and fields.
Finding these homes was by word of mouth: just start asking around in a village, and within an hour the entire village will be helping out with the house hunt. None of the homes we found were listed for rent anywhere official; it was all just informal talks with people who hadn't planned on renting but were happy to earn extra money while abroad.
Some of the homes were empty of people when we visited them. But quite often there was a grandmother, aunt, or sister staying temporarily in the house, who would move to a relative's home if we wanted to rent.
We weren't the only foreigners living in houses in Transylvania this summer. In our travels through villages, we met Germans, English, Polish, and Spanish who had also rented (and in a few cases, purchased) homes in remote villages.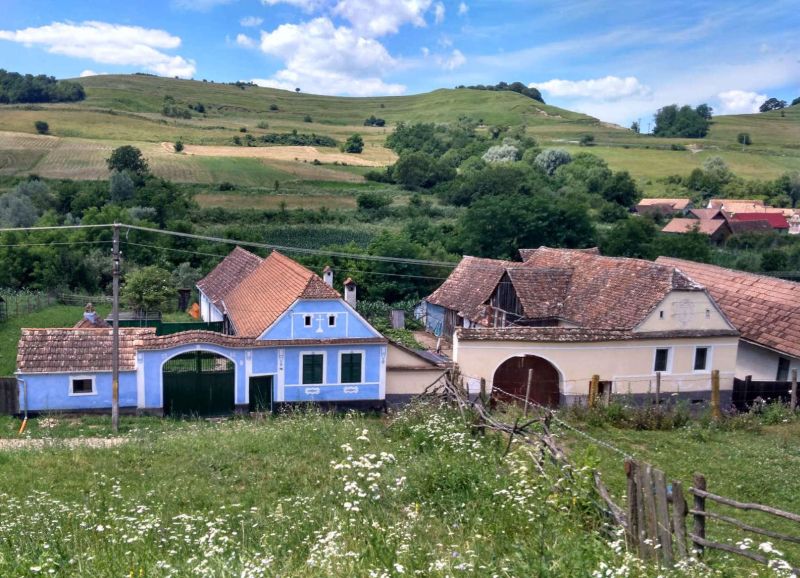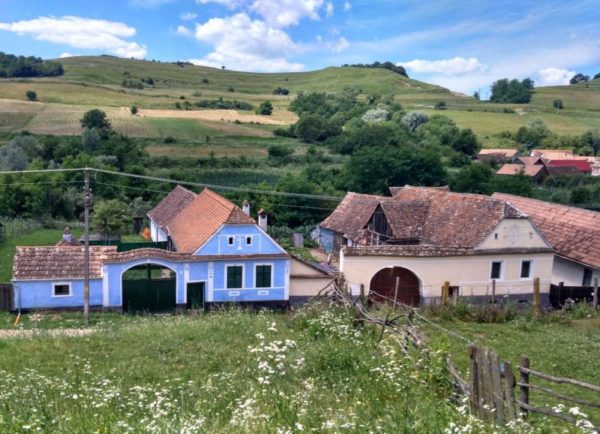 Some of the foreigners had connections to Romania: we met a few mixed couples, with one partner being Romanian and the other foreign, and we also met several Germans who had family roots in the area. But the majority of the foreigners had no previous connections to Transylvania and had just been drawn by the lovely nature and village life. We met several retired couples, some younger digital workers, two teachers on summer holiday, and a happy-go-lucky family of nomadic nature lovers.
The area is too lovely – and too close to the rest of Europe – to stay undeveloped, so we imagine that increasing numbers of foreigners will come, many villages will transform little by little into tourist centres, prices will rise, corporate industry will build, and the nature will be transformed. But all of that will take time. For now, the region is still fairly unknown outside Romania, with only a handful of foreigners scattered over dozens of traditional villages, and the nature is still pristine and a joy to explore.
After exploring many villages and seeing many homes, we eventually found a house we liked in a remote section of a cute village. Old architecture, an enormous garden and fruit trees, running water with hot water, electricity, internet, fairly clean and modern interior, fully furnished including kitchen.
There was only a dirt path, with no paved access road, to the neighbourhood, but we considered that a plus. The owner was working in Germany for several months, so we dealt with his relatives in the village. We paid 450 eur per month (cash, in lei), including all utilities. That's a bit higher than necessary.
I'd guess that we could have negotiated down to 350 eur, but we agreed on many extras which they provided, so we were happy with the deal. The owner's relatives helped us with a lot and everything worked out wonderfully.
Village life in Romania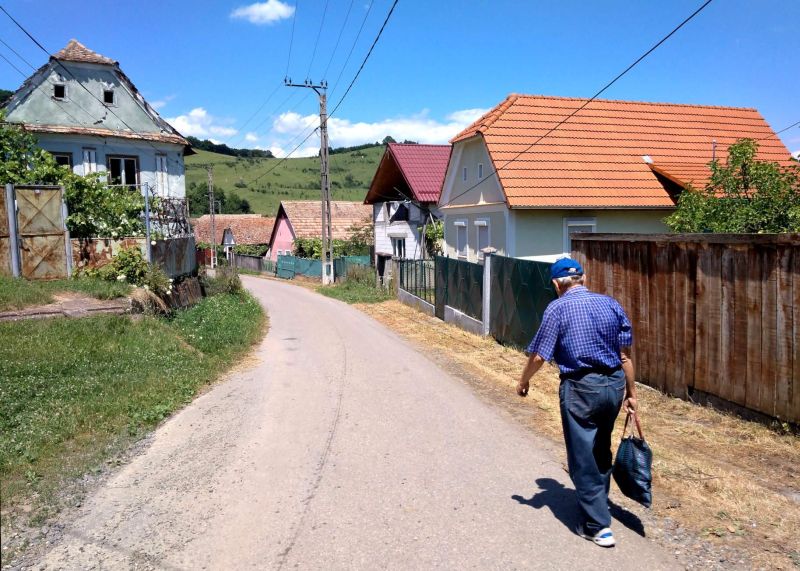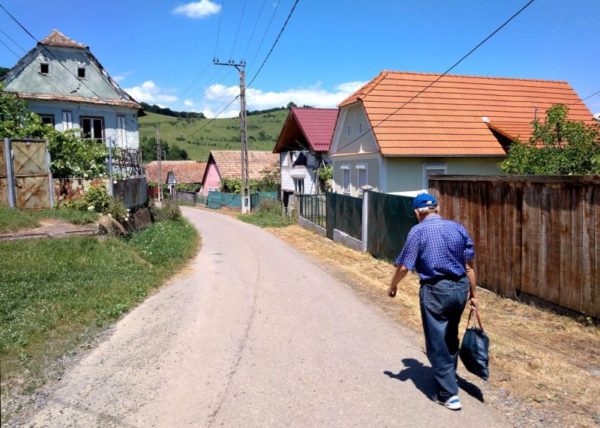 We fell in love with the countryside of Transylvania: the rolling hills, the forests, the views, the small villages, and the quiet, slow, rural life. Old architectural styles. Horses and wagons. Fresh locally-grown produce. Pastors and their sheep. Fields of green and yellow stretching as far as the eye can see. And the friendliest locals we've ever met in the world, always offering us cheese and jams and drinks.
Guidebooks and tourist sites describe the Transylvanian villages as a time bubble where locals live like the Europeans of centuries before, without modern inventions, industrialisation, or contact with the rest of the world. That's definitely an exaggeration.
Mobile phone coverage is phenomenal in villages, much better than in rural areas of Western Europe, and almost every villager has a smartphone and is glued to it as much as urbanites.
Most villages, even in remote areas, have connections for electricity and phone/internet. Although road quality can be poor, the area isn't cut off: the vast majority of villages can be accessed by car, and from our experience, most extended families have at least one car, if not several.
Economic activity outside farming and grazing does exist: we came across several small-scale factories in the region, many agriculture processing operations, some tiny offices, and a few machinery shops. And because so many villagers work abroad for extended periods, they're not at all shut off from the world: every villager we met either personally had lived abroad or had a family member abroad.
We found that on average the Transylvanian villagers follow issues such as global economics and EU integration more closely than people we've met in small towns of the UK.
But although it's not a true time warp, we found that many aspects of Transylvanian village life do indeed give it a feeling of old-style Europe.
The architecture of the majority of houses is the traditional Saxon style, with pastel-painted walls, small windows, and wooden crosses, which immediately gives the villages an old-time charm. Access roads to many neighbourhoods are often only by gravel paths or unpaved dirt trails through fields. Many villagers use horse and wagon for transportation; in some areas, there are many more wagons than cars. Most villages have public wells which provide fresh water for everyone.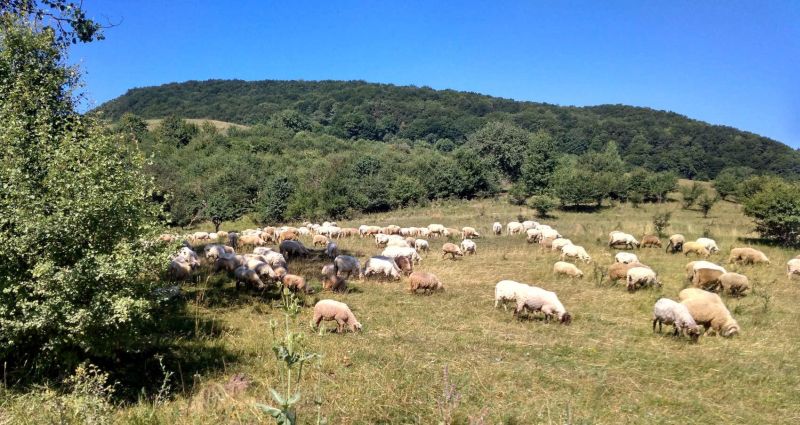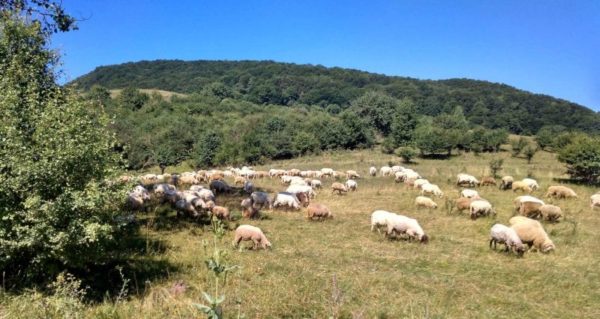 Sheep, goats, and cows graze everywhere under the watchful care of shepherds. Most families we know grow at least some food for their own use, and the majority keep chickens for eggs and meat. Professional agricultural is very small-scale – mostly individual family farms, plus some operations run by small businesses or cooperatives – and there is very little of the large-scale industrial farming that exists in Western Europe. And pristine, undeveloped nature surrounds all of it: fields and forests and rolling hills.
Village life in Transylvania isn't for everyone. The pace of life is very slow. There are no tourist activities, no organized events, no museums or cultural centres. There are no restaurants. There is no nightlife except for neighbours sitting outside their homes sharing food and drink. For stores, there's just a small mini-market in each village which has only the most basic food items; to buy anything else, you have to make a trip to the nearest city.
Each village has its own character. Most villages are comprised of a mix of farmers, shepherds, commuters who work in the closest city, people who work abroad for either short or long periods, and older adults. Some families have many children – we saw many families with 4 to 8 per family! – so some villages are teeming with young kids, but we found other villages which have a high percentage of older people and few children.
The economic status of the villages ranges from middle class down to very poor. In most cases, the more remote a village, the more poor its people. The villages closer and better connected to cities are more middle class, as more of the residents work in the nearby cities at higher-paying jobs. But we found quite a few exceptions.
For example, one village we found is only 10 km from a city along a well-maintained road, but its residents are some of the poorest we saw in the area. In contrast, another village we visited is far from any city and is difficult to reach, but it's actually fairly well-off. You really can't know how a village is without going yourself to investigate.
We found the villages to be extremely safe. Some friends of ours in the UK were horrified by our plan to live in a Romanian village and thought we'd certainly be robbed, murdered, or crucified (such is the effect of the Western European media's stereotypes of Romanian villages).
But our experience is that the Transylvanian villages are very, very safe. Everyone knows everyone. Half the people in our neighbourhood don't lock their doors (or in a few cases we saw, don't even have any locks on their doors in the first place). Not many strangers come to the towns, and anyone who does arrive stands out immediately and attracts lots of suspicion and vigilance from the locals.
For sure, petty robberies can happen; the cases we were told about were young teenagers trying to impress their friends, and one adult ne'er-do-well who got drunk and tried to steal from a neighbour. But overall, we found that there is little problem with crime.
For our own situation, we were very aware that our foreignness could attract unwanted attention from people who would assume we are very rich. And it wouldn't necessarily be just local people in our village: word travels very fast in the region, so we knew that our presence might draw attention from other villages as well.
But we never had even the slightest problem in the village. We always felt perfectly safe. We were much more worried by some aggressive sheepdogs whose path we crossed occasionally than by any crime. All in all, we found Transylvanian villages safer than most places we've been in the UK.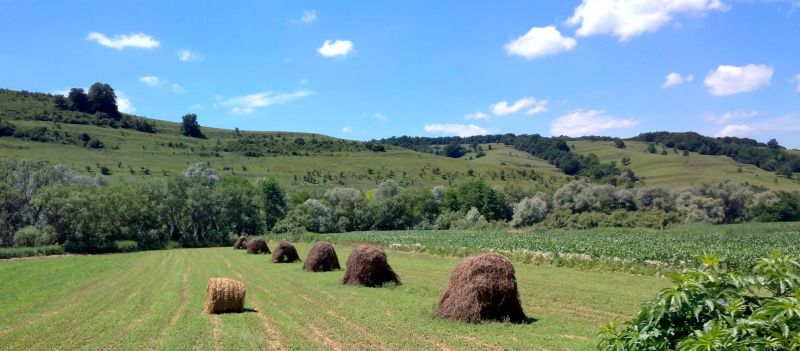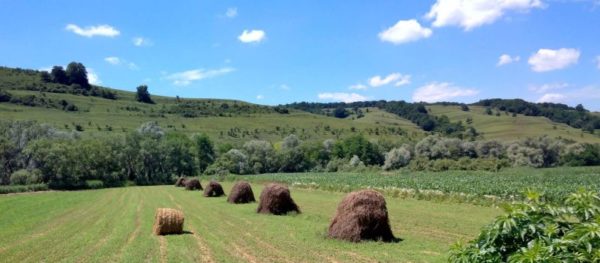 The peace and quiet in the villages is wonderful. We are both academics, so we worked a lot on our projects. With a great internet connection, we found it to be the best of all worlds while we worked: tranquility and nature ideal for focus and reflection, phenomenal internet for research and connection.
For us, village life was perfect: quiet, tranquil, slow-paced. We explored the nature by hiking through forests, biking through fields and over hills, and driving to the farthest areas. We cooked. We worked in the garden. We worked on our projects. We got to know our neighbours. All in all, it was a perfect summer for us!
Ethnic mix
Many of the people who live in the Transylvanian villages nowadays have Romani backgrounds. Quite often they have minimal cultural connections to Romani life: they speak only Romanian, have no knowledge of the Romani , wear standard modern European clothes, etc. We found that some of these types of people consider themselves part of the Romani community, while many see themselves only as Romanian and do not identify as Romani.
In contrast, some Transylvanian villages are much more traditionally Romani. In these villages, most people speak the Romani language, women wear traditional colourful clothes, older men often wear traditional black hats, and everyone considers themselves Romani.
Many non-Romani Romanians in Transylvania, both in the cities and in the villages, intensely dislike Romanis. We heard many people openly say that Romanis are dirty, disease- ridden, criminal, lazy, and leeches on society. Several non-Romani people told us that they hate the term Romani or Roma and think only the word gypsies (ţigani in Romanian) should be used so that the rest of the world doesn't confuse them with ethnic Romanians. Many people told us that Romanian citizenship should be revoked from every Romani altogether.
Coming from our politically-correct world, this racial hatred was shocking for us to hear. We were particularly surprised that people are comfortable enough to express these ideas to strangers as casually and openly as if they're discussing the weather. Unfortunately, it's not just talk: the discrimination resulting from these views – although nominally illegal – is very blatant and widespread.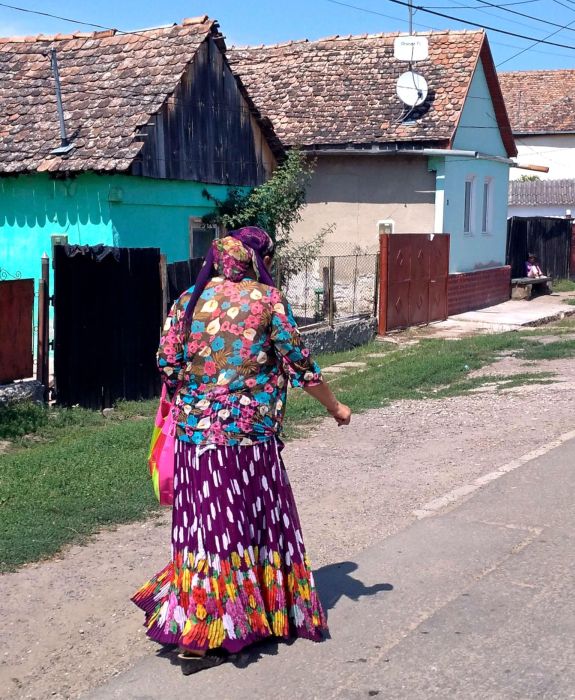 Our own experience with the Romani people in the villages was very positive. We personally knew many Romanis, both those who have no Romani traditions as well as those who speak the language and maintain the traditions. Just as the non-Romanis are wonderful hosts, the Romanis also welcomed us and got to knows us, invited us into their homes, offered us food and drink, gave us food and produce from their lands.
Quite a few are deeply religious, and in some small villages there are a surprisingly large number of different churches, among them Romanian Orthodox, Pentescostal, Baptist, and Seventh-Day Adventist.
As for Romani crime, we didn't personally see or hear of any in the small villages. But in the towns and cities, we did often notice aggressive Romani begging that sometimes bordered on outright theft and mugging. We were frequently told – often by village Romani themselves – that the Romani in the cities are different than those in the villages: in the cities, they are poorer and more focused on begging and stealing, whereas in the villages the Romani often have houses, farmland, and horses and wagons, so tend to be richer and more integrated into broader Romanian society.
Hungarian speakers form the majority of the population in the villages in the Székely Land, which covers southern Harghita and northern Covasna counties in the areas around Miercurea Ciuc, Sfântu Gheorghe, and Odorheiu Secuiesc, as well as the eastern part of Mureș county around Miercurea Nirajului. (Târgu Mureș was majority Hungarian until the late 20th century and still has a sizeable Hungarian population, but in the last decades the city has become majority Romanian).
There are also small pockets of Hungarian speakers in some Transylvanian villages outside the Székely Land as well. Additionally, several Hungarian families with royal backgrounds successfully sued the state in the 2000s to get property that had been taken during communism, and they now own lands in many villages throughout the region, including in areas that were more Saxon.
We found some of these (formerly) royal families living part- or full-time in the villages. They often hire Hungarian workers to repair and restore the properties, a move which itself builds up Hungarian communities in these areas. The (formerly) royal families aren't rich enough themselves to maintain these properties only for their own personal enjoyment, so they use lots of ways to make money from them: luxury tourist accommodation, corporate off-sites, big music festivals.
Germans are very rare now in the Transylvanian villages. But in the 19th and early 20th centuries, the Transylvanian cities had very large German communities, and many of the villages – particularly in the area bounded by Sibiu, Mediaș, Sighișoara, and Făgăraș – were majority German.
All the Transylvanian Germans were known as Saxons, a misnomer given that they had little to do with the Saxony region of Germany. The Saxon legacy in Transylvania is very visible today in the German architecture of the villages.
The many fortified churches are the most famous examples, but most of the homes in this region, even in the less famous villages, are also Saxon in style: small windows, crosses on the front, outside walls painted in pastel colours, fronted by high gates to allow for their horse and wagons.
The German population was cut roughly in half during and immediately after World II. And then several decades of communism later, almost all the ethnic Germans who still remained in the villages left Romania in 1989-90 to live permanently in Germany.
The only Germans now living in villages in Transylvania are a few families who come back mostly for summer vacations, a few priests and caretakers who maintain the old churches and forts, and a very small handful of elderly residents who didn't leave in the 1990s. There is still a small German community in cities – Sibiu in particular, with its former math and physics teacher, mayor, and now president of the country Klaus Iohannis as the most famous example – but in the villages, there are almost no Germans now.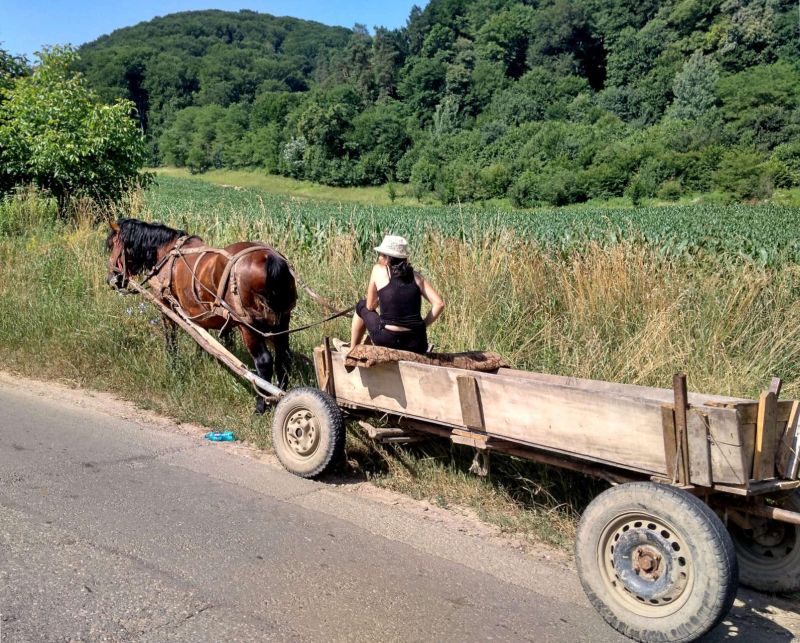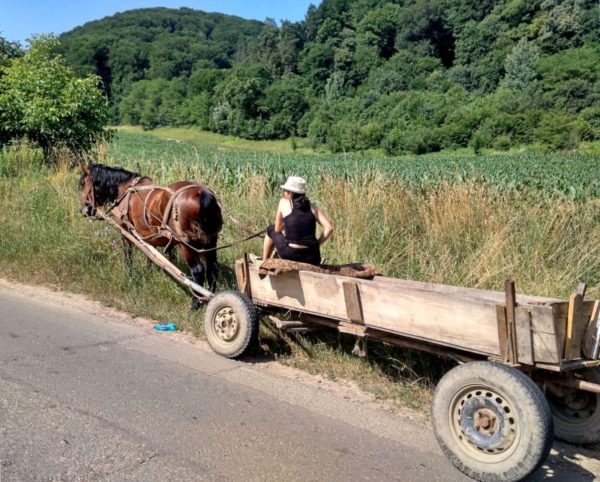 Language
In the big cities of Romania, many people speak very good English, plus often German, Spanish, or Italian.
In the villages, though, almost no one speaks English. We expected that middle-age people and older adults wouldn't know any English. But young people's knowledge is just as bad: we found that although English is usually compulsory in school, most young people in the villages don't know much more of the language than the numbers (and even the numbers might be a stretch in many cases).
It's a reflection of the poor education offered in these areas, and it's especially sad because it really limits the local people in their future job prospects.
But as a foreigner in Transylvanian villages, it's not all bad news about the language. We found a few bright spots in the situation.
First, it's not so hard to reach basic proficiency in Romanian if you already know another Romance language. For sure, Romanian is harder than the other Romance languages, but it's not as tough as, say, a Slavic language. About 60% of Romanian vocabulary is from Romance sources (mostly either inherited from Latin or adopted more recently from French), so that gives you a very large base of words you can pick up quickly. In our case, we already knew French and Italian.
That background helped a lot: it only took us about an hour a day of Romanian study for two months to reach a level where we could comfortably communicate with locals in Transylvania. We couldn't discuss politics or philosophy, but we were able to talk with ease about basic life topics, ask and understand directions and paths, and negotiate prices.
Unfortunately, it won't be as easy as that if you don't know another Romance language. If your only language is English, then to reach a basic level of comfortable Romanian proficiency, I'd estimate that you'd probably need to invest 3-4 times the amount of time we did.
Another big bright spot in the language situation is the high percentage of Romanians who have worked abroad. Every person we met in a village in Transylvania had either personally worked abroad or had a close family member who had.
In a few cases, the Romanians who worked abroad had picked up a bit of the language: usually German, sometimes Italian or Spanish. We found that their language experience is not much of a direct advantage. Their knowledge of the language is very low, since when abroad they're usually manual laborers and surrounded by other Romanians, so their skills rarely help you to communicate as a foreigner in their villages.
Instead, the advantage is indirect: we found that the experience of having working abroad has made the local people extremely patient and understanding about language difficulties. When trying to communicate with someone who barely speaks your language, most people in most countries of the world quickly become tired and just give up.
But in Romanian villages, we found that people really want to communicate. Their sympathy towards foreigners is palpable: they're used to being in a foreign country themselves and having problems communicating, so when they're in the reverse situation in their own country, they are extremely accommodating about language difficulties. They're willing to spend huge amounts of time to have a conversation using any way possible: phone/internet translators, hand gestures, writing on paper, dictionaries, pictures.
Plus, they're thrilled to be hosts to visitors in their region. Most Romanians in villages see so few foreign visitors that it's very exciting for them. They have a very deep cultural tradition to serve as good hosts to any guest. And when the guest is a foreigner, they want to be especially kind. So they really make huge efforts to find ways to communicate despite any language barriers.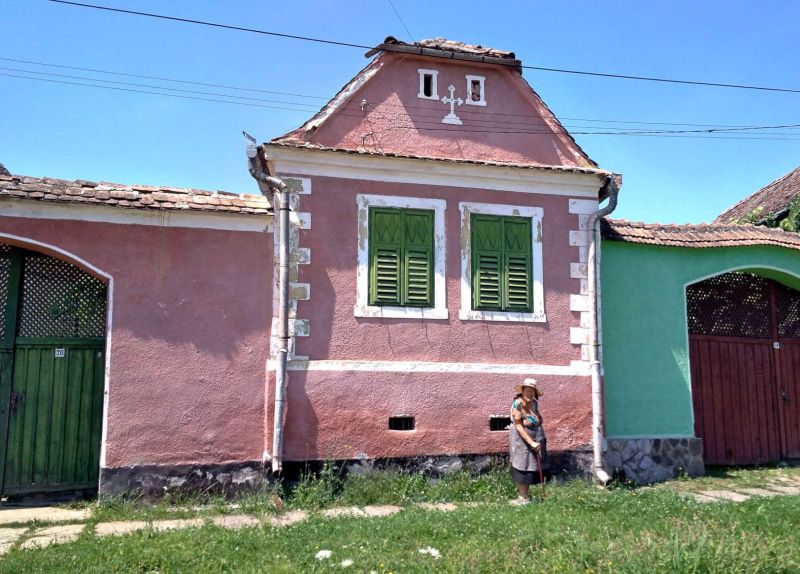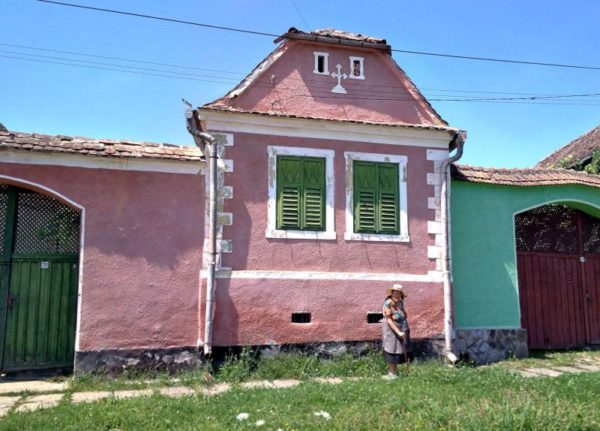 The upshot? Almost no one in the villages speaks English or any other language, so the more Romanian you can learn, the better. But thanks to the empathy gained from suffering language problems themselves when they've worked abroad, as well as their cultural tradition of being kind hosts, the Romanians you meet in villages will really try hard to communicate with you despite any language barriers.
Animals
There are many animals in the Transylvanian villages.
Horses pulling wagons is a common sight on the village roads and the most visible sign that you've entered rural Transylvania. In many areas, there are more wagons than cars. A person – or family – sits on the wagon behind the horse and steers. The wagons often carry hay, but we've seen them used to carry everything from furniture to construction material to children.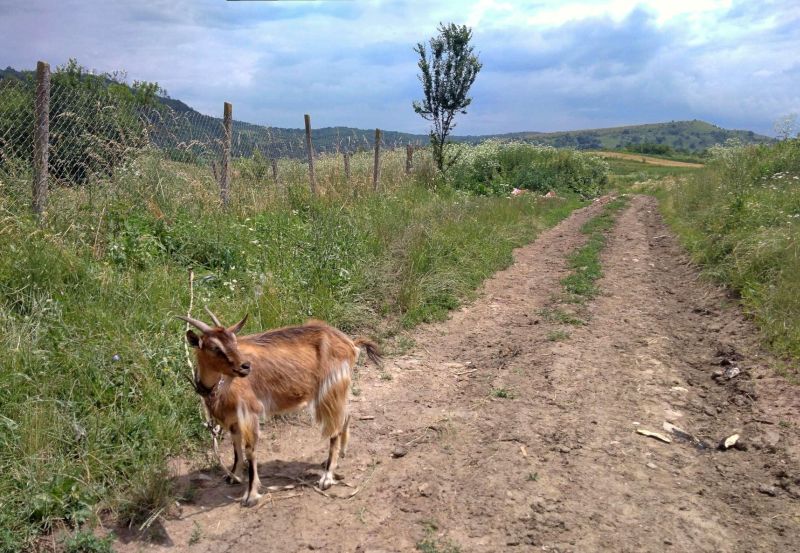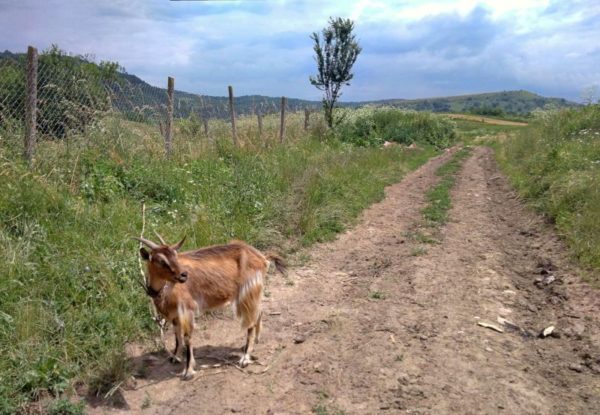 Lots of people, including many people who aren't farmers, keep a few chicken, goats, and sheep in the yards or barn of their house. Dogs and cats roam around in between the people and the other animals (fortunately, it seems there are few problems with wild dogs; we were cautious given all the reports from the past about feral dogs, but we never had any issues).
In the large village fields are herds of cows and flocks of sheep. They're beautiful to see when grazing across endless fields. Many times they wear bells, so the sound they make can be quite fun to hear. But be careful. There's usually no problem with the cows, but you should be cautious about the sheep.
The sheep graze the pastures under the watchful eyes of a shepherd and his dogs. The dogs are trained to attack threats like wolves, bears, and thieves, so they will be very aggressive towards you if you come close to their sheep.
We had one very scary encounter but were not bitten; we heard stories of many other people who were actually attacked violently by the sheep dogs. Most big flocks have one or more protecting dogs.
You might not see the dogs; sometimes they have their own little doghouse from where they guard, but in other cases, they could be sitting anywhere nearby and you won't notice them until it's too late. So any time you see a big flock of sheep, even if you don't see the dogs, stay far away and be careful!
The way people in villages treat their animals isn't kind. We saw people do horrible things to their animals: hit them, chain them up in vile conditions, whip them harshly, throw them, stuff them alive inside closed sacks, kick them. We saw many times wagon drivers needlessly beating their horses brutally.
The principal limit to the cruelty is economic: the villagers don't want to do anything to an animal that will reduce its value (although we saw several people cross that line and inadvertently destroy their own animals). The cruelty is different than what happens en masse in modern industrial factory farms; in the cases we saw in the Transylvanian villages, it's individual people treating animals cruelly on an individual basis, rather than institutional cruelty.
Not everyone in the villages treats animals horribly; for example, one of our neighbours who is as disgusted as we are by the cruelty actually rescues hurt animals. But overall, most people don't care.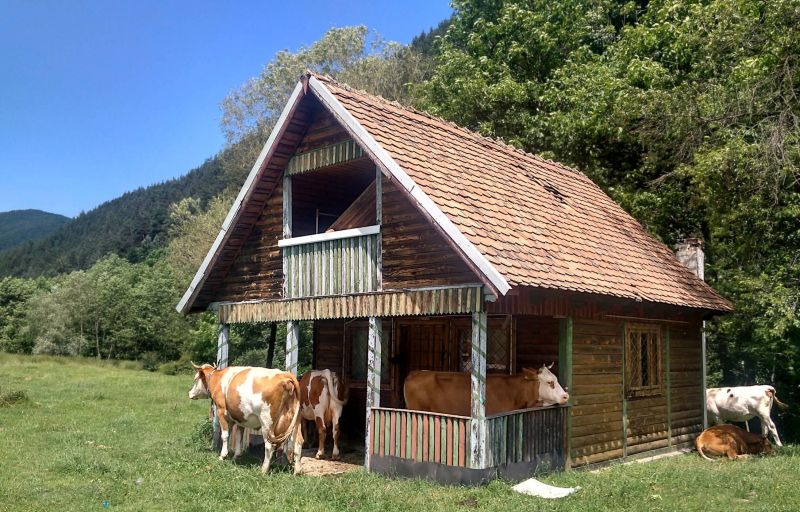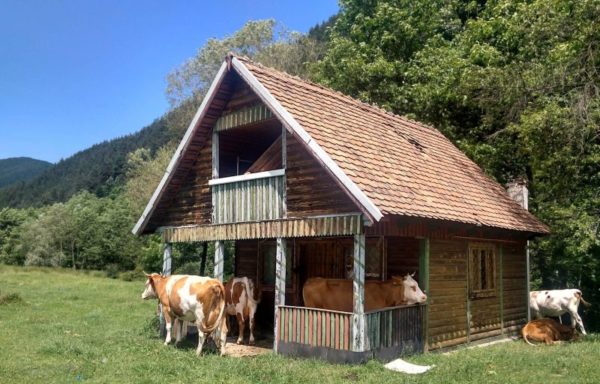 When we spoke about it to people in our village, they told us that they don't see a problem: they don't see what they do as cruel, they can't recognize the idea of animal welfare, and they're comfortable with how they treat animals because their parents and grandparents and grandparents' grandparents all treated animals in the same way.
Many people we met in the villages – people who are otherwise nice, kind people, and were even wonderful hosts to us – are completely indifferent to their own cruelty to animals. It was sad for us to see the horrible treatment and frustrating that we could not change any attitudes.
Biking and hiking in Transylvania
Biking and hiking in the Transylvanian countryside is wonderful. Pristine, ancient forests. Rolling hills with open views stretching for kilometers. Plateaus of grass hidden between the hills. Limestone gorges. Ancient trees, wild flowers, birds singing, and occasional sightings of wild animals such as fox, boar, and deer. And almost no people anywhere.
There's a wonderful network of trails which have been clearly signposted and marked in just the last few years throughout the Transylvanian hills and forests. The network of trails in the region between Sighișoara and Agnita are the most clearly marked and have trailhead signposts, but the whole Transylvanian region even outside that zone has trails of some type or other which you can follow.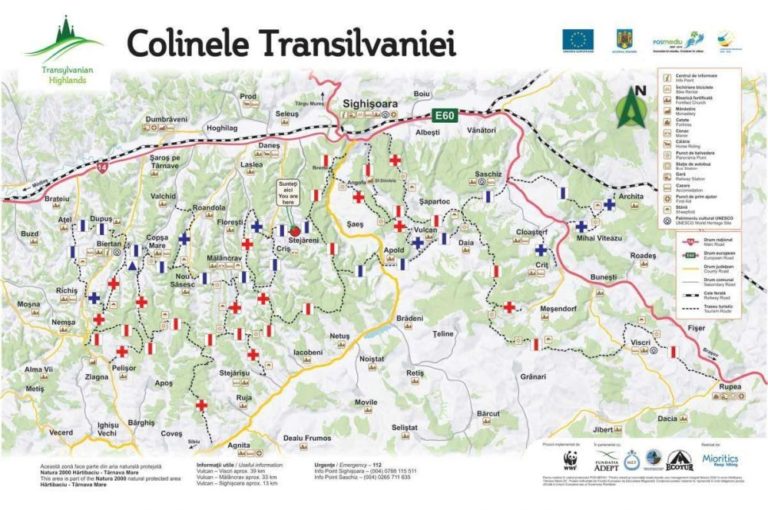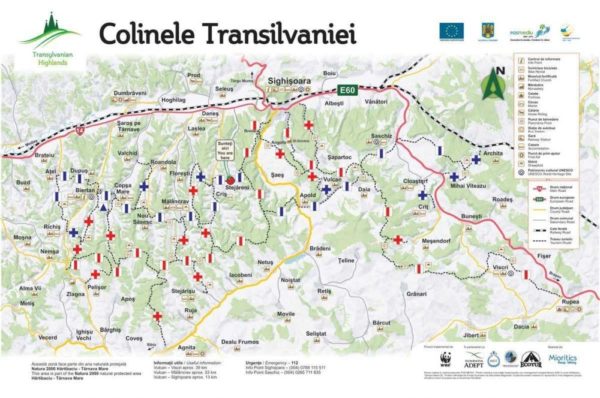 In some places, the trails take you along small roads and dirt paths for cars, and in a few areas the trails follow logging paths cut decades before, but most of the trails run through undeveloped areas of forests, hills, empty plateaus and grassland, and even a few cornfields.
At the start of each trail of the network are wonderfully detailed signs in Romanian and English describing the course of the trail, its difficulty and elevation, and the flora and fauna you'll see along the way. Along the trails themselves are markings – shapes such as crosses and diamonds in red and blue colours painted onto trees and rocks – in order to help you find your way. A few trails were tricky to follow in some areas and we had to do a bit of reconnaissance to find the path, but by and large the trails of the network are clear and you won't get lost.
The trails of the network are great for hiking by foot, but you can also very happily ride bikes on them. You'll have to walk your bike in places: some hills are very steep, some of the paths through forests are too rocky for bike tires, at a few points in the woods you have to climb over big fallen trees.
And for a few days after a rainstorm, some parts of the trails, especially in sections of the forest where the sun doesn't reach, turn into a muddy sludge which you'll have to walk around. But that's all part of the fun. Biking the trails really is a pleasure.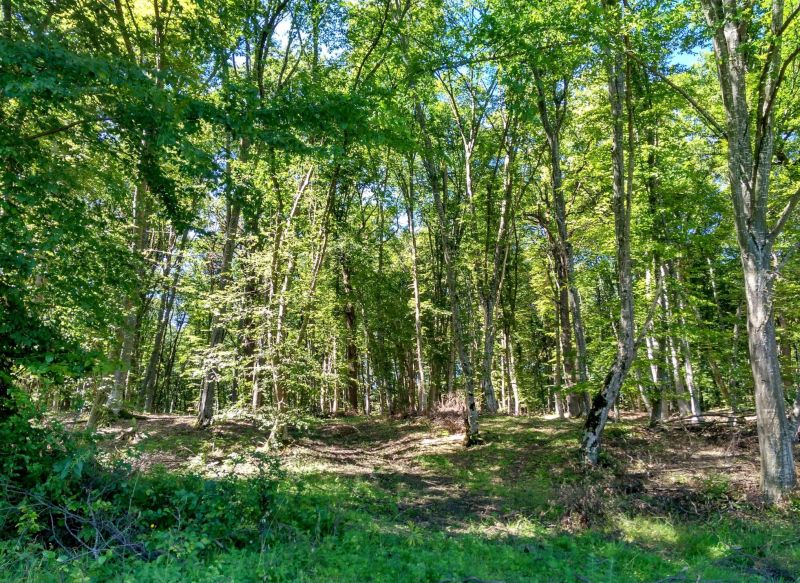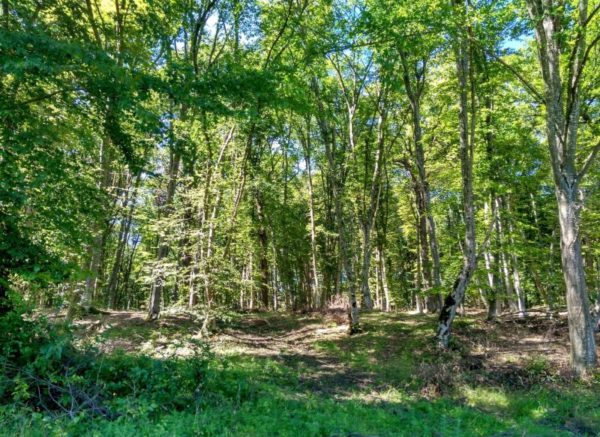 You're not just limited to the network of marked trails. There are many loose, informal trails you can follow: shepherds' routes, old logging tracks, walking paths cut by generations of villagers. You can really get far with these paths. With only a few exceptions, we found that there generally is some trail or path between any two adjacent villages, even if there is no road for cars. You might have to climb steep hills or cut through dense forest, but we found that locals were very often able to guide us to obscure paths that make passage possible even in areas that seem impassable.
And if you're very determined and knowledgeable, you can go straight into the nature on no trail at all and just make your own way.
We found the distances perfect for day-trips by bicycle. Most of the trails take 2-5 hours by bike. They usually connect from one trail to another, so you can combine several shorter trails into a longer journey. The trails are quite easy to access, as they mostly start and end in villages or just off the main roads.
There are no stores on the trails themselves – it's pristine nature, after all! – but you can buy basic supplies in the mini-markets in the villages. Many of the villages also have public water wells where you can fill up your bottles (for free). We usually brought food with us and had a picnic on the top of panoramic hills or in the open grassy plateaus.
The hills and forests are surprisingly empty of people. The most people we ever saw was a total of 8 hikers and bikers over a 4-hour period, and that was when we were on a trail which was easily accessible from a city, and it was a weekend in the peak summer season.
In a few remote areas, we occasionally came across local villagers working deep in the forests: shepherds, loggers, once in a while someone with a basket gathering mushrooms and other forageable products. Otherwise, we almost never saw anyone on the trails or in the forests and hills.
Biking through the forests and hills took us into neighbourhoods of villages which we would have otherwise never seen. It was often quite a surprise to come across a cluster of old, traditional houses in a very remote, inaccessible area where we wouldn't have expected any human residences. But it was just as much a surprise for the locals to see a pair of foreigners pop out of the forest and appear in their neighbourhood!
Every time it happened – and we ended up stumbling upon quite a few of these remote, road-less little neighbourhoods scattered among the rolling hills – the villagers immediately invited us for food and drink. We start our bike trips early in the morning, so these encounters were often at 8:00 a.m., but the villagers wake even earlier and somehow always managed to prepare an impromptu feast with hot drinks and jam and cheese and fruit stacked on a table only minutes after meeting us.
The flora and fauna in the Transylvanian countryside is a joy to explore. In the forests and hills, you'll see tall, old trees which are incredible – lots of beech trees with pockets of ash, maple, oak, and elm among others – and hundreds of species of plants and flowers, many of which are no longer found anywhere else in Europe.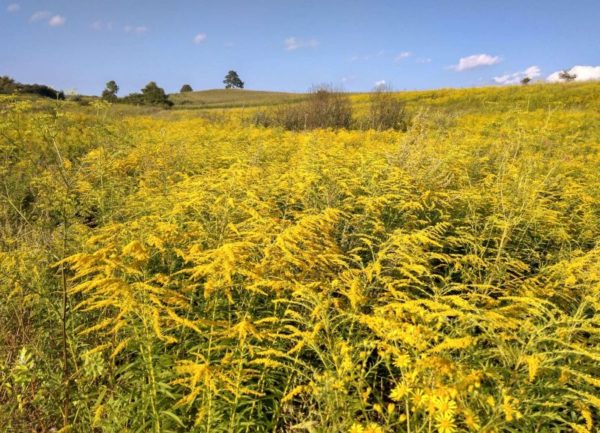 Many types of butterflies flit around and quite often alighted on our bikes and rode with us for a few minutes. If you enjoy picking your own food from the wild, you can find mushrooms, flowers for tea, and berries. Wild deer, foxes, and boar roam throughout the area; we saw several in our treks. In water ponds dotting the area you'll find frogs and leeches.
The forests reverberate throughout the morning with the songs of many species of birds. The birds can be sometimes be hard to see, but if you're lucky, you can find among others woodpeckers, owls, larks, nutcrackers, and firecrests in the trees. Several times we saw hunting birds such as eagles in the skies.
Wild bears, wolves, and lynx live in the forests, but based on what local villagers told us as well as our own experience, it's rare that you'll see them during daytime hikes. But these animals are at the heart of a political fight in Romania.
Currently, they are protected from hunting. Romania previously allowed trophy hunting, but in a victory for environmental activists, the government began a ban starting in 2016. The ban is controversial in the area we lived. On the one hand, supporters argue that the numbers of these wild animals was dwindling, and the ban has helped lead to a growth in their population. On the other hand, most villagers we knew see the ban as a ruling which urban environmental elites imposed on rural areas about which they know nothing.
The bears and wolves have killed the cows, sheep, and pigs of the villagers for centuries, and – at least according to the anecdotal views of the villagers – the attacks have increased since the 2016 hunting ban. Very occasionally, bears have even killed a person as well, mostly when the human tries to defend his livestock animals from the attacks.
So the hunting is seen as a way to cull the animal population and defend the villagers' livestock. Additionally, the hunting was a source of income for the rural villagers: when hunting was legal, it was mostly foreigners who did the hunting, and they spent big money to kill the animals.
There have been many attempts by the rural areas to reinstate legal hunting, including a law which almost passed in 2019, but for now the ban is still in effect and hunting remains illegal. Because of this, it's possible that their numbers will continue to increase. So although it's unlikely you'll come across them, it's still best to be aware if you're in the forests.
Shopping in Romanian villages
There aren't a lot of shopping options in Romanian villages. The smallest villages have no stores at all.
In villages of at least several hundred people, there are usually one or two mini-market stores. They sell a very limited selection of basic products: packaged meat, potatoes, tomatoes, maybe a few other fruits or vegetables, loaves of very basic bread, eggs, some canned vegetables, packaged biscuits and chocolate, cooking oil, cigarettes, alcohol, a few dairy products if they have a refrigerator, a few frozen products if they have a freezer.
We got a lot of food directly from the land where we lived. Many people have gardens with vegetables and fruits, so we often got fresh tomatoes, bell peppers, long beans, cucumbers, and cherries from our neighbours. From shepherds in the area we purchased milk and cheese. Many people have chickens, so we were always able to get fresh eggs.
With fields of maize in every village, we had an unlimited supply of corn on the cob. We purchased honey from itinerant beekeepers who set up operations each summer in fields everywhere in Transylvania.
For any other food shopping, you'll need to go to the closest city. The cities all have supermarkets and hypermarkets; Lidl, Kaufland, Carrefour, and Penny are the most common chains. There are also old-style farmer markets in the cities, but they seem to be gradually dying, killed off by the cheaper prices which the big chains can offer.
The bigger cities of Sibiu, Brașov, and Cluj have malls and shops with a range of items almost as broad as small cities in Western Europe. The selection of products is narrower in the smaller Transylvanian cities such as Târgu Mureș, Mediaș, or Sighișoara, but they still have big hypermarkets and many stores offering most common things you might need such as clothes, electronics, and home supplies.
Food prices
The high price of food was a common topic of conversation. Locals complained to us that food costs are too expensive relative to the average salaries in the area. Workers who had spent time in Germany or Italy said they were surprised that food is not much cheaper in Romania than in Western Europe.
Young people, old people, all social classes: everyone was unified in their outrage about high food prices. They told us that prices weren't so high before and that it's in the last few years that food has become so expensive.
We don't have historical records, so we don't know trends over time. But we kept records of the prices we paid for food in 2019, so you can judge price levels for yourself.
Making a price list is tricky, since prices vary from week to week and store to store, there are promotions, etc. So to keep it simple, for each product we tried to list the price which we found was the most normal and realistic over the summer.
We shopped mostly in hypermarkets in Făgăraș, with occasional trips to stores in Sibiu and Sighișoara. We didn't find much difference in the prices between these cities.
On the other hand, there was a big difference between the cities and the villages. Except for locally-produced food such as long beans and eggs, the prices in the village mini-markets are higher for almost every product than the prices in the city hypermarkets. I'd estimate the village stores are roughly 10% to 50% more expensive than city hypermarkets, depending on the product. In the list below, we only show city prices.
We show the prices in euros and US dollars as well as lei, but to be clear, food in Romania is all priced in lei. For conversion to euros and US dollars in the table below, we used 1 eur = 4.74 and 1 usd = 4.25.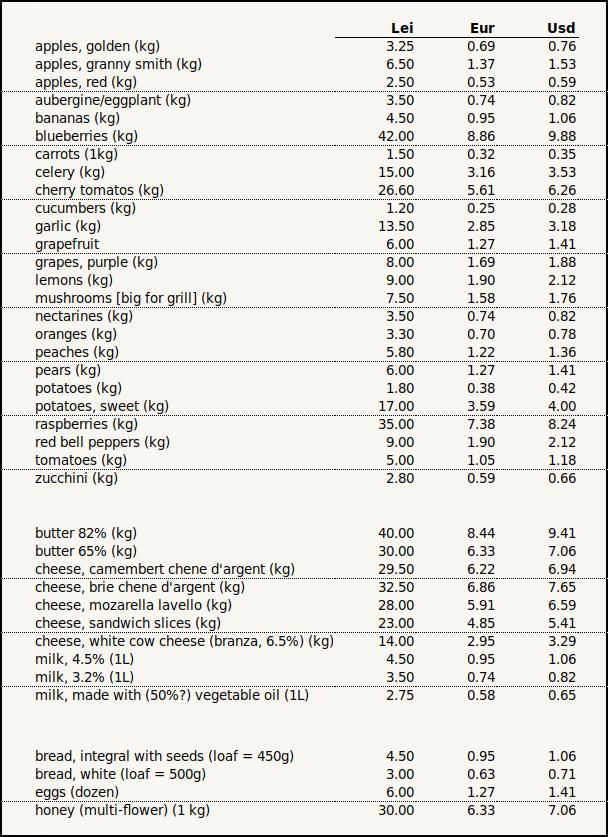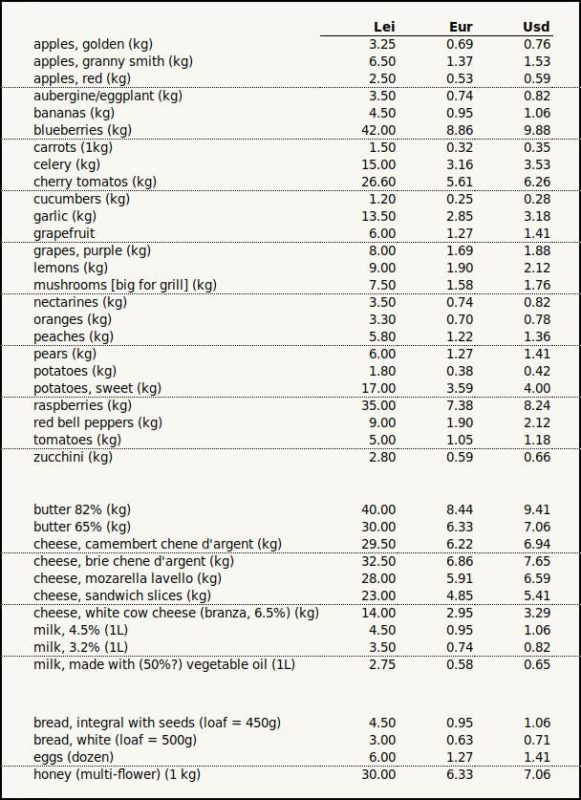 Internet and mobile
The internet in Romania is incredible. It's fast, cheap, and widespread.
Home internet is reliable and good value. Packages vary, of course, but we found that15 eur per month was a pretty typical price for a home. We found that speeds with this package are consistently at 50 Mbps for downloads and 20 Mbps upload. Reliability is wonderful: in our 3 months, we never lost internet.
We were often impressed to find great internet connections in the smallest of villages. For example, one village we visited is tiny and remote, with horrible access roads which are difficult to pass in the winter. But despite that, the village has great internet and mobile coverage.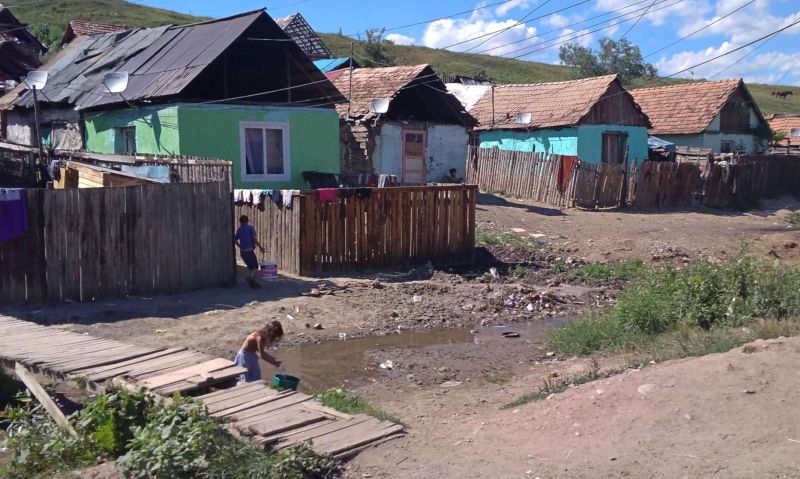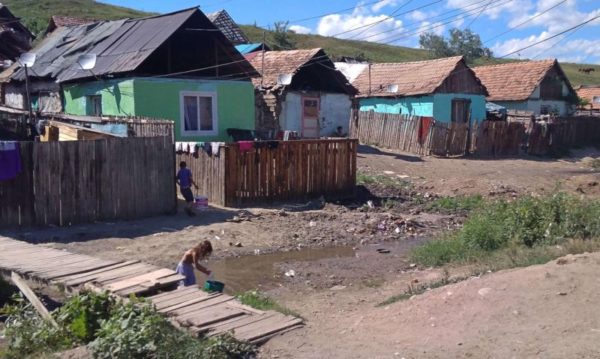 We did find homes without internet service, particularly solitary houses or neighbourhoods located in fields far from the centre of villages. However, in some cases, the lack of internet was simply because the owner didn't want, rather than that it wasn't available.
As for mobile data, it's a joy. Just walk into a telecom store, buy a sim card at a low price, and start using it. No silliness like in some countries with passport registration, a long wait for activation, frustrating policies about number transfers or whatnot.
Just buy a card, put it in, and go. Packages change constantly and there are several competitors, so check around to find the best value for your needs. In our case during the summer of 2019, we paid 13 euros a month for a package that has unlimited data at 10 Mbps speed, unlimited calls and SMS's within Romania, and 500 minutes of international calls (plus 4 Gb of data in EU roaming, although we never used it so can't verify how well it works).
Coverage reaches very remote areas, we rarely lost service in villages, we often had coverage even when traveling through hills and forests, and data speeds are very good at all times of the day.
I'm sure there must be problems with the telecom infrastructure in Romania – let us know the issues we're missing. But compared to the dodgy condition of the rest of the country's infrastructure in areas like sanitation, housing, public transportation, and roads, the telecom infrastructure is phenomenal. In fact, in our experience, the telecom in Romania is much better overall than in most countries of Europe, including Western Europe.
C's Conclusion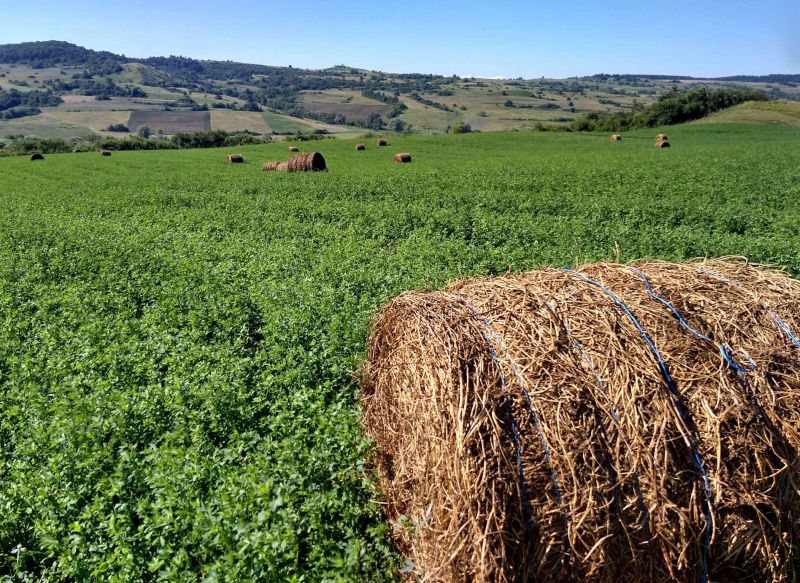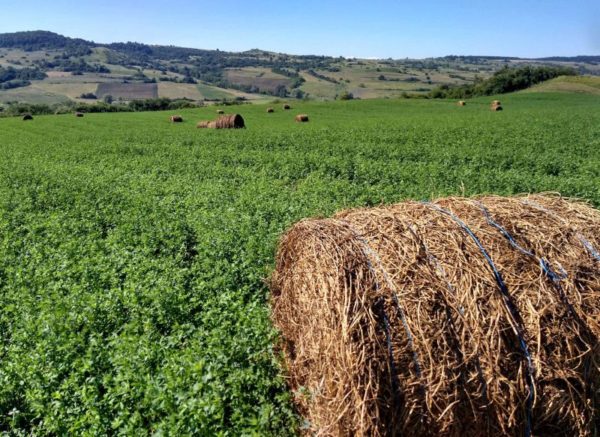 Angela covered everything that had to be covered about living in a village in Transylvania, just as promised and I really loved reading about her experiences, the friendliness of locals and the fact that it's actually not that difficult to live in a remote place, in a small village, somewhere in Transylvania.