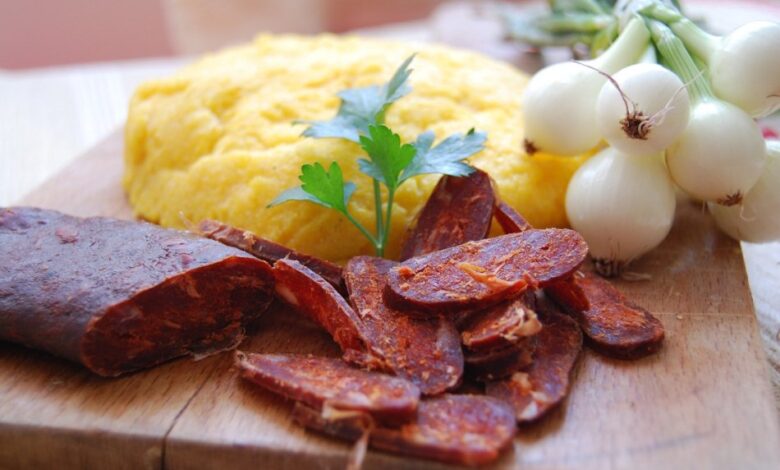 Every year, I write about the cost of living in Romania and these articles end up as some of the most popular on this blog. This year, however, I have decided to take a slightly different approach and go more in depth with the food prices in Romania, in Bucharest and basically all major cities (when it comes to food, the prices are basically the same both in the large supermarkets and the farmer markets). And, just like the title says – beer prices as well. Because, you will see, Romania is extremely cheap when it comes to buying beer (and it's great beer as well!)
I am writing this article because many people are curious exactly how much does a type of food cost and the bigger picture makes it a lot easier to estimate your budget for groceries and everything food-related. And, of course, I am sharing the price of beer in Bucharest and everywhere else since many people consider beer food, ha!
But if you are interested solely in the cost of living in Romania, check out this article and you're all set – although I don't in depth with individual prices, as I am going to do so here.
Note: This article was originally published in January 2015, but I have updated it in 2019 to reflect the current prices for food in Romania, as well as the price of beer because many would rather go on a liquid diet when visiting.
Please have in mind that the prices that I am listing below can be considered on the lower to average end: you might find products that are a bit cheaper, but you can also easily find higher priced ones too. Think of generic brands or store brands when considering these prices.
However, the numbers below should be enough to give you a general idea of the food prices in Romania & Bucharest and how cheap beer is in the country.
PLEASE Note: At the moment of writing this, $1 is sold for 4.15 Lei (the Romanian currency) and 1 Euro equals 4.7 Lei. For the sake of keeping my sanity, I will only list prices below in Euros.
We'll start with some basic groceries:
Chicken thighs – 1 Kilo – 2.30 Euros
Chicken breast, skinless – 1 kilo – 4.50 Euros
Whole Chicken – 1 kg – 2.65 Euros
Pork chops, boneless – 1kg – 3.4 Euros
Pork meat (minced) – 1 kg – 3.3 Eur
Beef Sirloin – 1kg – 9.00 Euros
Salami, 1 bar (300 grams) – 4.50 Euros
Turkey Ham (sliced, 150 grams) – 1.50 Eur
Bacon (sliced, 150 grams) – 1.70 Eur
Sausages, 1kg – 4.20 Euros
Milk, low fat, 1 liter – 1 Euro
Cottage cheese, 1 can (180 grams) – 0.90 Euros
Butter, 1 bar (200 grams) – 1.50 Euros
White Cheese, 1 kilo – 4 Euros
Cheese 1 kilo – 6.80 Euros
Eggs, 10-pack – 1.90 Euros
Bread, 1 loaf – 0.40 Euros
Bread, sliced, 500 grams – 0.65 Euros
Nestle Corn Flakes, Plain, 500 grams box – 2.10 Euros
Nestle Muesli & Chocolate, 300 grams box – 1.70 Euros
Coffee, 1 bag of 500 grams (decent coffee) – 4.45 Euros
Sugar, 1 kilo – 0.65 Euros
Brown sugar, 500 grams – 1.30 Euros
Spaghetti, 500 grams, Romanian brand – 0.60 Euros
White rice, 1 kilo – 1.70 Euros
Tomatoes, 1 kilo – 1.10 Eur
Potatoes, 1 kilo – 0.45 Euros
Mushrooms, 1 kilo – 2.20 Euros
Onions, 1 kilo – 0.45 Euros
Apples, 1 kilo – 0.55 Euros
Oranges, 1 kilo – 0.65 Euros
Bananas, 1 kilo – 1 Euro
NOTE: All these prices are slightly higher during the season and lower during the off-season. Some products (like bananas) which are not locally grown have a similar price year-long, but you can always expect some impressive discounts or higher prices.
1 bottle of Coca Cola, 2.5 liter – 1.30 Euros
1 jug of water, 5 liter – 1 Euro
Beer, 1 bottle, 2 liter – 1.55 Euros
Heineken beer, six-pack – 4 Euros
Cheap Romanian Wine, 750ml bottle – 2.25 Euros
More expensive wine, 750ml bottle – 5.60 Euros
Now let's check out some fast food prices:
Hamburger – 1.20 Euros
Shaorma (this beast here) – 3.20 Euros
Big Mac – 2 Euros
Happy Meal – 2.45 Euros
Prices in restaurants vary a lot and sky's the limit. However, here are some of the average prices you can expect if you don't visit the fanciest places around, but not the cheapest, self-service type of restaurants either. We're talking about places where you would feel good, eat good and not overpay.
Breakfast (scrambled eggs and coffee) – 3.20 Euros
Daily menu (Soup, Main course and dessert, sometimes drink included) – 3.50 Euros
Full Lunch, low priced restaurant (soup, main course, dessert and one beer) – 10.00 Euros
Full Lunch, more expensive restaurant – 18.50 Euros
Dinner – similar to the lunch costs
Bottle of beer price in a restaurant – Starting at 1.30 Eur
Soda – 1.30 Eur
Bottle of wine – Starting at 7.5 Eur
Many people who work prefer, for example, to grab a pretzel as their breakfast and that's as low as 0.30 Euros, so there are definitely a lot of options for you out there when it comes to eating. Usually, bread, pastries, vegetables and local fruits are way cheaper than in most parts in Europe based on my research. Cold cuts, all sorts of meats, including fish and seafood are similarly priced and sometimes more expensive than other parts of Europe. And, of course, beer is always cheap and tasty!
Food prices in restaurants and fast food joints are also lower compared to most of Europe as you can see above, but it's not a rule that you will pay less. I mean, for 10 Euros you can have a daily menu in many European countries… just like you can in Romania, with the only difference being that you choose the dishes from the menu (so it's not a daily menu).
Products that you get in supermarkets or grocery stores have a similar price to those in Europe, sometimes higher, but overall Romania is really a cheap country and once you get used with the prices and you know where to buy from and how to take advantage of discounts and special offers, the cost of food can get even lower for you.
Are there any other specific foods that you'd like to know the prices for? Let me know by sharing your comments bellow and feel free to share all your thoughts with me.