When visiting Bucharest, choosing a hotel that's close to the city center is your best bet if you want to be close to the main attractions and especially the beautiful old town area.
Although hotels in this central location are usually more expensive specifically because of their prime position, this doesn't mean that you can't find some cheaper options too! This is Romania that we're talking about, after all!
And this is exactly what we're going to talk about today: the best cheap hotels in Bucharest that are close to the city center (and the old town) that still offer great quality for the money.
This way, you'll be able to fully enjoy your stay in Romania's capital and be close to everything – while still saving some money for the actual experiences there.
If you don't want to read through my entire article and see all the reasoning why each is considered a good option, know that my top recommendation is Novotel Bucharest, with Liad Hotel being the best budget option.
There is one thing to have in mind, though: since prices fluctuate based on many reasons (especially the season and the time of the week for your booking), I can't share the exact prices for rooms, so you'll have to check for yourself.
However, I am still certain that the recommended places below offer the best price/quality ratios and you'll love them for sure!
Where to stay in Bucharest close to the city center and Old Town
Even though you will most likely spend most of your time outside of the hotel exploring the city, being able to come back to a nice place for a good rest will make your stay here perfect.
And these hotels are exactly what you need. Double check the prices, as various deals could make even the ones that are usually more expensive cheaper for specific dates.
1. Liad Hotel – Best Budget Option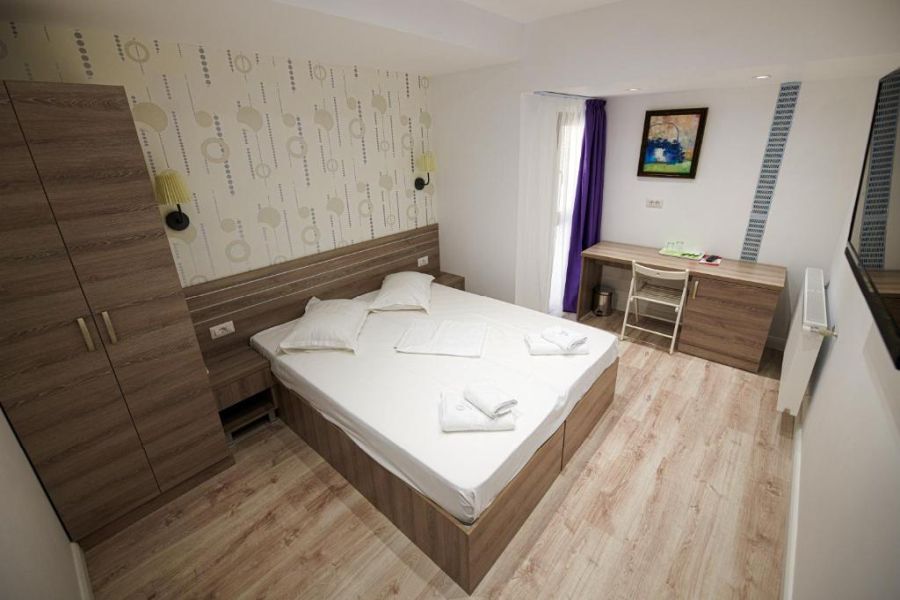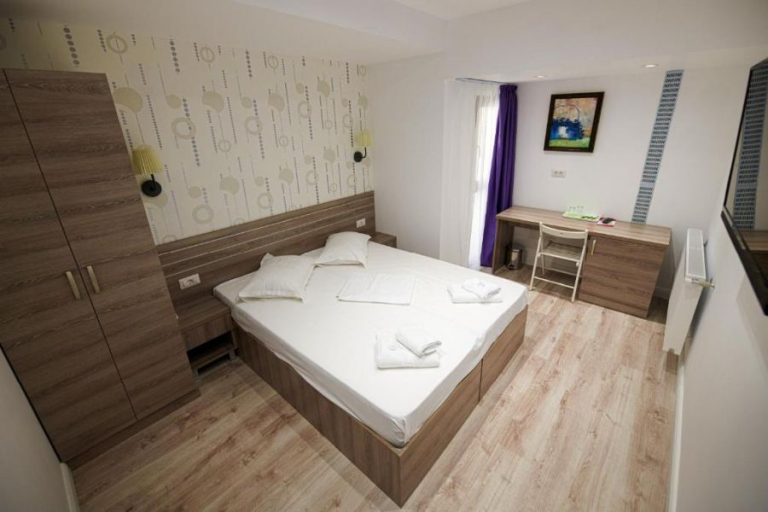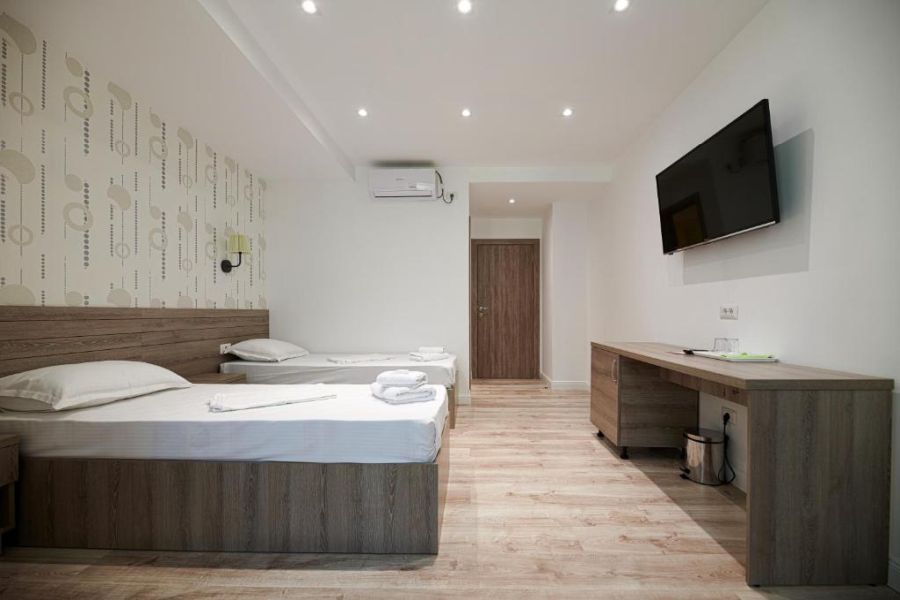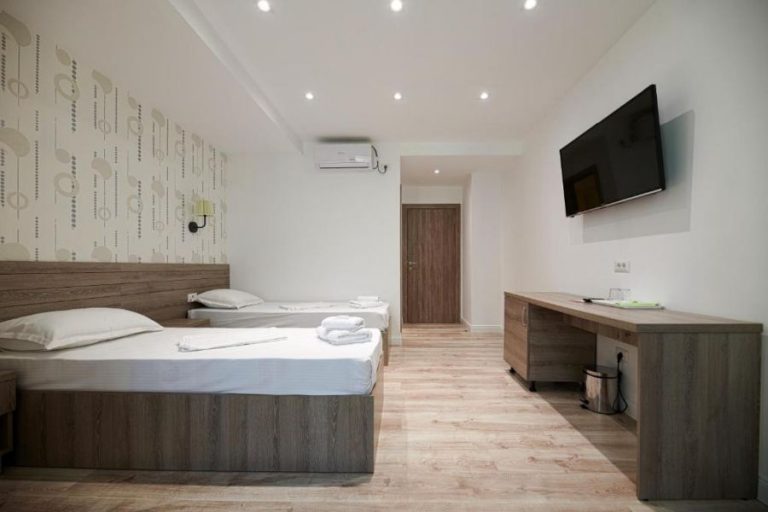 The cheapest hotel on our list (unless some special deals go live for the others), Hotel Liad has been recently renovated and upgraded and looks amazing with new furniture and equipment.
It's located in a really good area, just a few minutes of walking away from the University Area and less than 10 minutes of walking away from the old town with all its pubs and restaurants and other things to see.
So you will probably spend very little time in the hotel anyway… And when you do, the bed will be comfortable, the room will be clean – and that's all that matters. Save some money here and spend it on great experiences when exploring the city!
Some of the rooms have strange shapes and useless nooks, but they are well equipped – you get air conditioning in all rooms, you have a smart TV available and large bathrooms.
Check prices for your dates here.
2. Novotel Bucharest – My Top Choice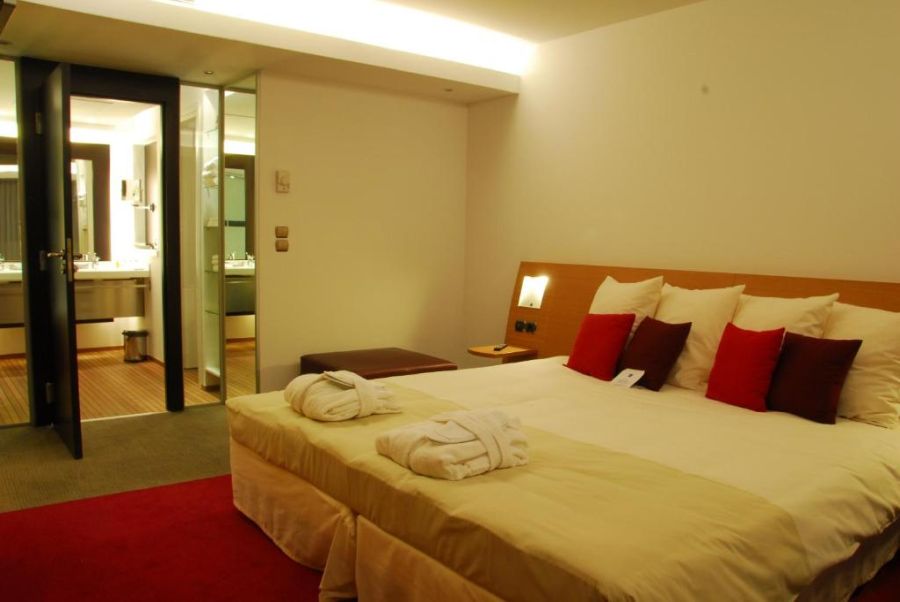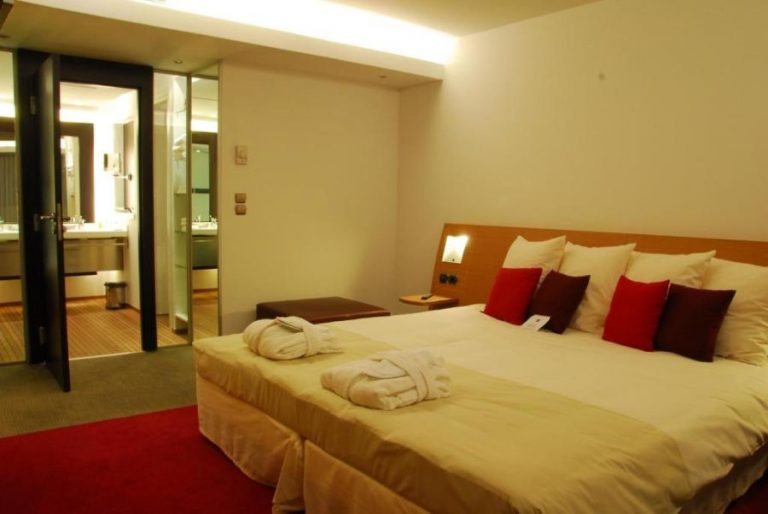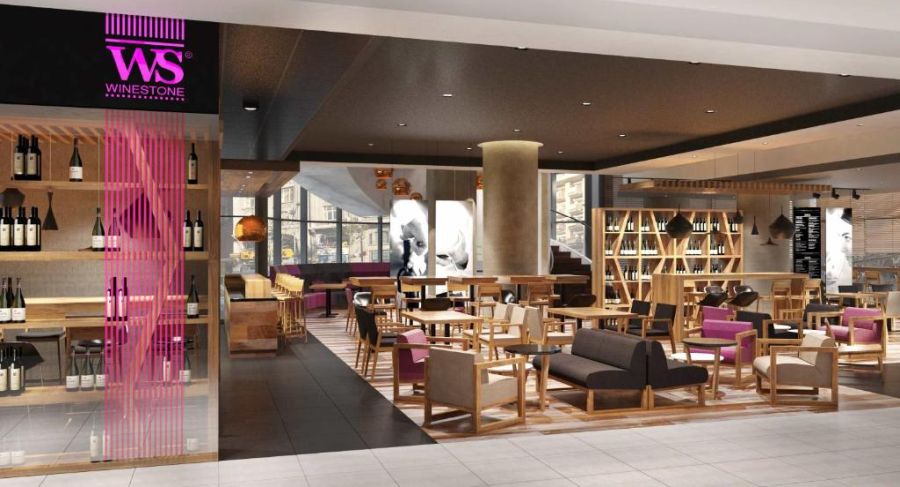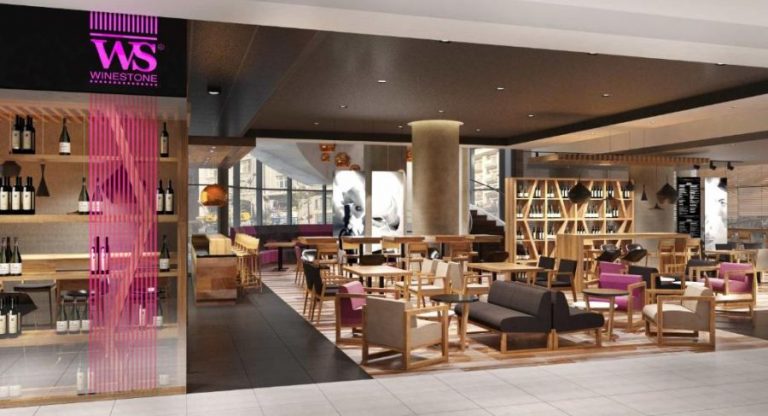 Situated in a prime location, but still in a silent area, this hotel is just minutes away (on foot!) from most of the attractions in the city, including the old town, Cismigiu park, the National Museum of Art and much, much more.
This is also a 4-star hotel, meaning that you're getting premium services and a large, beautiful room too, all at a great price. You simply can't ignore it!
Click here to check prices at Novotel Hotel for your dates.
Related: If you're only spending a weekend in the city, check out my Bucharest weekend-break itinerary here.
3. Continental Forum Hotel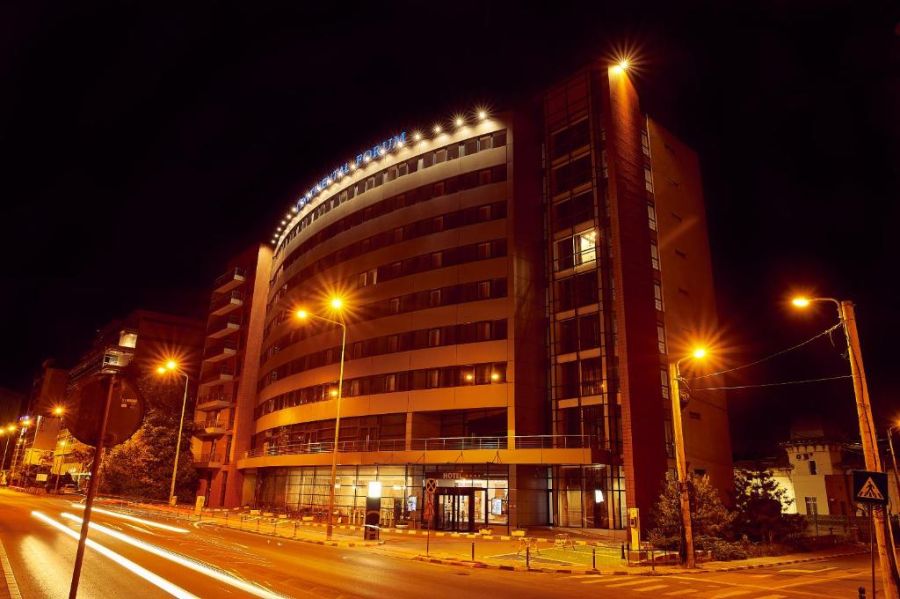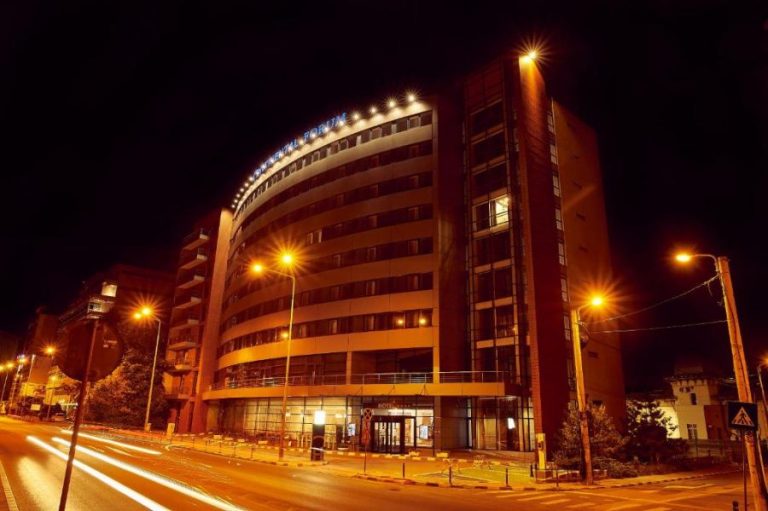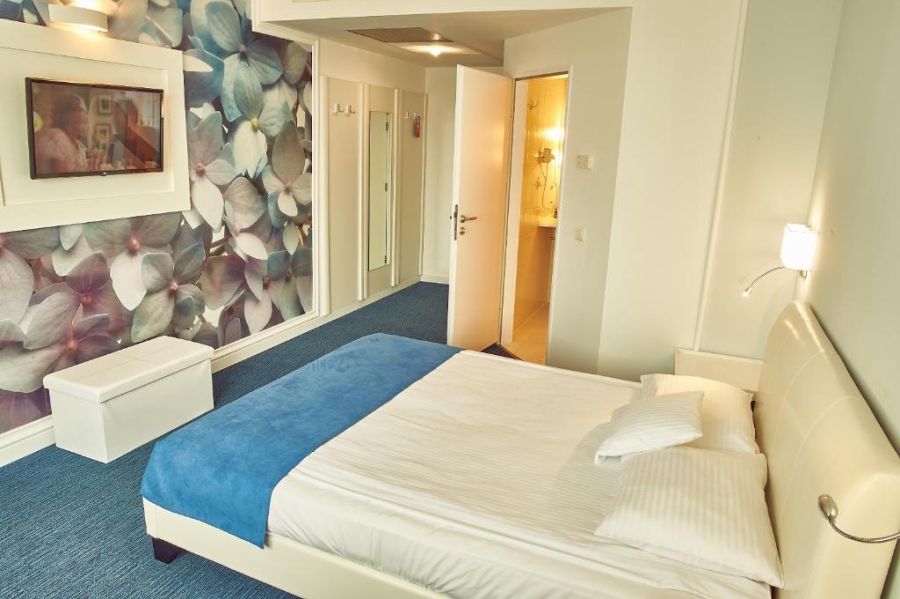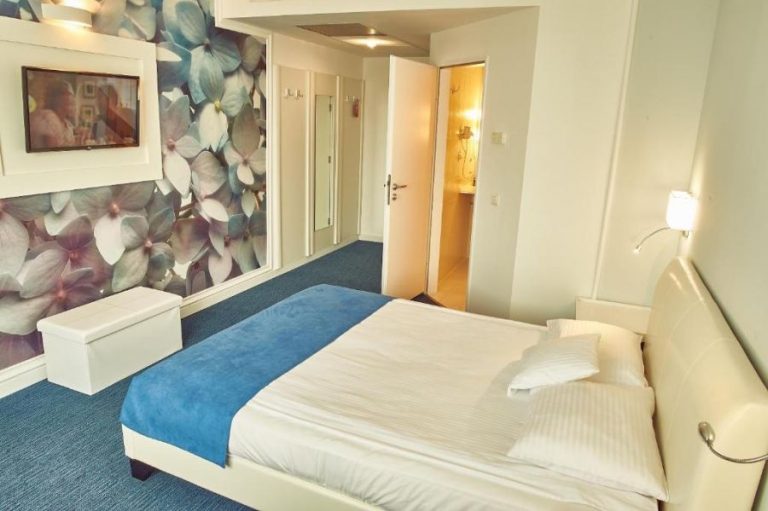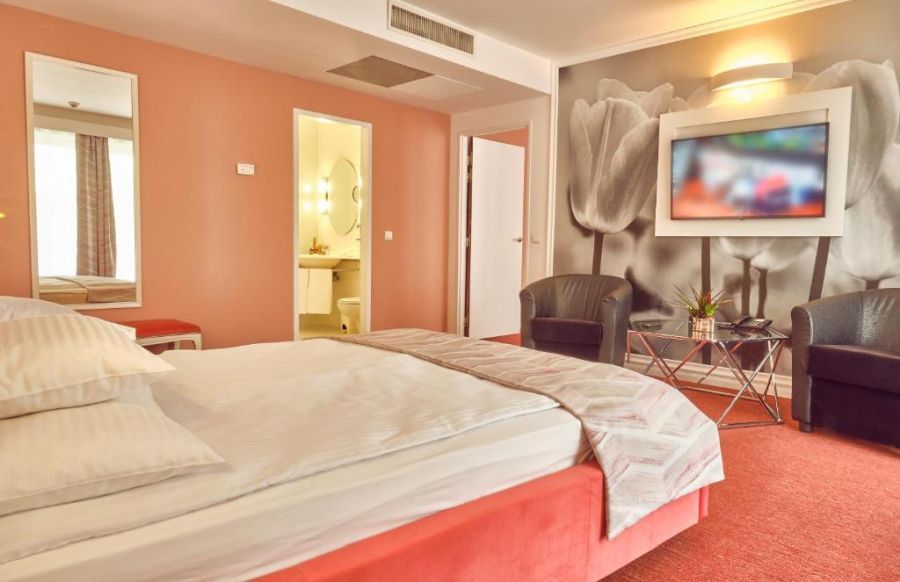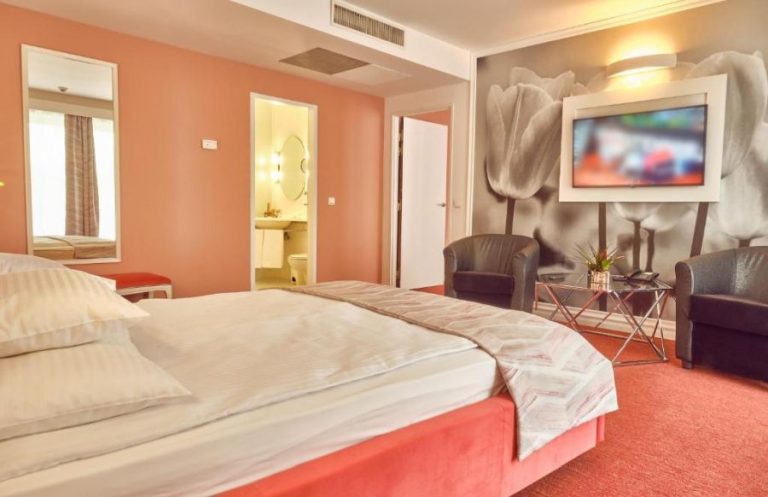 Things are improving quickly in terms of looks with the Continental Forum Hotel situated near the Palace of Parliament. It's actually right across the street from it, with many rooms offering a view of Bucharest's Mammoth Building.
It was formerly an Ibis hotel that was purchased and modernized, looking even better than before.
Apart from the premium location, the hotel is modern and looks great, offering a high quality stay, no matter how many days you choose to spend there.
And if you pick this hotel, you must select the optional breakfast as well since it's absolutely delicious!
As you can see in the photos above, the rooms are colorful and nice. The beds are comfortable and the place is sparkling clean (and quiet). A good choice for sure!
Check prices for your dates by clicking here.
4. Relax Comfort Suites Hotel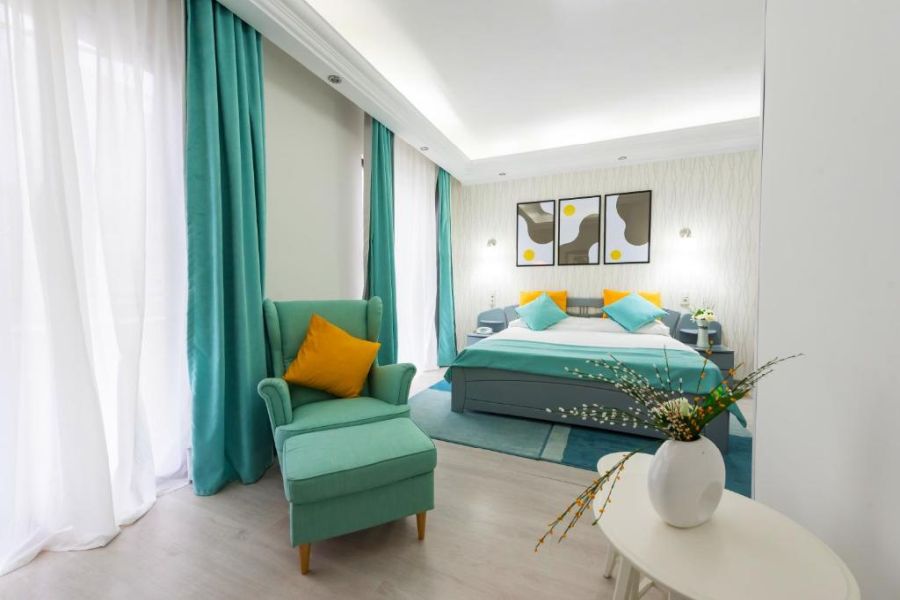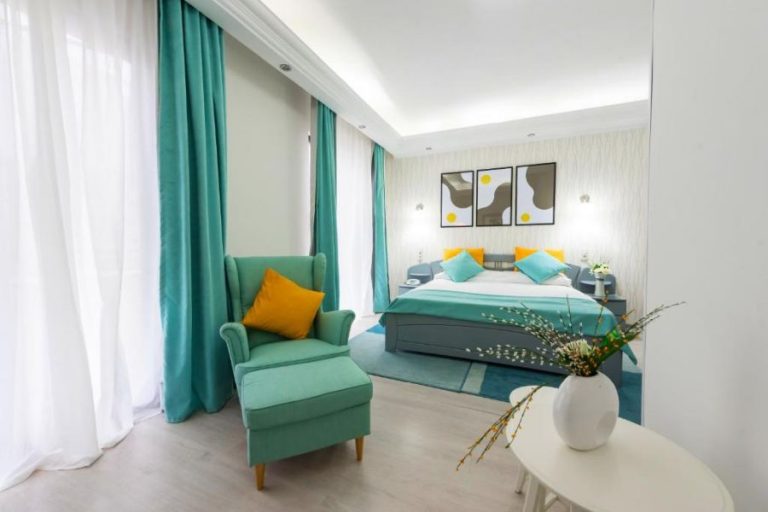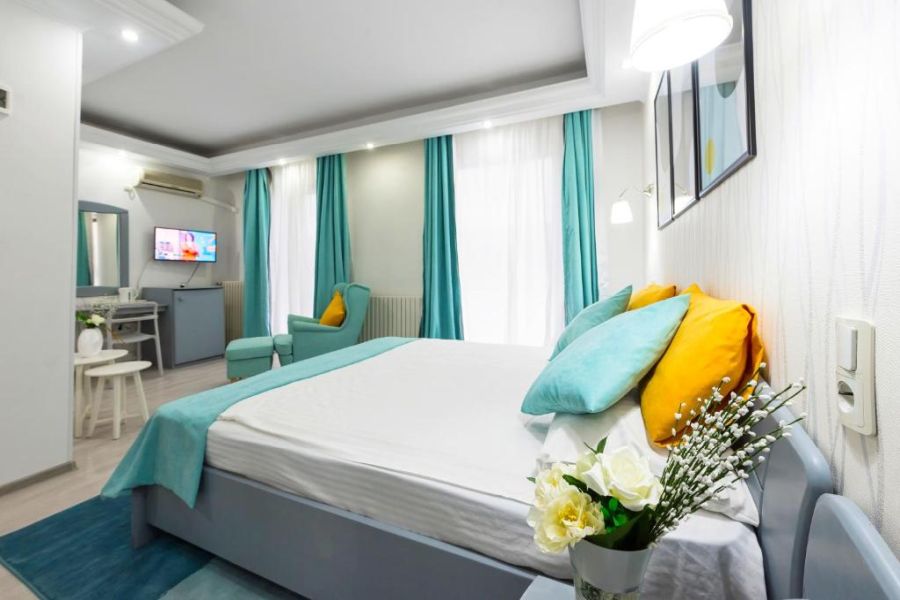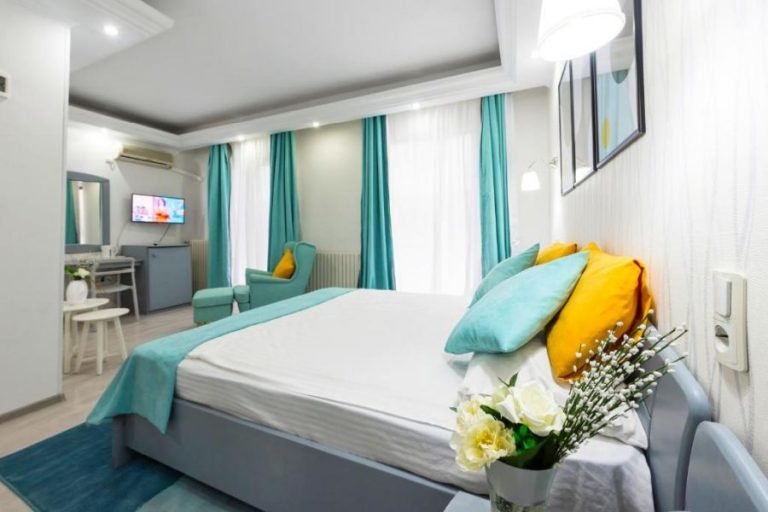 Although situated on a busy street where it might get a bit noisy during the day, especially if you're getting a room facing the street and you keep the windows open, this hotel is also located in a prime location.
It is surrounded by shops, bars and restaurants, as well as all the attractions in the city center.
The rooms look really good and modern, with comfortable beds and all the amenities you need. Highly recommended both by myself and the reviewers on Booking.com.
You can book your stay at Relax Comfort Suites Hotel by clicking here
Food for thought: If you're just passing through Bucharest, maybe you just want to be near the airport instead for convenience. If that sounds better, you can check out the best Bucharest hotels near the airport here.
5. Hotel Duke Romana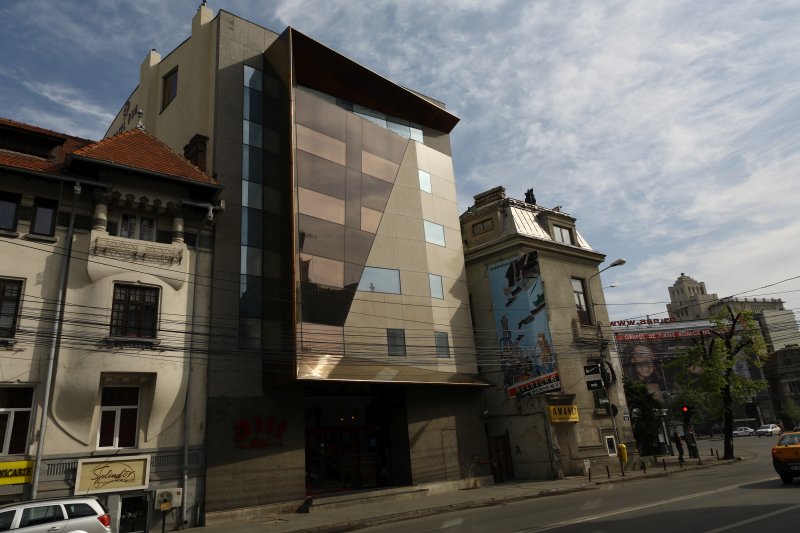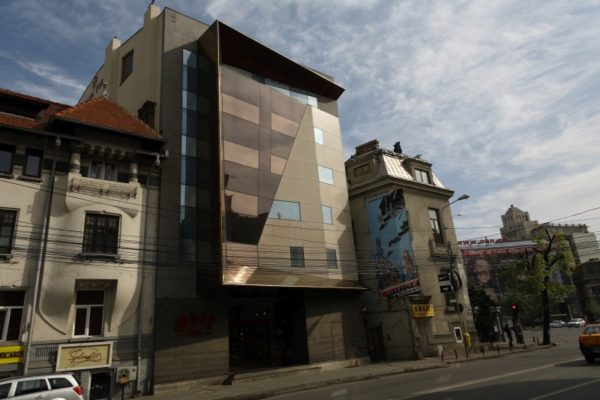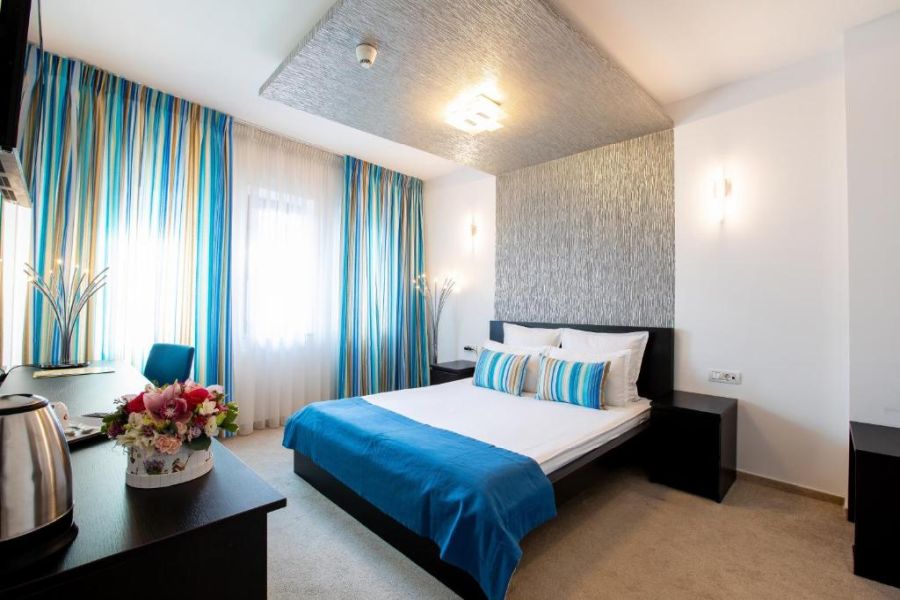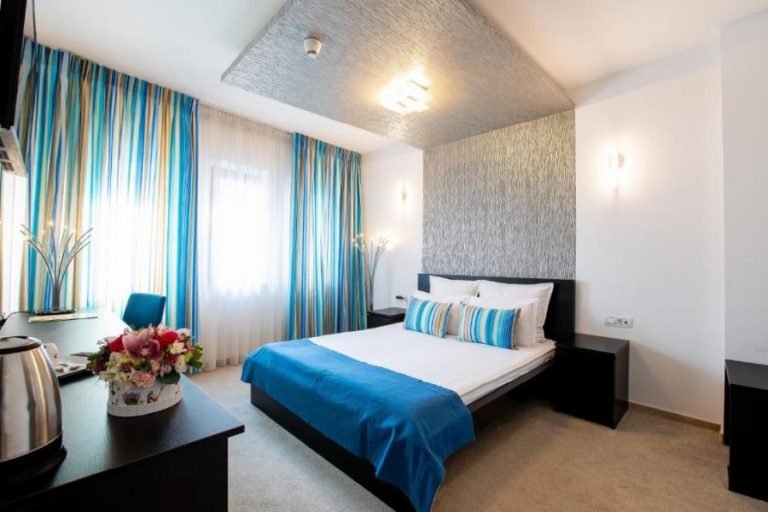 If you're looking for alternatives, Hotel Duke Romana could be one of these. Although not as centrally located as the others – or at least not as close to the main attractions, Hotel Duke is situated really close to the Piata Romana metro station, so you've got yourself covered at least when it comes to public transportation.
It is a modern hotel with large rooms and good furniture, a comfortable bed and everything's clean around it. The place is pretty quiet too, so you'll get to rest well after a full day of exploring the city.
It's not the best rated hotel in Bucharest and not as centrally located, but it's still minutes away from many of the things to see and the prices here are really good. So you have a solid option here if you're on a budget.
Check out prices for your dates here.
6. Hotel Unique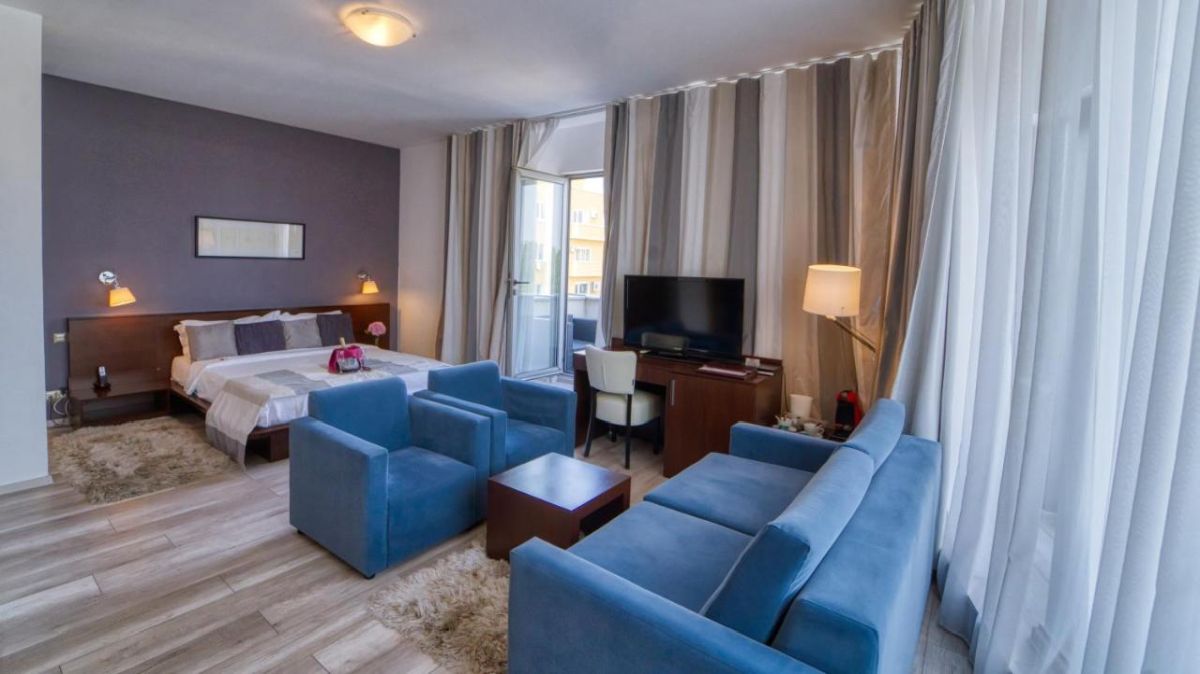 This is a hotel recommended by one of this blog's regular readers, Brian. He swears by it and only stays here – and he's being doing so since 2010 – so I am ready to take his word that it is indeed a really good hotel.
Located in a central location, near the Romana Square, it's on a quiet street and has a charming owner who does her best for her guests to feel perfect there.
Brian says: "Believe me when I tell you this place is a hidden gem. Fantastic staff and operated by a fine owner. She always treats me like royalty when I come and she knows I've been staying there since 2010. Try it out one day!"
So you might as well give it a try – click here to check it out.
Why choose to stay close to the city center in Bucharest?
For short time visitors, the old town area is the best choice for accommodation, because you will be within walking distance to most attractions in Bucharest.
The Old Town is also the place where you will find tons of pubs and restaurants (some of the best in the city are there), so it makes sense to be in that area unless you particularly need to be in another part of the city for other purposes.
But even if you are, the city center is perfectly connected to all neighborhoods in Bucharest so it make sense to choose a stay there. It's the best area you can be in, for sure!
Conclusion
These would be my recommended hotels in the heart of the city. There are other options, for sure, but I am sure that you will find the ones recommended above to offer you all you need for a perfect stay.
The price/quality ratio is amazing, the location of these hotels is perfect – close to the city center / old town areas and the rooms are comfortable, clean and safe. In other words – just perfect!
I hope you'll have a great stay and you'll enjoy Bucharest fully. Don't forget, if you need some pointers regarding the things to see once you get here, you can check out my article about the top 10 things to do in Bucharest. Enjoy your stay!