If you're planning to visit Bucharest, setting up base in a nice & cheap hotel near the the Bucharest Airport (Henri Coanda Airport aka Otopeni airport) would be a good idea, especially if you're not going to spend too much time in the city and/or you're not planning to spend a lot of time exploring the city center. But even if you do, a taxi ride from your hotel to the city center should not cost more than $5, so it's all still good and cheap.
There are quite a few options when it comes to choosing your hotel near the Bucharest airport and I did some research so you don't have to and I am sharing with you what are, in my opinion, the best hotels near the Bucharest Airport Henri Coanda. These are generally cheap hotels (at least compared to what you'd have to pay in other Western countries), but the main things that I took into account were their quality and opinions of people who stayed there, as well as proximity to the airport.
We'll start with the closest hotels near the Bucharest airport which are not actually in Bucharest, but in Otopeni (since the Airport is in Otopeni). Again, it's just a $5 ride to the city center and the whole thing's basically a suburb of Bucharest, so you have nothing to worry about. Here are my suggestions:
Hotel Denisa
This is a really cheap, but high quality three star hotel that also has a small bar & restaurant in case you need to grab something to eat or drink. It also has a nice and cozy entertainment area where you can test your billiards, table tennis or darts skills, while the small but charming outdoor space is great for connecting with nature. The rooms are clean and modern, equipped with TV and minibar, as well as air conditioning, plus high quality free WiFi internet. One of the best things is that the hotel also offers FREE airport transfers – just make sure you let them know you need one and you'll have a car waiting for you at the airport! It's one of the best rated airport hotels on Booking.com with a great 8.6 rating out of 10. A good choice so click here to check out the prices & availability for your date range and book it right away!
Hotel Otopeni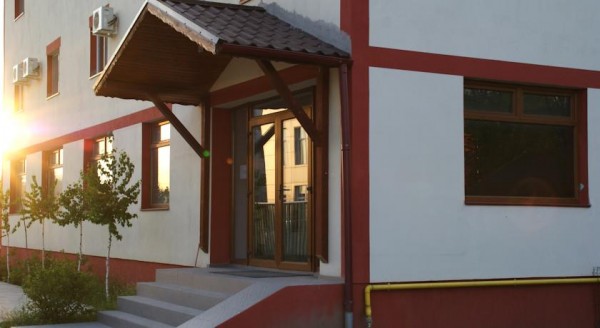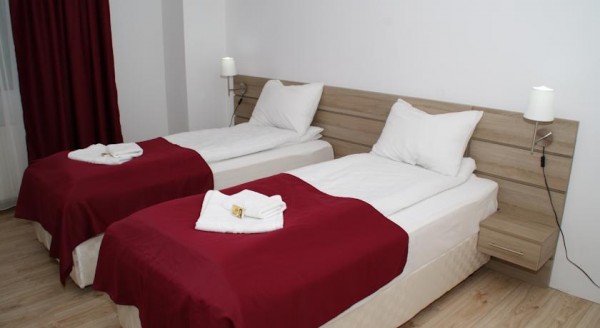 A bit more basic, which makes it extra cheap, the Otopeni Hotel is perfect for you especially if you like red tones (as they have a lot of it!) The quality of the services and rooms is high as well: rooms are well equipped and clean, with nice bathrooms as well as air conditioning and cable TV. They also offer free airport transfers as well as the option to order an early breakfast to go, while their staff is friendly and they can speak English. It's not a luxury hotel, but it's nice, clean and you'll surely feel welcome there. So click here to check it out & book it right now!
Angelo by Vienna House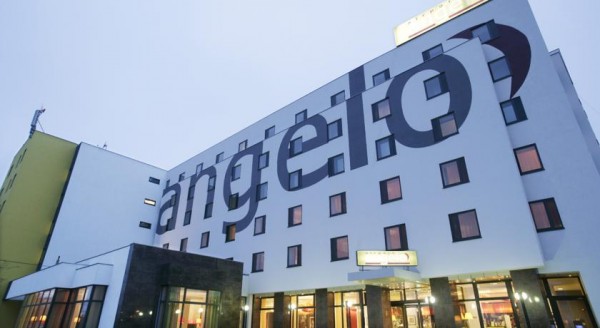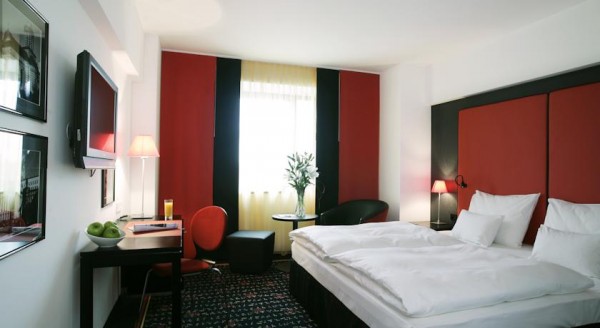 Even though there's a complete mixture of names & nationalities (a hotel with an Italian name, owned by Vienna House in Romania), this is a really good hotel for those looking for a bit more luxury. The 4 star hotels has soundproofed rooms with air conditioning and free WiFi internet, as well as minibar, safe and tea and coffee making facilities. They also offer free shuttle service, as well as a lot of other goodies, like sauna and fitness center, a la carte restaurant, laundry & dry cleaning and much, much more. It also looks really good and has a "Fabulous" rating on Booking.com – so click here to check it out and book your room now!
Rin Airport Hotel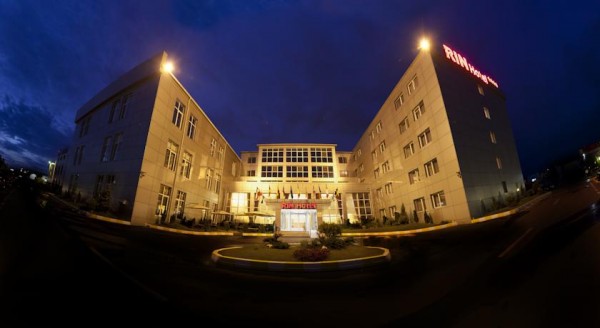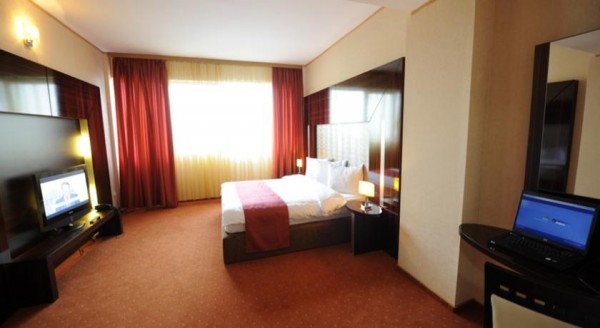 If you need even more facilities during your stay, then your best bet is with Rin Airport Hotel – a 4 star hotel that has a beautiful spa area with an amazing indoor pool, as well as hot tub and fitness facilities – all included in the price. The rooms are huge and beautiful, with minibar, air conditioning and free WiFi, while the hotel itself has two restaurants and two bars. They are also just meters away from the Waterpark Otopeni (one of the largest and best aqua parks in Romania) where guests can use lounge chairs and parasols free of charge. A really, really good hotel that offers everything you may want, so click here to check it out & book it at the lowest price.
If you really want to be in Bucharest, hotels in Baneasa area are your best choice based on their proximity to the airport. Here are my recommendations:
Hotel Baneasa Parc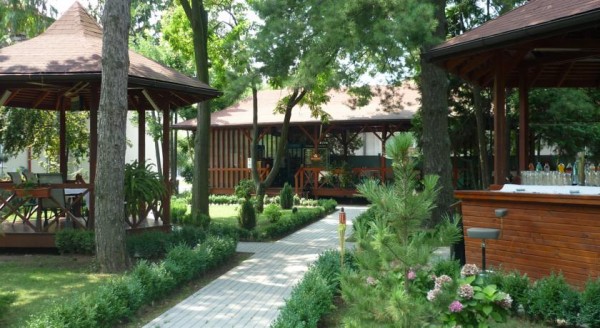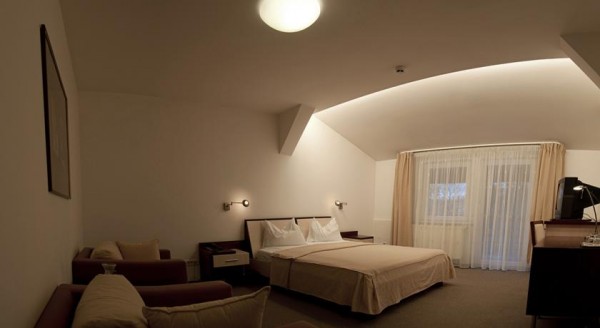 With an average score of 9 out of 10 based on 76 reviews on Booking.com, Hotel Baneasa Parc is definitely a great choice for a hotel that's close to the Bucharest airport and also in the city. They offer airport shuttles as well (but for an extra fee) and have an amazing garden. The rooms are good for a 3-star hotel, with air conditioning and free WiFi included. Those who love tennis can also play a match or more since the hotel also has a tennis court. Click here to find out more about it & book it!
Crystal Palace Hotel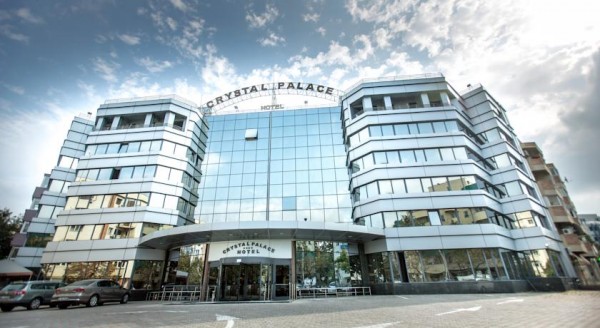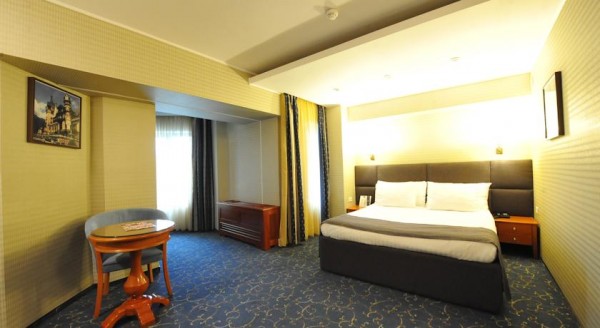 Even closer to the city, but still close to the Otopeni airport, this four star hotel is built to impress. And it does impress as it also has an average 9 out of 10 rating on Booking.com, based on 226 reviews. In other words: it's amazing! All rooms feature free wireless internet, individually controlled air-conditioning, minibar, safe and a flat-screen TV with cable channels. Guests have free access to the Health Club, including a fitness center, a sauna and a hot tub. They also offer airport shuttle service for an extra fee. A beautiful hotel that's worth checking out – so click here to find out more & book it!
I am sure that you have enough great suggestions to pick a perfect place for you to stay at next time you visit Bucharest. I hope you'll have an amazing stay!