If you're planning to visit Romania's capital, setting up base in a nice & cheap hotel near the the Bucharest Airport (Henri Coanda Airport aka OTP airport) would be a good idea, especially if you don't really need to be within walking distance to the city center attractions.
But even if you do, a taxi ride / Uber from your hotel to the city center should cost around $5, so it's all still good and cheap. Or you can keep things even cheaper with public transportation.
But all in all, have in mind that getting from the Bucharest Henri Coanda airport to the city center takes around 25 minutes by car.
There are quite a few options when it comes to choosing a hotel near the Bucharest airport and I am here today to make sure that you make the best choice.
I did all the research for you and I am here today to share the best hotels near the Bucharest Airport Henri Coanda (OTP Airport).
My top choice is Vienna House Easy which is within walking distance to the airport and an overall great hotel. For a more budget option, I recommend the amazing Pensiunea Casa Verde, which is a bit farther away from the airport though.
You will be pleased to find out that the prices of the hotels are really low (at least compared to what you'd have to pay in other Western countries), and the quality of service is higher than in most hotels in Romania since they are obviously aimed at foreigners who have higher standards.
I'll list the Bucharest airport hotels starting with the closest to the airport, but I will also include some really good options that are a bit farther away – offering you the best option to visiting the city, while also being closer to the OTP airport as well.
So without further ado, here are the best hotels near the Bucharest Airport.
1. Hotel Otopeni – Cheap Option Alternative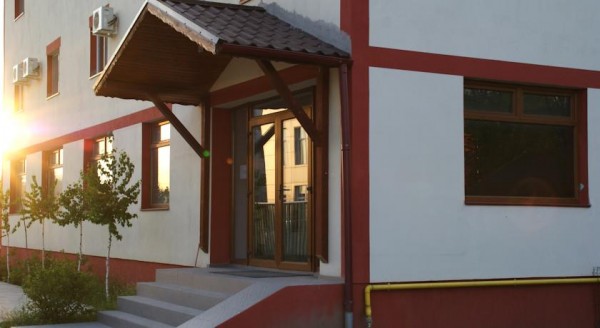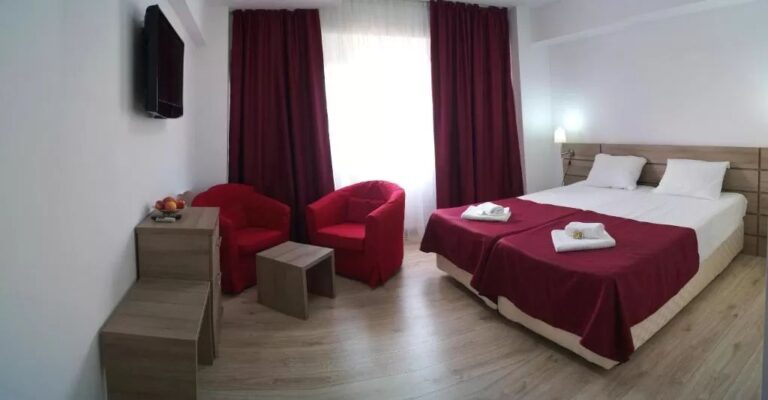 A basic hotel, which makes it extra cheap, the Otopeni Hotel is perfect for you especially if you like red tones (as they have a lot of them!) and are on a limited budget.
The quality of the services and rooms is at least decent, fortunately – and that's what matters the most in my opinion.
The rooms are well equipped and clean, with nice bathrooms as well as air conditioning and cable TV. The furniture is and feels cheap, but it serves its purpose.
They also offer free airport transfers, as well as the option to order an early breakfast if you're living early in the morning, while their staff is friendly and they can speak English.
Another very important thing is that the hotel management promised extra health and safety measures, including using disinfectants and cleaning products that destroy viruses, offering physical distancing, cashless experience and so on.
You can read more about all their health-related measures on the hotel's page on Booking.com.
This hotel's location is really good – just a stone's throw away from the airport itself, while also a couple of minutes of walking away from the Water Park Otopeni (one of the largest and best aqua parks in Romania), so you can have some extra fun in the sun and splash in the water if the weather is good.
Hotel Otopeni doesn't offer luxury accommodation, but it's a nice, clean hotel and you'll surely feel welcome there and rest well.
Click here to check it out & find pricing options.
2. Vienna House Easy – My Top Choice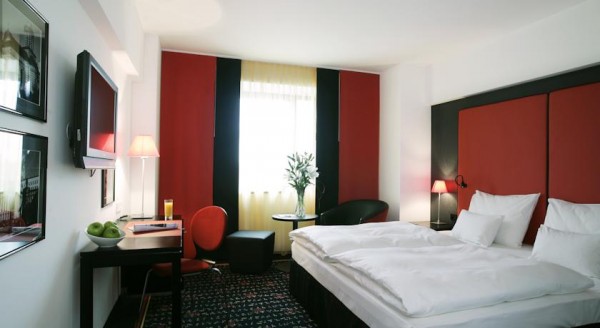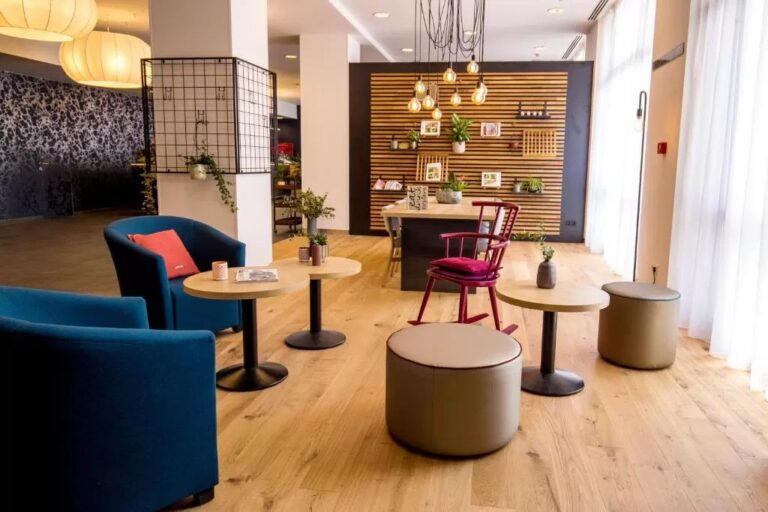 If you want to go up a bit on the style meter and get something a bit fancier, while also keeping prices decent and still being as close to the OTP Airport as possible, then Vienna House is a great choice.
This 4 star hotel has soundproofed rooms with air conditioning and free WiFi internet, as well as minibar, safe and tea and coffee making facilities in all rooms.
The rooms are spacious and the beds extremely comfortable, so you will definitely rest well while there.
Just like all the hotels on this list, the property has taken extra health and safety measures to ensure your safety during your stay.
They also offer free shuttle service to and from the airport, as well as a lot of other goodies, like sauna and fitness center, a la carte restaurant, laundry & dry cleaning and much, much more.
As a plus, this is the closest hotel to the airport on our list, being within walking distance to the terminals. Another reason to appreciate the soundproofed rooms!
As you can see, it also looks really nice and also has great ratings on Booking.com, being highly rated by its guests.
Click here to check it out & see pricing options.
3. Rin Airport Hotel -Great Luxury Hotel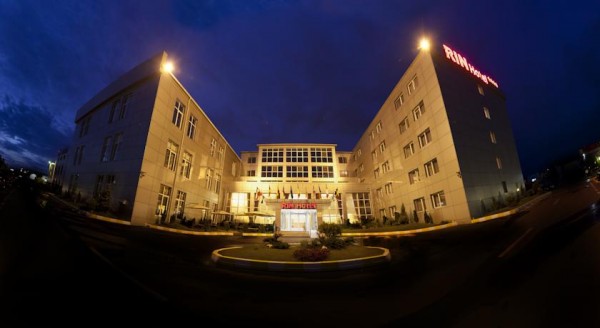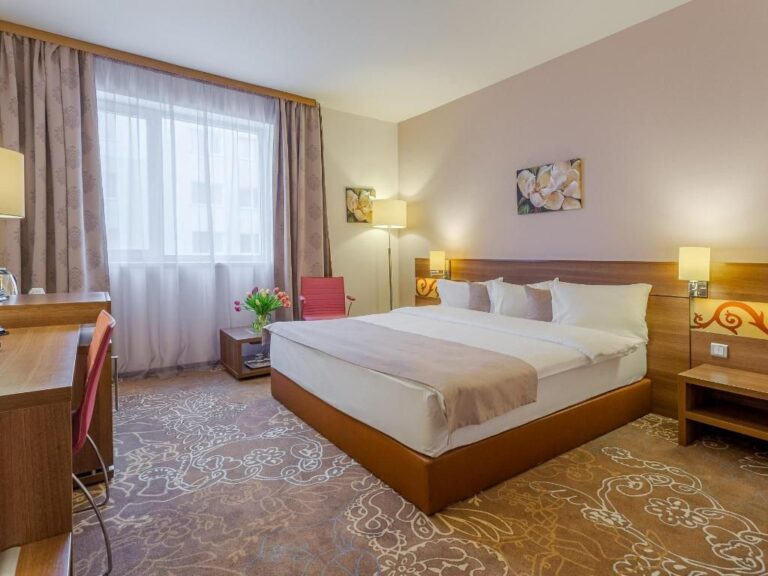 If you need even more facilities during your stay, then your best bet is with Rin Airport Hotel – another 4 star hotel that has a beautiful spa area with an amazing indoor pool, as well as hot tub and fitness facilities – all included in the price.
And don't just ignore these hotels because they are 4-star ones. The prices for accommodation in Romania are really affordable!
The rooms are huge and nice, with minibar, air conditioning and free WiFi, while the hotel itself has two restaurants and two bars where you can bring up the entertainment levels during your stay in Bucharest.
This property is also enrolled in the program to offer extra health and safety measures to all guests, so you can rest assured that chances of catching anything while being their guest are minimal.
This is a very good hotel overall, with good rooms and which offers a lot of amenities and services, including hourly transfers to the airport (for free). Free access to Water Park Otopeni is also provided until the end of summer – so you get a nice bonus here as well!
So overall, you're getting a real bang for your buck. Definitely check it out, as it's a really, really good hotel that offers everything you may want from a short stay near the Bucharest Airport.
Click here to see more & check prices.
4. Pensiunea Casa Verde -Best Budget Option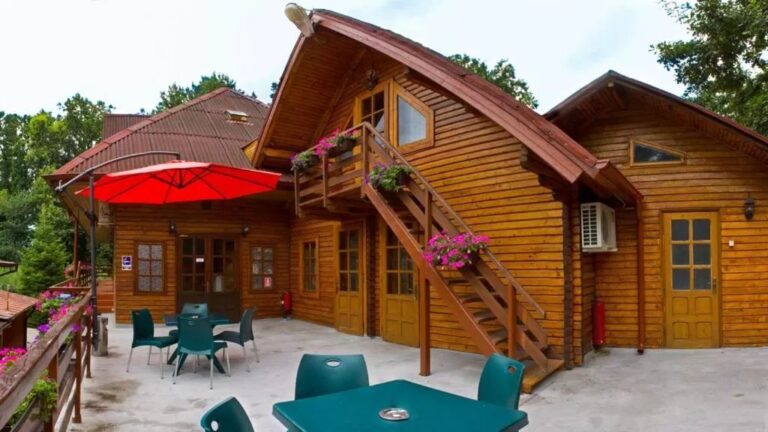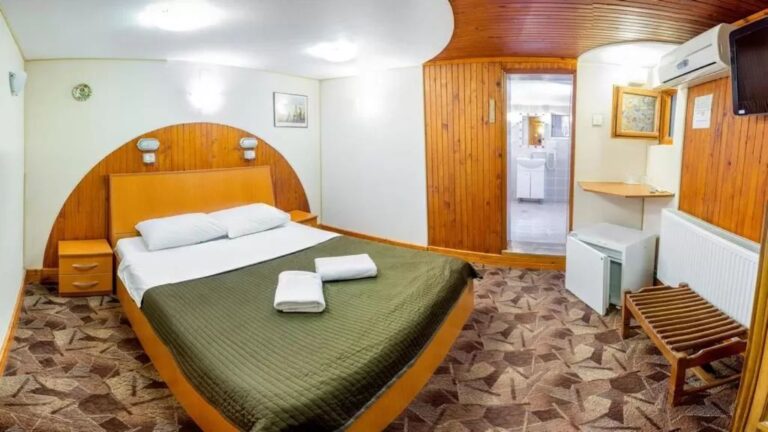 We're now getting back to 3-star territory with a very cheap option that's close to the Bucharest Airport, but a bit farther away than the other recommendations.
However, I am recommending this one too for its nice wooden style that makes you feel that you're in a cabin in the mountains.
The name of this pension actually translates as "Green House" – so you can already imagine how good you'll feel there.
It also enrolled in the program to take additional health and hygiene measures because that's the world we live in today…
Back to this pension, it has decently sized rooms with a ton of wooden touches. It's made to look rustic – so if that's your thing, you will love it (you can even prepare a barbecue in the yard!)
The biggest problem is that it doesn't offer a free (or paid) shuttle to the airport, but a taxy should be around $3-4 anyway.
More Bucharest Hotels near the airport
The recommendations above are the closest to the airport, but I still have more for you: these hotels are in the Baneasa neighborhood, some 10 minutes of driving away from the Henri Coanda airport itself, but making it easier if you want to visit the city, as well as more shops, bars and restaurants nearby.
I personally recommend choosing one of the hotels below if you're spending more days in the city and you don't need to be within walking distance to the airport because their quality is high and the location is great, in one of the fastest developing areas of the city.
Crystal Palace Hotel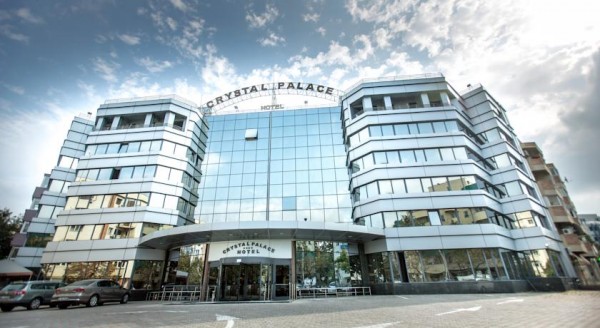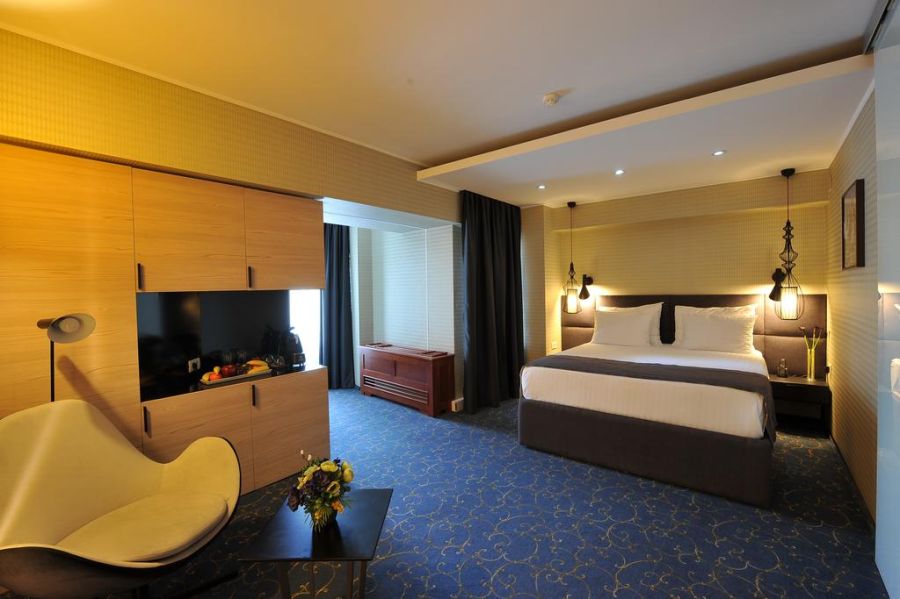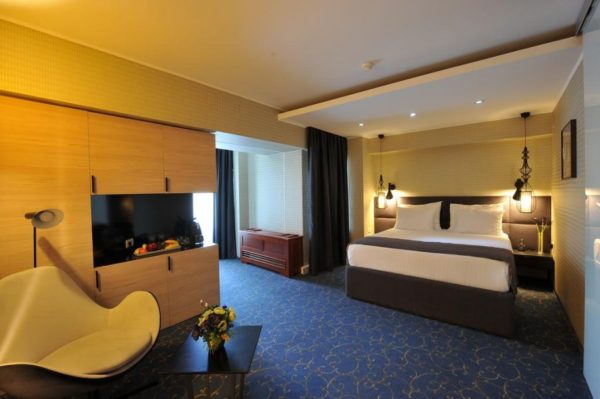 This is the closest hotel to the city on our list. This is also our favorite hotel – we always stay here when we need to get to the airport. We never had a single problem and always loved the service, the cleanliness… everything.
We actually stayed in the room above, with the only change being an extra bed instead of the chair, which was done without comments and at no extra cost.
There's also a nice desk area just around the corner, but it's not visible in the photo. The room is big, clean and the beds comfortable.
They are also really modern, while the location itself is extremely silent and close to shops and restaurants – we always walk to the nearby Promenada Mall and enjoy the nice cheap food there (and the delicious ice cream).
All rooms feature free wireless internet, individually controlled air-conditioning, minibar, safe and a flat-screen TV with cable channels. Guests have free access to the Health Club, including a fitness center, a sauna and a hot tub.
It's really the best option if you want to be located in a nice area and still be close to the airport. You're basically in the middle between Bucharest's city center and the Otopeni Airport itself.
They also offer airport shuttle service for an extra fee (but you end up paying less if you take a taxi, to be honest – just ask the person at the reception desk to call one for you).
A beautiful hotel that's my top recommendation if you don't really need to be within walking distance to the airport (you still have the options above if you do).
Click here to find out more & check prices.
Hotel Baneasa Parc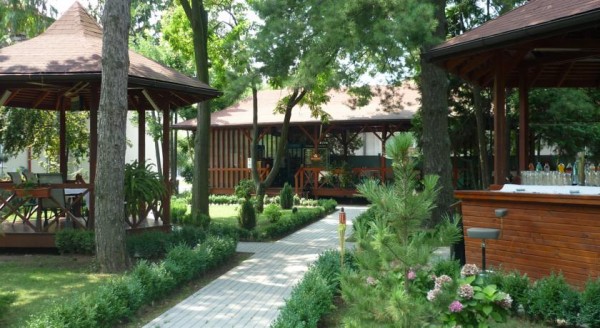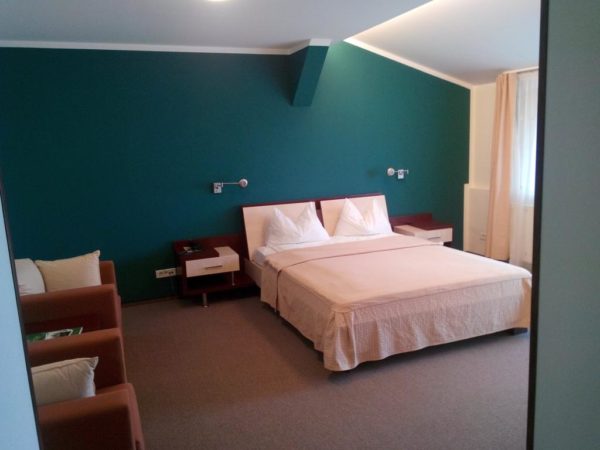 Hotel Baneasa Parc is a great choice for those who want a bit of both worlds: proximity to the city center and the airport as well.
Airport shuttles are offered (but for an extra price), but what really sells this hotel is their amazing garden area that's relaxing and absolutely beautiful when the weather outside is fine.
This is a 3-star hotel, but they offer good looking rooms as you can see in the photo above. Air conditioning and high quality WiFi is included, as well as an English speaking staff that's friendly and nice.
They have a restaurant and the nice terrace for a relaxing stay closer to the city. Those who love tennis can also play a match or more since the hotel also has a tennis court.
Click here to find out more about it & see pricing options!
Wrapping up
These would be my recommended hotels in Bucharest near the airport. I am sure you can easily find one you'll love on our list above, with options both within walking distance to the airport or a bit farther away (but closer to the city center).
If you would like to stay next to the old town area, in a more central location, make sure to check out my previous article listing the best hotels in Bucharest close to the city center.