Romania's mammoth building – the Palace of the Parliament in Bucharest – is one of the must see attractions in the city.
However, I had never visited the place before 2017 – and I did realize that I had missed out. But today I'll tell you everything you need to know about the Palace of the Parliament!
Regular readers of this blog certainly noticed Kemkem from Nextbiteoflife commenting regularly. When she decided to visit Romania's capital, I was more than happy to show her around.
I went with her and her husband, Federico, to see the Peles Castle in Sinaia, but also the Palace of the Parliament (among other attractions). And today, I will talk about the latter.
IMPORTANT: If you want to book a "Skip the line" ticket for visiting this amazing attraction, make sure to check the offer here. It's cheap and saves you time!
Things to know about the Palace of the Parliament in Bucharest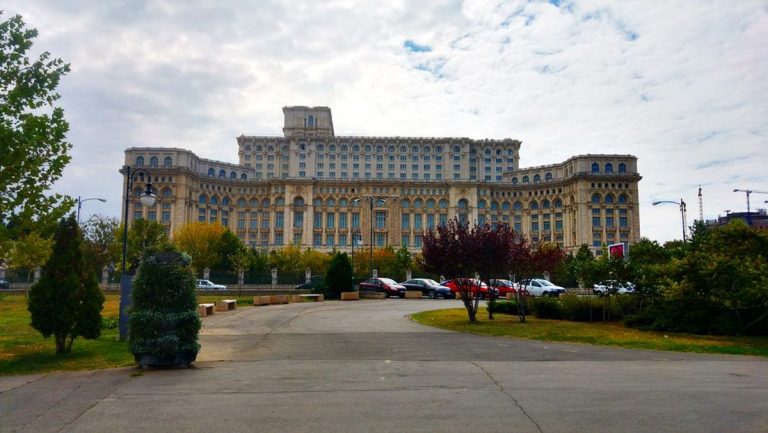 The Palace of the Parliament is the second largest administrative building in the world (after the Pentagon) and a mammoth building that Romania's former dictator, Nicolae Ceausescu, decided to build for himself.
He never got a chance to actually live there because the revolution happened. But the building outlived him and today it houses Romania's parliament, plus a ton of usually empty, yet still impressive rooms.
It is also built next to a newer (still in progress, at the moment) similarly humongous building: the People's Salvation Cathedral. So you're really up for a treat if you decide to visit.
Back to the Palace of the Parliament, let's check out some fun facts about it:
It has 1,100 rooms spread over 12 floors
It covers a surface of 365,000 sq meters (3,930,000 sq ft)
Due to its sheer size, even when large events take place, about 70% of the building is still unused (empty rooms)
It is valued at over 3 billion Euros
Electricity and heating alone cost around 6 million Euros each year
Up to 100,000 people worked on building it, in three shifts, "supervised" by 5,000 soldiers
Building started in 1984, and just 60% of it was built by the time of the Romanian revolution
When you tour the Palace of the Parliament in Bucharest, the guide will have a lot of nice stories and anecdotes to share. I don't want to spoil the surprises, but I can say that it is indeed worth it!
Visiting the Palace of the Parliament: Entrance Fee & Details
This is clearly one must see attraction if you happen to be in Bucharest, but you must book your tour in advance. It's not possible to just show up there to visit.
Until the virus hit, you could only book a tour by personally calling the place 24 hours in advance.
Or, even better, you can skip all the bureaucracy (as well as literally skip any lines) by booking a Skip the line tour of the Palace of the Parliament.
In order to be allowed to visit, you will need to have an ID with you (passport is fine, driver's license is not accepted!).
Different tours available
There are currently just two different tour options available – there were six in the past, but they're always changing.
I am doing my best to keep these tours and prices up to date, but it's best to double check and see what is available when you book (or remove any worries and book the skip the line tour).
Here are full details and pricing valid at the moment of writing):
Standard Tour (the short one): 60 Lei (12.20 Euros) for adults and 20 lei (4 Euros) for children under 18
Standard + Underground Tour: 65 lei (13.20 Euros) for adults and 25 lei (5 Euros) for children under 18
There's also a 30 lei tax for those who want to take photos with a camera (but photos with your phone are free of charge).
Important: Double check these prices as they might change without warning!
Opening hours
Have in mind that special events could change these one way or another. But generally, these are the operating hours:
March – October, daily between 09:00 – 17:00 (last tour at 16:30)
November – February, daily between 10:00 – 16:00 (last tour at 15:30)​
You can find more about the tours, schedules and most importantly the phone numbers to call to make a reservation on the official website of the Palace of the Parliament.
Or, even better, get the Skip the Line offer that I've recommended above in order to make everything as easy as possible.
Touring the Palace of the Parliament
The tour we booked was a limited one since a NATO conference was about to begin in a couple of days and many of the places normally included in the tour were off limits as a result.
We still spent around one hour exploring the building – and at the end we were told that we only saw 3% of it.
This means that this building is so large that 24 hours are not enough to see it entirely. Pretty amazing, I'd say!
Before visiting, I was sure that the building is nothing but a cold, empty mammoth that only impresses because of its sheer size.
But the truth is that – at least the places we visited – are built with a lot of attention paid to detail and impressive on their own.
Here are some photos of the Palace of the Parliament tour that we took, with some extra details and comments from my side: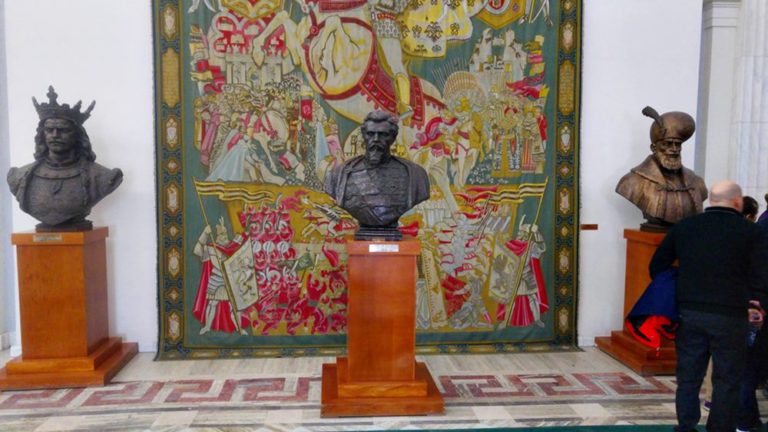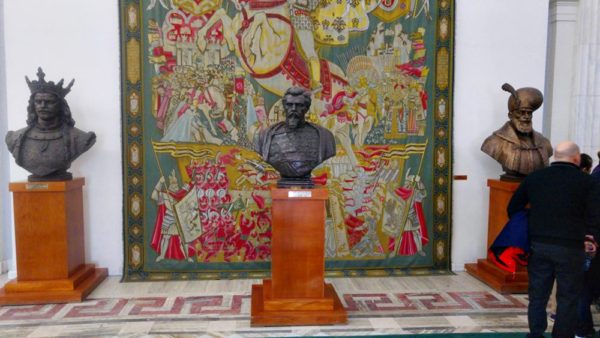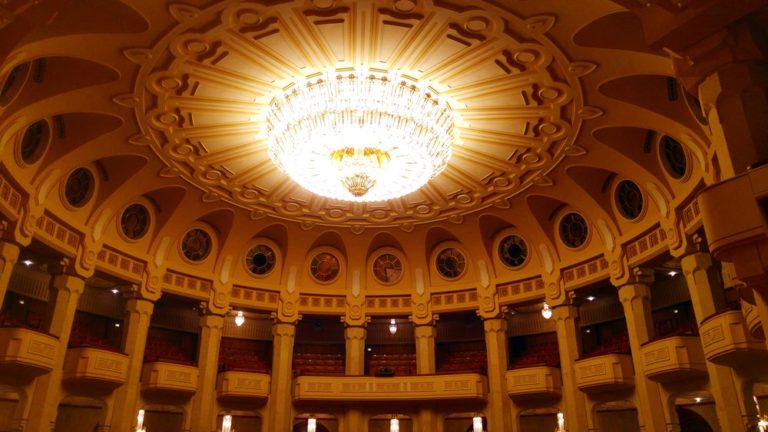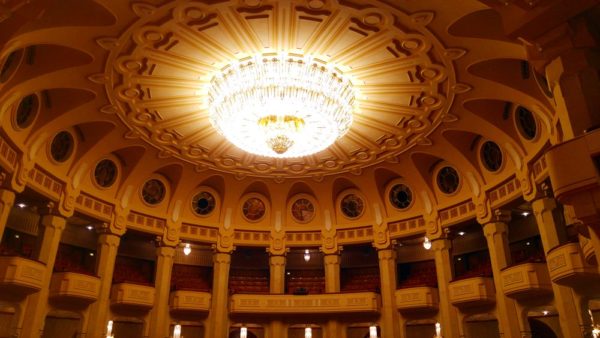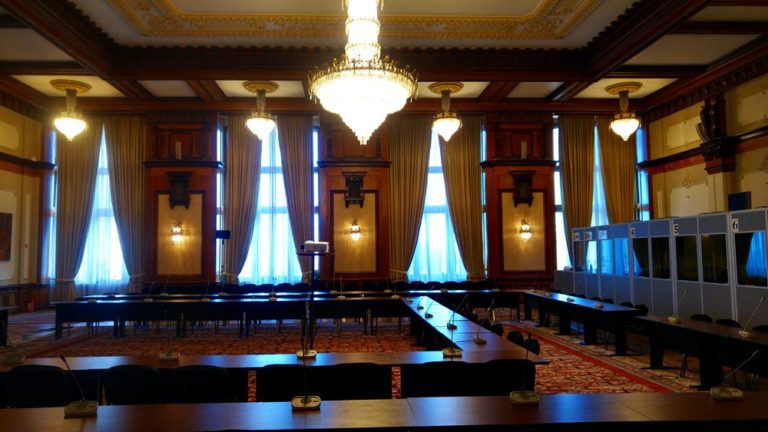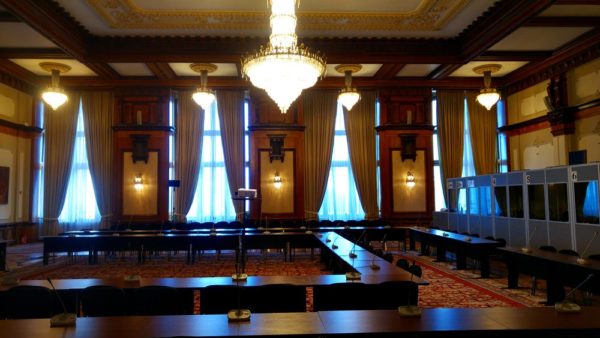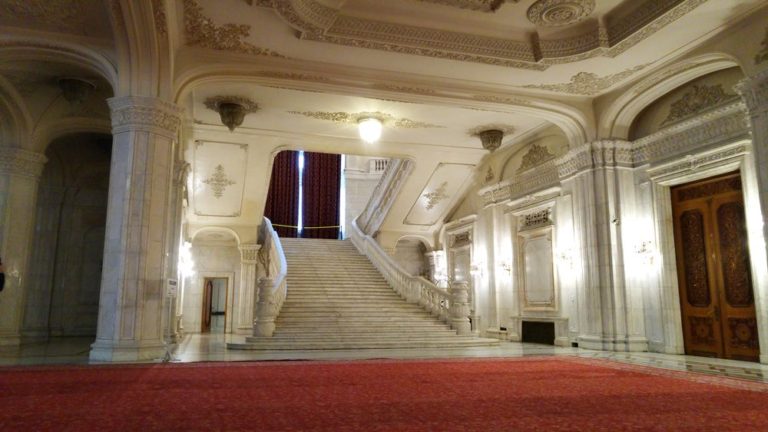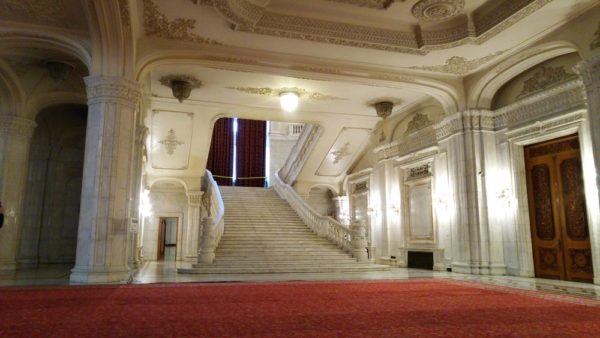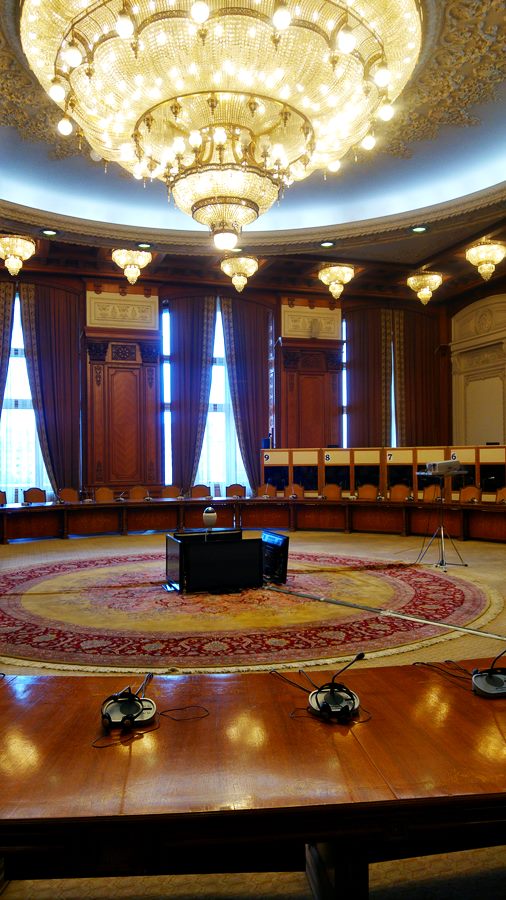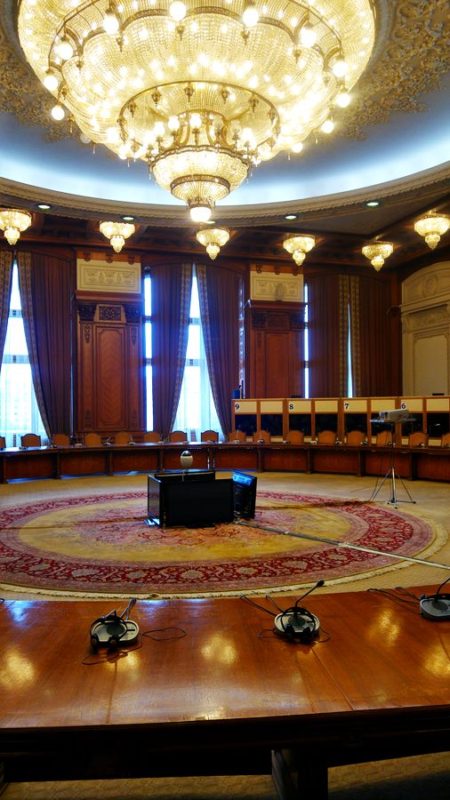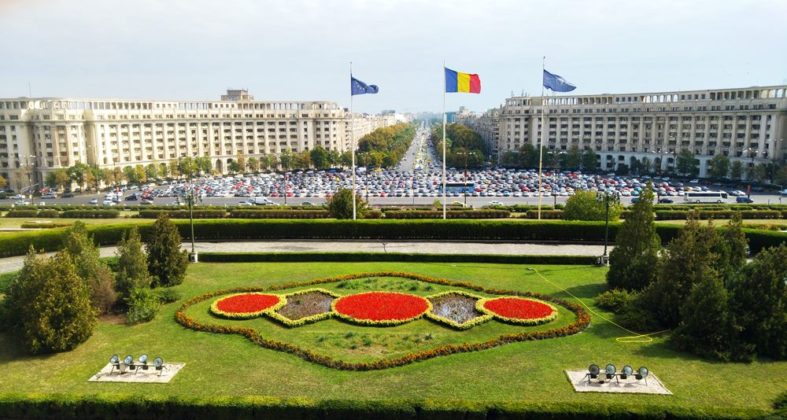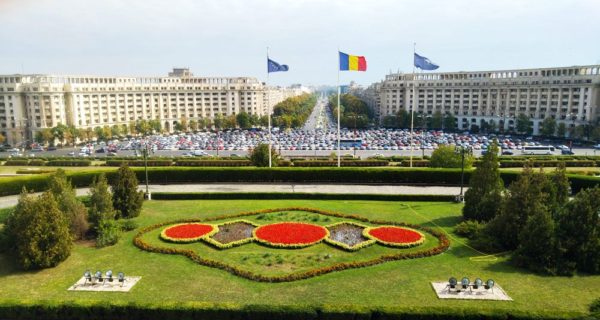 It is indeed a really nice place that teaches you a lot about Romania and can be considered one of the main attractions in the city.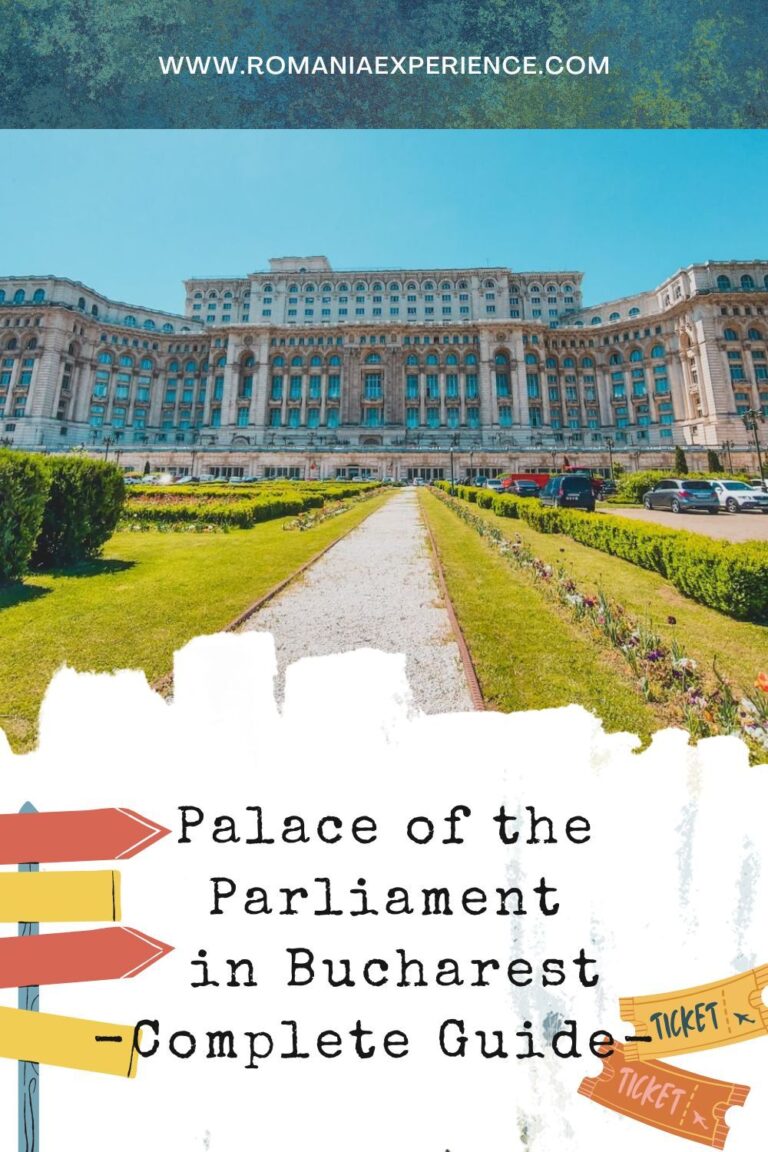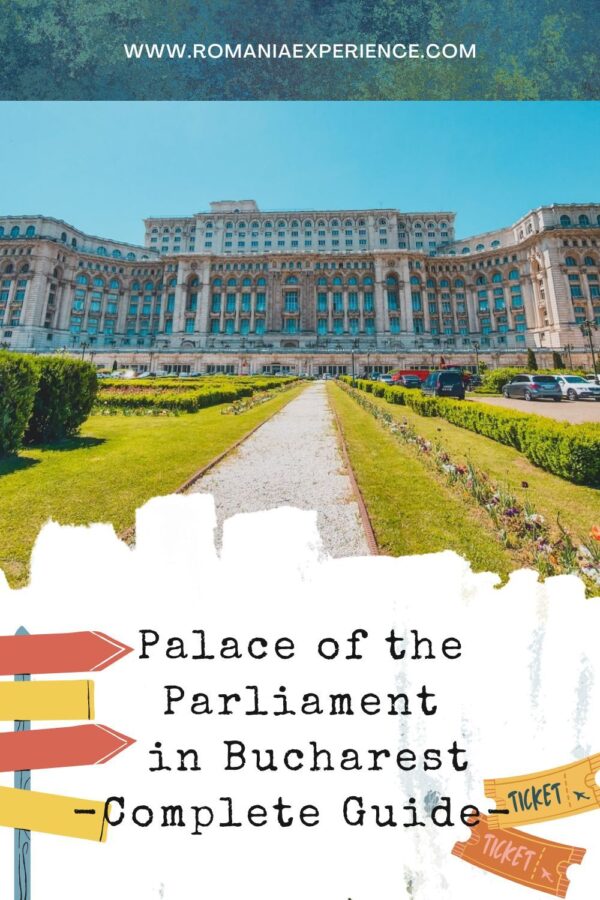 Wrapping up
After visiting the humongous building, we were tired and hungry so we went to grab something to eat at the renowned Caru' cu Bere restaurant in the old town area, which is one of the best restaurants in Bucharest.
Unfortunately, when we arrived, the place was packed and they only had a table in the wine cellar (the basement).
To make things even worse, our table was glued to a wall with absolutely no view – and the service was horrible.
Fortunately, the food was really good: we had some delicious Romanian bean stew served in a bread which you can see below: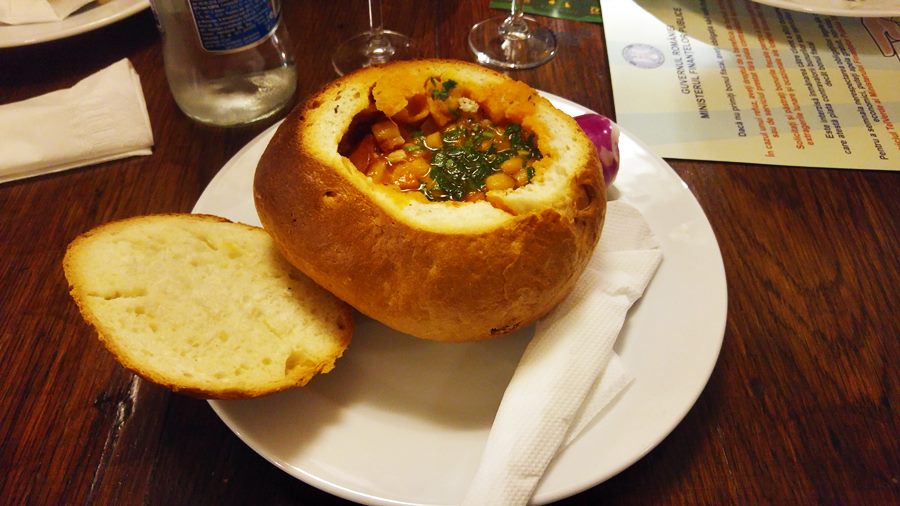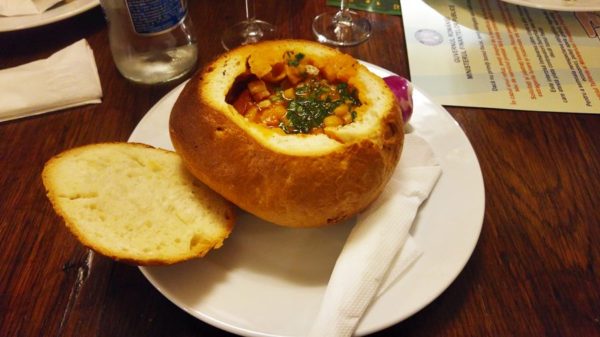 Kemkem and Federico also ate some other traditional Romanian food – the Sarmale & Mamaliga which looked and smelled very good – and they both said they were delicious.
I, of course, forgot to take a photo of the food, so you'll have to take my word on it.
But keep this in mind – the Palace of the Parliament is really close to the top restaurants in Bucharest's old center, where you will find good food at decent prices, perfect after exploring the huge building for at least one hour.
If you have additional comments or questions, don't hesitate to let me know!