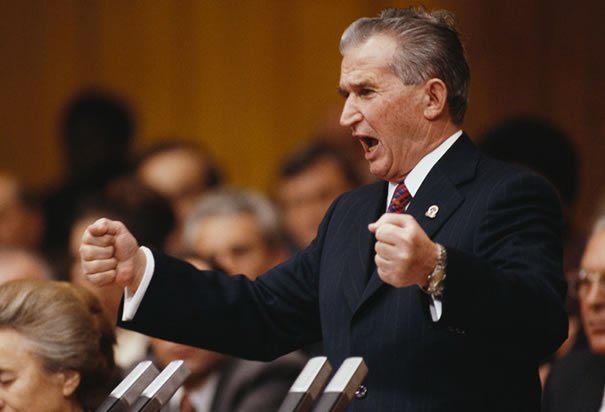 Nicolae Ceausescu was Romania's dictator for over 20 years and is, obviously, one of the most despised leaders Romania has even had. Strange enough, there are many people living in Romania today who think fondly of him – it's usually the older people who were content during the communist era, happy they had a job and an income that guaranteed a decent living in their terms.
What people don't remember is the lack of freedom, the lack of consumer goods, the general poverty that's still felt today throughout the country, the fact that people were always hungry, that stealing was considered the norm and spying on your neighbors to report them to the state was considered normal by many.
I am sure there are even more horrible things about communism in general and Nicolae Ceausescu in particular, things that I don't remember or know because I was 5 when he was overthrown, but if you're looking for a bit of history and details about Romania's communist leader, I have that for you in this article, where I am sharing some things about Nicolae Ceausescu.
So without further ado, here are 10 facts about Nicolae Ceausescu, things you most likely didn't know about him!
1. One of his dreams was to pay Romania's external debts
Nicolae Ceausescu became obsessed with this idea which, in theory, is not a bad one. The dictator was dreaming about complete independence and he wanted to pay the entire external debt that Romania amassed and things could've been great if he had managed to do so…
But his methods to achieve his dream were not the best: he started rationalizing food, as well as gas, water and heating. People start to get poorer and poorer, their lives were miserable and it all ended with the revolution in 1989. And no, he still wasn't able to pay Romania's debts (even though he did manage to pay a large amount, but for a great sacrifice.)
2. He was uneducated
Nicolae Ceausescu only managed to finish 4 classes in school, representing elementary school. He had to move out of the village he was born in (Scornicesti, Olt county) and moved to Bucharest when he was 11, where he became a shoemaker's apprentice.
3. He married his brother's lover
His wife, Elena Ceausescu, was part of the Ceausescu family before the dictator-to-be married her. She was actually the lover of one of Ceausescu's brothers before falling in love with Romania's leader.
4. Salvador Dali made fun of him
When he became Romania's president, he was handed the Royal Scepter as a symbol for his power. However, this was not in accordance with communist principles, which stirred a wave of reactions over Europe.
Salvador Dali himself sent Ceausescu a telegram mocking him, but he did not understands its true meaning and instead, being very proud of the words he had received, he insisted in having it published in all newspapers in Romania.
5. He survived a plane crash
The plane he was in during a trip to Moscow crashed when it landed, with four people losing their lives (three crew members and Romania's foreign minister). Ceausescu survived with only minor injuries.
6. He was a tiny man with a speech impediment
…and very shy with women, according to rumors. He was just 5'2″ tall (157 cm) and had a speech impediment that resulted in him being bullied when he was younger and mocked (behind his back) during his life. He was also reportedly extremely shy with women, a problem his wife didn't help with, since she was reportedly extremely jealous.
7. He was actually an appreciated leader early on
Nicolae Ceasusescu was Europe's youngest political leader during those times and appreciated for his political views, especially the external policies. He was the only communist leader in the world to have diplomatic relations with Germany and also the only communist leader to be part of the IMF (International Monetary Fund) and World Bank.
8. His wife, renowned scientist, barely knew how to write
Since the dictator can do whatever he wants, he turned his wife into a world renowned scientist. She "published" various scientific papers, being the leader of the country's Chemistry research team. However, she could barely write and was even unable to speak correct Romanian, just like her husband.
On the few occasions she was invited to scientific conferences, she had a "translator" which was actually a scientist who would provide correct answers to the audience, completely ignoring the stupid answers she was giving. Elena Ceausescu also held multiple Honorary degrees (Doctor Honorist Causa) from multiple national or international universities. Her husband also held 8 such degrees.
9. Game of Thrones' Daenerys Targaryen would've envied his title
Romania's dictator was presented as "Nicolae Ceausescu, General Secretary of the Romanian Communist Party, President of the Socialist Republic of Romania and Supreme Commander of the Armed Forces".
10. He was executed while singing the hymn of the communist countries
One of Ceausescu's life-long phobias was that of getting shot – and that's exactly how his life ended. He was executed after a brief trial in December 1989, together with his wife.
While he was standing in front of the squad, he was singing the hymn of the communist countries. His final words were: "Long live the Socialist Republic of Romania! History will revenge me!"
His execution was, in my opinion, a savage decision for a savage ruler. The validity of his trial is questioned today (the military court only needed one minute to decide upon the verdict) but it's all in the past.
Even though I completely disagree – like most people would today – with the way things were handled back then, we should always consider that this not only happened 27 years ago when things were completely different, but also happened in a country that was under a communist regime for a long time and its people didn't know much about personal freedom, normality, fairness or even compassion.