A while ago I wrote about Romanian manele music and promised to come back to you with some more interesting bits about "real" Romanian music. And I think nothing is more real than the traditional Romanian music aka the folk music.
An interesting fact is that Romania also has the "folk genre" which actually refers to contemporary folk music. This doesn't sound anything like the traditional Romanian music, being a genre that became popular in the 1970s. But we are going to talk about the traditional Romanian music that draws its roots from way before.
Slight variations based on geographical area
Even though for somebody who doesn't listen too much traditional music, most songs sound pretty much the same, for the trained ear, there will be variations based on the geographical region of origin.
For example, in Oltenia and Muntenia we have the famous taraf music with songs that are faster paced. Instruments like the violin, fiddle and cimbalom are usually heard here.
In other regions, the tempo is slower and the songs longer. But all in all, they sound mostly the same in my opinion, to be honest.
However, there are many people who would love to argue and prove me wrong (and they would probably be right). I am far from being an expert when it comes to traditional Romanian music, I have no idea how to dance it and to be honest I don't really like most of this music.
However, the genre itself is extremely popular, with crowds loving to listen to this kind of music and especially dance it. The dance is usually called "hora" which is really strange dance in which people create a circle, hold hands and repeat the same few steps endlessly.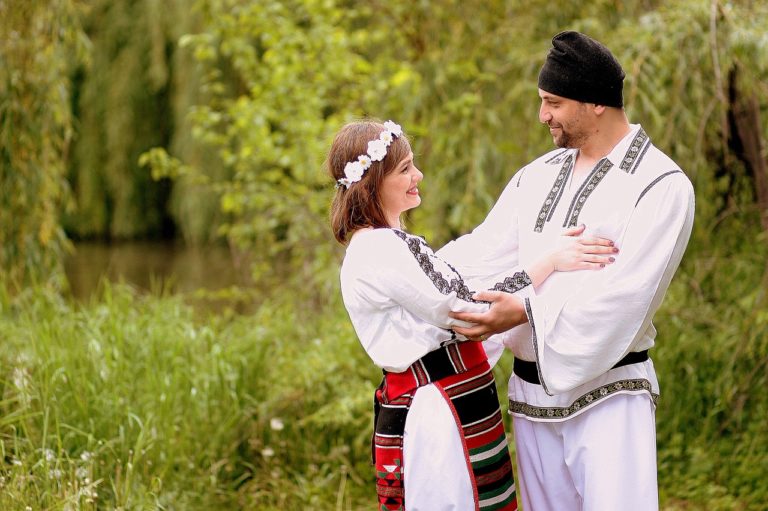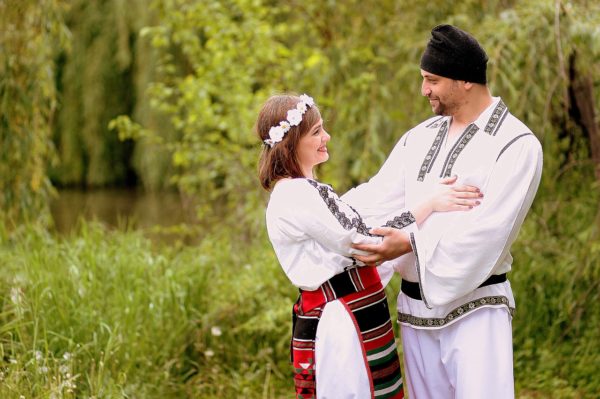 Usually, at weddings all sorts of parties and even in the sea, whenever traditional Romanian music starts playing, people rush into the hora and dance it for 7 minutes to 10 decades (yes, some of these songs are basically endless).
This makes sense, because traditions have to be kept alive as long as they are not harmful to others. And there are some amazing examples of great music that you can listen to (and/or watch others dance). It's quite the show, so prepare for a virtual one below!
Check out some traditional Romanian music
Being completely out of my expertise, I can't talk that much about traditional Romanian music. But I have for you below some videos that will show you some of the best that the genre has to offer, in my opinion.
Most of the songs that I am sharing below are extremely popular, but just a part of what traditional music here in Romania is all about.
We're going to start with the Calusarii, which is actually a dance and a real show to watch. It's one of the fastest dances in Europe and probably one of the most difficult to master – so you won't see people at parties attempting them (unless they are pros).
Like many traditional Romanian dances, it's characterized by the shouts of those dancing it and intricate choreography.
This is pretty amazing, right? Great vibe, great mood, amazing energy. I absolutely love this and I hope you do too.
We'll continue with Ciocarlia (The Lark) – one of my favorites. It is usually sang by the most skilled pan-pipes players and if you give it a minute or two, you will see why. A really happy and alert traditional Romanian song sang by Gheorghe Zamfir, considered Romania's greatest pan-pipes player.
Now let's move to my all time favorite traditional Romanian music singer, Maria Tanase. She was the Marylin Monroe of our times – great talent, beautiful, a party animal, died young – and she left behind some amazing songs.
We'll start with Ciuleandra – a song that starts slow and goes faster and faster and has a dedicated dance as well.
If you want to check out the dance (a relatively poor quality video though), you can do so here – start from 0:50 to get to the fun part sooner.
We're moving to another song of hers, Doina din Maramures (the word "doina" doesn't have a translation in any other language being unique to Romania, but we can say that it means "sad song" – it's enough to listen to it and you will know that the translation is true):
I am not sure if it's the fact that I also understand the words or it's just the music itself – but the truth is that listening to the song above gives me the goose bumps.
And finally, my all time favorite song of hers – Cine iubeste si lasa (The one who loves you and leaves you). It really gives me the chills every time I listen to it. If you got this far, it doesn't matter if you listened to the other songs or not, this one is a must:
We should end this on a lighter, happier note, though, so I give you Tudor Gheorghe:
And one of his most famous songs, a real work of art – and by far one of my favorites. Listen to it – it's such a happy and nice song. (The title can be translated as "The Acacia trees went crazy" and it's about the joy spring gives you)
We're continuing with another amazing song and also one of my favorties. You can clearly hear below the classic rhythm that you will usually hear in most regular traditional Romanian songs (plus the cimbalom):
Just like every nation out there, we have tons of great traditional songs, but these made it on my list and I hope you enjoy them. I sure did even though it's safe to say that tehre is much, much more to traditional Romanian music than this.