Located in Mures County, in the heart of Transylvania and central Romania, Sighisoara is one of the last inhabited citadels around the world.
Today's travel guide shares the best things to do in Sighisoara, Romania. This unspoiled medieval town can be explored in a single day – although I recommend spending a night in a medieval hotel since it's not often you can do this.
Read on to learn everything you need to navigate the old fortress-town and see all the important attractions during your stay here. And make sure to read all the way to the end – the final attraction will surely surprise you!
1. Spend a night in medieval building
If you decide to spend a night in Sighisoara, it HAS to be in one of the medieval buildings located within the old walls – or The Sighisoara Citadel as it is called.
My top choice would be Casa cu Cerb (click here to check prices) which is located in one of the oldest buildings in Sighisoara.
It's next to the main attractions we'll talk about in this article. Check it out below: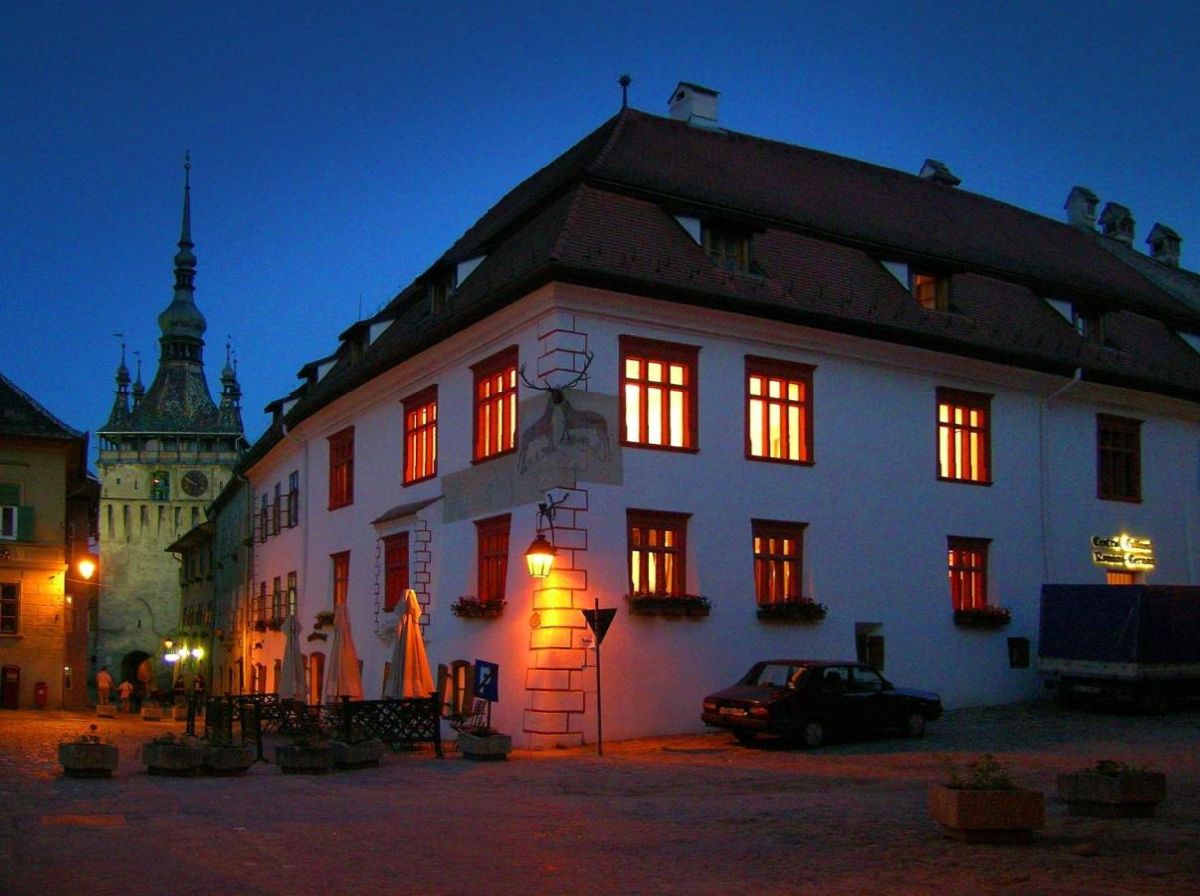 Also, you can't go wrong if you choose the popular Casa Wagner (click here to see prices for your dates).
Just check it out below, located on this spectacular medieval street, in the heart of the city.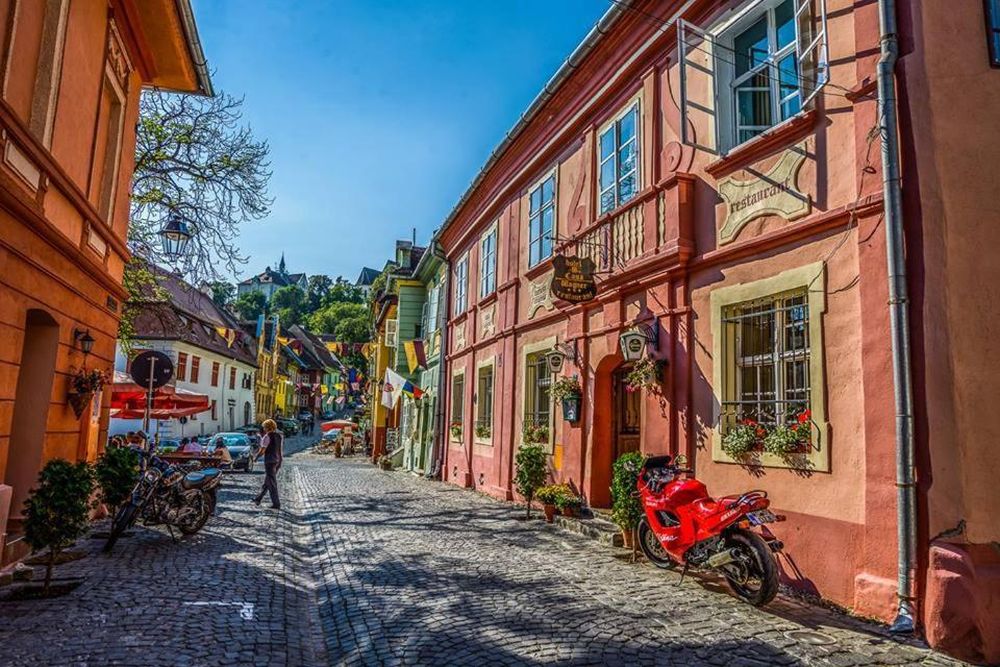 Even though you'll be staying in a building that's hundreds of years old, you will see that the rooms are modern and redecorated to meet current standards.
You have free WiFi, great service and an overall amazing feeling knowing that you spend – even a night – in such history-filled places.
2. Don't miss the Clock Tower [Turnul cu Ceas]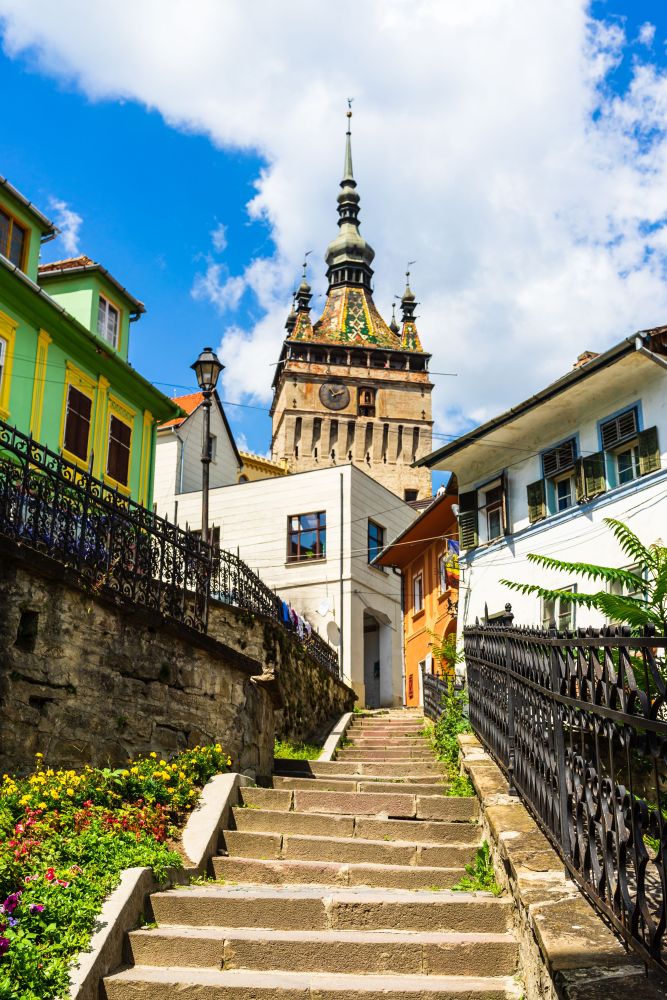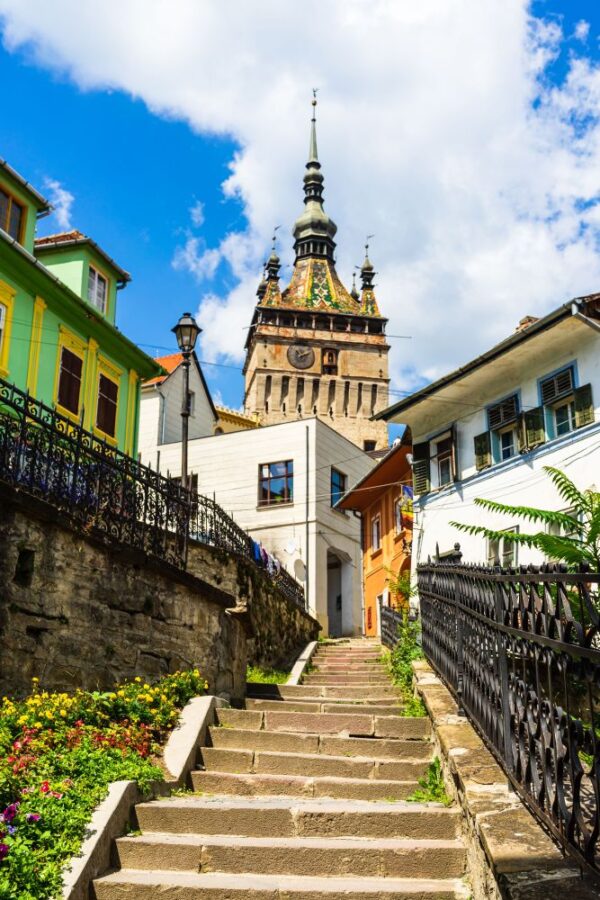 This is the symbol of Sighisoara. You will always notice it while exploring the town's city streets and it will help you find your way around.
Getting to its top (64 meters high) is a very interesting endeavor. Read the plates, enjoy the view, and let the history of the place get into your heart!
The construction of the tower began in the 13th century. It then served as the town hall until 1556, while the clock itself was installed in the early 1600s.
Nowadays, you can still see on one side the famous group of seven figures symbolizing the days of the week – and the clock itself still gives you the exact time!
There are many symbols connected to Sighisoara's Clock Tower, so keep an eye on it. It will be easy to do so if you choose your accommodation at one of the two recommended places above – it's basically 'round the corner from Casa cu Cerb.
3. Check out he Covered Stairway [Scara Şcolarilor]
If you love covered bridges or staircases, climb the 175 steps (originally 300) of Scara Şcolarilor (meaning the Stairway of the Students).
Completed in 1642, it was covered to protect the children heading to school. Playing with shadows and light, you'll feel like a schoolboy/schoolgirl again. And it will be a good exercise for all the delicious food you'll eat – but more on that later!
The Covered Stairway in Sighisoara connects the Upper Citadel with Citadel Square and it's a truly unique experience to climb up, especially during the summer when you'll get much needed shade from it.
4. Hike Up to the Church on the Hill [Biserica din Deal]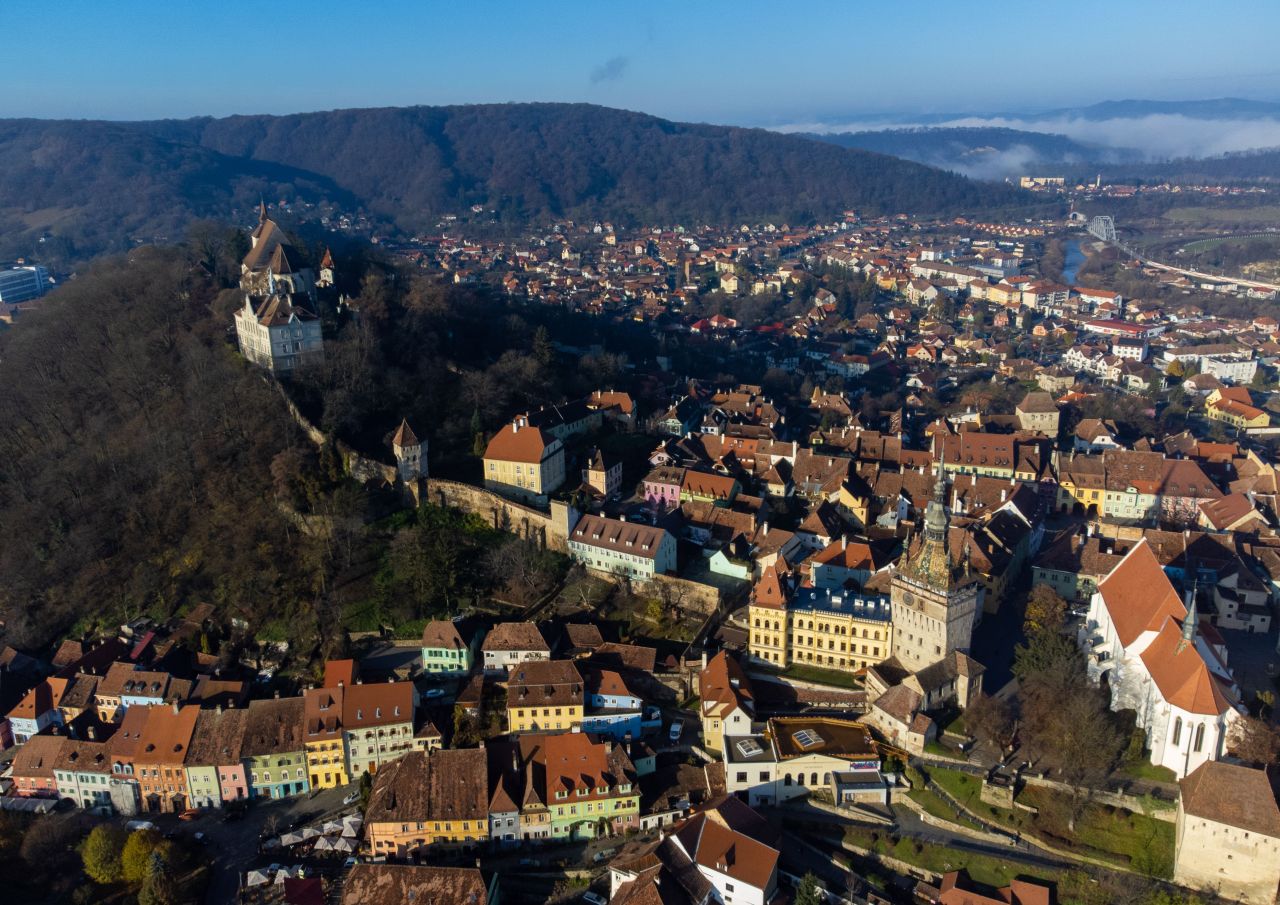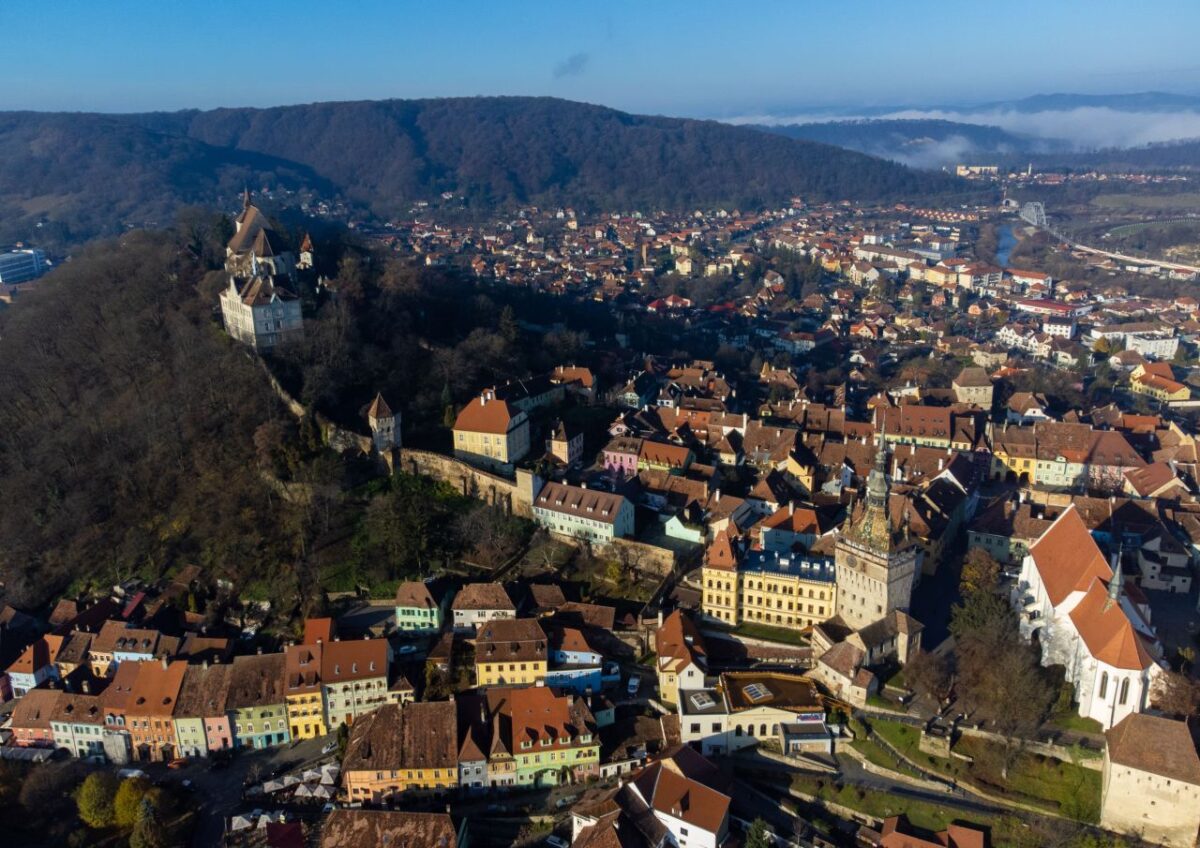 By climbing the Covered Staircase, you reach the Evangelical Church completed in 1525, after several construction stages. It is simply known as the "Church on the Hill".
Dealul Şcolii (The School's Hill) and Schulberg are two of the names given to the hill where the church is found. It offers a beautiful view over Sighişoara in all seasons.
The Church on the Hill is the fourth Gothic church in terms of size in Transylvania. Old sources also suggest that it was built where a former 13th-century fortress stood.
You can book a 2-hour walking tour in Sighisoara here – it will take you to all the attractions mentioned above and basically all the main things to see in the town. I'm listing them below:
The House with the Deer Antler
The Venician House
The Church of the Convent
The Clock Tower
The Catholic Church
The Tailors' Tower
The Furriers' Tower
The Butchers' Tower
The Butchers' Bastion
The Covered Staircase
The School Hill
The Church on the Hill
The German Cemetery
The Tin Moulders' Tower
Vlad the Impaler's birth house
Citadel's Market place
5. Walk around the medieval streets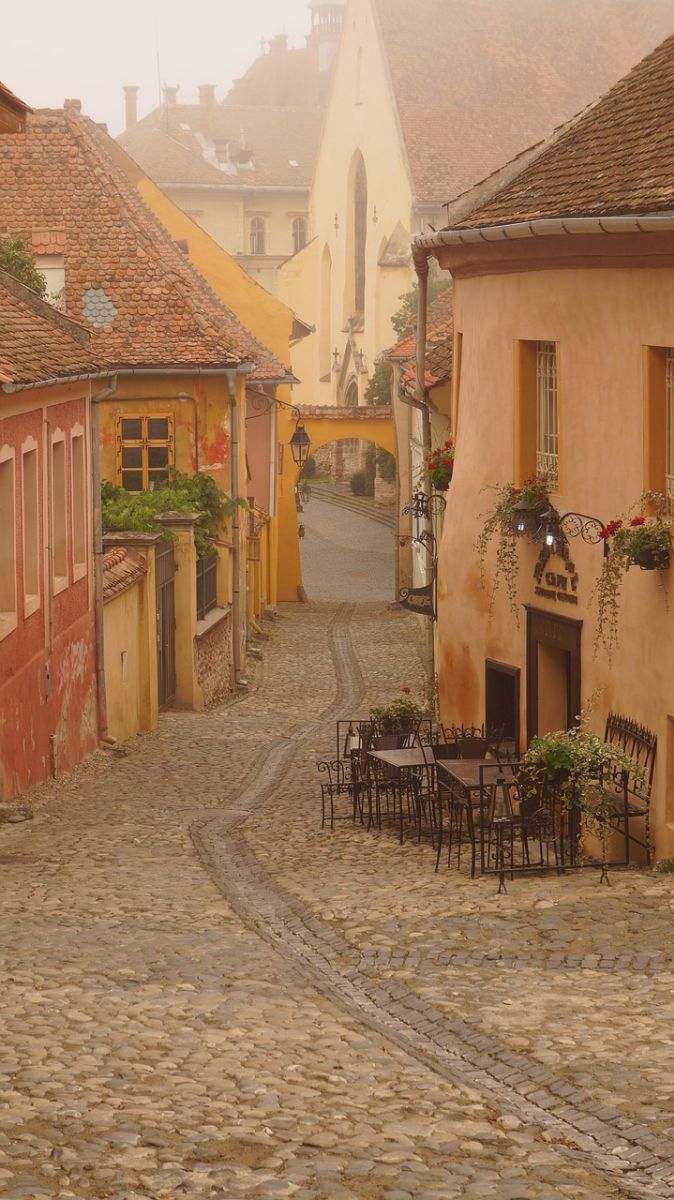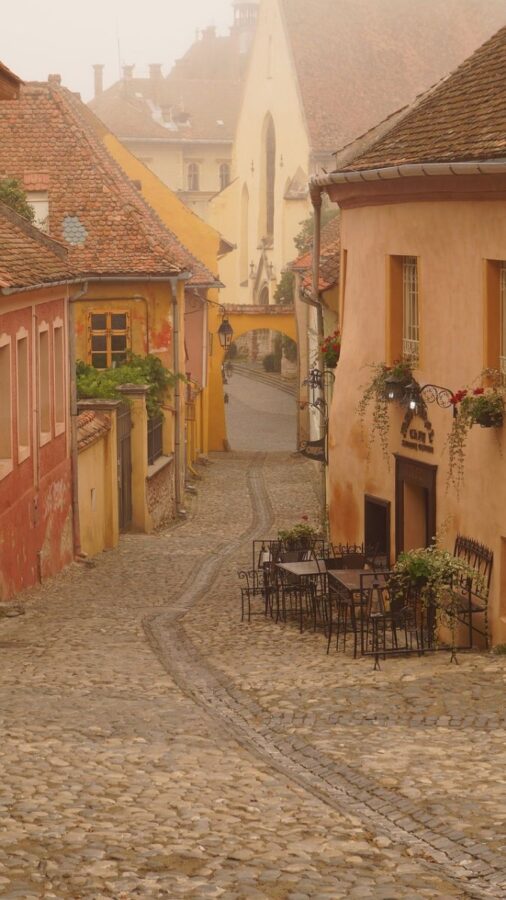 If you also believe that the easiest way to discover a place is by walking, Sighisoara is a walker's paradise.
Mysterious corners, quirky alleys, and dark passageways wait to be explored and find a soft spot in your heart.
Trust me when I say that a new amazing view awaits after each corner and you will love every step of this journey. So if you don't want to take my recommended tour above, just wander along and you'll be satisfied with what you see.
6. Stop for dessert and enjoy people-watching in the Cetatii Square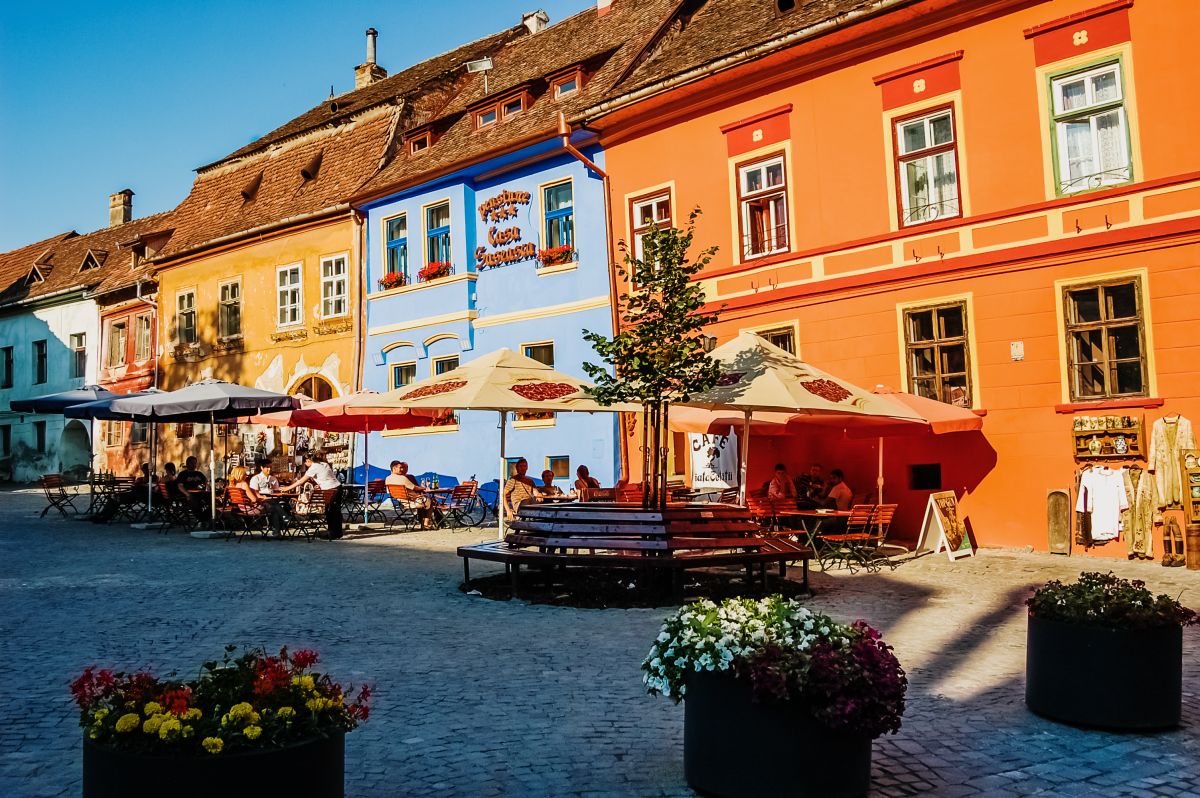 There are some mean desserts to savor in Sighisoara! My favorite traditional dessert whenever in the area is lichiu or hencleş.
Butter and sour cream are two of its main ingredients. Simple, yet delicious. You can check it out here on Youtube if you want to ruin the surprise.
Rest assured that traditional baking is still a big thing in Transylvania. Local organic ingredients are used, which give bakes an unforgettable taste and flavor.
Going back to the recommendation, get your dessert, sit down, relax, and do some people-watching. At times, simply taking things in and enjoying the silence can be an adventure in itself.
7. Have a picnic
Buy local products specific to the season when you're visiting Sighişoara. Pack them in a basket or a backpack and head out in nature.
A beautiful option is climbing the steps to the bellevue point called La Observator from the Old Town. Sunset watching there can be a lovely experience.
8. Hike or pedal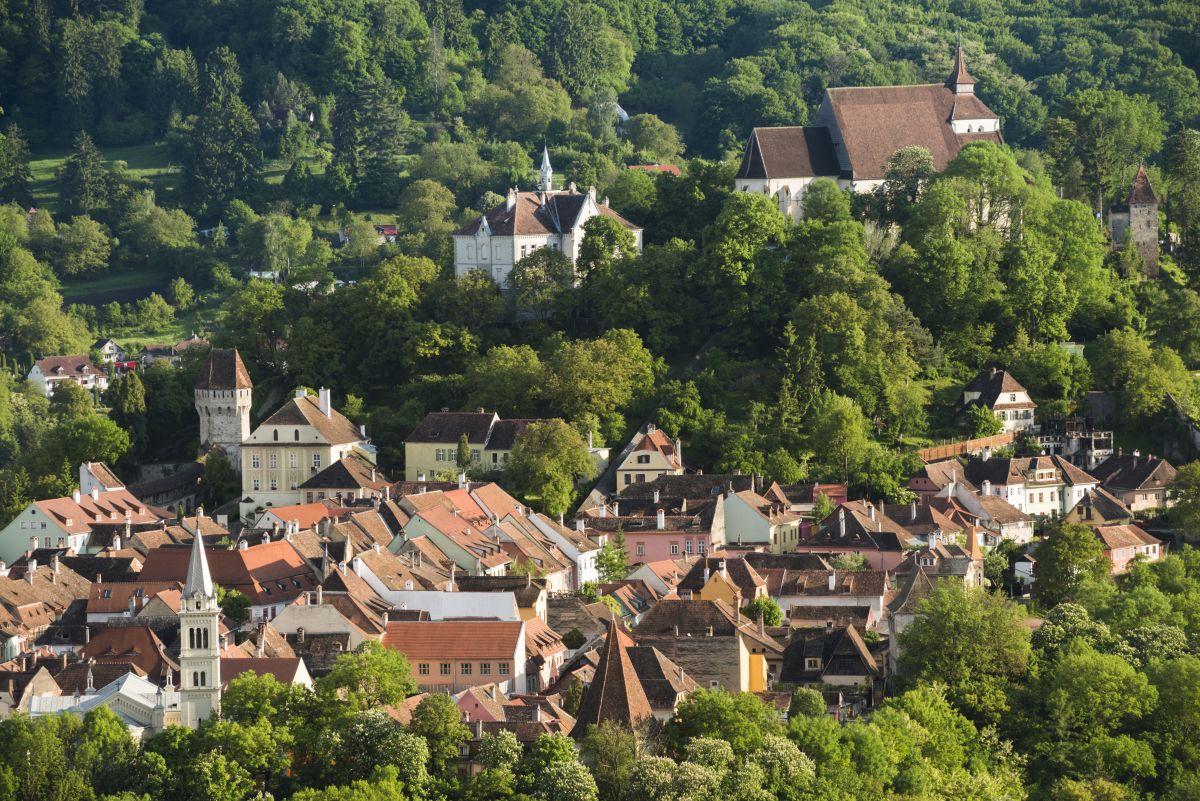 Bring your hiking boots and/or your bicycle. Rent one if you don't have it with you. There are so many trails around Sighisoara!
You're surrounded by the great outdoors, in the end! Not only can you visit neighboring Saxon villages by crossing woods and hills, but here are two places that will recharge you.
One is Breite, home to many ancient oak trees. You can get there from the Old Town or there is another trail heading there right before reaching Daneş, on the left.
Another place is Masa lui Boţ. You can reach it by going up Barbu Ștefănescu Delavrancea Street and then continuing through the forest.
The view at the endpoint seems to gather the essence of Transylvania before your eyes.
9. Befriend a horse and go for a ride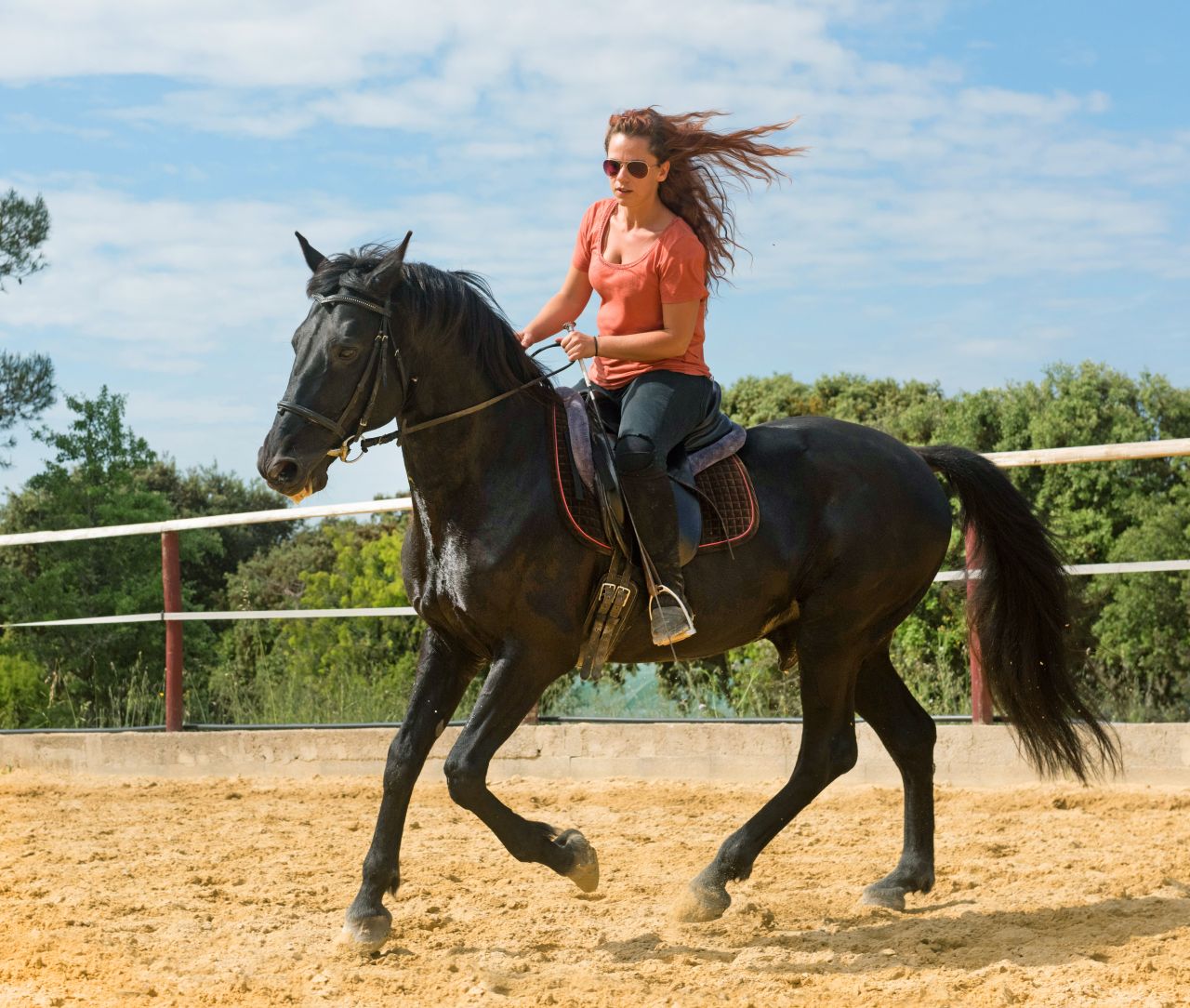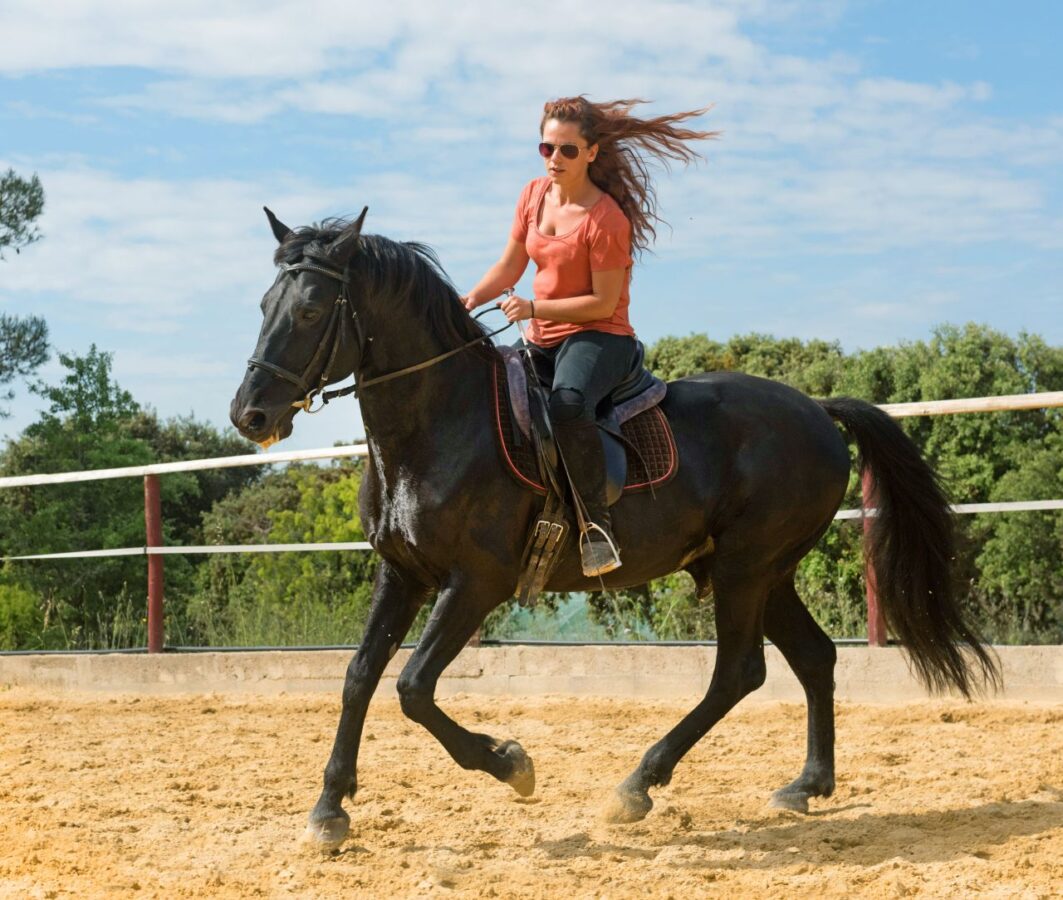 You may have to head to Daneş to do that. The good part? It is only 6 km away from Sighisoara, there is a manège for beginners and there are many trails on the hills around Daneş for the more experienced riders.
There is something magical about getting to know the surroundings on top of a horse.
10. Visit the Monastery's Church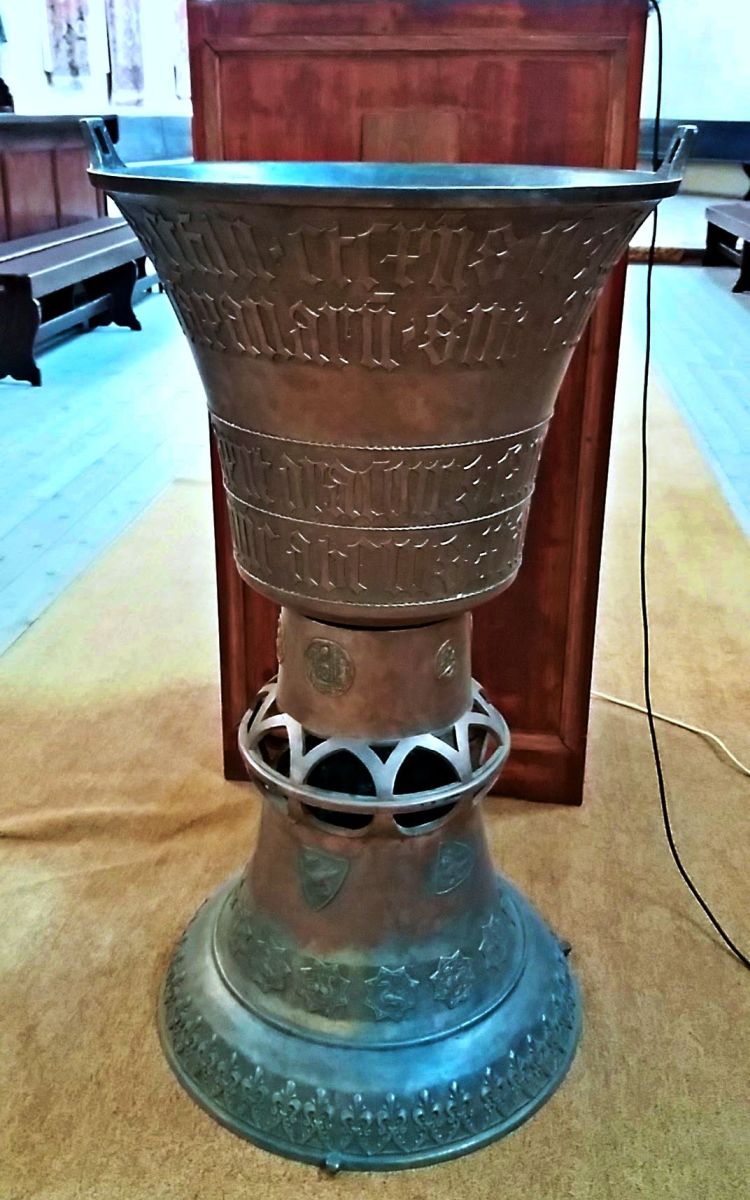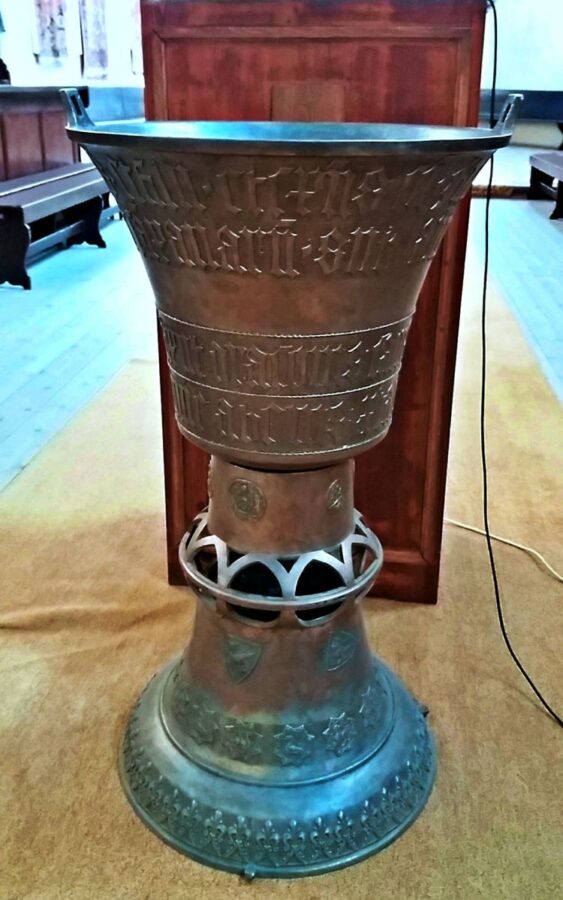 A pretty strange name, but it makes sense when you learn that this church was built back in 1,289 (yup, that old!) and initially served as a Dominican monastery.
You have to get inside too and admire the Gothic and Baroque finishings (which were added a bit later), but also the main piece in the church, the bronze baptismal font (you can see it in the photo above), which was cast in Sighișoara in 1440.
11. Visit the ancient Bootmakers' Tower (Turnul Cizmarilor)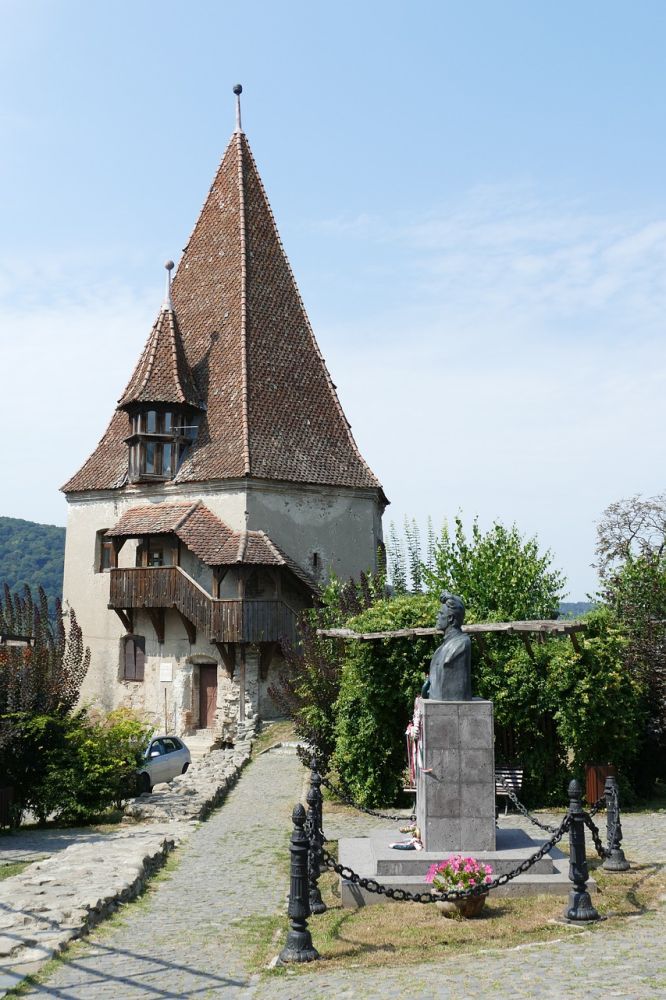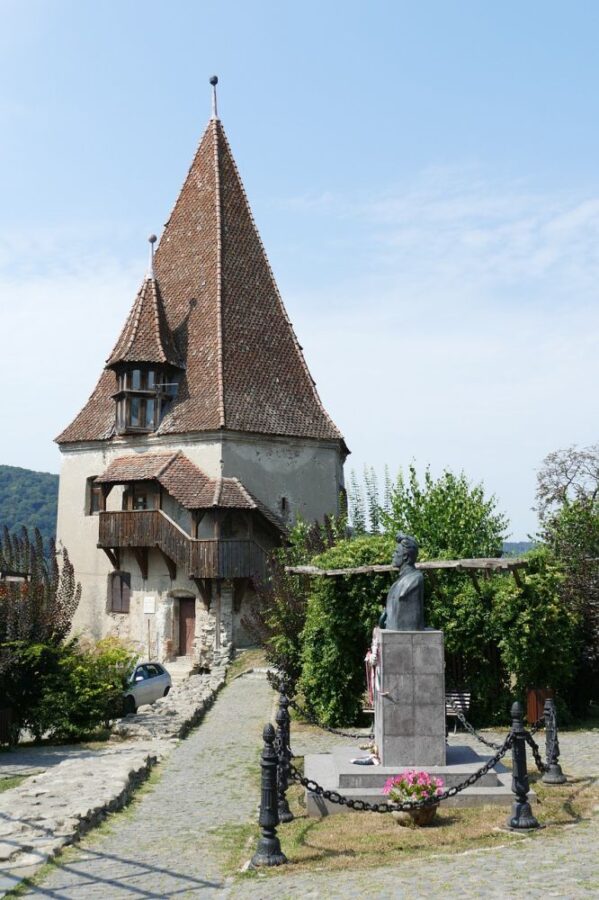 There are plenty of towers still in Sighisoara since the medieval times, and all of them used to server a purpose when defense was not longer an issue.
One of the best preserved and most spectacular is the Ropemaker's Tower, located just a few minutes away from the main attraction – the Clock Tower.
This tower was built at the end of the 1500s, it was destroyed and rebuilt in 1681. The interesting thing about it is that it has a hexagonal shape with mixed-size sides.
12. Visit Vlad Tepes / Dracula's Birth Place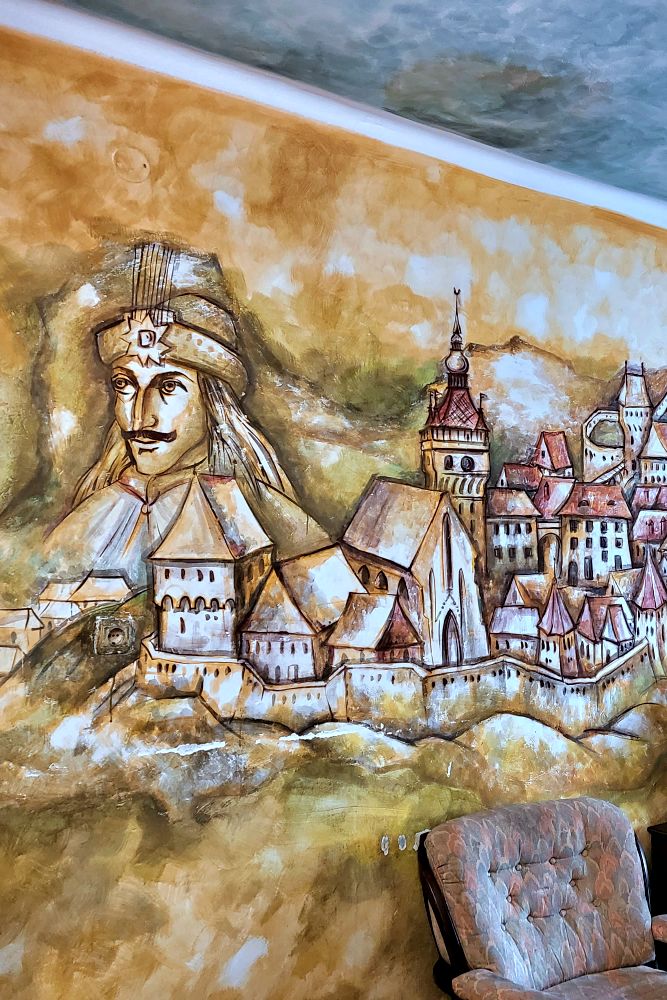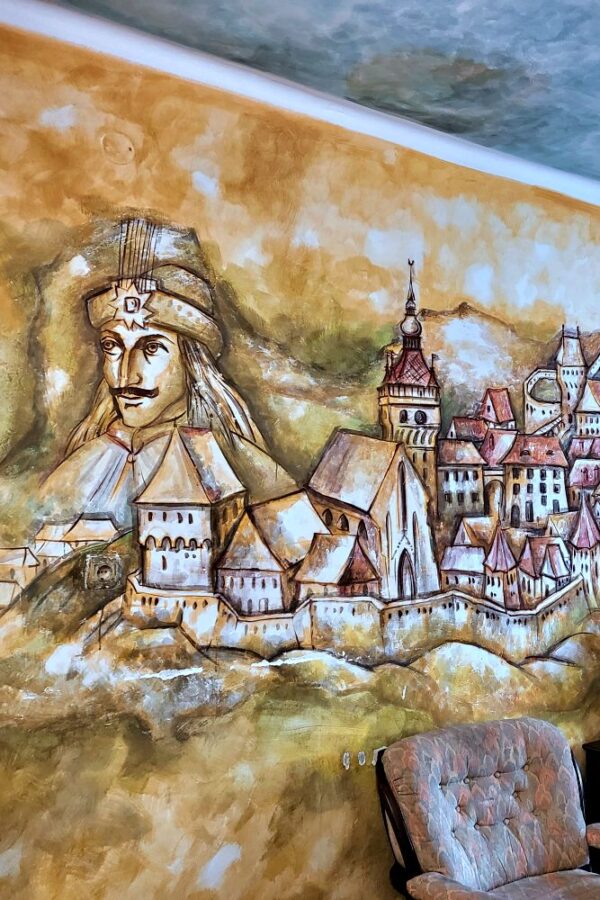 As promised in the intro, I left this big surprise here. I call it a surprise, because you probably didn't know that you could actually visit Dracula's Birth House in Sighisoara.
Now you know!
Called Vlad Dracul House (Casa lui Vlad Dracul), it is the supposed birth place of the Romanian leader who is considered to be the inspiration for Bram Stoker's Dracula.
Vlad was born here and lived until he was four, between 1431 and 1435. The house is small and hosts a small weapon museum with some references to Vlad Tepes, but also a restaurant where you should definitely eat. No blood on the menu!
And if you want to continue on this route, make sure to read my previous article about Dracula's Castle too.
Things to know about Sighisoara
13th-century manuscripts talk about settlers coming to the area, allegedly to defend Transylvania's borders.
Many of them were of Saxon origin, which explains why German is still widely spoken here and a German-language high school serves the community.
However, archaeological evidence points to the fact that the area around Sighidoara had been inhabited since the Bronze Age.
Guilds appeared in Sighidoara at the end of the 14th century.
As the trading importance of the town grew, these structures (about 19) became essential in the organization of daily life and the development of the citadel.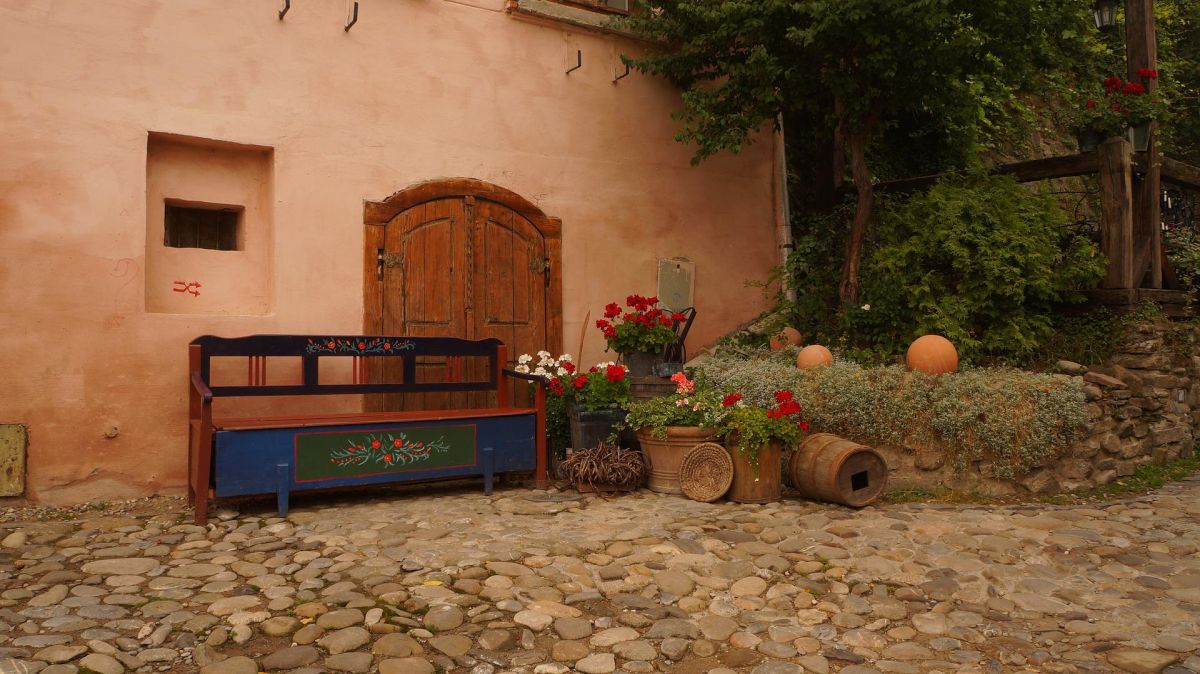 You can still see the symbols and houses of the former guilds while walking inside Sighidoara's walls.
There is an annual Medieval Festival taking place in Sighişoara in July. Expect colors, art, and double the people you'd normally see around town on a regular day.
And if you're all about festivals, I have a complete article sharing the best music festivals in Romania.
It is wise to book your accommodation ahead if you wish to attend. Make sure to book your stay via Booking.com (but do have in mind my top two recommendations above).
How much time should you spend in Sighisoara?
While you may fall in love with the town and never want to leave, I think that spending one night here will be enough for most travelers.
You can easily see most of what Sighosoara has to offer in as little as 5-6 hours (including time for a meal), but I recommend you to take it slowly and spend the night over.
Sighisoara looks great at night and the simple fact that you're not in a rush will make the experience even more enjoyable.
Plus, you'll be able to brag that you slept in a building dating back from medieval times and survived a night in or close to Dracula's birth place. Now that's something few people can brag about!
Final words
Sighişoara is a place to love and discover slowly. It can rapidly enter your heart but you'll build your relationship over time because there are so many sides to it.
But, even if you visit just once, you will be left with amazing memories after visiting my recommended attractions above.
Have you been to Sighisoara, Romania? Did you visit something that I haven't written about above? Share your experience with us all by commenting below.