Romania has upped its game in the Christmas markets department in the past several years.
You can enjoy a real winter wonderland this season in some of the biggest cities in the country – and I am here to share the best of the best.
The best Christmas market in Romania can be found in Craiova – which is also considered the city with one of the best Christmas markets in Europe (source here).
Other great options include the Christmas market in Bucharest, Sibiu, Brasov, Oradea and Cluj Napoca.
Although you might not instantly think about Romania as the go-to destination for visiting a spectacular Christmas market, read on all the details about my recommendations and I'm sure you'll change your mind!
Craiova Christmas Market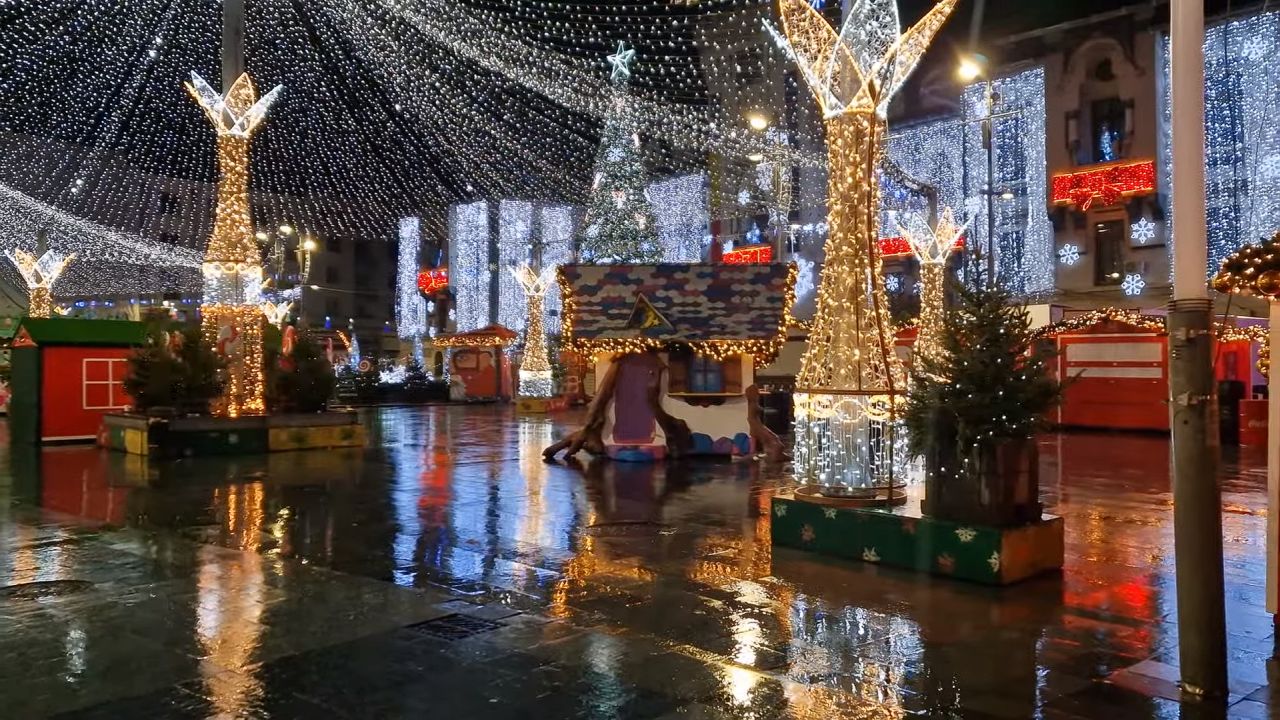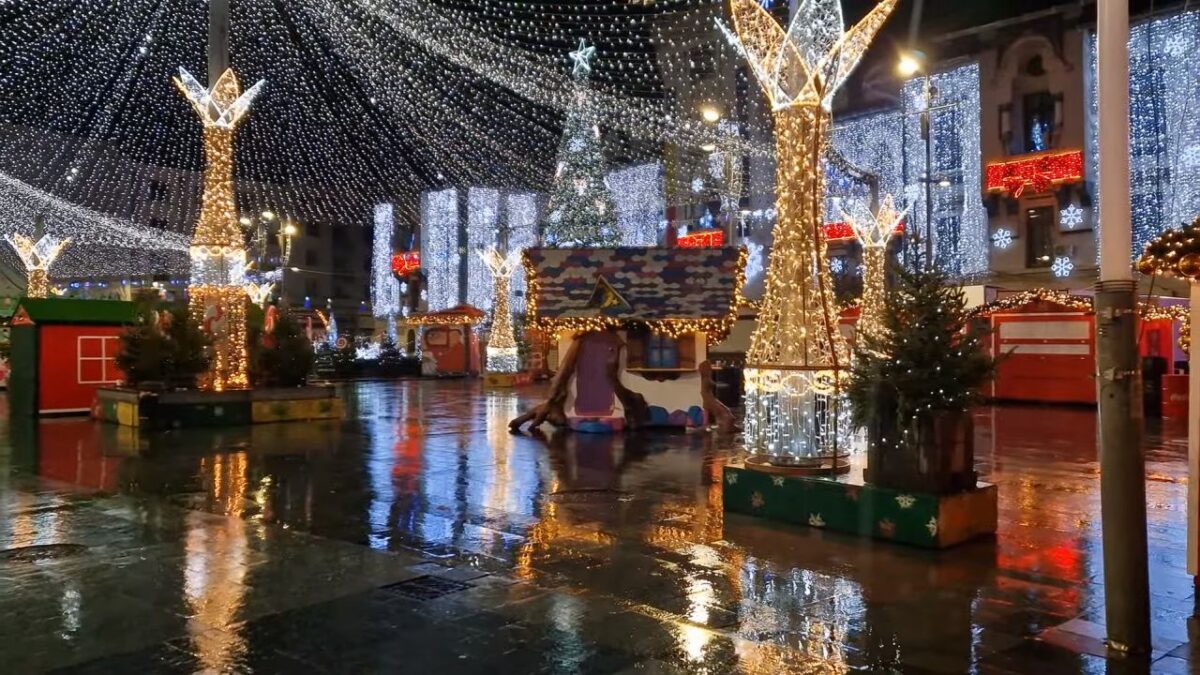 The Craiova Christmas Market, running from November 17, 2023, to January 2, 2023, is the surprising winner in terms of grandeur and awesomeness.
It is the most spectacular Christmas fair in Romania for sure, with over 1 million lights decorating the city – most of them being located in the central area, in the Mihai Viteazul Square, in front of the City Hall.
I am marking the location of the Christmas market here – but you simply can't miss it. Just follow the lights (and the crowds!).
This year, the market features a unique theme centered around Snow White, and the highlight of the event is a hi-tech Ferris wheel, standing 40 meters tall and adorned with an LED screen that displays video graphics.
As for other attractions – expect plenty of Christmas-themed decorations, a huge Christmas tree (20 meter-high), an ice rink, an amusement park and plenty of cottages selling homemade cookies, drinks and treats and various holiday-related trinkets.
Here is an Youtube video that shows this year's Christmas market in Craiova:
There are plenty of activities too – usually taking place during the weekend – like children workshops and free concerts.
All in all, the Christmas Market in Craiova is the best in Romania – and one many foreigners are unfortunately not aware of yet. Must visit for sure!
Bucharest Christmas Market in Constitution's Square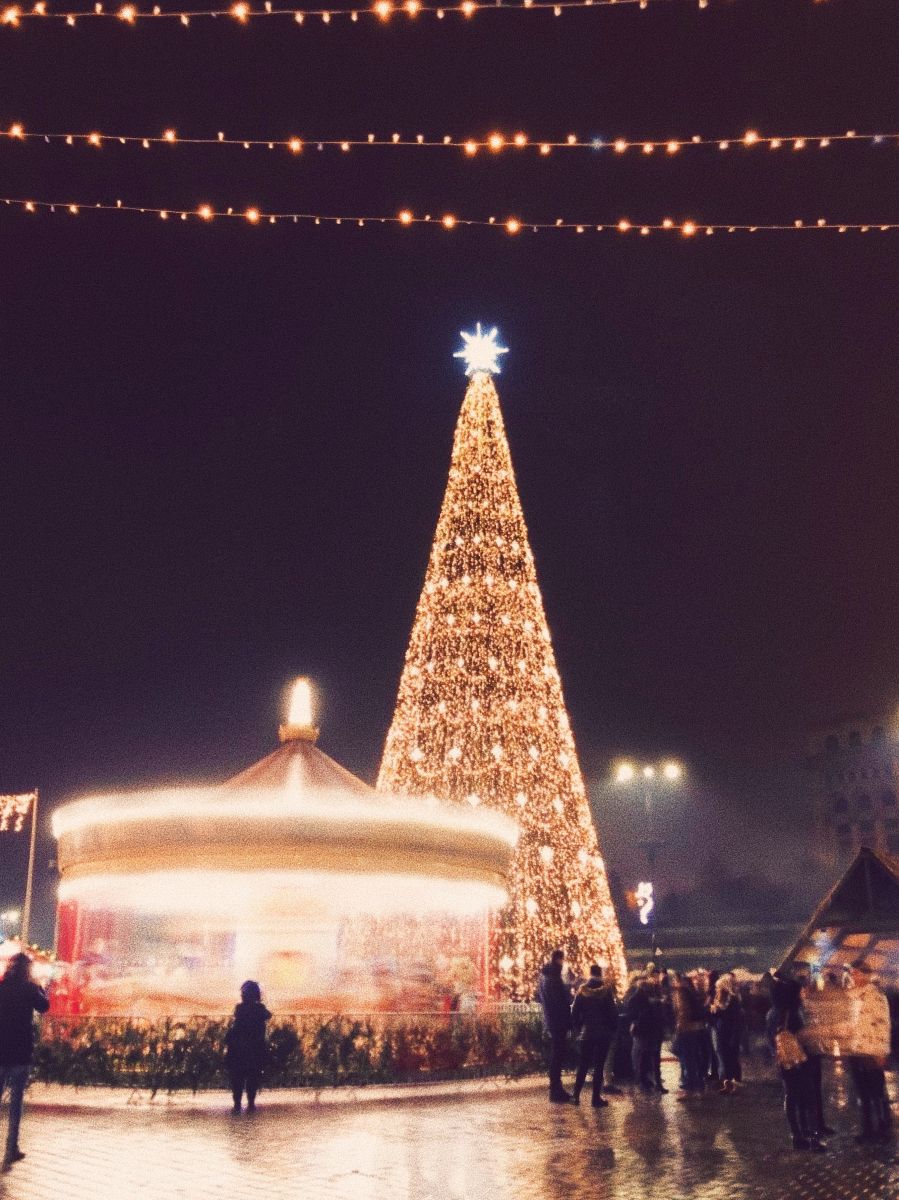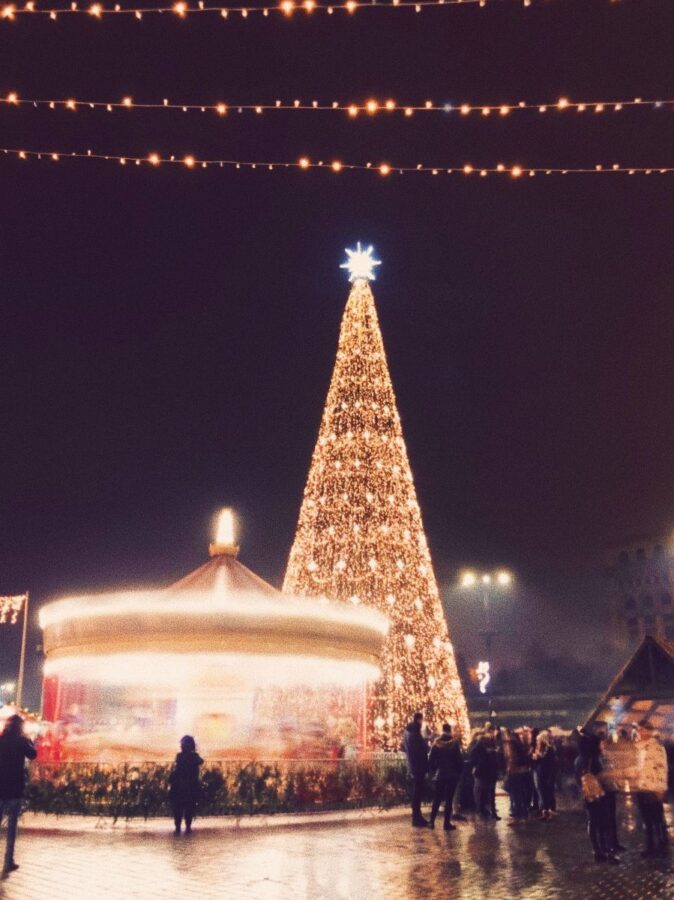 Bucharest's Constitution Square Christmas Market is a must-visit in Romania's capital.
Over a million participants gather here annually to enjoy the lights, Christmas carols and delicious foods served in the plethora of cottages spread all over the square.
Enjoy delicious local foods like the Cozonac (a sweet bread with cocoa and walnuts), mulled wine or hot tea.
Set in front of the Parliament Palace (make sure to tour it if you're there), the market is a spectacle of lights and decorations.
A special attraction for children is The Magic House of Santa Claus. Here, they can interact with Santa and his elves, take pictures and even tell Santa what they want for Christmas.
It is true that it's pretty crowded and prices are bit on the spicy side too, but you can still enjoy it for free if you want to – and it's worth visiting at least once!
The Bucharest Christmas market runs between November 30, 2023 – December 26, 2023.
I'm marking it on Google Maps here to make it easy for you to reach it.
Sibiu Christmas Market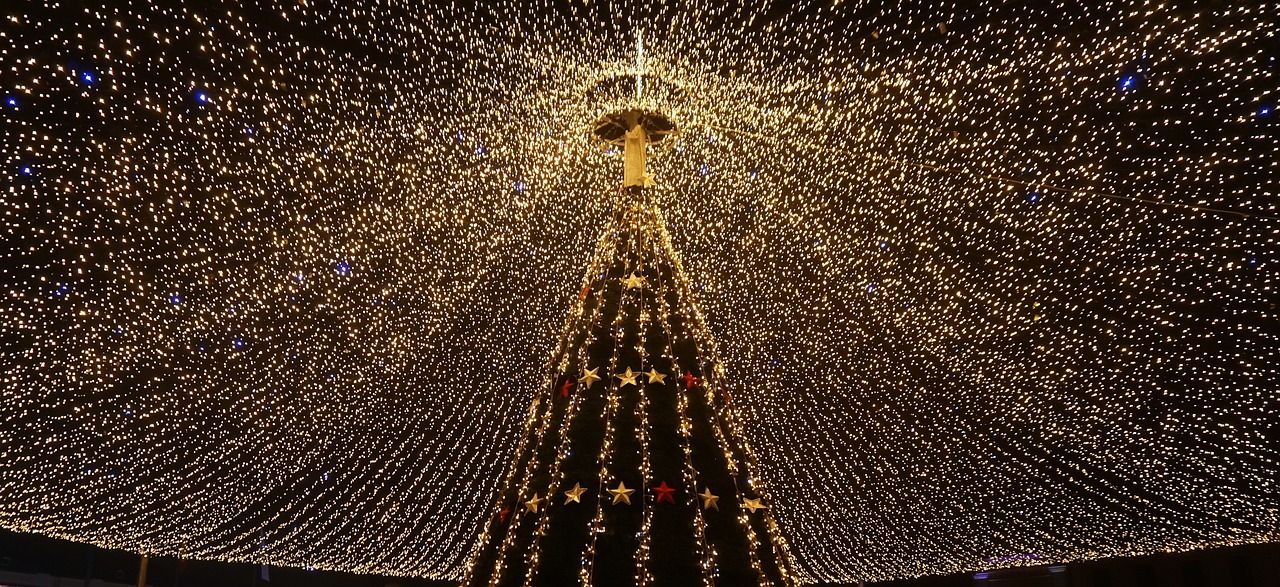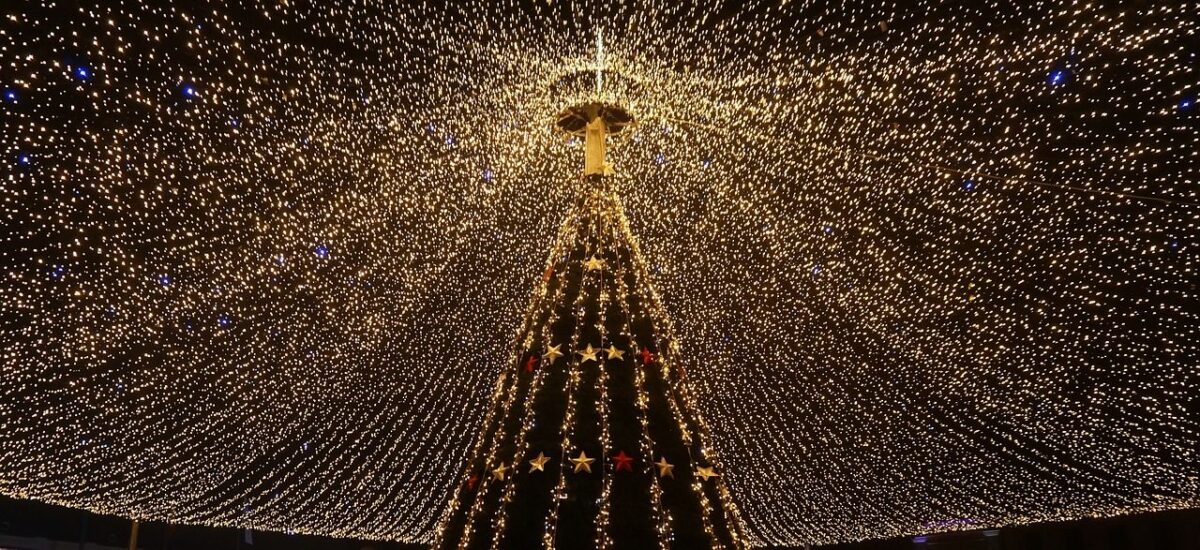 Located in the heart of Transylvania, the Sibiu Christmas Market has been considered the best in Romania for many years.
While it recently lost the crown to Craiova, it's still an amazing experience for those in the area.
Just imagine the festive feeling created by all the lights and decorations, but mixed in with all the mountains around you and the medieval-style architecture. It's perfect – straight out of a fairy tale!
Located in the heart of Sibiu in the Large Square (I'm marking it on Google maps here), but for the first time also extending to the courtyard of the Brukenthal Palace.
And I mean that literally too, as you get to sample delicious, traditional Romanian food, like Sarmale, Kurosh-Colaci and Romanian mulled wine (among many other thing).
You can check out a few more photos from this year's fair below:
Each year, the market features a concert and a Santa Claus house, delighting both locals and tourists. It runs between November 17, 2023 – January 2, 2024.
The Christmas Market in Oradea
The Oradea Christmas Market is one of my favorites and I love to see that it's getting better and better each year. I am sure that it will soon challenge Craiova for the top spot!
Until then, this Christmas market takes place in the Union Square (marked on Google Maps here), from November 30 to December 26. Definitely not the longest-lasting one, but it's still amazing as you can see in the photos above.
The location is absolutely amazing – a huge, open square surrounded by old, yet colorful Baroque palaces and elegant buildings, blending Austro-Hungarian heritage and Romanian tradition.
You can even find accommodation facing the Square and the Christmas fair itself – but expect to pay a premium for it. If you have the money – it's totally worth it, though.
Back to Oradea's Christmas market, expect tons of lights and Christmas-themed decorations, as well as wooden stalls selling all sorts of goodies – all creating a magical atmosphere.
Visitors can enjoy performances including traditional Romanian carols and classical concerts, adding to the festive mood.
For children, workshops, puppet shows, and carol singing offer delightful experiences. A mini train ride around the square is also available.
The Christmas Market in Brasov
The Brasov Christmas Market, running from November 29, 2023, to January 3, 2024, is nestled in the historic Council Square of the city, surrounded by picturesque Baroque buildings and the iconic Black Church – some of the main attractions in the city.
This market features dozens of stalls offering unique Romanian crafts, but also homemade sweets, various types of foods and drinks.
It's been a while since we last visited – our previous visit was back in 2015 when we met the family that moved from the US to Brasov – but it's on our "to see" list this year. It's simply that kind of place that begs you to visit again and again.
Additional attractions include ice skating in the Council Square and Santa's House, open from December 17 to 23. The Christmas market itself runs between November 30 – January 7, 2024.
Cluj Napoca Christmas Market
Last but not least, we have the Cluj-Napoca Christmas Market, active from November 24th to December 31st, 2023.
This market is a blend of medieval charm and modern vitality, creating a unique atmosphere in one of the fastest growing cities in Transylvania.
IMPORTANT: There are actually two Christmas markets in the city. The main one is in the Unirii Square (here on Google Maps). This is the one I recommend checking out.
As you visit this fair, you're greeted by a fairytale world: plenty of lights, the Christmas tree, the white houses hosting a variety of seasonal vendors, the ice rink and the Wheel… all of these mix perfectly together to offer a unique, pleasant experience.
Final words
Romania is a great destinations for those looking for hidden gems when it comes to Christmas Markets and Fairs. And above you have the six best that you should visit.
And if you're going to be in Romania during the winter, make sure to check out my previous article sharing the best ski resorts in the country, read my general article about the best winter holiday destinations in Romania or simply learn what is the country like during the cold season.
Have you visited any Christmas market in Romania? If you did, don't hesitate to share your experience with us – I'm sure there might be some more hidden gems out there!