I grew up eating real food: real fruits and vegetables that were grown on real land farms and orchards in Romania. They were not huge, they didn't look like clones of the same product, they sometimes had hit marks, they would spoil quickly, but they were delicious. Amazingly delicious, nothing like anything you can get in a supermarket. And they were fresh!
Although supermarkets in Romania are gaining more and more ground and it's a lot easier to get your fruits and vegetables from the supermarkets while shopping, each Romanian city and town still has at least one running Peasant's Market where you can buy locally grown, delicious, sometimes as close to organic as possible fruits and vegetables, as well as home made white cheese, real milk (non-pasteurized), eggs that have an healthy looking and delicious orange yolk and home made pickles.
That is where we get our food from, especially during the season, and that's where you should get your food from if you visit Romania or relocate here.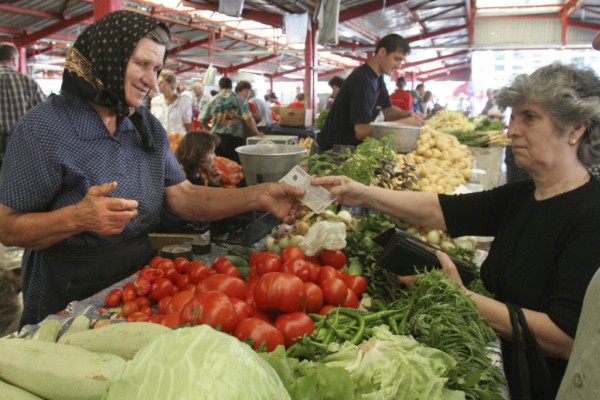 A peasant's market (known in Romania as piata) is open daily, unlike Peasant's Markets in other European cities. However, the number of real peasants selling home-grown stuff is getting lower and lower and you can still risk to get imported fruits and vegetables. But if you decide to give it a try, you will most likely have 100% success rate in getting the real deal if you pay attention to two details:
1. The looks of the seller: our peasants have specific clothing and you can easily see, especially on their hands, that they indeed work the ground and live at the countryside. If you just get there, you will spot them easily.
2. But most importantly – because some even hire real peasants for authenticity – look at the fruits and vegetables that you purchase: if they look like stuff you could get from a supermarket, then they probably are exactly that. Real fruits and vegetables don't have perfect shapes, they are smaller and they have sun burns or other marks that make them imperfect but insanely delicious. That's the food that you should get and you will love the taste!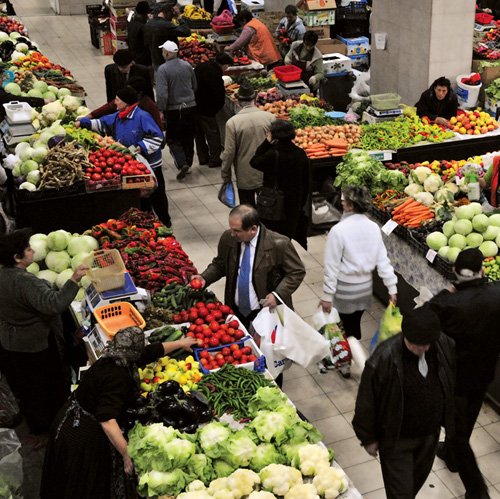 If you live in a Romanian city for a longer period of time, you will learn that some peasant's markets are better than others and that there are indeed specific days when you'll get the chance to buy from real peasants. Simply ask around or visit daily for a week and you'll spot the trends. Also have in mind that most real peasants are people who put great value on religion, so don't expect to see them in the markets if there's a holiday!
The prices of the products are also good, even though sometimes they are more expensive than supermarket goods. But you get home grown stuff which at least should be healthier – so it's worth any extra leu. Plus, the differences are not that great and they are still very affordable.
This fall, for example, we decided to give it a go and try to can our own food, pickle some cucumbers and so on. We just did a few jars of this, a few jars of that to see how it goes, but we loved it and even though we did spend an entire day canning food or preparing vegetables for the freezers (yes, we eat a lot of soup especially during the winter!) it was well worth it.
The latest (and probably last thing this year) that we did was a pepper paste: we have three and a half jars of the delicious thing and the peppers only cost us 8 lei (which would be about 2 Euros). That's better than any price you'd get in any store and they will surely be put to good use. And they will surely not last much since we've already devoured the half-jar.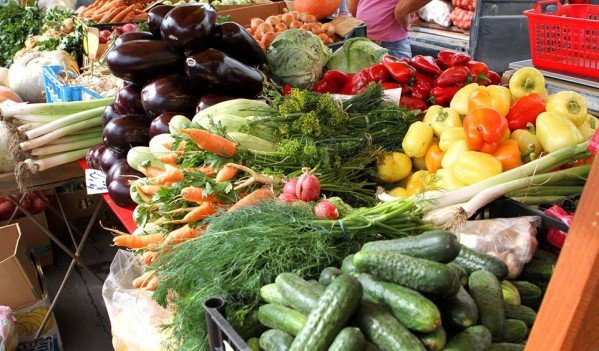 All the products that we bought were from the Peasant's Market where you usually start getting discounts and free treats if you become a regular or buy large quantities. Not only that you're helping real Romanian farmers, but you're also tasting real Romanian goods which are delicious and cheap.
There would be a small potential problem: most likely, none of the real peasants here will speak any English (or any other foreign language), but it's not difficult to just show them the products you want and see the price on the scale. Then get some more because you'll consider them so incredibly cheap!