Looking for the best neighborhoods to live in Brasov? You're at the right place, as today I am going to talk exactly about that. And since Brasov is one of the most popular touristic destinations in Romania, but also one that expats love, you must stay in the best areas of the city!
Just like in most cities in the world, Brasov also has both top neighborhoods, and areas that aren't that great to live in. Some neighborhoods are quiet, others are in proximity to your interest points, and others are simply boring, with nothing to see or do around.
And today, we'll talk about the best of them – 9 great neighborhoods to live in Brasov, should you decide to move there.
1. Brasovechi (Old Brasov)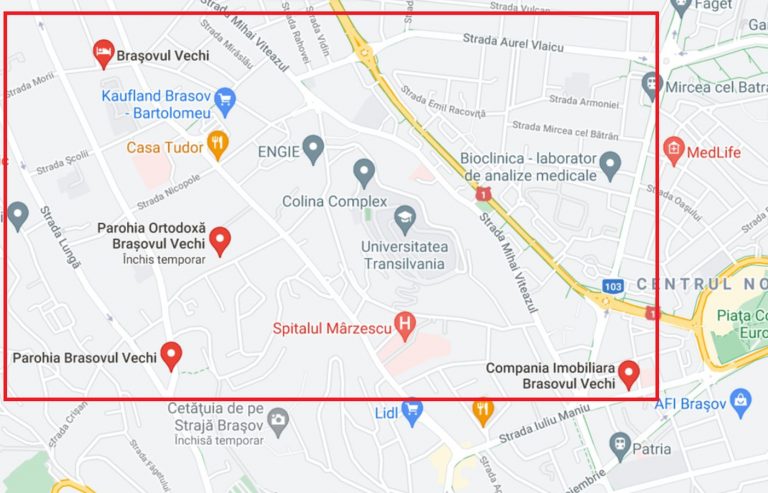 Just as its name suggests in Romania, Brasovechi is the oldest neighborhood of the town (it actually means "Old Brasov"). They believe that it's also the first place that was inhabited in historical times, before Brasov was the big town that we see today.
The neighborhood is a great choice, no matter the purpose of your stay; this is also what brought it to the top of my recommendations.
It's not exactly in the city center, so it doesn't hold the noise and agitation that you'd normally find in the center of a touristic city, but it's also not far from it or from the main attractions of Brasov.
At the same time, there are plenty of supermarkets, attractions and green spaces around, as well as a University and restaurants, so it is perfect no matter if you've come to work, to visit or to study.
It's a neighborhood with a nice old vibe, with beautiful buildings and a special feeling that you will simply love.
Related reading: Top things to do in Brasov.
2. Old Town (City Center)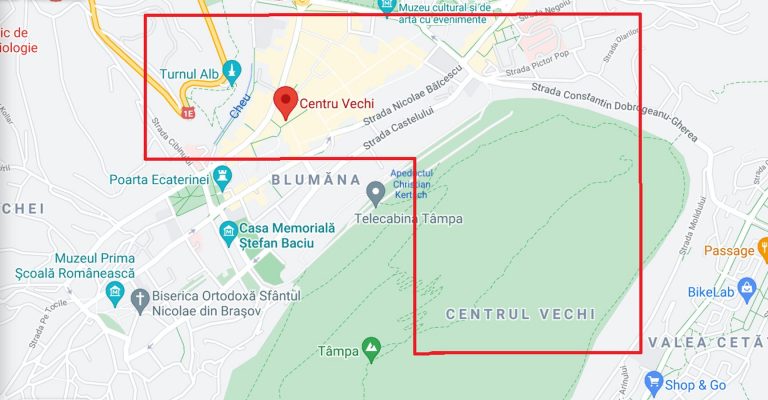 I always include the city centers in the top recommendations of any guides written for best places to live somewhere; and that is because staying in the center is always a good idea, especially for active people, who love being in the middle of everything.
Living in the center of the town means being permanently connected to all the events taking place in the city, but also being in a great location, close to some of the most important places in the city.
The same applies to Brasov, where I also recommend the Old Town as one of the best neighborhoods to stay, whether you're a tourist or plan on living here for a longer period of time.
You will be up to date with all festivals, concerts, fairs or manifestations organized in Brasov, all year round.
Plus, living in the center offers you the proximity to most of the touristic attractions of Brasov, which you will be able to visit anytime.
Nonetheless, the Old Town is famous for the variety of cafes and restaurants you can find there, so you will have the best coffee or traditional food at only few steps away from your home.
3. Blumana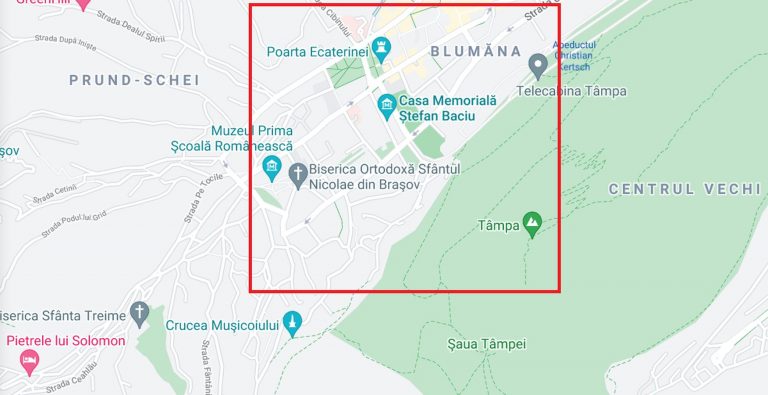 This one is the closest neighborhood to the Old Town, so practically you are still in the heart of the town, but not paying the same premium costs for being there.
The major advantage of staying in Blumana is the proximity to Tampa Hill and the beautiful sights from apartments or houses with a view to the hill.
So, if you're a nature lover and would prefer some inspiring views when you look at the window, check out apartments with this feature from Blumana.
Furthermore, Blumana is a great choice as, just like the Old Town, it is connected to all areas of the town and to the center itself, so that you can feel the pulse of Brasov all year round.
Plus, there are schools around so that your children can get to their classes in less than 10 minutes – if you're moving with family and planning on schooling your kids in Brasov.
4. Scheii Brasovului (Prund-Schei Neighborhood)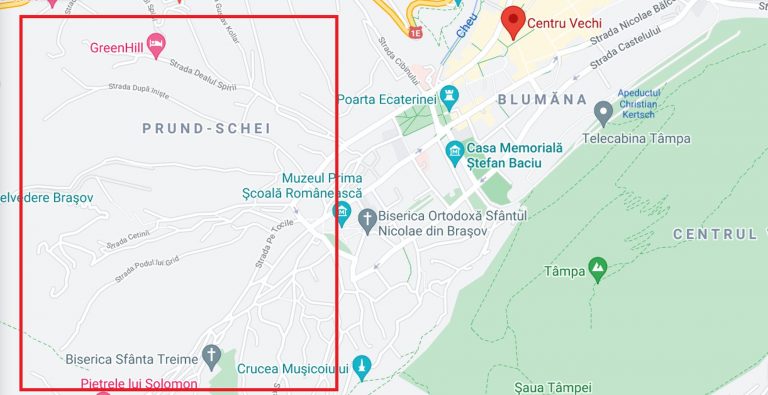 The third and last of the three oldest neighborhoods in Brasov (Scheii, Blumana, Brasovechi), Scheii Brasovului, or Prund-Schei, as it's called today, is another feasible option for your stay in town.
Just like Blumana, it is in the very proximity of the city center, keeping you connected to the heartbeat of Brasov but for a slightly lower cost than being in the heart of the city.
What's special about Scheii Brasovului, anyway, is the general aspect, which is a lot more rural and picturesque than the rest of the town.
It still keeps that medieval vibe from legendary times, with generally small houses, narrow streets and gardens towards the mountains. It is a beautiful, quiet and inspiring area to live in, also thanks to the proximity to Tampa Hill.
5. Centrul Nou (New Center)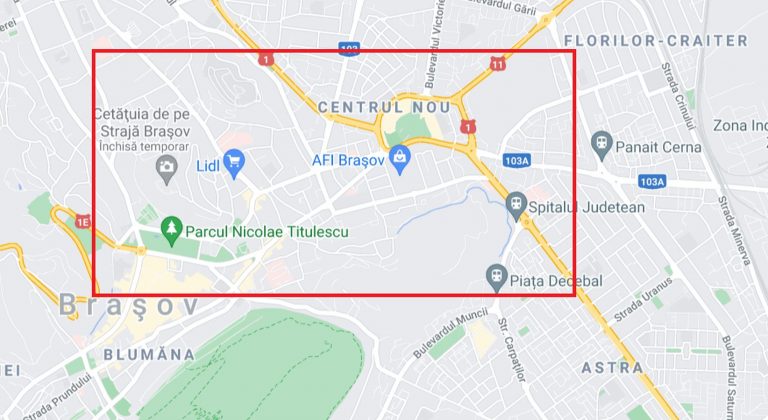 I firstly recommended the Old Town – the historical center of the town – as a go-to option for your stay in Brasov.
But for more practical reasons, such as proximity to your office, Centrul Nou can often be an even better alternative.
The New Center neighborhood will have you extremely close to AFI Brasov, to the County Hospital and plenty of supermarkets.
At the same time, you won't be too far from the heart of the city either. Old Town and Blumana neighborhoods are only few minutes away, so that you can easily get there as well.
I would say Centrul Nou is a perfect example of a neighborhood combining work with relaxation, keeping you connected to both the commercial and the social extremes of Brasov.
6. Garii Neighborhood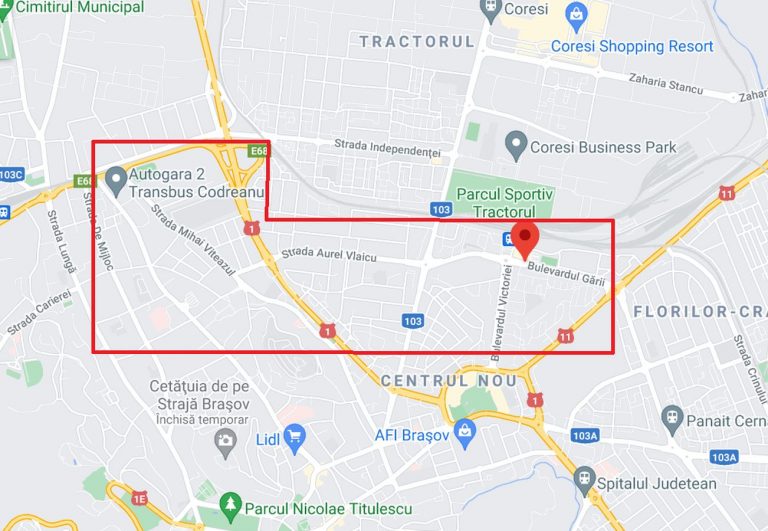 This is a tricky one. Garii neighborhood can be both the best and one of the worst neighborhoods for you, depending on your stay purpose and period.
More exactly, if you're a tourist traveling by train and only in town for few days, then Garii neighborhood is a perfect choice.
The train station is only few steps away, and so is the bus station that will connect you with all the other areas of the town.
If you're here for a long stay, on the other hand, you might want to check out all the other neighborhoods I recommended, except this one.
Because it can be a little noisy, and unless you travel a lot by train and, consequently, need to be close to the train station, there is no need to sacrifice your silence, rest or inner peace.
Plus, truth be told, there aren't many attractions or things to do in this area.
7. Noua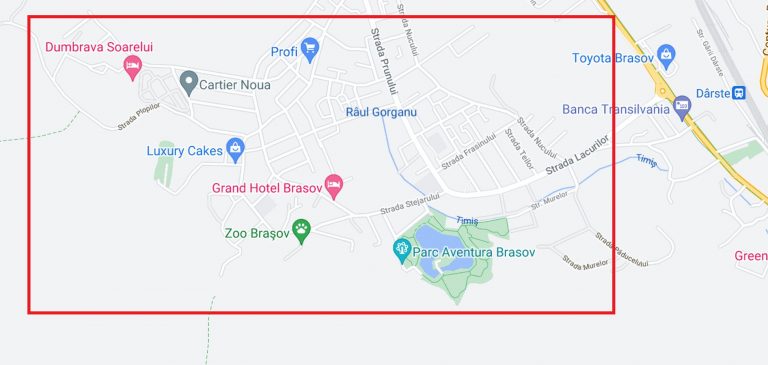 For a long time, Noua was one of the "bad" neighborhoods in Brasov, and that's where the confusion comes from, when many would recommend you to avoid this area.
Take my word for it though, avoiding this area may be your biggest mistake if immediate proximity to the city center is not what you need.
There have been made plenty of investments and restorations lately in the entire Noua neighborhood, so that today the residential area is considered one of the top three neighborhoods of Brasov regarding life standards and expenses.
Certain parts of the neighborhood are even watched 24/7 by specialized security people; the neighborhood is mainly constituted by modern houses with gardens and lots of space.
So, if you're coming with family, looking for a quiet place, and don't need to be close to the noisy center, Noua may be your best option in Brasov.
The neighborhood is few steps away from the Zoological Garden, Noua Park and Noua Lake, where you can make grills, do activities in fresh air, rent hydro-bikes or simply walk and enjoy the nature around. Commercial centers are also only few meters away.
Overall, Noua is a quiet neighborhood with very high standards of living. Make sure you consider it for your stay in Brasov, because another important advantage is the prices, which are still low compared to more central areas of the city.
8. Darste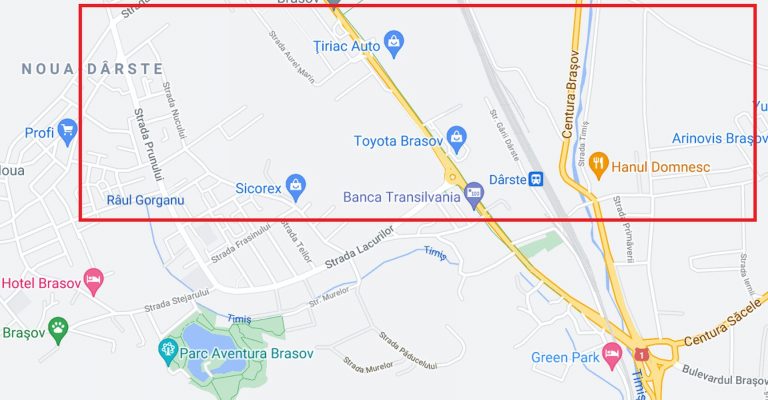 To the right of Noua neighborhood, there's Darste, the area with a 100-years story. The name of the neighborhood comes from an old skill in the zone, called "darstarit", a job that implied work with clothes and which is only remembered today by the seniors of Brasov.
There are two main advantages, other than the joy of living in a historically and culturally valuable area of the town.
Firstly, there is the low rates for both apartments and houses in Darste. And secondly, there is the proximity to the other towns in Brasov County and Prahova Valley.
Or, more exactly, the latter is the advantage of being close to other mountain resorts such as Sinaia, Busteni or Timisu de Jos which are some of the best winter holiday destinations in Romania.
You're just few kilometers away from escaping the monotony of the town and exploring the wild nature with some mountain hiking and sightseeing in stunning places.
Just like Noua, Darste is a very good choice if you want to be far away from the city center and close to the mountains, nature and rural atmosphere that Brasov can offer.
There are mostly families or simple people around, people from the working class who prefer silence and good vibes. If this is what you're looking for, check out your options in this area.
9. Astra

Last but not least, Astra neighborhood is situated to the east of the Old Town, in the immediate proximity.
It takes less than 10 minutes by bus and less than a 30-minute walk to get from Astra to the center, but the atmosphere is completely different.
Astra is a neighborhood of houses and families, a neighborhood of silence and calm, and you will still find everything that you need around.
Markets, supermarkets and a mini-mall – Magnolia Shopping Center – are all situated here, making it an amazing choice for everyone eager to stay in a safe, clean and quiet place, still having the possibility to immediately get to any other part of the town.
Conclusion
As I said, there are plenty of other neighborhoods in Brasov, some more interesting than others when it comes to living here.
Which brings us to some well known neighborhoods in the city, like Tractorul, Bartolomeu, Craiter and Traian.
These four are not on my list not because they are dangerous or in a horrible state, as you might hear some people claim. Sure, there are people of all categories living in these neighborhoods, but this happens everywhere.
Generally speaking, these four neighborhoods are just as safe and clean as others. In fact, the only reason why they not really topping my list is that there is nothing really interesting going on there.
Just lots of buildings with apartments to live in. They were built for the working class in Brasov, when it was still an industrial area, and there are little to no touristic attractions here nor lots of places to spend your free time (like pubs or restaurants).
Summing it all up, Brasov is one of the most beautiful cities in Transylvania and Romania, for both locals and tourists, and living here from 2-3 months to a few years or even a lifetime can hardly get boring, given the multitude of activities you can do, from testing local food to exploring the main attractions and discovering the surrounding mountains and nature.
No matter where you'll choose to live in Brasov, you will most likely be satisfied with your choice because this touristic town is safe, clean and friendly in most of its areas.
The only variables here are your own preferences and interests, lifestyle and budget, and I considered and mentioned all these aspects through the list of best 9 neighborhoods to live in Brasov that I provided above.
Hoping that my recommendations inspired or helped you make the best decision for you and/or your family, I wish you have a great stay in this town and enjoy the most out of what Brasov can show and offer you!