If you're planning to visit Timisoara, but you don't know exactly where it would be best to stay in the city, I've got you covered! Today, I will share my favorite hotels in Timisioara – I am sure you will love them too.
If you don't have the time to go through the entire list, I recommend deciding between the budget friendly Fanea Residence (close to the train station) or the more luxurious Hotel Tresor Le Palais. You can't go wrong with either, since they are in beautiful locations and offer great value for the money.
I am trying to list hotels that are close to the city center (since that's where you want to be), but also some that are close to other important areas of the city.
While taxis in Romania are always cheap, it's best to be within walking distance to everything. And that makes your hotel a top priority with a huge importance for your stay.
So here I am, ready to share the best accommodation in Timisoara for you. Let's get this started!
Best Hotels in Timisoara – Overall
I think that one of the most important things to consider when staying in Timisoara during a shorter stay, when the main objective is to visit as many places as possible, is the location of your hotel.
So these recommendations will all be close to the city center, the Bega River or Iulius Mall, where the top things to do and see in Timisoara are located. This makes them ideal for exploring the city and all it has to offer.
1. Fanea Residence – Best cheap hotel in Timisoara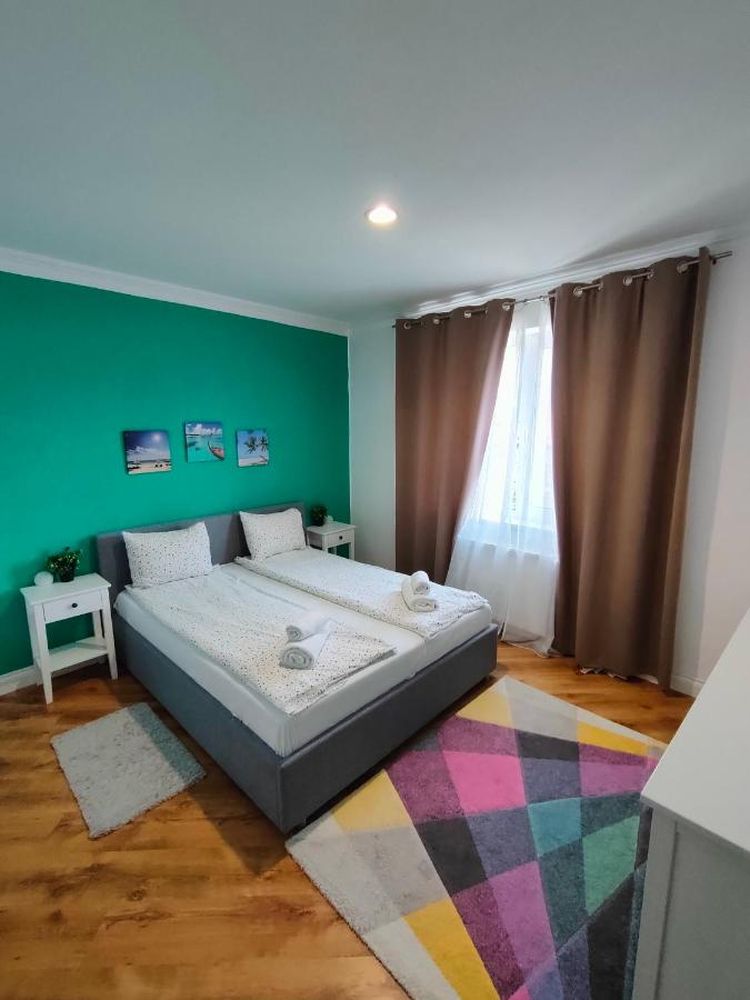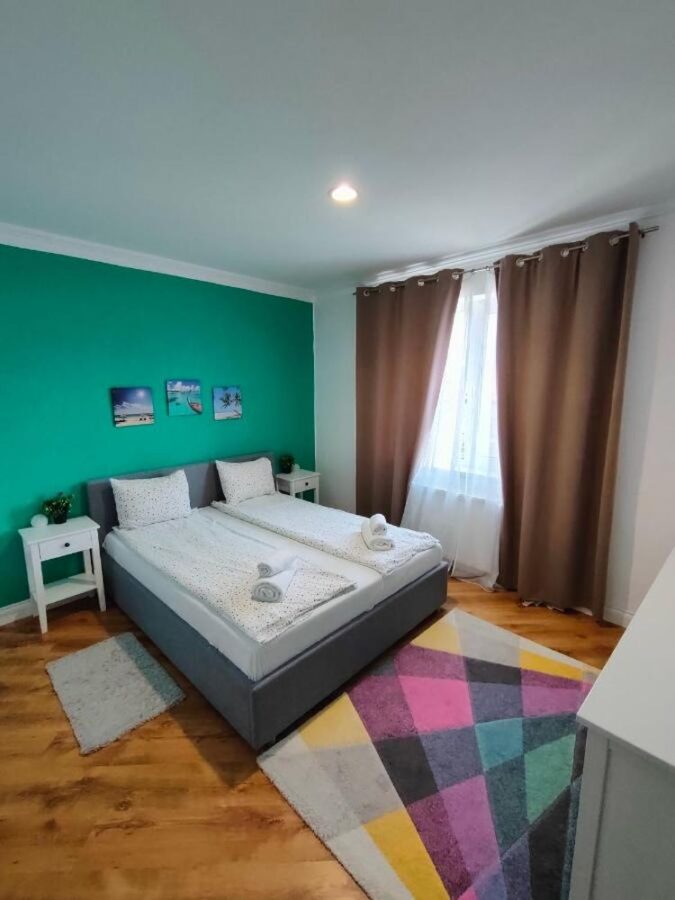 This is our favorite place to stay in for a few years now, for three main reasons:
It's VERY cheap
It's close to the train station (we travel by train)
It's beautiful
While the hotel itself is not in an amazing area by any means, it's proximity to the train station is a big bonus. It's also relatively close to the center – we usually walk there, but it's some 15-20 minutes of walking, so definitely not for everybody.
This hotel is all automated – you get your magnetic key at the entrance, you find your room on your own… no reception, so not a traditional hotel, but the rooms are clean, nice, the area is silent and really there are no reasons for you to complain.
Add to that the fact that it's probably one of the cheapest hotels in Timisoara (at least at the moment of writing), and you get an unbeatable deal. I repeat – this is the hotel that we've been choosing lately and never had any complaints.
Click here to check out its rates for your dates.
2. Carol Residence – Budget Alternative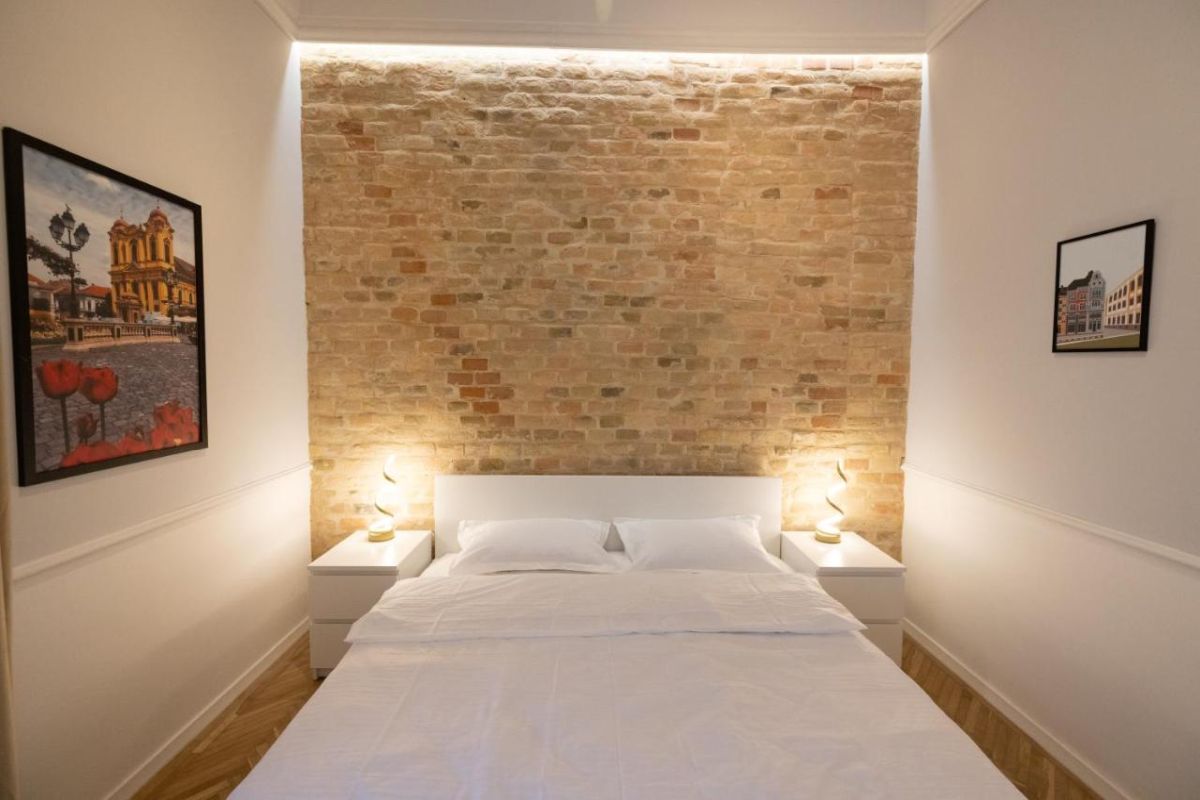 If you want to be closer to the city center, Carol Residence is another budget-friendly alternative you should consider.
It is located right in front of the Bega river, in a beautiful old building (which is renovated – so that's a bonus) and the area, although pretty popular, is still silent enough for you to have a good rest during the night.
It's a small place and there aren't plenty of options available in terms of rooms, which are usually booked, but if you manage to find one available, you're definitely in for a treat.
The rooms are large and nicely decorated, extremely clean and they all have a small kitchen area if you want to keep costs low and prepare some food at home (or a coffee/tea).
Overall, due to its proximity to the city center, while still being close to the train station, it's a really good budget pick. Basic, but with everything you need.
Click here to check prices for your dates.
3. Hotel Timisoara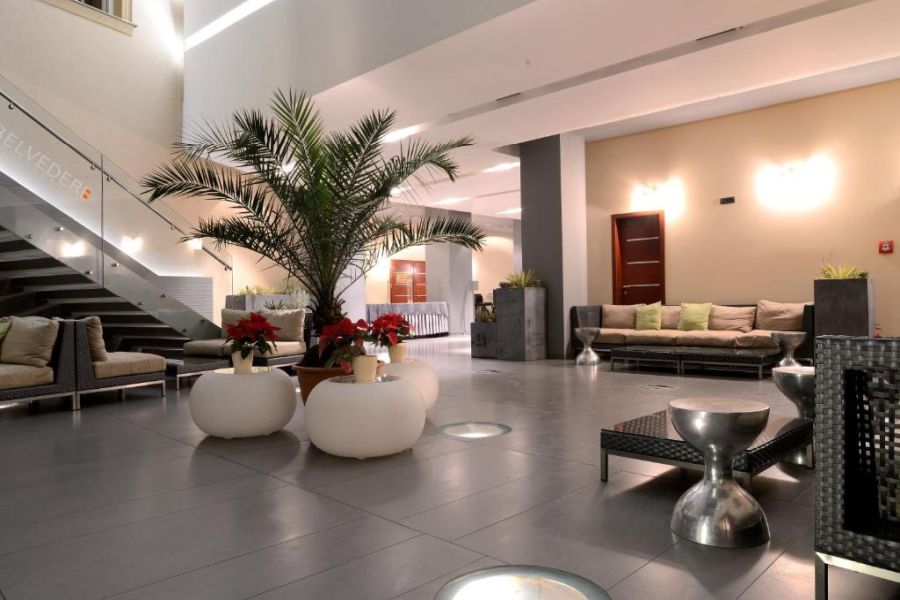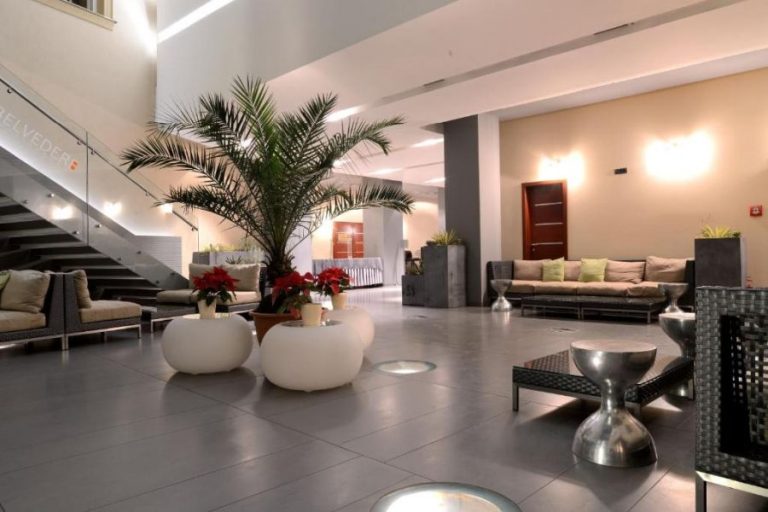 Now we're switching to a place that is practically the most central hotel you can find in Timisoara, situated right in heart of the city.
In fact, some of the rooms have a perfect view of the entire Victoria Square, while others are oriented towards the National Romanian Opera House. Amazing views, in other words!
The first time I entered this hotel, I didn't even get the feeling that I was entering the building of my accommodation. It felt like stepping on the stairs of a Romanian palace such as Peles Castle or Pelisor Castle. It's that nice!
I don't know if I made this association because of the warm vibe that envelops every guest that enters the building, due to the warm palette of colors in which it's designed, the multitude of halls, stairs and rooms, the big mirrors, or due to the stairs covered in red carpet, creating a homey atmosphere. But the result was a general feeling of comfort, peace and safety.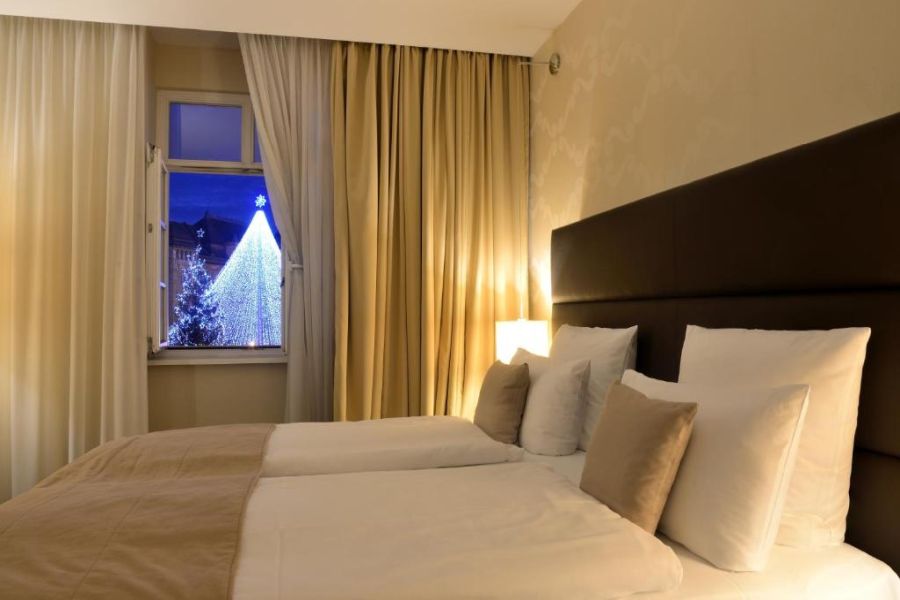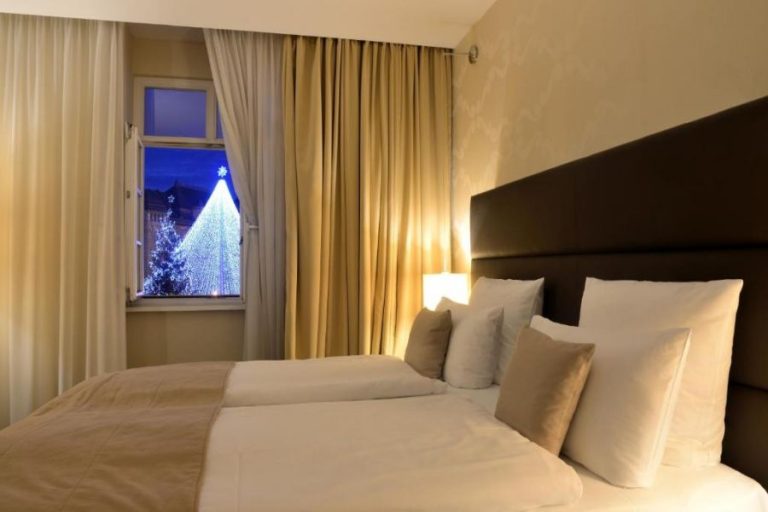 Rooms follow trend as well: all are designed in a luxuriant yet subtle style, with homey touches: tall lamps, comfortable armchairs, large desks and modern TVs. And, the most important part: amazing beds for total relaxation.
Furthermore, it offers a spa and wellness center, pool and a restaurant where you can taste a wide variety of Romanian food, but also continental cuisine or Bulgarian, Turkish or Italian dishes.
I'm sure you will love this stay no matter the purpose or the duration of your visit. There's nothing you can't love about this place, starting from the amenities and design of the rooms, to the accommodation itself and the facilities offered and all the way to to the delicious dishes. Just perfect!
Click here to check prices for your dates.
4. Ibis Timisoara City Center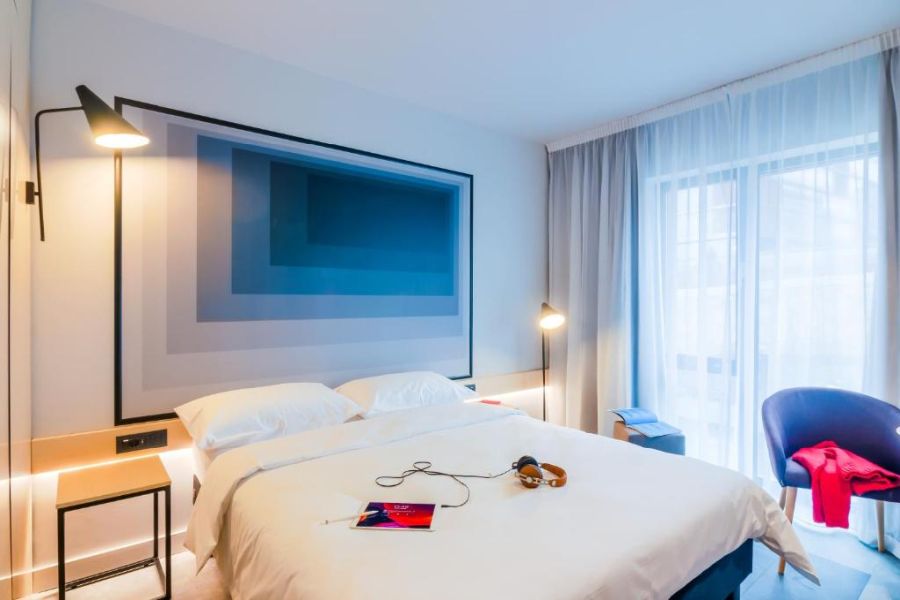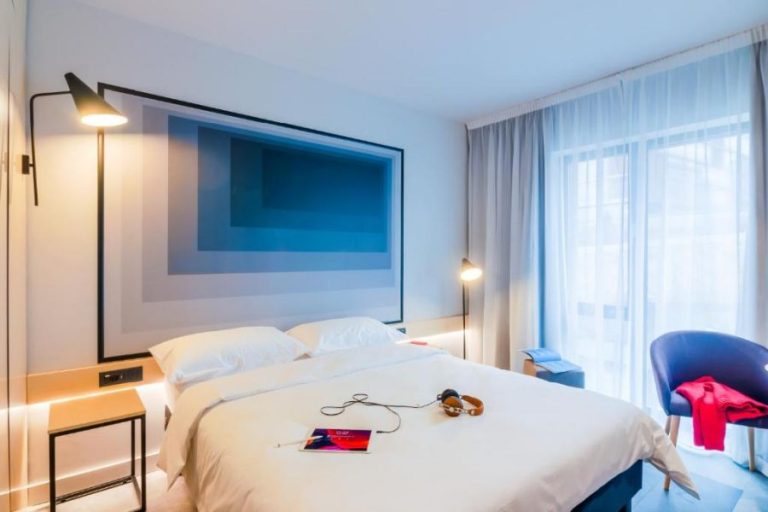 This hotel is located only 700m away from the Huniade Castle, which is literally in the city center, and is a great place to spend time with family or friends when visiting Timisoara.
I loved the common lounge available all the time, and the fact that all guests were allowed to have fun playing billiards and table tennis at the property. Nice, solid relaxation after a day of exploring the city.
Plus, the fact that I am a big fan of Ibis hotels wherever I happen to go is an added bonus. You kind of know what to expect if you've been in an Ibis hotel, and here you won't have any surprises.
I have to give some bonus points to this hotel for the overall minimalistic design, colorful, playful, but still simple and relaxing.
I also loved that the rooms were perfectly clean, and phonetically isolated so that nobody had to worry about talking or laughing too loud and disturbing other guests. Or being disturbed by them, that is!
Overall, The Ibis Hotel in Timisoara offers a lot of value for the money and is in a perfect location.
Click here to check prices for your dates.
5. Old Town Hotel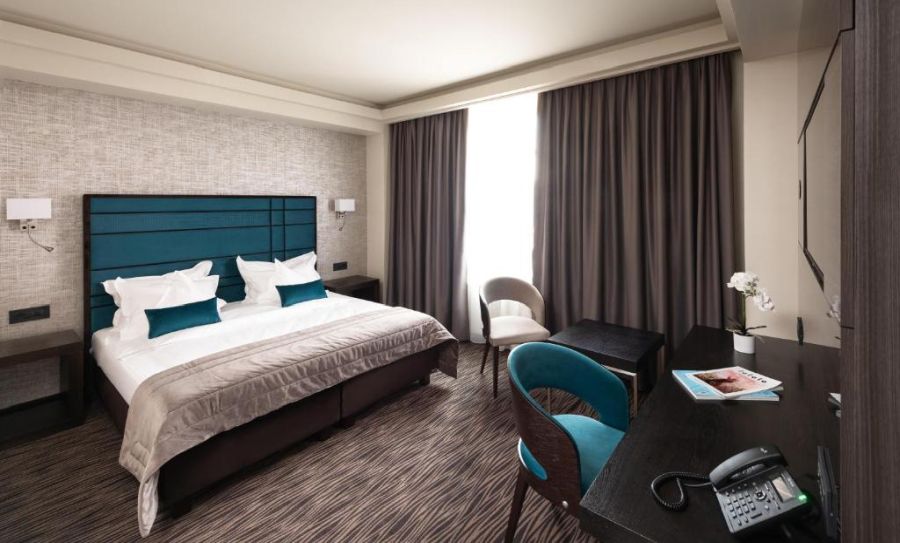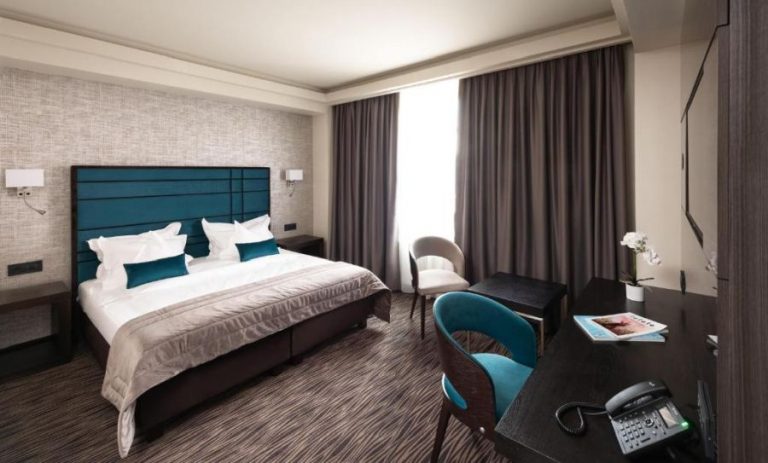 Another hotel in a central location, Old Town Hotel is one of my favorite stays in Timisoara for the extremely spacious rooms.
They are decorated with excellent taste, from small touches such as orchids and paintings, to the overall style and feeling.
Practically, everything about this hotel almost screams modernism and subtle refinement. The price matches this, but if you have a higher budget available, it's definitely worth it.
Every piece of furniture, from the comfortable beds to the night tables and colorful chairs, every lighting angle, every glass décor and every touch from the rooms and bathrooms is surrounded by a modern, beautiful and exquisite vibe. And that includes the big curtains and the big bathroom.
I also loved the hospitality of the staff in this hotel. The entire staff seemed to be trained really well, because they were permanently available, communicative, professional and careful to every single detail and need of their guests.
Click here to check prices for your dates.
Best Romantic Hotels in Timisoara
You may also choose Timisoara as a weekend or vacation destination for a romantic escapade.
If that's the case, since you might be spending more time indoors, you'll want amazing beds, romantic designs, great views and other amenities. A jacuzzi will never hurt, nor will a pool or other goodies that are perfect for couples.
More exactly, while you'll still be interested in visiting around and staying in a central area, you may also feel a bit more interested in the atmosphere of the hotel. So let's see the best romantic hotels in the city below!
1. Hotel Tresor Le Palais – Best Overall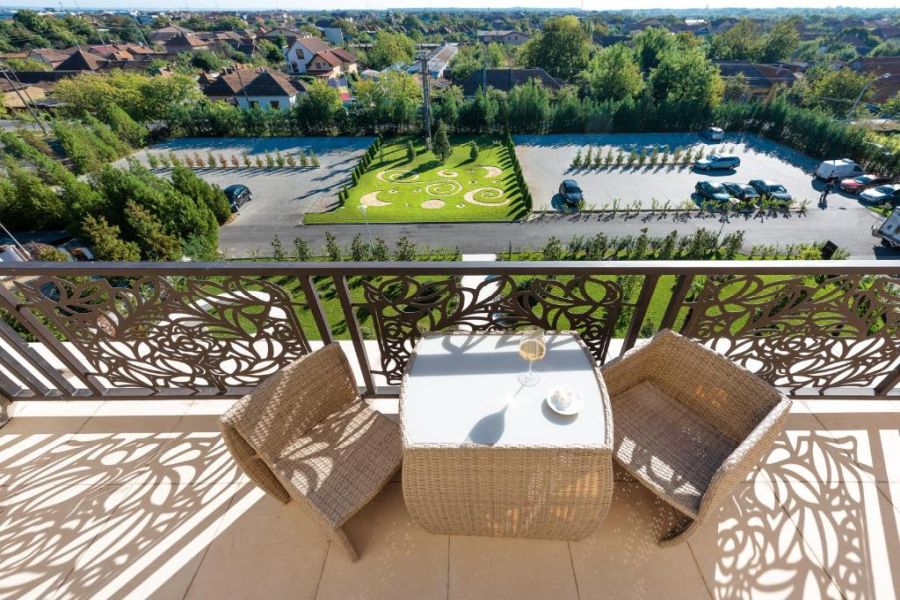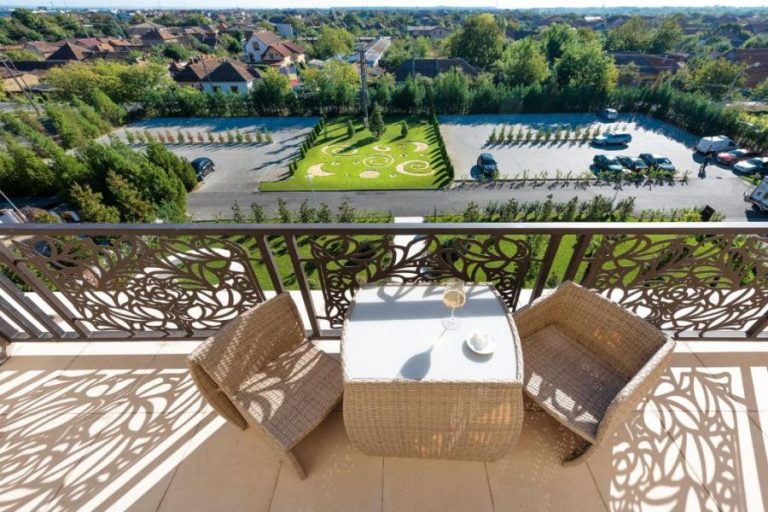 A bit more luxurious than the others on the list, Hotel Tresor Le Palais in Timisoara is a five-star vacation resort that has everything you need within its premises.
You will be treated like royalty here: it's a place where you can find the most amazing vibe, designs and amenities mixed with a romantic and exquisite taste.
Unique and amazing, it's a hotel you will definitely fall in love with – and it will help you fall in love with your partner once more.
In fact, I can go as far as saying that Hotel Tresor Le Palais may actually become a destination itself, regardless of its location in Timisoara.
With a spa center, jacuzzi, sauna, massage rooms, outdoor swimming pool, gym, terrace and fairy-tale like garden, it is the perfect place to spend some memorable days and nights with your beloved partner right there, even without exploring the rest of the city.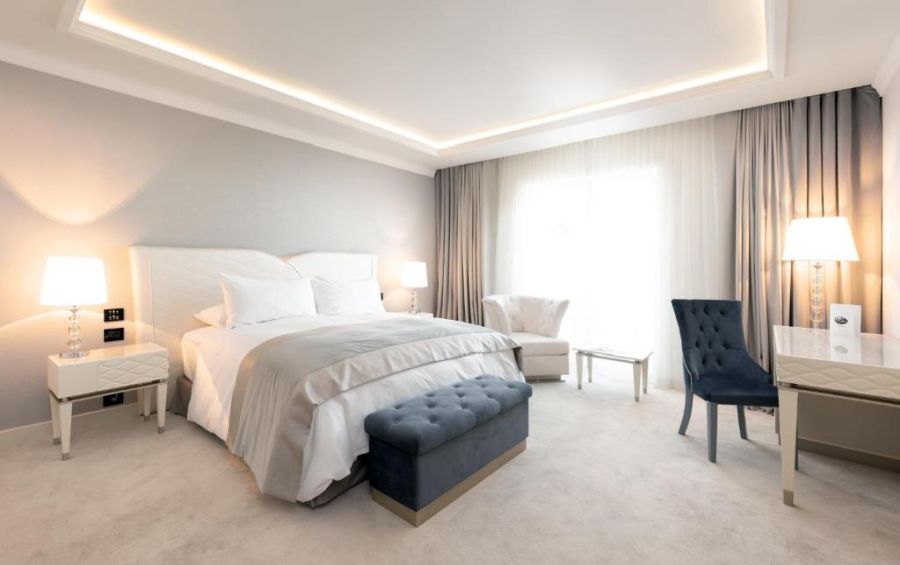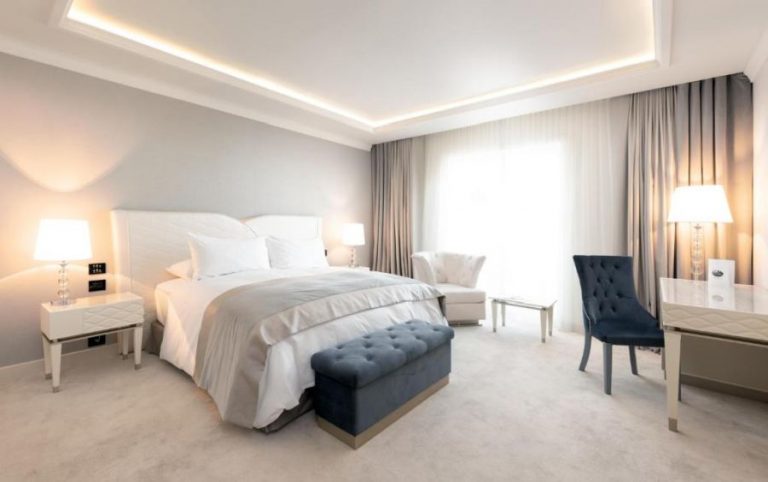 There are king-sized comfortable beds, soft bed sheets, exquisite shower cabins or bathroom designs and modern-vintage chairs and curtains. And, of course, impeccable cleanliness.
Last but not least, I simply adored how the cutting-edge technology was integrated in the entire hotel, adding a huge plus of comfort and modernism but still keeping that fairytale-vintage beautiful atmosphere and touch.
They implemented a Smart Home system, which offers you access to digital lighting, flat-screen TV, room service and other facilities with only one touch on the tablet. Simply amazing – although definitely not the cheapest option on the list.
Click here to check prices for your dates.
2. Hotel Del Corso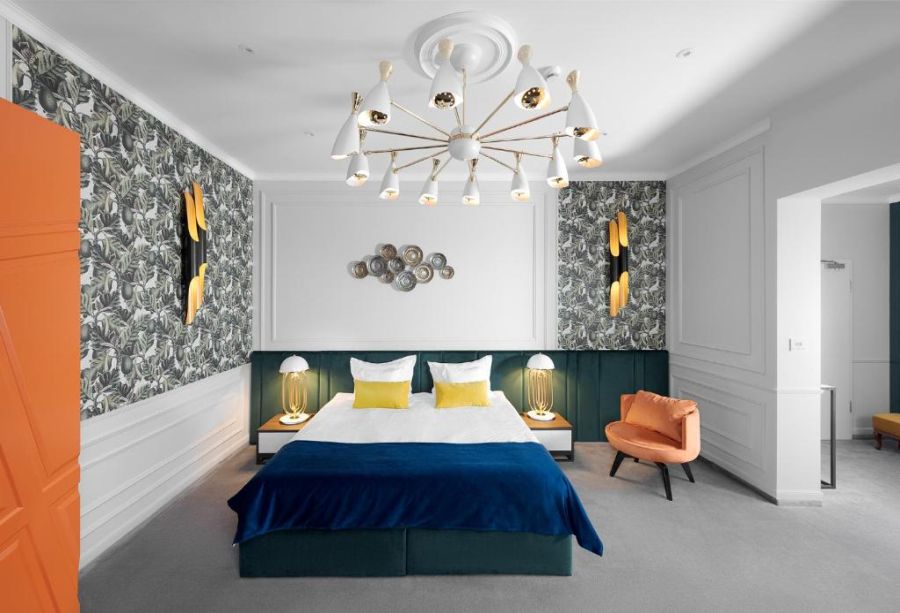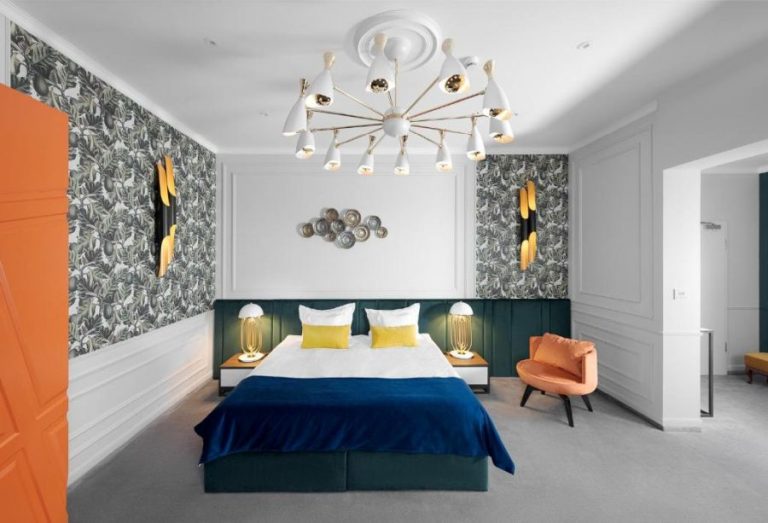 Let me start by telling you that Hotel Del Corso might have the most impressive, elegant, modern and welcoming dining area that I have ever seen in a hotel!
It's not like you're entering the restaurant of an accommodation facility, but a five-star restaurant with a sophisticated mix of natural, modern, cozy and luxuriant elements that give an overall unique design and atmosphere.
But besides this aspect, be sure that there are plenty of other reasons why I am recommending Hotel Del Corso as one of the best hotels in Timisoara. And one of them is, of course, the rooms!
Not only are they perfectly clean, comfortable and welcoming, with designs that offer the sensation of spacious, luminous rooms. They are also homey and warm with majestic and sensational chandeliers.
Overall, there is a feeling of luxury and beauty that Hotel del Corso generates to each guest, from the rooms to the shared lounge, bar and restaurant (where, by the way, they serve a very generous breakfast).
An inspired mixture of modern facilities with decoration elements of bohemian beauty. Certainly a choice that is worth all the money!
Click here to check prices for your dates.
3. Hotel Mercure Timisoara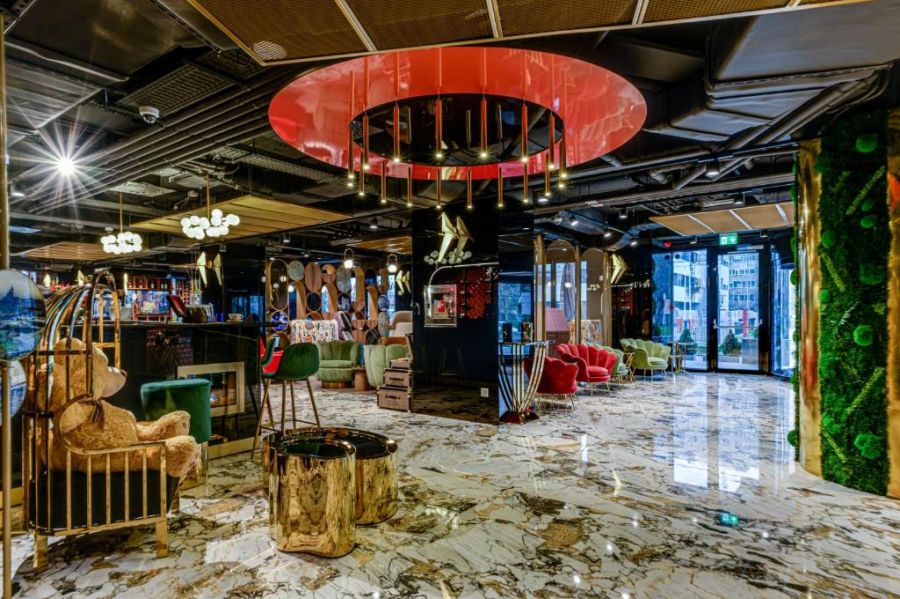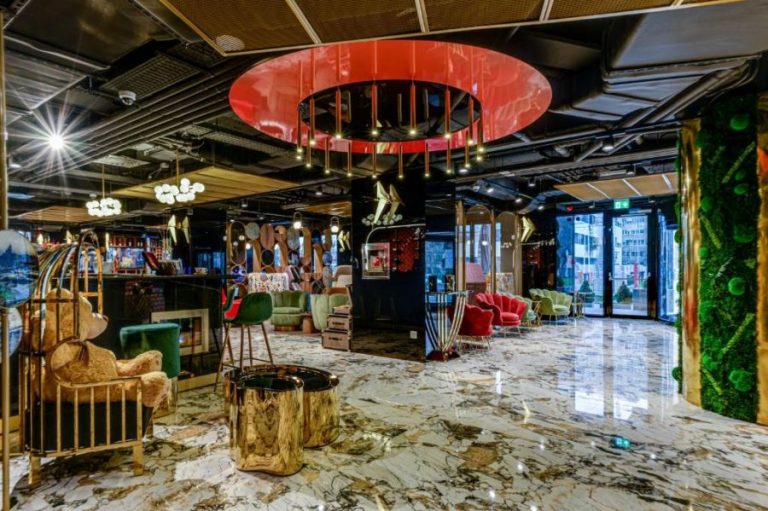 While I would be able to praise Hotel Mercure for lots of things, I want to start with the rooms which are the best in my opinion.
They are huge, spacious, colorful, with warm lights and luxuriant yet comfortable pieces of furniture.
But what makes this place unique, at least in my opinion, are the oriental motifs.
Chairs, curtains, carpets, mirrors, wall decors, all seem to have an oriental influence that highlights the comfort and beauty of each room.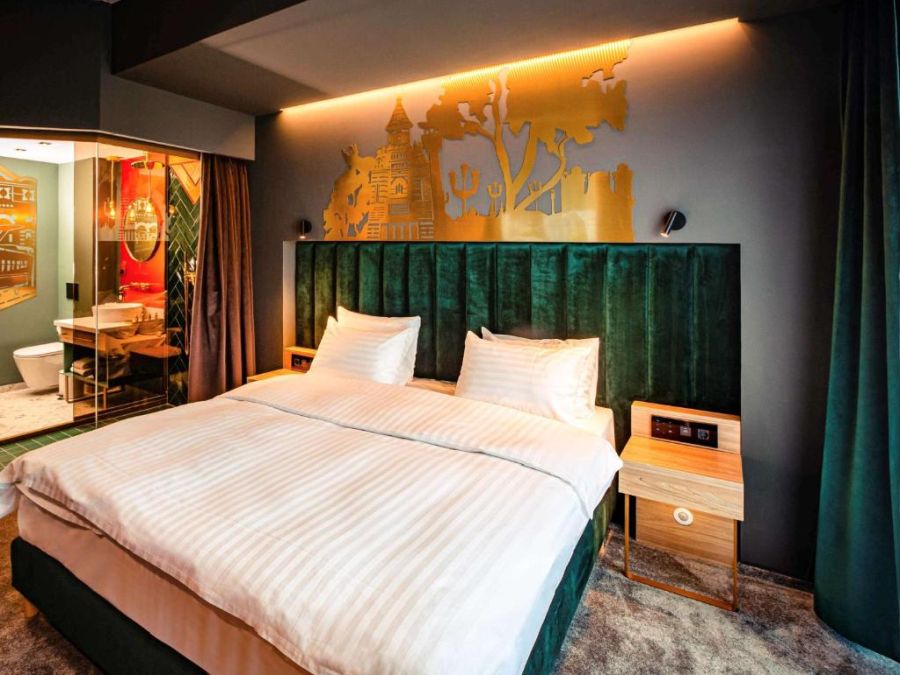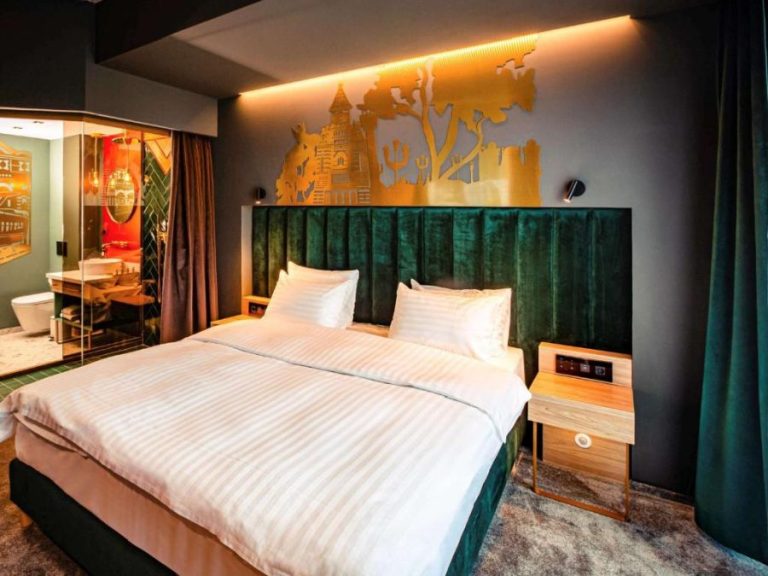 Another thing that has to be mentioned – which is not something I am particularly fond of – is the transparent/glass wall to the bathroom. I can think of some situations where this could be beneficial, but others might not be as pleasant.
Fortunately, there are large drapes that you can pull over to reclaim privacy in the bathroom so you're not forced to full transparency if you don't want it.
Besides the visual enhancement of the hotel, there's also a technological advantage that I am sure you will love just as much as I did about this stay.
And that is the smart home incorporated system, which offers you almost complete digital control of your comfort and stay at this place.
Additionally, each room has a mini-bar, free toiletries, a desk, flat-screen TV and a coffee machine. Everything you need!
Click here to check prices for your dates.
Conclusion
It is a huge list, I know – but Timisoara does have a lot to offer in terms of amazing accommodation for the money. But these are definitely the best places to stay while visiting and you have options for both ends of the budget, as well as plenty in the middle.
If you are looking for more long-term accommodation – if you're moving to the city, for example – make sure to look at the best neighborhoods to live in Timisoara.
If not, any of the hotels above will provide an unforgettable experience, for sure!