If you're visiting Timisoara, let me tell you that you've made an amazing choice, and there is no way that you'll get bored in this city! But to get the most out of it, where you stay is extremely important. And this is exactly what we're talking about today – the best hotels for the money in Timisoara.
After exploring the cultural and historical parts of the city, after enjoying local festivals or walking on a guided tour, after treating yourself with a delicious meal at one of the top restaurants in town, you'll want a nice & quiet place to rest, to reflect upon your freshly created memories and to get ready for the next day.
And that makes your hotel a top priority with a huge importance for your stay. So here I am, ready to tell you where to stay during your visit in Timisoara.
I am making some of the recommendations for the simple reason that they are close to the city center, others are amongst the best for the luxuriant, exquisite designs, comfort and features. And all of them are fairly priced to say the least.
If you don't have the time to go through the entire list, decide between Hotel Timisoara (more budget friendly) or Hotel Tresor Le Palais (more luxury). You can't go wrong with either, since they are in beautiful locations and offer great value for the money.
If you want to have more options and also find out more about each of these best hotels in Timisoara, you'll have to read on.
So let's not waste a single second and instead let's check out these great places to stay in Timisoara.
Best Timisoara Hotels for Vacations / Shorter stays
I think that one of the most important things to consider when staying in Timisoara during a leisure trip, when the main objective is to visit as many places as possible, is the location.
No matter how amazing your stay is, it will always be better if it will be located centrally, so you can enjoy everything the city has to offer at only few steps away from your room.
So these recommendations will all be close to the city center, the Bega River or Iulius Mall, where the top things to do and see in Timisoara are located. This makes them ideal for exploring the city and all it has to offer.
1. Hotel Timisoara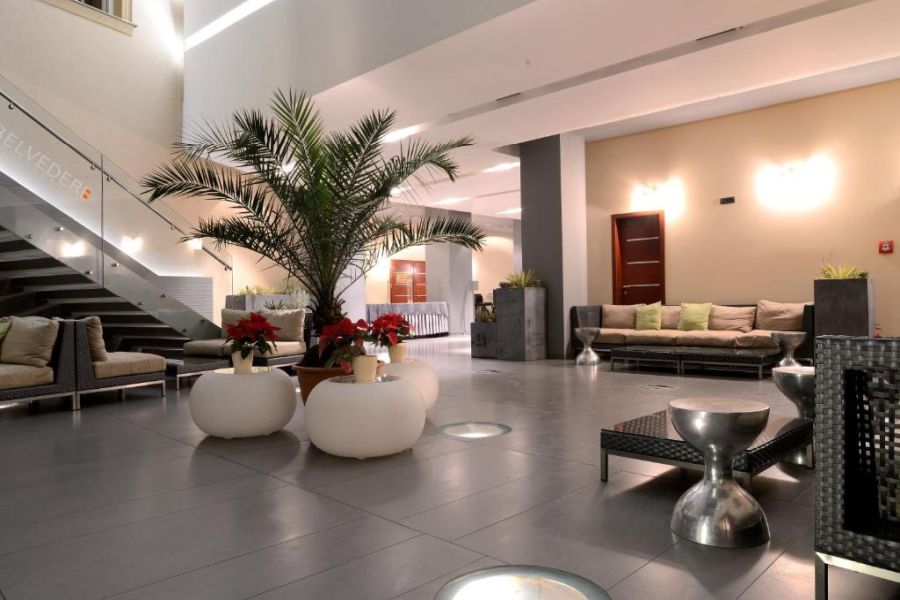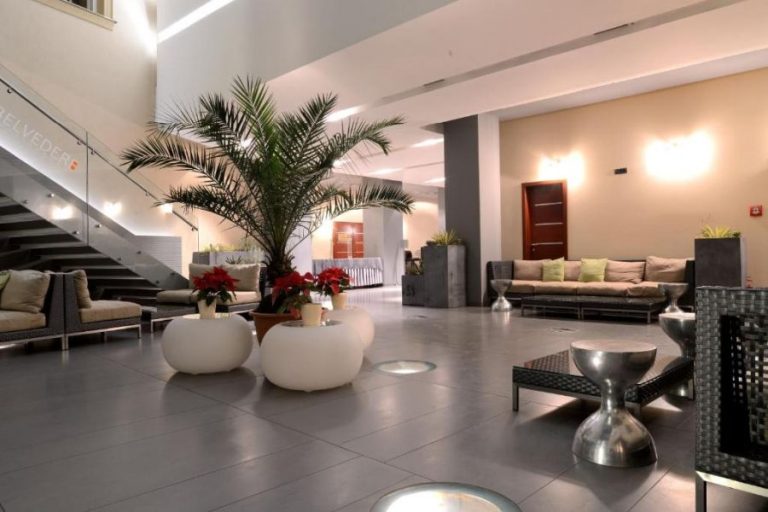 My top recommendation is practically the most central hotel you can find in Timisoara, situated right in heart of the city.
In fact, some of the rooms have a perfect view of the entire Victoria Square, while others are oriented towards the National Romanian Opera House. Amazing views, in other words!
The first time I entered this hotel, I didn't even get the feeling that I was entering the building of my accommodation. It felt like stepping on the stairs of a Romanian palace such as Peles Castle or Pelisor Castle. It's that nice!
I don't know if I made this association because of the warm vibe that envelops every guest that enters the building, due to the warm palette of colors in which it's designed, the multitude of halls, stairs and rooms, the big mirrors, or due to the stairs covered in red carpet, creating a homey atmosphere. But the result was a general feeling of comfort, peace and safety.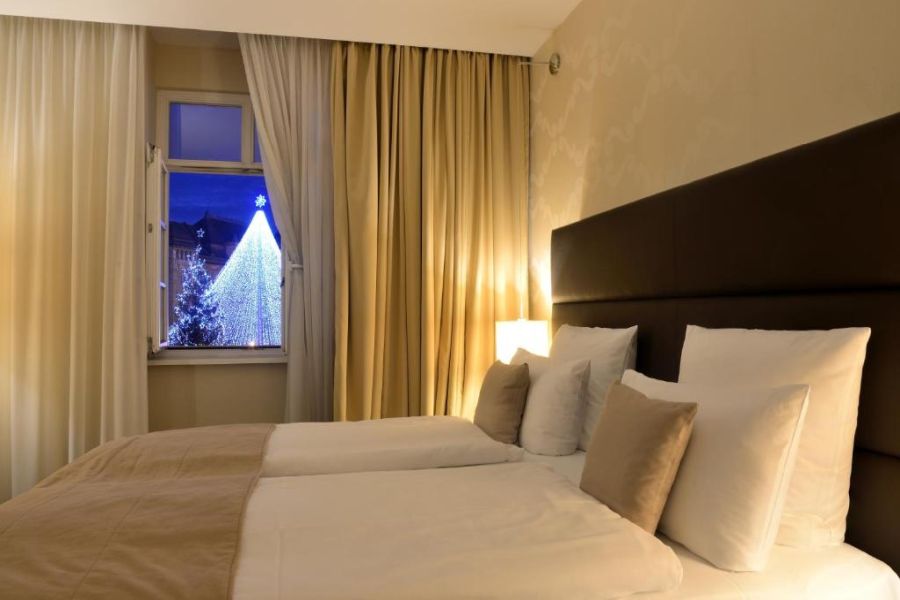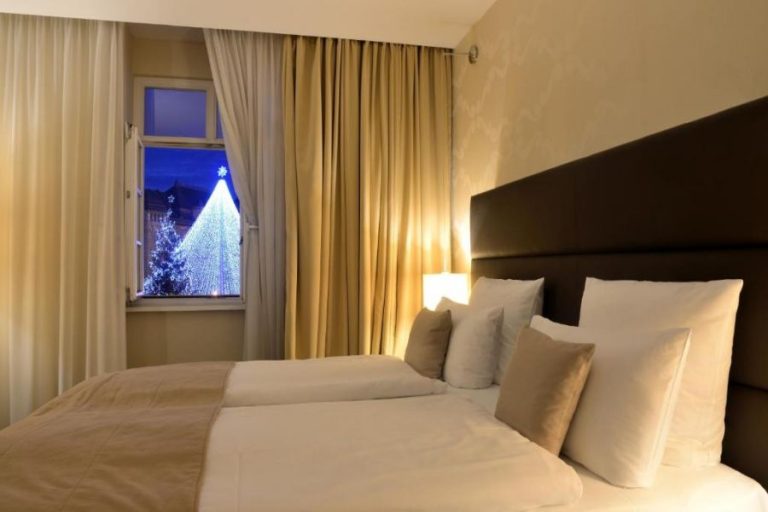 Rooms follow trend as well: all are designed in a luxuriant yet subtle style, with homey touches: tall lamps, comfortable armchairs, large desks and modern TVs. And, the most important part: amazing beds for total relaxation.
Furthermore, it offers a spa and wellness center, pool and a restaurant where you can taste a wide variety of Romanian food, but also continental cuisine or Bulgarian, Turkish or Italian dishes.
I'm sure you will love this stay no matter the purpose or the duration of your visit. There's nothing you can't love about this place, starting from the amenities and design of the rooms, to the accommodation itself and the facilities offered and all the way to to the delicious dishes. Just perfect!
Click here to check prices for your dates.
2. Ibis Timisoara City Center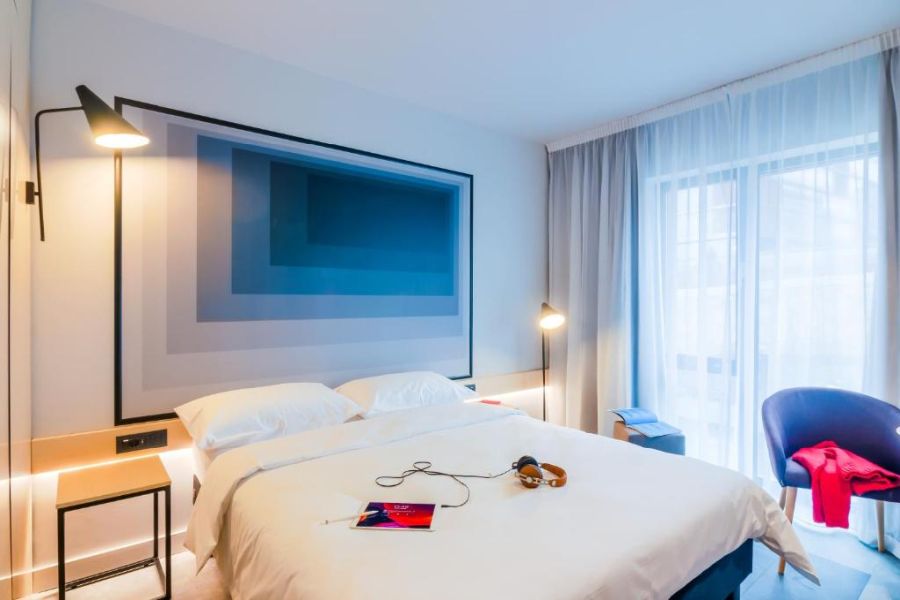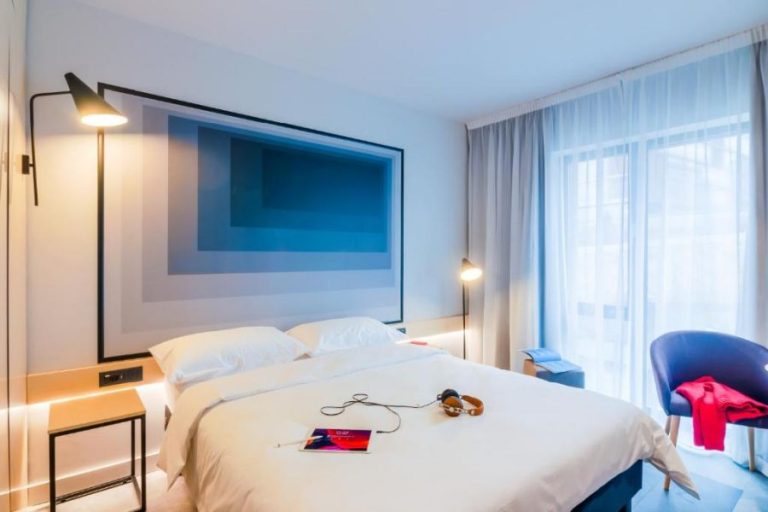 This hotel is located only 700m away from the Huniade Castle, which is literally in the city center, and is a great place to spend time with family or friends when visiting Timisoara.
I loved the common lounge available all the time, and the fact that all guests were allowed to have fun playing billiards and table tennis at the property. Nice, solid relaxation after a day of exploring the city.
I have to give some bonus points to this hotel for the overall minimalistic design, colorful, playful, but still simple and relaxing. It's definitely something unique and if you read any of my previous hotel recommendations, you know that I always enjoy staying at Ibis hotels.
While it isn't entirely spectacular, the hotel has young, modern vibes. I also loved that the rooms were perfectly clean, and phonetically isolated so that nobody had to worry about talking or laughing too loud and disturbing other guests. Or being disturbed by them, that is!
The hotel also has breakfast included in the price and it is absolutely delicious. They have a huge variety of options at the Swedish buffet in the morning, which you can enjoy either at the terrace or in the beautifully arranged lounge.
Overall, The Ibis Hotel in Timisoara offers a lot of value for the money and is in a perfect location.
Click here to check prices for your dates.
3. Old Town Hotel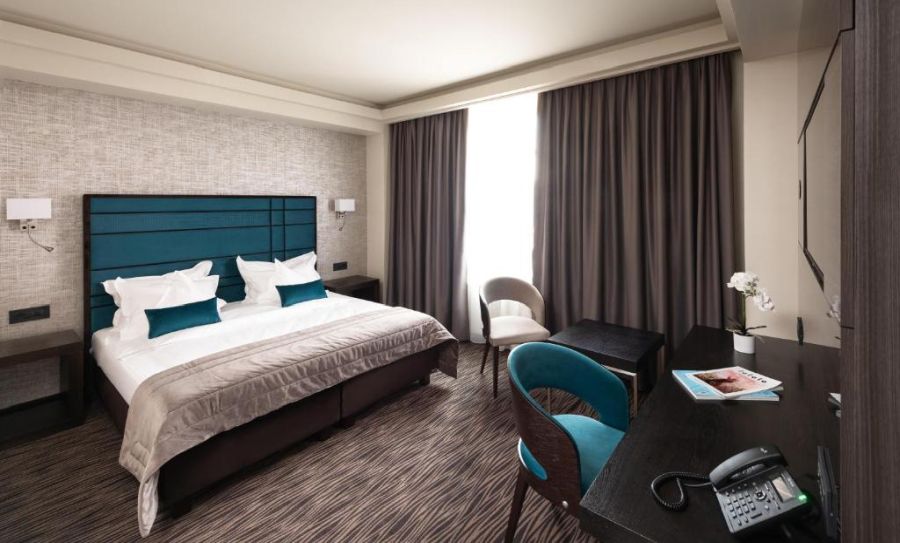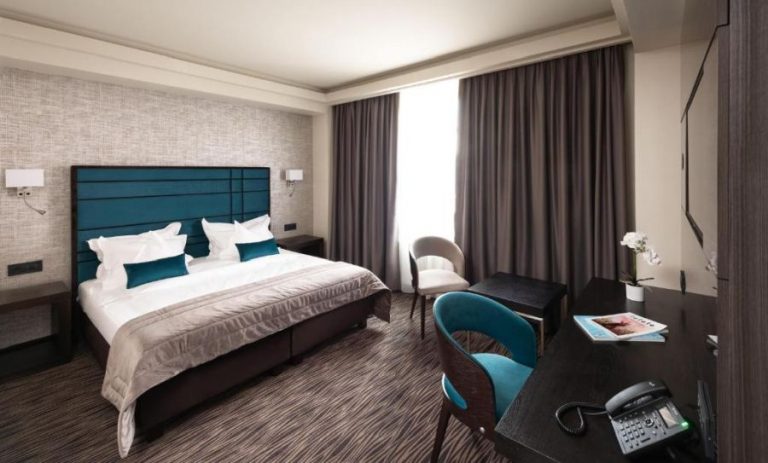 Another hotel with central location, Old Town Hotel is one of my favorite stays in Timisoara for the extremely spacious rooms. They are decorated with excellent taste, from small touches such as orchids and paintings, to the overall style and feeling.
Practically, everything about this hotel almost screams modernism and subtle refinement.
Every piece of furniture, from the comfortable beds to the night tables and colorful chairs, every lighting angle, every glass décor and every touch from the rooms and bathrooms is surrounded by a modern, beautiful and exquisite vibe. And that includes the big curtains and the big bathroom.
I also loved the hospitality of the staff in this hotel. The entire staff seemed to be trained really well, because they were permanently available, communicative, professional and careful to every single detail and need of their guests.
Oh, and I really appreciated the smart TV in the room. YouTube and Netflix were available, which is an important aspect, especially for young people who prefer these platforms instead of the classic cable programs in order to get some good sleep or a relaxing movie night after long walks on the historical streets of Timisoara.
Click here to check prices for your dates.
Best Hotels in Timisoara for Business Trips & Events
If you visit Timisoara for business, you can definitely choose any of the hotels above, but the ones I'll be recommending next have a more business vibe associated to them.
Plus, due to the amenities they offer and their location, they are perfect for anything from conferences to team-building events, or attending a wedding.
These hotels are well known for the high standards offered to people coming here with business. They are quiet, beautiful and offer special features and services that will help your stay to be as productive and successful as possible.
So here you have the best hotels for money in Timisoara, if you're traveling for work, business meetings, team-building or other big events.
1. Hotel Continental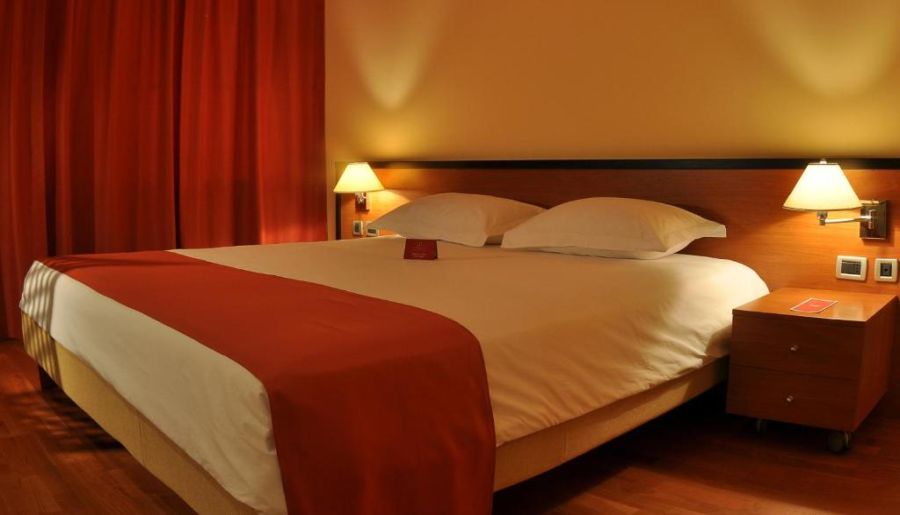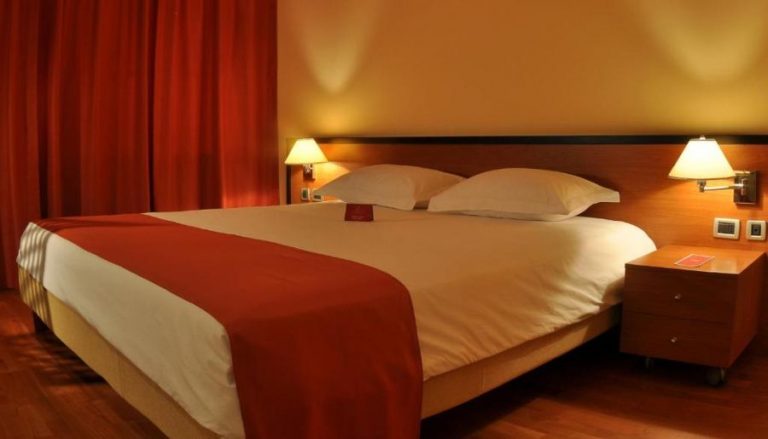 It is one of the most well-known, reputable and appreciated hotels in the entire city, if not the most popular from Timisoara.
Hotel Continental is frequently the first-choice professionals make when it comes to picking up a hotel for presentations, meetings or team-building activities in town. And, at the same time, it's one of the first choices as wedding locations or for other big celebrations.
Therefore, if you're traveling to Timisoara for any of these purposes, you may want to place Hotel Continental amongst your first options.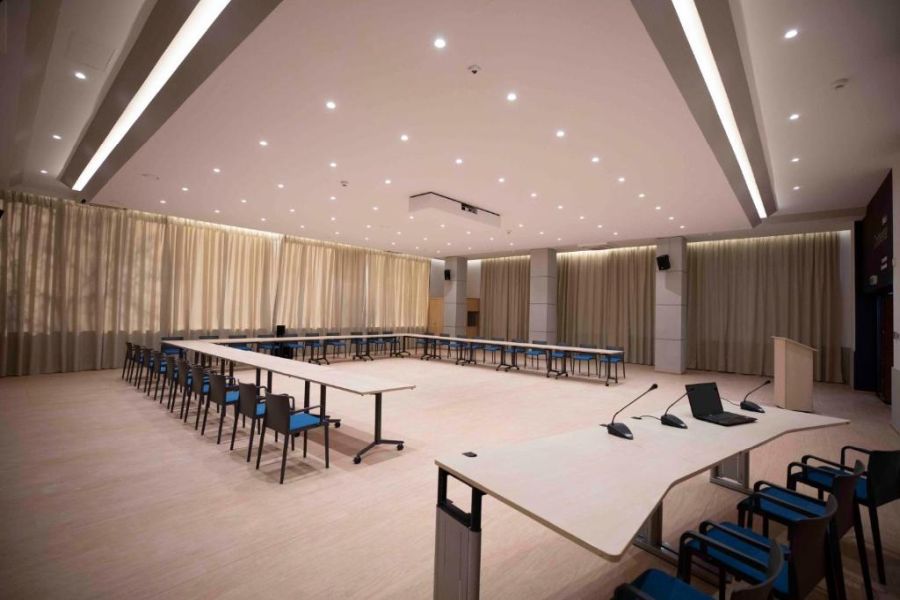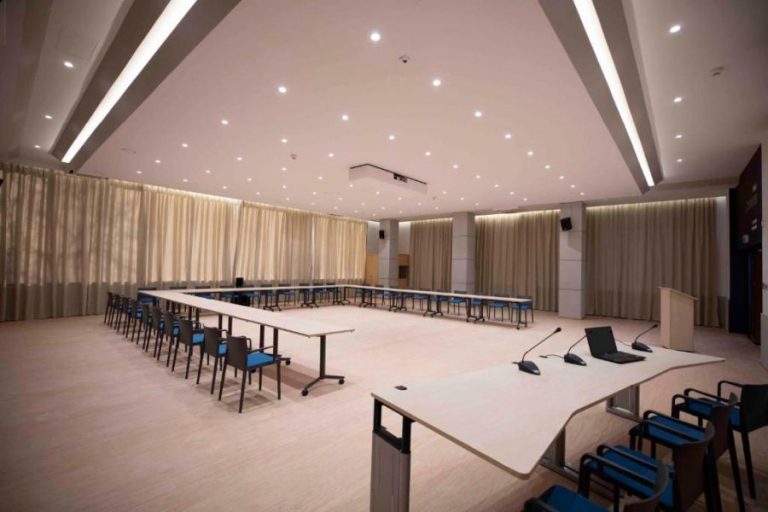 It also provides a fitness center of 1000m² with workout rooms and amazing gym amenities, a beauty salon, a lobby bar, indoor & outdoor swimming pools and a high-end restaurant with impressive cuisine from the Romania and Europe.
Personally, I loved their dishes with every occasion I had to eat in their restaurant.
As for the rooms where you will actually stay and sleep, the best way to describe the comfort and atmosphere is high standards.
Even though this was a communist hotel, it has been upgraded and now you will feel that you're getting a lot for your money: luxury for a good price.
Click here to check prices for your dates.
2. NH Timisoara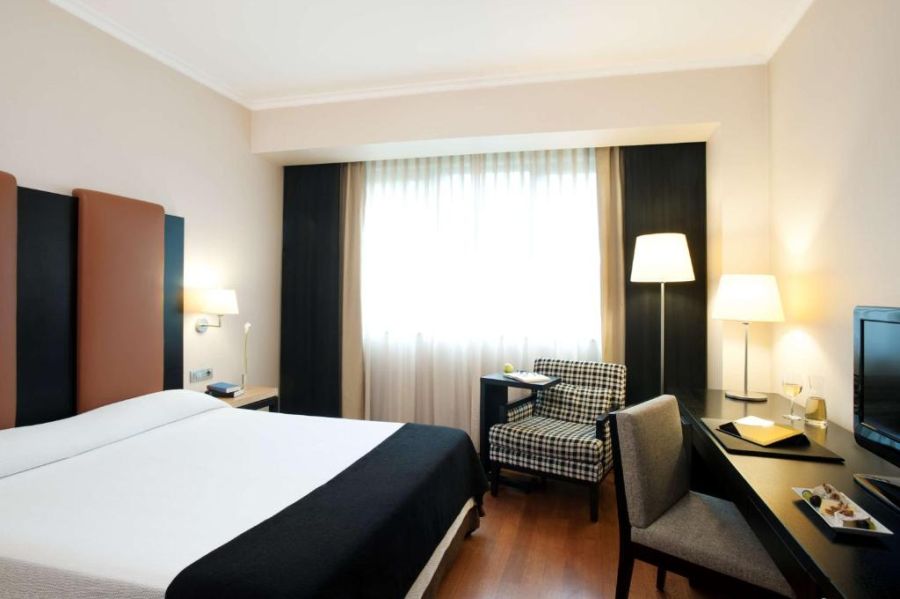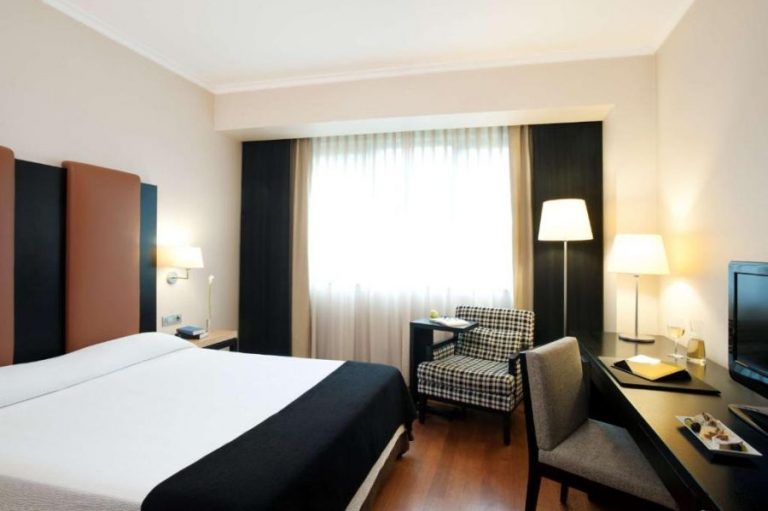 The thing that I loved the most about hotel NH Timisoara is that it goes for a minimalist, yet practical design.
Sometimes, the most beautiful, comfortable and memorable places are those with a simple design, where the warm, professional and modern atmosphere take over to make you feel welcome.
I always consider that minimalistic designs boost inspiration and focus, especially on business trips, and this is also what I highly appreciated about the rooms from NH Timisoara.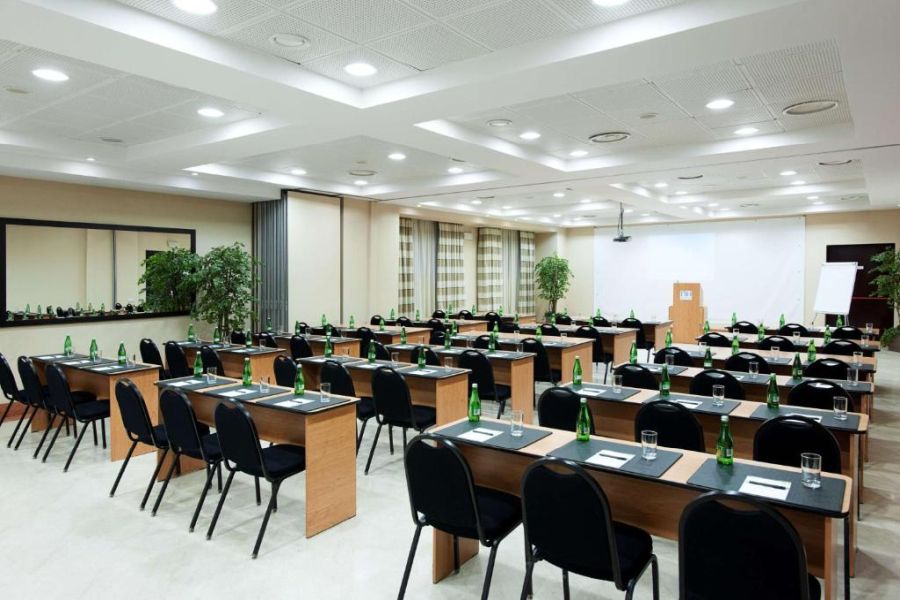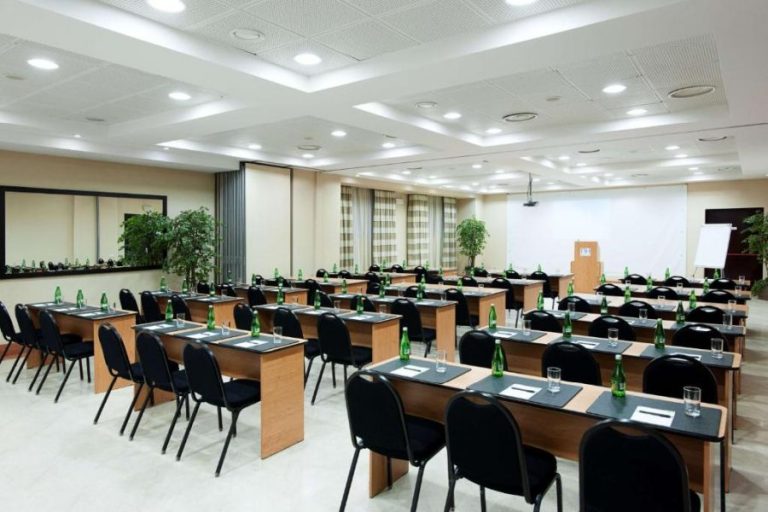 From the reception hall, where you are greeted by highly professional and polite staff, to the beautiful rooms, with desks and comfortable chairs where you can work in peace, the location is defined by elegant simplicity.
Rooms are equipped with wooden floors, TV, AC and a minibar, although you will have the possibility to enjoy amazing international/traditional dishes at the restaurant or bar of the hotel.
Click here to check prices for your dates.
3. Best Western Plus Lido Hotel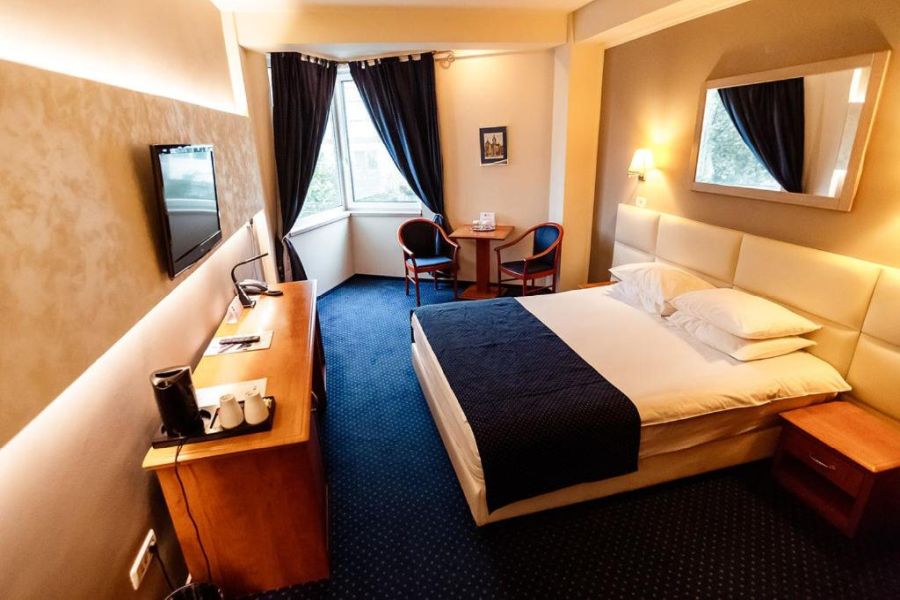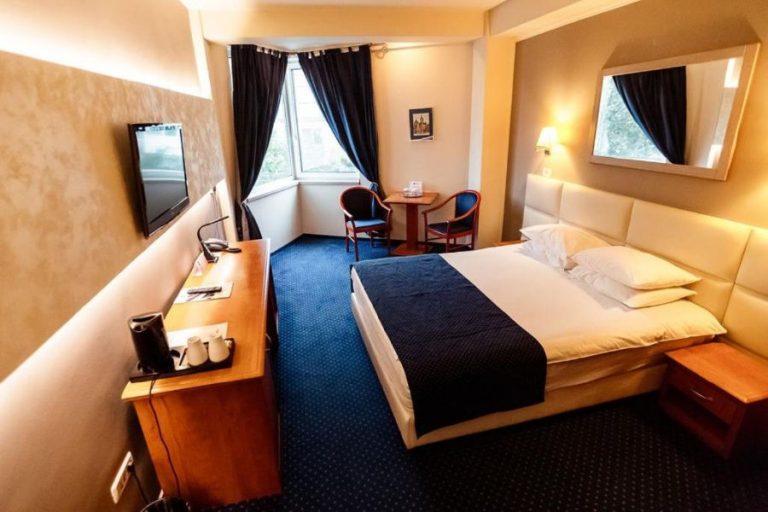 Lastly, I strongly recommend that you consider Best Western Plus Lido Hotel if organizing memorable events or important business trips is your goal.
Even though it's not as centrally located as NH Timisoara or Hotel Continental, Lido Hotel remains one of the best hotels for the money in Timisoara, with huge capacity and stunning amenities, including a gym, a hot tub, a sauna and a rooftop plunge pool.
The halls and conference rooms available for events and presentations at Lido Hotel vary in dimension and capacity, but they all have in common the magical, festive vibe that recommends this place as a perfect photoshoot location, a great choice for negotiations or business meetings, and an equally amazing choice for parties and celebrations.
As for their restaurant, they have one of the widest variety of menus and dishes in Timisoara, starting from traditional Romanian cuisine to options from the Mediterranean or Asian culture.
I remember how much I loved the generous portions of the entire menu I served here during an event I attended – so you can definitely trust them on serving the most delicious dishes.
Due to a modern design that certainly meets European standards, with carpeted rooms, cozy furniture, modern facilities and warm, vibrating colors, the rooms are a perfect place to relax.
They are minimalist, yet elegant, with great lighting and beautiful wallpapers. Great both to sleep and to work, because desks and comfortable chairs aren't missing.
What I loved about the rooms of Best Western Plus Lido Hotel was the shape of the walls. It's not the classical four-walls square-shaped room that traditional hotels have got you used to; in fact, most of the rooms have non-conformist designs, with round walls, curved in various shapes, offering the sensation of bigger space and warmer atmosphere.
Click here to check prices for your dates.
Best Hotels in Timisoara for Romantic Stays
You may also choose Timisoara as a weekend or vacation destination for a romantic escapade.
Because of the fact that Timisoara is a town of the youth, having lots of parks, green areas, romantic views upon sunsets reflecting in Bega River, and due to its generally fresh, young vibe, it is also an amazing choice for couple vacations.
If you're traveling to Timisoara with your partner, I'm sure that your requirements and expectations for your hotel will also vary a bit from those we discussed above. Although, you'll surely still love any of the ones recommended above.
However, since you might be spending more time indoors, you'll want amazing beds, romantic designs, great views and other amenities. A jacuzzi will never hurt, nor will a pool or other goodies that are perfect for couples.
More exactly, while you'll still be interested in visiting around and staying in a central area, you may also feel a bit more interested in the atmosphere of the hotel. So let's see the recommendations below!
1. Hotel Tresor Le Palais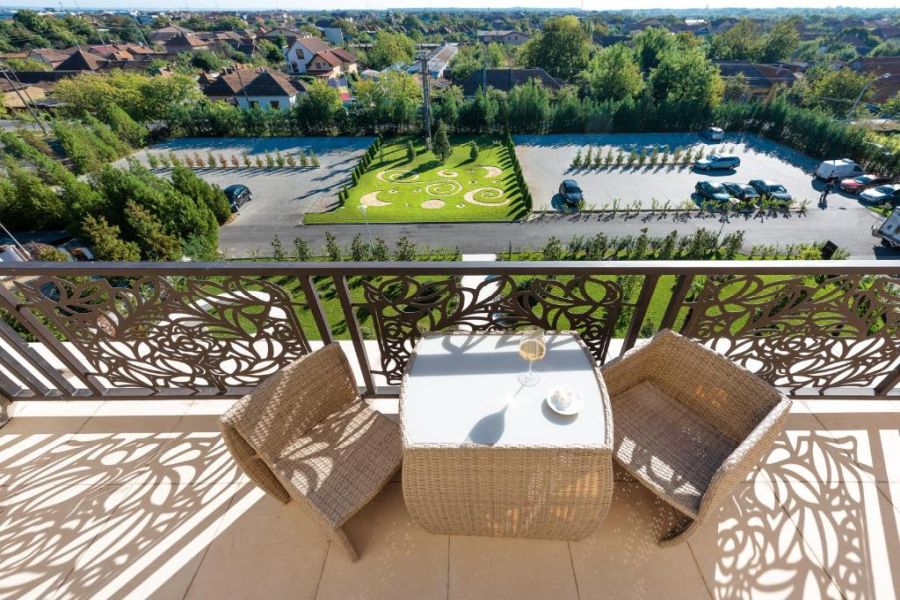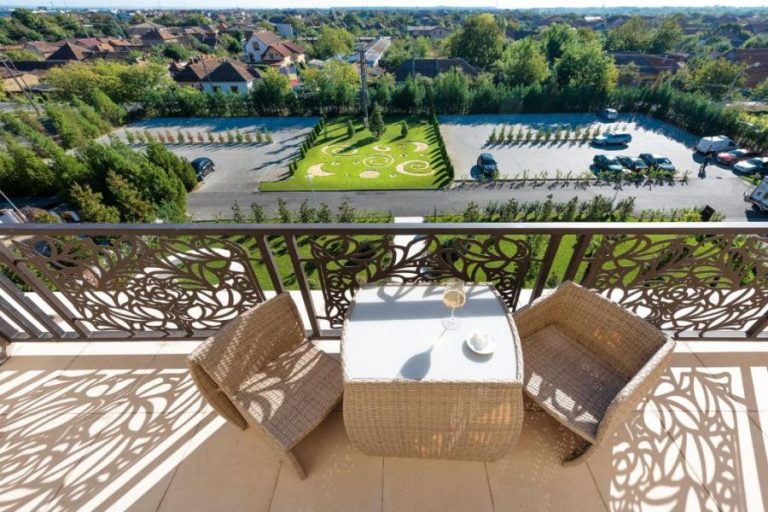 A bit more luxuriant than the other on our list, Hotel Tresor Le Palais in Timisoara feels like a five-star vacation resort that has everything you need within its premises.
You will be treated like royalty here: it's a place where you can find the most amazing vibe, designs and amenities mixed with a romantic and exquisite taste.
Unique and amazing, it's a hotel you will definitely fall in love with – and it will help you fall in love with your partner once more.
In fact, I can go as far as saying that Hotel Tresor Le Palais may actually become a destination itself, regardless of its location in Timisoara.
With a spa center, jacuzzi, sauna, massage rooms, outdoor swimming pool, gym, terrace and fairy-tale like garden, it is the perfect place to spend some memorable days and nights with your beloved partner right there, even without exploring the rest of the city.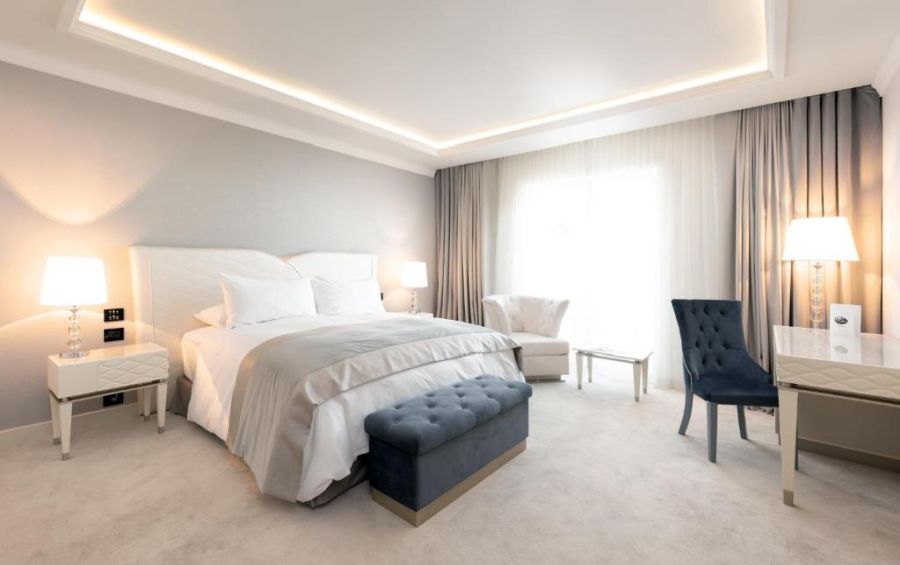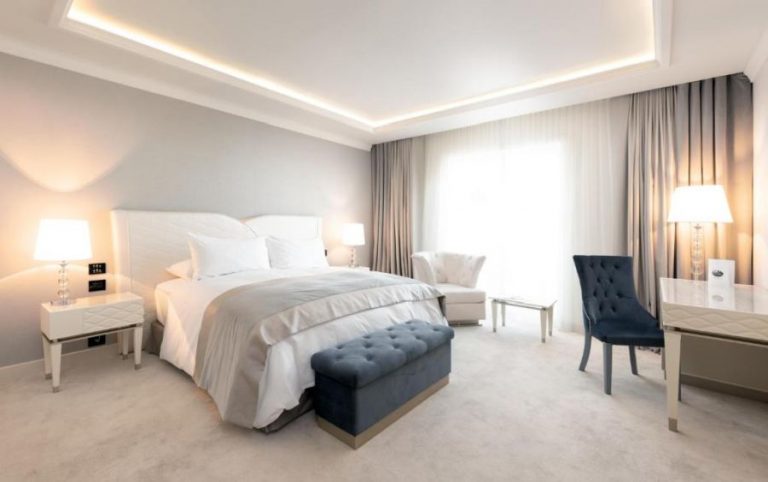 There are king-sized comfortable beds, soft bed sheets, exquisite shower cabins or bathroom designs and modern-vintage chairs and curtains. And, of course, impeccable cleanliness.
Last but not least, I simply adored how the cutting-edge technology was integrated in the entire hotel, adding a huge plus of comfort and modernism but still keeping that fairytale-vintage beautiful atmosphere and touch.
They implemented a Smart Home system, which offers you access to digital lighting, flat-screen TV, room service and other facilities with only one touch on the tablet. Simply amazing – although definitely not the cheapest option on the list.
Click here to check prices for your dates.
2. Hotel Del Corso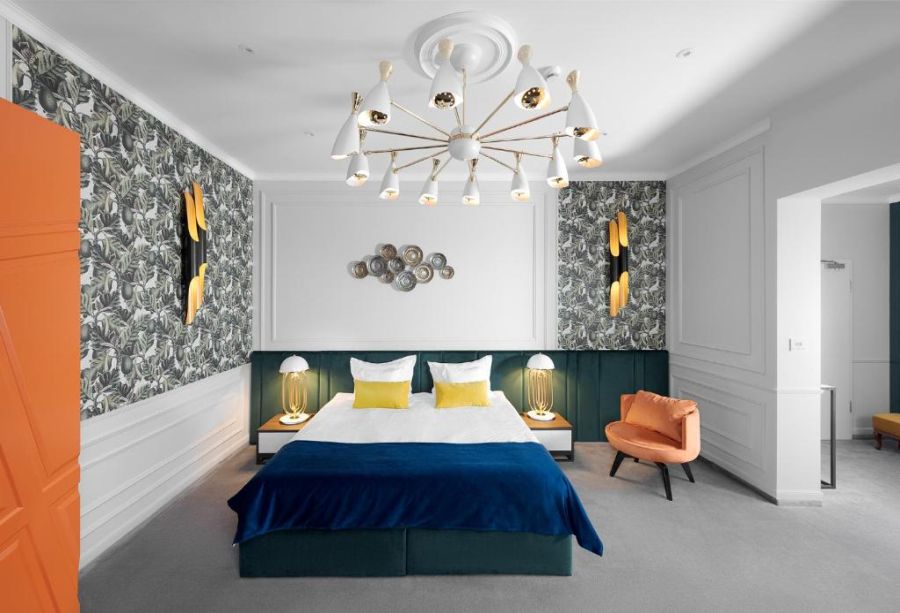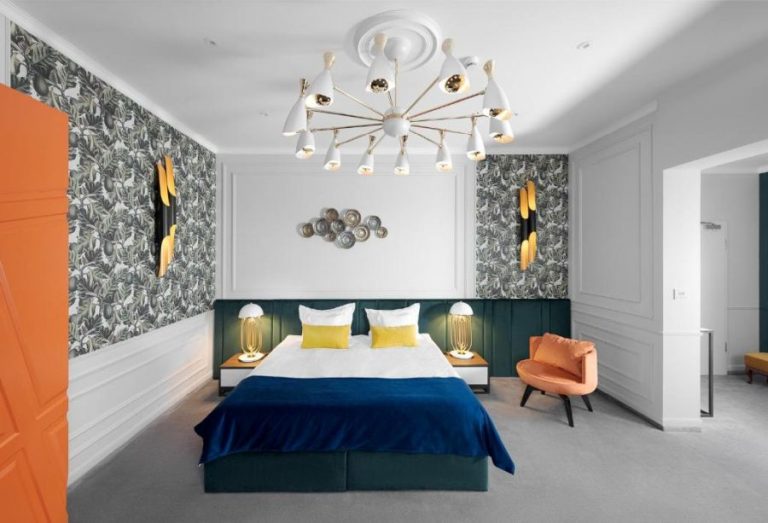 Let me start by telling you that Hotel Del Corso might have the most impressive, elegant, modern and welcoming dining area that I have ever seen in a hotel!
It's not like you're entering the restaurant of an accommodation facility, but a five-star restaurant with a sophisticated mix of natural, modern, cozy and luxuriant elements that give an overall unique design and atmosphere.
But besides this aspect, be sure that there are plenty of other reasons why I am recommending Hotel Del Corso as one of the best hotels for the money in Timisoara. And one of them is, of course, the rooms!
Not only are they perfectly clean, comfortable and welcoming, with designs that offer the sensation of spacious, luminous rooms. They are also homey and warm with majestic and sensational chandeliers.
Overall, there is a feeling of luxury and beauty that Hotel del Corso generates to each guest, from the rooms to the shared lounge, bar and restaurant (where, by the way, they serve a very generous breakfast).
An inspired mixture of modern facilities with decoration elements of bohemian beauty. Certainly a choice that is worth all the money!
Click here to check prices for your dates.
3. Hotel Mercure Timisoara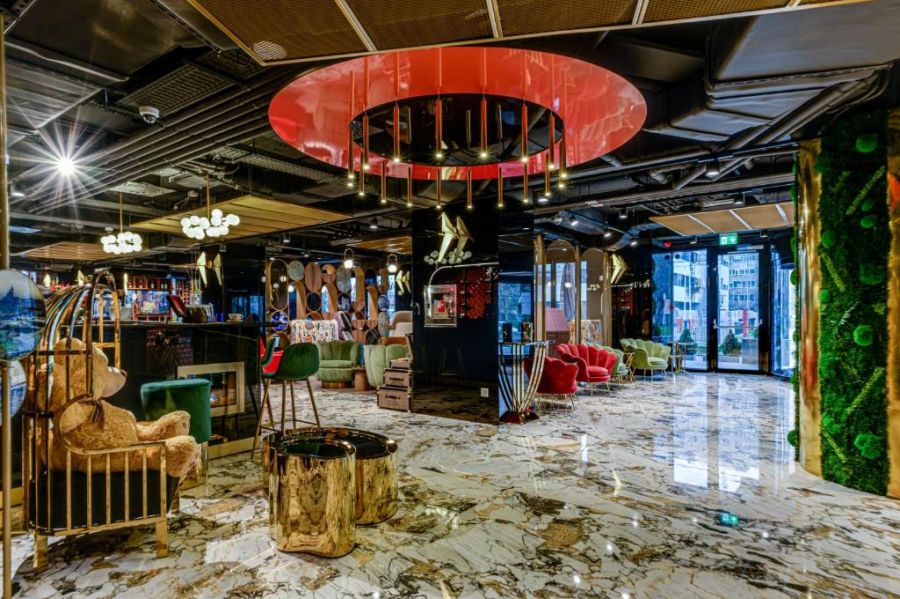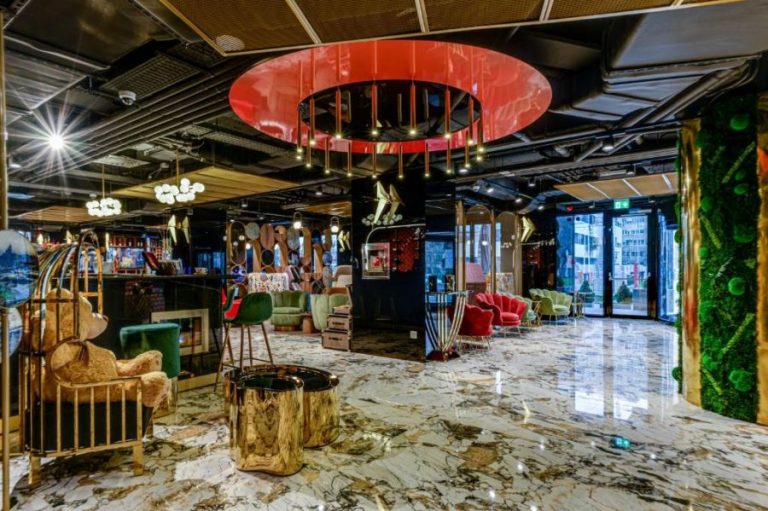 While I would be able to praise Hotel Mercure for lots of things, I want to start with the rooms which are the best in my opinion.
They are huge, spacious, colorful, with warm lights and luxuriant yet comfortable pieces of furniture.
But what makes this place unique, at least in my opinion, are the oriental motifs.
Chairs, curtains, carpets, mirrors, wall decors, all seem to have an oriental influence that highlights the comfort and beauty of each room.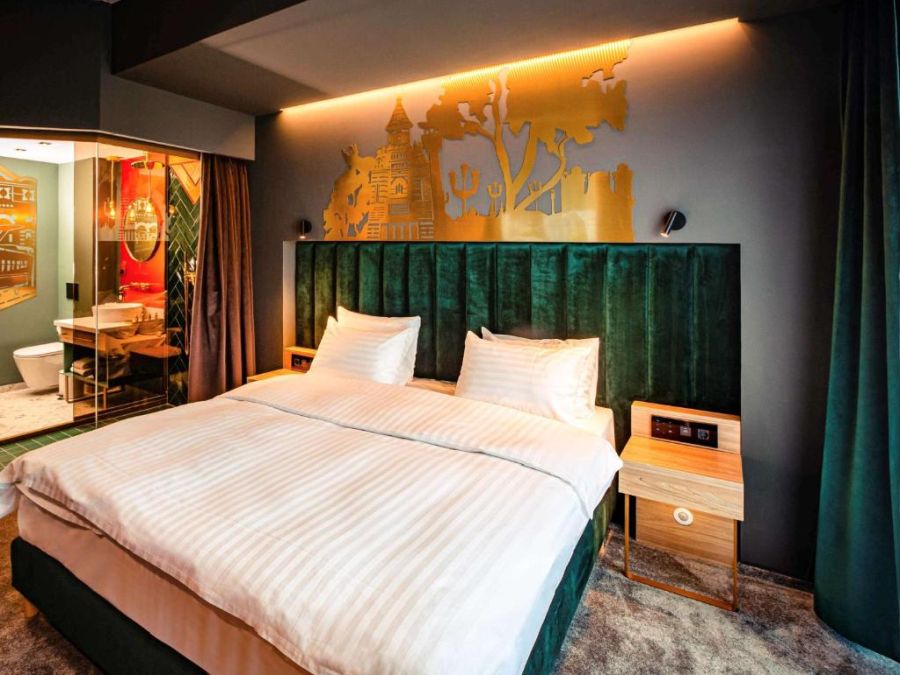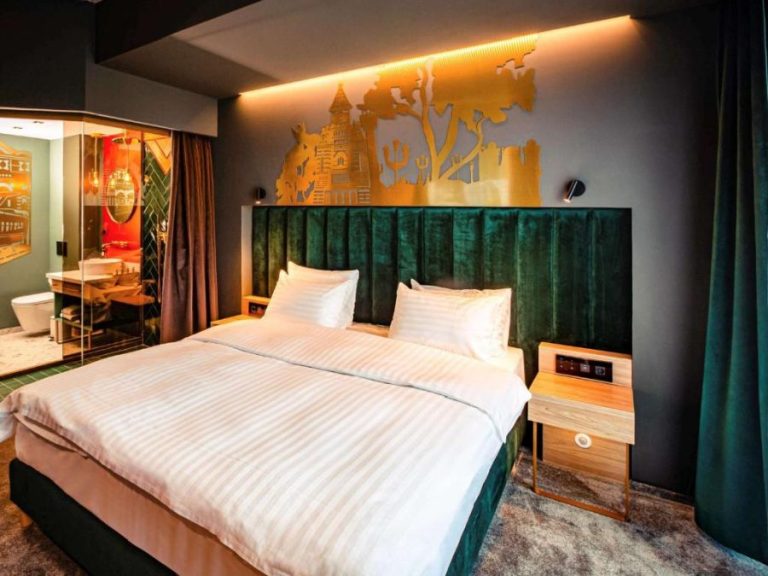 Another thing that has to be mentioned – which is not something I am particularly fond of – is the transparent/glass wall to the bathroom. I can think of some situations where this could be beneficial, but others might not be as pleasant.
Fortunately, there are large drapes that you can pull over to reclaim privacy in the bathroom so you're not forced to full transparency if you don't want it.
Besides the visual enhancement of the hotel, there's also a technological advantage that I am sure you will love just as much as I did about this stay.
And that is the smart home incorporated system, which offers you almost complete digital control of your comfort and stay at this place. Additionally, each room has a mini-bar, free toiletries, a desk, flat-screen TV and a coffee machine. Everything you need!
As for my conclusion, even though it may be a great choice for businesses or groups too, due to the available meeting room, shared lounge, fitness center, bar and terrace, and due to the overall modernity of the place, I still think that Hotel Mercure Timisoara is one of the best stays for couples, due to the romantic design, amazing city views and relaxed atmosphere.
Click here to check prices for your dates.
Conclusion
It is a huge list, I know – but Timisoara does have a lot to offer in terms of amazing accommodation for the money. But these are definitely the best places to stay while visiting.
If you are looking for more long-term accommodation – if you're moving to the city, for example – make sure to look at the best neighborhoods to live in Timisoara. If not, any of the hotels above will provide an unforgettable experience, for sure!