With Timisoara being in the spotlight in 2023 as the European Capital of Culture, you might be wondering what would be the best things to do and see in the city if you decide to visit before or during that time.
And this is what we're going to talk about in today's article. I have to share no less than 19 amazing things to see and do in Timisoara this year!
Timisoara is a real multicultural and multifunctional center in Romania. There are lots of cultural-artistic manifestations, fairs and festivals organized all year-round. And in 2023 things look better than ever.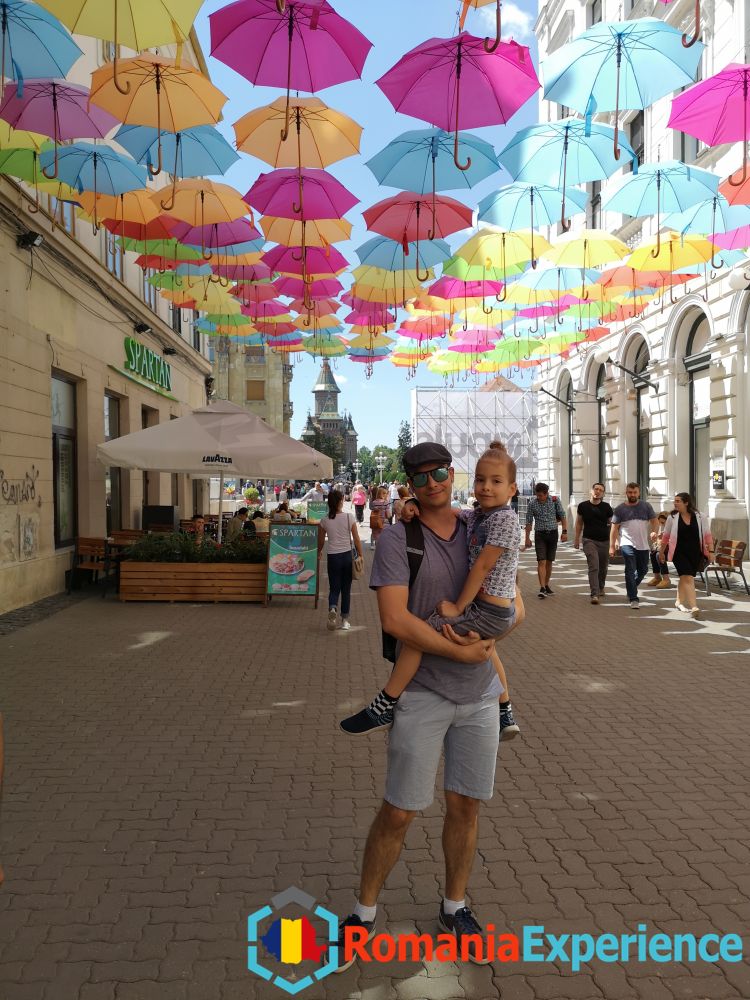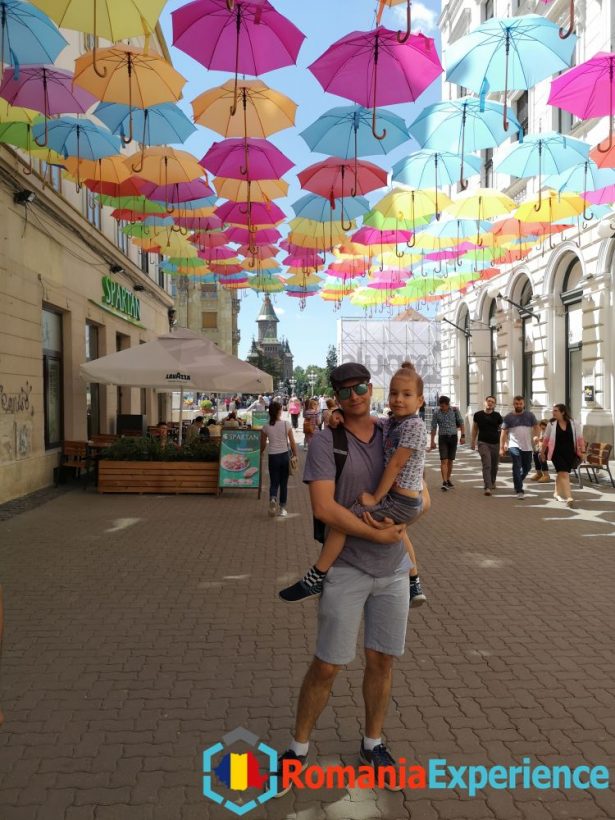 Other than this, we're talking about the largest city in western Romania, one that played an important historical role in the political and cultural evolution of the country.
For example, it is here where the Romanian revolution started in 1989, resulting in the removal of Nicolae Ceausescu from power and putting an end to the communist regime in the country.
It's also one of the four major Romanian academic centers. This makes it a city full of students, with a young vibe that can be felt almost in any area of the town.
But even if you are not passionate about history, there are tons of things to see & do in Timisoara that have little to no connection to historical knowledge – and many that do.
This is why I decided to take you through a complete tour of all the amazing things you can do, see or explore in Timisoara. As you know, I really enjoy Timisoara – a city that grew tremendously in the past several years.
I guarantee that you'll find some really exciting things you'd love to try in Timisoara if you read through this entire article!
So without further introductions, let's go through top 19 things to do and see in Timisoara!
1. Walk around the Victoria Square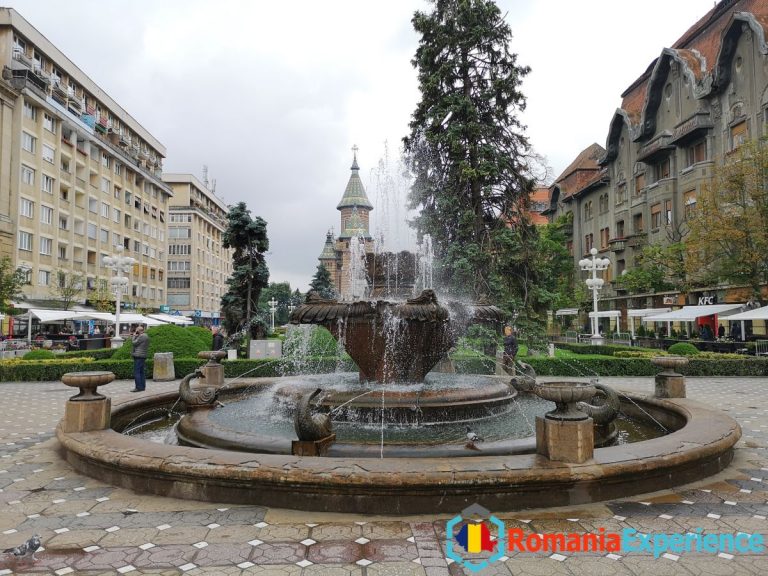 The first on the list is, of course, the center of the town. There is always movement here, which makes it the most "alive" spot of the town.
And this is amplified even more by concerts, festivals or fairs that are often organized. Victoria Square is the most central area of Timisoara.
You can simply walk here and enjoy the historical buildings, or you can eat at one from the tons of central restaurants and fast-foods.
Here's the place where you can find the Statue of "She-Wolf", "Lupa Capitolina Landmark" or "Lupoaicei's Statue". It is a copy of the legendary statue that tells the story of Remus and Romulus, the two founders of Rome who were raised by a she-wolf.
You can also admire the beautiful Fish Fountain in Victoria Square, or you can feed the hundreds of pigeons that come here.
They are so used to people feeding or playing with them that they will even climb on your hands, shoulders or head, waiting for food.
And if you can't wait for food… there are a few good restaurants in the area where you can try some Romanian dishes or taste delicious gelato during the warmer months.
2. Enjoy a theatrical performance at the National Romanian Opera House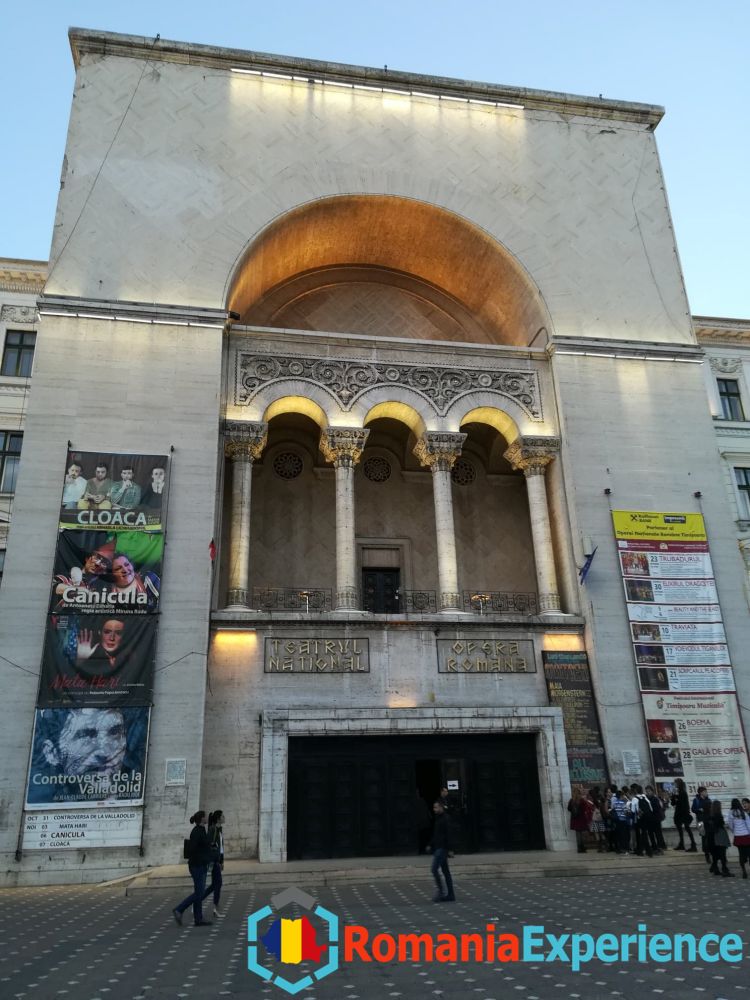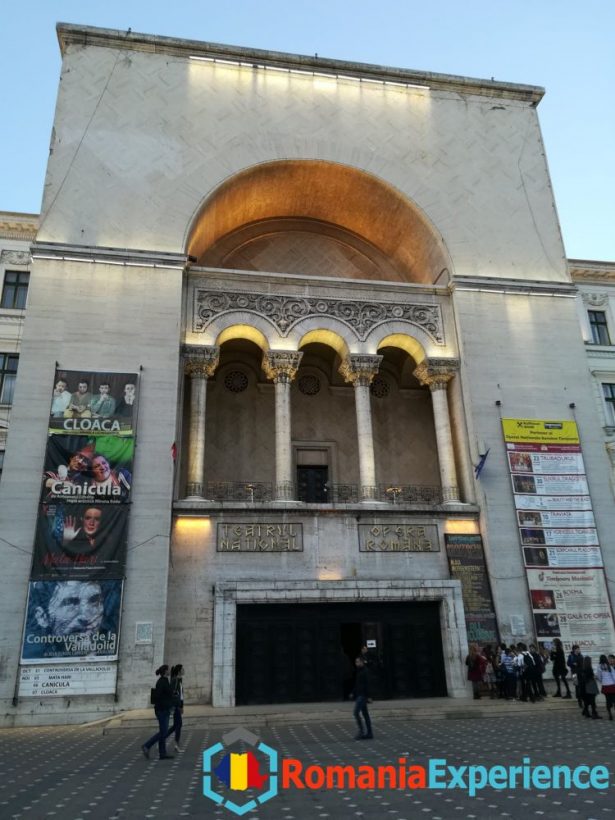 In the same Victoria Square, you will find the National Romanian Opera House. Several theatrical performances and opera plays are regularly organized here.
So if you are around, and passionate about this type of art, don't hesitate to buy a ticket and enjoy a local performance. 2023 will definitely have more to offer than ever here!
3. Light up some candles at the Orthodox Metropolitan Cathedral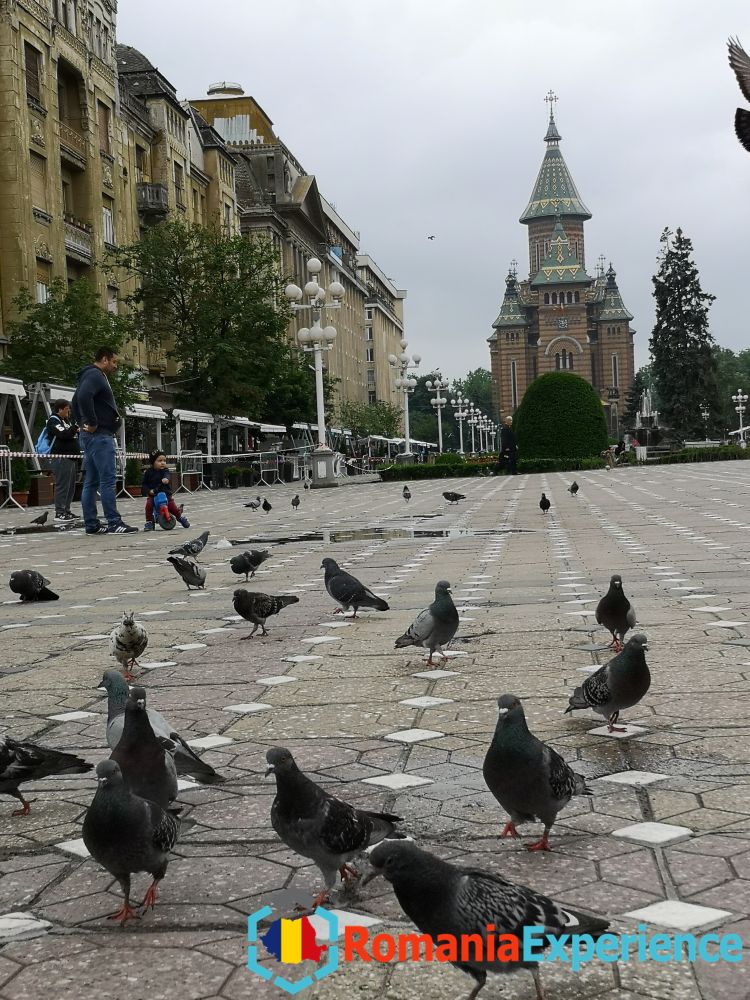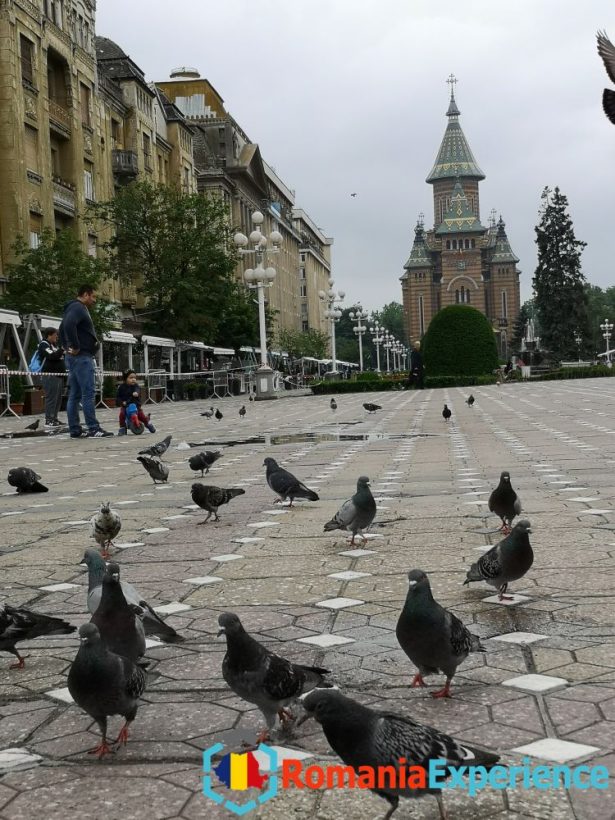 Opposite to the National Romanian Opera House, you'll find the Orthodox Metropolitan Cathedral. This is a symbol of Timisoara that you can't miss if you're in the central area.
This is the biggest edifice in the entire town and, as a result, can be spotted from many different neighborhoods around the center.
Behind the Cathedral, you can enjoy a short walk in a wood-like park. There are plenty of fir trees and benches that provide coolness during summer. If you go down a bit through this park, you will get to one side of Bega River.
If you are interested in museums and history of art, the basement of the cathedral is open to visit. It's a museum where you'll find tons of different objects of old church art.
If not, you can at least enter the church and admire the architecture, chandeliers, icons and paintings all over its walls. You can also light up candles and buy souvenirs or religious objects from the small shop at the entrance.
4. Listen to a symphonic concert at Banatul Philharmonic
Very close to Victoria Square, you will find Banatul Philharmonic. This is a musical institution in Timisoara with its own symphony orchestra and professional chorus. It is situated to the left of the Metropolitan Cathedral.
According to your own preferences, there are two major categories of shows you can enjoy at the philharmonic. You can either go to symphonic/opera concerts, or to the jazz festival if you're traveling during summer.
Or, you can go to stand-up/magic shows, because the auditorium is frequently rented to performers for this type of shows.
5. Visit an open-air museum at the Personalities Alley of Anton von Scudier Central Park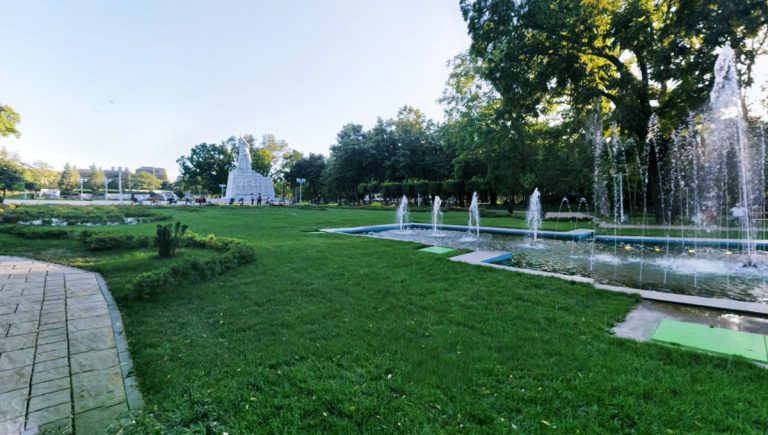 If to the left of the Metropolitan Cathedral you'll find the philharmonic, the right of the edifice is another interesting touristic point.
Right behind the tram station, there's one of the entrances to the Central Park. It's been recently renovated and everything looks really well-maintained.
Besides several monuments, statues, exotic trees, flowers and pavilions, you will also find the Personalities Alley here.
On both sides of the alley, there are multiple bust sculptures of historically important personalities for the culture of Timisoara or Romania.
6. Watch live street art performances in Libertatii Square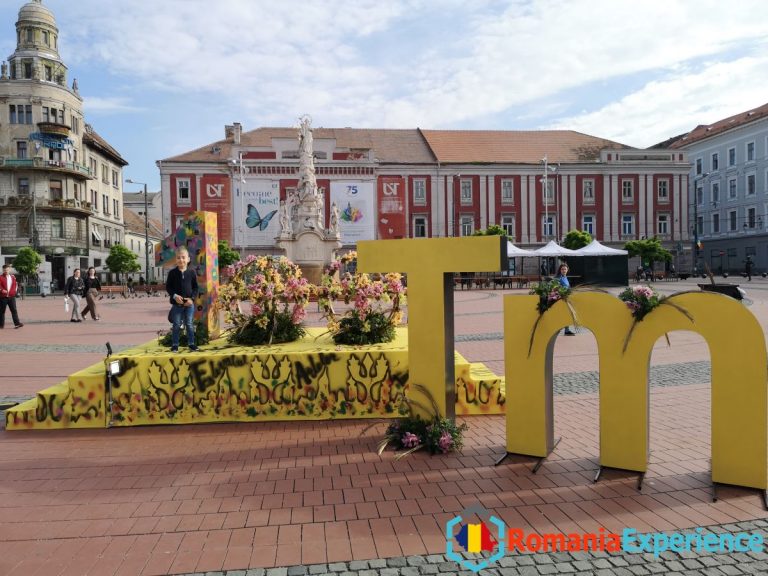 If, form Victoria Square, you start walking on the street to the right of the Opera, you will get through a pedestrian street covered by colored umbrellas and arrive in Libertatii Square.
The oldest square in Timisoara, also called "the Red Square", is a beautiful place where you can frequently find street artists painting, drawing or showing their talents in a live show.
Talented artists painting with graffiti sprays and guitar players cheering the atmosphere up are the most usual.
But you can also frequently see flute players, voice artists and a piano guy contributing to the artistic or cultural vibe of the area.
7. Have a drink in Unirii Square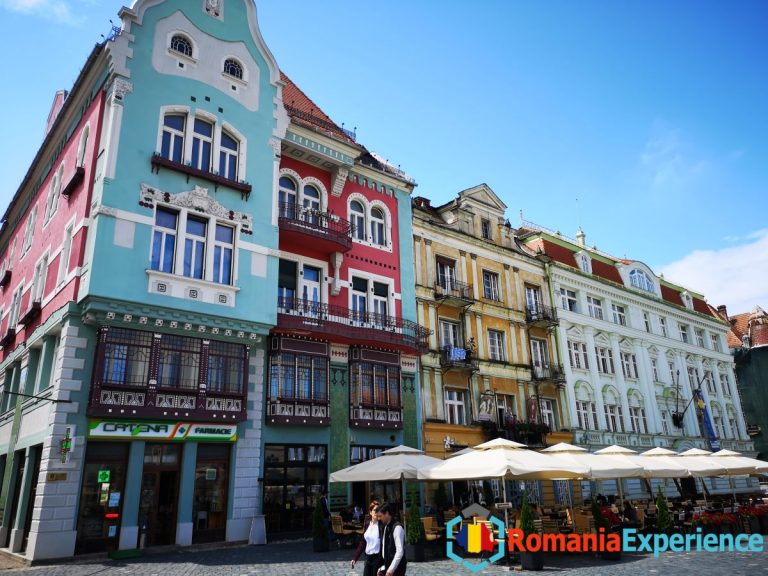 If you keep walking on the same pedestrian street from the Libertatii Square, you will get to the next place connected to it: Unirii Square.
This is probably the most popular amongst outgoing people, because most of the restaurants, pubs and bars can be found all around the Square.
8. Study the baroque architecture of St George's Roman Catholic Cathedral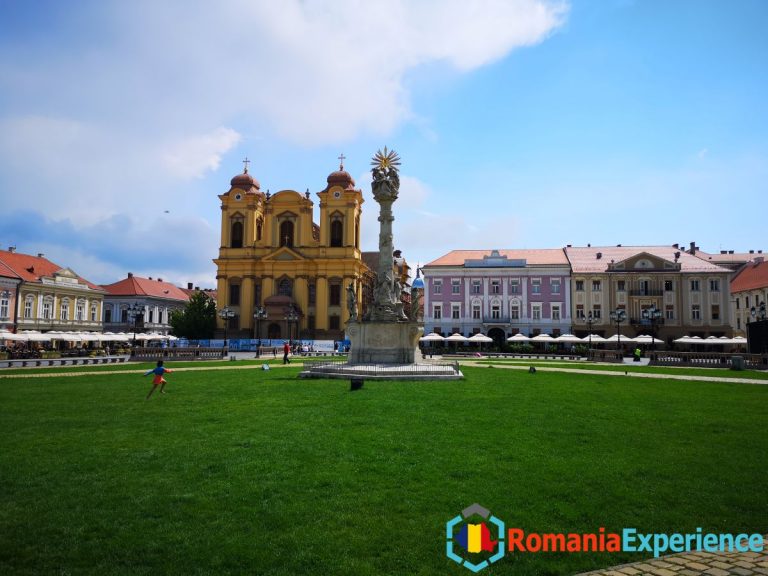 If you're already sitting in Unirii Square, I strongly recommend you enter St George's Roman Catholic Cathedral.
Besides its unique Austrian baroque architecture, the edifice is also one of the emblematic monuments of the city.
Also called the Roman Catholic Dome of Timisoara, it's one of the unique churches where they have an organ.
Several organ concerts are, therefore, organized here, as there is an amazing acoustic inside. You should definitely take few minutes to visit it if it's open.
9. Connect with the nature in The Botanical Park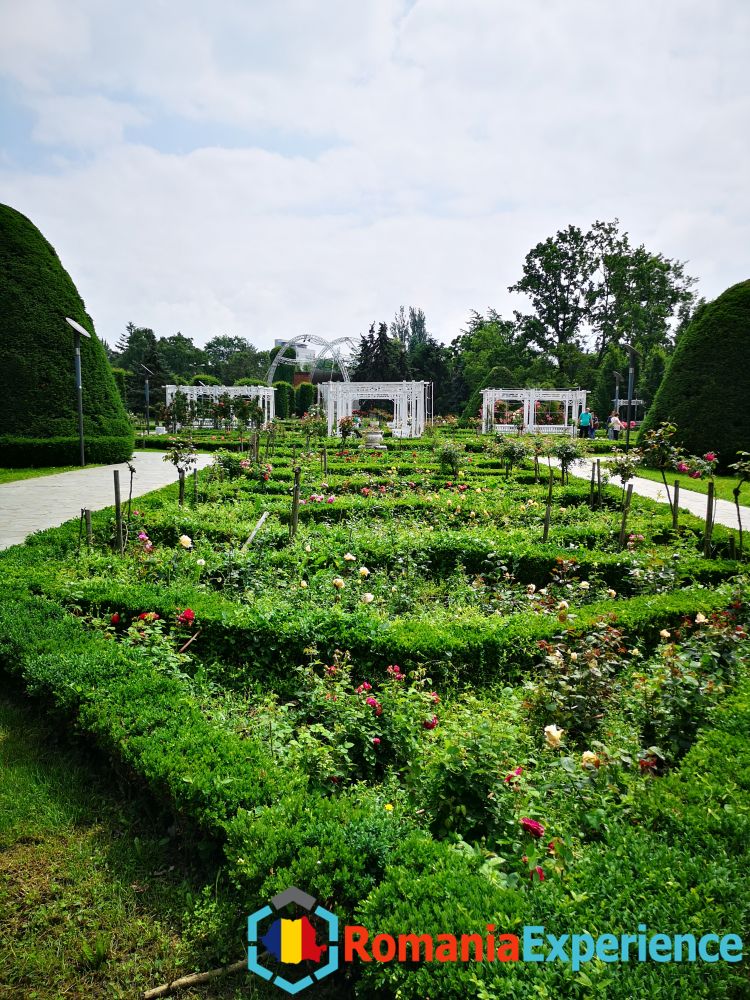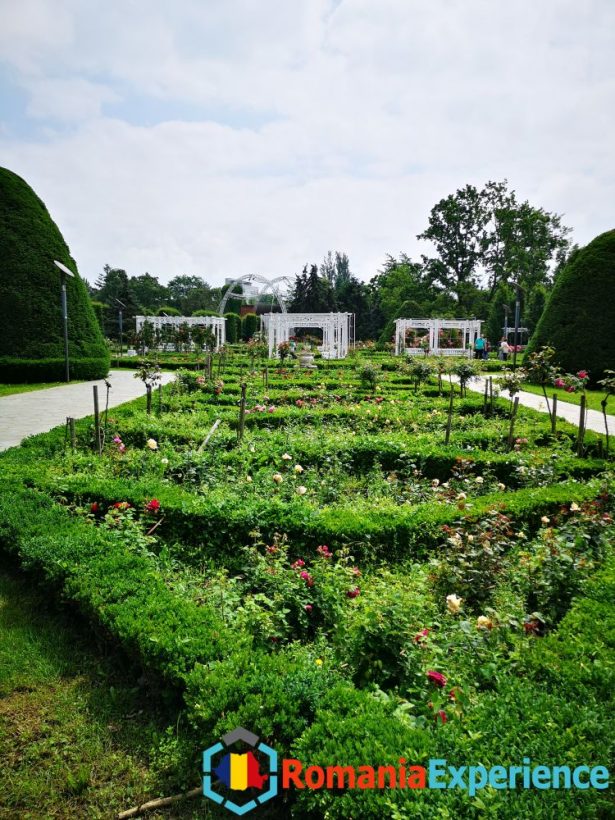 A little further from Unirii Square, you will find the Botanical Park. It is situated close to the Emergency Municipal Hospital, but no noise or agitation can be heard from the park.
In fact, this is the best spot in town to connect with nature, take long walks, run, socialize or walk your dog if you're traveling with it.
Several species of tulips, daffodils, roses and trees can be admired in the Botanical Park. There are tons alleys, fountains, lakes, rocks, huge tree roots and small bridges all around.
And, if it's quiet enough, you might even spot some squirrels running around the trees.
10. Check out Iulius Town: the mini-town built within the town of Timisoara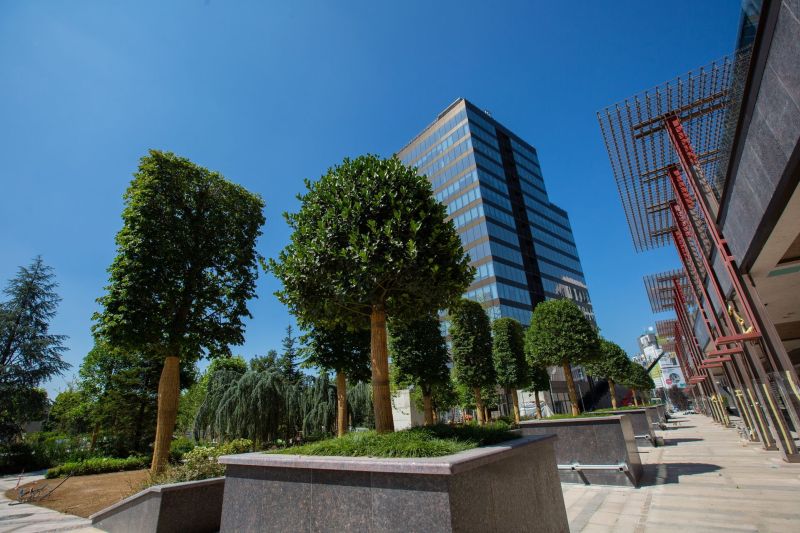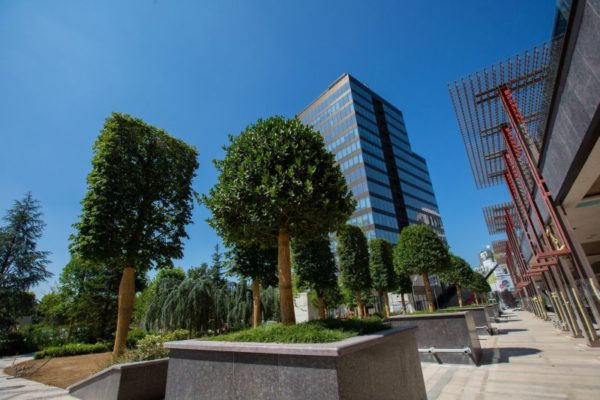 If you keep walking from the Botanical Park, not far you'll get to what was called before "Iulius Mall". Initially a quite luxuriant shopping center, the construction has literally turned into a mini-town within the town of Timisoara.
The project has been specially designed in such a way that the entire area includes everything that a town should: shops, office buildings, a business center, blocks of flats, gym, accommodation structures, a huge park with beautifully arranged alleys, kiosks, restaurants, cafes, schools and more.
You can either go shopping to Iulius Mall, where there's a supermarket and plenty of clothing stores, cafes and restaurants, or you can simply enjoy nature.
The large alleys are surrounded by green areas with grass, trees and flowers, benches, pavilions and even a lake with bridges and ducks.
Plus, speakers are strategically placed on the sides of the alleys, permanently playing ambient music for the most soothing experience.
11. Travel back in time to your childhood years in Ion Creanga Children's Park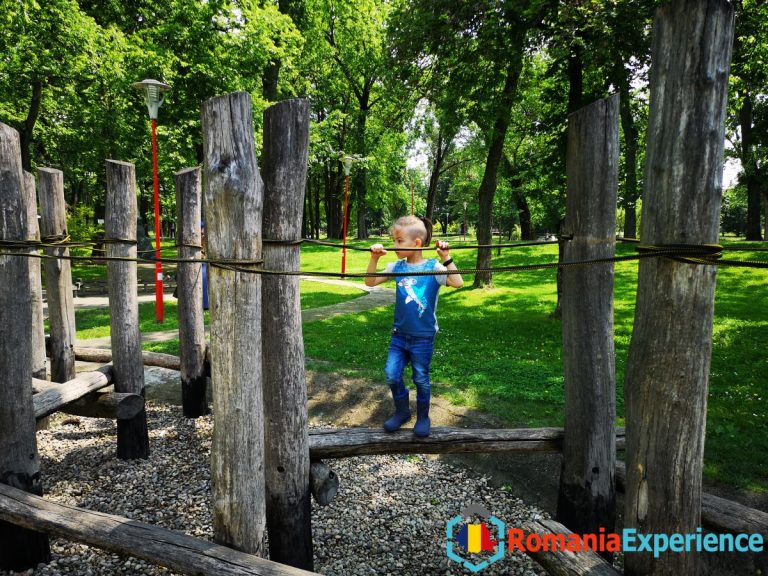 Timisoara is one of the Romanian cities with an impressive number of green areas. So if you were expecting for the Central Park and Botanical Park to be the only maintained, popular parks, here's a surprise! There are many others you can spend your time in!
Ion Creanga Children's Park is one of them.
Even if you do or do not have children, the Children's Park is a great place to spend your time and remember of your own childhood.
When I took our kid there, he enjoyed the place just as much as we did!
It's mainly an adventure park for kids, where they can find cotton candy, toboggans, swings, a functional train, lakes, green areas and other interactive structures.
But it can also offer adults a memorable walk on beautiful alleys surrounded by trees and street lamps. And food. Glorious fast food!
This is especially romantic at evening, when the place gets really quiet and lighted by the lamps on both sides of the alleys.
It's also close to a side of Bega River, so you can continue your relaxing walk from the park to the bank of the river.
12. Smell the perfume of roses in the Roses Park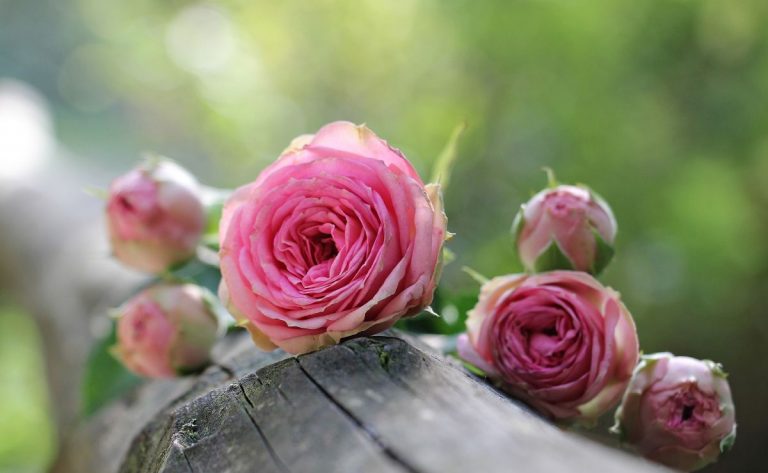 I'm not going to lie, if you get here during winter, there's not much to see or to do. If you're visiting during winter and there isn't even snow covering the trees, the park looks quite deserted, monotonous and sad.
If you still want to walk around, then I recommend you walk around that area of the park connected to the bank of Bega River, so you'll get a more lively view.
Summertime is the real deal in the Roses Park, because it's based on the beauty and perfume spread by blossomed roses.
If you're here in summer or autumn, you'll be welcomed by a rainbow of colors (either the white-pink-red-orange-yellow tones of blossomed roses, or an autumnal palette of falling leaves).
These colors make it one of the best places in Timisoara to take memorable photographs for your album!
A plus when visiting in summer is that several concerts, dance performances and food festivals such as Seafood are organized here. So there's also a boost of entertainment and activity.
13. Explore Bega River with the ship, hydro-bike or kayak-canoe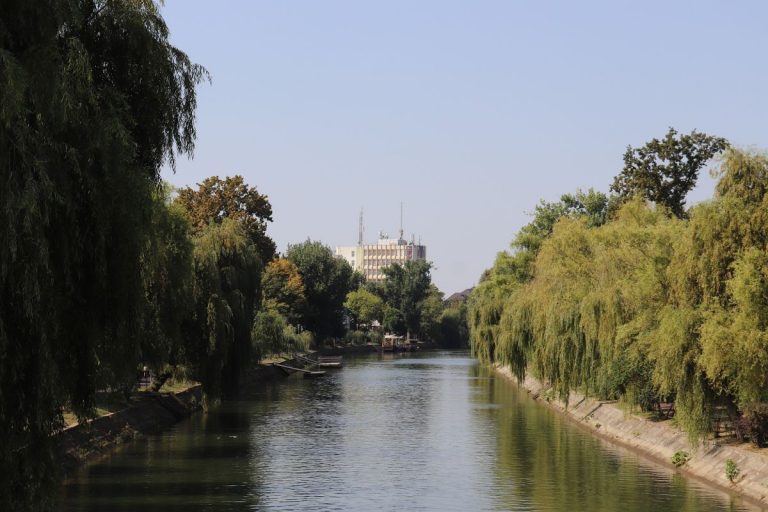 Now this is one of my favorite things in Timisoara, and also something that makes this town one of the most unique in Romania.
Bega River, which I mentioned so many times throughout the article, crosses an impressive distance of the town. In fact, Timisoara is one of the few navigable towns in Romania.
This gives the locals and visitors the privilege to participate in several nautical activities.
You can rent hydro-bikes, boats or kayak-canoes to explore the entire length of Bega River, along or with your friends.
Or you can even buy a ship ticket for as little as €0.5 and use the ship as means of transport.
Special stations have been arranged on both sides of the river, in multiple distinct points of the city, so that people can use the ship as means of transport.
Here's also where I'm going to share with you the secret to becoming a spectator of the most breathtaking sunsets. Either walking on the banks of the river, or sitting on the bridges across it is a great idea.
The sun gets an orange-reddish color in the evening and as it goes down, it perfectly reflects in the flowing water, creating a mesmerizing view.
It can be romantic, it can be relaxing or it can be inspiring. But all in all, Bega River is one of my favorite things to see and explore in Timisoara and I strongly recommend you don't skip it!
14. Photograph the Neo-Romanesque architecture of Millennium Church in Fabric neighborhood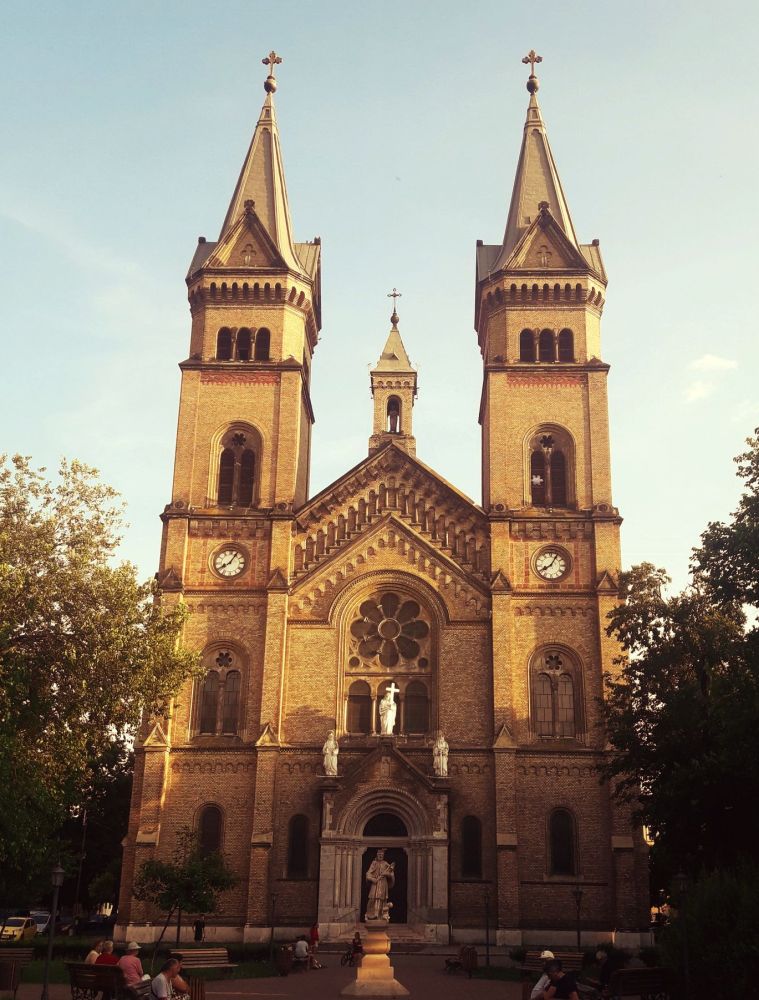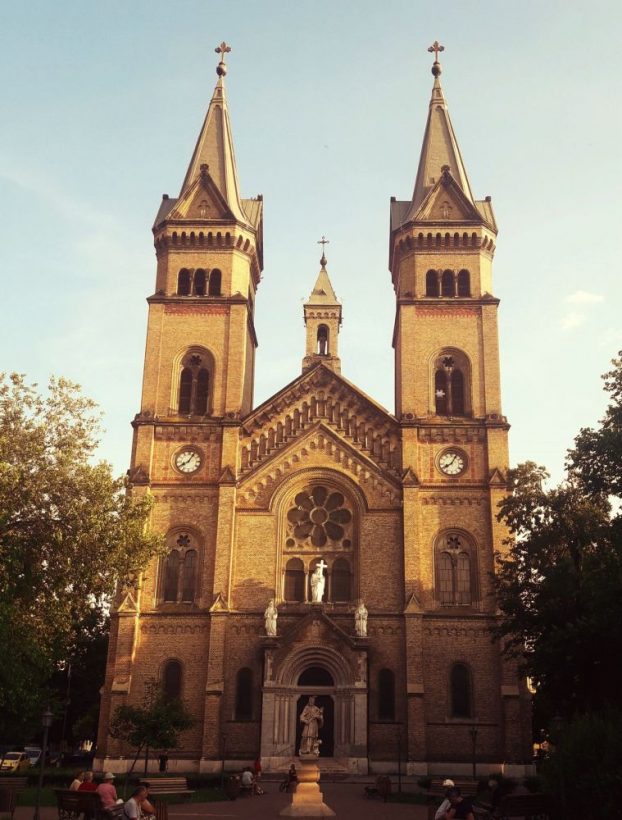 Moving to another area of the town, you can find Millennium church in Fabric neighborhood. This is the historical center of Timisoara, and the church is the largest Roman Catholic edifice in town.
You cannot let this place out of your to-visit list, especially if you're passionate about history, religion or architecture.
Millennium Church carries an essential cultural and historical importance, and it is also a great illustration of the Neo-Romanesque architectural style.
In the same Fabric district you can find Romania's first beer factory, Timisoreana Beer factory.
15. Meet lion cubs and wild brown bears at the Zoological Garden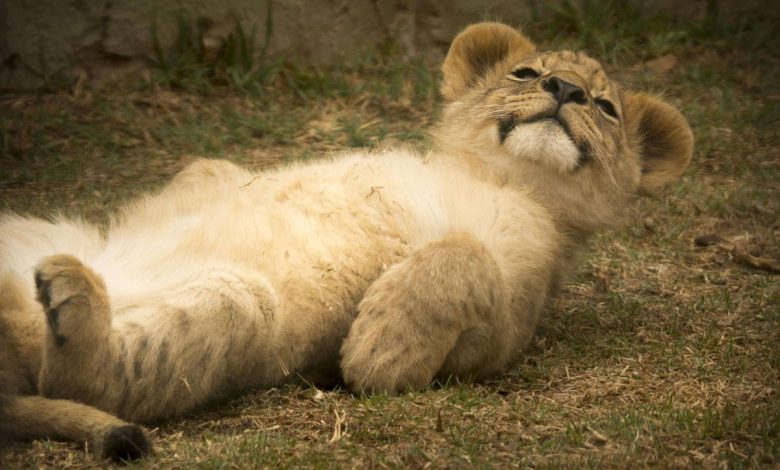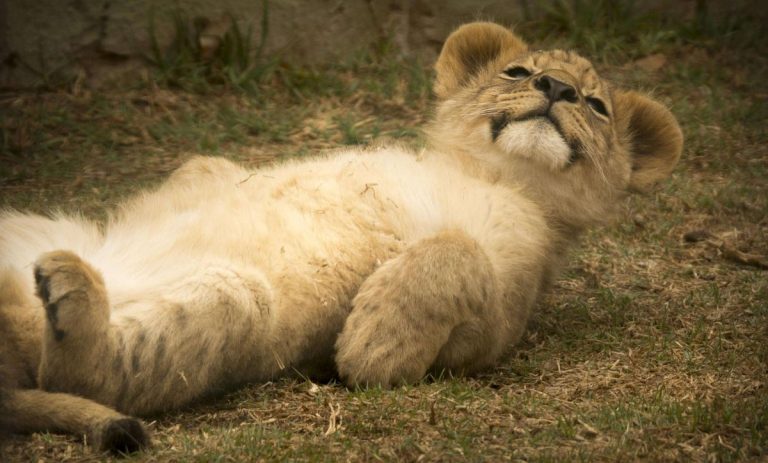 A little further from the agitation and traffic of the town of Timisoara, you can find the Zoological Garden as part of Padurea Verde green area (or "Green Forest").
The zoo is properly maintained, and several species of domestic and wild animals can be admired by both children and adults.
You can find rabbits, lakes filled with ducks or turtles, an impressive collection of reptiles and insects, as well as a vast diversity of wild animals.
Meet lions and their cubs, wild cats, different species of monkeys and birds, brown bears, ostrich, deer and reindeers, ponies and more.
Within the green area surrounding the Zoological Garden, people often go to picnic or gather in groups and go biking.
This is a great place to spend time in fresh air and connect to nature if the Botanical Park is too crowded.
16. Learn about life in a Romanian traditional village within the Village Museum of Banat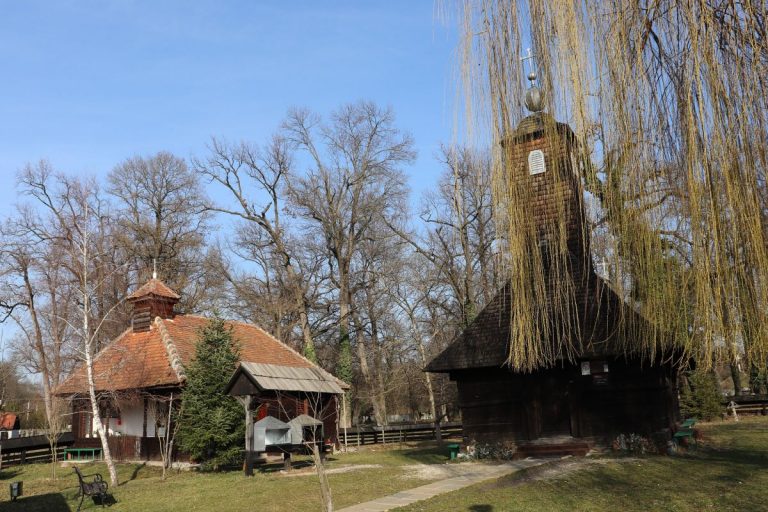 Few meters away from the entrance of the Zoological Garden, you will find the Village Museum of Banat.
This is another spot you can't miss if you visit Timisoara, because it's an open-air museum with life size houses in the Romanian historically traditional style.
You will practically walk in an immense traditional village and get a good idea of how Romanians lived in previous centuries.
You will see how old churches looked like, as well as how farms, yards, schools and other institutions were organized.
As you probably know from past articles, visiting a village museum is a must do thing in Bucharest, but also one of the top things to do in Sibiu.
17. Walk on the alleys of the oldest park in Timisoara: Queen Mary Park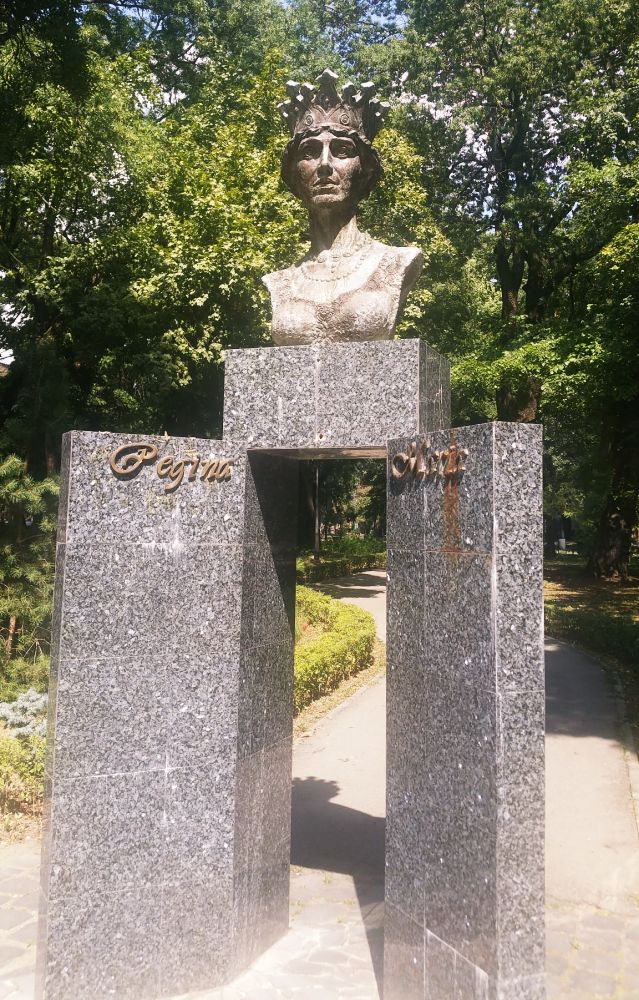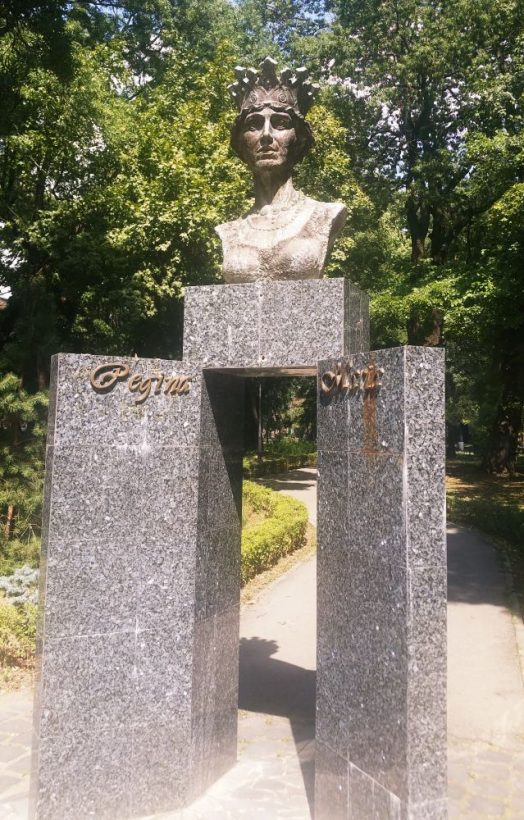 We're getting close to the end of the top 18 things I recommend you do in Timisoara. So I can't finish before I tell you about the oldest park in town: Queen Mary Park, or Regina Maria Park.
Frankly speaking, this one is not as spectacular as the Roses Park, Central Park or Botanical Park. But it's worth mentioning and visiting, due to its cultural importance.
You can walk on the long alleys and put your thoughts in order, because one of the special features of this place is the silence.
The advantage of being not as popular as the others makes it a peaceful, quiet place where you can find inspiration and coolness in the shade of the tall trees.
Plus, the gates from the entrance of the Park are quite spectacular and a great spot to take some unique photos!
18. See what remained from the Austrian-Hungarian fortress of Timisoara at Theresia Bastion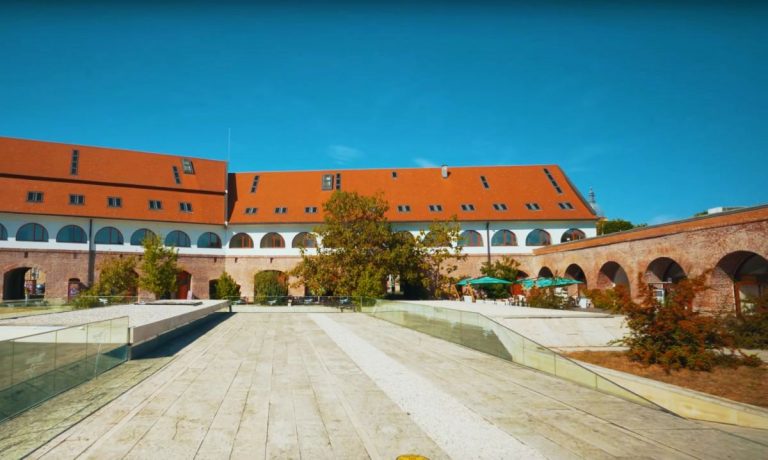 Also, you cannot pass through Timisoara without visiting Theresia Bastion. This is the biggest structure that remained preserved from the Austrian-Hungarian fortress of Timisoara.
The defensive walls today houses art galleries, restaurants, a library and a disco inside, and is outside used as a passage.
But this is one of the most representative and important historical monuments of Timisoara and it's worth visiting, or at least passing through.
19. Visit the Communism Museum at Scârț, Loc Lejer (Scârț, A Chill Place)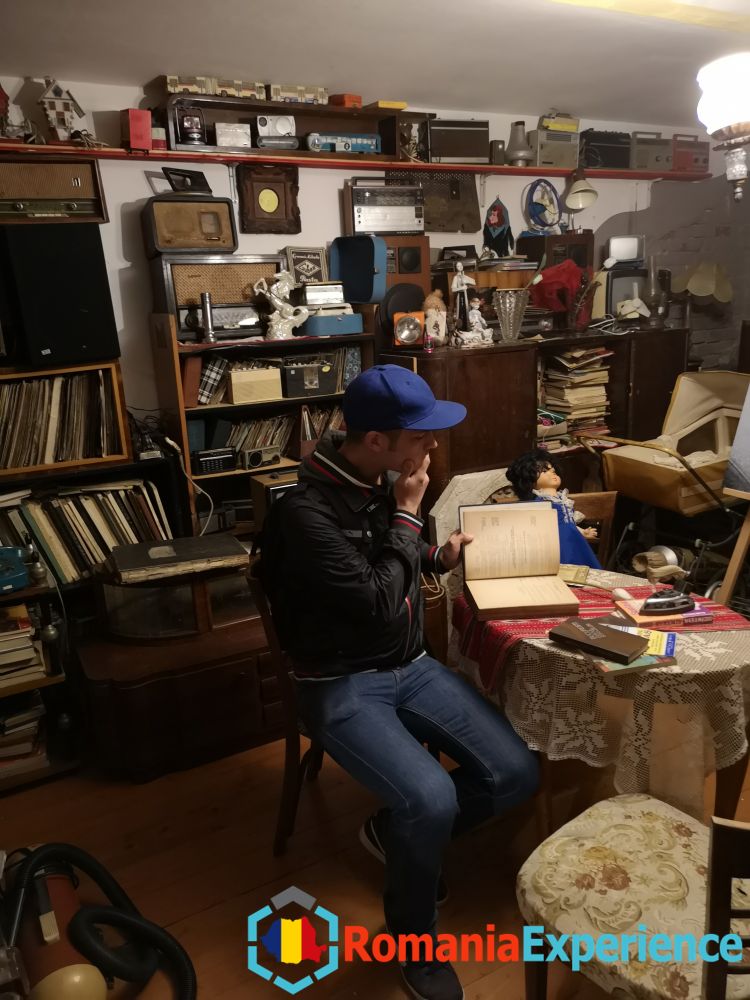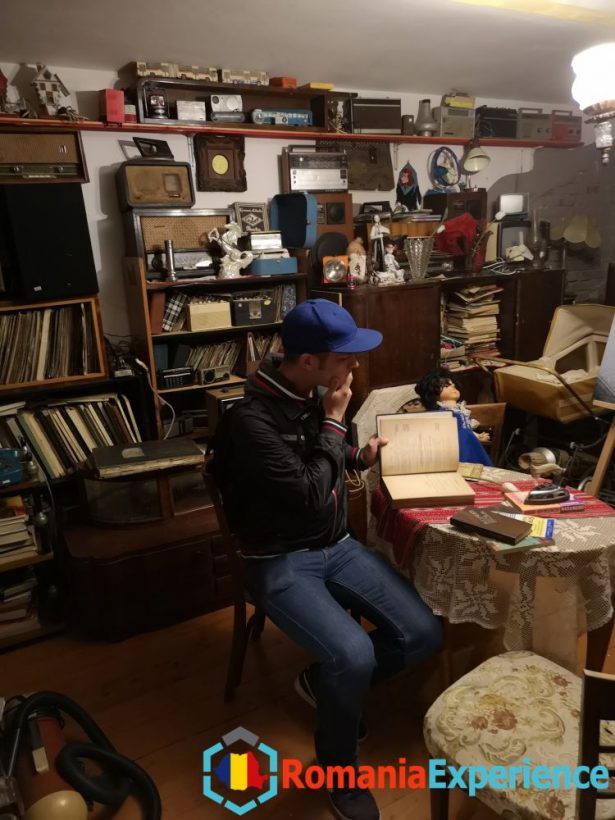 I really love visiting attractions that are not really considered "classics" – like your regular museum, art galleries and things you find on all "to do" lists and Scârț, Loc Lejer is one of Timisoara's hidden gems.
Mainly a pub, it has a downstairs area where you can visit the owner's Communism Museum, with lots of amazing relics from the Nicolae Ceausescu era.
For somebody who grew up during those time (like myself), it's an interesting trip down memory lane.
Since it was the days of the past and imports were not really a thing, almost all the things you can see there were actually regulars in all houses here in Romania. So definitely visit the place to see the goodies and goldies there.
Entry to the museum is absolutely free, but I strongly recommend buying something from the bar and leaving a major tip to show your appreciation and support.
Conclusion
These are my recommended things to do in Timisoara when you decide to give it a visit.
It is a very big town, and there are a lot of fun things you can do as you can see above; and many more will probably appear in the following years, as Timisoara is an important business center and academic center, constantly developing and expanding.
For example, two bonus activities if you visit in summer would be going to one of the six main swimming pools in Timisoara, or exploring the night life in the most popular clubs in town.
There's lots of fun, music and entertainment – just come to Timisoara and there's no way you'll remember it as a boring vacation.
You might actually like it so much that you'll decide to move here. If that's the case, I've got you covered! Check my previous article about the best areas to live in Timisoara.
I sincerely hope that my guide and recommendations help you find the most exciting activities for your own preferences when you come to Timisoara. Enjoy your visit!