Cluj-Napoca is known, in Romania, as the Heart of Transylvania, or the Heart of Ardeal. It is one of the best academic centers in the country, as well as an important business center.
And there are plenty of great things to do in Cluj – we're going to talk about them all in today's article.
We have talked about Cluj, Romania in a previous article – but that was more of a generic overview of the city (and a bit of a praise for it as a top destination for those looking to relocate to Romania).
But for now, we'll see some of the things that make it so special!
Being one of the largest cities in Romania, Cluj Napoca has become one of the most interesting places to visit, with attractions for almost every possible area of interest: culture, art, architecture, religion, study, photography, food, sightseeing and more.
So let me take you through a quick tour of how exciting Cluj-Napoca can be, if you know what to visit. If you check out the unique. Let yourself inspired by the panoramic view of the town.
Get the uplifting feeling of watching real ducks swim in a royal-blue cold lake. Visit Cluj-Napoca with an open heart and I promise you'll enjoy the most out of it!
Without further ado… let's go through the top 14 things to do and see in Cluj-Napoca during your visit!
1. Admire the view of the entire town from Cetatuia Hill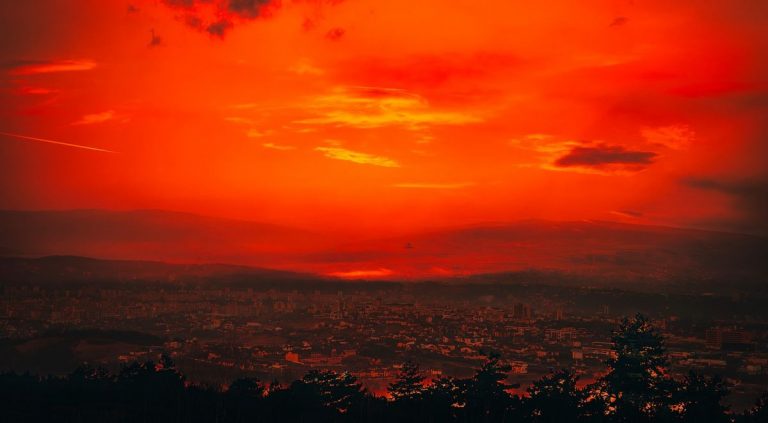 Cetatuia is included in most top lists of things to see in Cluj for a good reason. It offers one of the most spectacular and romantic views; and it can also turn into an exciting adventure.
Cetatuia Hill is, as its name claims, a 405m tall hill. You can either climb the stairs to the top, or you can grab a pair of comfortable hiking shoes and start exploring the nature around.
Choose to climb upon the mud, through the strong wooden roots, for a more exciting experience.
Before you get to the top, you can choose to enjoy the panoramic view of the entire town, or to head towards the Hoia-Baciu Forest, one of the most beautiful forests in Romania and, according to some, one of the famous places for mystical stories, paranormal energies, or supernatural vibes.
If you choose to get less adventurous and just enjoy the view, I strongly recommend being there at sunset.
I've been there just when the sun went down, and I can tell you it's an amazing explosion of colors covering the sky above every touristic point from Cluj-Napoca.
As the light fades away, you'll remain with a peaceful feeling and the memory of one of the most beautiful views you've ever seen in a city.
From here, you can also admire the gothic-styled Saint Michael's Church, the Central Park, the Tailor's Tower and more (we'll talk about these below!)
2. Walk around the Alexandru Borza Botanical Garden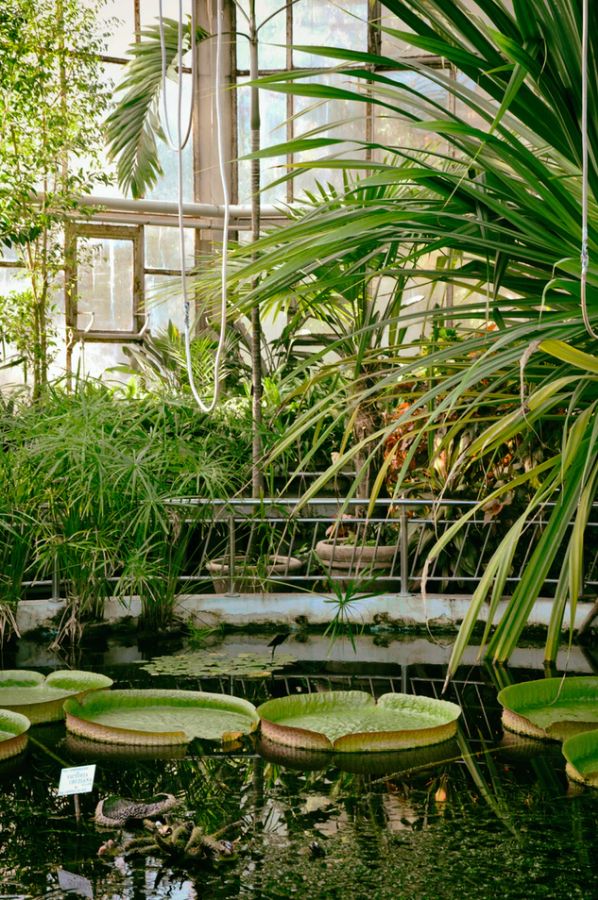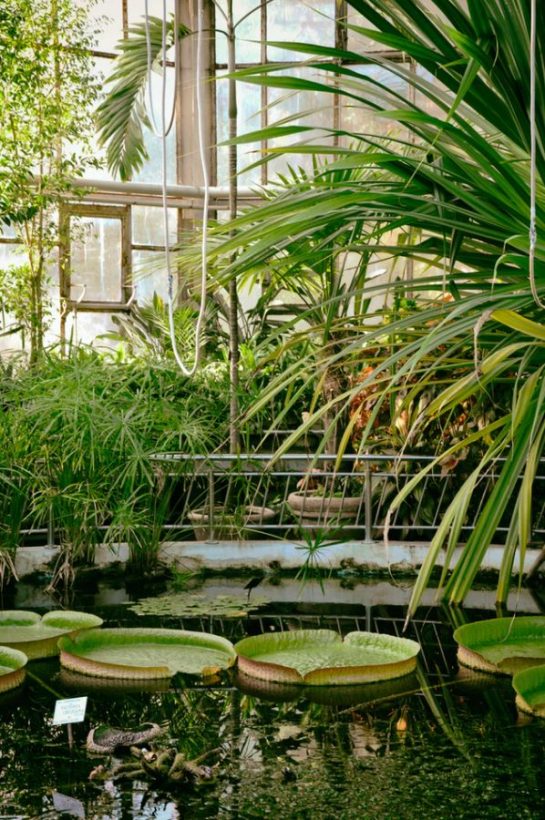 If you're a nature lover, this is the place for you! The last thing I expected when I entered the Alexandru Borza Botanical Garden was to find multiculturalism. But, as impressive as it is, it's real. No need to ask me how – I'm telling you!
As you first step into the garden, you leave the monumental wooden doors behind and get a warm welcome from various species of tulips, roses, herbs and rocks. As you keep walking, you'll have several paths and alleys to choose from.
According to the way you choose, you'll enter a different "garden". There's the Japanese Garden, the Mediterranean Garden, the Rosarium, the Australian greenhouse, the Roman garden and more.
Each will impress you with unique architectures and specific species of trees, aquatic plants, herbs and flowers.
You should also expect to see lakes, a sacred Japanese gate, a small island, god sculptures, sarcophagi, ponds, small waterfalls, bridges and a water tower.
Tip 1: Don't go if you're in a rush! You'll regret not having the time to spend in order to discover and explore each corner of the garden.
If you're lucky to visit on a day when all greenhouses are open, you'll need over three hours to make a complete tour. But trust me when I say this – it's worth it!
Tip 2: Visit the botanical garden in spring to see the freshly blossomed flowers and walk around the entire garden when it's mostly alive.
Tip 3: Make sure to check out the program of the garden before visiting. And don't worry about the fee. At the moment when I'm writing this article (March 2021), it is very small – around 2 Euros per adult.
3. Get your inspiration from Simion Barnutiu Central Park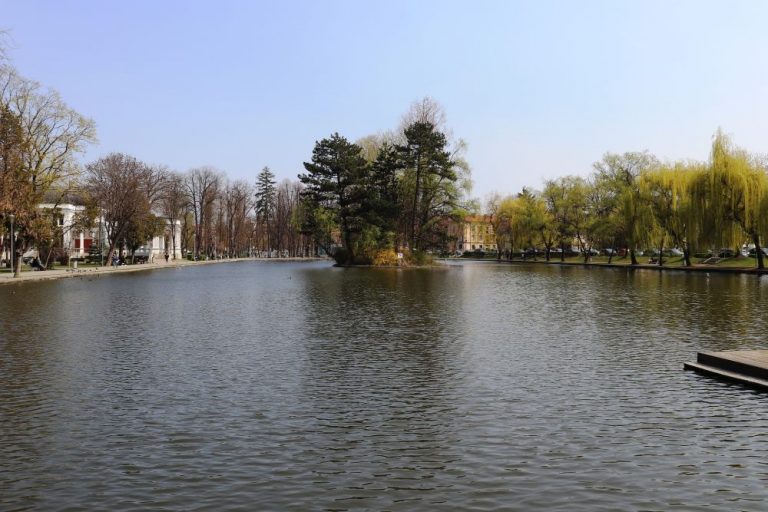 I can't find a better way to describe the central park of Cluj than… it's huge! The main alley is so long it doesn't seem to end, surrounded by overwhelmingly tall trees.
Not to mention that it's also a great place for kids, as small, miniature wooden bridges are displayed on the sides of the main alley. Walking your dog is also allowed – if you're traveling with your paw-friend.
I also recommend that you test the KurtosKalacs from the Central Park. And if you're interested in food tourism, this becomes a must!
Right where the alley ends, to the right, next to the Polyvalent Hall, you'll see wooden caravans preparing cotton candy, candied apples, popcorn and warm KurtosKalacs – a traditional dessert inherited from the Hungarian influence upon the local culture and cuisine.
Romania has a lot to offer in terms of unique and delicious foods and you can check out my recommended Romanian foods here.
4. Visit the Casino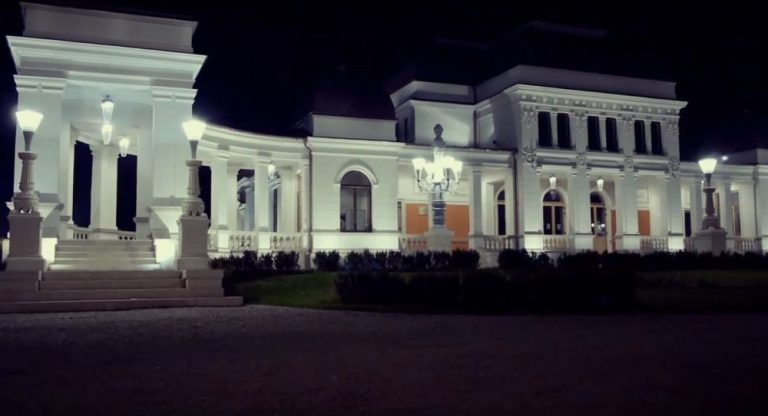 If you're already in the Central Park, don't forget or hesitate to visit the Casino. It is equally important as a historical monument and as a cultural center in Cluj-Napoca. Several artistic and cultural events are organized here.
Plus, you get to enjoy an amazing view, especially if you visit in the evening. Ducks swim in the lake next to the casino, which reflects the royal blue nuance of the sky.
It's quite romantic, and you can spend hours on one of the many benches displayed around. Next to the lake, there's also a beautiful fountain, so no way you're leaving bored from here.
5. Enjoy a coffee in the Museum Square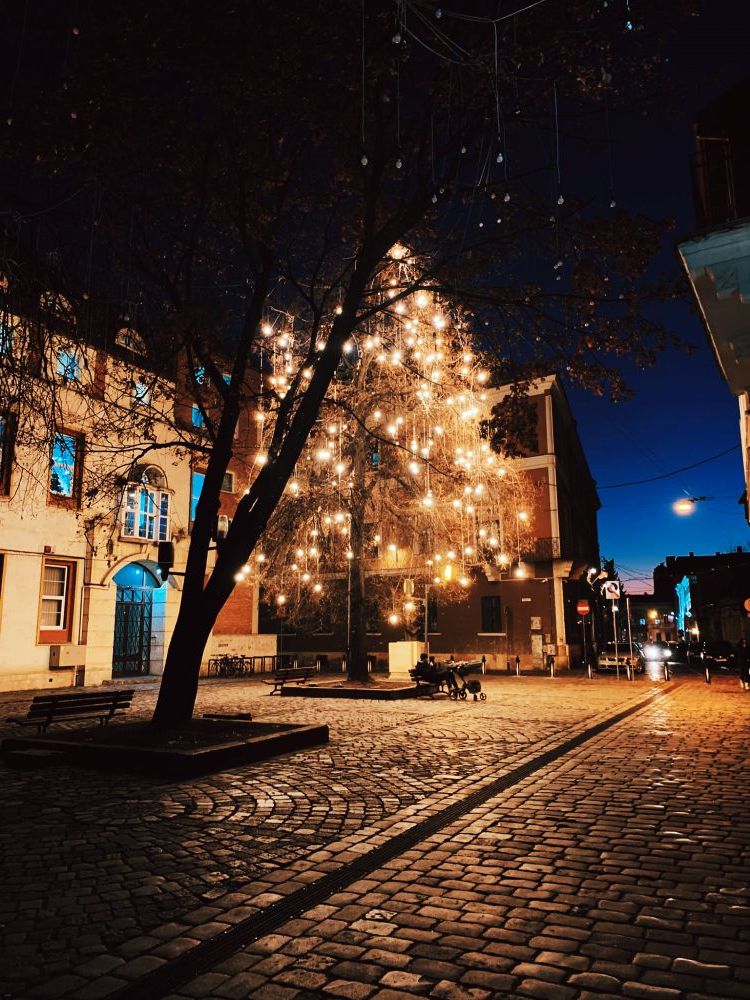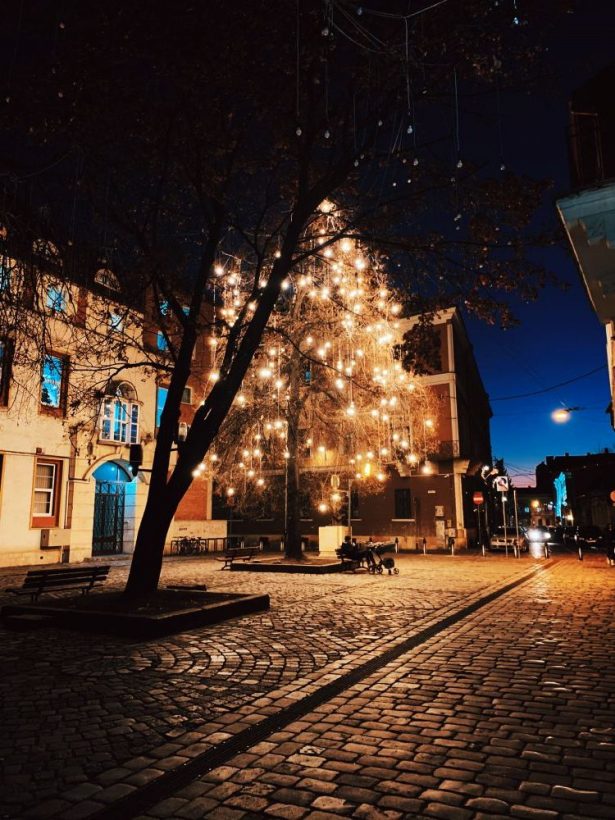 Most of the Old City restaurants, cafes and bars are placed in the Museum Square. So don't skip it.
If you are not interested in the coffee, at least take a walk. I promise you'll love it, especially if they keep the same arrangement I got to see when I visited.
Several light bulbs were hanged along the alleys, turned on after 5 p.m. They created an amazingly positive, calming illusion, spreading light and vibrating with energy and magic. Almost like it was Christmas – although it wasn't!
You can also find the Matthias Corvinus house in the Museum Square, the house where the ruler was born. It was an inn at that time; today it's a museum.
The style of the building is gothic, so I recommend you enter and visit it especially if you're into architecture and history.
And if you get hungry, make sure to read my article recommending the best restaurants in Cluj Napoca.
6. Listen to the silence in Piarists' Church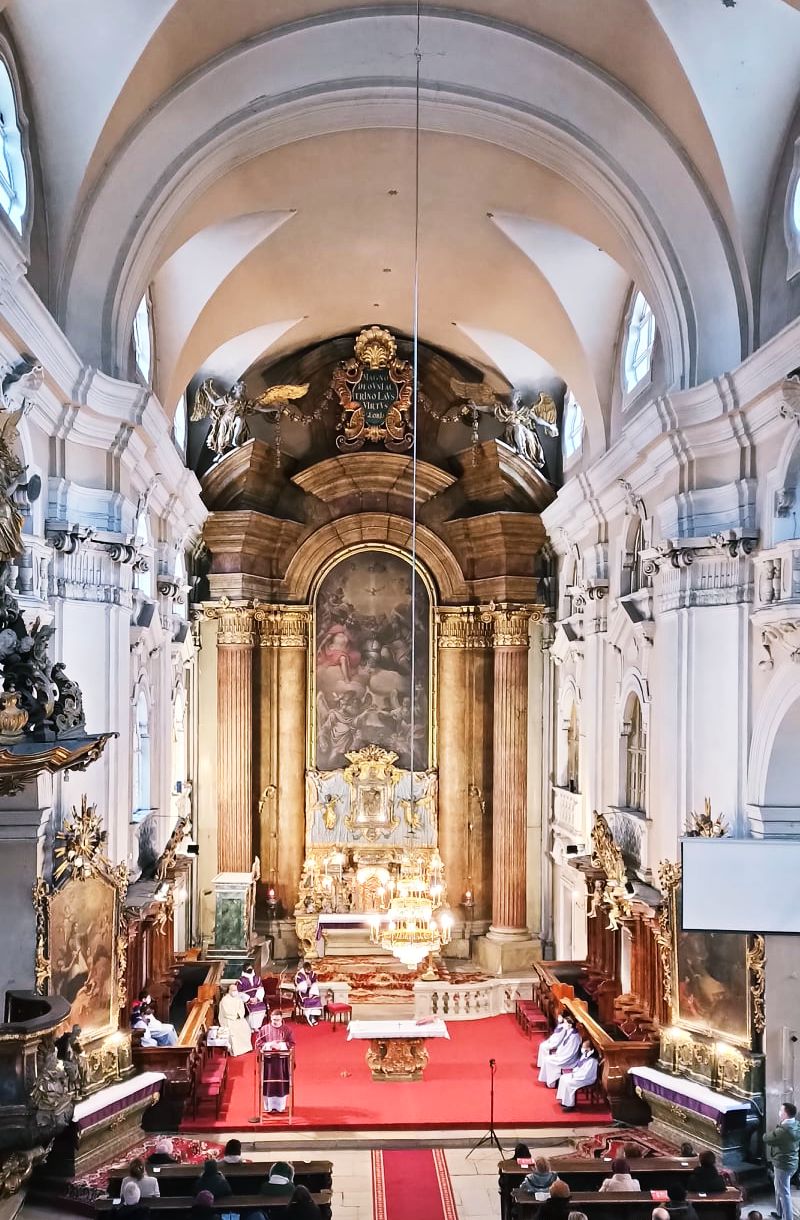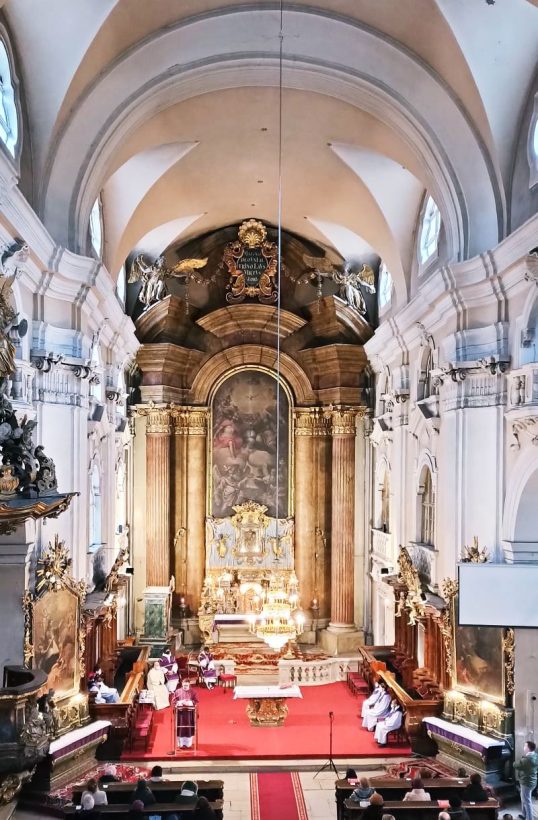 Not far from the Museum Square, you'll find the Piarists' Church. It doesn't matter if you are religious or not. Believe me, this place is so peaceful and quiet you won't want to miss it.
As you put your first step inside, you're living behind the noise and agitation of the town. Take a sit on one of the benches and listen to the silence.
Lighted candles create a spiritual, soothing ambient, which you can enjoy while admiring the design, statues, murals and flowers filling the interior.
The Church also has an interesting history which you can read before entering. I won't spoil it for you.
7. Take photos of Unirii Square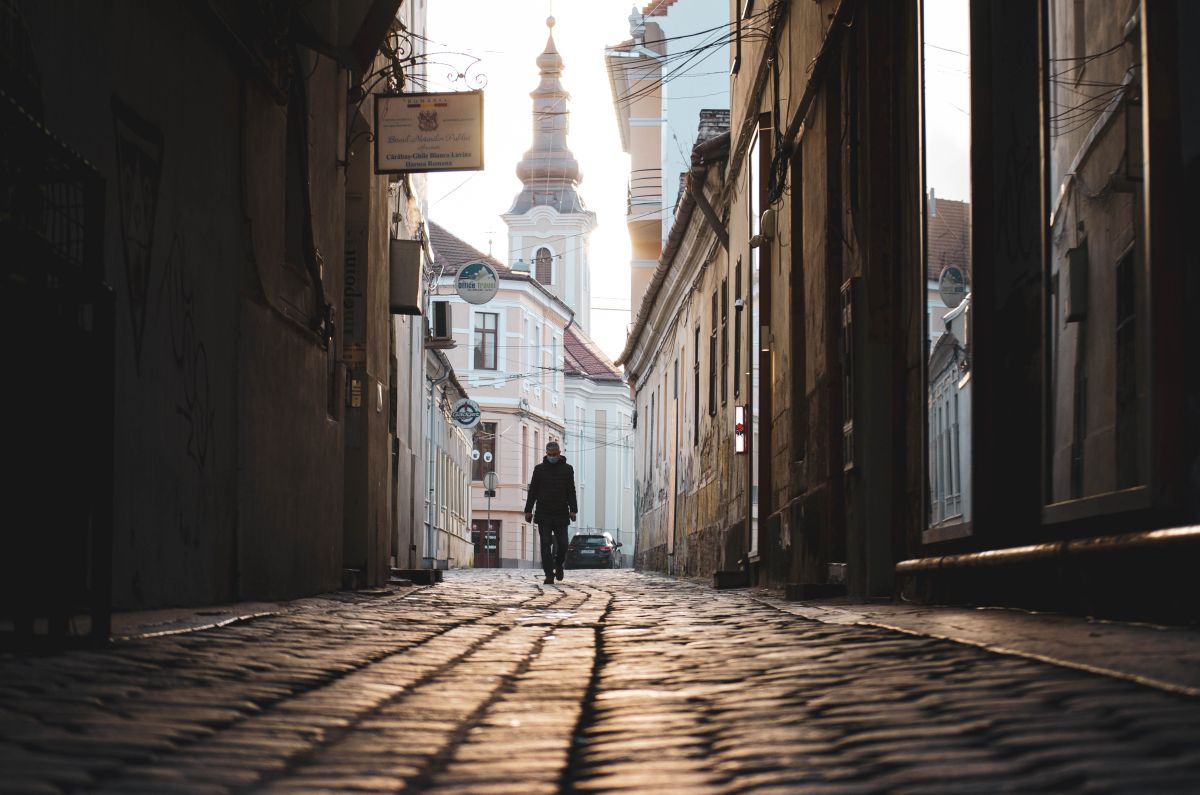 You can't visit Cluj-Napoca without taking a walk and many photos around Unirii Square. This is the center of the town, surrounded by restaurants, fast-food places, bars and cafes.
The Saint Michael's Church is in the center of Unirii Square, one of the most representative gothic architecture monuments of Cluj-Napoca and Transylvania.
In fact, this is one of the main symbols of the town and you'll certainly find it on most of the magnets or other souvenirs you might buy.
You can also find the theater, banks and some nice libraries and museums around. The old town area of the city is charming and full of surprises – you can even consider it the first thing to visit when you arrive in Cluj.
I also consider it to be one of the best areas to live in Cluj Napoca (read the article to see all my recommendations).
8. Check out Matthias Corvinus Monument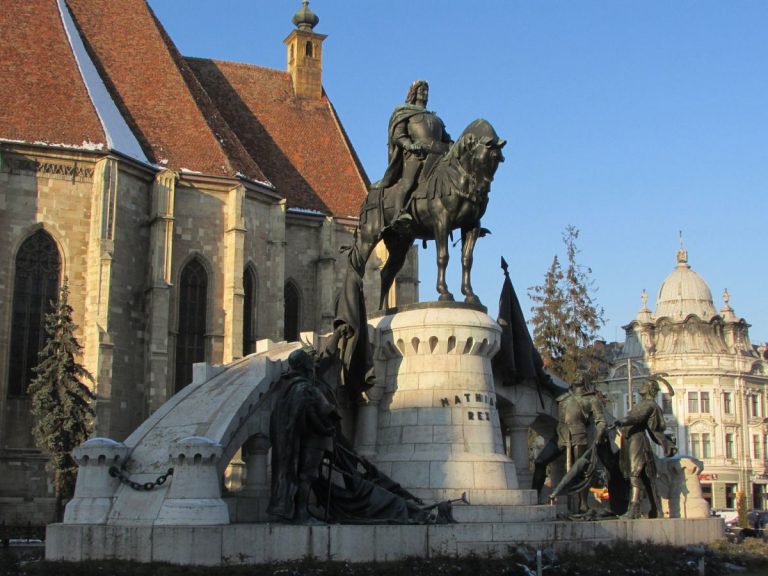 And, if you're already in front of Saint Michael's Church, you can't miss the Matthias Corvinus Monument.
It's a monumental construction, actually composed of the statue of Matthias on his horse, and four statues of his generals.
After you already visited his memorial house in Museum Square, this monument will offer you a better glimpse of his imposing aura.
And talking about St Michael's church, maybe the photo below will be incentive enough to convince you to get inside: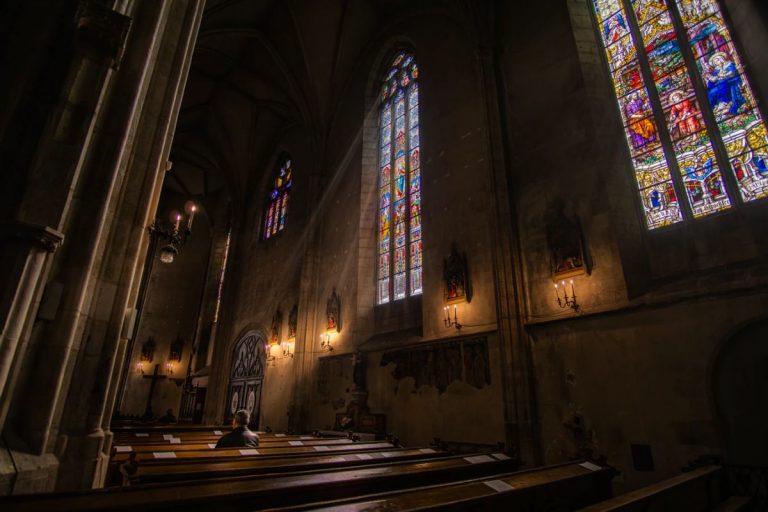 The serenity and beauty of the place is really unique. And once you get there, to actually feel and see everything with your own eyes… then it's truly magic!
9. See the baroque architecture of Banffy Palace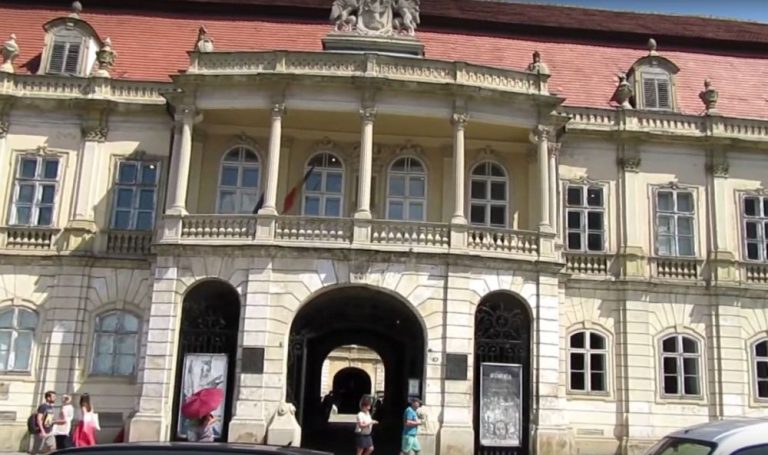 Banffy Palace is a touristic attraction itself, due to its baroque architecture. With a German design, this is one of the most beautiful buildings of Cluj-Napoca.
Besides, it also houses the Art Museum. If you choose to visit it, you'll be able to study a valuable Romanian and European heritage, consisting of decorative art, paintings and sculptures.
There are thousands of pieces you'll have access to, once you enter the museum in Banffy Palace.
Note: Make sure you don't mix it up with the nearby Banffy Castle in nearby village Bontida, where one of the most important music festivals in Romania takes place.
10. Enjoy the almost perfect symmetry of The Mirror Street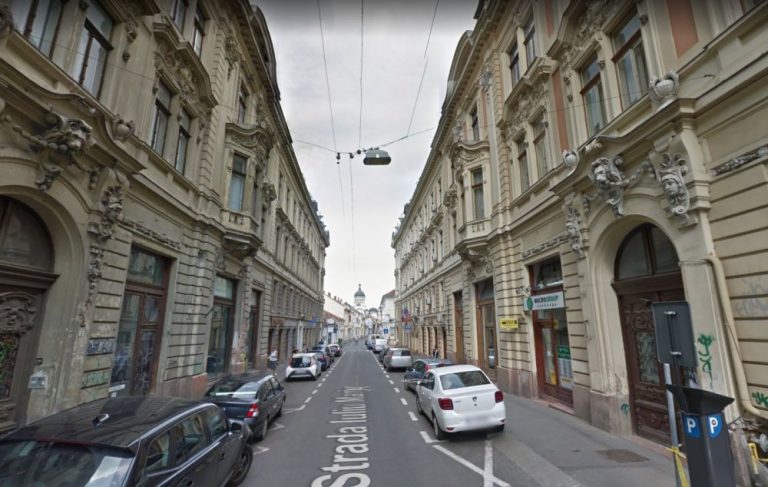 Yeah, just like in cinematic scenes from Inception or other movies. The Mirror Street is actually almost perfectly symmetric, with only few different components that don't mirror each other.
This is a definitely unique structure in Transylvania, and the street is in fact named Iuliu Maniu. The corners of the street are not actual square corners – they are rounded, creating an even more powerful reflection effect.
The mirroring buildings are Banffy Palace and Wolphard-Kakas house. Really a unique experience that you shouldn't miss!
11. Visit Tailor's Tower and the Small Museum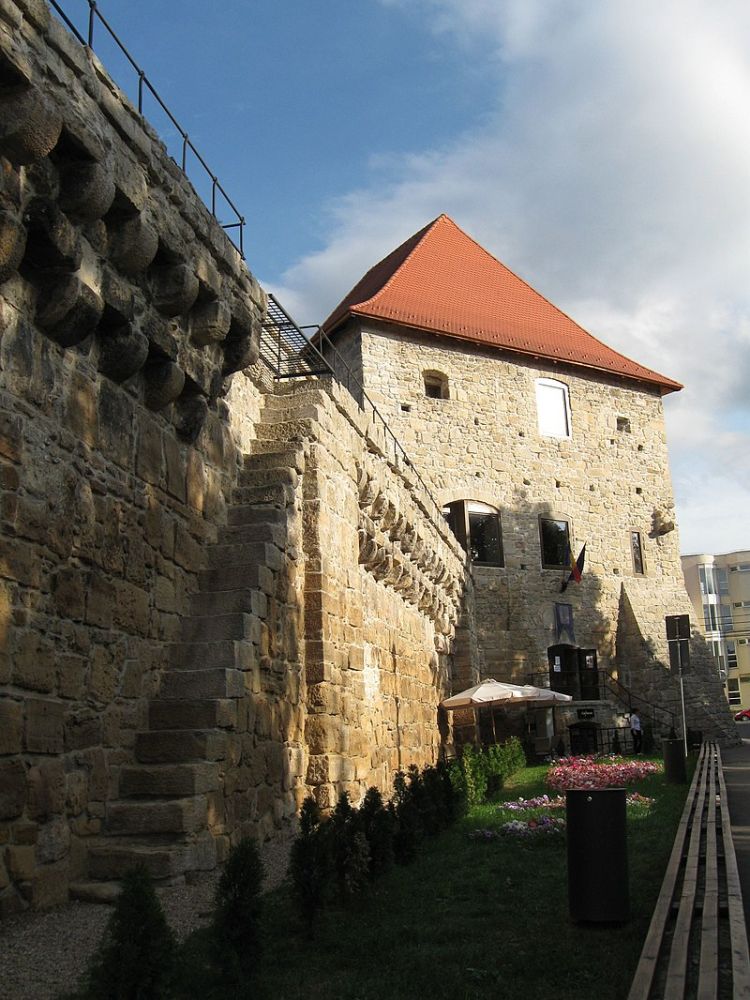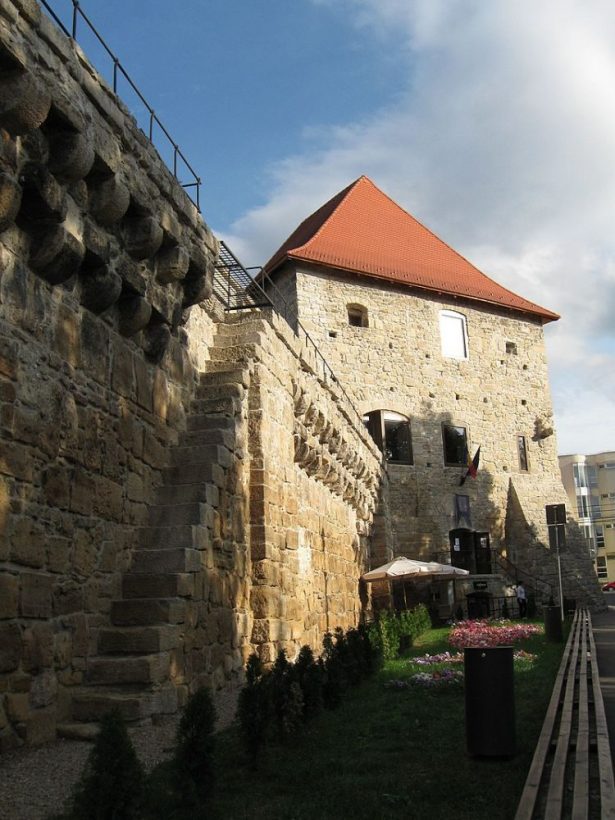 Another iconic destination in Cluj-Napoca is the Tailor's Tower. It is open to visit at specific hours, so make sure you check the program before going there
I would've sincerely preferred to visit at evening, but their program ends quite early. So be there at noon, or at least before 4p.m.
The Tailor's Tower was a fortification structure that was part of the old citadel of Cluj. Fortunately, the medieval construction was kept intact until today.
If you get here, make sure you also visit the museum within. It is a very small, yet enjoyable museum that you can enter for free.
It is filled with historical information regarding the first schools in Cluj-Napoca, the citadel, the medieval culture and society.
12. Get into the fairytale of the Reformed Church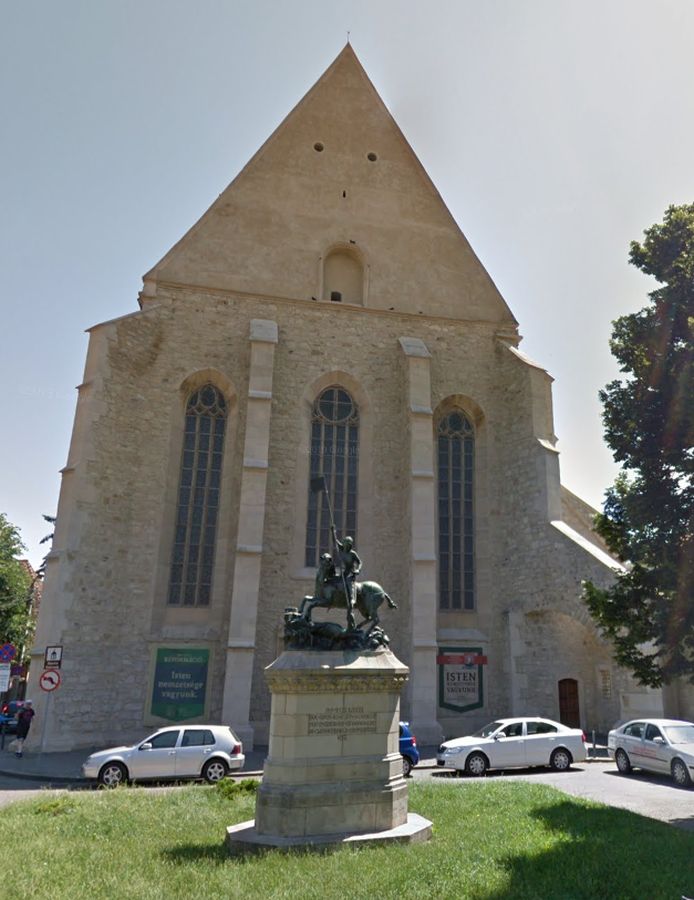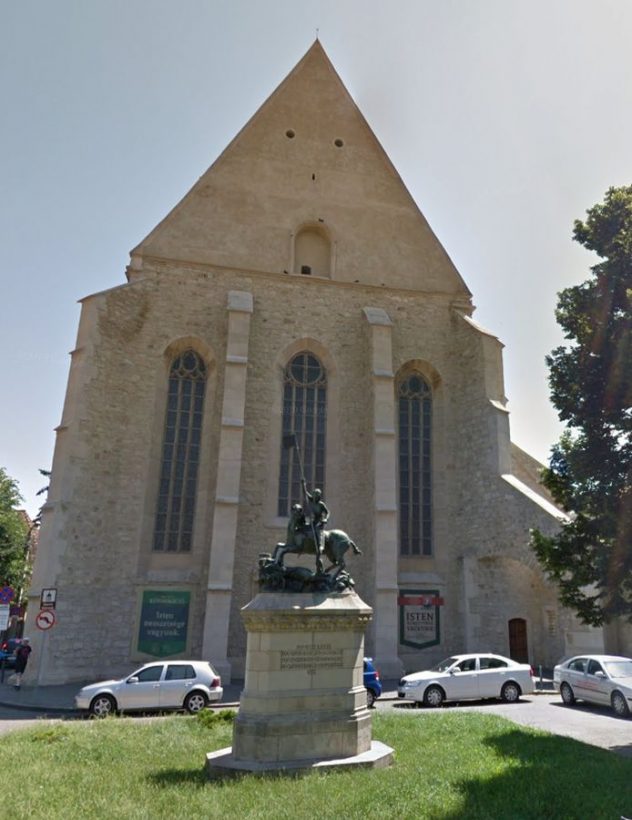 Only few steps away from the Tailor's Tower, you'll find the Reformed Church. If you are in the area, just make a short visit because you won't regret it – especially if you are imaginative or passionate about medieval times and stories.
In reality, it is the Reformed Church. So why am associating it with a fairytale? Well, at first it wasn't on my list of destinations in Cluj-Napoca.
I accidentally entered the street and discovered it. So the first time I saw it, I didn't know it was the Reformed Church. To me, it looked so much like a fairytale castle!
A tall, imposing building, with square towers, walls of stone and sharp roofs, it was looking exactly like a beautiful castle.
The building vibrates with medieval energy and there's definitely something magical about it. At least that's what I felt. Let me know in the comments if you felt the same way, or it's just me.
13. Test the famous local dish: Varza a la Cluj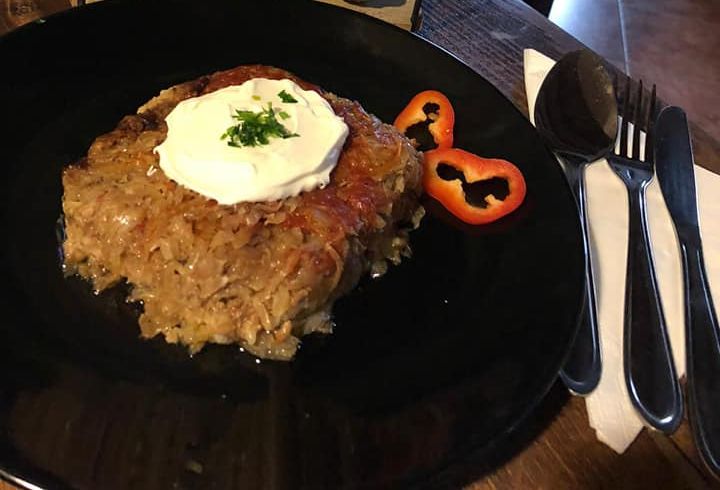 Nonetheless, you can't leave Cluj-Napoca without tasting the most famous dish of the place: Varza a la Cluj is the specialty of the local cuisine.
The food contains sour cabbage, minced meat and other spices and ingredients, baked in oven. It is prepared after a unique local recipe, which you won't be able to taste in any other place.
They even have specific restaurants specialized in this dish, called "varzarii", a name which somehow translates in cabbage-ers. You should definitely give it a try before you leave. It's a whole new rainbow of flavors and textures.
If you want to learn even more about local foods, check out my previous article about the best traditional Romanian foods you must try when you get here.
14. Give your senses some exotic savors from the Oriental Spices Shop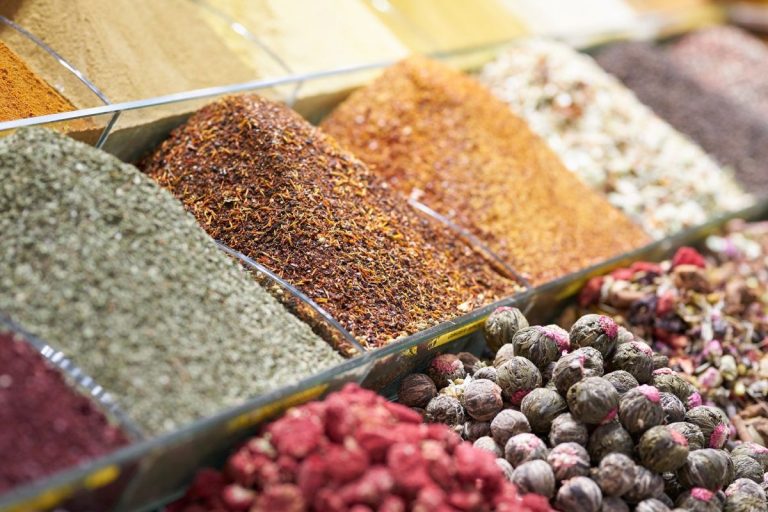 I'm including this in the top things to do in Cluj-Napoca because it's really a unique place in the area.
How often do you walk in a Romanian city and come across a shop with a huge variety of oriental spices?
Just few streets away from Unirii Square, at a five-minute walk, you'll come across this small shop filled with shelves with plenty of jars filled with Chinese, Indian, Turkish and other exotic spices that you can hardly find anywhere else in Romania. Flavors that you'll definitely not find in supermarkets.
I saw locals enter the shop and buy spices directly into small plastic bags. In fact, Cluj-Napoca is one of the few cities in Romania where there are quite many restaurants with Indian and oriental specific.
So, if you love oriental spices, you should definitely check this place out! They also have some specific Turkish sweets and candies and all are delicious.
Conclusion
These are my recommended 14 things to do in Cluj-Napoca for when you decide to visit this place.
It's a large town, continuously growing and developing, so of course there are a lot more things to do.
There are over three major shopping centers where you can shop if this is one of your passions, and some great Universities to check out if you're interested.
Basically, you can expect to find anything you'd like to see or do here… anything except for some Romanian vampires.
If you have additional attractions that you think are worth mentioning, do so in the comments section below.
All in all, I hope that my guide and recommendations will be helpful when you come to Cluj-Napoca and I really hope you enjoy your visit!