This article is the ultimate guide for the Untold Festival 2023, as I will share the full Line-up of artists and schedule for each day, by hours, during the festival.
Untold is probably the biggest and best music festival in Romania. Taking place each year in Cluj Napoca, in the first week of August, it's a music festivals where hundreds of thousands of people meet to watch top international artists perform live.
Untold 2023 takes place between 3 – 6 August in Cluj Napoca and this year's edition will be a bang, with amazing artists expected to amaze the crowds, including Imagine Dragons, French Montana, Bebe Rexha, Armin Van Buuren, and David Guetta.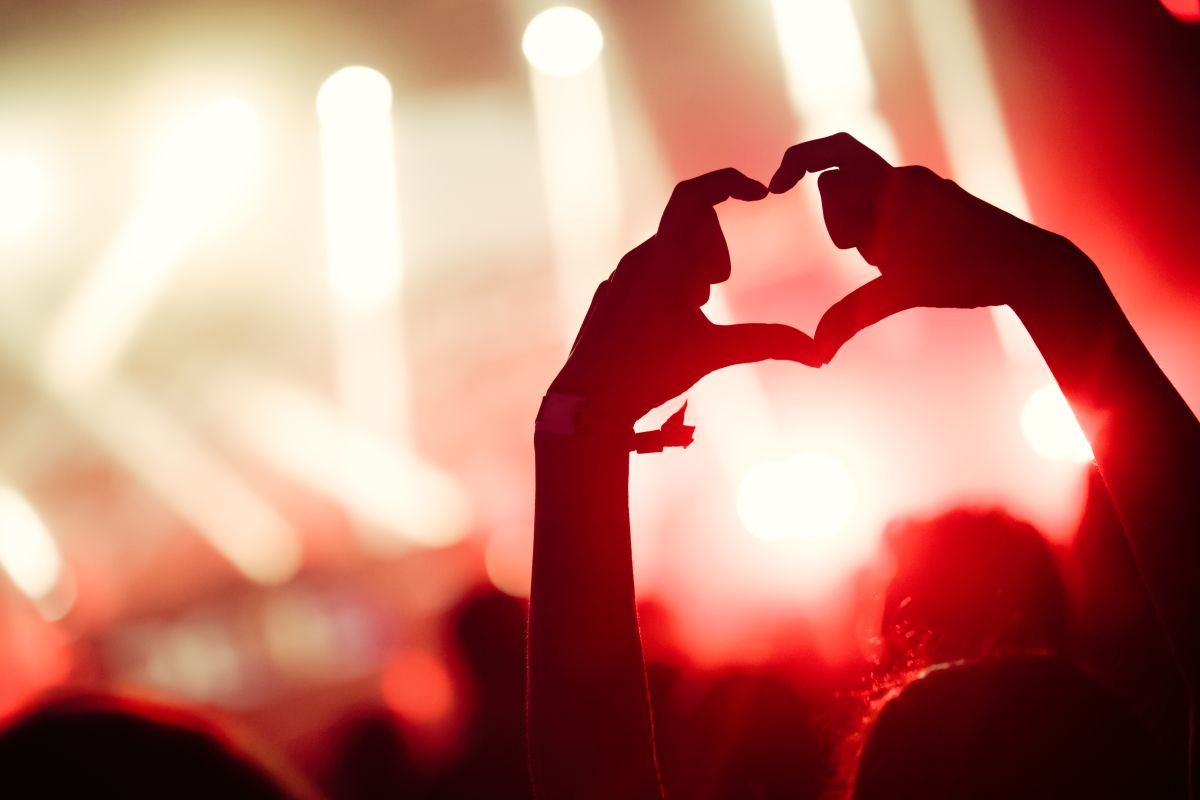 I will constantly update this article with the latest line-up, schedule and other changes. So make sure to check back often to be up to date with everything.
IMPORTANT: I am sharing the list of artists first, then the schedule for each day so make sure to scroll down to the bottom to see the full schedule by hour.
Also note that the schedule and line-up below might suffer last minute changes based on artist availability and other potential issues/changes.
Now, with all these in mind, let's check out the full Untold festival Line-up and Schedule for one of the biggest and best music festivals in Romania.
Untold 2023 Festival Map
First, let's check out the map of the festival below, showing you the layout of the place, the stages and all the facilities, experiences and food zone areas (click the image to open it in a new window where you can zoom in):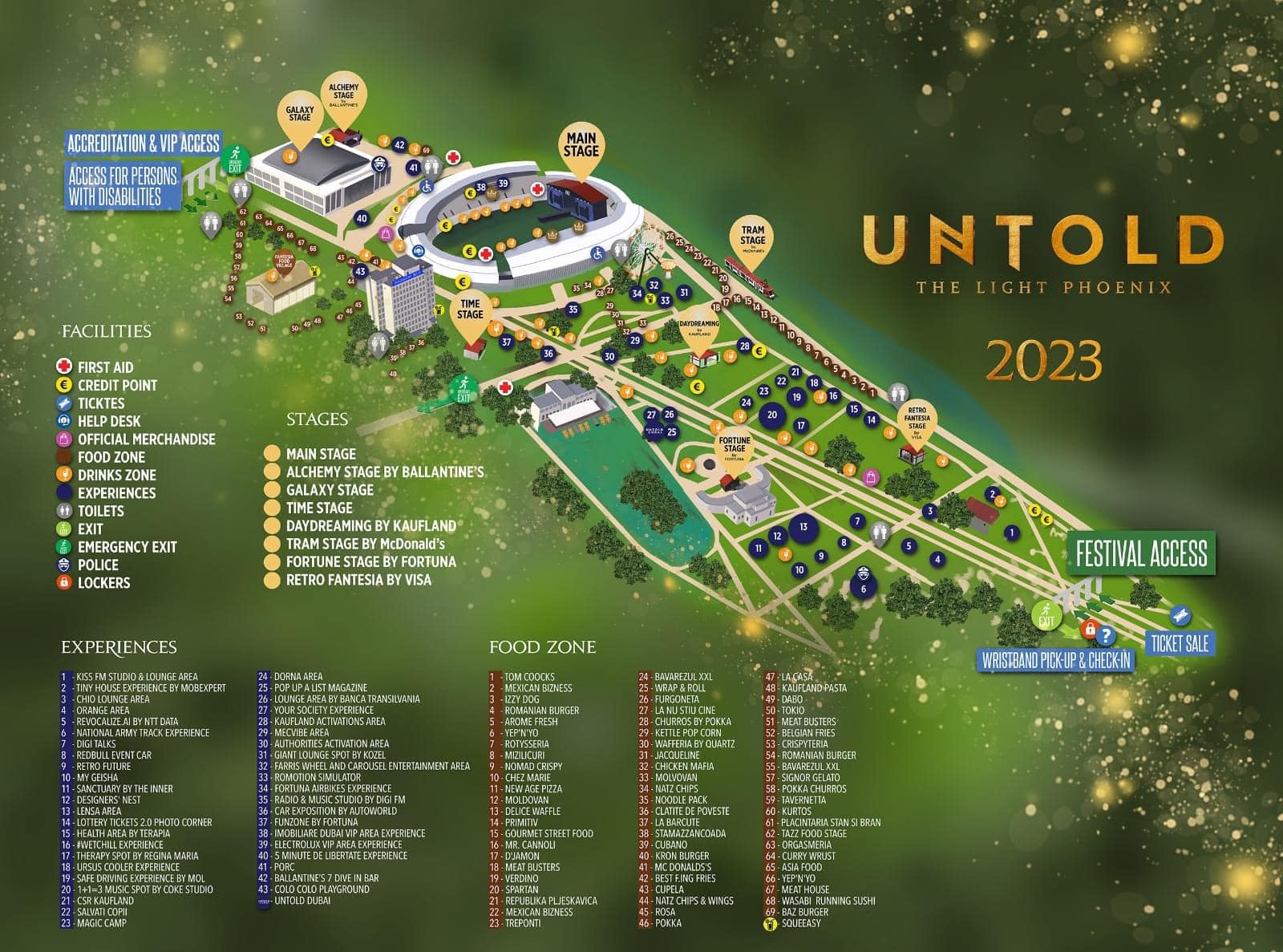 Untold 2023 Lineup
There is a total of 5 stages at Untold this year, each offering a niched down theme to festival goers:
Main Stage (this is where the top acts will perform)
Galaxy Stage (focusing on techno, house & tech house music)
Alchemy Stage (hip hop and DnB music)
Daydreaming Stage (slow house and spiritual electronic music)
Fortune (trance music)
Time Stage
Tram Stage
With over 250 acts expected to perform on all of these stages during the three days of the festival, there's definitely at least a few artists that you don't want to miss.
While most will probably feel that checking out the Main Stage performers (and probably Alchemy Stage) enough to be happy, there's definitely a bit of everything for everybody, as it was the case with the Neversea festival which took place in July in Constanta.
With all these in mind, let's check out the full line-up for Untold 2023, for each of the aforementioned stages:
Untold 2023: Main Stage Lineup and Schedule
Here are the top acts performing on the main stage this year, listed in alphabetical order:
Ava Max
Alesso
Armin Van Buuren
B Jones
Bebe Rexha
David Guetta
Eric Prydz
Fedde Le Grand
Ferg
French Montana
Imagine Dragons
Justin Jesso
KSHMR
Martin Garrix
Olly Murrs
Steve Aoki
Salvatore Ganacci
Thievery Corporation
Topic
Tujamo
WizTheMC
Years & Years
Zhu
Untold 2023: Galaxy Stage Lineup
If you want to focus on electronic music only, this is the stage you must keep an eye on. Here are the artists performing here:
Amber Broos
Amelie Lens
Ann Clue
Bedouin
Boris Brejcha
Camelphat
Charlie
Dixon
Casia
Marco Carola
Mathame
Mihigh
Nusha
Persic
Priku
Sara Bluma
Sit
Sublee
Untold 2023: Alchemy Stage Lineup
For hip hop fans, this is the stage to keep an eye on, although it will feature mostly local Romanian acts (some of the biggest names at the moment, though):
Amuly
Apashe
Azteca
Berechet
Borgore
Deliric & Silent Strike
DJ Alex Super Beats
Doc
Dub FX & Woodnote
FC DNB
Gheboasa
Grasu XXL
Guess Who
Ian
IDK
Killa Fonic
Macanache
Marko Glass ft. Bvcovia
MGL
Nane
OG Eastbull
Oscar
Parazitii
Petre Stefan
Puya
Rava
Satra BENZ
Specii
Spike
Valentino Khan
YNY Sebi
Untold 2023: Daydreaming Stage Lineup
For a bit of more spiritual music, the Daydreaming stage has plenty to offer, as you can see below:
Am I Right
Audiofly
Acid Pauli
DJEFF B2B Fiona Kraft
Dubfire
Gheist
Glauco Di Mambro
Guy J
John Wood
Kerala Dust
Marwan
Mihai Popoviciu
Mira & Chris Schwarzwalder
Oliver Koletzki
Paax (Tulum)
Parra for Cuva
Rampue
Satori
Sean Doron
Shagy
Stravroz
Secret Factory
Leger Modular
Themba
Tooker
Untold 2023: Fortune Stage Lineup
Last but not least, let's check out all the artists expected to perform at the 5th stage this year:
Alex Kunnari
Allen Watts
Andrew Rayel
Artento Divini
Bogdan Vix
Ben Gold
Connely B2B Factor B
David Rust
Daxson
DRYM
Ilan Bluestone
Bryan Kearney Pres. Key4050
Laura Van Dam
Madwave
Markus Schulz
Men-D
Nikolas & Starpicker
Nick Havsen
Ruben De Ronde
Suncatcher & Exolight
The WLT
UUFO
William Schneider
Xijaro & Pitch
Aname
Now that you know about the artists performing, it's time to check out the schedule in case you want to make sure you don't miss your favorite act.
And since this festival takes place in Cluj Napoca and you might still have some time for exploring around a bit, make sure to check out my previous articles sharing the best restaurants in Cluj Napoca, as well as the top things to do and see in Cluj.
Untold 2023 Schedule (By Day & Hour)
Let's start with the official posters showing the schedule for each day, for each stage. Simply use the arrow to browse through the stages and see the schedule:
As you can see in the images above, at the moment, we only know the exact time the top artists will play. I will update this list as the full schedule is set in stone. But until then, here is what we have:
Main Stage Full Schedule by Day & Hour
Thursday, Aug 3:
Partidul KISS FM: 6PM – 7PM
Irina Rimes: 7:20PM – 8:20PM
Ava Max: 8:35PM – 9:35PM
Bebe Rexha: 9:55PM – 10:55PM
Topic: 11:10PM – 0:40AM
Alok: 1:10AM – 2:40AM
Steve Aoki: 3AM – 4:15AM
KSHMR: 4:30AM – 6AM
Friday, Aug 4:
Justin Jesso: 6PM – 7PM
Delia: 7:20PM – 8:20PM
Olly Murs: 8:40PM – 9:40PM
Imagine Dragons: 10:10PM – 11:40PM
Salvatore Ganacci: 0:00AM – 1:30AM
Alesso: 2AM – 3:30AM
Tujamo: 3:50AM – 6AM
So, there you have it! If you were wondering when will Imagine Dragons perform at Untold Festival 2023, the answer is now available: Imagine Dragons will play on Friday, August 4th, between 10:10PM – 11:40PM on the main stage of the festival.
Saturday, Aug 5:
B Jones: 6PM – 7PM
WizTheMC: 7:20PM – 8:20PM
Thievery Corporation: 8:40PM – 9:40PM
French Montana: 10PM – 10:40PM
ZHU: 10:55 – 0:10AM
Eric Prydz: 0:35AM – 2:00AM
Martin Garrix: 2:30AM – 4:00AM
DJ Bliss: 4:20AM – 5:20AM
Sunday, Aug 6:
Almud: 6:30PM – 7PM
Vama: 7:15PM – 7:55PM
Ferg: 8:10PM – 9:10PM
Special moment by Ballantines
Years & Years: 9:40PM – 10:40PM
Special moment by BT & VISA
Fedde Le Grand: 11PM – 0:30AM
David Guetta: 1:15 AM – 2:45AM
Armin Van Buuren: 3AM – 6AM
Galaxy Stage Full Schedule by Day & Hour
For this stage, we only have the daily schedule available. I will update the times when I'll know them.
Thursday: Amer Broos, Amelie Lens, Ann Clue, Boris Brejcha, Kasia, Nusha, Sara Bluma
Friday: Bedouin, Camelphat, Mathame, Sublee
Saturday: Charlie, Mihigh, Priku, Tale of Us, Woo York
Sunday: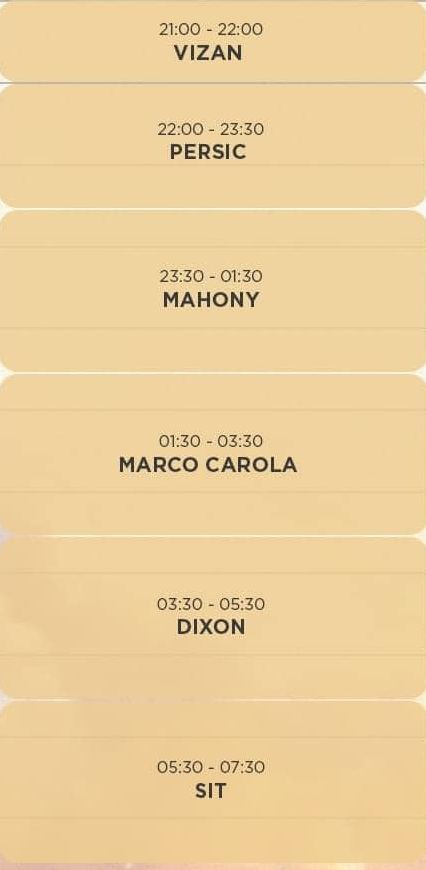 Alchemy Stage Full Schedule by Day & Hour
For this stage, we only have the daily schedule available. I will update the times when I'll know them.
Thursday:
ZO: 6PM – 6:30PM
Berechet: 6:30PM – 7:15PM
Petre Stefan: 7:20PM – 8:05PM
YNY Sebi: 8:10PM – 8:55PM
Specii: 9PM – 10PM
Doc: 10:05PM – 11:05PM
Spike: 11:10PM – 00:10AM
Grasu XXL & Guess Who: 00:30AM – 1:30AM
Borgore: 1:35AM – 3:05AM
Friday:
Gheboasa: 6:15PM – 7:00PM
IDK: 7:05PM – 8:05PM
AMULY: 8:10PM – 8:55PM
RAVA: 9PM – 9:45PM
AZTECA: 9:50PM – 10:35PM
Satra BENZ: 10:40PM – 11:25PM
Nane: 11:30PM – 0:15AM
Valentine Khan: 0:20AM – 1:50AM
Saturday:
Bad & Boujee: 6PM – 7:15PM
OG Eastbull: 7:20PM – 8:05PM
Marko Glass ft Bvcovia – 8:10PM – 9:10PM
Killa Fonic: 9:15PM – 10PM
FC DNB: 10:05PM – 10:50PM
IAN: 10:55PM – 11:40PM
Deliric X Silent Strike: 11:55PM – 0:55PM
Apashe: 1:05AM – 2:35AM
Sunday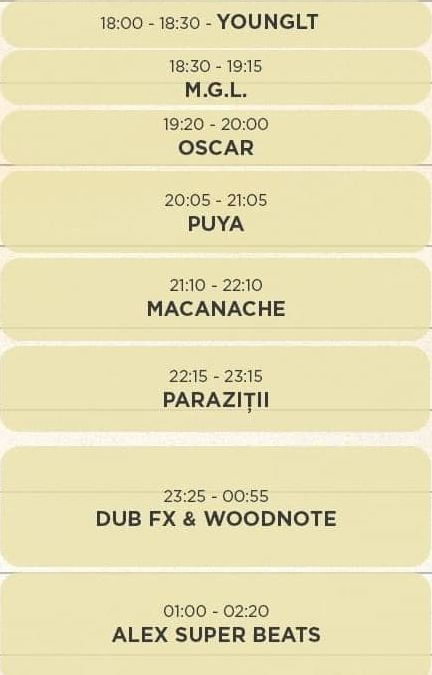 Daydreaming Stage Full Schedule by Day & Hour
For this stage, we only have the daily schedule available. I will update the times when I'll know them.
Thursday: Acio Pauli, Gheist, Glauco Di Mambro, John Woods, Paax (Tulum), Rampue, Stavros
Friday: Am I Right, DJ Eff & Fiona Kraft, Guy J, Guy Mantzur, Jo.Ke, Maya Mar, Mira & Chris Schwarzwalder, Satori, Secret Factory
Saturday: Aracil, Dubfire, Marwan Dua, Parra for Cuva, Sean Doron, Sebastian Leger, Tooker
Sunday: Anthony Middleton, Day Dreamers, Kerala Dust, Mihai Popoviciu, Oliver Koletski, Shagy, Themba
Fortune Stage Full Schedule by Day & Hour
For this stage, we only have the daily schedule available. I will update the times when I'll know them.
Thursday: Aname, Ben Gold, Bogdan Vix, Drym, Madwave, Markus Schulz, Men D
Friday: Alex Kunnari, Alen Watts, Bogdan Vix, Craig Connely and Factor B, Ilan Bluestone, John O'Callaghan & Brian Kearney, Suncatcher & Exolight
Saturday: Ali & Fila, Artento Divini, Bogdan Vix, Laura Van Dam, Ruben de Ronde, UUFO, Xijaro & Pitch
Sunday: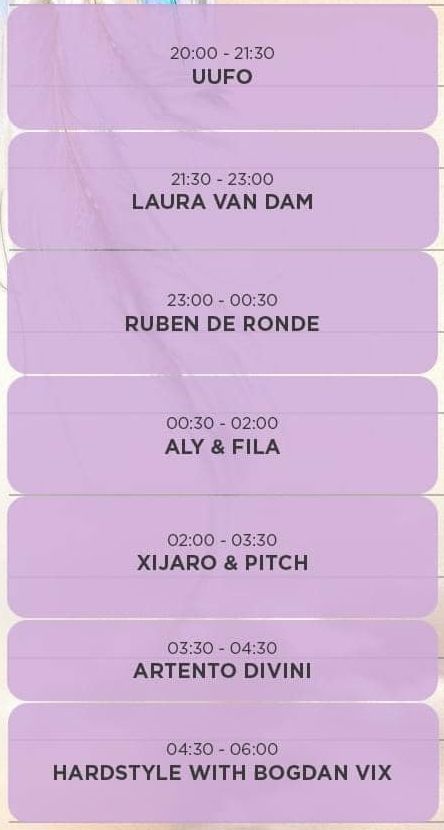 Finally, make sure to download the official apps for Untold from Google Play or the App Store. The schedule above can still suffer changes based on various factors.
Wrapping up
This year's Untold music festival is set to be one of the biggest and best ever. My personal opinion is that it is behind Neversea, which took place in Constanta – so the king of music festivals in Romania could change this year.
Either way, with amazing artists expected to perform on all five stages, we have 4 nights of amazing memories waiting to happen.
If you have additional questions regarding the Untold festival, or if you want to share your thoughts and opinions, please do so by commenting below.