With one of the largest populations from all cities of Romania, Cluj-Napoca is also the place where people come to live for the largest variety of reasons. But which is the best neighborhood to live in Cluj Napoca? This is what we're going to talk about today!
Cluj is one of the four major academic centers in the country, so students come to live for a few years in Cluj-Napoca, for their University education. Many choose to remain here afterwards as well, so the property market is very competitive here, with the cost of living being one of the highest in the country.
It is one of the fastest growing and developing business industries, so people travel in the city with business. And, of course, it is one of the most attractive touristic destinations in country, therefore some come only to stay for a few days or weeks and visit.
No matter why you've decided to move to Cluj, whether it's for a few days, a couple of months or years to come, I've got your back! I'm listing the best neighborhoods in Cluj Napoca – the best areas to live in if you plan to move here or visit for just a few days.
We're talking about one of Romania's largest cities, with a quite impressive number of neighborhoods to choose from. But it doesn't have to be overwhelming! I prepared for you a list with the best 9 neighborhoods to live in Cluj-Napoca, according to your own preference, interest and stay duration.
Just a quick mention before we get into the list of neighborhoods I recommend. Romania is generally a safe country, and Cluj-Napoca is definitely one of the safest cities here.
Streets are clean, people are friendly (several studies showed that over 90% of the population is open towards visitors and tourists). So you don't have to worry about safety no matter what neighborhood you will eventually choose.
Public transport infrastructure is also greatly developed in the city, and you have plenty of alternatives to choose from in order to move from one side of the town to the other: trams, electric buses, public bikes, taxis and Ubers are always available.
Though I guess that living close to your interest area (whether it's University, workplace, attraction points) will help you save a lot of money and time.
So if you're wondering where to live in Cluj Napoca, here there are my recommendations for the best 9 neighborhoods to live in Cluj-Napoca.
1. Old Town
The city center is always a go-to, no matter the purpose or duration of your stay. You may come to visit, or to live, the central neighborhood is always a first recommendation. You're right in the middle of the town, surrounded by restaurants, bars, entertainment and fun.
The Musem Square and Unirii Square are only few steps away; so are the theatre and museums. Besides, you are close and well connected to every important point and any direction of the city, as well as the main attractions in Cluj Napoca.
This is also the most expensive area of the city – with demand high and offers low – but if you are not in a big hurry, it's worth waiting for the perfect deal here.
Below you can check out the area I'm talking about, via Google Maps: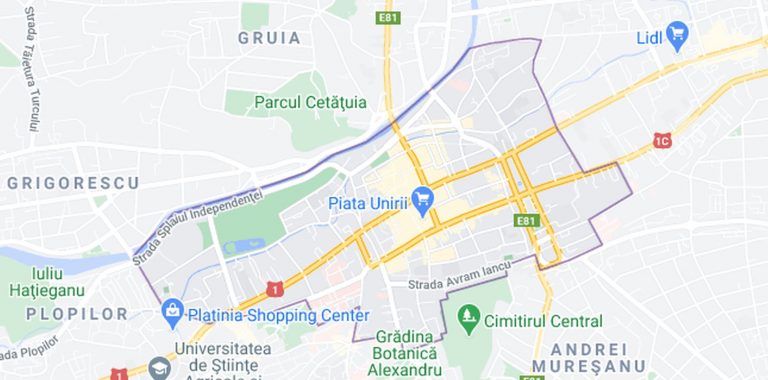 2. Gheorgheni
Gheorgheni is the second best place to live in Cluj-Napoca. It's in the immediate proximity of the center, where you can get by foot in less than 10 minutes. It's right next to the Tailor's Tower and Unirii Square. This makes it a great choice both for visitors and for people who're moving in Cluj-Napoca.
The main street in Gheorgheni is Nicolae Titulescu. On this street you'll be able to find several shops and pharmacies that are usually open until late at night. Iulius Mall and the University of Economics are also placed in Gheorgheni.
I also strongly recommend this neighborhood if you're transitioning Cluj-Napoca and need to be close to the airport.
Sure, there are other neighborhoods even closer to the airport, such as Intre Lacuri or Someseni (which was first a locality that later joined Cluj-Napoca and turned into a neighborhood). But I don't recommend these; they are very noisy and getting a good rest can be really difficult in these areas.
Gheorgheni, on the other hand, is a quiet neighborhood, close enough to the airport so you get there quickly and also far enough to keep the noise and agitation away.
Plus, you'll get a great view of close-up airplanes taking-off or landing. And, if you're choosing a high-rise apartment, you'll also be able to enjoy some stunning sunsets.
See the area I'm talking about, via Google Maps: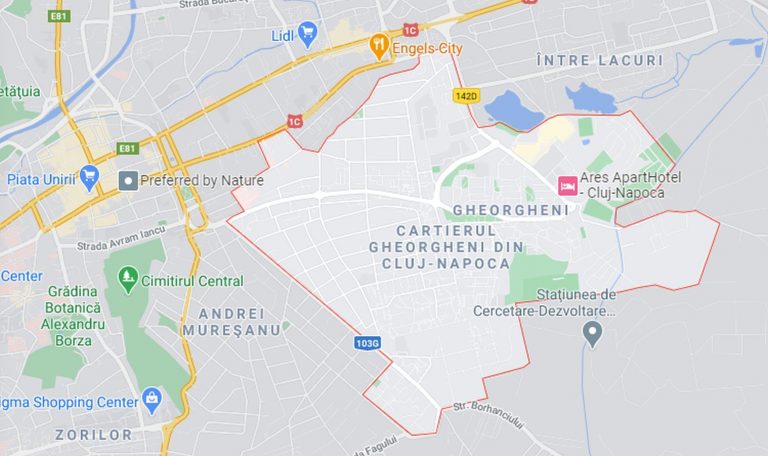 3. Gruia
Especially if you're a tourist visiting Cluj-Napoca, the Gruia neighborhood can be a golden-ticket. I recommend it for its main advantage, which is the great proximity to the train station and to Beta bus station (national transport buses). So if you travel by these means, you are really close to them.
In addition to this, Gruia is also the neighborhood where Cetatuia Park is placed. So there is no better place to enjoy the climbing of Cetatuia Hill and the panoramic view of the city every day, than living in Gruia.
Check via Google Maps the exact location of this neighborhood: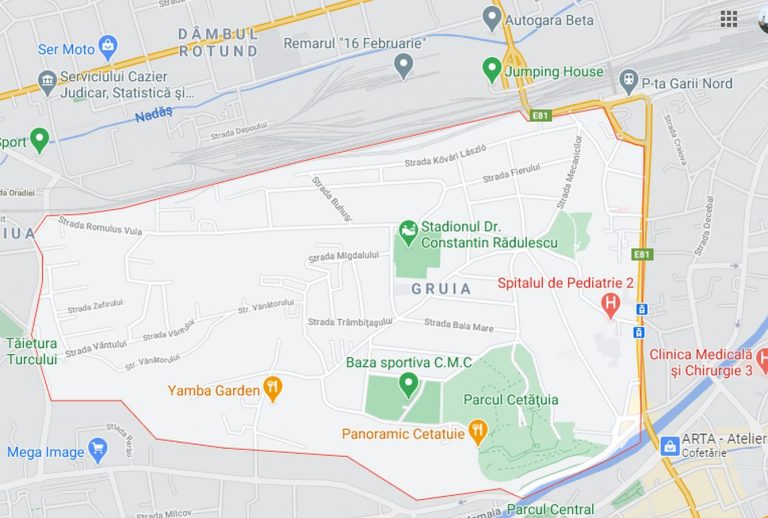 4. Andrei Muresanu
The fourth location I recommend for your stay in Cluj is Andrei Muresanu. This is in my top recommendations no matter your interest. You can come to visit Cluj for a few days, or you can move here. In both cases, Andrei Muresanu is a great choice.
Besides being located in the proximity of several shops and restaurants, Andrei Muresanu is the closest neighborhood you can find to the Botanical Garden. Long, relaxing walks, far away from the noise of the city, are just few steps away from Andrei Muresanu area.
Plus, the neighborhood is generally very quiet, mostly with houses and not very tall blocks of flats. A great place to stay for families, young couples and students as well: it's silent and it's very clean.
You can see the area I'm telling you about, via Google Maps: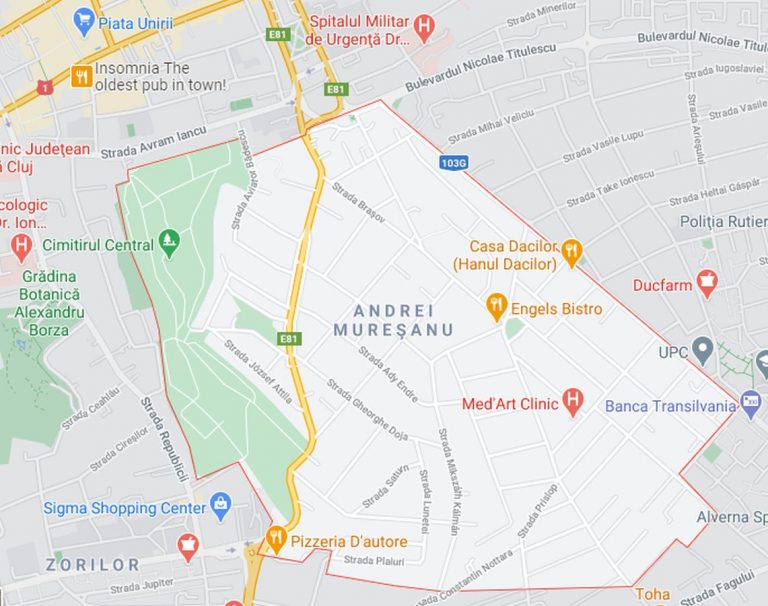 5. Zorilor
To the south of Andrei Muresanu you will find Zorilor neighborhood. It is a small area with a quite small population, compared to other areas of the city, but with generally higher standards of living. It is a highly developed area where plenty of investments were made during the last decade.
Zorilor neighborhood is equally close to the Botanical Garden as Andrei Muresanu and there are mainly houses built in the area, plus two tower blocks, also close to the Garden. You can also find the Sigma Shopping Center here.
See in the image below the area I'm talking about, via Google Maps: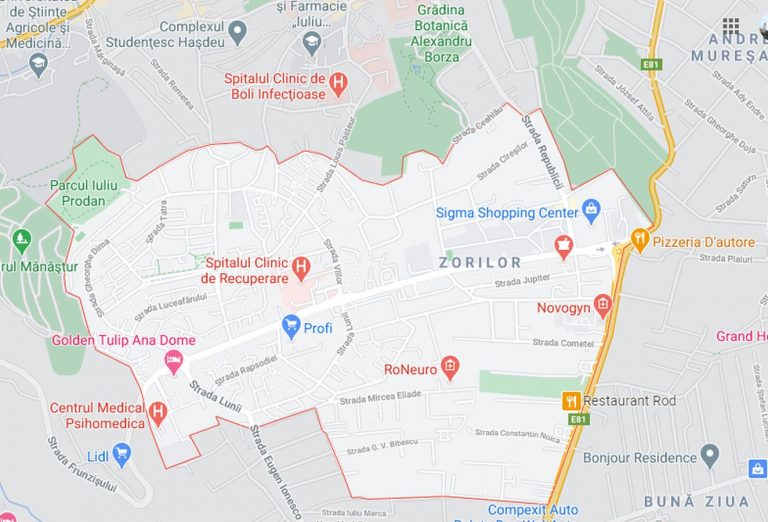 6. Plopilor
This is your location if you're coming to Cluj-Napoca for the UNTOLD festival. Cluj Arena is situated right in Plopilor neighborhood, and it's also very close to the center and Central Park.
So, if you're a tourist, and if your main interest is UNTOLD, you can't get any better location in Cluj-Napoca than Plopilor!
If you're moving to Cluj, on the other hand, it roughly depends if Plopilor is the right place for you or not, according to your feelings about noise, tourists and loud music. If you want to work, to rest, to have a silent place all year long, you might want to check stays in Gheorgheni or Andrei Muresanu.
But if, on the other hand, you love music, entertainment, distraction and new tourists, you can definitely get a place in Plopilor. One of the main advantages is that you'll get to listen to UNTOLD music every year for free, from the comfort of your own apartment!
Nonetheless, Plopilor is also one of the best locations from Cluj-Napoca for Students, due to the proximity to most Universities in town.
Check out the area I'm talking about in the image below, via Google Maps: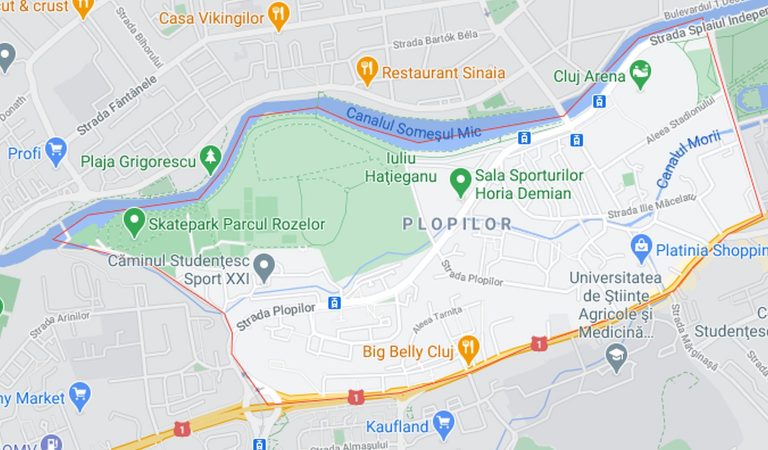 7. Hasdeu – Best for Students
If you're coming in Cluj for studies, no doubt that Hasdeu must be your first choice. The area that is, in fact, a long street called Hasdeu, is the largest student campus in Cluj-Napoca and the best neighborhood for you to stay as a student.
There are several canteens, boarding schools, libraries and Universities in this campus, plus various forms of entertainment, places to hang out and more.
Practically, this is the place developed around students' life and the area where students may find anything they could possible need while going to University in Cluj-Napoca.
You can see the area I'm talking about via Google Maps, in the image below: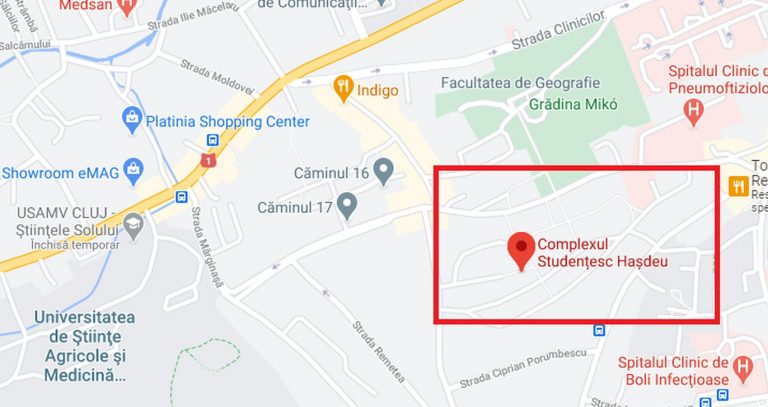 8. Marasti
Marasti is one of the largest neighborhoods in Cluj-Napoca, close to the city center. This may be your best option if you're coming with business or work in Cluj-Napoca, as many institutions are actually placed in this area – and so might be your own workplace.
Another great advantage of living in Marasti is the fact that it is well connected to every other area of the city. Public transport is working great anyway in the entire Cluj-Napoca city, but especially in Marasti. There are means of transport towards any part of the town.
Take a look on the map below to see the area I'm talking about, via Google Maps: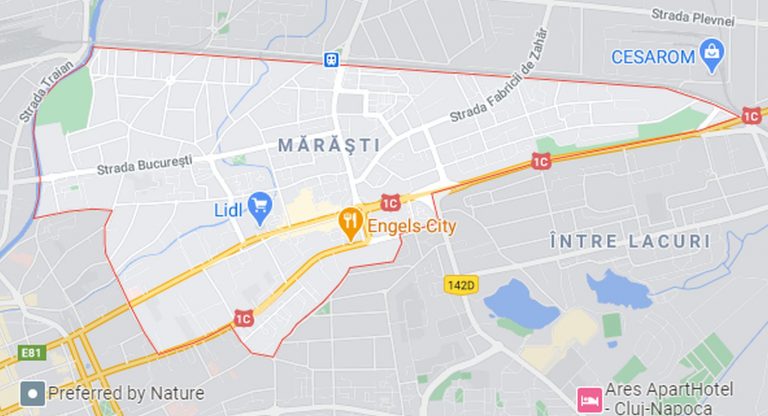 9. Buna Ziua
Last but not least, Buna Ziua is also a great place to stay in Cluj. Although there are very few parks and green places at the present moment, with few exceptions, the place is very clean and a good option to stay in Cluj.
There has been a focus on the development of this neighborhood for the last years, and all buildings in the area are new, which is the main reason why I am recommending it. The living standards are really high in the zone, so if you prefer a lifestyle that matches this description, go for it.
The place is quiet, clean, safe and modern. It's an amazing choice for the feeling of new and for the innovation vibe that it inspires.
You can check the image below via Google Maps to get an exact idea of what area I'm talking about: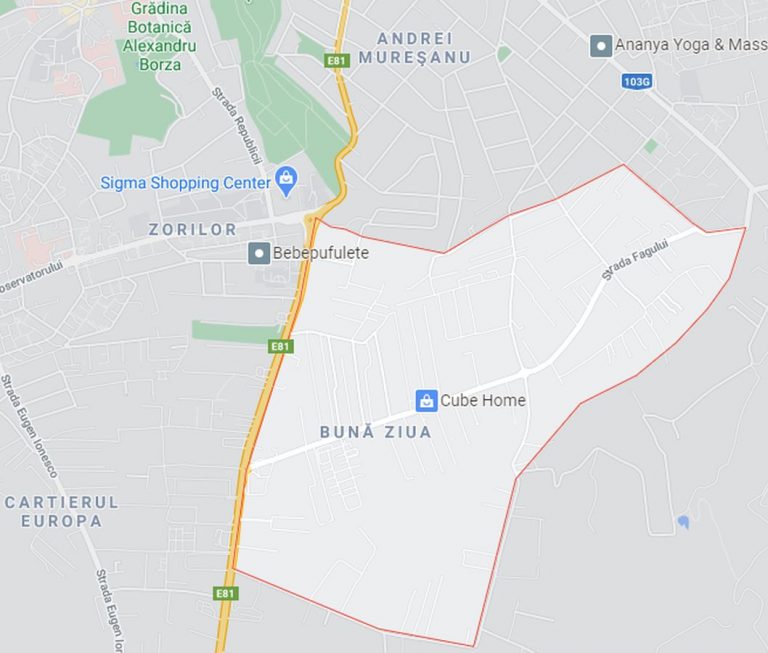 Conclusion
To sum it all up, Cluj-Napoca is a well-developed city and all areas are safe and generally clean. So, no matter where you choose to live, you will most likely not regret your decision.
In general, no matter what neighborhood you live in, you'll get to find shops, pharmacies and parks in the area. You will be close to the best means of transport to get you wherever you need to be in town, and you'll permanently be as safe as possible.
The only difference will be your own comfort and proximity to the area of your main interest. And I hope that in regard to this matter, my recommendations will help you make the best decision!