You have to check out my recommended, best neighborhoods to live in Timisoara, if you want to make sure that you're living in the best possible areas of the city – no matter if you're visiting for a few days or making a more permanent move.
If you don't know the town well, this choice can become overwhelming as there are over 25 neighborhoods to choose from. I am here to help you make the right choice, though!
According to the reason of being in Timisoara, which is one of Romania's largest cities with important cultural, business and academic centers, the top choice might vary.
Some areas are better for students, some are better suited for families and others are great for all (but more expensive).
This is why I've decided to present you the best 9 neighborhoods in the city so that you can choose the one that is just right for your needs, expectations and budget.
To sum them up, from top to bottom (in case you don't want to get all the details – which you should) my top recommendations in terms of the best neighborhoods to live in Timisoara are:
Cetate (My Top Choice)
Circumvalatiunii
Olimpia-Stadion
Complexul Studentesc aka Complex
Fabric
Dacia
Calea Aradului
Calea Sagului
Giroc
Now let's get a bit more in depth with each of these areas and see why they are the best.
1. Cetate
This probably applies to any city, and especially for tourists who come to stay in Timisoara for a few days. Living in the center of the town will have you close to the most important touristic attractions, restaurants and activities.
Practically, you'll be in the heart of the city. In Timisoara, this central neighborhood is called Cetate.
The only case in which I don't recommend you live in Cetate neighborhood is if you're in Timisoara for work. You'll need a quieter area so you can focus on your activity.
The center can be a bit noisy during fairs or festivals, celebrations or concerts, especially if your room is not well isolated.
But otherwise, if you're coming to visit Timisoara, Cetate neighborhood is the perfect choice!
You'll be close to all main Squares of the town, Bega River, Opera, Philharmonic, Metropolitan Cathedral, Central Park, Botanical Park, practically most of the things that a tourist is interested in seeing!
Related: How to get from Bucharest to Timisoara.
2. Circumvalatiunii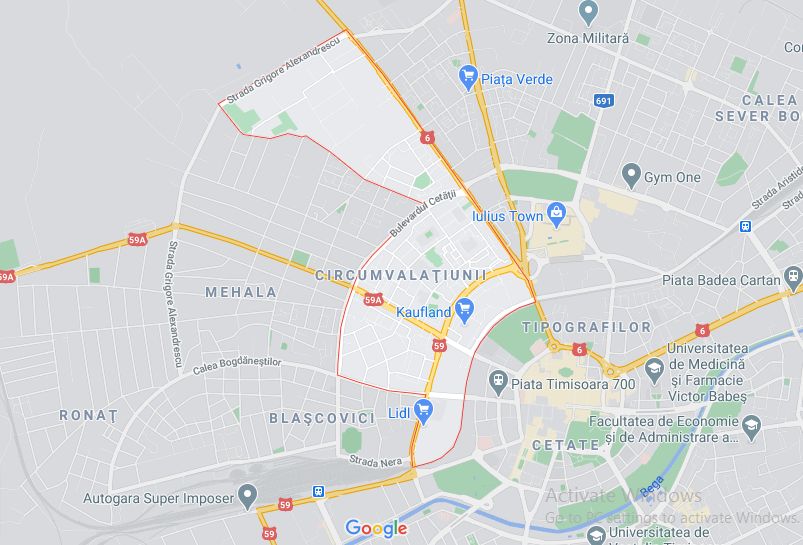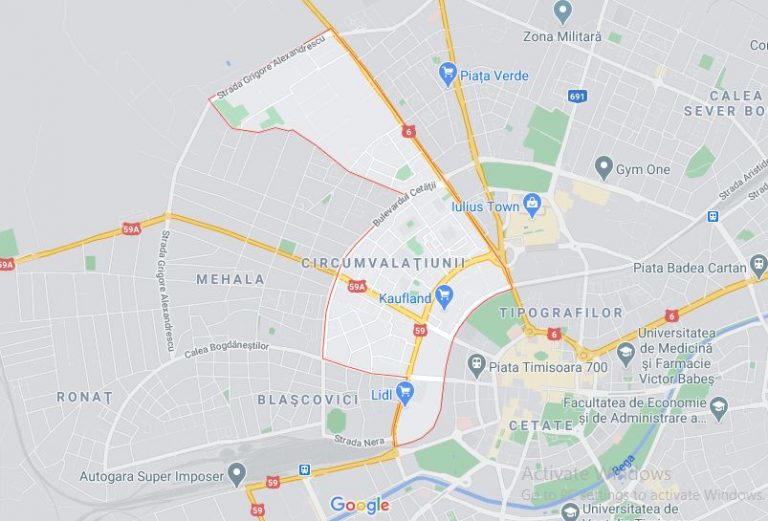 The next best neighborhood to live in Timisoara after Cetate is Circumvalatiunii. Although it's not exactly in the center of the city, this is another important central neighborhood, in the immediate proximity of the Botanical Park, center and Iulius Town.
It is a quiet neighborhood, with plenty of supermarkets and green areas, and a great choice because many businesses have their offices in this district – so you can be within walking distance to your work place.
RELATED: The PERFECT 10 day Romania itinerary
3. Olimpia-Stadion

Olimpia-Stadion offers proximity to the County Emergency Clinical Hospital, a fast-food chain, the Stadium, luxuriant gyms and office buildings.
It is one of the best-developed neighborhoods in town and a great choice for a place to live if you're looking for a slightly quieter area (unless you're right next to the stadium, that is).
It's also a great alternative for students, because it's close enough to the main Universities.
4. Complexul Studentesc aka Complex

Even though there are few other districts that offer proximity to the University Campus, Complexul Studentesc is by far the best choice for students.
Not only that it's the closest neighborhood to the campus of The University of West, including the Faculty of Law and The Faculty of Economy and Business Administration.
But it also includes some of the restaurants, pubs, bars and shops with the cheapest prices in town. Most of the boarding schools are also situated in Complexul Studentesc.
There is always a young vibe surrounding the area, and it is also close to Children's Park, Roses Park, swimming pools and gyms.
5. Fabric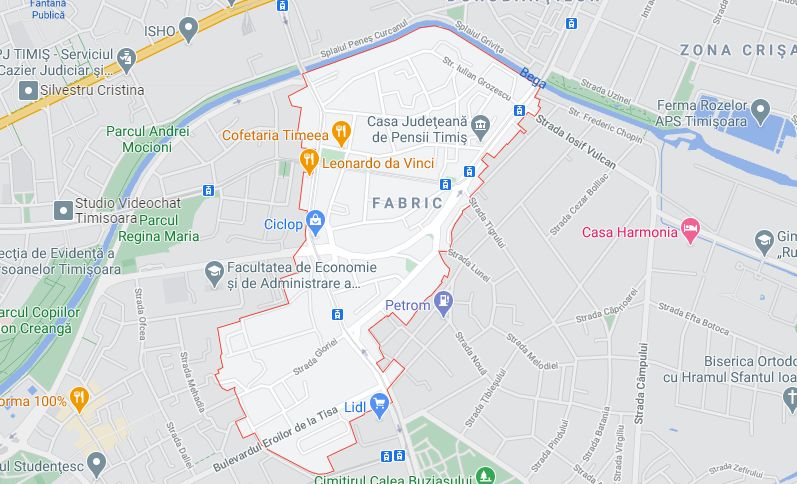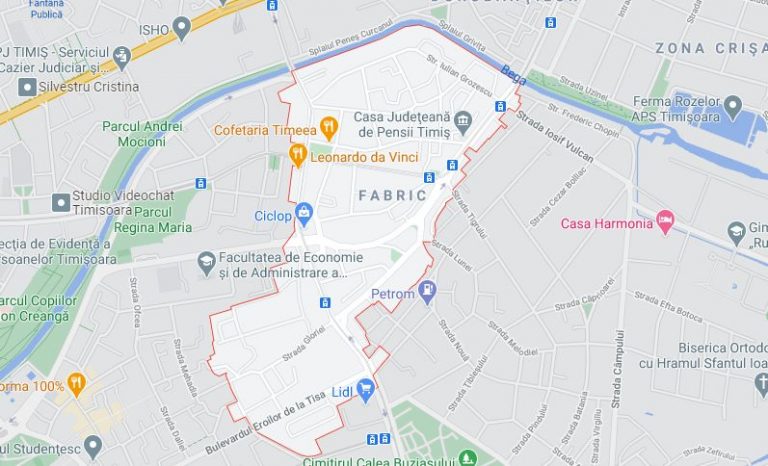 This is the second best neighborhood to live for students, but also great for families.
Although it's not in the heart of the University campus, it's still close to the main Universities and Faculties of Timisoara. The big advantage in Fabric is the fact that it's a lot quieter and peaceful.
Besides, Fabric is one of the most beautiful neighborhoods in Timisoara. It is the historical center of the town, and there are plenty of historical buildings with beautiful architecture to be admired.
An amazing choice especially for those passionate about different styles of architecture and don't need to be in the heart of the city.
6. Dacia

If your new job in Timisoara is somewhere in Iulius Town, or around the office buildings around the central area, Dacia might be a great choice. Prices for accommodation in this neighborhood are relatively low, but it's a quiet and clean district.
The main advantage, if you stay in Dacia, is the immediate proximity to Iulius Town (with the city's largest mall) and to the center. It's also close to the Botanical Park and plenty of supermarkets.
7. Calea Aradului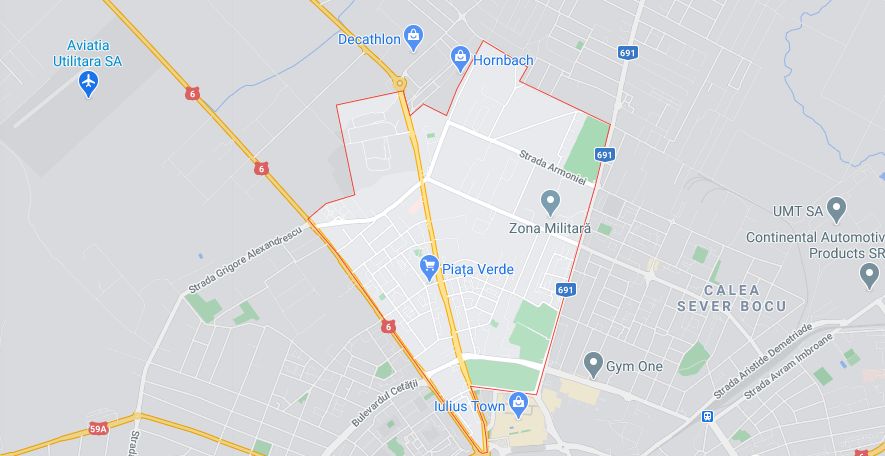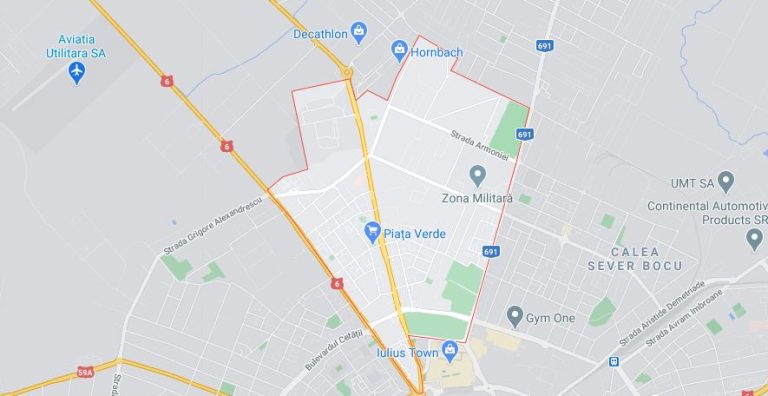 Now this is probably the best neighborhood for you, if you're in Timisoara with work. Calea Aradului is the closest district to the industrial zone of the town, but still remaining quiet.
For example, if you'll travel often with business, then you'll need to be close to the airport. Calea Aradului is on the way, the closest neighborhood you can find that offers both proximity to the airport and silence for concentration.
At the same time, it is on the way towards the industrial area of the town, which is constantly growing and developing. More and more fabrics and office buildings are being built in this area, so it's the best choice if you're going to work there.
The best, because it keeps you close to your workplace, but it's also still connected to the town. Calea Aradului is very close to Euro Shopping Center and Iulius Town.
8. Calea Sagului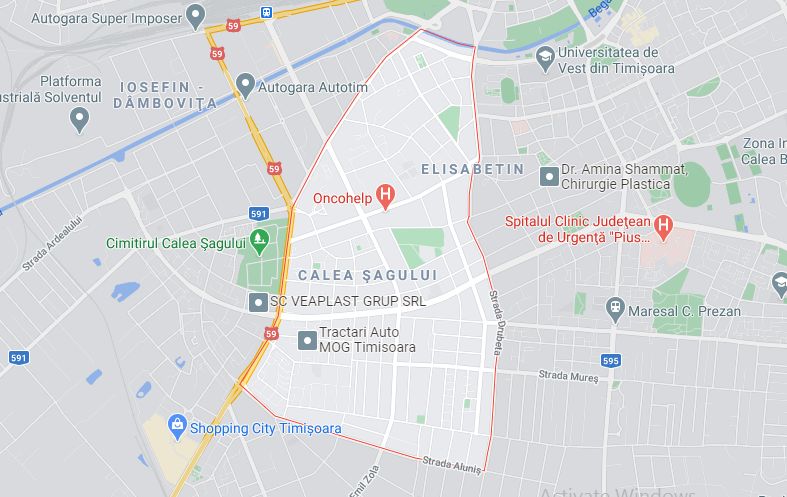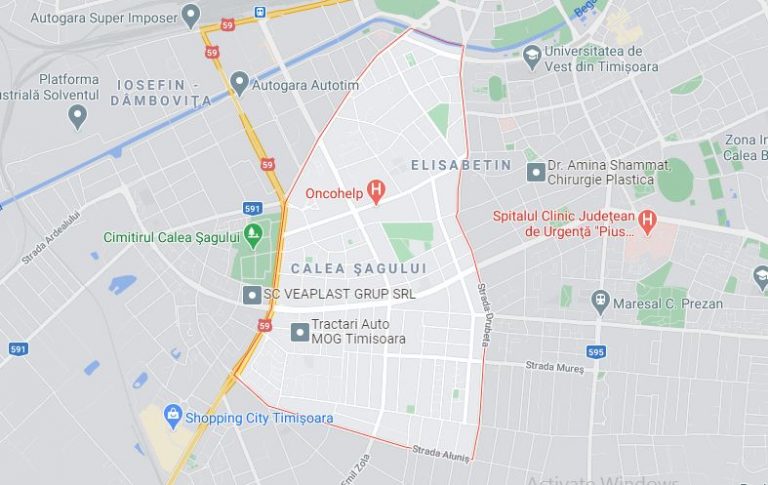 In the other side of the town, opposite to Calea Aradului, there's the neighborhood called Calea Sagului. This is a quieter area of the town, which I recommend if you're coming to live in Timisoara with your family.
There are plenty of schools, churches, social places and green areas around, as well as gyms, restaurants and shopping centers. In fact, the second mall in town, Shopping City, which is almost as large as Iulius Mall, is situated in Calea Sagului.
Blocks of flats are very tall in this neighborhood, but despite the high number of locals, the area is very clean and well organized.
Certainly a great choice if you're in Timisoara long-term. The neighborhood is connected to all other areas from Timisoara, by both bus and tram.
9. Giroc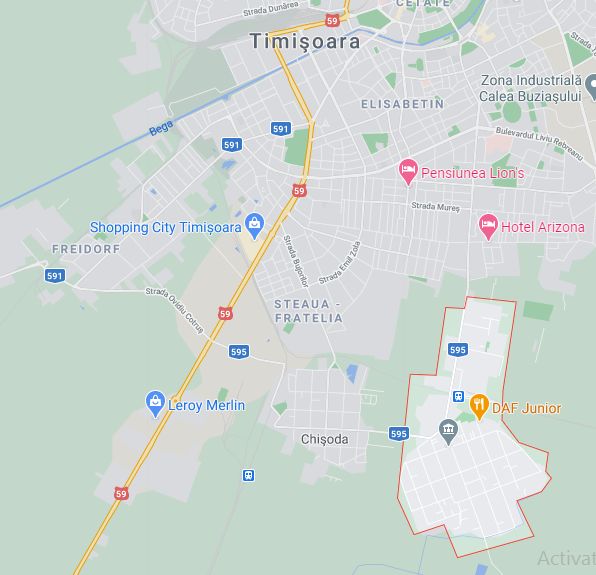 And finally, we're getting to the last neighborhood where I strongly recommend to live in Timisoara, especially if you count on your car for transportation.
Giroc is in fact one of the newest neighborhoods that were added to Timisoara. Before being a district of the town, it was a small locality close to Timisoara.
But a lot has been invested in this area during the last decade, and today it's one of the most beautiful, organized, clean and quiet residential areas of the city. There are schools, cafeterias, restaurants, churches and green areas.
There are mainly houses in this area, so it's a perfect choice if you prefer the silence and intimacy of your own yard and of a somehow retired neighborhood, still connected to the town. But blocks of flats are also built and the neighborhood is still growing and evolving.
The only slight disadvantage of living in Giroc is that it's not that close to the city center; even though, by car, it takes less than 15 minutes to get there.
But I strongly recommend that you consider living in Giroc if you prefer a quiet area where people live mainly in houses with their families.
Choosing the best neighborhood in Timisoara
There are a lot of things to do and see in the city – but we've talked about them already!
So now I should focus on clarifying an essential aspect: your safety and comfort. Because no matter the reason why you're leaving somewhere, these two come first all the time.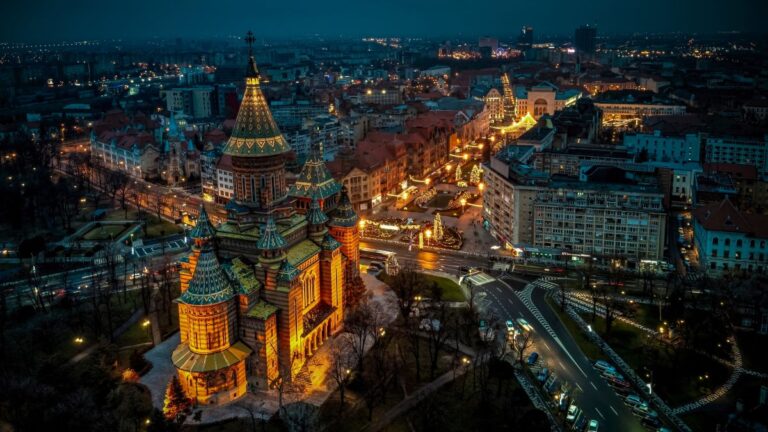 Safety first: generally speaking, Romania and especially large cities such as Timisoara, can be considered generally safe.
In the city, there aren't infamous districts that should be avoided due to safety issues (like Bucharest's Ferentari, for example) and no such things you have to worry about.
As for comfort, it's important that you have shops and restaurants close by, as well as proximity to means of transport that can get you where you need to be. From this perspective as well, no concern needed.
There are plenty of mini-markets, pharmacies, institutions, shops, and restaurants in all districts of Timisoara, so no matter where you live you'll certainly be close to everything you need.
If you want to get a bit more in depth with your options, make sure to check out my previous article listing the best restaurants in Timisoara.
So to sum it up, when I'm talking about best neighborhoods to live in Timisoara, I am strictly referring to the best place for you according to your own interests.
If you are a student, most probably your main interest will be the proximity to the University Campus or to the best cafes and bars in town. And therefore a neighborhood that will offer you this may be the best choice for you.
The same applies for tourists who'd probably prefer proximity to the center, or to business people for whom probably the best place to live will be one close to the business center or to their company.
Conclusion
As I already said, Timisoara is a very large town. And there are over 25 neighborhoods that you can choose from to live here.
From my experience in town, I'm telling you that living in one of the areas I recommended in this guide will best keep you connected to the heartbeat and young vibe of Timisoara. Read more about what it's like to live in this city.
So check them all and decide which is the best for your particular needs. Or just take my word and find a place in the Cetate area, which is around the old town and closest to the best attractions and restaurants.
But no matter what you'll end up choosing, I'm sure you won't regret it.
All in all, I hope that all the information and recommendations I provided will be helpful in making the best decision for your stay in Timisoara!