People say that the Danube Delta is a place that you MUST visit a least once in a lifetime – but when, more exactly, is the best time to visit Romania's Danube Delta?
What season is the best to explore the wildlife of this natural sanctuary of silence and biodiversity and see how unique, complex and beautiful this place is?
Summer is the best season to visit the Danube Delta. You are allowed to fish starting June, the weather is great also and everything's brimming with life and color.
So if you want the true & complete Danube Delta experience, visit during the summer, ideally July or August.
This doesn't mean that visiting during other months of the years should be avoided. As you will see in today's article, each season has something unique and interesting to offer (as it is the case of Romania as a whole) – some maybe even better than summer based on your interests and travel habits.
Because, in the end, when it comes to travel, structures of words like "the best", "the most beautiful" or "the most recommended" are subjective affirmations.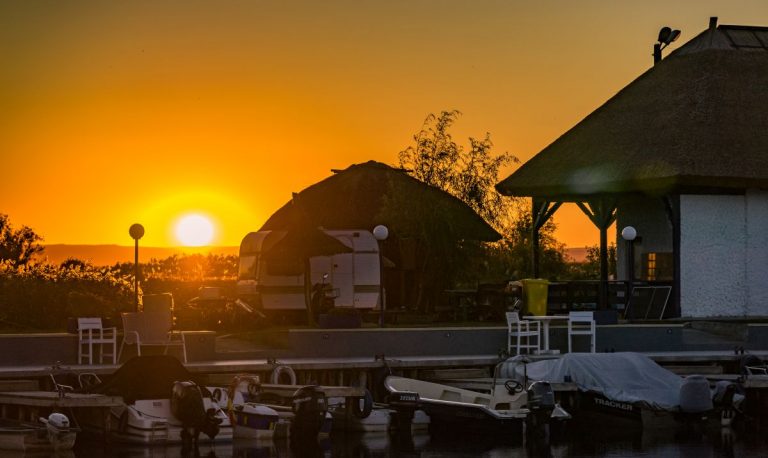 You still need some guidance and opinions to make an educated choice – so if the paragraph above didn't convince you that you should visit the Danube Delta during the summer, we're going to talk about each of the seasons and what they can offer.
But before getting there, if you are in Bucharest and you'd like to visit Danube Delta, I recommend this 2-Day Tour from Bucharest.
It includes a night in a hotel or guest house in the Delta, but also boat trips, bird watching or fishing, as well as visits to the nearby cities of Tulcea (main large city near the delta) as well as Constanta.
A perfect trip, in other words – so click here to check this tour out.
Visiting the Danube Delta during different seasons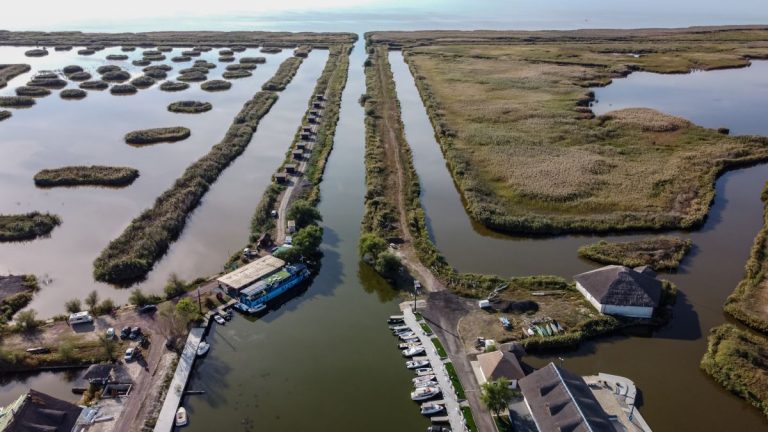 There are certain things that can best be explored or enjoyed in a certain season in Romania's delta.
Or, more exactly, there are specific particularities for each period of the year that make the Danube Delta unique for the visitors.
So, rather than telling you to go visit the Danube Delta in spring because most people say it's the best time to visit and, as you saw already, I disagree with that… I prefer pointing out the pros and cons for each period.
I'm going, therefore, to take you through a short analysis of your possibilities and available activities to do in the Delta for each season so you can decide which of them better suits your way of travel and expectations.
So, here are the most unique particularities you'll discover within the wildlife of Romania's Danube Delta during each season of the year.
Visiting the Danube Delta in Spring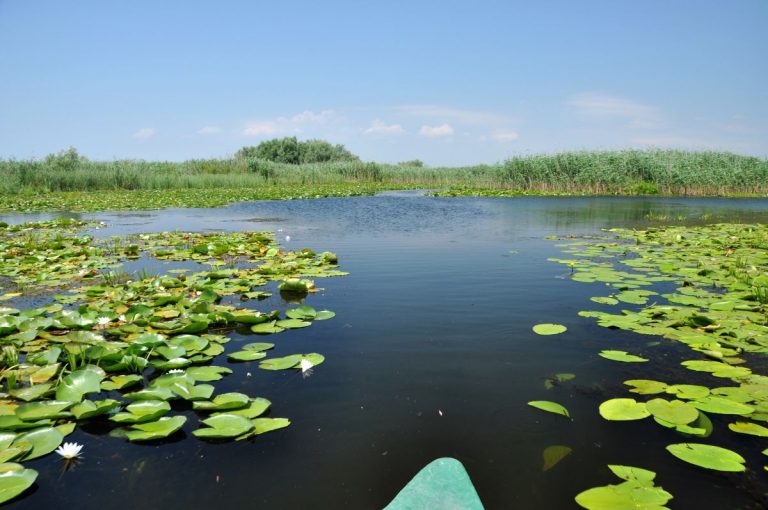 Spring is Splendid: Visit in April-May for a spectacle of rejuvenation!
If you want to explore the Danube Delta in its entire magnificence, spring is a splendor.
It is a time of rejuvenation, that charming period of the year when nature is brought back to life and each corner murmurs with energy and youth. Water has the highest volume ever, and most of the trails are available to explore.
Visiting in April offers a spectacle of blossoming sallow and irises, plus the opportunity to witness the apparition of the first water lilies and other aquatic plants.
May, on the other hand, is when everything looks younger than ever. Nature becomes green, greener every day, through a continuous transformation and process of rejuvenescence.
Reed, rush and water lilies fill the waters, whereas spring flowers and orchids cover the entire surface of the lands.
The same period of the spring offers the possibility to take the most mesmerizing photos of birds along with their spectacular plumage and mating rituals and dances – especially those of the herons, storks, cormorant and pelicans.
Over two thousand of bird species fill the Danube Delta in spring, which makes it a heaven for bird lovers.
May also has the advantage of being warmer than the first two months of Spring and it usually has less rain too.
Mosquitoes are just starting to get back to life, so they won't bother you that much (although there'll still be plenty of those around).
Do have in mind that the weather has been really strange lately. In the past few years, April was really cold (compared to the average) and I personally think that the seasons are shifting a bit. So… do bring some warmer clothes!
Visiting the Danube Delta in Summer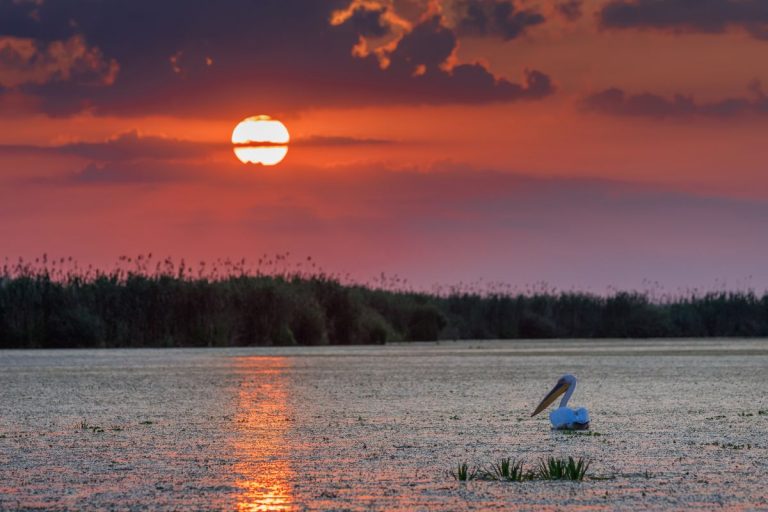 Summer is Super Fun: July-August is the time of expositions and festivals
You already know that this is my top recommended season for visiting. Most would say that this period is for the kids and the young people because this is when most of the expositions and festivals in the Danube Delta are organized.
Plus, the entire landscape of the Delta that started in spring is complete in summer: everything is filled with energy, color and life.
Unfortunately, this includes mosquitoes. You'll have a ton of them, especially come July… so make sure to bring your bug repellant (and sunscreen!).
Many people prefer the summer season due to the high temperatures, long days and amazing weather.
At the same time, July-August is the period when sun-lovers can maximize the time spent under the sunlight, surrounded by a mirific natural setting and soothing sounds of the water, insects, birds and breeze.
Also note, for those passionate about fishing, that June gives the start for the fishing season.
Fishing can be practiced either within the fishing facilities, or directly within the lakes, channels or arms of the Danube.
You can either choose static fishing from the land, or dynamic fishing, with the boat in the water.
It's best to stick with the organized fishing, because you need a fishing license otherwise. It is free to get at the moment of writing, but it generally takes a trip to a larger city and filling up forms in Romanian language.
Visiting the Danube Delta in Autumn / Fall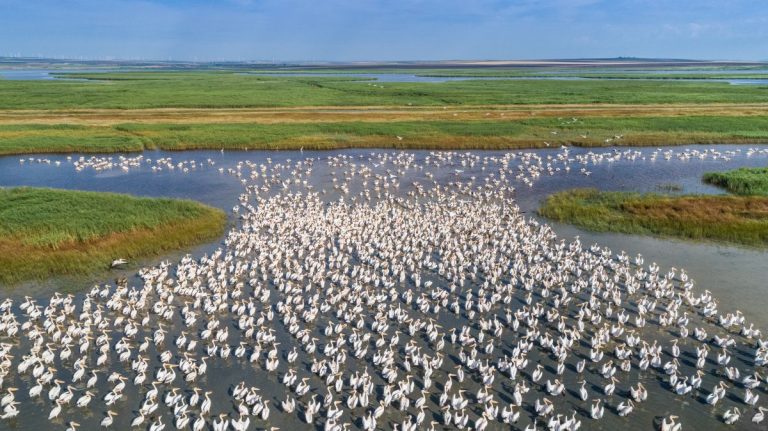 Fall is Fantastic: a spectacle of colors and power of change
The autumn season (or fall if you come from over the ocean) comes with a different type of magic and charm.
Completely different than everything you can see in spring or in summer. Temperatures can also vary a lot, and the energy of the place is also much more silent and inspiring.
Enhanced by the autumnal colors, the months of September and October are a great time to visit the Danube Delta without the overwhelming warmth and agitation of the summer.
And the weather is still relatively good, especially in September. Although the past couple of years saw record temperatures and pleasant weather up to late October.
This season is perfect to see pelicans active, or to enjoy a trail with the boat on the channels of the Danube.
For those truly passionate about fishing, this is the ideal period! Yes, the fishing season starts in June, but the fall season is actually when they say that no fisherman gets his rod empty out of the water.
There are over 130 species of fish in the Danube Delta, so there's no way this is going to be boring.
Stunning sunrises and sunsets can also be admired during autumn. In fact, sunsets are delightful all-year-round in Romania's Danube Delta, but autumn tells a different story.
The way light reflects upon the water and tree trunks has a completely unique romantic vibe.
Mosquitoes are still swarming the place and it gets pretty cold during the nights, so make sure to prepare accordingly!
Visiting the Danube Delta in Winter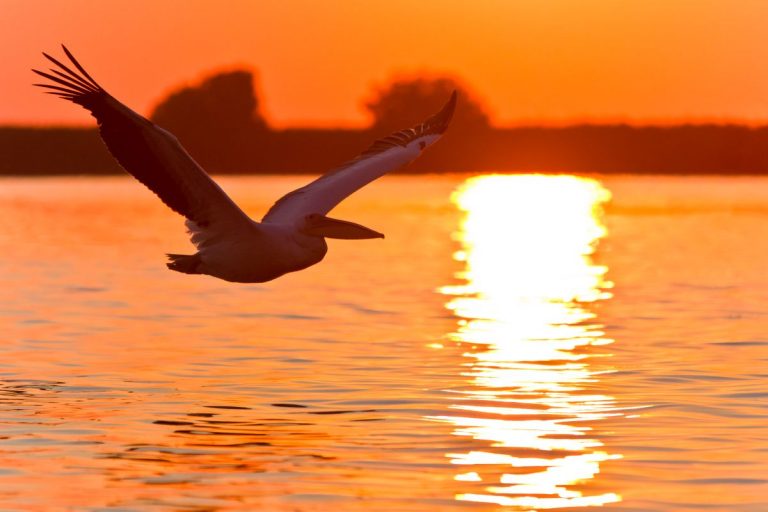 Winter is for the Brave: stunning landscapes and unique species of birds
Last but not least, winter is for the brave ones. Visiting the Danube Delta in winter is equally challenging and beautiful.
It is a real adventure because of the low temperatures – if you decide to visit after December, you'll definitely need thick clothes to keep you warm.
But it is also a memorable experience, due to the completely different and special natural setting you'll get to enjoy.
For those looking for silence, inspiration and fineness, the winter completely transforms the Danube Delta in a heaven of grandeur.
Icy water, cold air, fresh breeze and snow-filled vegetation – these are some of the particular things that you can only find in winter.
Add some awesome sunsets to the list as well, because nothing compares to sun going down, reflected on ice (if you're lucky enough to get clear skies, that is!)
Boats can also be rented in winter, and going on the water when the air is ice-cold and the nature is sleeping is a whole new experience that you must try in a lifetime. It's almost a meditative journey, enhanced by the fog and mist of the winter.
Plus, it's worth mentioning that if you visit during this cold season, you'll have the possibility to see almost one hundred species of birds that you would never encounter in summer.
Winter swans, red-necked geese, white-tailed and plenty of small birds are only few examples of such winter birds that enhance the Delta and keep it alive during winter.
Also note that the big advantage of visiting in winter is that there are no mosquitos to disturb the silence and overall fairytale-like atmosphere! Plus, prices for accommodation are the lowest.
I would also add that winter is my least favorite time of the year for visiting, so if you do have a choice, any of the other seasons would be a better choice (despite the mosquitoes).
Quick tips for visiting the Danube Delta in Romania
Romania's Danube Delta is the youngest territory in Europe, an oasis of biodiversity with thousands of species of birds, insects, mollusks, amphibians, reptiles, mammals and, of course, trees and aquatic plants.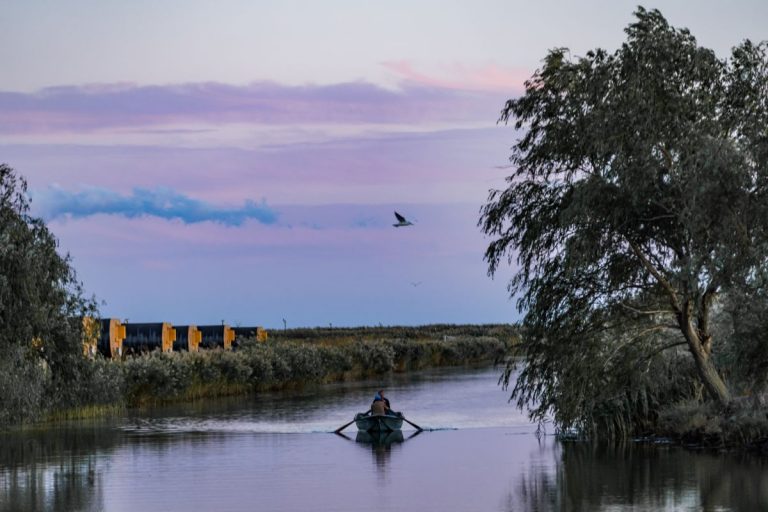 And visiting it brings different landscapes, experiences and memories with each season. In order to make sure that you minimize the Cons, make sure you have the following in mind when visiting:
1. Protective spray / cream / solutions
Birds, fish and reptiles are not the only animals from the overwhelming biodiversity of this young territory. Insects are also aplenty, especially during the warmer months.
It would be very wise to bring some bug repellants with you, to make sure your experience won't be disturbed by annoying mosquito bites.
Not all hotels will have nets at the windows, so double that up with a mosquito repellant device that you can find in all stores in the area (you just plug them in, put the pill inside and no insects will bother you indoors).
2. Comfortable clothes
If you're thinking about bringing with you some pretty dresses/suits, or high-heels/shoes, forget it!
The Danube Delta is about sports, nature, camping and relaxation. There isn't any modern restaurant, fancy museum, club or mall where you need to look pretty or elegant.
In fact, such clothing would only stop you from truly enjoying your nature escapade.
Bring on comfortable shoes and large, thick clothes that can keep you warm during the cold mornings and evenings – especially if you're visiting in spring, autumn or winter.
If possible, always have with you some water-resistant clothing or at least an umbrella.
3. Bottled water and food
Even though an extremely popular destination, the Danube Delta is not plastered with shops and restaurants.
Food and water are all local (or at least mostly). If you want to eat, your only alternatives are traditional dishes from the local cuisine, mainly pescatarian choices.
So, if fish soups, fried fish or seafood aren't really your thing, make sure you bring some bars, cereals, cans and other food supplies with you.
Water is also consumed by the locals directly from the channels of the Danube (treated first), but if you're not used to it, bringing bottled water with you is the wisest possible choice for your digestive system.
Wrapping up
All in all, the Danube Delta is one of the most special places you will ever visit in Europe and in the entire world.
A young land, always welcoming and ready to be discovered through photography, fishing, sightseeing, sailing or camping – beautiful during any season you decide to explore.
The Danube Delta has something amazing to offer in any season. It depends on your expectations and style to decide what to do and when to come.
I still recommend summer (mainly July & August) because of all the Pros mentioned above, but in the end you know now what every season has to offer and you can make a fully educated decision.
The only thing I can tell for sure is that no matter when you choose to visit, your experience will be memorable – and you'll certainly plan on coming again. This is a vacation to have at least one in a lifetime.