Mamaia is the most famous seaside resort in Romania and a great choice for spending a perfect summer vacation near the Black Sea. And if you choose one of the best hotels in Mamaia, Romania that I am sharing in today's article, your vacation will be perfect.
Being the flagship destination in Romania, Mamaia is a bit more expensive than any other resort on the Black Sea coast in Romania, but it's still relatively cheap overall compared to other destinations in Europe.
Also, since 2020, prices have gone down a bit and even though 2022 saw them get closer to pre-craziness levels, they're still lower than usual. So you can get some really amazing deals here!
Also, the best of Romania's seaside is to be found here and this is the place to be if you visit the country for the first time (at least during the summer).
If you're in a rush and only want to know what my top destination is, then definitely look at Hotel Opera in Mamaia (Click here to check prices and see more).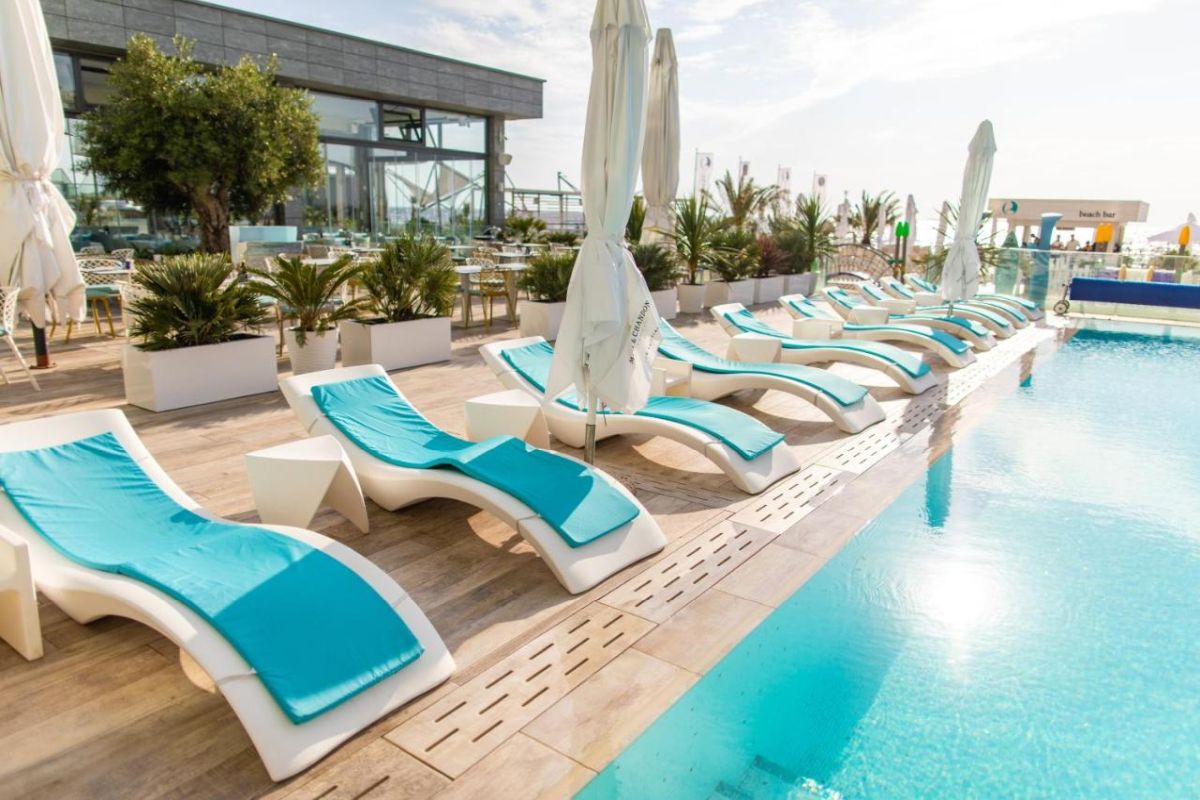 As you can imagine from that one photo above, the hotel looks amazing and is amazing. Great price/quality ratio, an amazing location that's right near the beach… it's perfect and my all-time favorite.
But there are other options as well and you might have different preferences. That's why it might be best to look at all the options below and see which one looks better.
Also, I recommend you check the prices for all the hotels listed below as some might have special deals or offers that I wasn't aware of when ranking them below.
So without further ado, here are the best hotels in Mamaia this year.
Hotel Milano Blue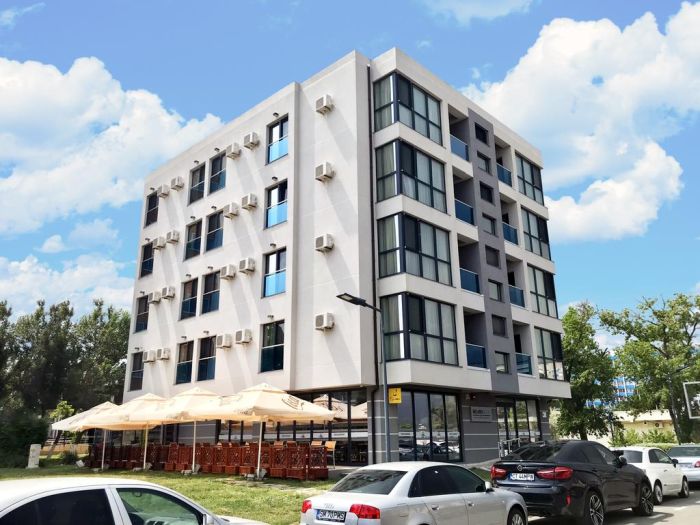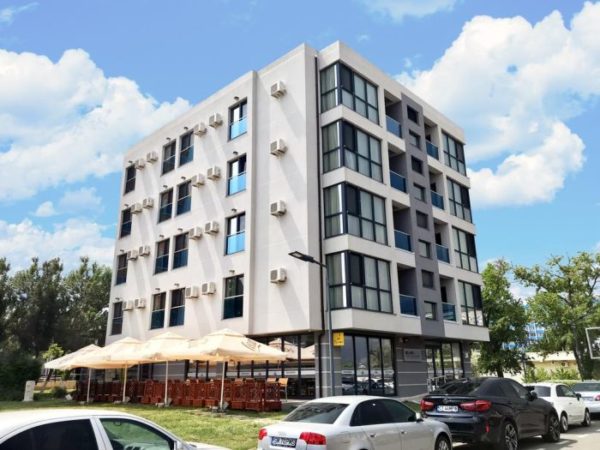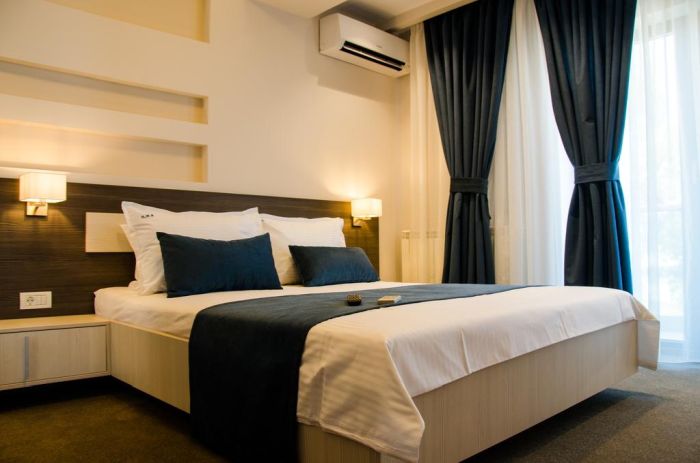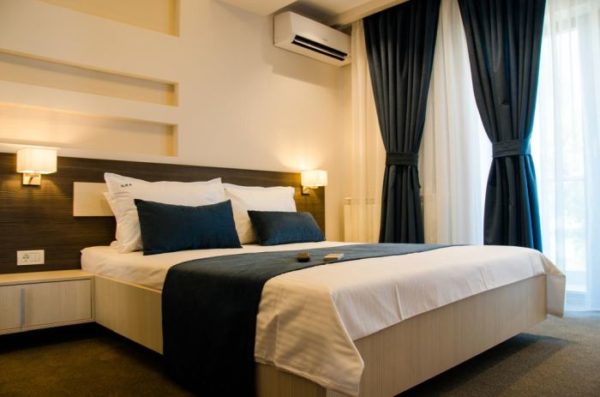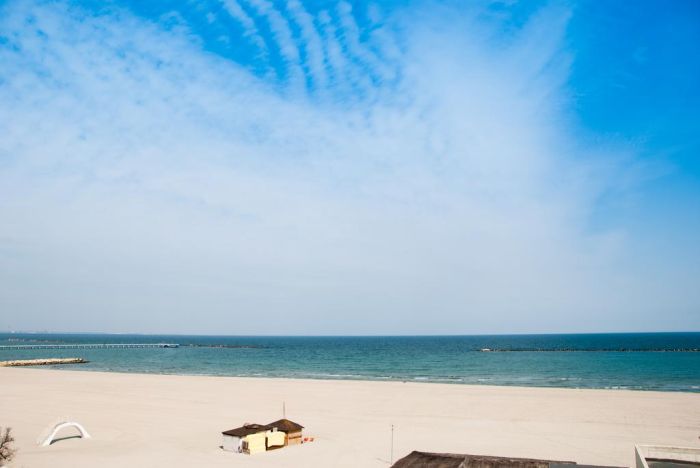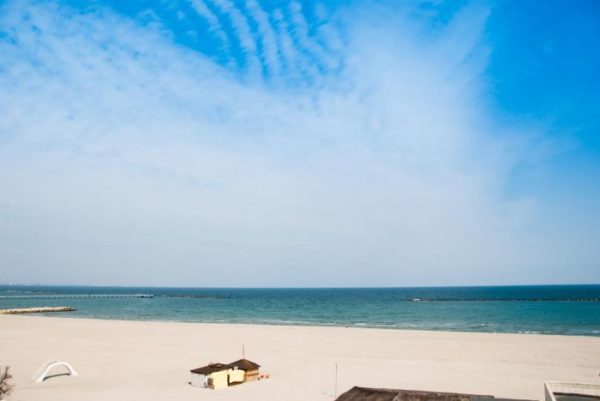 The only 3-star hotel on this list, Milano Blue really deserves its spot here. The location of this hotel is perfect, right on the beach, with spectacular views over the Black Sea.
Even more, it's in the Southern part of Mamaia, which puts you closer to nearby Constanta, the main waterpark in the area, as well as lots of pubs and restaurants.
The hotel itself is small and charming, but the rooms are still decently sized and in really good condition. Not all of them offer sea views, so make sure to ask for this specifically in order to enhance your experience there.
It also doesn't have a pool, but the beach is just across the street, so that shouldn't be a problem for most.
Plus, you know that you get some of the best services in the resort, as well as a perfect price/quality ratio, as Hotel Milano Blue is one of the highest rated in Mamaia at the moment of writing.
So if you don't mind not having a pool and having a slightly smaller room (compared to the 4-star hotel rooms), then this one is definitely the best choice for you and the best 3-star hotel in Mamaia.
Click here to check it out now.
Splendid Hotel, Mamaia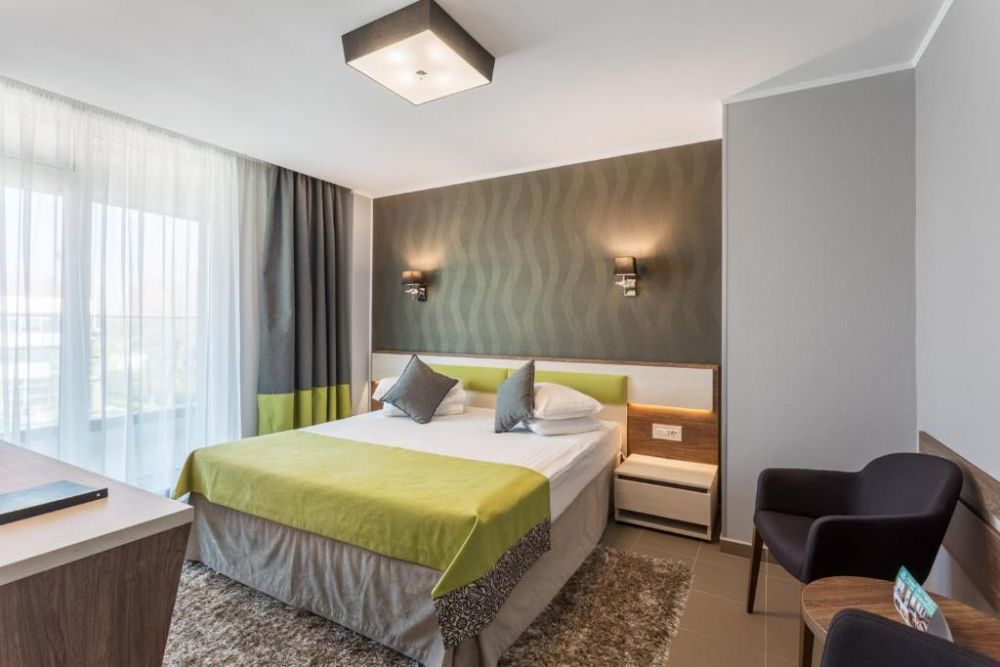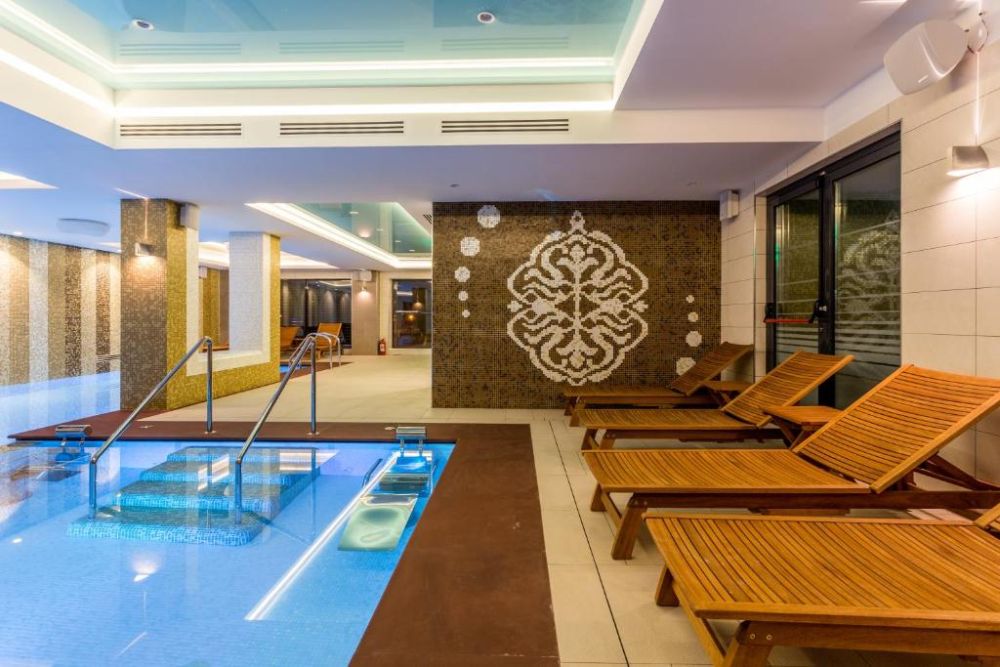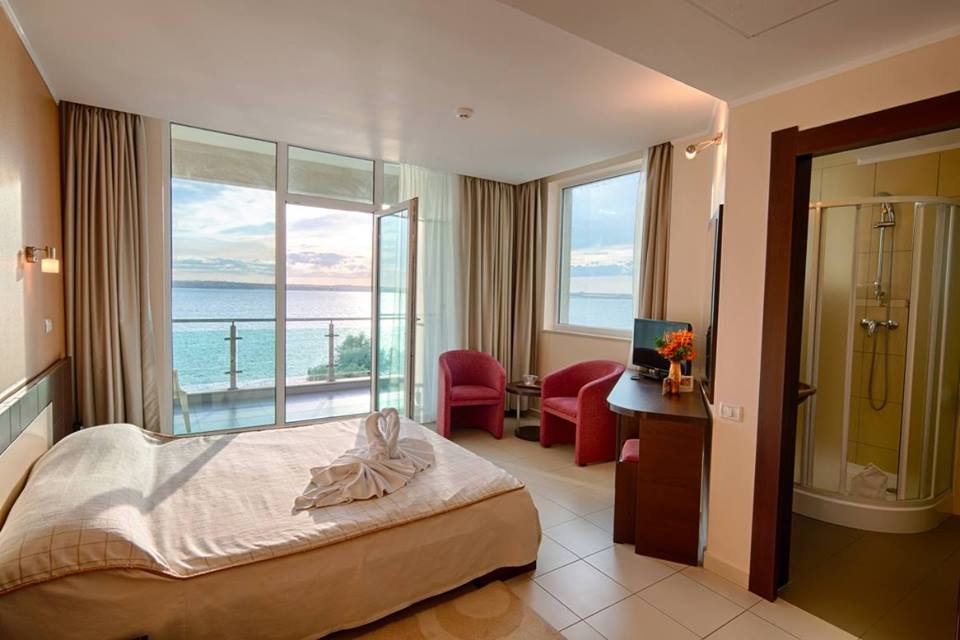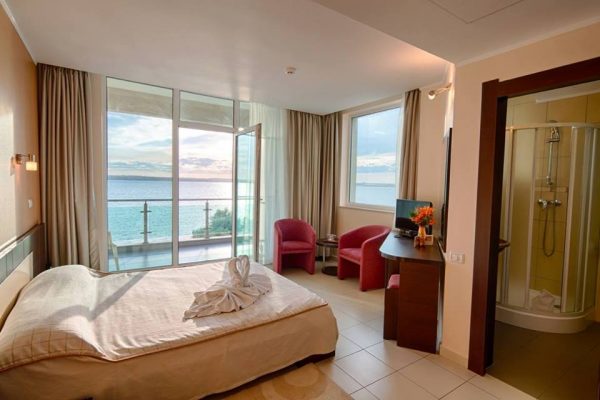 Although it doesn't really say much when you look at it from the outside, this hotel is indeed… Splendid! I still haven't met anybody who stayed here and wasn't impressed with… everything.
The only problem that I have with this hotel is that it lacks an outdoor pool. They do offer an indoor one, which is really nice indeed, but I prefer an outdoor pool during the summer. But at least the beach is close!
The hotel itself has been recently renovated and improved and looks even better than before, but the quality of the services and the food remains the same.
The rooms are much better now with updated furniture and a more extravagant style, with modern appliances and amazing views: either towards the sea or the nearby lake Siutghiol.
But I believe that the photos above speak for themselves, so I will stop here and invite you to check it out now.
To book your stay or to find out more, click here.
Vega Hotel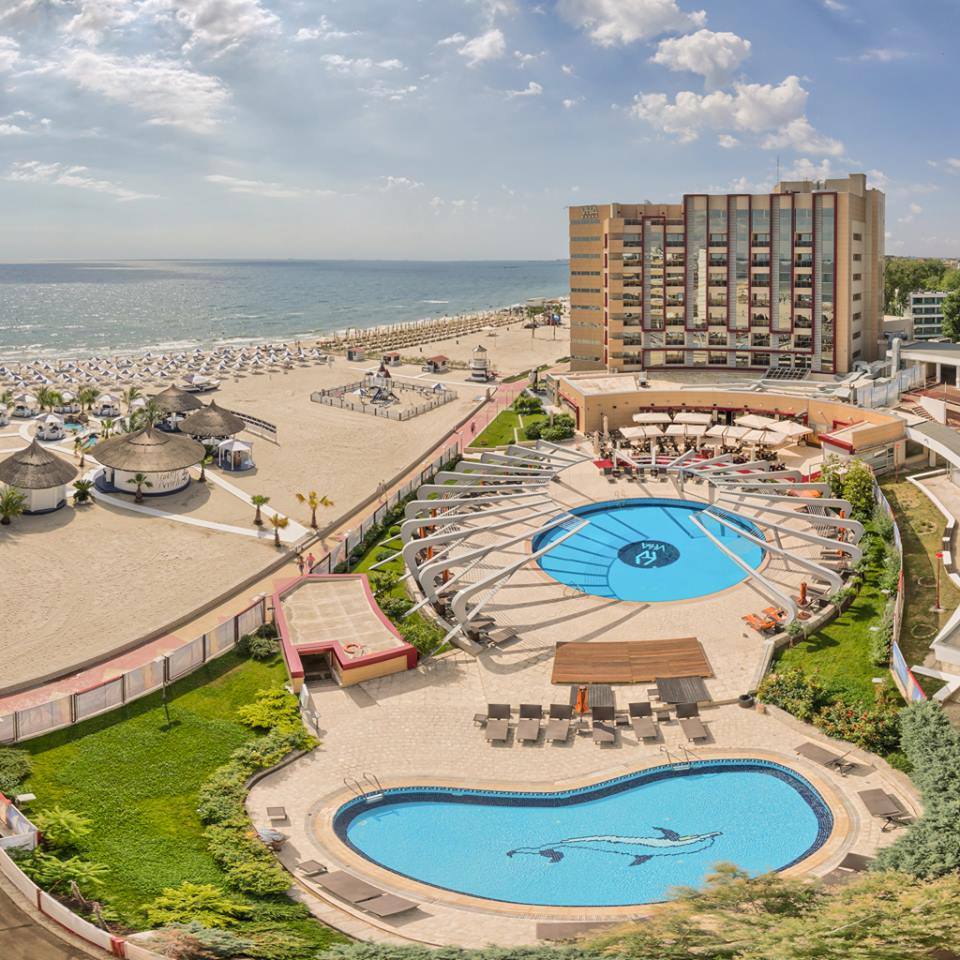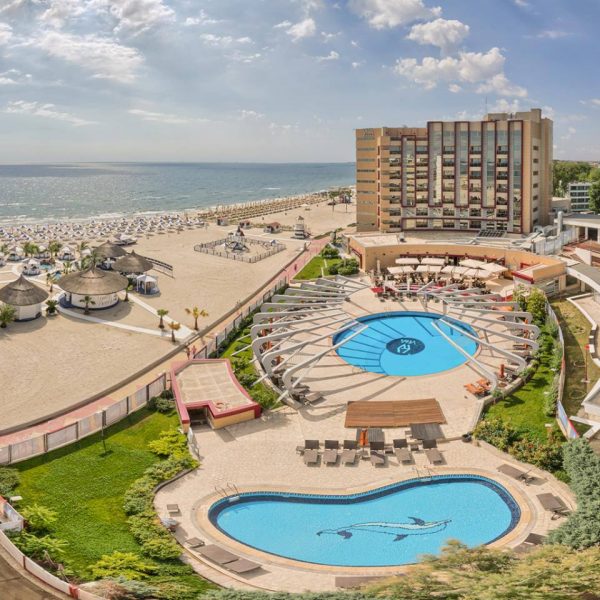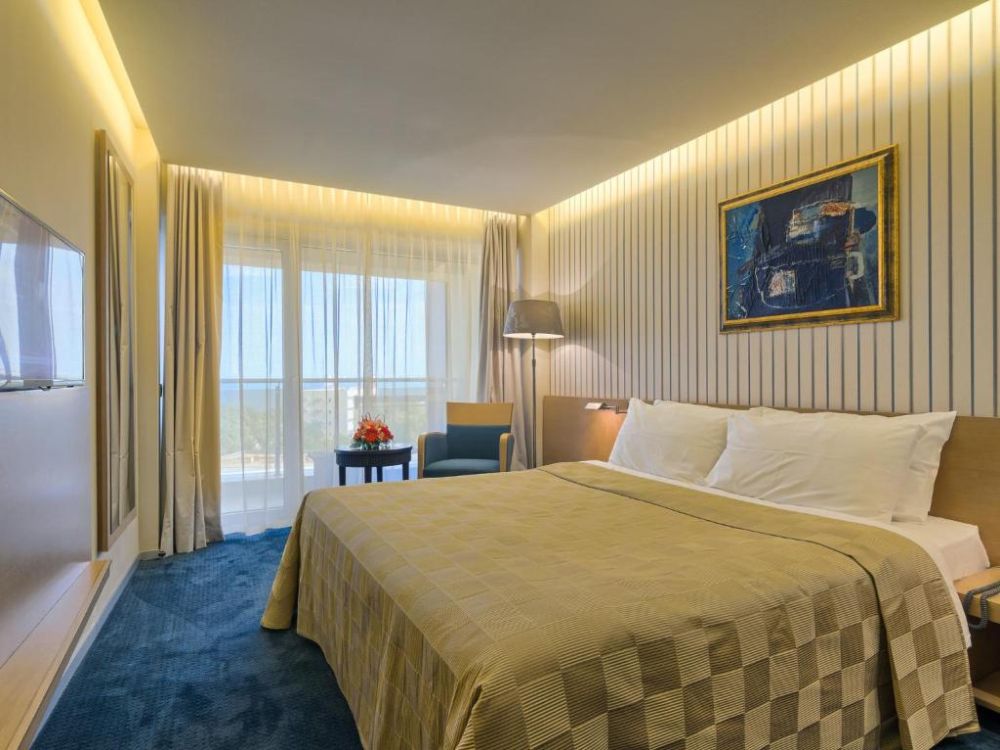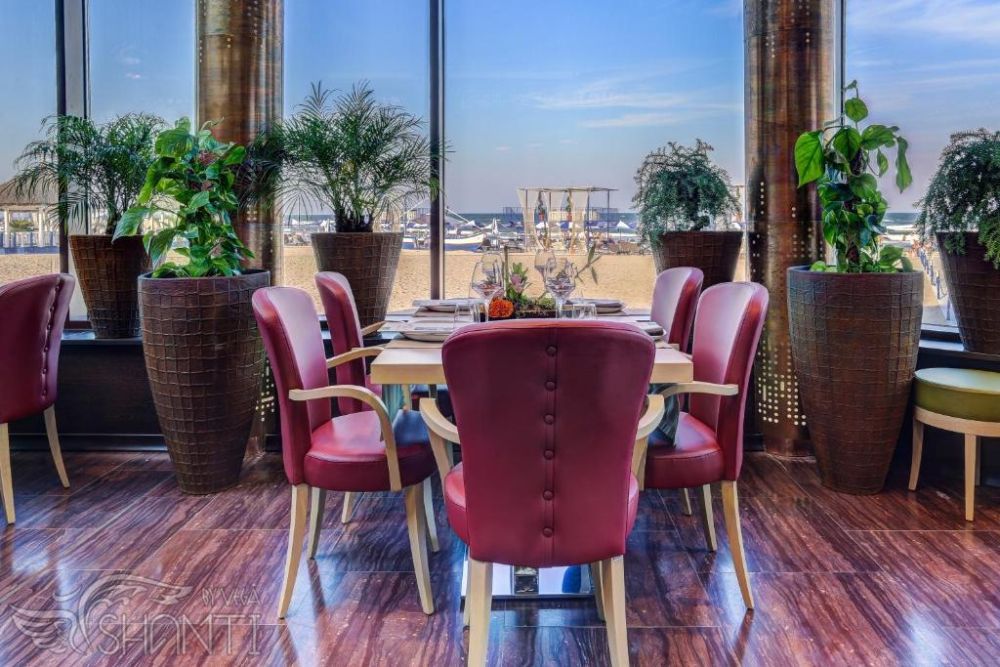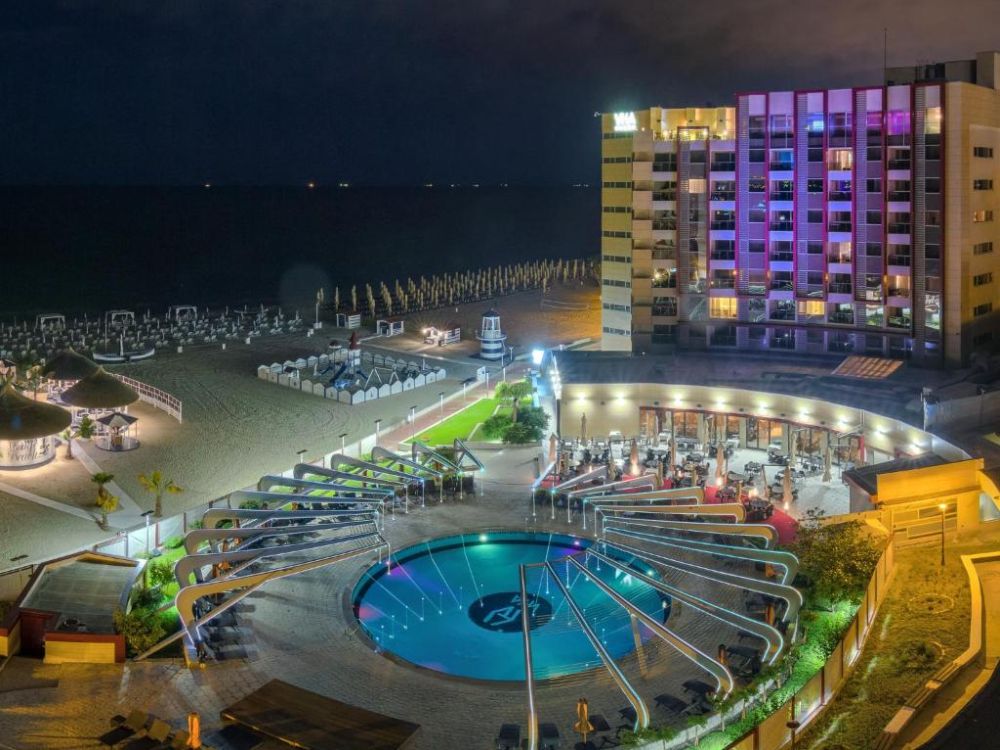 Time for some five-star treatment for those looking for a nice place to spend their stay in Mamaia, Romania.
While this hotel is not cheap, it is one where the staff does everything to keep you happy, entertained, and satisfied. Amazing service, amazing rooms, and great location.
Their private beach – situated right near the hotel is also amazing, filled with huts and a fully equipped beach bar. However, I personally love the pools and the outdoor space – you can still hear the sea from the pool, but not get sand all over!
The rooms are spacious, bright, and beautiful. Not all have a sea view, so make sure to ask for one because otherwise, you're missing a fabulous view that really makes each day more pleasant.
Honestly, now, those views are basically everything you need when you're near the sea. Simply spectacular!
You can book your stay right now by clicking here.
Arena Regia Hotel & Spa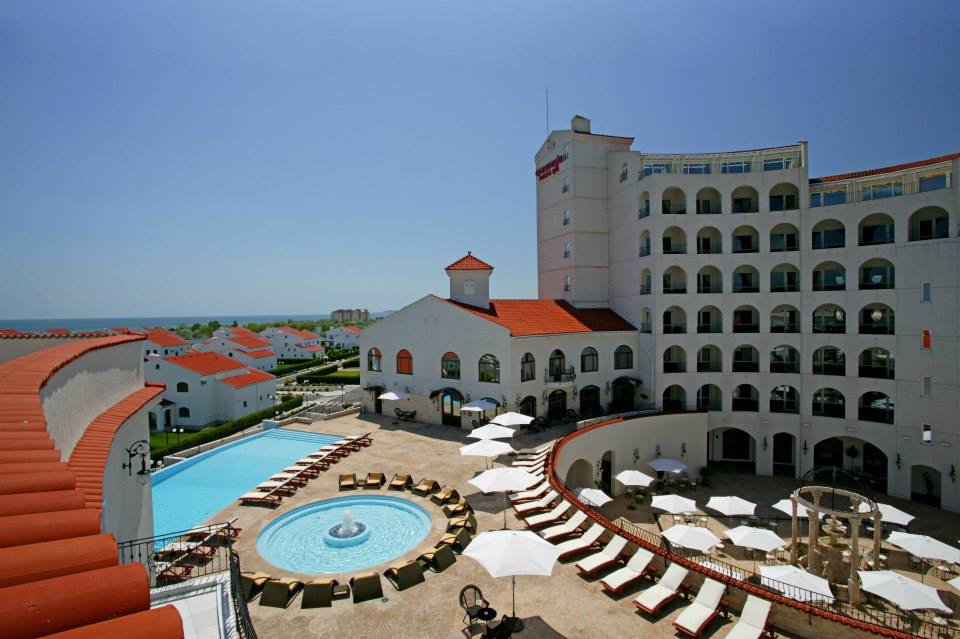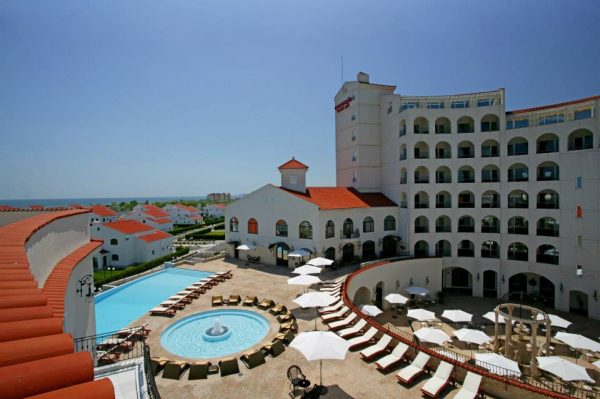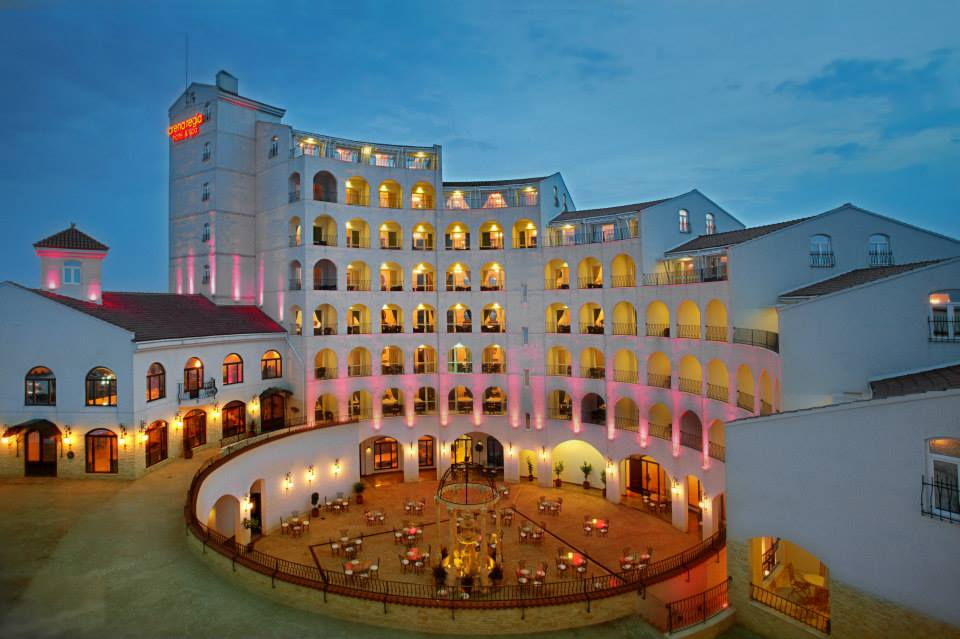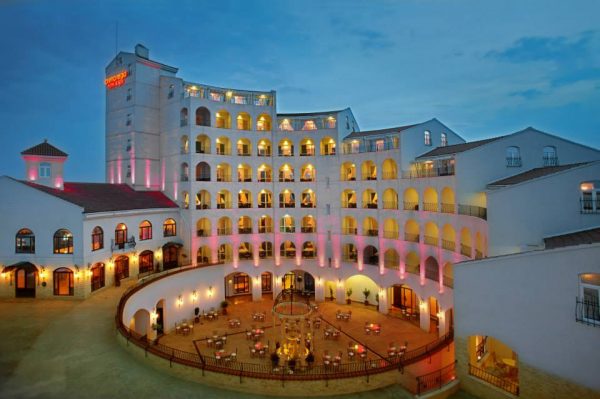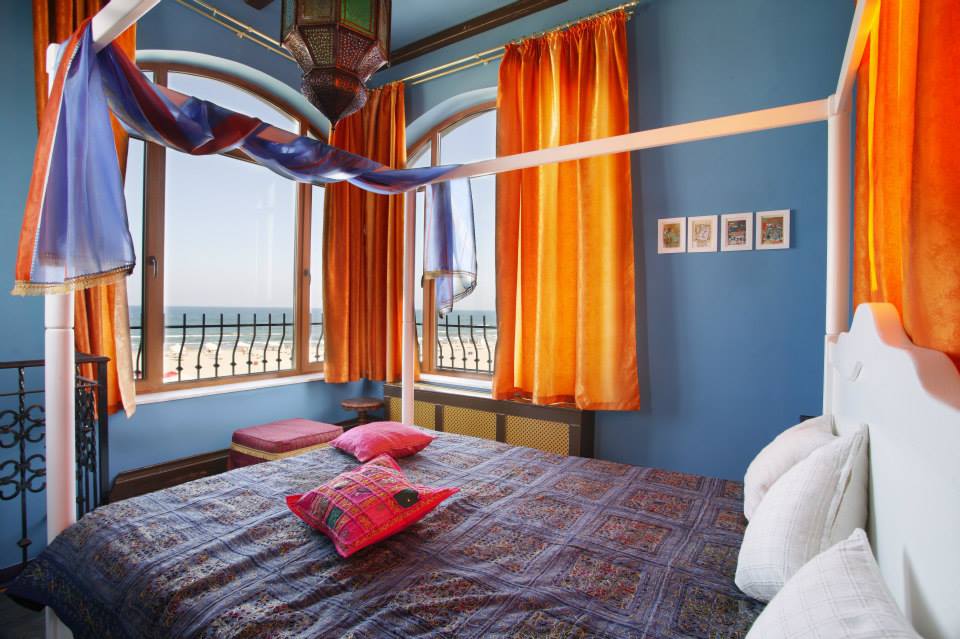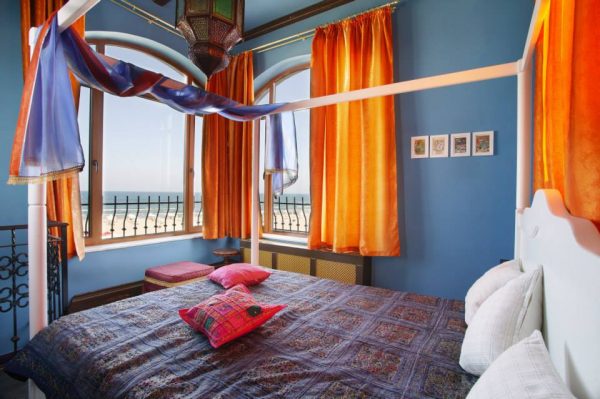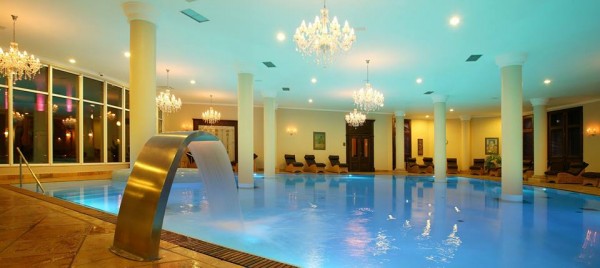 This is one of my all-time favorite hotels in Romania, not only Mamaia. A huge resort actually, Arena Regia Hotel & Spa delivers unique architecture, top-quality services, and pleasant surprises every step of the way.
It's a huge resort that can be just a stone's throw away from the beach or several minutes away. Therefore, make sure to choose the sea view & buildings closer to the beach when booking.
But even if you don't get to be close to the beach, the hotel's Spa area is highly appreciated by all guests, so it's a win and delightful stay no matter where you book your room.
The arena itself has been turned into an amazing open-air restaurant, you have an infinity pool and a Roman-themed interior pool, beautifully decorated rooms and all the reasons to be excited if you pick it as your destination.
You also get a private beach, two nice restaurants, and a bar… plus a lot more to be happy with. Safe and nice, it is, as I said, one of my top choices in the country.
The only downside is that it's not in a prime location: it's situated in the North of Mamaia, which is the less developed part, but this means that it's a bit more silent and less fast-paced.
And you still have the pool and the beach, as well as various options for spending your time around the resort if you somehow get bored inside (which I doubt).
Click here to check it out and book it.
Nyota Hotel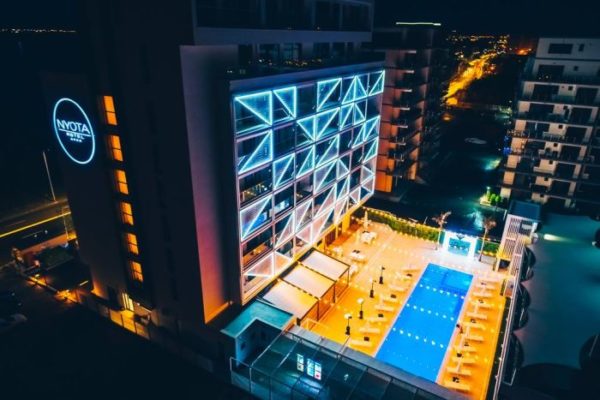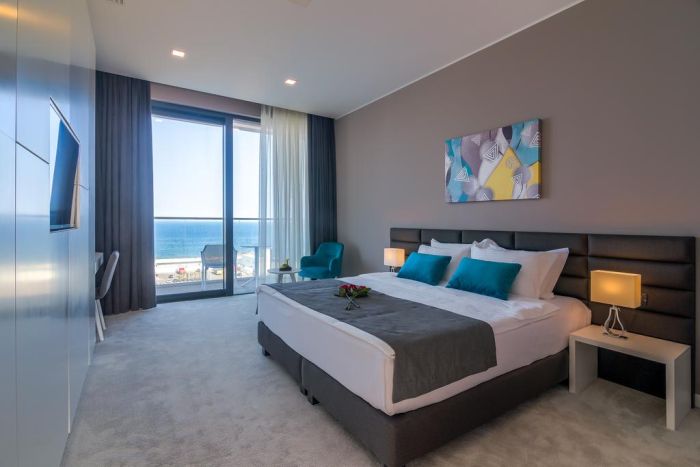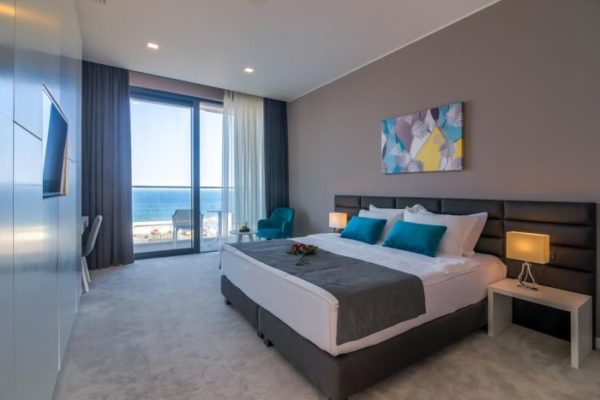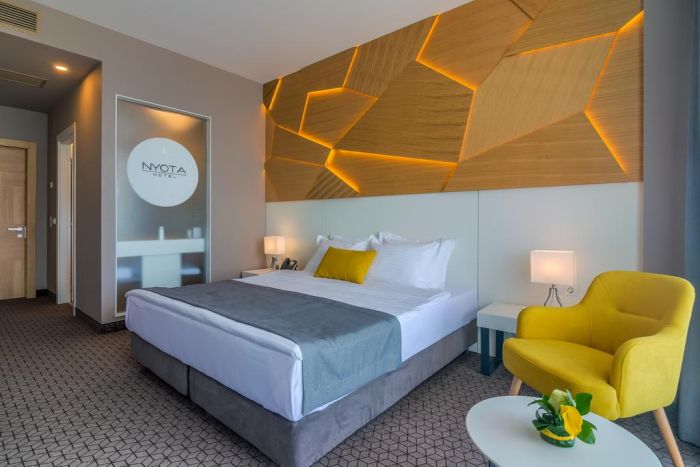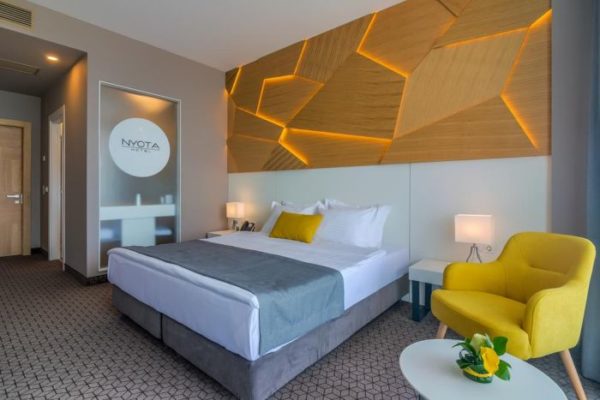 One of the newer hotels in Mamaia, this one is slowly becoming one of my favorites thanks to its style and the quality of services.
It's not right on the beach, but the good thing about Mamaia is that all hotels are a stone throw's away from the beach anyway.. and the hotel also offers both sea view and lake view rooms and they are truly spectacular!
Nyota has a nice – albeit somewhat small – pool, but also a private beach. Free private parking, rooms for families, excellent WiFi, and good breakfast… everything you can wish for. And since it's a new hotel, everything is in tip-top shape and taken care of.
The rooms themselves are what I truly love: they are spacious and very modern, which is how I like them. The design is awesome in the common spaces as well and it's pretty obvious that attention has been paid to all details. A beautiful hotel that I love!
If you want to book it or find out more, check it out here.
Nayino Resort Hotel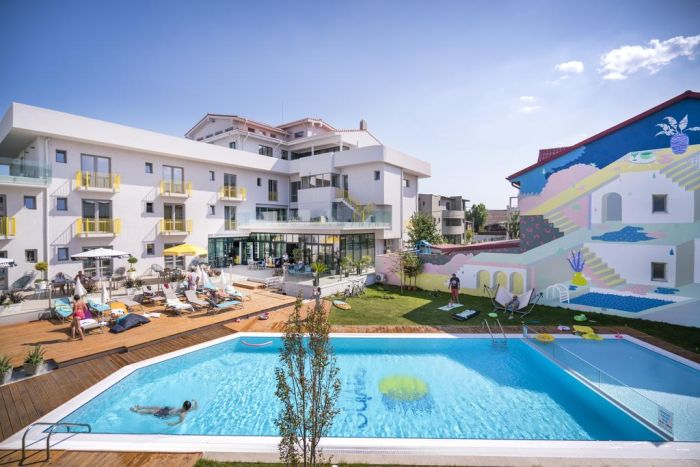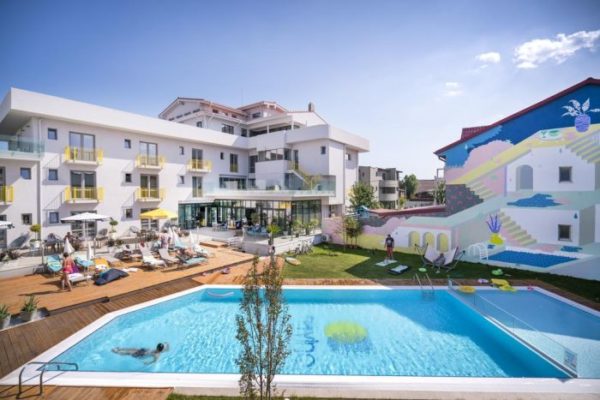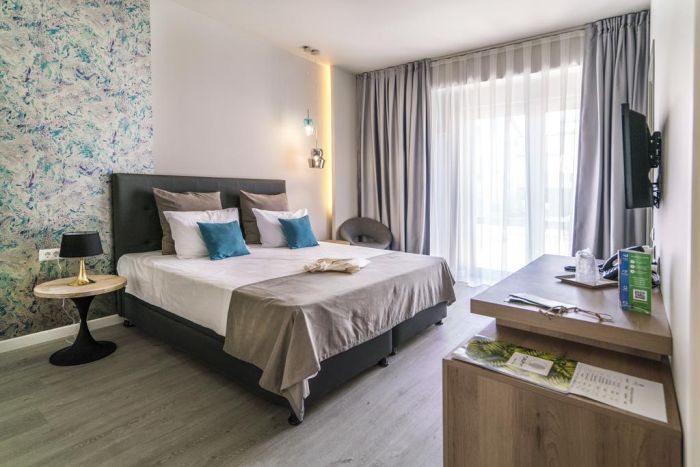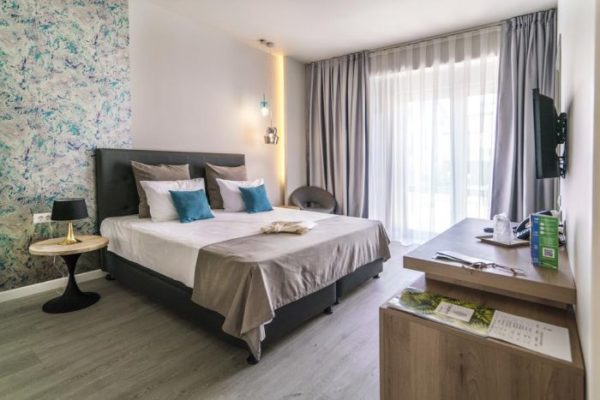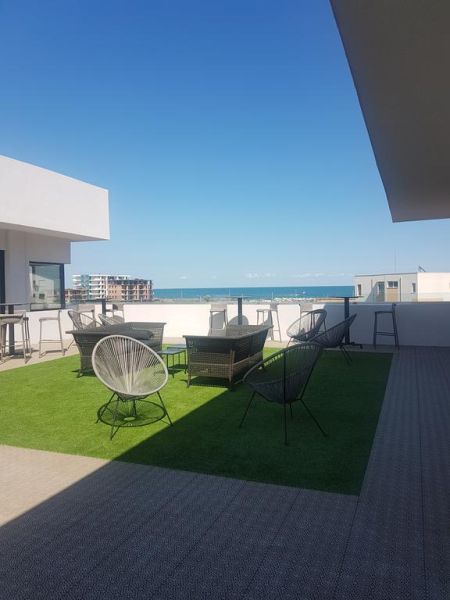 Another new hotel in Mamaia whose name resembles the one recommended above (in my opinion, at least).
They could even be owned by the same company because they're equally great and amazing. But this one is situated in the North of the resort, where everything's calmer and less noisy.
The hotel has a beautiful pool and a nice, colorful design, being also perfect for families. They have a private beach as well if you prefer the sand, and the food is absolutely amazing there. Truly delicious!
Smaller and homier, Nayino offers decently sized rooms that are clean and in good condition.
The staff there is very friendly and they also organize all sorts of nice events to keep the guests happy and entertained. A really good place to be – relaxing, calm, and beautiful.
If you like what you see and read, why not find out more? Click here to book your stay at Nayino or to find out more.
Hotel Opera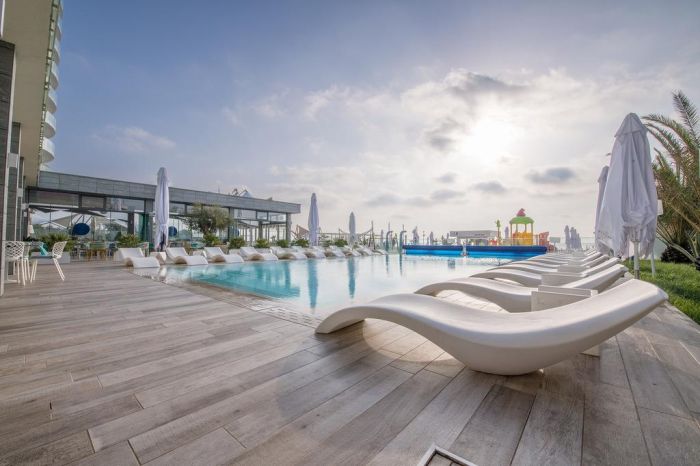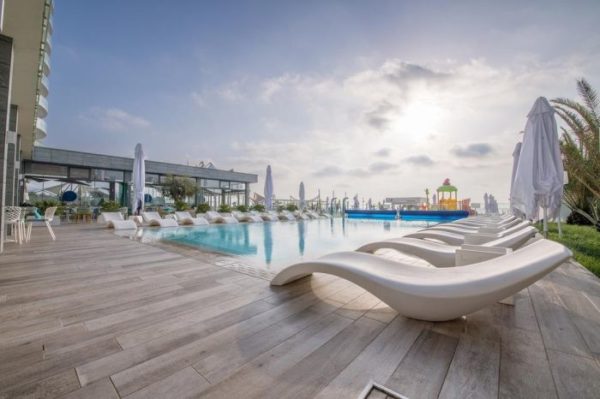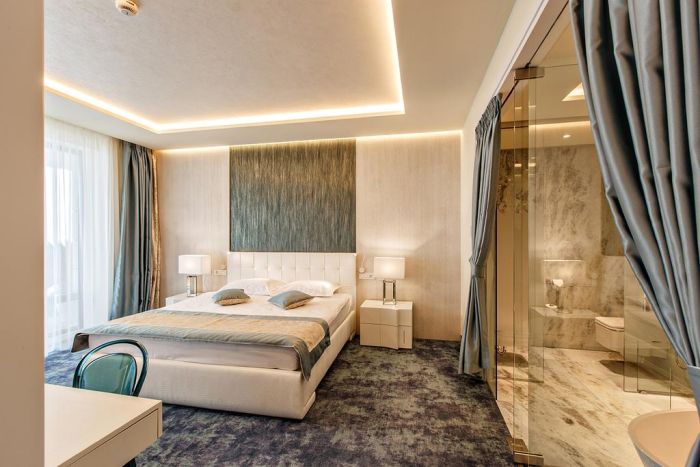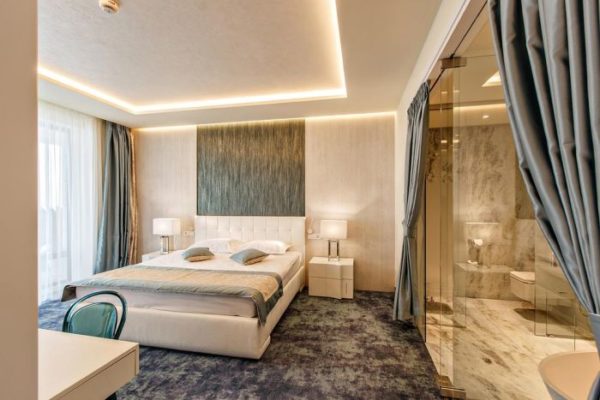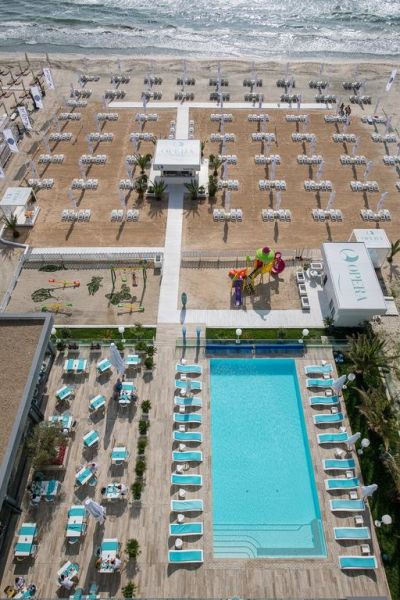 Last but not least, we have this beautiful hotel to consider for your vacation in Romania. It is built right on the beach, with a private pool and a private beach… and truly spectacular views over the Black Sea.
And yes, this is the hotel that I recommended first in the intro – so my top choice in Mamaia (hopefully yours too).
This is one of the fancier hotels in Mamaia (read: a bit more expensive), but for all the right reasons: the rooms are huge and amazing, everything is in great shape and the design of the rooms is really nice and modern as well. And the fact that it's right there on the beach is a huge bonus in my books.
This is one of the highest-rated hotels in Mamaia, so you know for sure that you're going to the right place if you choose this one for your stay. You won't be disappointed!
You can book your stay right now by clicking here.
So, these would be my recommendations when it comes to the best hotels in Mamaia.
There are other good choices too, as well as some less inspired ones, but I am sure that if you go with any of my top picks above, you will have an amazing holiday in Romania!
You are, in the end, close to the best beach in Romania – and in this country's highest-rated resort.
What hotel rating to choose in Mamaia?
Now that you know which are the best hotels in Mamaia, let me offer you a few extra tips regarding what to book and what to expect.
First of all, five-star hotels will offer, obviously, the best experience, but you might still be a little bit disappointed if you compare them to similarly-ranked hotels in other parts of the world.
I personally consider them horribly overpriced and only an option if money is not an issue for you. However, you have the highest chance to find highly trained personnel here that speaks great English and treats you nicely. (But don't be surprised if you don't).
The biggest problem in Romanian hotels – as well as restaurants and regular shops – is customer service. Everybody complains about it, so be prepared for some potentially not-amazing experiences wherever you go.
Three-star hotels are very tricky here as it's like a coin toss: you can get something really good for the money, or something really bad. They are really cheap, but you don't want a failed or ruined holiday because you chose the wrong hotel.
That's why I personally recommend going to a four-star hotel in Mamaia (or anywhere else in Romania).
This is the best option, still keeping prices in check and also offering the highest possible quality of services and better rooms, staff, and everything else.
Plus, it's always a good idea to go with the recommendations of somebody who has actually been there (so look at the general reviews for a hotel) and don't choose it just based on the photos since those can be pretty misleading.
What is the best time to visit Mamaia?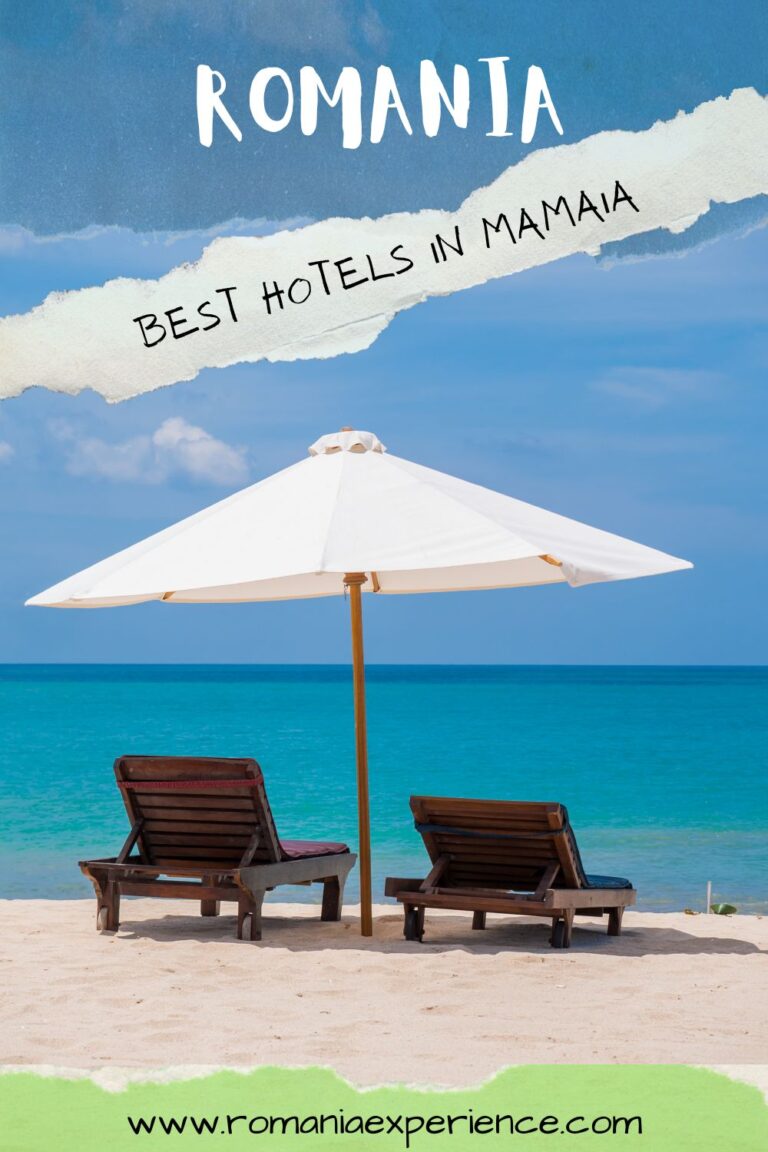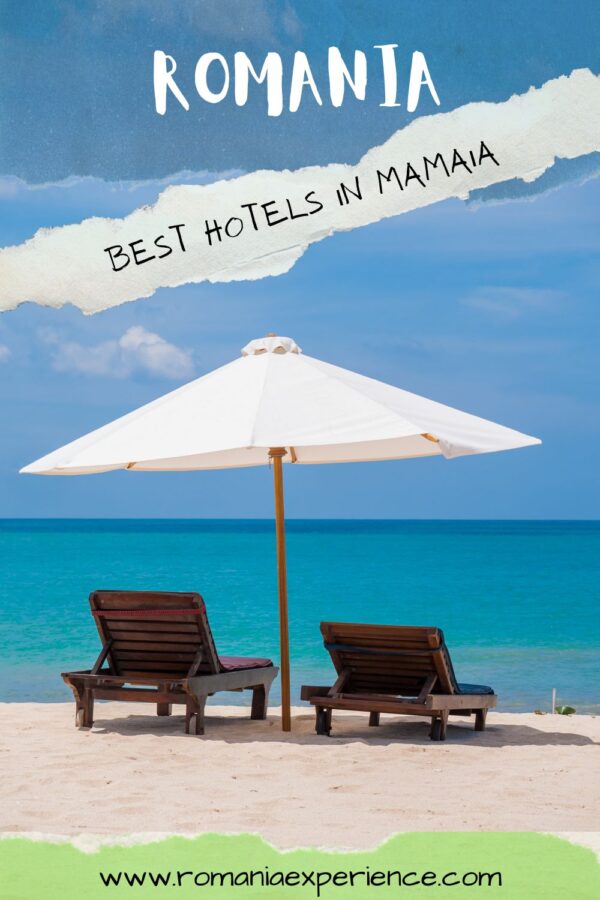 The best time of the year for visiting Mamaia is between July 10th and the end of August. During this time, the weather will be perfect, the water will be warmer each day and you'll have the best chances of getting the most out of your vacation.
The only downside is that this is when peak season is (for the right reasons), so expect higher prices and larger crowds.
If you want to get the most out of the beaches and the Black Sea (as well as Mamaia itself), you shouldn't visit before the 1st of June. This is when the season – and the summer – officially starts.
However, if you plan to visit in June, expect the weather to be colder – and the temperature of the water to be low too. We only managed to dip our toes in the water even in mid-June, although there were a few brave ones swimming.
Finally, another good choice would be early September. For the 1st to mid-September, not only that you are off-season (which means lower prices and fewer crowds), but you can still get great weather and the water is still warm.
The previous few years were incredibly sunny and nice in September (with very few rainy days), so those who chose to visit during this time had a great time. But remember that it's officially the Fall season, so the weather can go crazy cold and especially rainy.
And if you're in Mamaia, maybe you're planning a trip to Danube's Delta too – make sure to read my article about the best time of the year to visit it.
If you have additional questions about Mamaia, don't hesitate to let me know by sharing your comments below.