Some of you might remember that back in 2014, we purchased an old house in a village here in Romania. (Those who don't can check out the original article here). The plan was to make the place livable and enjoy some of the summers there and maybe even grow some food there as well. Well… things didn't really go according to plan.
Three years after purchasing the village house here in Romania, we still haven't managed to make it livable. Sure, we've spent quite some time there to enjoy the fresh air and do some very minor improvements, but truth is that you couldn't live there long term. I wouldn't even spend a night there. It's that bad! And this picture-heavy article will show you everything.
But we're planning to make things better this year when we have more time to invest and a little bit of money set aside for this project. We won't be able to do a complete remodeling of our village house, but my dream is to make at least one of the rooms livable so we (or at least I) can spend one night there. Right now, we're getting there in the morning and leaving in the evening since it's a 40-minute drive away from home.
Until then, I took a ton of pictures to share with you the current state of the house. It is, in many cases, worse than we bought it – and we didn't even think that was possible! I'll write more details under each photo, then continue with our plans afterwards.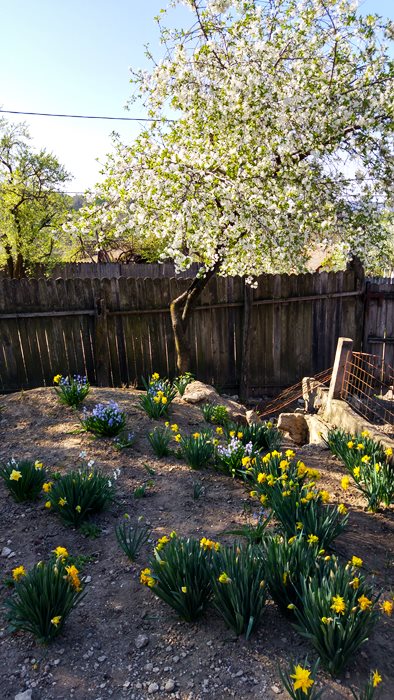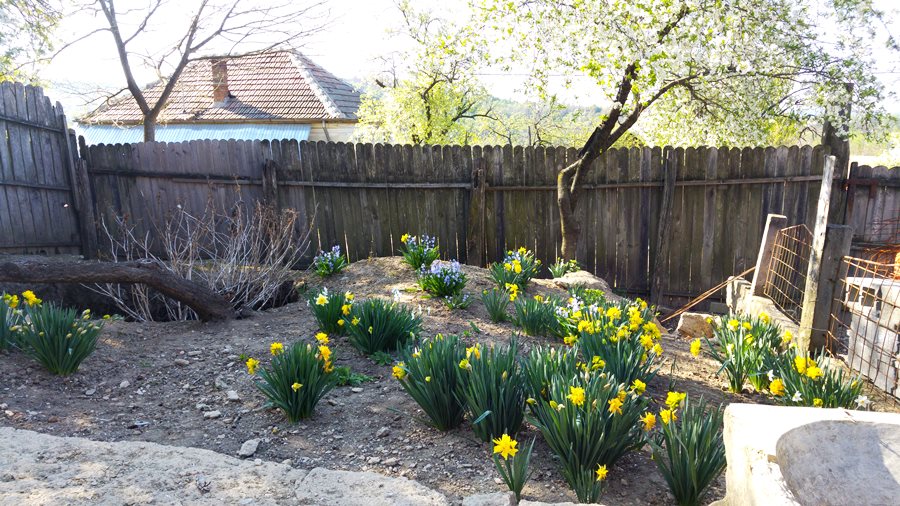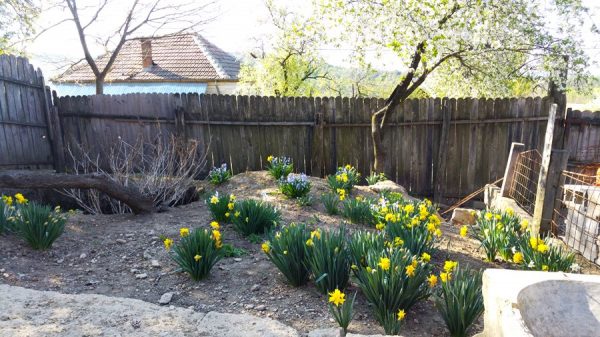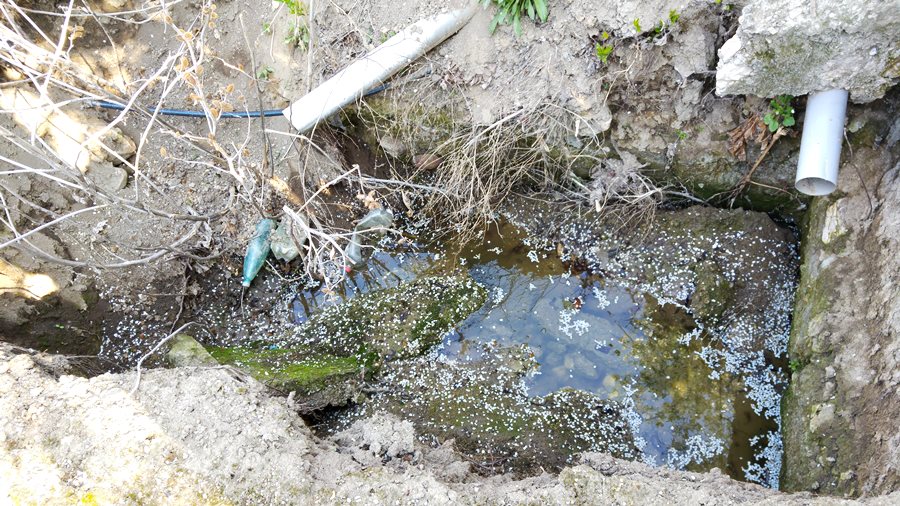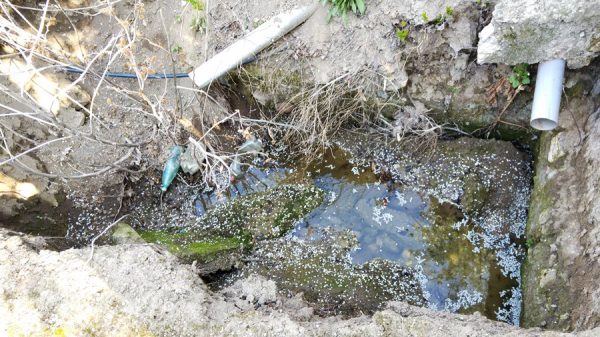 This means that one of the biggest Pros we had regarding the house is no longer true. At the moment, we have no running water in the house. None. Nothing. Not a single drop.
Fortunately, there is still a pipe in our yard, but it was cut and made unusable by the water company because they claimed neighbors came and took water from a faucet. Since there was no counter installed on the pipe, they never knew how much water was actually consumed – and there was nobody to pay for it.
So even though we thought we had a kitchen, a real bathroom and a septic tank, the reality is that they can't be used and judging by the looks of the so called septic tank which is basically just a hole in the ground with crumbled walls, we we won't use them for a long time. But we have this bad boy that we plan to use and which will make things a little easier: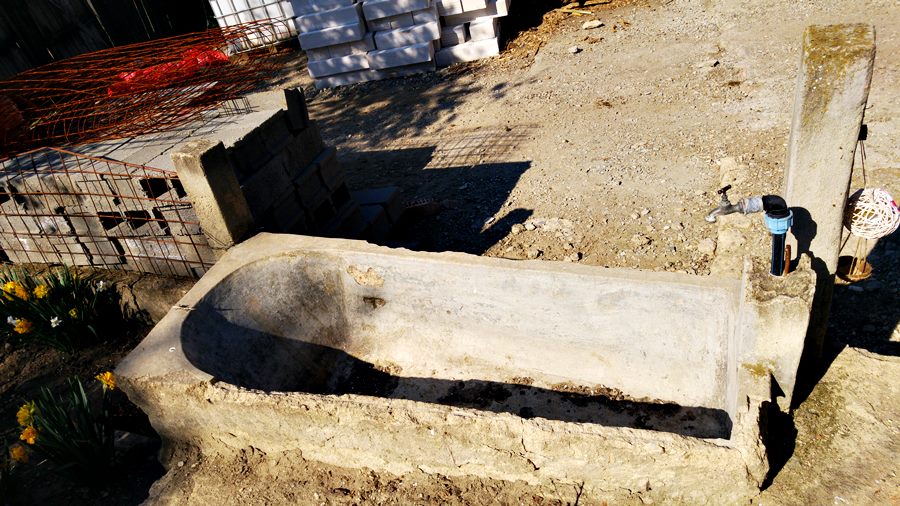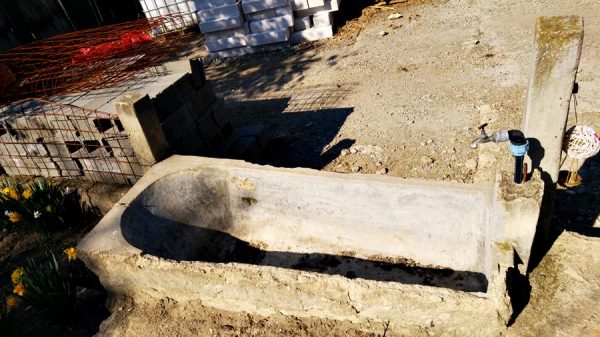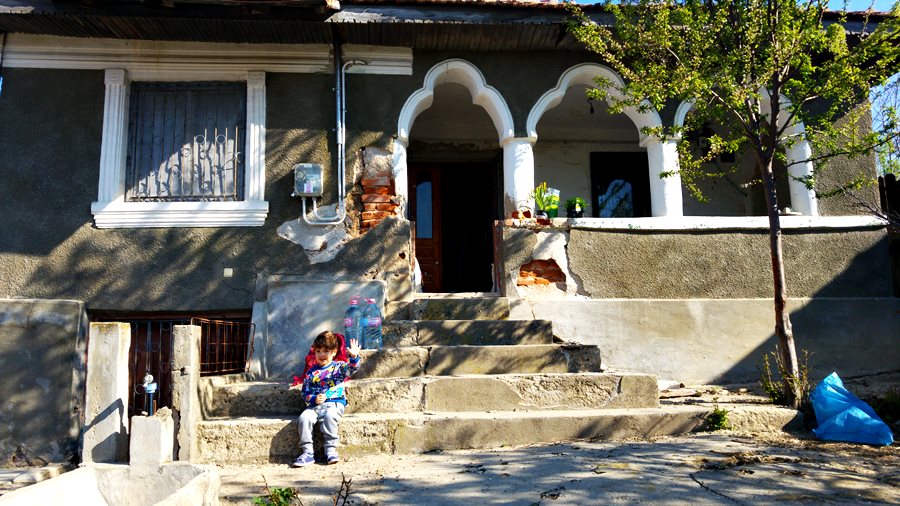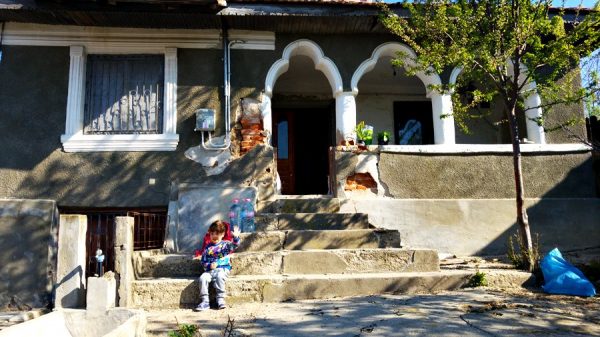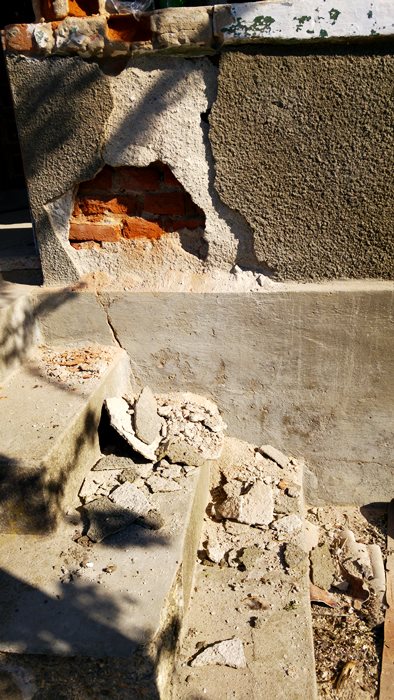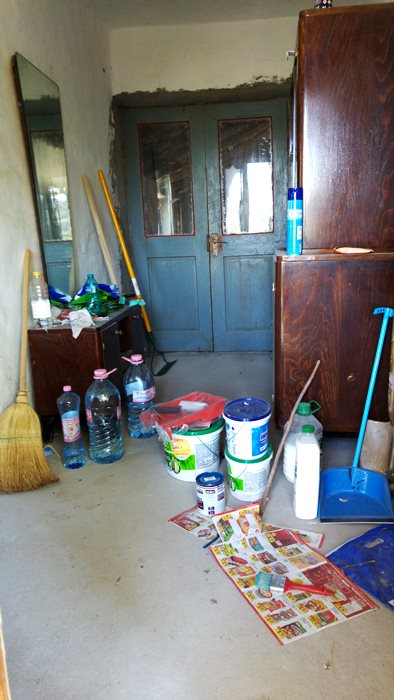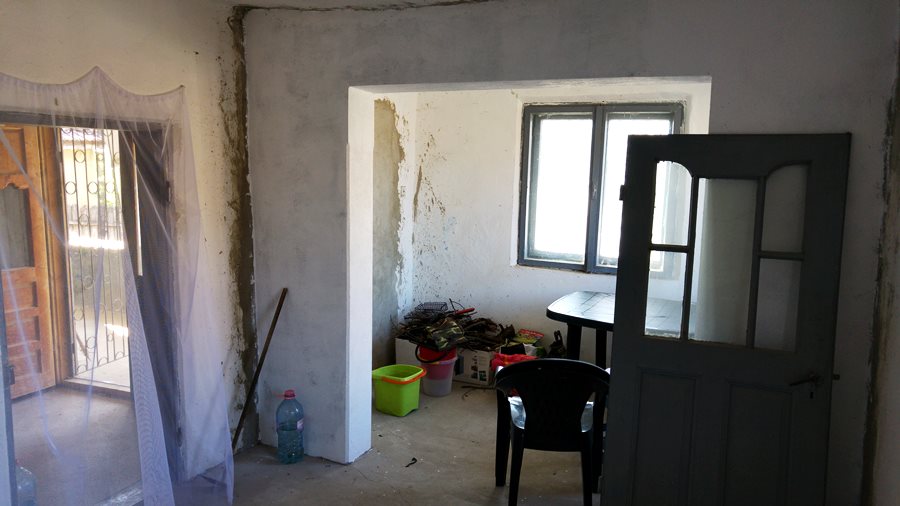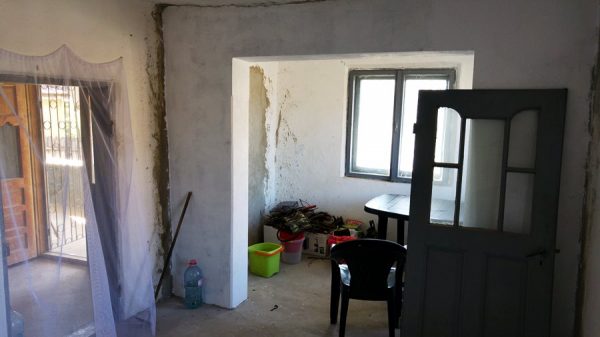 The fun thing about this room is that the arch was actually a wall and the opening in front was part of the porch. The previous owners wanted the bigger room and also added cement on the floor. What they didn't think about was the fact that this raises the level of the room and as a result the door no longer fits.
And since rooms in Romanian villages are usually not too tall, this means that I constantly bang my head on the top treshold – things have improved a bit since adding the bug-net, though.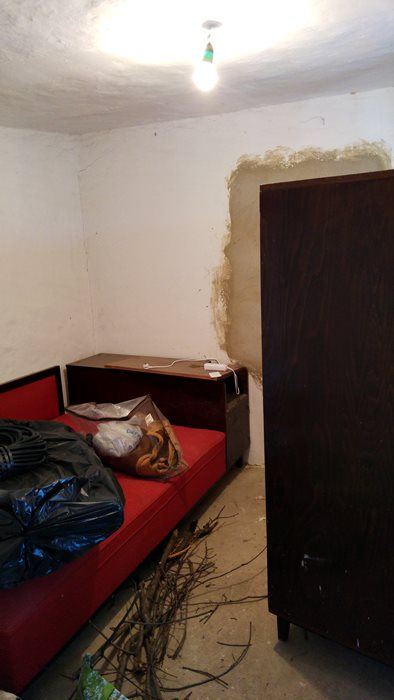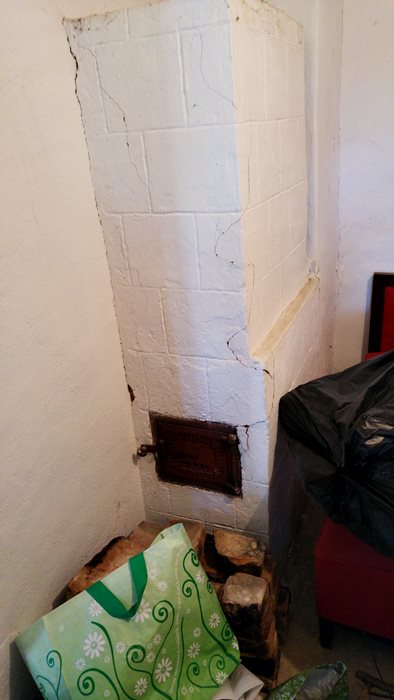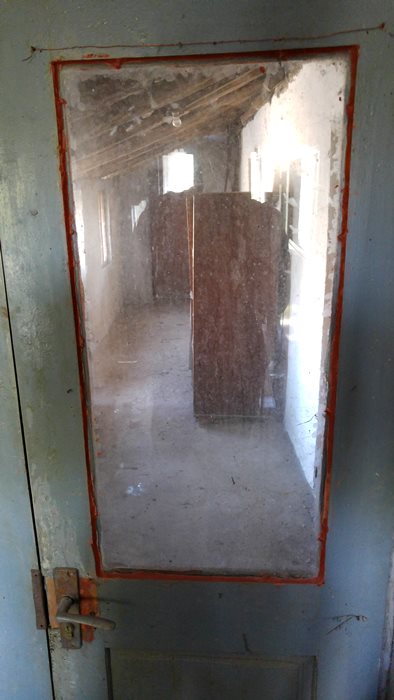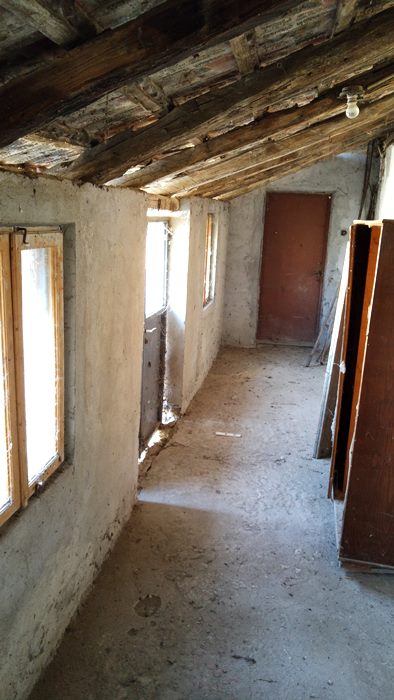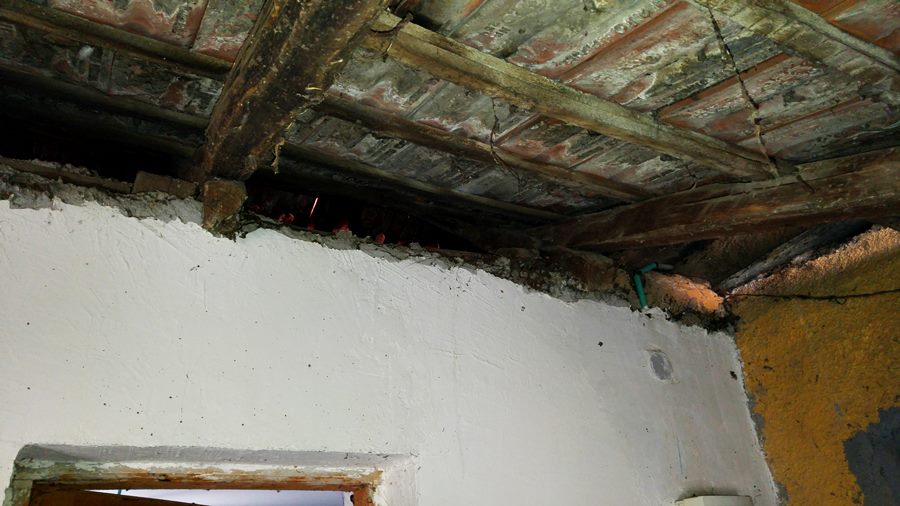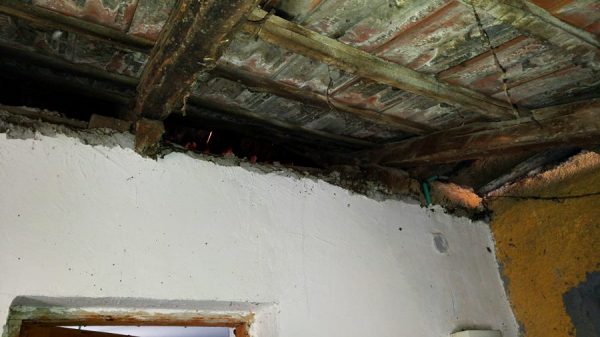 The thing with this hallway is a bit more complex. Usually, village houses in Romania have a separate room in the yard for cooking (known as a "summer kitchen"). This house had them built near the house and the hallway above did not exist. The former owners extended the roof, built the walls to the left and basically wanted to close everything in to make it easier to access the two rooms during the winter.
Of course, they didn't manage to complete the project. Even worse, they no longer had the keys for any of the two doors (one to the left and one at the end of the hallway), so we'll have to replace them at a point in the future, but for now, we're using the main entrance of the house to get minimal access there.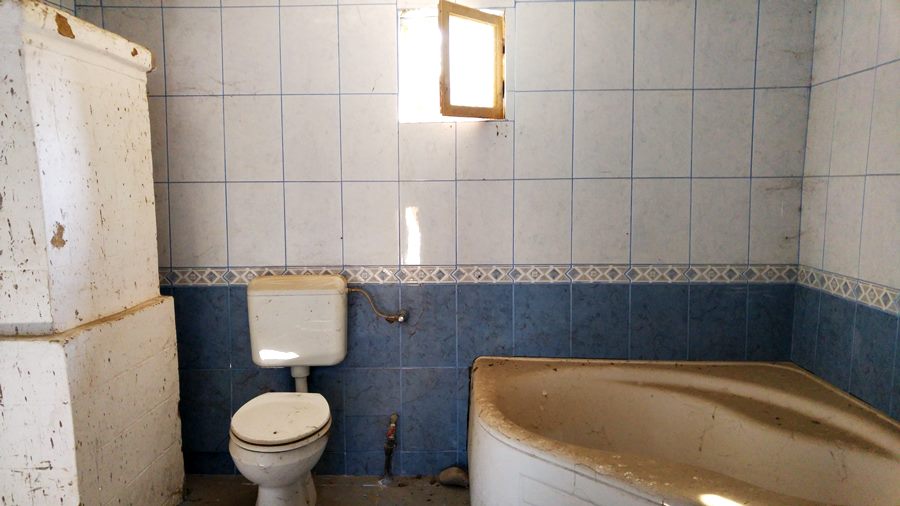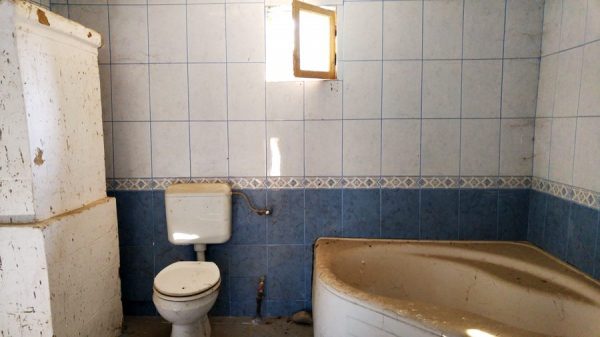 Notice the stove-looking thing to the left? I think it's a really nice thing: it's actually the stove in the kitchen (you'll see it below). You make the fire in the kitchen for cooking and it heats up the bathroom. A great thing during the winter, but not so smart during the summer since you have no control and can't turn it off if you want to cook there. Well, I doubt we'll ever use it anyway.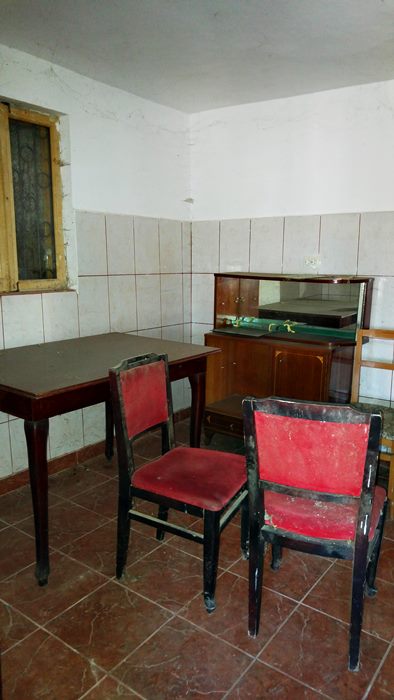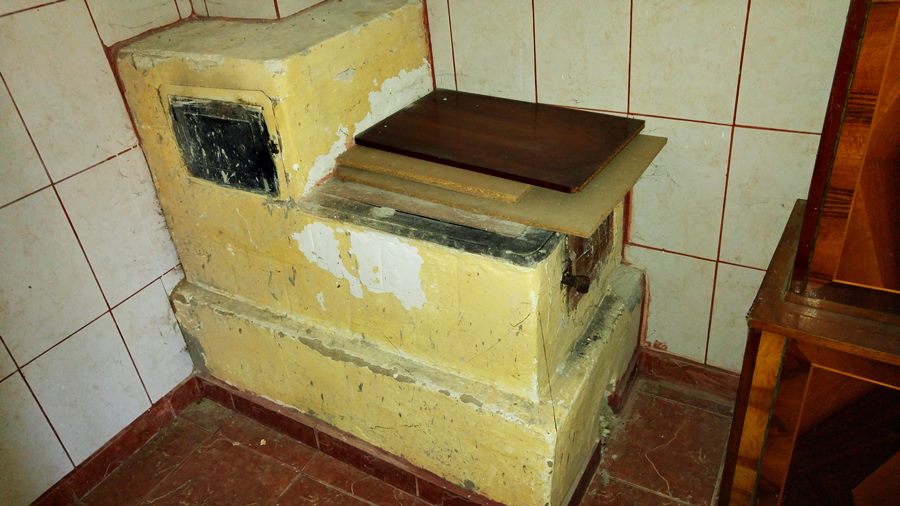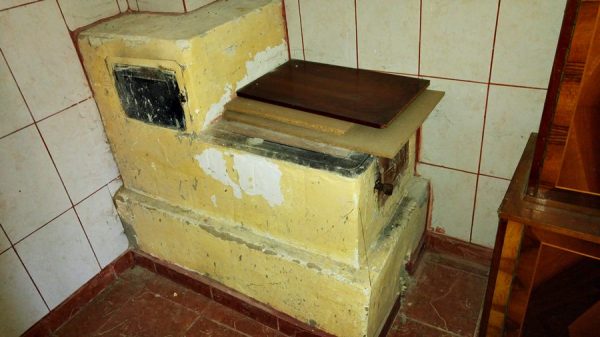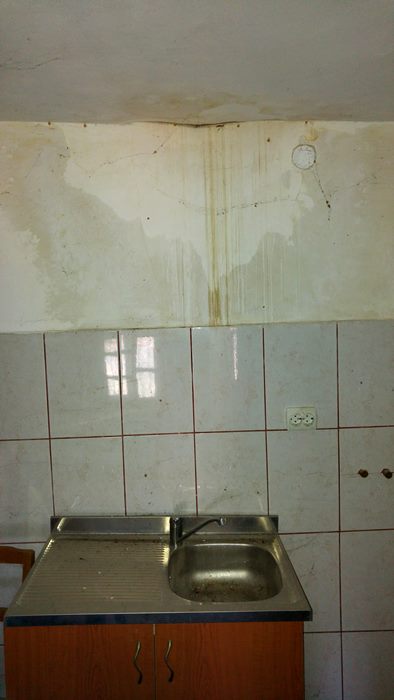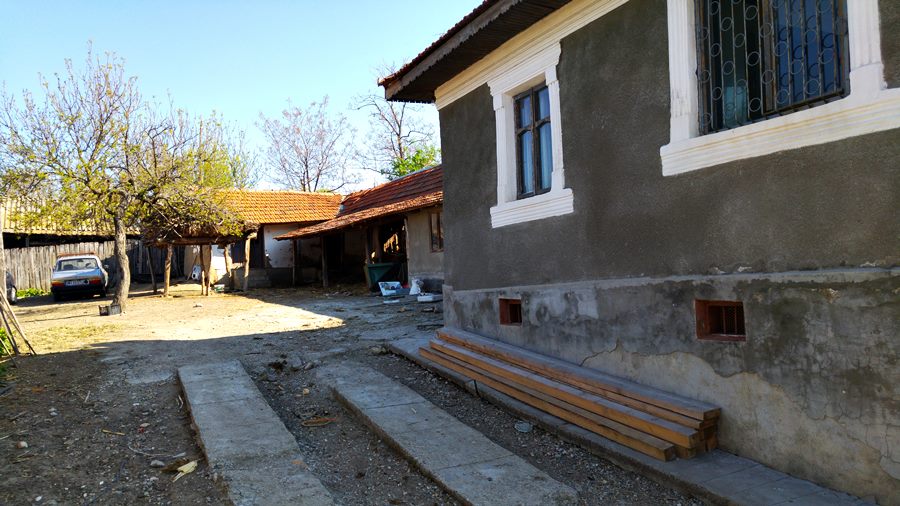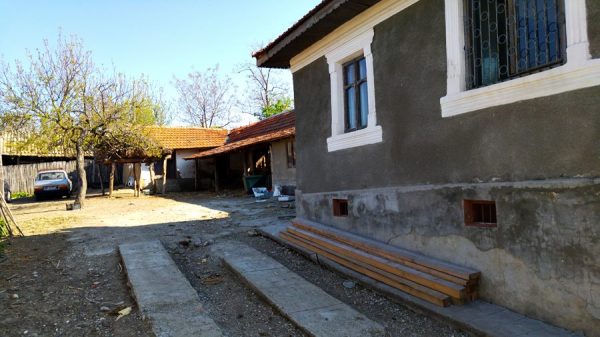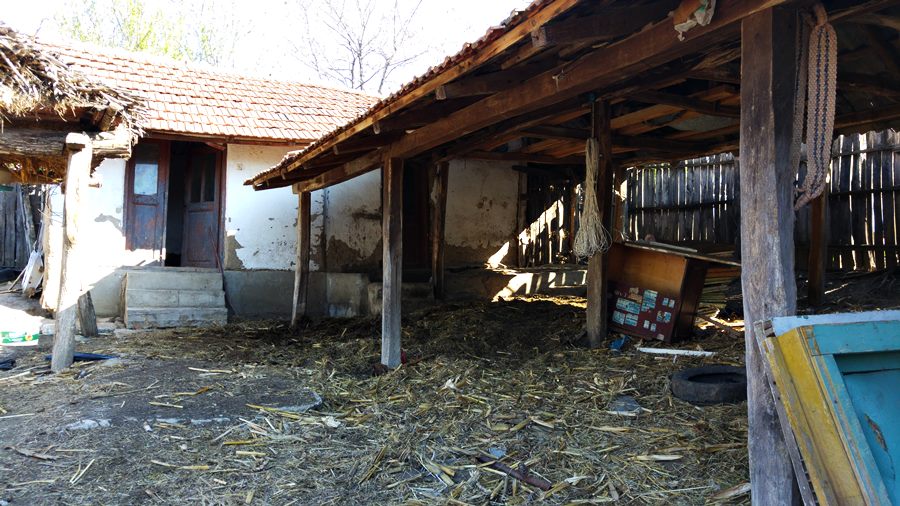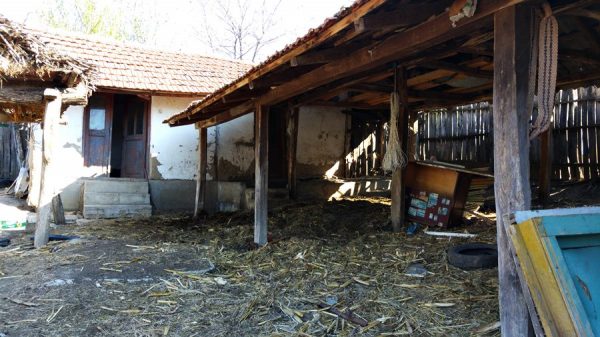 So you might be wondering why is there so much junk in the shed and why did our neighbor house animals in our rooms? Well, the previous owners have left him to take care of the house starting several years ago. Since the owners have moved to a different country and he saw that nobody even came to visit, he made the yard and those two rooms which he could open his own.
When we got there, there was a ton of crap that he had stored there and it was very difficult to make him leave. Even though we speak the same language, getting to actually have a dialogue with villagers in Romania is very difficult. He found it difficult to understand that he has to move and sine we haven't really visited often during the three years since we bought the house, he kept delaying his actions.
He did remove some of the junk but there's always something new popping up. He was keeping his horse in the barn area, he's growing chicken in the rooms (which he lets roam free outside as well) and even grew goats in the small space near these rooms.
It is a very difficult situation to deal with: he keeps saying that he has no place to move them to where he lives (which is across the street) and he doesn't have the money to build their own sheds there. He did buy some materials and started work last year, but progress has been incredibly slow.
He started to understand that we're more serious than ever and I was a bit tougher with him, so things started to improve: he removed the horse and the goats and promised to keep the chicken locked in and take them out by the end of the month.
Why can't I call the cops or just throw out his crap? Well, things don't really work like that in Romania. Cops would probably solve nothing anyway, but I would get an angry neighbor who could do a lot of harm without us being able to prove it. In the end – we only visited on 10-15 occasions last year, which gives him a lot of time to do a lot of bad things.
So we're trying to keep calm, keep the relationship as good as possible and take it slow: he will remove everything… eventually. It's how things work in Romania, especially in the villages. Fortunately, things are better in cities.
Now don't expect situations to be similar in every village. People don't (always) take over abandoned houses and start raising animals there. Although it could happen, haha.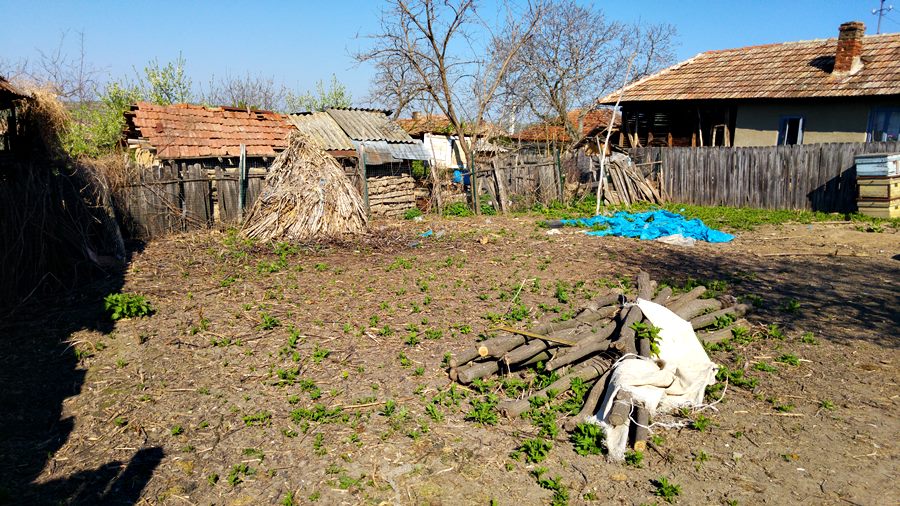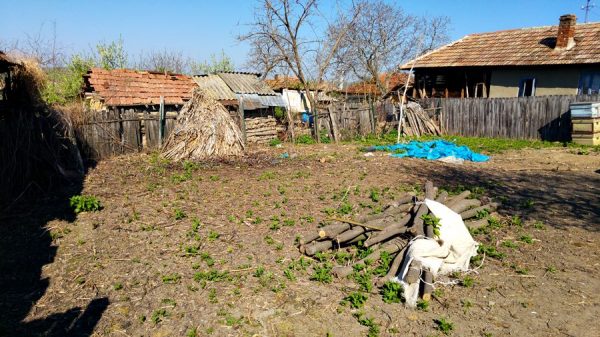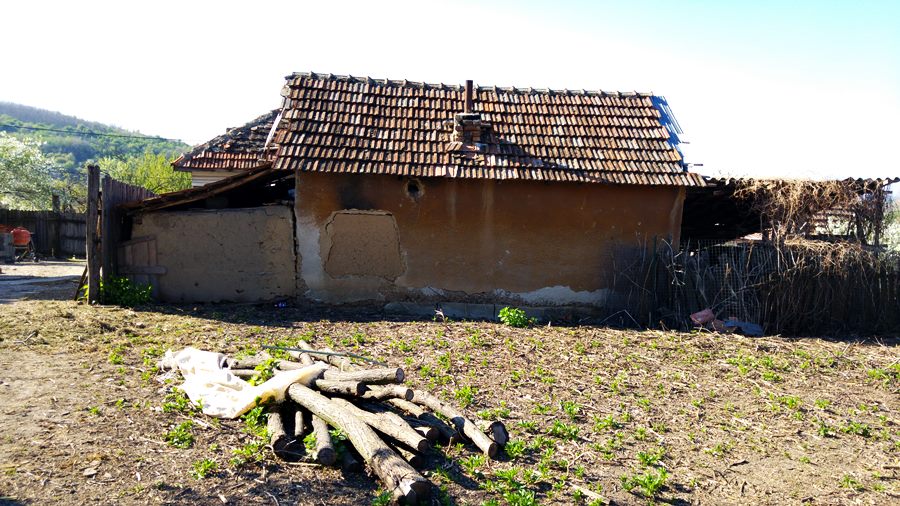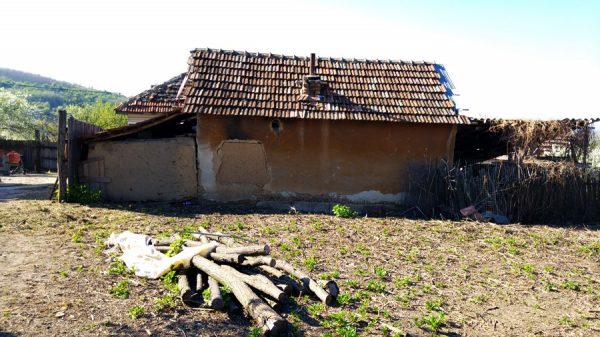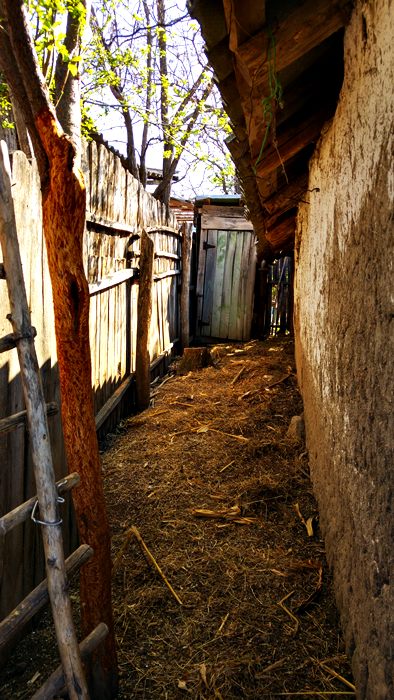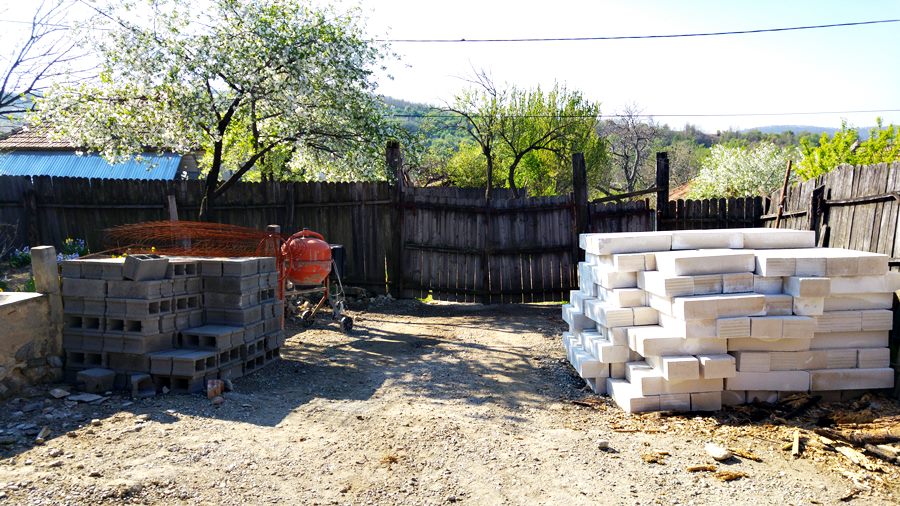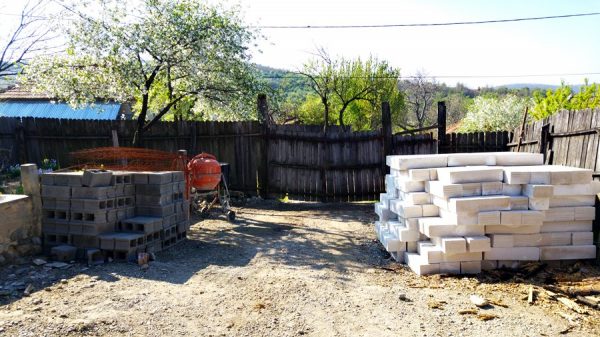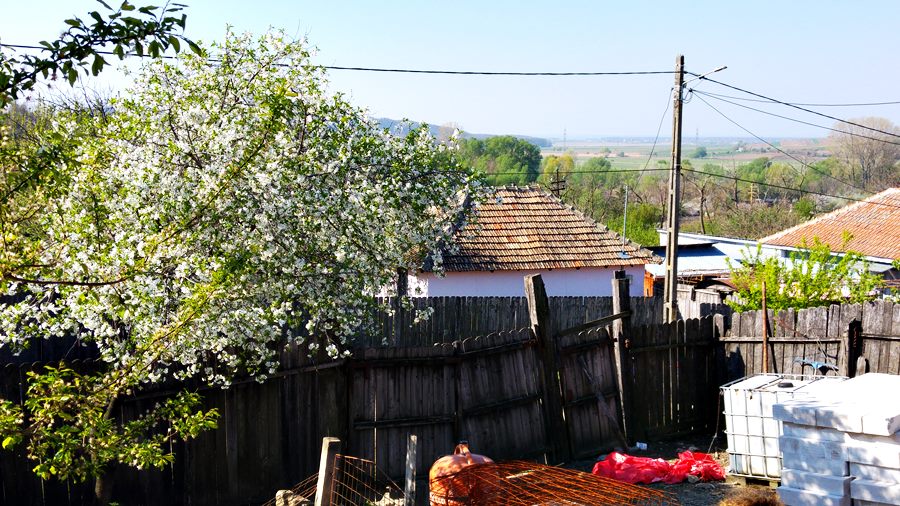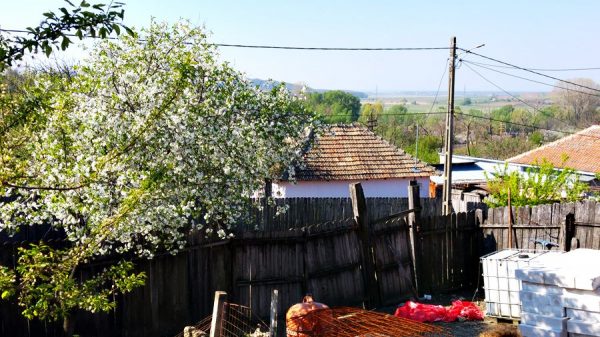 Completely remodeling this house would require a ton of money which we don't have and even if we did we wouldn't invest them all there because we're still not sure we're actually going to stick to the schedule and visit. During the winter months, we'll surely stay away from the house since there would be little it would have to offer us. So at the moment, repairing everything and bring it up to norm is not something we're thinking about.
But I want to make our trips there as pleasant as possible and even some minor adjustments and improvements will improve it a lot.
This year, I am planning to do (at least) the following and the fun part is that I want to share the progress here on the blog. One of the interesting things is that we will hire people from the village to help us – so it won't be something done by real professionals. It's interesting to see the results.
So here is what we'll hopefully be able to achieve by the end of fall 2017:
– Solve the biggest problem we have right now, which is get running water in the house. Carrying a ton of 5 liter bottles after you each time you visit gets old fast.
– Rebuild the outhouse and make it less of a nightmare to visit.
– Fix or most likely install a new fence.
– Have our neighbor remove all his junk and living animals from our yard, so we can do some landscaping (or at least get rid of the poop we have to constantly clean up from everywhere… plus the smell of poop)
– Make at least one of the two main rooms livable so that we can spend one night there. I did some tests already and simply cleaning everything, filling the holes in the walls and just adding some paint improves the room a lot, so that's what we're doing. Ideally, the walls should be taken down and rebuilt – but we'll leave that for later.
– Get rid of all the junk furniture in the house.
So these are the plans. If we can achieve more, it would be perfect. I am personally concerned that the coating on the house will keep falling and crumbling, allowing the bricks and adobe to be affected even more by the weather. But we would have to remove the entire coating and add a new one for the whole house and I believe that the costs would be too high for us to afford them. I'll have to look into this to know exactly what I'm dealing with.
So… there you have it. A long article that surely took you some time to read (it took me even more to write it), but something that probably gives you a bit of an insight into the not-so-beautiful part of living in Romania. But hopefully it's an interesting project to follow.