With the Easter celebrations right around the corner, I decided to offer this old article about traditional Easter foods in Romania a makeover and offer more details about what Romanians eat during the Easter celebrations because, well, who doesn't enjoy finger-licking good food?
In Romania, there aren't many occasions when feasts are expected: Easter is the first one of the year, followed later on by Christmas and maybe the New Year's eve celebrations, sprinkled in between with a birthday celebration here and there.
However, the Easter has some of the most impressive foods of all celebrations – at least in my opinion – with some of them only cooked during these holidays. And I like them all, from lamb to salads and stews. I am sure you will love the traditional Easter foods in Romania as well!
In case you didn't know, the Romanians love their food and even though more and more are starting to look into healthier options, traditional holiday foods are greasy, full of calories and… delicious. But first…
How to say Happy Easter in Romanian?
If you want to brag with your Romanian language, skills, this is how you say it: Paste fericit!
I have written an entire article about how to say Happy Easter in Romanian (as well as other Easter Greetings) so make sure to check it out!
Now, let's see what makes you gain those extra pounds if you decide to spend the Easter holidays in Romania: my favorite traditional Easter dishes!
Drob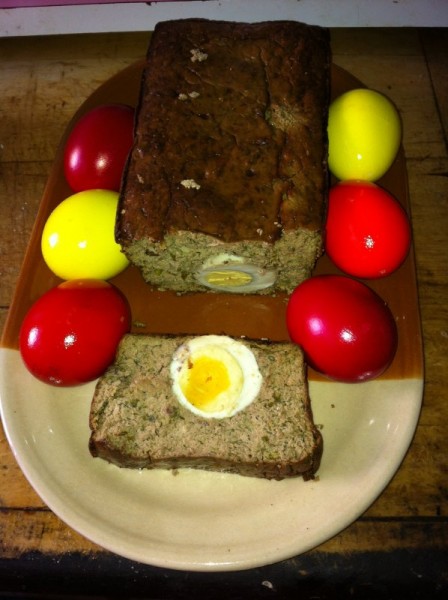 This is one of those foods that's usually prepared for Easter only. It is my favorite food out of all Easter dishes and the main reason why I look forward to the spring holidays each year.
Although absolutely delicious, it's made from the most horrible sounding stuff: the lamb's organs (heart, liver, lungs and kidneys), mixed up with fresh and boiled eggs, green onions, garlic, parsley and dill. You bake it and you eat it like there's no tomorrow, sometimes with a bit of mustard if you so prefer.
The drob in the photo above is one made by my wife a few years ago (when this article was originally published). That one is uses chicken liver only for the meat as I prefer the taste. (my stomach literally started growling as I thought about this deliciousness!)
Lamb Stew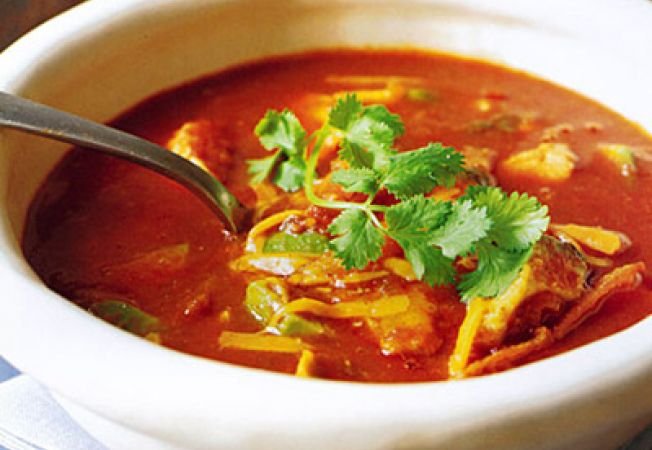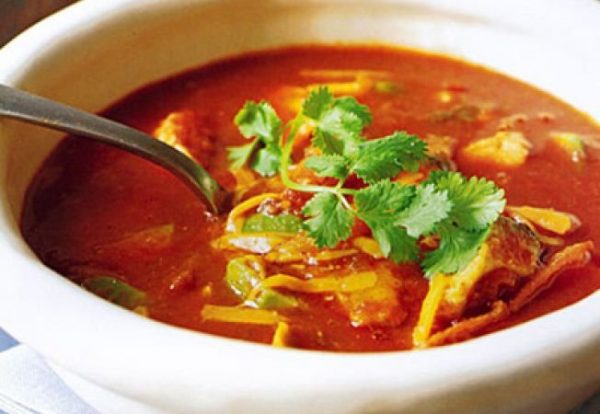 Romanian rarely eat lamb throughout the year, but it's the main meat during Easter. And since we love our soups and stews, a hearty lamb stew is a must.
This is usually a thick, delicious goo with a lot of fatty lamb meat, spring vegetables, rice or homemade pasta (called "taietei") and a ton of home made tomato juice. Because, yes, in Romania, most of the things that you can buy in stores are still made at home by our parents and grandparents.
While I'm not a big fan of how lamb meat tastes like, I have to admit that this stew is out of this world if done right. As a bonus, if it's not fatty enough for you, you can add some sour cream to improve it (Romanians say that this "fixes" a soup – "drege" in Romanian).
Sarmale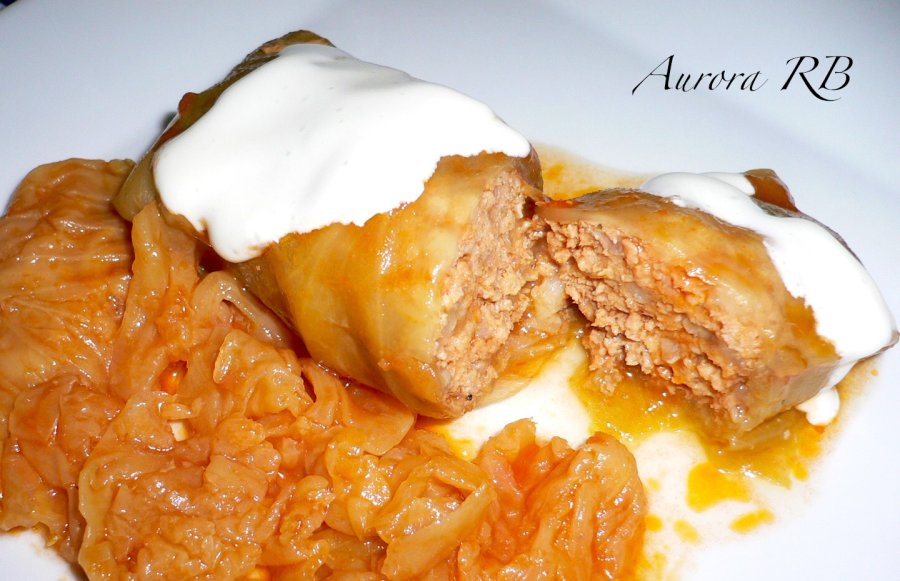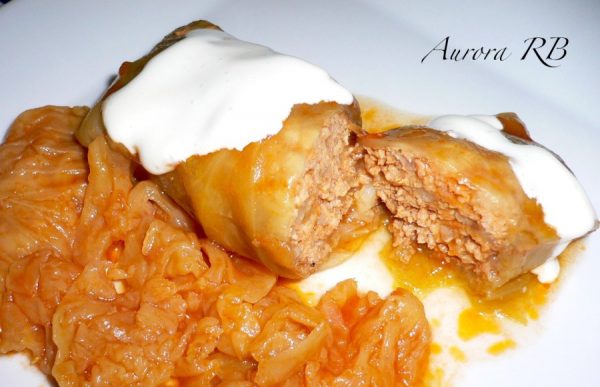 Romanians don't need many excuses to prepare a huge pot of Sarmale (aka cabbage rolls) and the Easter celebrations are probably the last occasion for them to put the pickled cabbage from the winter to good use.
While you won't always see them on all tables, since they're traditional Christmas and New Year's Eve dishes, many people still prepare them and enjoy them. I'm one of those people who believes that you can never have too many "sarmale" each year.
There are even jokes here regarding the fact that, whenever somebody serves you sarmale, you can't get just one or two, but 6-7 instead. And you'll eat them because they're that good!
There are various ways to prepare them, but usually you have minced pork / beef meat, mixed with onions and rice, rolled in sauerkraut and boiled in a mixture of the sauerkraut's juice, water and tomato juice. The result? Something absolutely delicious – even though it might not sound like it from reading the list of ingredients!
Lamb Chops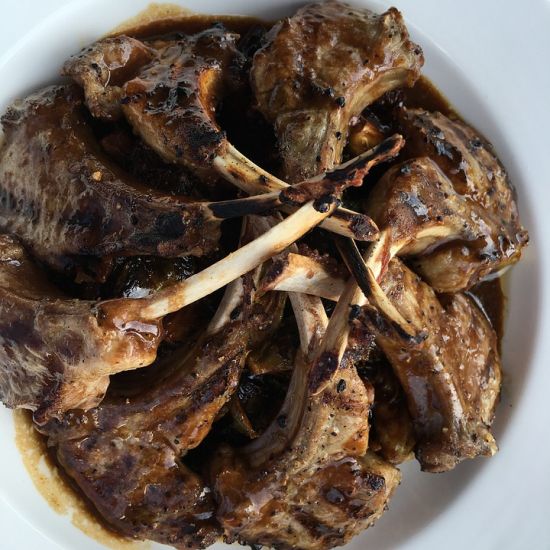 As I said, this is the time of the year to enjoy some lamb meat and the lamb chops are my favorites. However, you could get lamb ribs or any sort of a lamb steak, depending on what the family decides to have that year. Sometimes, you'll get them all!
It's usually served with baked potatoes and some fresh salad made of all the fresh greens available during the spring. Delicious!
Stufat
(no photos, sorry!)
A light, yet tasty stew made entirely of green onions, green garlic (its leaves included), curly dock (according to Google translate) and ramsons (again, thank you Google Translate). You can also throw in some olives if you want to, or keep it simple. Also, some add spinach as well – I don't.
There are other alternatives, like mixing it with some lamb meat and boil them together for a thick, meaty stew and you can also add tomato juice for color and added flavor. I like mine plain, although I wouldn't say no to any other type, to be honest.
It's a pretty demanding job to prepare it (washing all those leaves, then cutting them is a real chore), but the end result is surprisingly tasty. You can have it as a side dish for your lamb or enjoy it as it is. Very good stuff!
Easter Eggs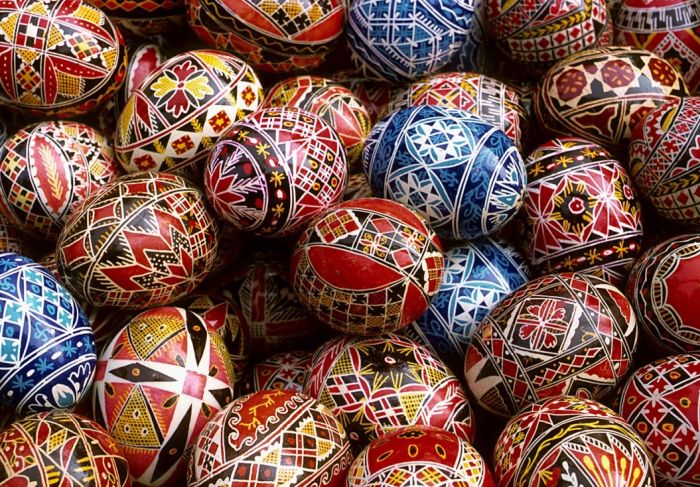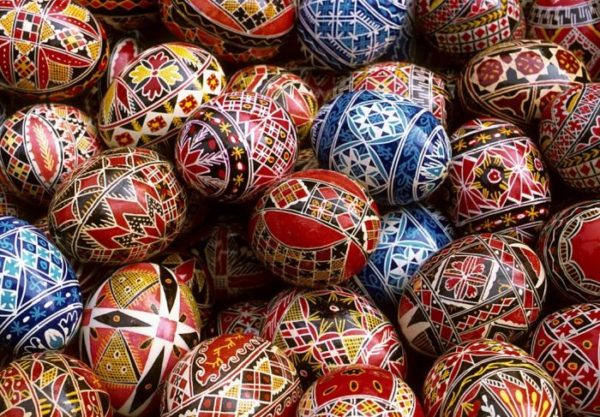 This is something that everybody will have during the Easter celebrations. You can go wild here when it comes to coloring them and decorating them, with the Bucovina region being famous for the complex models they use for their hand-painted Easter eggs.
While we don't have the tradition of hiding the Easter eggs here in Romania, we do test who's got the strongest egg by knocking them against each other – a favorite pastime especially for kids who learn all sort of tricks to end up victorious after all egg-knocking contests.
Pasca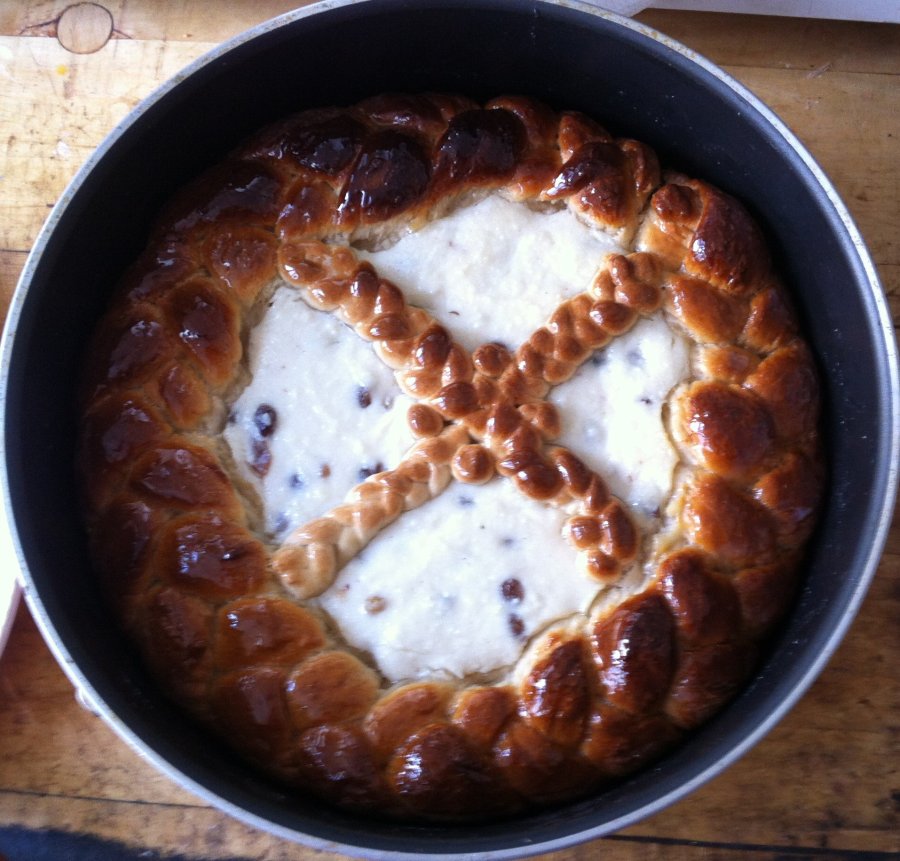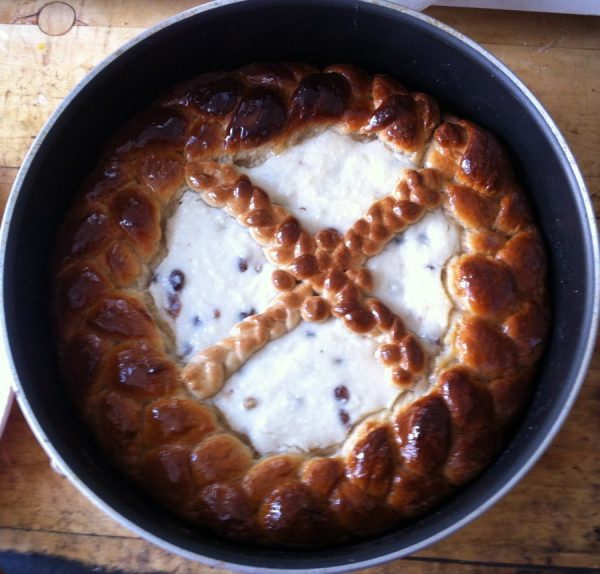 A lot more delicious than it looks in the photo above (and we forgot to take some better pictures, too), this is a kind of a pie made with cheese, sugar, raisins and various other flavors like vanilla or rum. I would compare its taste with that of cheesecake, but Pasca is of course more delicious. Ha!
Cozonac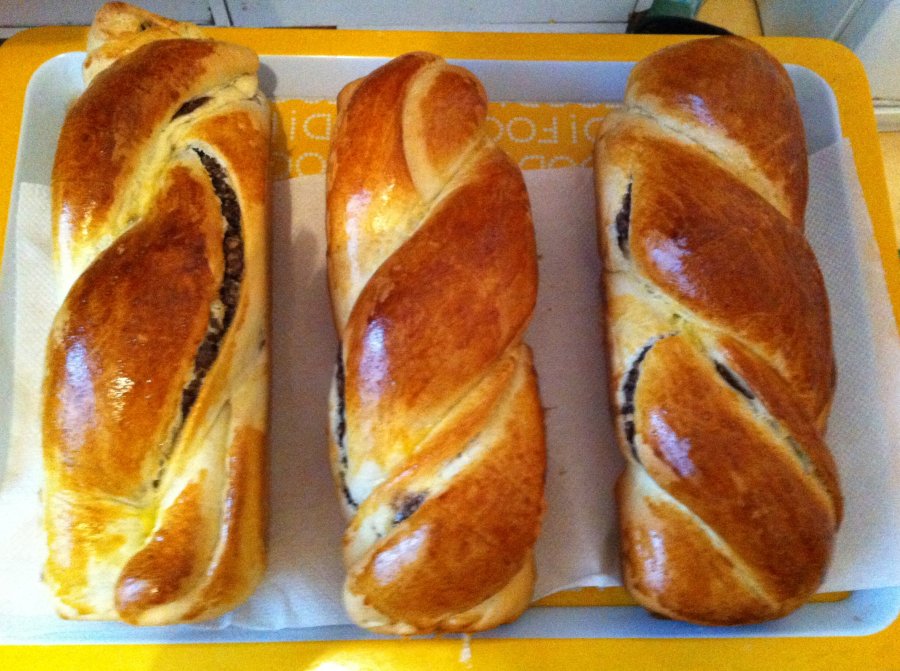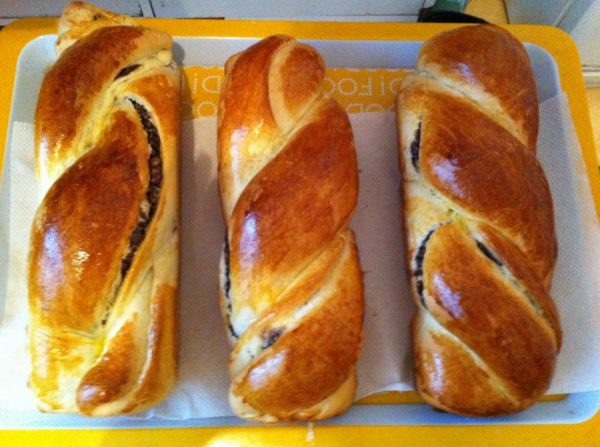 Again, something that's usually baked for any special occasion, while the sarmale are boiling. It was my wife's first try and they were delicious (back in 2014), even though she used too much filling, so they cracked open during the baking.
They're pretty easy to prepare: sweet dough rolled with a sweet mixture of walnuts, cocoa, raisins and Turkish delight (the last two can be omitted) and baked until ready.
So… there you have it! These are the traditional dishes that Romanians eat during the Easter holidays and the reasons why I usually gain so much weight during that time. They might not look like it, but they're delicious! Happy Easter!
PS: If this article tickled your appetite and made you hungry, then you should definitely NOT look at my article of 20 traditional Romanian dishes you must try at least once in your life.