Back in early July 2013, my wife gave birth to our beautiful son – and it all happened at a private hospital in Bucharest. We've decided to give birth at a private hospital instead of a state owned one for various reasons that I will cover in today's article.
We'll also take a look at how much would it cost to give birth at a private hospital in Romania and why I still believe that a private one is a better choice to state-owned hospitals, even though I am indeed regaining my faith in the Romanian healthcare system overall.
It might sound harsh, it might sound ugly, but the truth is that being pregnant and giving birth is extremely expensive! We had no idea about that and found it the hard way back in 2013. Today, the costs are even higher.
Hopefully this article will give you an overall idea on the costs (sometimes hidden) that you should expect before delivery and answer your question: how much does pregnancy and giving birth cost in Romania.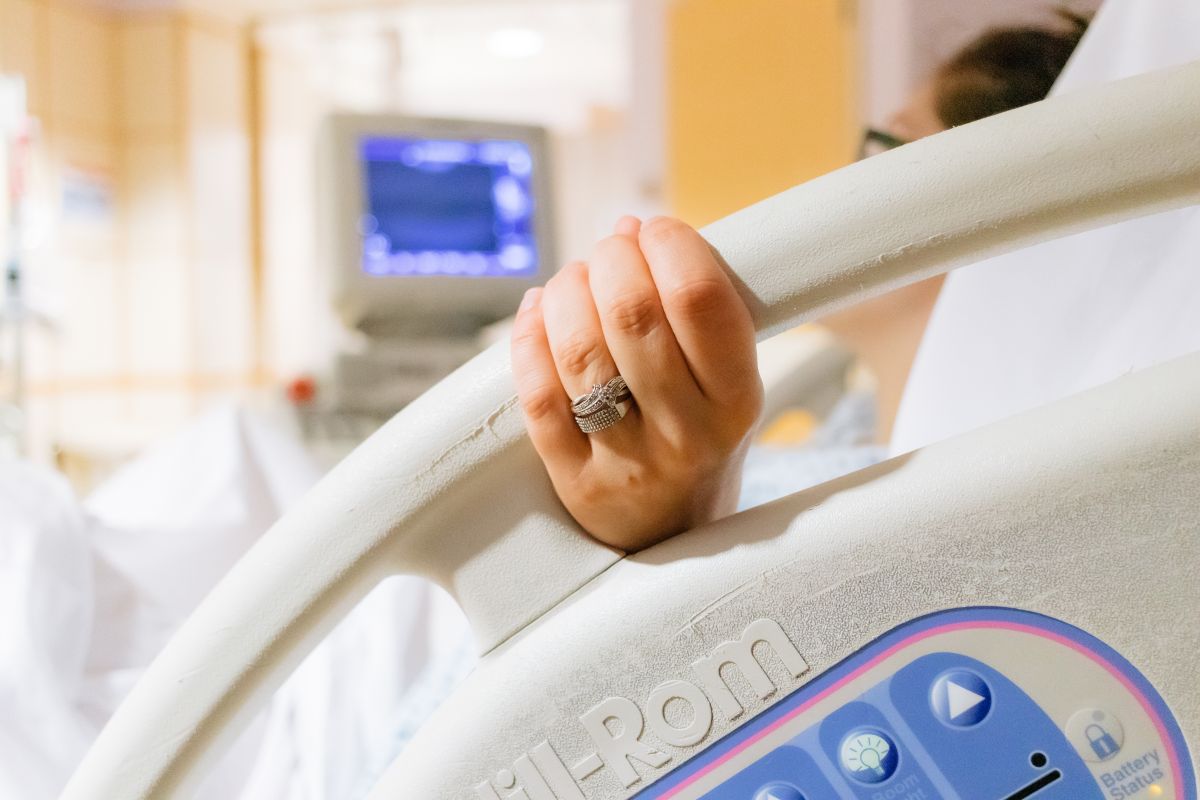 Hint: it's probably cheaper than in most countries out there since Romania itself is such a cheap country to live in – so at least we have that working for us!
If you don't want to go through the entire article (although I strongly recommend that, as you will read various useful tips), we'll start with the amounts.
A package to give birth at a private maternity in Romania costs between 2,500 – 3,500 Euros and it's influenced by the clinic you choose and what's included in a package.
Giving birth naturally and spending a couple of nights at the hospital in a shared room is cheaper than a C-section with a single room and more nights spent at the hospital.
These packages also include various pre-natal and post-natal services, for both the baby and the mother.
However, expect pregnancy and giving birth to cost A LOT more than just the amounts mentioned above. We'll get into detail below.
Spending starts before getting pregnant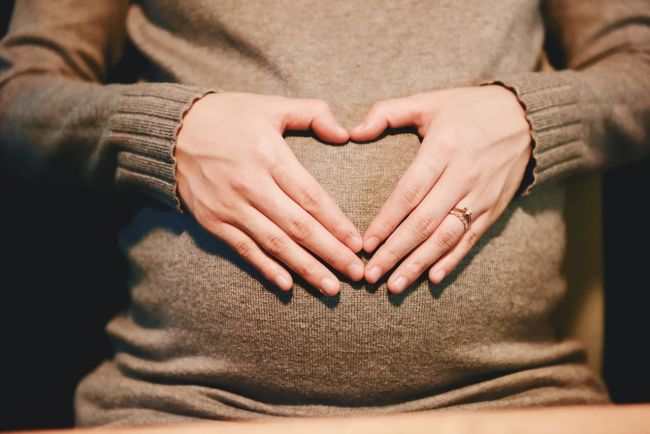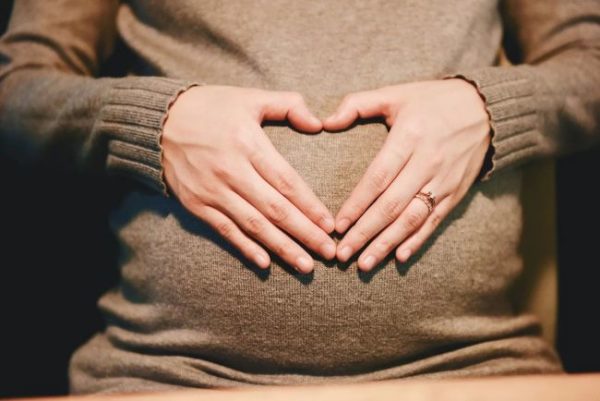 If you are like us and like to plan things in advance, then you will probably decide when it's the best time to start trying for a baby (hey, good luck!): in our case, it was when we were confident that we are financially secure to both go through the pregnancy as well as have a stable income source to be sure that we can afford raising the little fellow.
Yup, it's true, it shouldn't be like that but if money is tight, you have to consider everything! And even when you do, expect hidden or unexpected costs to pop up!
And your spending on the pregnancy will begin before even getting pregnant: we both did full health checks before trying for a baby (no fertility tests, though – those are only necessary if after a few months there's no luck) and it was good we did so because it was discovered that wifey had an infection and was put under treatment with antibiotics.
Finally, from that point on, she started to take supplements (vitamins and minerals) and kept taking them even after Baby Romanian was born.
Total cost of pre-pregnancy checks and pills in Romania: $209
Note: This is what we paid back in 2013 and all were at private clinics in our home town and Bucharest. Prices today are probably double… so it's safer to assume $500 here.
This is still relatively cheap, compared to any other place you can think of (and the quality of services is good) – this is why medical tourism in Romania is also a thing.
Prepare for 9 months of spending
I couldn't believe it that there were so many tests and check-ups and visits to the doctor when being pregnant… and they were not free!
We chose it to be like that as we decided to do everything through a private clinic, one that we highly recommend and still use today: Regina Maria (which has branches in multiple cities in the country).
It's important to note that their Baneasa Clinic (which is where my wife gave birth) was voted in 2018 as the best private maternity in Romania. I was extremely pleased back in 2013 too and I can only assume that now things are at least just as good.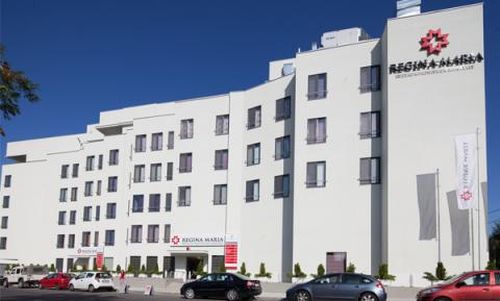 Please note: I am not affiliated or sponsored by Regina Maria or any other clinic. I am sharing my personal experiences and opinions here!
The reason why we wanted to go for a private clinic and not the state-owned one was the poor quality of the services offered in the state hospital.
We heard a lot of bad stories about really bad experiences, as well as the fact that there was a certain type of bacteria in our city's hospital (which was proven to be correct, as the hospital itself was shut down because of this and a new one was built – it was that bad!)
Back to the pregnancy itself, every month (and sometimes bi-monthly) we had to go to the doctor to check on things. Do some tests, make sure that everything is OK.
Now, depending on your private health plan, these might come in for free. If that's possible, then you are saving a lot of money – we paid for them all, as I said. Sometimes we went for the routine checks in our city to keep costs low.
During these 9 months of pregnancy (which are actually 40 weeks, and we only did 35 of them because Baby Romanian decided to come early), we spent a total of $2702.
And we're not including here all that extra food, like the sliced pineapple that she wants at 11 PM or a ton and a half of oranges that she simply has to eat. Ha!
Costs of giving birth in Romania (at a private clinic)
As I said, we chose to go for a private clinic in Bucharest. And the prices here are way lower than in Western Europe or the US, while the quality of service is top notch.
Really, it was an absolutely amazing experience for us and it felt like spending time in a hotel, not a hospital. It really makes you think about having more babies, ha!
The general costs for giving birth at a private maternity in Romania are between 2,500 – 3,500 Euros, depending on the clinic and type of package you are opting for.
Our costs for the "giving birth in Romania" part at the private clinic were $3326.
This was for the VIP package, which was a bit more expensive, but meant that my wife was in a single room (seen below) and also included some free consultations for her and a lot of extras for the baby.
This also included the actual C-section (as we opted against natural birth for various reasons): it was scheduled for a specific date, but our son was born prematurely and we didn't have to pay anything extra.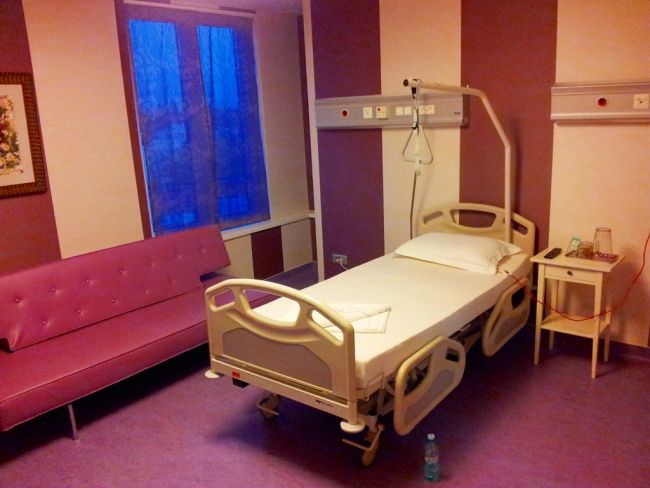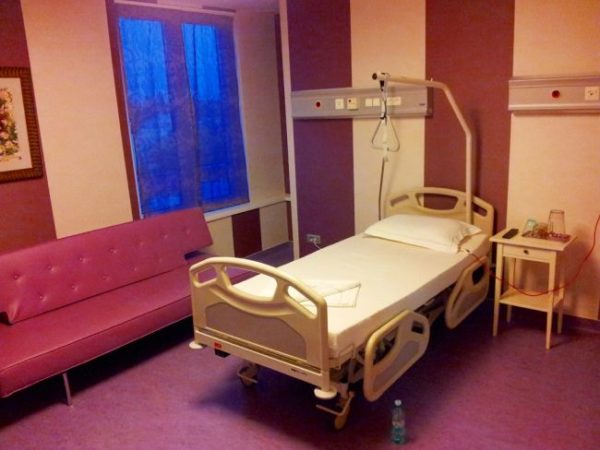 The money spent also included 4 nights for my wife and I in a private room in the hospital after she gave birth, the collecting of stem cells and their storage for 12 months.
(We actually had to spend 2 nights more and therefore our costs have increased.).
It was an "all inclusive" stay, meaning that both wifey and baby had food, consumables and clothes for free. Plus 24h/day medical support but fortunately we didn't need that for anything than the regulars (painkillers mostly for the wife).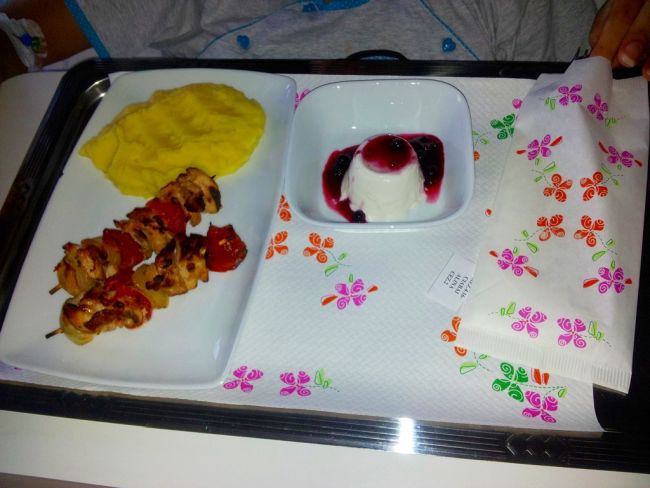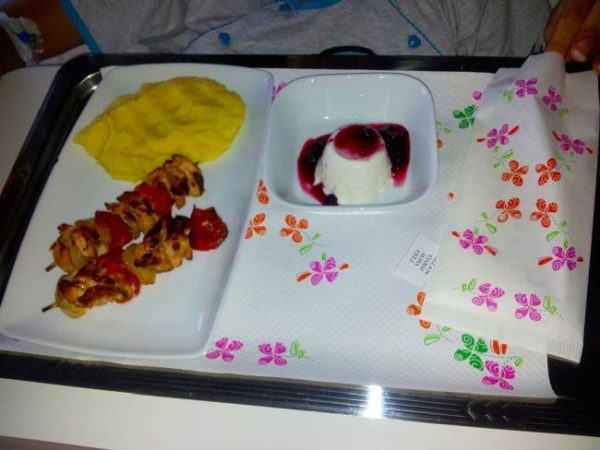 Not to mention that this was a very modern clinic with the latest generation equipment and amazing staff.
For the dad, there was just a couch to sleep on and nothing else included. I chose not to sleep there as my wife was under constant care and never needed my help during the night, but I would spend my entire days there.
The place has a really nice cafeteria with all sorts of food options available and there are even more around the hospital itself.
All in all, it was a truly amazing experience. We were lucky that we opted for a private clinic, as our baby was born prematurely and needed some extra care and attention.
If we were to do it all over again, we'd choose the same clinic without a doubt. It does cost a lot of money (based on the wages here in Romania), but it's worth it!
Buying stuff for the baby
There are a lot of extra costs involved in this process, although not directly related to pregnancy and giving birth.
However, the baby needs a place to sleep in, needs some clothes, needs some consumables and so on: and all these costs do add up, especially the initial costs (for all consumables, furniture and whatnot for the nursery).
We were right not to buy any clothes (really, we haven't bought a single clothing item for the first several months) as all our friends and relatives kept coming with the cutest things ever.
So my advice would be not to invest in clothes, you will certainly get more than you need from every friend you have!
What we had to spend money on was: a baby stroller, furniture and repainting for our baby's nursery, a complete set of diapers, baby bottles, napkins, creams and some electrical devices (monitoring systems, humidifier, sterilizer, bottle warmer) and we bought all of them from Amazon (affiliate link).
As a brand, we went for Philips Avent and we are extremely pleased with the products – we decided to purchase them online because options were limited in our area back then, but things have changed now.
Total costs in this "miscellaneous" area: $1072
Total costs of pregnancy & giving birth in Romania
So if we are to draw the line and do the maths, the total cost was:
$7309
Out of these, as mentioned already, just under $3,500 were for the actual birth at the private hospital – the rest being "extras" mainly from the plethora of tests and visits to the doctor during the 9 months of pregnancy.
(and there may be some items that we simply forgot to list on our expense tracker because things can get really busy and crazy with a pregnant lady).
That is a lot of money in my books and I wasn't really expecting us to spend that much.
But I am happy that we did: everything went as good as possible and even though there were unexpected things happening along the way – the most important being the fact that our son decided to come early – things are great now and all I can say is that those were money well spent.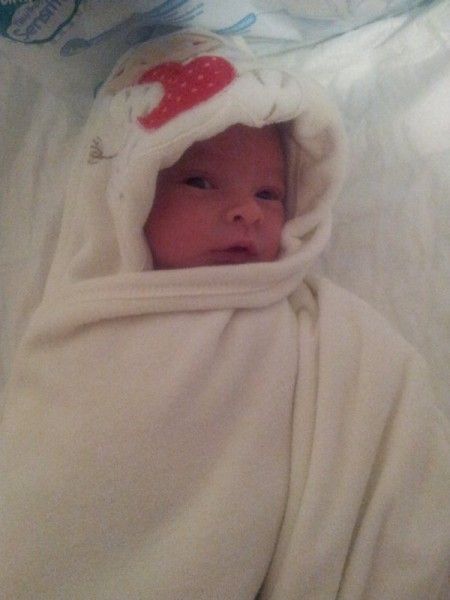 The good thing about spending so much money is that I guarantee that when you hold your little baby in your arms and you look at their cute little face you will be as happy and satisfied as you can be. And that is priceless – that is what matters in the end.
If you have additional questions, don't hesitate to ask. I will do my best to answer.