We all know that women in Romania are truly beautiful. But these Romanian models and supermodels that I am talking about below showed the entire world just how beautiful Romanians are.
I am actually surprised to see that so few of them actually achieved world fame – but hopefully this will change in the near future.
Either way, today we're going to relax a bit with some eye candy and check out the 10 most famous Romanian models ever.
They all have classic Romanian features – so this is how you should expect Romanian women to look like if you ever decide to visit the country.
It's important to note that, despite the natural beauty here (talking about the ladies now, not nature itself) all these models proved to be really good human beings too, taking part in charity and playing their role in world as well as the could.
Without further ado, let's check out my top list of Romanian models!
Catrinel Menghia
Born in 1985, Catrinel is probably the best known Romanian model, usually presenting herself as Catrinel Marlon.
Born in Iasi, Romania, she was hurdling champion as a kid. She was discovered by an agent in Bucharest when she was 16, going to win Ford's "Supermodel of Romania" competition. In just a few months, she became a supermodel.
Since then, she has moved to Italy and posed for various magazines, including Sports Illustrated, FHM and Maxim.
She was also a model for Giorgio Armani and Lise Charmel. Although she didn't win any major awards, she has been considered one of the most beautiful women in Romania – for all the right reasons – and she remains one of the most famous models the country has ever produced.
Bianca Draghiciu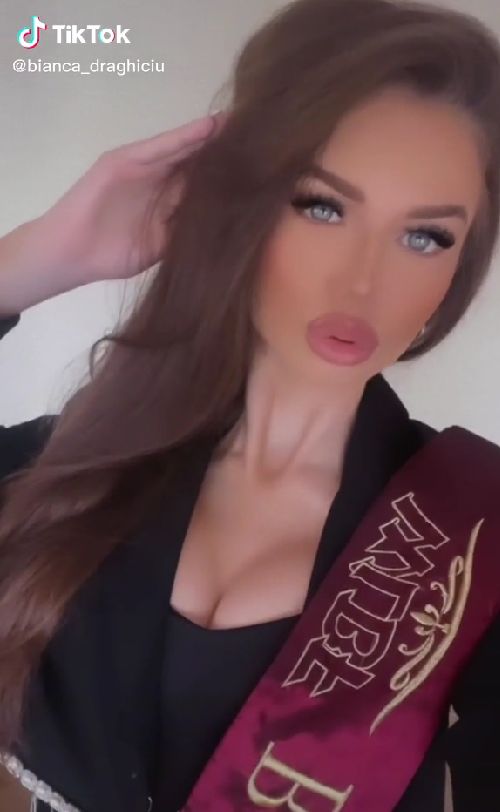 One of the rising stars in Romania and the youngest Romanian supermodel on my list.
She became famous after winning the Supermodel of the World back in 2016 when she was just 11, followed by the Best of the Best special jury award at Little Miss World Universe.
Her most recent major award is the Photomodel of the World 2022, and from here onward I can only assume that things will get better and better for her.
Born in Sibiu, she was already the host of a fashion TV show in Romania when she was just 9.
Madalina Ghenea
This beautiful Romanian model was born in Slatina in 1987, and started her modelling career early on, when she was just 15.
She was instantly signed in Italy, where she started to present for the designer Gattinoni.
Later on, she signed with AMT Models and Major Model Management, making her one of the most successful Romanian models ever.
Her undeniable beauty also attracted the attention of quite a few famous people. She has dated (or has been rumored to be in relationships) with some of the most popular Hollywood actors during the early 2010s, including Leonardo DiCaprio, Gerald Butler, Adrien Brody and Michael Fassbender, as well as Lewis Hamilton.
But her career wasn't shadowed by being in relationships with celebrities. As an actress, she scored a part in British comedy Dom Hemingway alongside Jude Law and Emilia Clarke, while her modelling career saw her strut her stuff on some of the most important catwalks in the world, also having her become the face of various luxury brands.
She is considered Romania's Monica Bellucci – I don't really see the resemblance (apart from the fact that they're both beautiful), but nobody will be mad about this comparison, I guess.
Andreea Diaconu
Another younger supermodel on this list, Andreea was born in 1991 in Bucharest and is one of the only two Romanian models to ever pose for the Victoria's Secret catalog.
She is the face of Gucci, Dolce & Gabbana, and Belstaff and has worked with the biggest names in the industry, including Cavalli, Prada, Gucci, Dolce & Gabbana, Armani and so on.
She was discovered when she was just 11 when she won the first prize (earning 500 Euros) at a modelling school contest.
However, she did wait until she turned 13 before accepting an offer from an agent – she was flown directly to New York for a presentation, followed by another in London and then various works in the fashion hotspots of the time.
While she initially planned to do modelling part time, only to earn enough money to afford paying for college, she had a change of heart and moved to New York in 2011 to pursue her modelling career – a thing that she's done brilliantly ever since, as she is one of the most popular Romanian models today.
She didn't completely ignore her education either, managing to get a bachelor's degree in social psychology and being able to speak five languages.
Diana Moldovan
The second Romanian model to pose for Victoria's Secret catalog, she is actually a good friend of Andreea Diaconu. Together, they run three healthy eating restaurants in Bucharest, called Moo Moo.
Diana was born in 1987 in Sfantu Gheorghe and has been working with Chanel, Dolce&Gabbana, Gucci, Dior and more.
She was (and maybe still is) the best known Romanian model in the US and looking at her photos, you can understand why. She does have amazing eyes and beautiful features, doesn't she?
She was featured on the cover of Vogue and is still considered one of the most desirable pretty faces in the Romanian modelling industry right now, even though she does keep a pretty low profile and is very private about her life.
Monica Birladeanu
It is said that the Moldavia region is the one where the most beautiful Romanian ladies are and this list seems to support that claim.
Monica was also born in Iasi, like Catrinel, before moving to Italy and later on in the US. She was born in 1978 and soon returned to Romania for various TV and film projects.
In the early 2000s, she earned various awards, including the "most beautiful Romanian Woman" in 2003, the most beautiful Romanian celebrity in 2002 and various other awards.
She still maintains her beauty, despite being 41 at the moment of writing this article and has made a massive comeback in Romania, regaining her lost popularity almost instantly.
She is more famous as a TV host and actor than a model, having played in the successful Romanian film The Death or Mr Lazarescu, but also scoring an episodic role in the Lost TV series, as well as CSI.
She is definitely considered a real success story here in Romania, proving that she's more than just a pretty face – she's a hard worker who kept pushing to get better.
Diana Dondoe
Born in Craiova in 1982, Diana was discovered while visiting Bucharest and soon after moved to New York to pursue her modelling career with IMG Models.
She is better known abroad than in Romania, having worked with big names like Chanel, Miu Miu, Prada, Balenciaga and more.
She has also been on the cover of Vogue magazine but despite her beauty and achievements, has kept a pretty low profile. Still, she is one of the most wanted and best known Romanian models to date.
Nicoleta Luciu
Born in 1980 in Bucharest, she became Miss Romania in 1999, which was her shot to fame. While she isn't as famous abroad as she is within Romania, Nicoleta Luciu is definitely one of the best known, most beautiful and most influential models in Romania.
Immediately after winning the beauty pageant, she became TV Show host and did some acting as well, while not ignoring modelling completely.
She posed for various national magazines, including Playboy and was considered one of the most beautiful Romanian ladies in the early 2000s.
I still remember her for her role as "Mother Nature" in a national TV show. I don't remember what the TV show's name was, or what it was about… but I still remember her.
It was actually the "Mother Nature" name that stuck with her for years, but she managed to get past it and prove that she's more than just a pretty face that looks good on your screen.
More recently, she decided to step out of the limelight in order to take care of her kids, to the regret of the male (and certainly much of the female) population in the country.
Elena Baguci
An extremely private person, Elena was born in 1986 in a village in the Oltenia region, Chirnogi. However, her beauty quickly turned her into one of the best known international models from Romania.
She lived for a long time in New York, where she was also active and appeared on the cover of magazines like Harper's Bazaar, Elle or Vogue.
She has recently moved back to Romania, together with her husband and son. She doesn't seem to be active anymore, as she has just given birth to her son (at the moment of writing this) but her beauty and legacy remains.
Irina Lazareanu
Probably not as well known (in Romania) as the others on this list, Irina not only has an amazing life story, but is also an extremely famous supermodel (and recently singer) over seas.
Actually, her parents managed to flee from Romania back in 1989 and became refugees in Canada. She was 7 back then and, thanks to her beauty, she quickly become an important name in the fashion industry.
She has been a Chanel ambassador, Karl Lagerfeld's muse, as well as Nicolas Ghesquière's. She has shot campaigns for major brands, from Versace to Gap and Balenciaga to Anna Sui.
Wrapping up
These are the most famous Romanian models ever. While the country doesn't have any Miss Universe or Miss World winners, nor models that everybody has heard about, these ladies are beautiful, successful and definitely a joy to look at.
If you know other famous Romanian supermodels that I haven't listed above, let me – and the readers – know by commenting below.