One of the most important moments in one's life is the wedding and in Romania, just like in most countries out there, this is a huge event that requires a lot of planning and usually brings a lot of confusion for guests, especially those who are not regulars at these events.
If you're a foreigner about to take part to a wedding in Romania, things could be even more confusing and you might wonder what to expect and especially what kind of gift to bring. I will answer all those questions, as well as offer all the details I can think of about weddings in Romania, so let's get this started.
Just a short note: the second most important party in one's life is the christening of their baby (or babies if more will follow), and I've already written about it here. And now let's find out everything about Romanian weddings: what to expect and, most importantly, what gift to bring.
What to expect
If you've never been to a wedding in Romania, expect to be amazed and surprised – and definitely prepare for a long day and night, usually sprinkled with tons of alcohol. Even though things will be different from family to family, I think it's safe to say that you can sort the weddings into two types:
– traditional weddings (which are most likely to happen in villages and maybe sometimes in smaller cities and towns, but you could get a freak traditional wedding in the largest cities as well)
– modern weddings which will still have traditional elements – more or less, depending on the newly weds and their families.
In concept, both traditional and modern weddings follow the same route, but the approach is different and expectations as well.
For example, if you somehow get to a Romanian wedding in a village, expect all the food (sometimes for hundreds of guests) to be prepared at home by the bride and groom's family and friends, expect the alcohol to be home made, expect no real dress code, most likely a live local band that will only play traditional music and extremely friendly people (many of whom will be really drunk by the end of the party).
But until we get to the food, there's one extra step that has to be completed:
The wedding ceremony
Usually, people go first to officially get married at Starea Civila sometime in the morning or early afternoon. This is the ceremony that the bride and groom must attend in order to be legally married and there are no real bells and whistles here: it's all very sober and boring and over pretty quickly. Usually, the bride won't wear her dress for this occasion, but this could also vary. You are also expected to bring flowers for the bride at this point.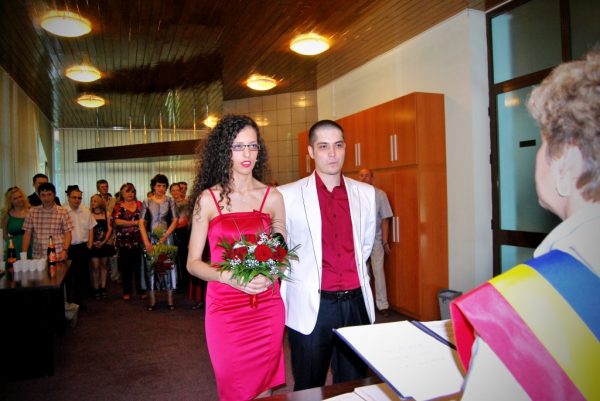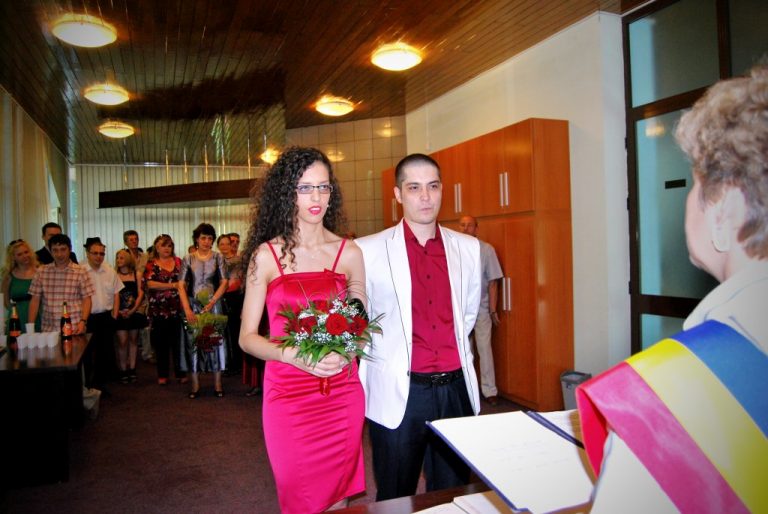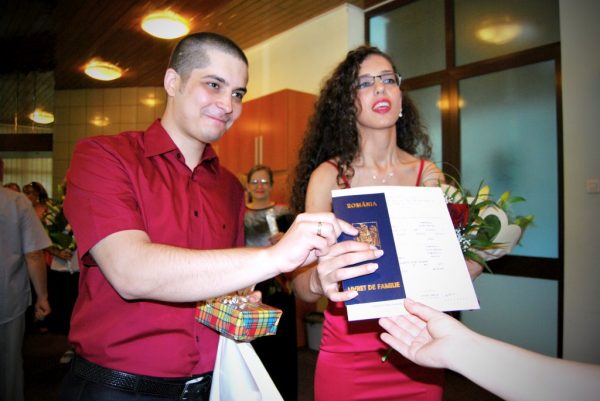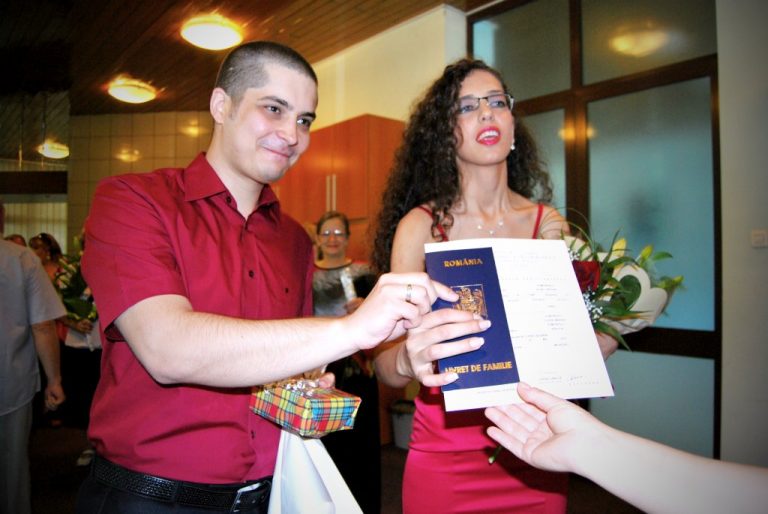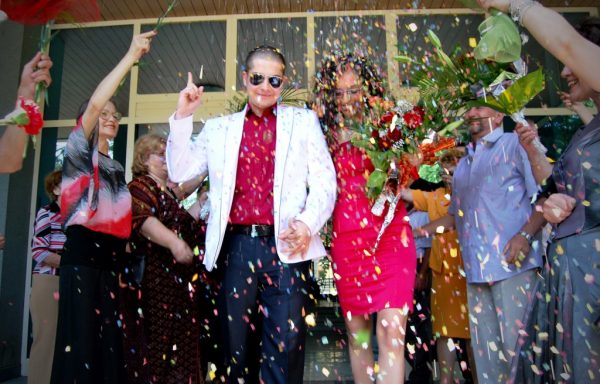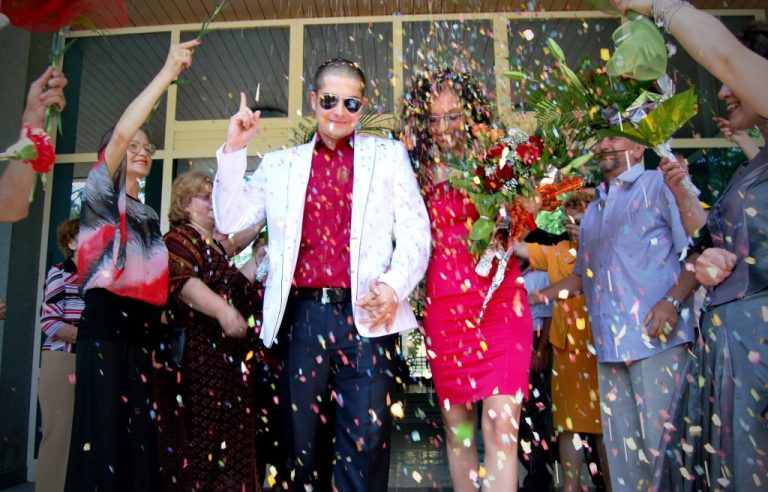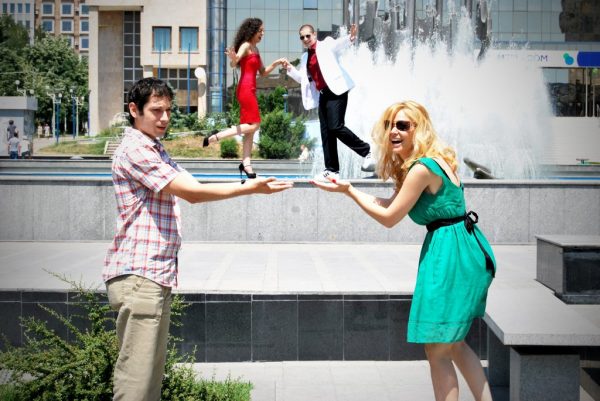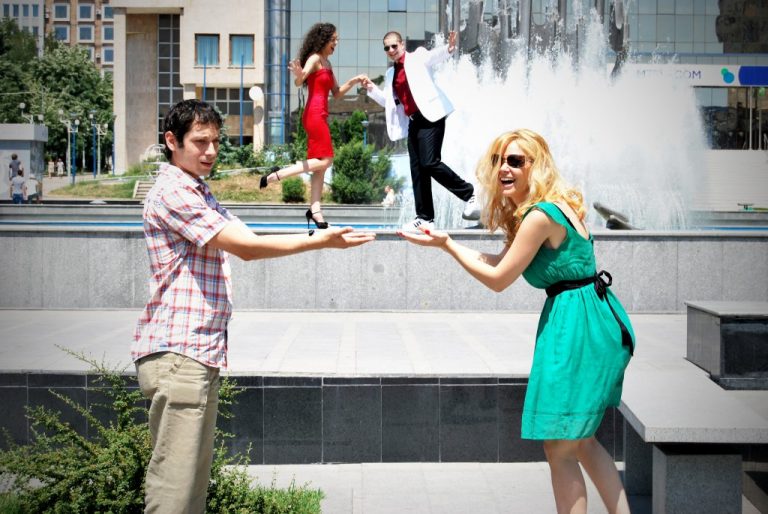 After the Starea Civila, photos are taken and, depending on the time of the day the ceremony took place, everybody goes straight to the church or meet at the church a few hours later (it's usually the latter, allowing the bride to change clothes and get into her beautiful dress).
The ceremony at the church is usually long and extremely boring as well – it could take up to two hours and you usually have to stand for the entire duration of it.
In larger cities, the priests have understood the fact that nobody wants to spend that much time listening to them: for example, I personally tried to listen from start to finish at my own wedding and couldn't make it – I can only imagine that all the guests were in their own world as well. Because of this, many priests now hurry things as much as they can, but expect the whole thing to last no less than 40 minutes.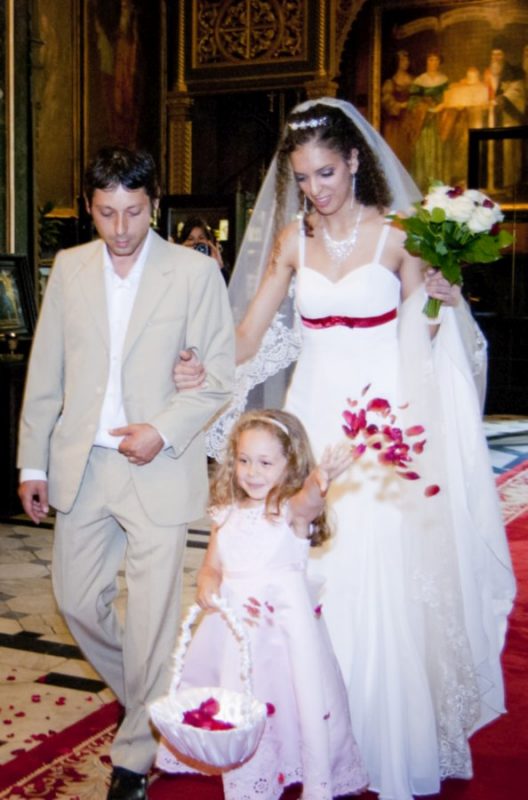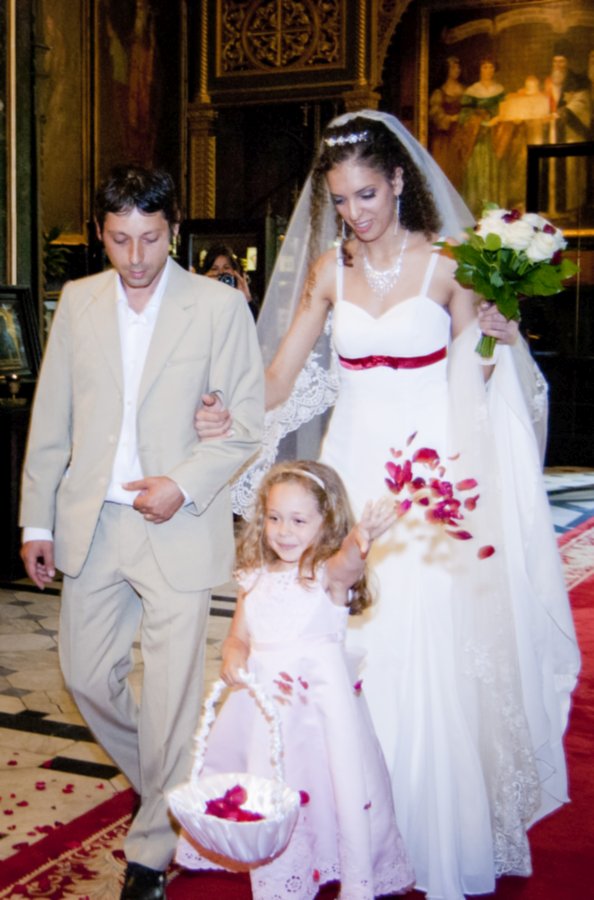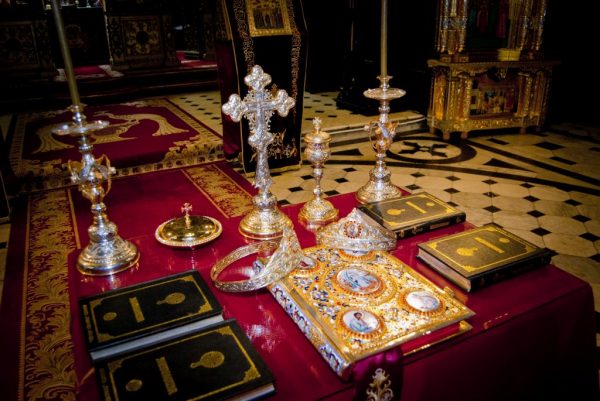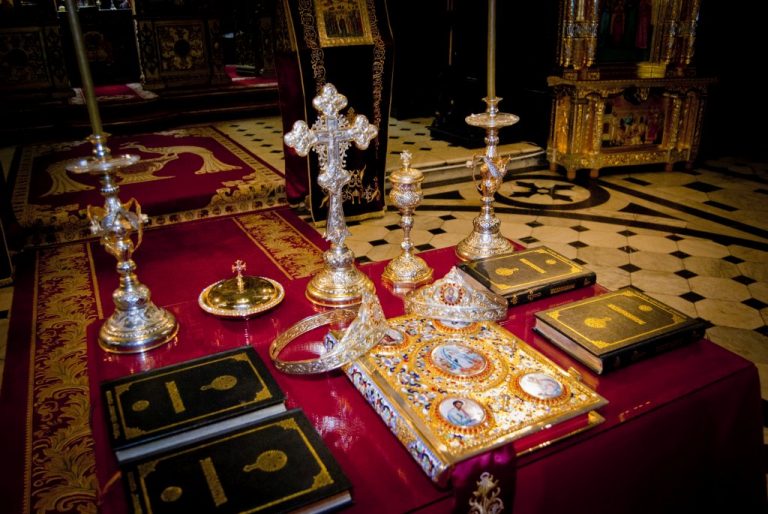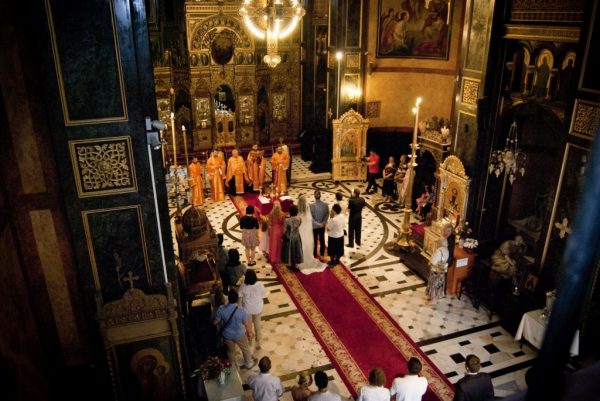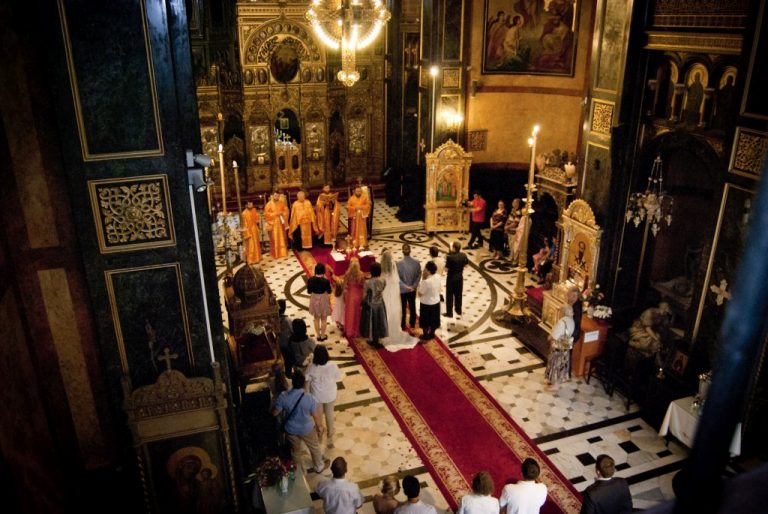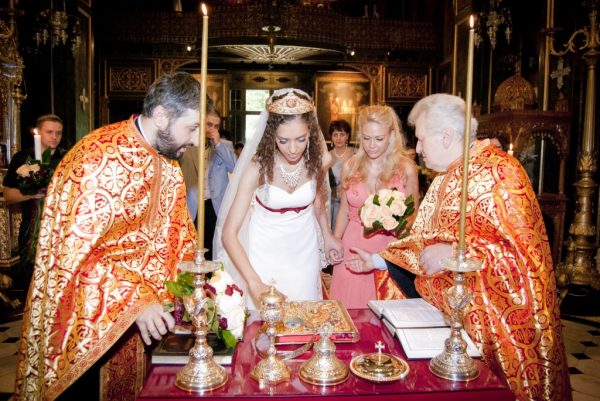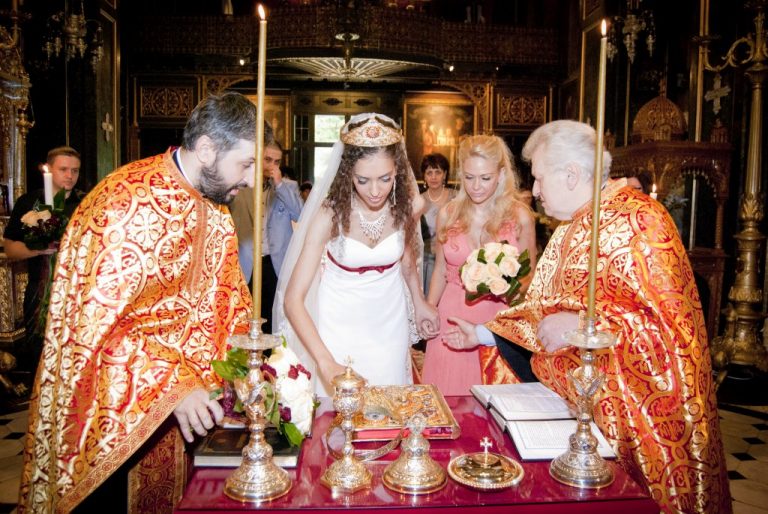 In the evening, the party begins. This is usually considered the main event and it starts at around 8 PM, but for some reason most guests decide to arrive about an hour late. To prevent this from happening, some try to have the Church ceremony as late as possible so that they go straight to the restaurant afterwards, but it's usually at least a few hours in between for a short rest.
As you can see, there's a lot happening in the same day, so many people are now splitting this in two episodes: one when they go to the Starea Civila and officially get married, then the Church and Party for the second.
Usually, when people invite you to their wedding, they don't really expect you to be present at the Starea Civila and/or the Church (unless you're the godfather/godmother or hold another important role). It's the party that matters the most, so expect to only see very close friends and relatives at the first two events, and way more people at the party.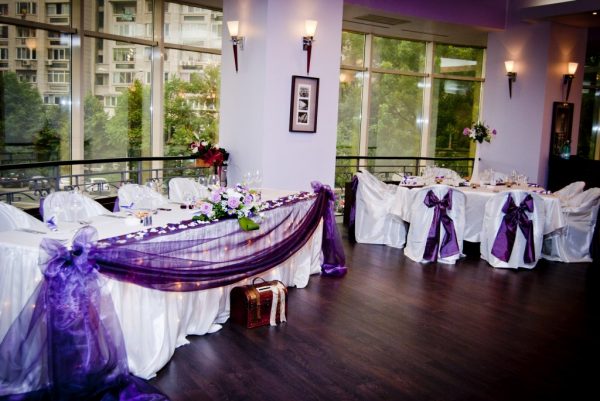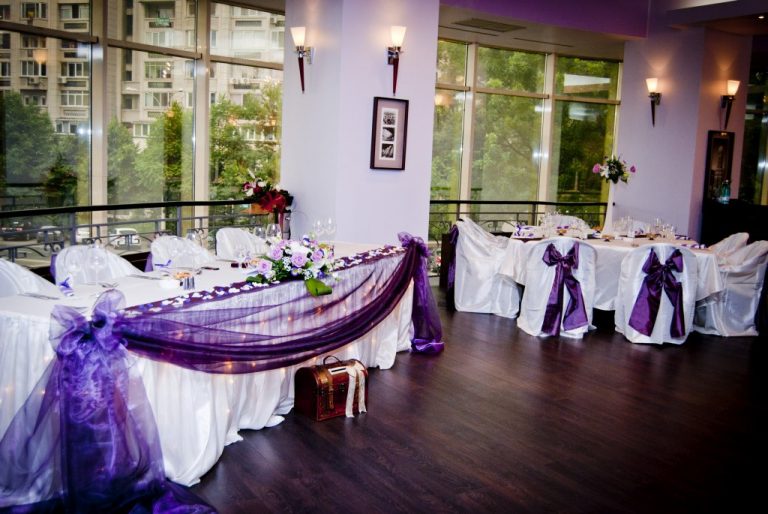 When going to a Romanian wedding, prepare to eat A LOT and drink even more. There are usually 4 courses plus desert (the wedding cake which, for most, signals that the party is over – and afterwards it's usually just the young people and close friends who stay to party), each with 1.5 – 2 hours in between (usually).
There are also snacks, fruits, extra cakes and even "eating breaks" (we had sorbet in between, for example). Anyway, it's usually a ton of food and you'll probably be surprised to see that most people eat everything!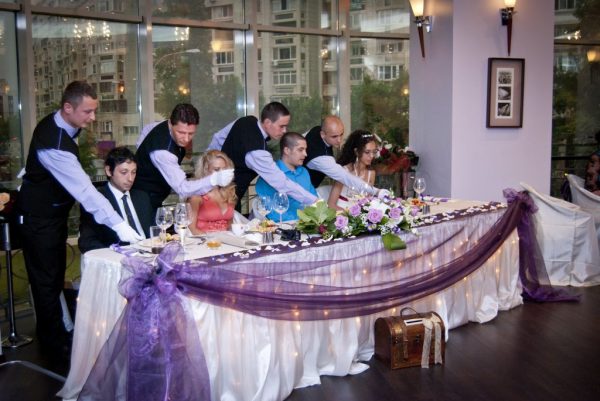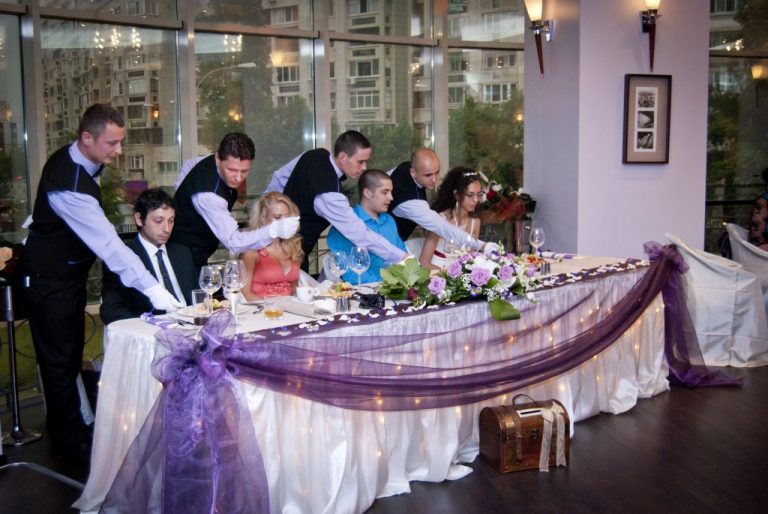 Here are some of things you should expect during the wedding party in Romania:
– a slow start of the party itself. It really depends on the crowd, but usually the first couple of hours will be very boring. This is one of the reasons why many people choose to come later at the party – but it has become some sort of a rule and now everybody arrives late, just prolonging the boredom for those who get there on time. Eventually, though, things pick up and there will be a lot of fun and dancing and surprise events.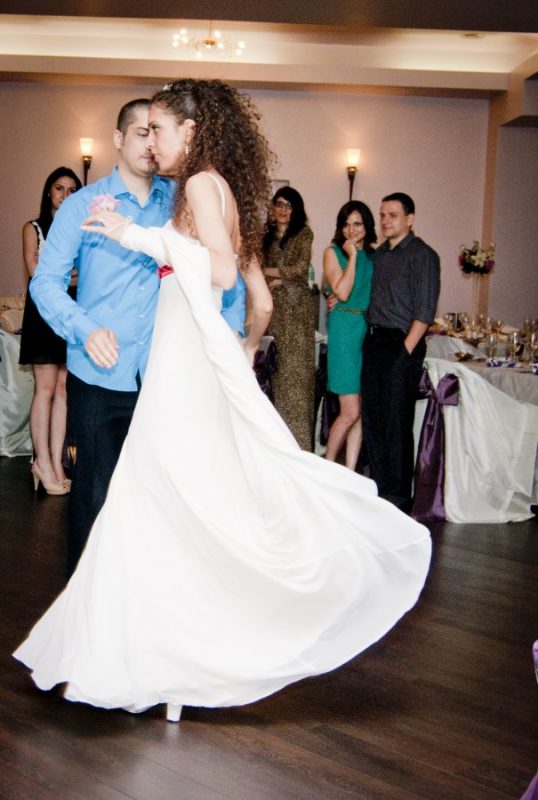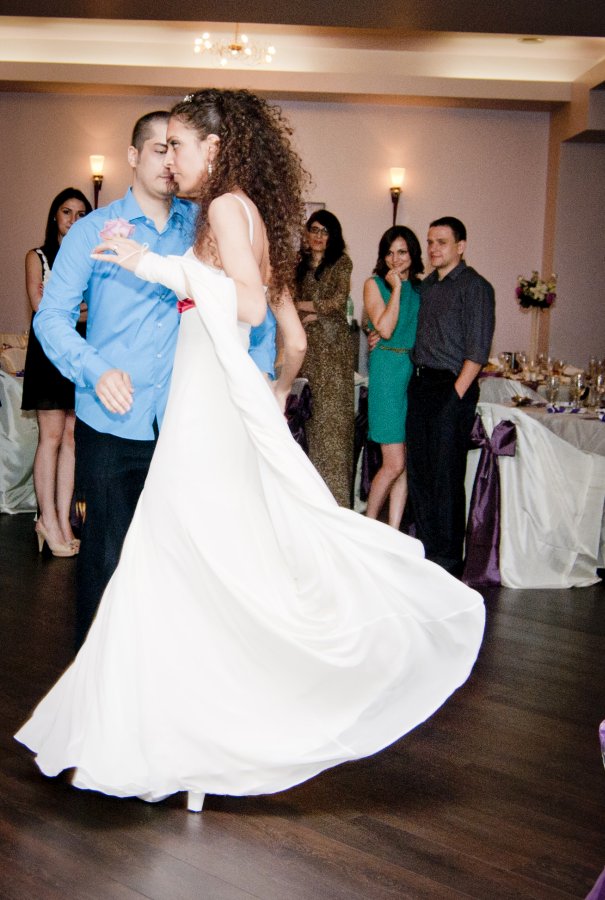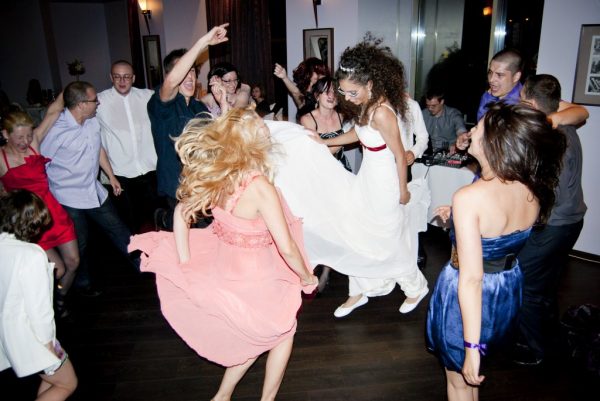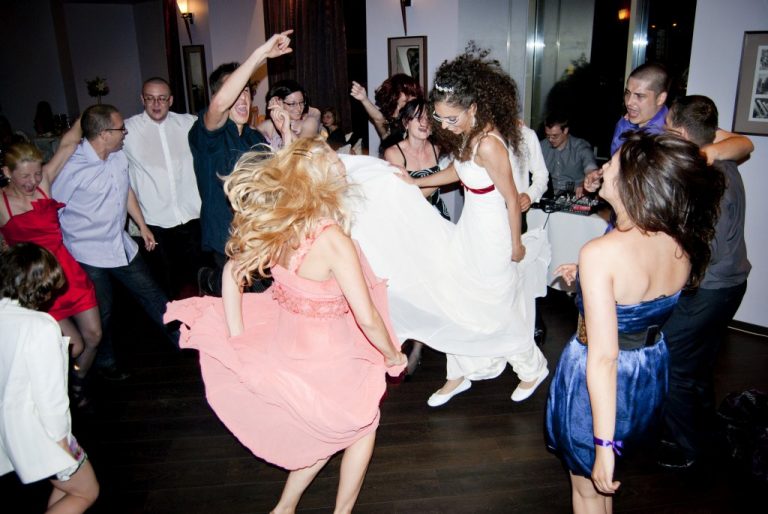 – you could expect to have a live band or multiple live bands, including a lot of traditional music or a more modern approach – a DJ. Personally, I believe that the latter is better when it comes to the fun potential – but expect to hear traditional music even if there's a DJ present, because for some reason people at weddings really like the "hora" (our traditional dance where everybody endlessly dances in a circle).
– Kidnapping of the Bride. This is one of the biggest events of the wedding: close friends (usually) "kidnap" the bride and take her to a club or restaurant to party a little bit. They then ask for ransom to bring the bride back, and the ransoms can vary widely. It's usually something fun for the groom and/or godfather to do, plus some bottles of whiskey.
I've seen grooms that had to strip, sing karaoke or do all sorts of funny things to get their brides back and it's all great fun. At my wedding, I had to sing and the godfather had to give the kidnappers a bottle of whiskey – which he filled with apple juice. So pranks like this can be expected and the entire event is usually a lot of fun.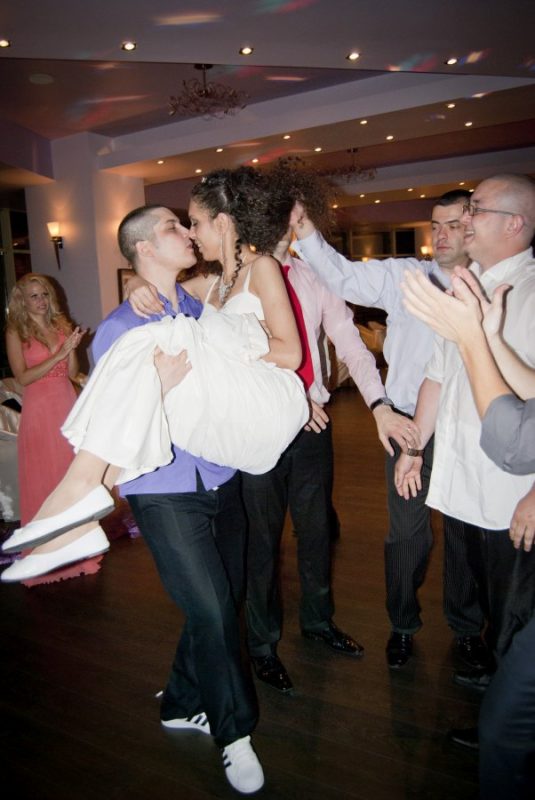 – The ritual of becoming a married woman. It's a traditional, special event centered around the bride trading her veil for a scarf. There's an entire process here that I am not very familiar with, but I know that the bride has to try and refuse the scarf, throw it away and eventually accept it (this was probably for real back in the days when weddings were not the result of love, but today that's just for the show).
In some cases, the groom goes through something similar, where he has to be shaved by the godfather and best man. These are both old traditions and many weddings tend to skip them.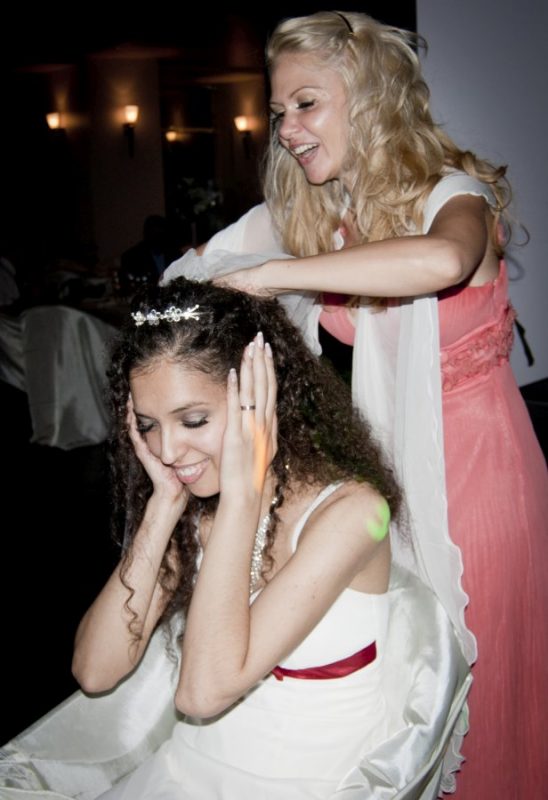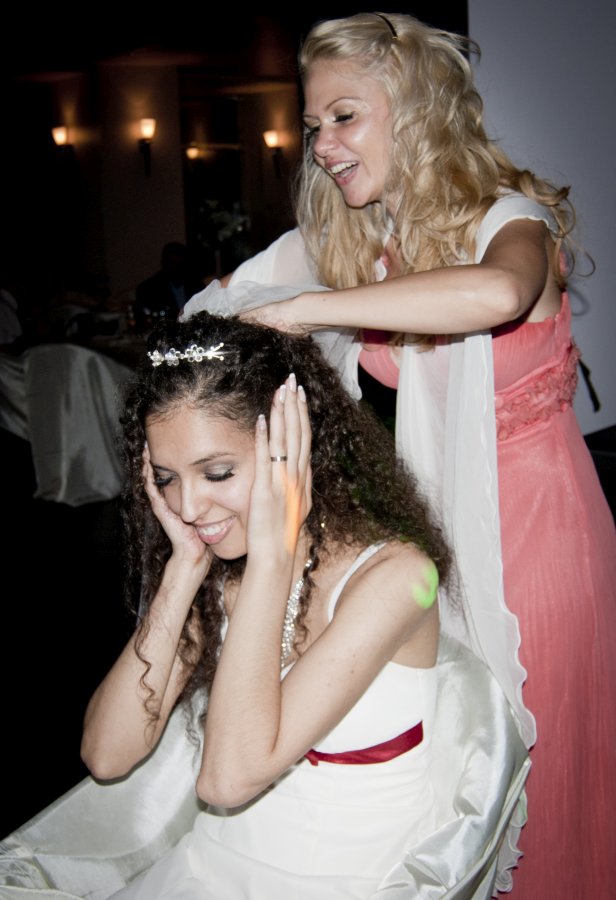 – Finally, there's the bride throwing her bouquet, with the lady catching it being considered the one who will marry next. The groom also does something similar with the bride's garter which he throws back and the single guy who catches it will be considered the next one to marry.
The event of removing the garter is fun to watch, as it's usually made by the groom entirely using his mouth. Yup… strange things happen at Romanian weddings, haha!
– Also, there might be special events during the party, usually different forms of professional dancers arriving to spice things up and get everybody off their seats. This again varies a lot from wedding to wedding.
What gift to bring at a Romanian Wedding
As sad as that might sounds, it's usually an envelope with money that you should bring as a gift, on very rare occasions actual gifts being considered appropriate. However, if you feel comfortable bringing an actual gift, don't hesitate to do so: most likely, your friendship won't be ruined by this.
But do know that most likely you're expected to have some cash in an envelope. Even if you don't have the envelope, there's no problem as they are usually provided at the ceremony, again usually after the cake is served.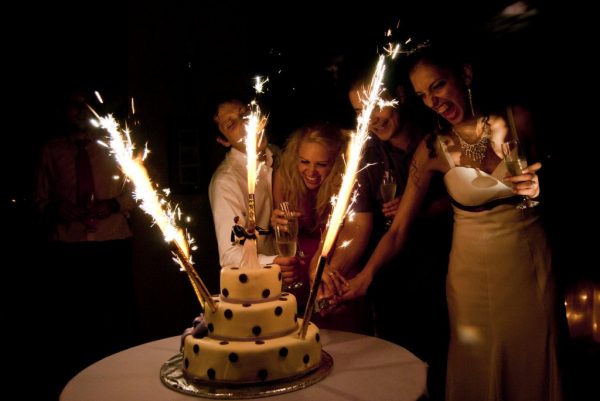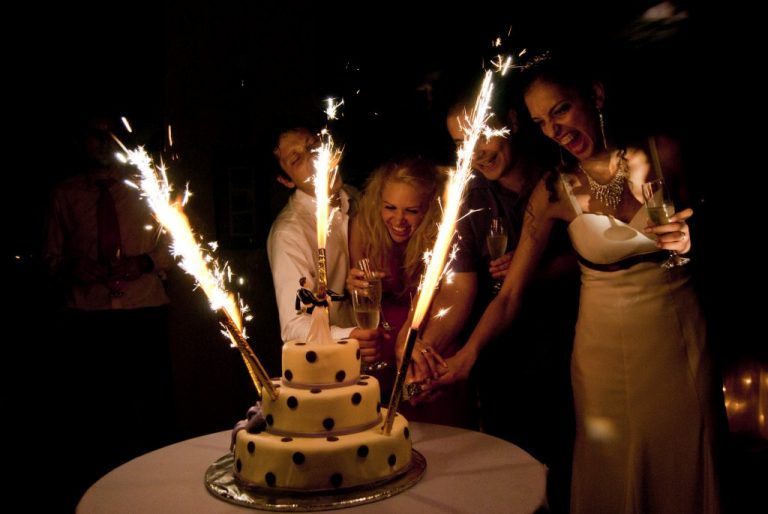 If the wedding is split in two events: Starea Civila first then on a different day the Church and Party itself, you can only bring flowers and a small gift (or no gift) at the Starea Civila and keep the envelope for the party. But remember the flowers!
How much should you offer as a gift?
This is the main question and unfortunately the answer is not very clear. Basically, the money "gift" you're offering is you paying your share for the wedding expenses. So try to find the appropriate amount for covering the food and drinks (this is the main expense at a wedding), as well as your share for the band payment and everything else.
The costs also vary from city to city (villages and smaller towns being less expensive), restaurant to restaurant and even the type of party: a wedding menu can be as low as 150 lei per person (about 34 Euros) and can skyrocket at over 400. Usually, for a regular wedding, the food and drinks will be anything between 55 – 70 Euros per person.
As a golden rule of thumb, you can't go wrong if you're offering 100 Euros per person. Remember that there's no real limit here so you can go as high up as you want or afford but I would say that 100 Euros per person would be perfect in most occasions.
If you know people at the wedding, don't hesitate to ask them how much they're offering. This question that might sound like a thing you should never ask is what people usually ask at weddings, so just do it and go for the same amount that most people are offering. Just make sure not to ask close relatives or the godparents, as they are supposed to offer more.
Finally, if you are taking part at a village wedding, there might be an entire event dedicated to collecting the money: the entire party stops and a person with a microphone simply goes from person to person collecting the money and announcing the amount for everybody to hear. Fortunately, this happens less and less often and I've never heard of a wedding in a city or even smaller town where such a horrible thing happens.
OK… so this would be all I can think of in terms of weddings in Romania. If you have any other questions about them, don't hesitate to ask!