Living in Romania
Complete Guide to Drobeta Turnu Severin: a Great City to Visit or Retire to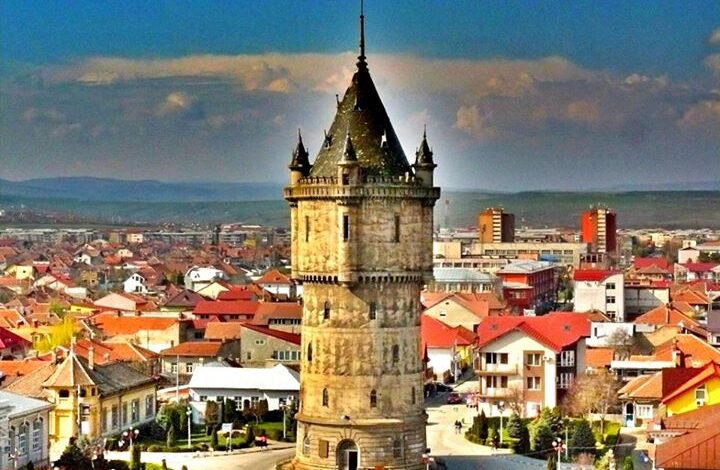 I'm starting a new series here on Romania Experience – one that had to be started a long time ago, a series of articles where I will talk in detail about the cities in Romania. So if you're wondering where to retire to in Romania or what cities to visit in the country, this article series will have you covered. And sometimes, the suggestions might take you by surprise, as it is the case of today's city: Drobeta Turnu Severin.
When you're thinking about visiting or moving to Romania, you are probably considering all the "classic" destinations: Bucharest, Timisoara, Cluj, Sibiu, Brasov and so on. The larger cities. The cities everybody is talking about. But Drobeta Turnu Severin? Who ever heard of that city with a funny long name?
Well, this is my home city and the people who have contacted me asking for city suggestions know that I don't really consider it one of the best cities one can retire to or visit, since it's small and off the beaten path. But for the right person, this could really be a gold mine.
And we're going to find our more about it in this article where we'll talk about the Pros and Cons of living in or moving to Drobeta Turnu Severin, Romania.
What and where is Drobeta Turnu Severin?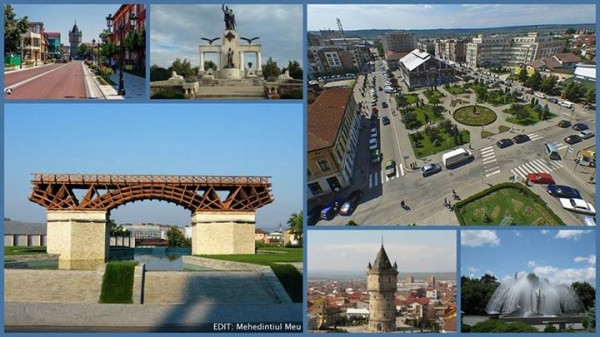 Called by locals "Severin" and the rest of the country "Drobeta", this small city is situated in the southwestern part of the country, on the bank of the Danube river. It is an extremely old place, dating from the Roman times. It was in Drobeta where Roman architect Appolodor of Damascus had built Trajan's Bridge (in the early 100s AD), the bridge over the Danube: the place that the Romans used to invade and conquer Dacia.
It was the first urban center in the region and the third in the country. It can also be considered the birth place of the actual Romanian civilization since here's where the Romans entered. However, the city has been destroyed and rebuilt over the centuries and just a few structures from the Roman era are still standing.
Right now, Drobeta Turnu Severin has a population of nearly 90,000 people and in the past years has been under some serious modernization, turning it into one of the more beautiful cities in Romania, in my opinion. And definitely one of the greenest (in terms of parks and other green areas, not recycling).
I decided to write about it after taking some photos in the city center a few nights ago. Even though my camera is not the best – nor are my photography skills, I am sure that you can use your imagination to see how beautiful this part is: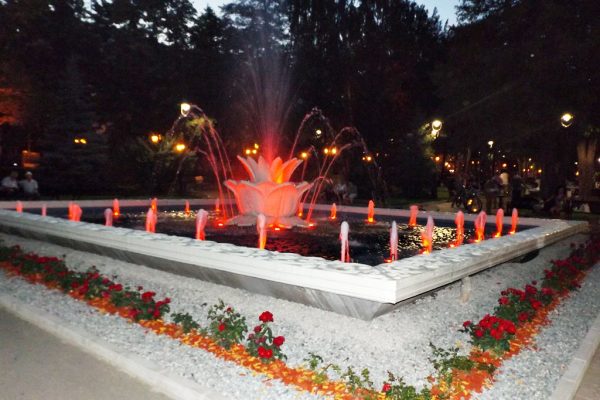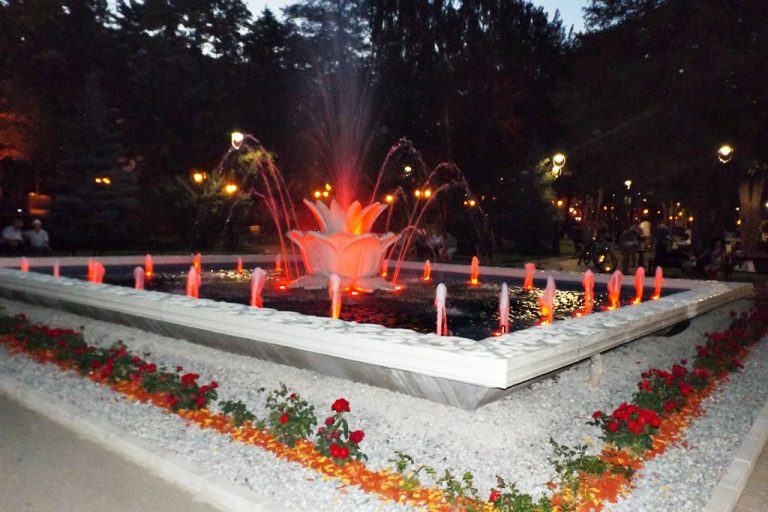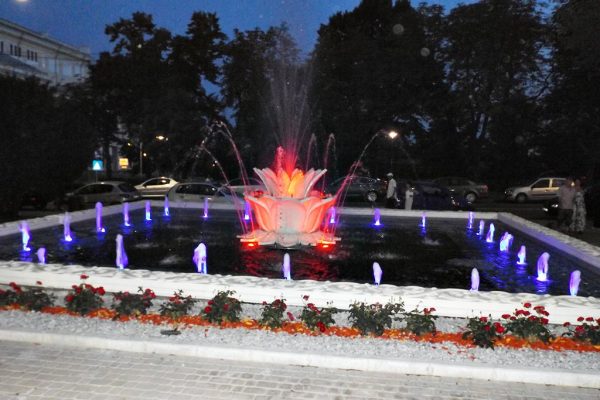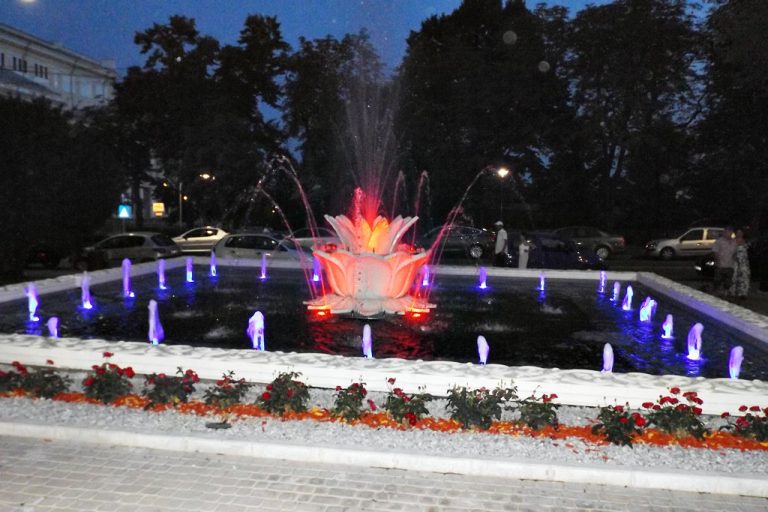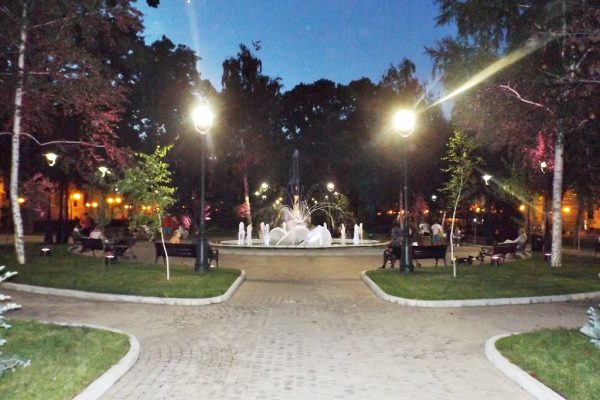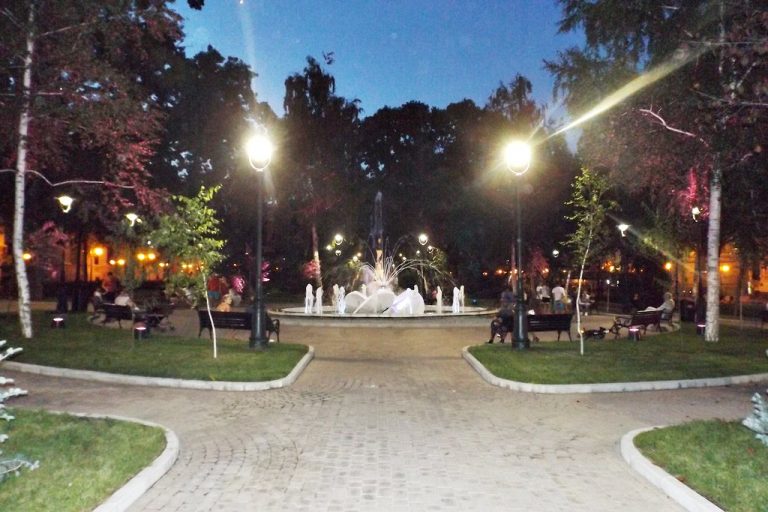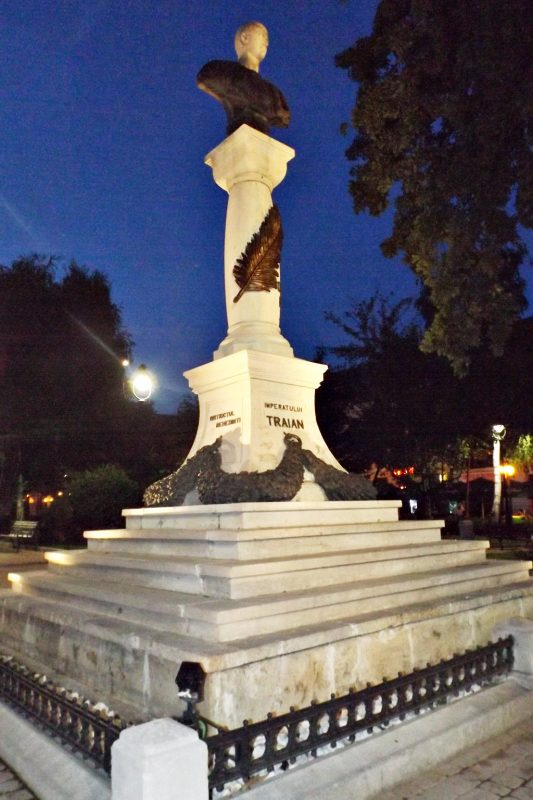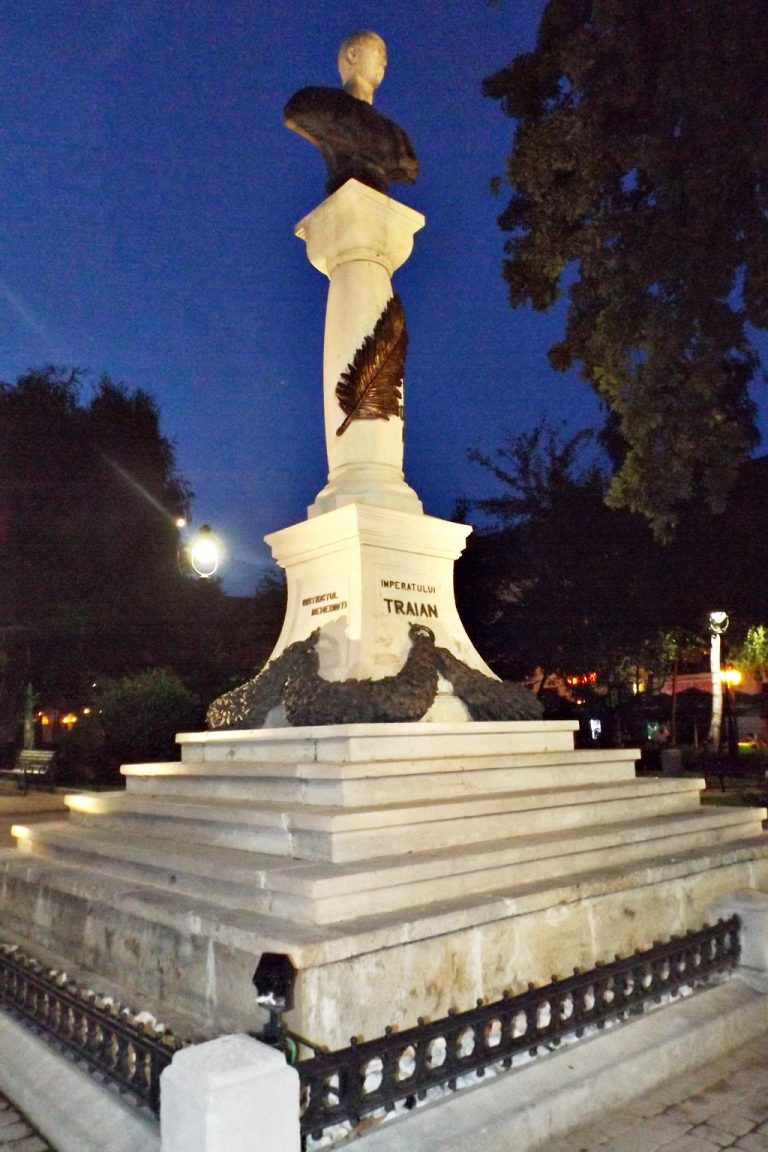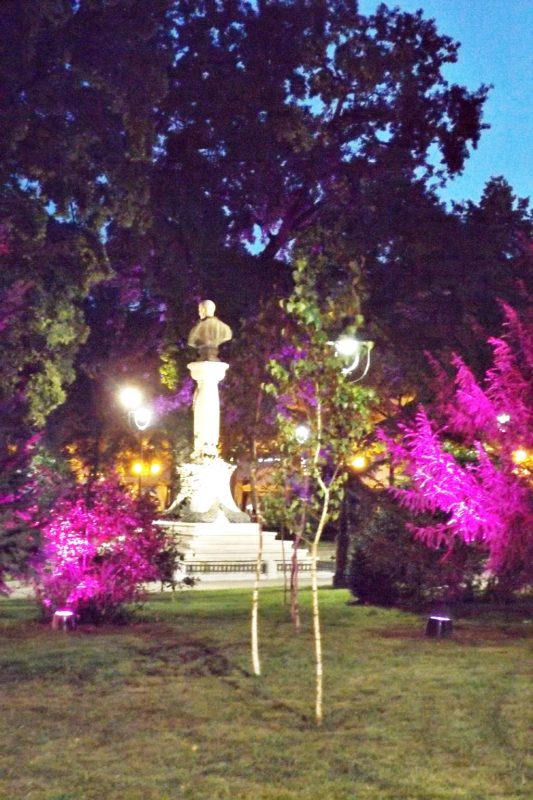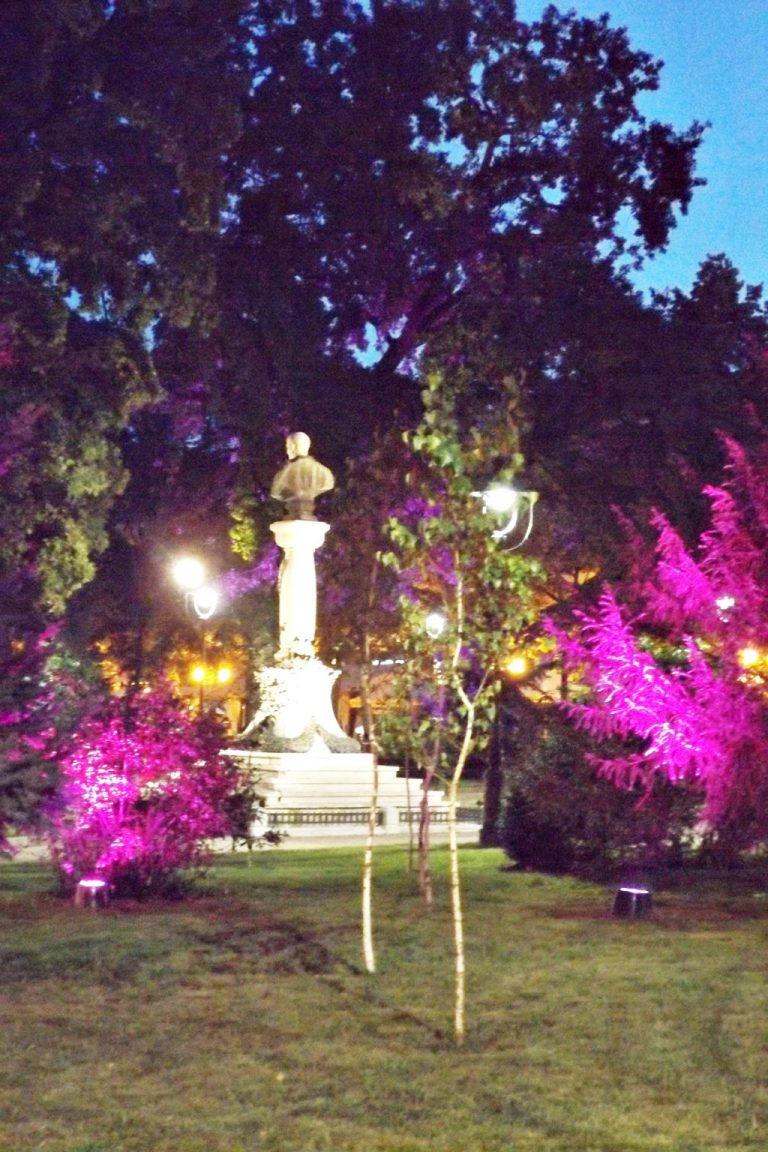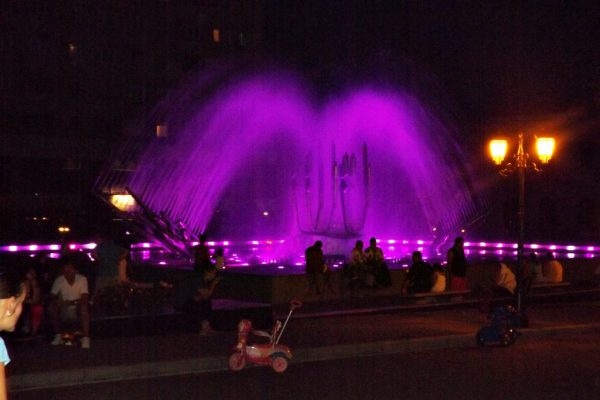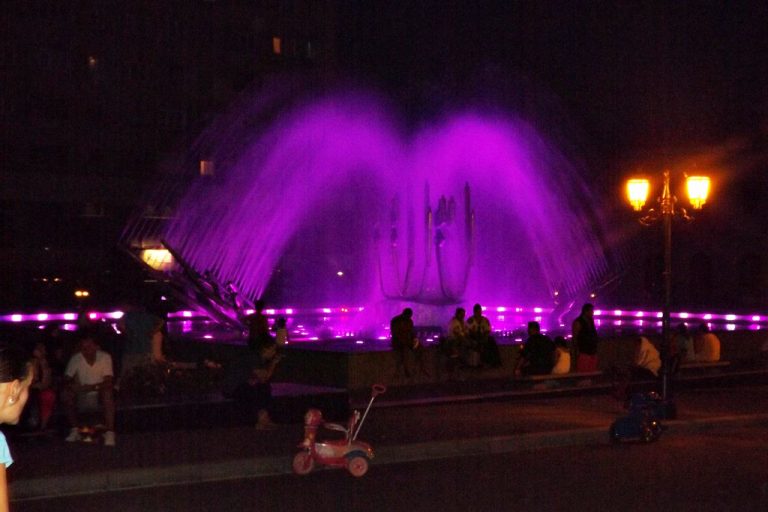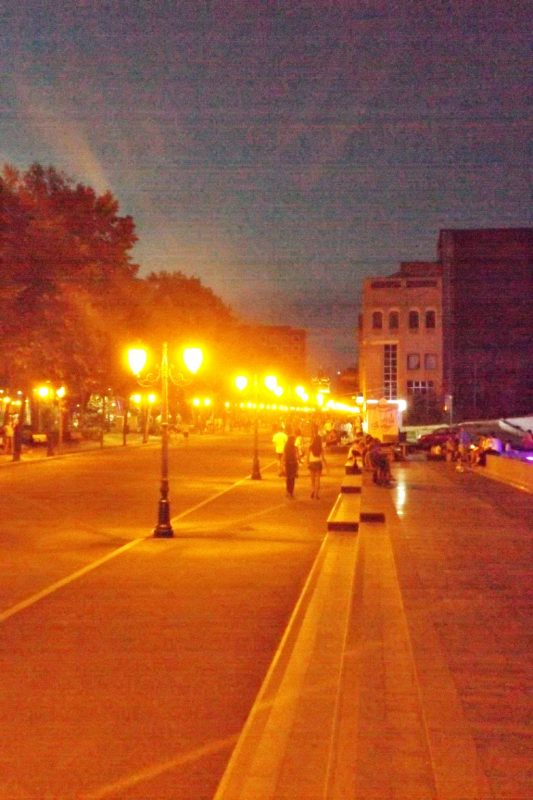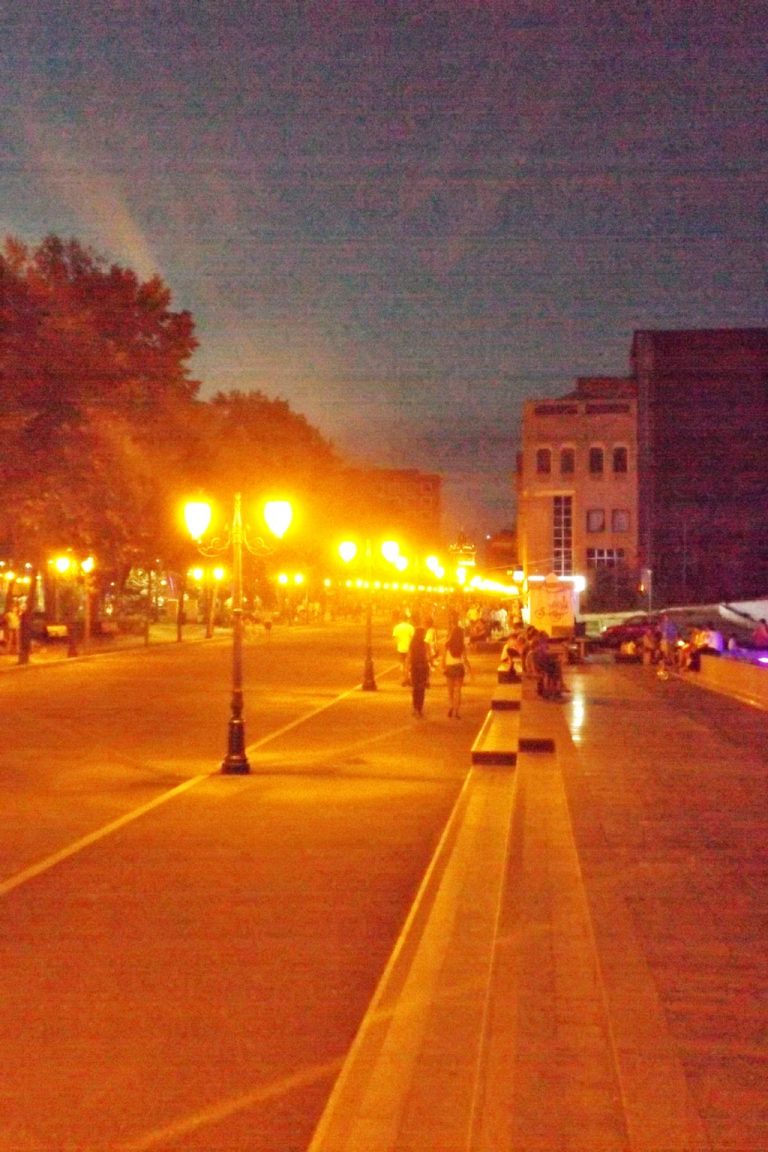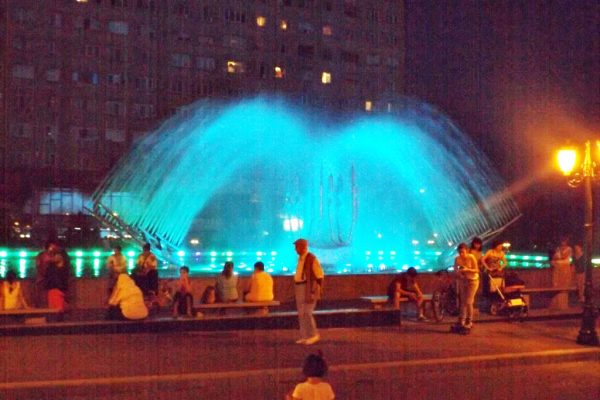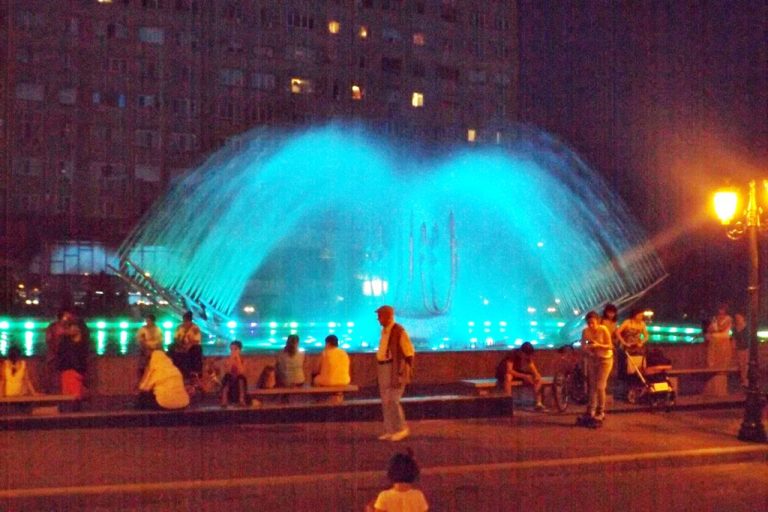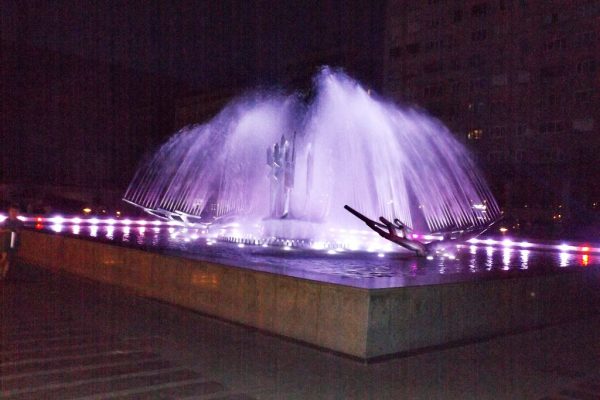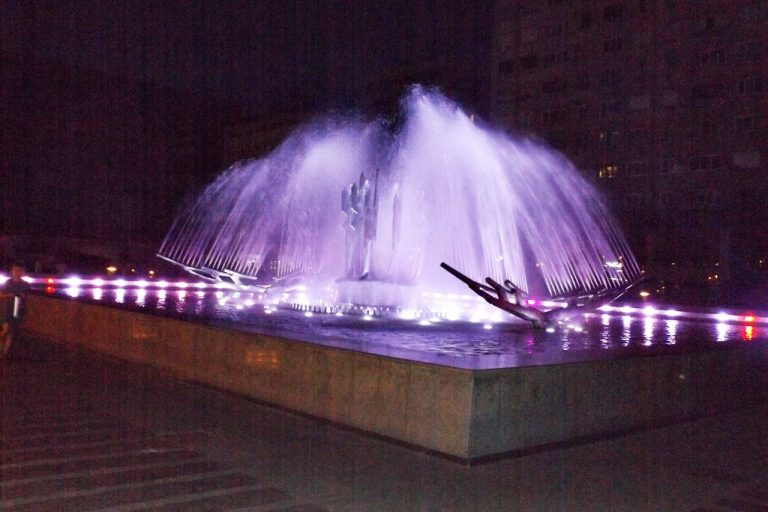 There's also a short video I took before rage stopping it because it was mostly out of focus. I only managed to film about a third of the park (which is the smallest in the area, but also the cutest as you can easily see in the photos above and the video):
PROs of retiring to Drobeta Turnu Severin
– this is one of the cheapest cities in the country – from rent to buying a house or apartment to food and service costs.
– it is on the border with Serbia and in 15 minutes you can be in another country, eating a traditional pljeskavica and enjoying the other (and slightly better looking) bank of the Danube.
– you can easily walk from one side to the other of the city in about 30 minutes. Usually, you can get anywhere in about 10 minutes of walking. A taxi ride between the two farthest points of the city would be about 2 Euros.
– It has great parks and quite a few attractions, including the Danube river promenade
– It is really close to Orsova, a beautiful touristic spot on the Danube, as well as Baile Herculane (named after Hercules) with thermal baths and extremely clean air.
– It is relatively close to two major cities: Craiova (about 110 KM) and Timisoara (220KM). Bucharest is some 320 KM away.
– It's being modernized constantly and it can be considered extremely safe
– Although it doesn't offer that many options, there are still quite a few really nice pubs, bars and restaurants in the city where you can spend your free time.
– It's never crowded: you'll feel as if you are always on vacation in a silent, relaxing area.
– It is considered one of best cities in Romania regarding the weather and one of the hottest cities in the country with the mildest winters.
CONs of retiring to Drobeta Turnu Severin
– It has one of the highest unemployment rate in the country so it can be considered a really poor city. As a result, you would have a very, very difficult time finding a job here. So only come here if you have a guaranteed monthly income or as a tourist.
– The population is mostly made of very young people (up to high school age) and elderly people. Students and middle aged people usually prefer to move to the nearby, larger cities.
– Older people have poor-to-no English skills, although they might know French or Russian (but this goes for the entire country).
– It's not a very lively city and during the week it usually turns off (save a few spots – like the central area) at around 10 PM. If you're all for the fun and parties, you won't get a ton of those here.
– The health system is considered by locals somewhat sub-par and many choose Craiova or Timisoara for investigations or treatment. Still, there is a state hospital in the city and quite a few private clinics with good doctors so unless you have some very rare conditions or problems that require very modern tech, you should be more than fine.
– The expat community is small here (but locals are extremely friendly, like most Romanians and would certainly do their best to make you feel at home).
– It doesn't offer a lot of options for your spare time in the city: very little in terms of entertainment, art, social clubs and so on – like most, if not all, smaller cities in the country. However, its proximity to Serbia as well as Orsova and Baile Herculane really make up a lot for that!
Top Things to See in Drobeta Turnu Severin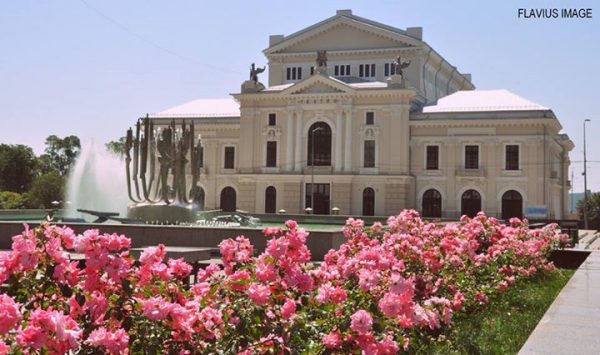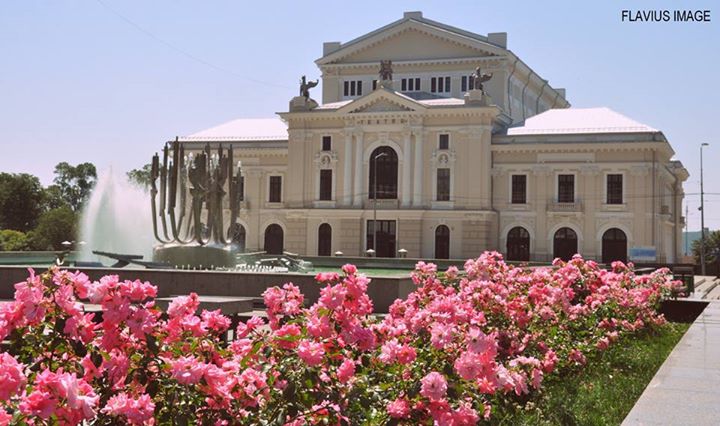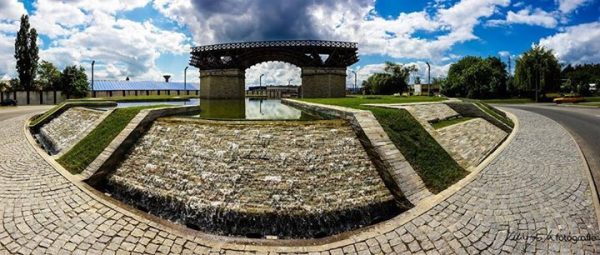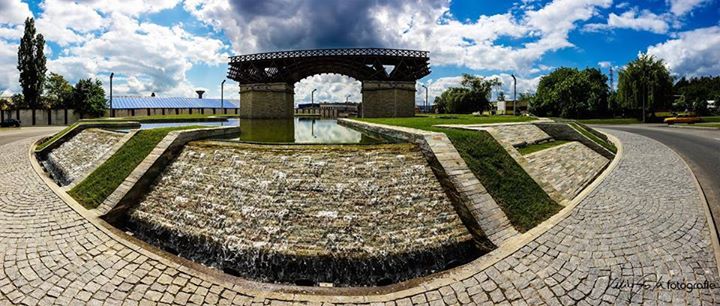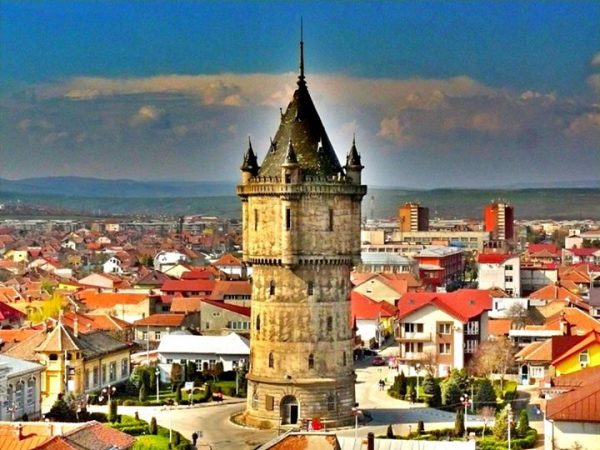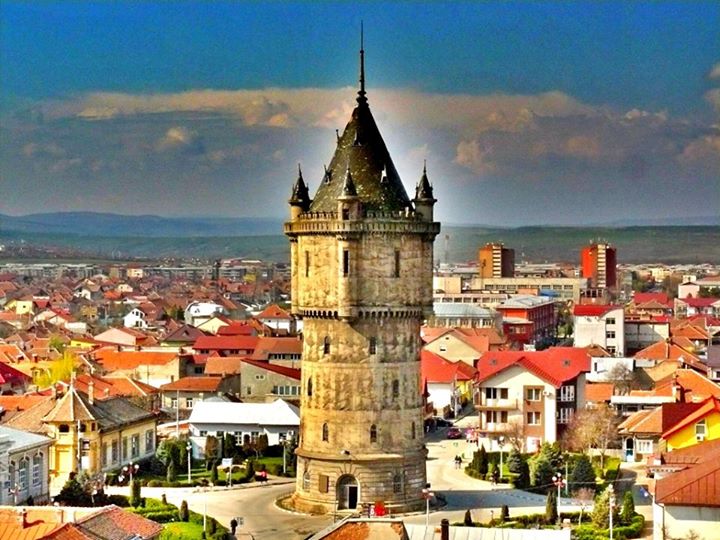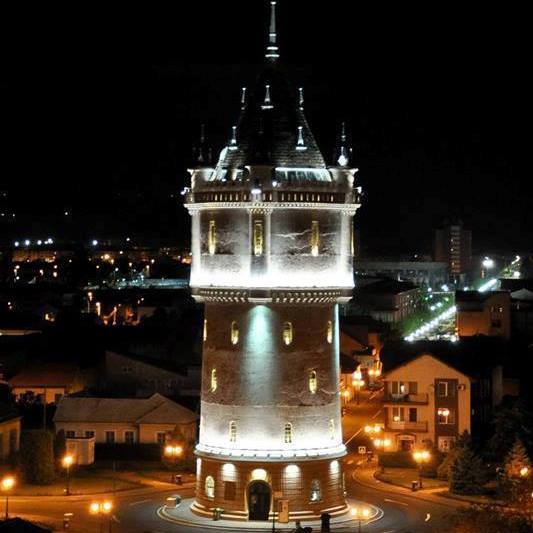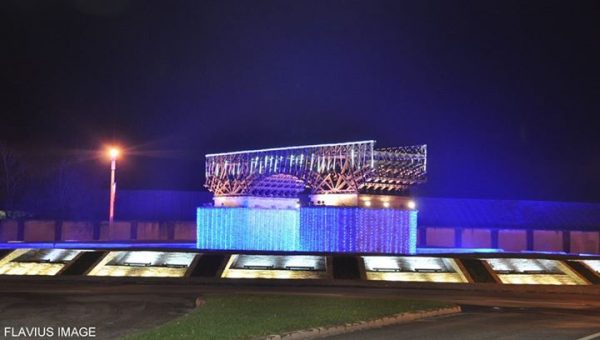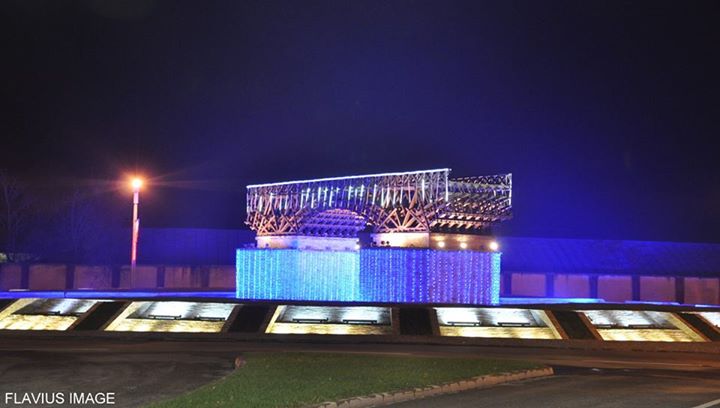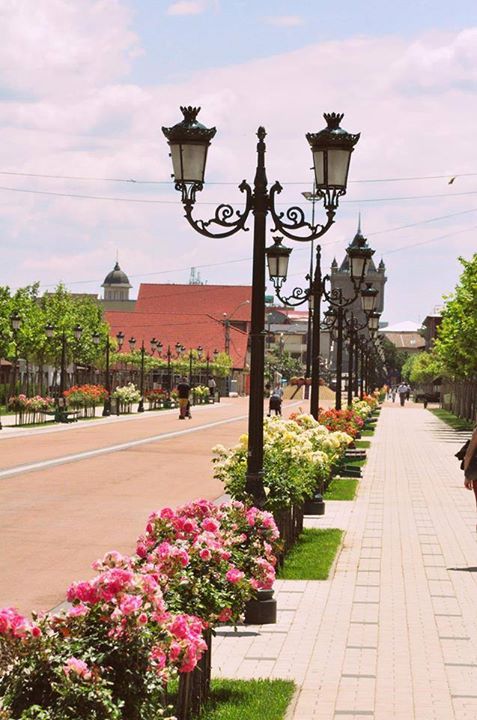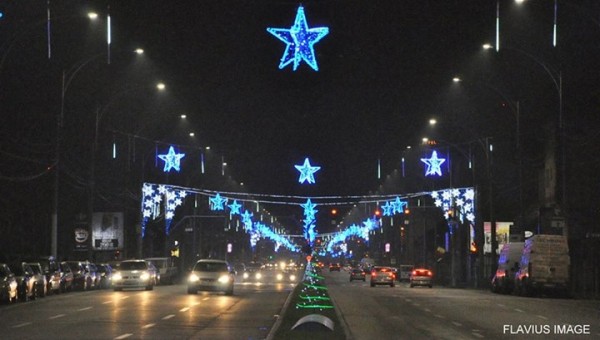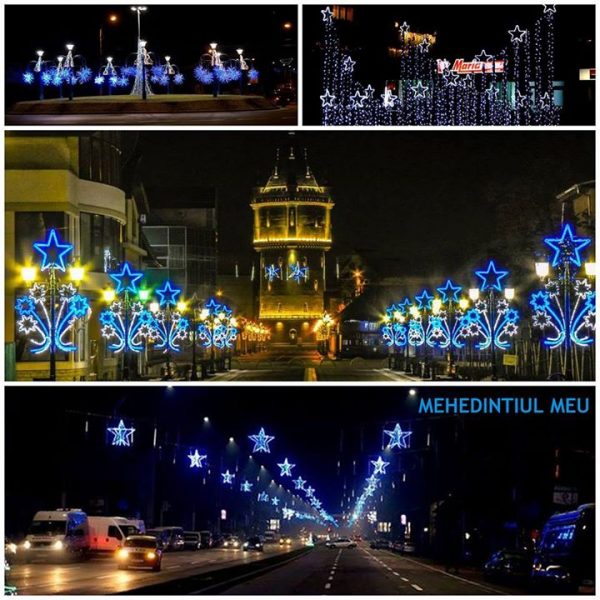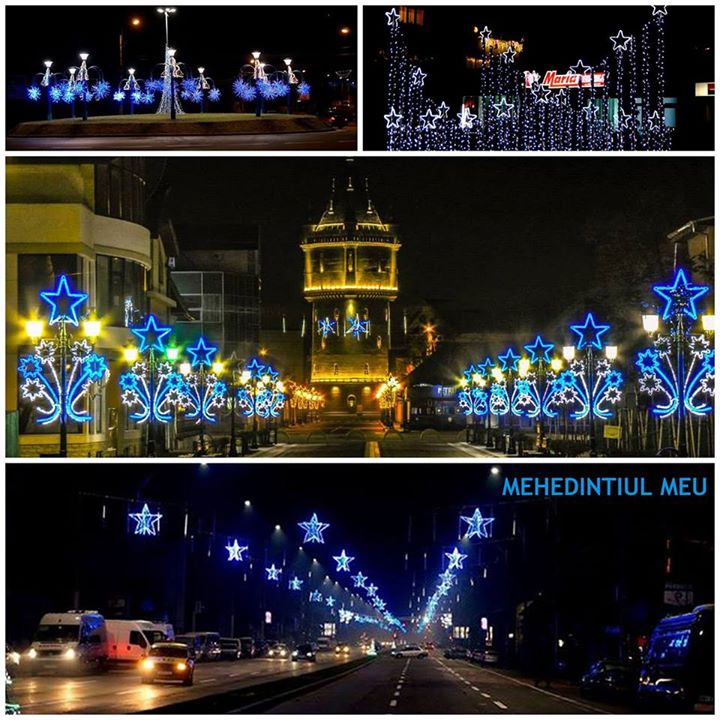 All in all, I am sure that the right kind of person would manage to fall in love with Drobeta Turnu Severin: especially those who prefer a calmer place, a smaller city and natural, raw beauty (parks, green areas, promenade and other natural "wonders") to man-made entertainment and feel-good places. Also, it is a must to have your monthly income guaranteed and not come here job hunting, or only visit for a few days up to a week, as the job scene doesn't offer much right now.
[Source for the photos, excluding the night ones in the park: Mehedintiul Meu]