Bucharest, the nation's capital, is the most popular choice for expats moving to Romania. This makes sense, as it is the biggest, most vibrant and richest city in the country. And today we're going to learn what to expect if you plan to live in Bucharest.
As with every city out there, we have Pros and Cons and I will make sure to share them all with you in today's article, trying to be as objective as possible.
But it has to be said that I am not Bucharest's biggest fan. I lived there several years and still visit it every now and then and even though I can see that it improved and got better since I first lived there, it's still not my kind of city.
It doesn't mean that it's a bad city. For those who love large cities, where the pace of life is blazing fast, where you have a ton of people around you and also tons of opportunities, it is a perfect city.
Bucharest is the place where all the action, the high life, the good, the bad and the ugly take place. And in this article we're going to find out more about Bucharest: and what to expect if you're planning to live here for a shorter or longer period of time.
What should you know about Bucharest?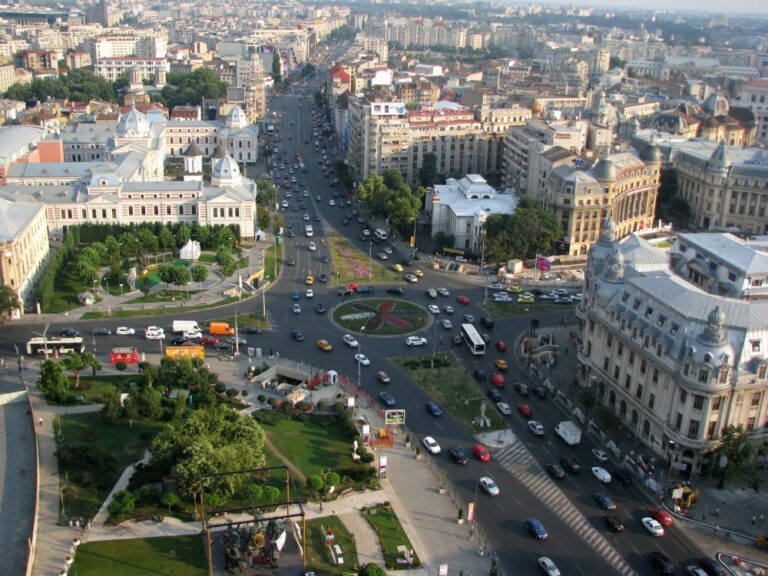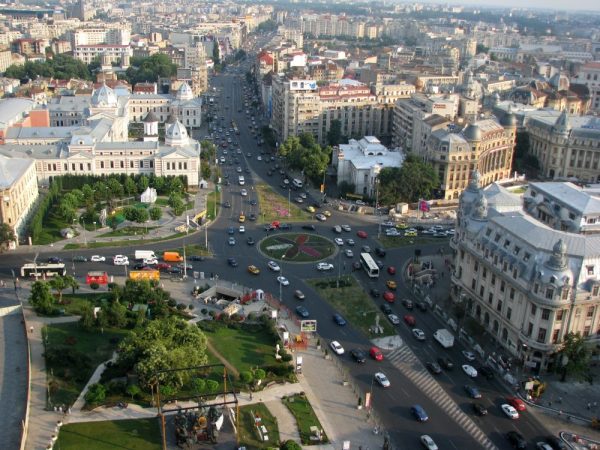 Bucharest is the Capital city of the country and also the largest city in Romania.
It's always bustling with life and this is the place where most of the major events happen: concerts, festivals, expos, conventions, cultural events… just think about something you like and you'll be able to do it or find it in Bucharest.
Better salaries & job opportunities
This is also the place where you'd have more chances of finding a job if you need one, with international companies having their offices located in the city or in the nearby village/neighborhood, Pipera (known as the heaven of corporations here in Romania).
Compared to most other cities (if not all), Bucharest also gives you the chance to earn a better salary.
Since it is Romania's richest city, with the highest income per person, you will have a lot of options here: from high end, luxury items and totally extravagant products and services, but also dirt cheap-stuff like in the rest of the country.
Bucharest has the most expats in the country
There's also a vibrating expat community in the country – the largest in Romania, so you will find it a lot easier to meet up with fellow expats who will help make the transition a lot easier.
Also, there's a ton of students in Bucharest since this is also the most important educational hub in Romania, so you will find open minded, English speaking people everywhere, from locals to expats.
It is possible to find here, for example, schools that teach in English only, but also activities for all ages that are predominantly for English-speaking individuals.
This will make it a lot easier to integrate and adapt, even though Romanians are generally very friendly towards foreigners anyway.
Traffic in Bucharest
Public transportation is decent in the city, with the Metro lines being expanded as we speak – but already covering the most important areas, especially the city center where you'll probably hang out more.
Buses, trolleys and trams are also available to reach the places that the trains don't, but they rarely arrive on schedule, most of them have no air conditioning, are of poor quality and usually crammed with people.
I wrote an in-depth guide to the public transportation system in Bucharest, make sure to read it for a better overview of things.
The same can be said about traffic: it's chaotic, it's intense, it's nerve wrecking and people used to obeying the laws and driving following rules will have some adapting to do.
Just to have an idea on how bad the traffic in Bucharest is, know this: my brother in law who lives in a village that is basically glued to the city, prefers to drive some 10 minutes to the nearest metro station and takes the metro to work instead of driving because it's faster and less stressful.
I also a person from a different city who comes to Bucharest by car, but parks it as close as possible to the city's entry and then takes the metro or buses to move around. He claims that driving there is way too stressful.
With traffic jams being the norm all over the place and with an even bigger problem when it comes to finding a parking spot, Bucharest is indeed a nightmare when it comes to cars and driving.
Health care in Bucharest
In terms of health care, you would probably have the best options in the country here in Bucharest.
Private health care is cheap compared to the rest of Europe and of decent to high quality, many private health care providers offering now discounts and memberships, making everything extremely affordable.
Remember, there has been a constant exodus of doctors and medical personnel over the past 20 years to countries that offer better wages, but Romania and especially Bucharest still offers highly skilled healthcare workers.
Usually, consulting a specialist will cost around 150 lei (30 Euros), as opposed to as low as 50 lei in smaller cities, but you will have access to highly trained individuals and, very important, extremely modern equipment.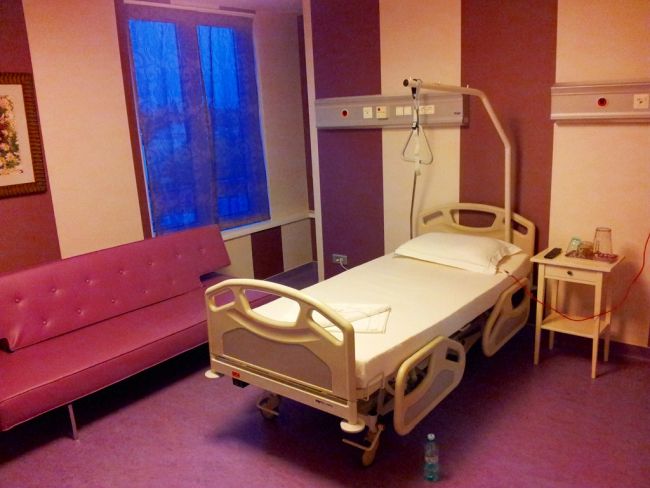 My wife gave birth to our son in a Private Hospital in Bucharest and the whole package (C-section delivery, 6 nights for my wife, my newborn son and myself in a private room, collection and storage of Steam Cells plus everything that was needed during our stay, including food, bloodworks, meds and such) were a bit over $3,300.
A basic package can be as low as 1,500 Euros in a high end private hospital here in Romania.
So overall, health care – both public and private – is probably the best you can get in Romania.
Things you'll love about Bucharest
To be honest, there is a lot to love about Bucharest. Except for the truly amazing, hidden gems (like charming, extravagant or completely crazy restaurants or artsy places – the latest I've heard about is a restaurant where you dine in complete darkness, not knowing what you eat and not seeing anything around you), there are a lot of other attractions in the city.
I wrote a guide about the top things to do in Bucharest, but we'll quickly go through some random things that will make you love the city.
House of the People (Palace of Parliament)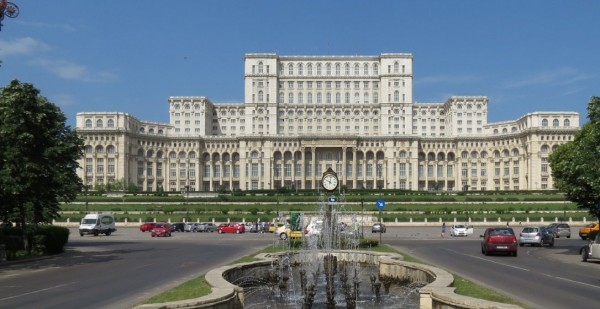 The largest civilian building in the world, it's a truly impressive attraction, right in the heart of the city.
There are days when you can visit part of it – and relatively soon the equally impressive People's Salvation Cathedral will be built next to it, creating one of the biggest architectural projects in the world. If size matters, you've got it all here!
Find out everything about it in my article about visiting the Palace of Parliament in Bucharest.
The Old City Center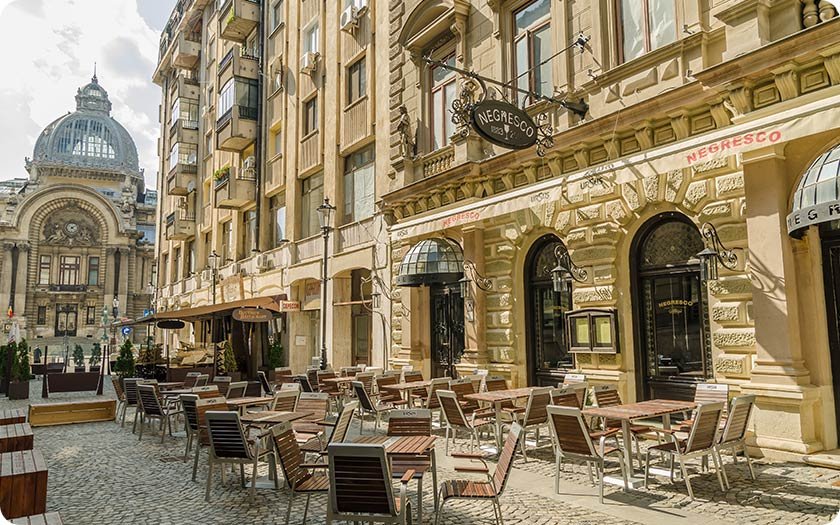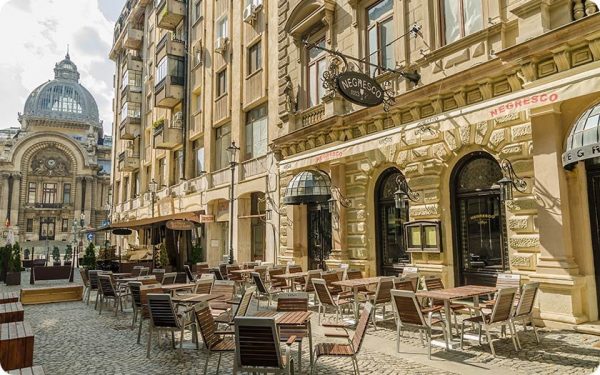 Charming and considered a tourist-magnet, the Old City Center is filled with pubs, restaurants, clubs and stores in beautiful old buildings. I love it there and the prices are not big at all for a touristy area.
You will also find some impressive attractions in the area, so this is definitely the place to be in.
Unfortunately, the condition of many buildings there is not that great and some are actually considered dangerous and at risk of collapsing in the case of an earthquake, but that's where all the charm of the city is and it should be the first place you visit when you come here.
The Museums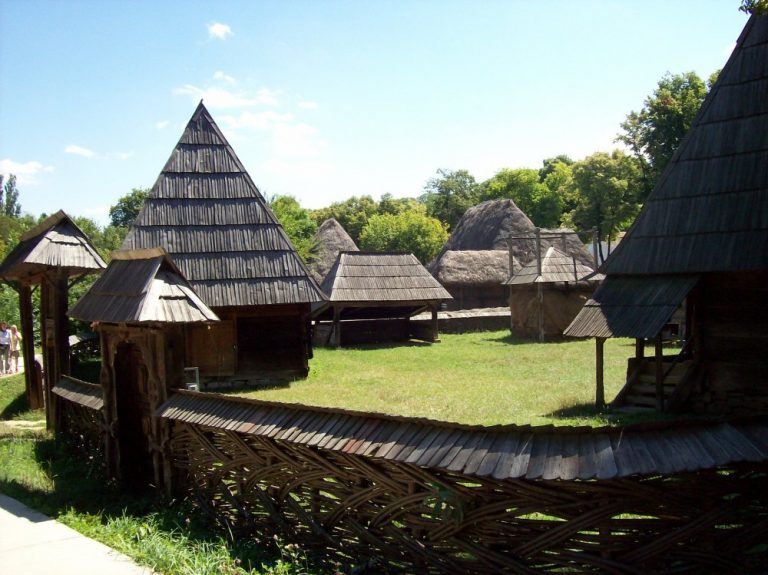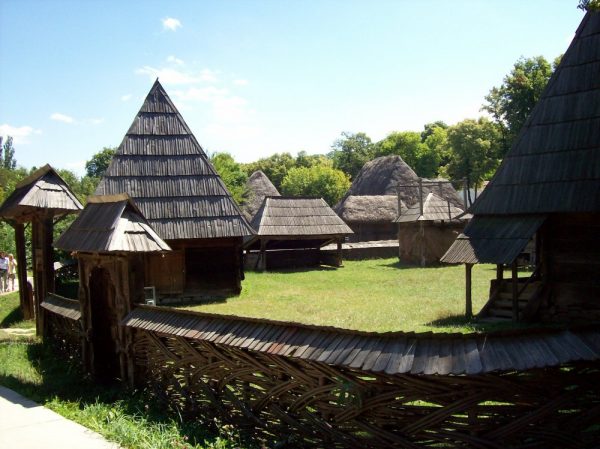 There are a lot of nice museums to visit in the city, including the National Museum of Contemporary Art, Grigore Antipa National Museum of Natural History (my favorite as it has a ton of fancy animals there!), Village Museum, Military Museum and so on.
Some of these museums also hold various themed every now and then and you'll certainly enjoy visiting.
The Parks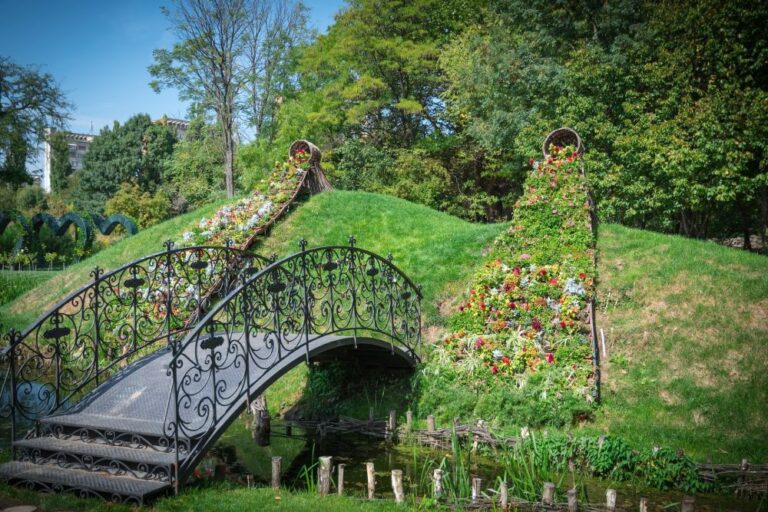 Some of the best kept and most beautiful parks in Romania can be met in Bucharest, even though unfortunately the central park – Cismigiu – is not in the best possible state at the moment of writing this article.
But other options like Titan Park, Herastrau Park or Tineretului Park are there to charm you, offering amazing views, lots of green space and clean air (the latter being something you can't get so often in the city).
Other attractions include the Arch of Triumph, the Atheneum, as well as numerous other smaller attractions that you will love to discover during your stay in the city.
If you are the type of person who loves big crowds and lively cities, Bucharest is the place for you: it's a city that never sleeps, a city that offers a lot in terms of entertainment and various activities.
Remember that there are a ton of students in the city – and students love to party – so there are also a lot of extremely cheap options for spending a night out, but also luxuriant venues for those who can afford them.
Bucharest is also the hub for international and national transport. Most of the cities in Romania don't have airports and those who do never match the number of destinations that Bucharest offers.
Also, all the train lines are made in such a way that they get to Bucharest, so exploring the country by train is a lot easier from this city.
I wrote more about the international airports in Romania if you want to compare.
How expensive is Bucharest?
While Bucharest is the most expensive city in the country, it remains a really cheap one to live in, by Western standards.
I have already shared an article detailing the cost of living in Romania and Bucharest, but the bottom line is that a family or couple can easily live on $1,500 per month here.
If you don't want to read my cost of living article, expect to pay around 300 Euros for a studio in the city center or as low as 500 Euros for a 2-bedroom apartment (but outside of the city center).
Eating out in a decent restaurant can be as low as 20 Euros (for two), while Internet + Cable combo would be around 20 Euros, based on package chosen and you can get a good deal with a mobile company for as low as 5 Euros per month.
Utilities (gas, electricity, water, garbage) can cost on average 100 Euros per month (a lot less during the summer – where you can go as low as 30 Euros per month).
So all in all, this isn't a very expensive city. Even better, you get a better quality of life here than you would in other cities, simply because salaries are generally made to match the higher costs.
The Cons of living in Bucharest
In my opinion, the biggest problem with the city is the fact that it's huge. Getting from point A to point B usually takes forever: my mother in law considers that things that you have to spend 40 minutes to get to as "close," which I consider a complete waste of time.
It is true that you can optimize most of the things: especially shopping and eating out since there are a ton of options usually within minutes of walking to any location in Bucharest, but visiting friends or getting to a particular place for a particular event, can be extremely time consuming.
Not to mention the fact that traffic is absolutely insane here. Many drivers simply disregard traffic rules and ignore all safety concerns.
You will see them driving on tram lines (which they are not allowed to), cutting in, honking is second nature… traffic is by far one of the most horrible things in Bucharest.
The pollution levels are also extremely high in Bucharest. It's one of the most polluted capitals in Europe and it managed to be the most polluted city in the world for a brief period of time, in terms of NO2 pollution levels (according to this article).
Fortunately, there has been a lot of talk about the pollution levels in Bucharest and there are promises that things will improve sooner rather than later.
And even though you can't really "smell" the pollution levels, you can certainly smell the dog poop especially when it's extremely hot outside or there's been a light rain: people in Bucharest (well, in Romania, actually) don't really pick up after their pets.
As a result, you must be really careful when walking down on streets… in some areas – especially the more residential ones, it's like a dog poop exposition there.
There are huge crowds everywhere and because of that, you have to spend a lot of your time waiting in line. Supermarkets are always packed, crowds are everywhere. This is probably a problem that most large cities have up to a certain degree, but it's a Con in my opinion nevertheless.
This is even worse in today's reality, where physical distancing is a norm. It's really difficult to do it in a crowded city like Romania's capital.
Also, many of the people are rude and uneducated. They will throw debris on the ground instead of bins, for example. They will get in front of you when waiting in line. And generally, they will be loud and consider themselves the most important living beings in the world.
Finally, the buildings are a hit and miss. Bucharest does have some amazing buildings – both modern and old – but in some cases the modern and old are forced to blend in, with hideous results.
So don't be surprised if you stumble upon monstrosities like the one below (but I have to admit, this one is unique):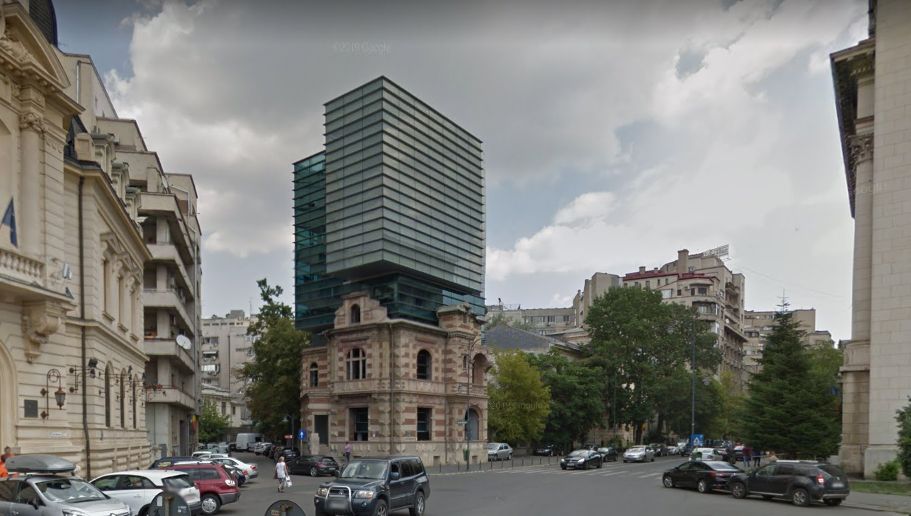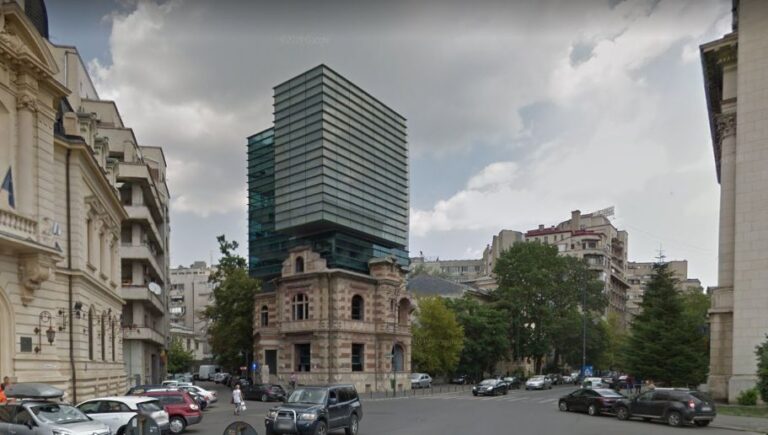 Some of these problems are not deal breakers most of the time and it depends on a person's preferences.
There are people who couldn't live in a small, quiet city and instead they thrive in large, crowded and sometimes chaotic places like Bucharest.
They will actually feel right at home there, but I personally like to have my space, I don't like being squashed like a sardine in the metro and I prefer spending just a few of minutes in line at the store to pay for my groceries…
Living in Bucharest is an adventure and it depends mostly on you if it's a pleasant one or not. You know now the most important Pros and Cons and you can easily make a decision.
So… is Bucharest the right city for you or not? Let us all know by commenting below!