I just realized that I missed writing what is, in my opinion, a very important article for somebody who plans to move to Romania: where to live? Should you go for a village, a smaller city or go straight to the largest cities in the country?
It's something that I've been considering for a long while now as well: we're living in a smaller city in Romania, of about 80,000 people, and I am starting to ask myself seriously if we should stay or go.
I will leave my motives for a different article because they don't really matter for somebody planning to move to Romania (being of a more personal nature), but this has to be talked about because I believe that choosing the right city or the right place to live in makes a huge difference and you would indeed have completely different lifestyles and opportunities in a smaller city compared to a larger one.
Before we get this started, I want to completely cross villages of our list. I have already talked about villages in Romania here and here and I believe that I have said enough.
For most people looking for things to do, people to make friends with, infrastructure and a decent way of living, most of the villages in Romania are not a viable option since some still have no electricity, many have no running water, toilets are at the back of the yard and basically a hole in the ground… so yeah, unless you really love nature and this kind of extreme rural living, Romanian villages are not for you to live in.
So the real question remains: where type of city is best for you in Romania? A small city or a large one?
I am including most of cities and towns in the country in the "small city" category: from larger cities of around 100,000 to really small ones around 10,000. The large cities I refer to are the really big ones in the country: Bucharest, Cluj, Timisoara, Brasov, Sibiu, Iasi, Constanta, Craiova, Arad, Oradea and maybe a few more. And trust me when I say that the differences can be huge and I am listing them below in a completely random order.
1. Small cities have little to no public transportation options. Any buses they might have will generally be few and far between, in most occasions connecting the nearby villages to the cities themselves.
However, since they are small, almost everything is within walking distance, even though you will probably have to walk up to 30 minutes to get to a farther place.
If you don't want to walk, taxis are extremely reliable and cheap: in my city, I don't think there's any far from a point to another that could cost more than 2 euros, most being around the 1 euro mark. These add up if you use the taxi at all times, but generally you won't have to.
Larger cities have some sort of public transport options, with Bucharest being the only city in Romania where there's a metro line. Even in the larger cities, the public transportation is not smartly built and you'll still have to do a lot of waiting or walking to reach your destination, but at least you have this option.
In Bucharest, for example (as I don't really know how public transportation really is in the other cities), expect everything to be extremely crowded and waiting times to be nerve wrecking sometimes. The family that moved to Brasov, on the other hand, told me that the buses there are rarely full and they usually get to sit for their rides.
2. People in smaller cities might not be as open-minded as those in the larger ones. I was extremely surprised to hear a story from a friend living in Alba Iulia who knew a lady that had a child with a black man. Their child faced a lot of obstacles and problems every now and then, some of them reminding us of the medieval ages: for example, doctors would not release her papers stating that she's healthy (although she was) which were needed for her to start school, she was the victim of differentiated behavior from teachers and even some of the kids treated the girl badly.
In the city I live in we have no black people also living here, but I believe that a small portion of the population would behave similarly to those in Alba Iulia. I know that there is a bunch of Asian people that moved here opening businesses and I've never personally seen them in the company of Romanians (although I can't say if that's their choice or that of the people living around them).
The lack of education and the fact that many of the people living in Romania are either grown under the close-minded communist regime or educated by people who grew under the communist regime is, in my opinion, part of the problem and even though most of the people I know – especially the younger ones – are extremely open minded and great people, you could expect outdated mentality from many.
In the larger cities, since you have more educated people there, younger people who have access to information and life-changing bits that those in smaller cities don't necessarily have and even more expats to bring some sense into their minds, this lack of open-mindedness should not be as visible and walking around, talking with people might not sound, on many occasions, like a trip back in time.
3. You will generally have less options for anything in the smaller cities. From entertainment options to culture, events, shopping and health care, everything is on the low side in the smaller cities which actually makes a bit of sense because, well, there are less people to spend money on all these.
For example, a couple of months ago, I had to visit an ENT specialist in the city I live in and I was horrified with the equipment the doctor used: she had the tool that she used to look inside my throat disinfected over the flame of an oil lamp (yup, another thing that sounds like the middle ages).
Her technique was not extremely pleasant, as she had a nurse wrap her hand in bandage, grab my tongue and pull it out for some reason (probably she didn't think I'd be able to open my mouth wide and say "Aaaaaa"). On another occasion, my wife went into the city to get herself tested for allergies and the doctor didn't have those special, disposable plastic things to puncture your skin, but instead used a needle to scratch her skin – all while my wife was looking at me terrified, with tears in her eyes.
In most hospitals, it's not unusual for food to be stored in old water buckets (at least the tea and soups) and served with utensils that seem to have seem both world wars: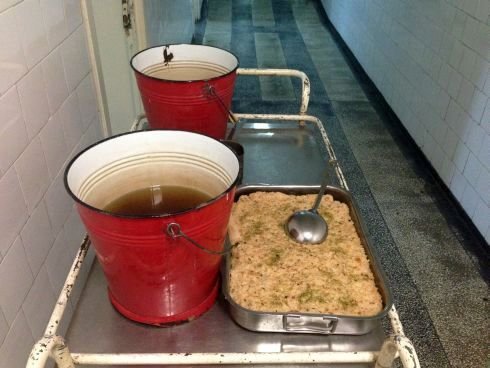 In the larger cities, you will definitely have a lot more options and the quality of everything should be in most cases more up to date. To continue the story of my ENT visit, I had absolutely no trust in my local doctor, so I went to Bucharest to get checked again.
The lady doctor there had state of the art equipment, no nurse to pull out my tongue and everything was clean and nice. Even though the experience was more pleasant overall, the result was the same so in the end, it means that even though smaller cities might have equipment from middle ages and similar techniques, they're not incompetent and generally not a lot worse than those you can meet in the larger cities.
But just for comparison's sake, here is how one of my wife's meals looked like in Bucharest, at the clinic where she gave birth to our son: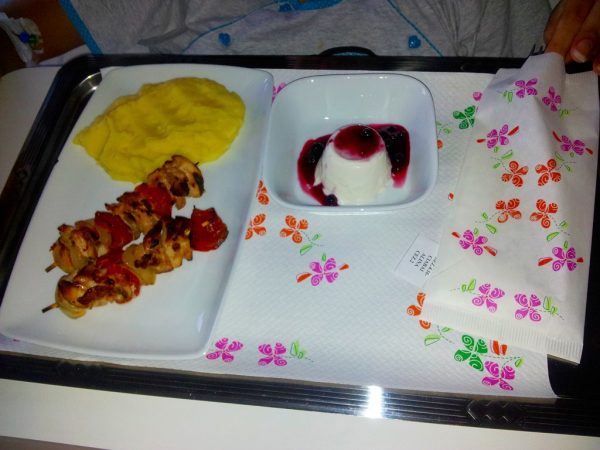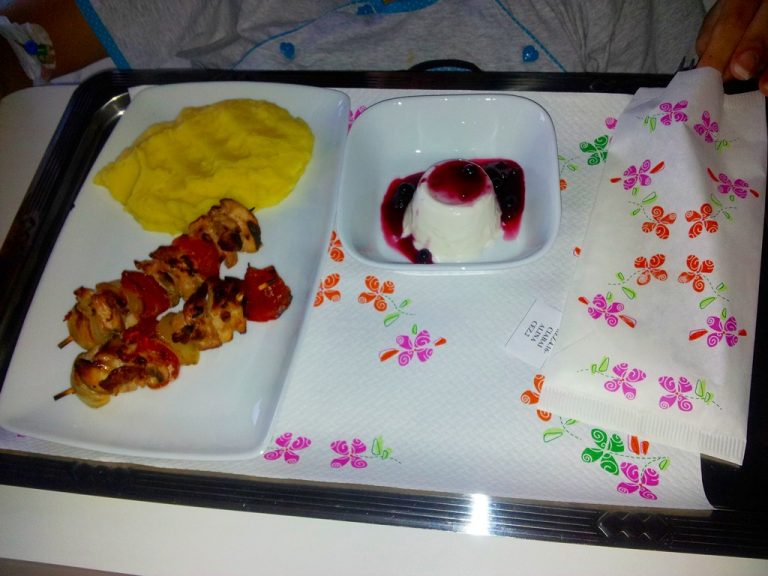 Again, it's all food and I never heard of anybody getting sick because they were served food from water buckets, but it's the thing itself that makes you frown a bit and it might be a bit surprising for somebody coming from more advanced countries.
4. Finding work in smaller cities is difficult. Wages are also generally lower, even though the cost of living is also generally lower. However, if you don't have a guaranteed income, I would personally suggest you to stay away from the smaller cities, especially if you don't speak the language.
There are few – if any – options to get hired and the most you can probably hope for is a job that requires no specialized training, which is paid minimum wage (that's around 220 Euros per month).
Finding jobs in the larger cities is a bit easier, even if you don't speak Romanian, although there are no real guarantees here either. The best idea in case you don't have a guaranteed income is to find a job before getting here, as making the move hoping to get hired might prove difficult even in the larger cities.
5. Smaller cities are cheaper and the cost of living is lower than that in the larger cities. This is even better news for those who have a guaranteed income: $1,000 in Bucharest mean a lot less than $1,000 in a smaller city. Even though the food prices are generally the same – and even restaurant prices up to a point are the same – it's the other important things that make life cheaper or at least allow you for an increased comfort.
For example, in the city where I live in, you can rent a two bedroom apartment for as low as 150 Euros per month, with studios going as low as 50 Euros.
In Bucharest, you can rarely find a studio under 200 Euros. The same goes for purchasing a home: a two bedroom apartment sells for around 35,000 Euros (we bought ours for 25,000!) while in Bucharest the cheapest ones are 60,000 Euros.
Also, since there are less things for you to spend your money on, you tend to spend less. I realized that when I visit Bucharest, even if we stay there for a few weeks or more, we tend to spend more: on food, on entertainment, on transportation and on crap we don't really need.
But we walk around, we see things and end up buying some of them. If you only have three supermarkets in your city and they all have, more or less, the same products, you are not tempted to spend as much money on crap.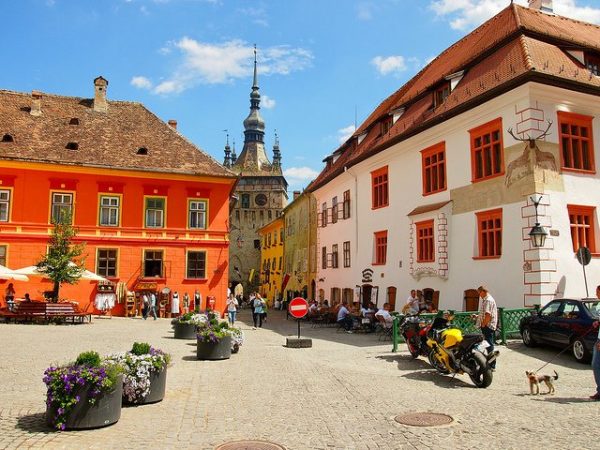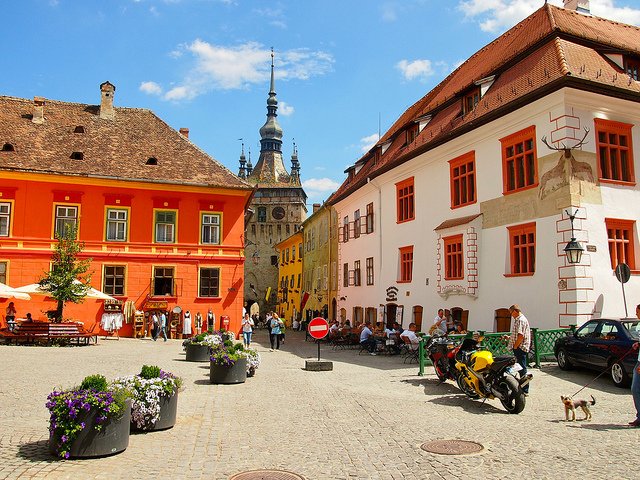 6. Life in smaller cities is slower paced, the cities are quieter and less polluted. This can be either a pro or a con, but it certainly is like that: there are fewer people on the streets, fewer cars and less noise, more parks and green spaces and you have more chances to be and remain relaxed in a smaller city, in my opinion.
There are surely even more differences between the small and large cities in Romania and, up to a point, they're probably similar to those in other countries. But do have these in mind when choosing your destination and the city you'll be spending your time in in the country.
My personal advice would be that if you are retiring and don't plan to party like it's 1970 and have an extremely active social life, but you don't mind walking more, you should go for the smaller cities. They are quieter, they are cheaper, they are less insane and they offer better value for your money.
If you are in constant need for something to do, you like going out to a different place every night, you want to be part of multiple clubs and have a very active social life – or you need constant, special hospital care – then you should choose a larger city, knowing that it will be a bit more expensive, among other things.
So, with all these in mind, what would you choose? Would you go for the tranquility and cheaper costs in smaller cities or you'd choose a bustling, more expensive, larger city?